Surroundings, Manchester
Manchester, the Gateway to the North, has many towns and attractions within easy reach of the city.
Related Attractions
Marton, England
Near Congleton (16mi/26km south of Manchester) lies the tiny market town of Marton with a notable half-timbered church, one of the oldest in Europe. The Church of St James and St Paul was founded in 1343 in Marton. The nave with its wall-paintings, of which just a few are still preserved, dates from this time, whereas the choir was added later, and the bell-tower in 1540. Renovation work carried out in the 19th and early 20th century removed unnecessary decorations and ensured that this rare jewel of church architecture should be preserved in all its simplicity and charm.
Bunbury - Little Moreton Hall
An excursion can be made to Little Moreton Hall (22mi/35km to the south of Manchester), one of the most impressive half-timbered mansions in England, begun around 1480 by Ralph Moreton, with the east wing being added in 1559 by a descendant, the south wing in 1563. Although almost none of the original interior fittings and furnishings have been preserved, the large multi-storyed building, with its superb half-timbered construction and pretty inner courtyard, moat and garden, offers an excellent glimpse of what rural life must have been like in 16th C Cheshire.
The Lowry, Salford, England
Salford, a university town, lies on the River Irwell with many tourist attractions, such as Ordsall Hall, the Bridgewater Canal and the Lowry Centre.The Lowry opened on 28th April 2000, an architectural flagship, along the redeveloped Salford Quays. Two theatres for performing arts present a full range of drama, opera, ballet, dance, musicals, children's shows, popular music, jazz, folk and comedy; gallery spaces showing the works of LS Lowry alongside contemporary exhibitions; and ArtWorks an interactive attraction are all found under one roof.
Bury, England
Bury (pop. 172,200) is located 10mi/16km northwest of Manchester. The town has a large arts scene including a museum, art gallery and library all under one roof that was refurbished in 2005. The Bury Market has been on the same site for the past 600 years and operates on Wednesdays, Fridays and Saturdays. The market attracts visitors for miles around the town.
Rochdale, England
Rochdale (pop. 92,704) is located on the Roch River 10mi/16km northeast of Manchester. There are several landmark buildings including the Rochdale Town Hall, completed in 1871, and the Parish Church of St Chad from Norman times. Rochdale was also the founding place of the modern cooperative movement and the birthplace of John Bright, the politician and orator.
Altrincham, England
Altrincham (pop. 39,641) is located 8mi/13km southwest of Manchester. This commuter town began as a market town in 1290. Attractions include Dunham Massey Hall Deer Park, Stamford Park and a number of historic sites such as the market and restored whipping post.
Dunham Massey
Dunham Massey is located in Altrincham in Greater Manchester. The 18th C house is a National Trust property with extensively replanted grounds, a deer park and water-mill.
White Cottage
The White Cottage at Dunham Massey was built circa 1500. It is a timber-framed cottage built as a cruss trussed open hall and was altered in the 17th century.It is open to visitors by permission of the tenants.
Ashton-Under-Lyne, England
Ashton-Under-Lyne is located on the Tame River 6mi/10km east of Manchester. There are coal deposits in the area. The night life in Ashton-Under-Lyne is quite active, with many clubs in the town centre.Ashton-Under-Lyne is also home to St. Michael and All Angels, completed in 1262.
Museum of the Manchesters
The museum illustrates the history of the Manchester Regiment and its local community from 19th century to National Service. Besides, there is an exhibtion about the history of medals.
Bolton, England
Bolton is a large town in the north of England with many attractions and historical sites to visit. The town has social roots dating back to 1251. Bolton has two notable landmarks - Bolton Parish Church, completed in 1871, and the Town Hall, opened in 1873.
Hall i'th' Wood (Home of Samuel Crompton)
Hall i'th' Wood was the home of Samuel Crompton, the inventor of the Spinning Mule (1779). Built in the 15th C, this typical medieval merchant's house contains Stuart and Georgian furniture.
Smithills Hall
Smithills Hall is set above Ravenden Brook on the lower slopes of Smithills Moor. Dating back to the 15th C, it features a nature trail and garden center.
Bolton Festival
This annual festival runs for several days at the end of August.
Disley - Lyme Park
Lyme Park was originally a Tudor House but has been encased in a classical skin by the Palladian architect Giacomo Leoni. This is one of th biggest houses in Cheshire and it contains detailed decorative work and fine quality furnishings. The house is set in a large country park with splendid views.
Bramall Hall, Stockport, England
Bramall Hall is located in Greater Machester, in the town of Stockport. It is one of Cheshire's most important black and white timber framed houses, it was built in 1590.The Stockport Viaduct, completed in 1840, features 27 brick arches and has been featured in many paintings.
Styal - Quarry Bank Mill and Styal Estate
Quarry Bank Mill is Europe's largest working textile museum. There is a special display on children's roles in the cotton industry and as you make your way through the factory, interpreters explain the history of cotton production from bale to bolt.The museum was a recipient of the Tourism for All award.
Alderley Edge, England
Alderley Edge is located just south of Manchester on the A34. The village is situated on the Edge, a steep red sandstone escarpment, that is enjoyed by day trippers who explore the rolling fields and surrounding woodland.
Nether Alderley Mill
Nether Alderley Mil, a restored 15th century corn-mill, is a National Trust property located in Alderley Edge. It is powered by water from a lake it is set against and has been restored to full working order.
Knutsford, England
Knutsford (pop. 13,675) is located 13mi/21km southwest of Manchester. The town is noted as a popular eating out destination due to the plenty of restaurants available. It is the 'Cranford' of Elizabeth Gaskell, the English novelist.
Tatton Park
Tatton Park is one of Northern England's most popular historic attractions. It features a 1930s working farm, a medieval old hall and a magnificent mansion. The deer park is set in 1,000 acres of parkland containing two lakes.
Rushcart Festival, Uppermill Saddleworth, England
Uppermill is the largest villge in Saddleworth with a museum, craft shops, and tea rooms. The Rushcart Festival is an annual event that takes place in late August featuring Morris Dancing.
Map of Manchester Attractions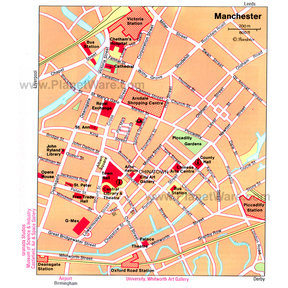 Manchester Map
More Manchester Attractions
Popular Destinations Nearby