Dublin Castle
Beyond Dublin's City Hall stands Dublin Castle, the main entrance of which is on Cork Hill. The hill now occupied by the Upper Yard was probably the site of a Celtic and later a Danish fort. In 1204 King John began the construction of a castle (completed 1226) of which little survives, and then much altered, in the present building. From the reign of Elizabeth I to the establishment of the Irish Free State in 1921 the Castle was the seat of the Viceroy and the headquarters of British administration.The Castle is now used for important Presidential Inaugurations and State receptions.
Important Information:
Address:
Castle Street, IRL-2 Dublin, Ireland
Opening hours:
10am-5pm; Sun: 2pm-5pm; Sat: 2pm-5pm
Always closed on:
New Year's Day (Jan 1), Christmas - Christian (Dec 25), Day after Christmas, St Stephen's Day, Boxing Day (Dec 26), Good Friday - Christian
Entrance fee in EUR:
Adult €4.00, Students €3.00, Senior €3.00, Child 12 & under €1.50
Useful tips:
If you want to see the State Apartments it is advisable to check in advance that they will be open, since the Castle is frequently closed at short notice. Last tour commences 15 minutes before closing.
Guides:
Guided tour included with admission.
Facilities:
Gift shop, Restaurant or food service
Dublin Castle Highlight
State Apartments
To the right of the main entrance to Dublin Castle is the Genealogical Office, where people of Irish descent can seek to trace their ancestry. The State Apartments are shown to visitors in a conducted tour lasting about half an hour (entrance in Upper Yard, opposite the main entrance to the Castle). Notable features are the colorful Donegal and Killybegs carpets, the chandeliers of Waterford glass and the pavement of green Connemara marble in the entrance hall. The conducted tour takes in the following rooms; St Patrick's Hall, with a painted ceiling (1778) and the banners of the Knights of St Patrick; the blue Wedgwood Room, with paintings by Angelica Kauffmann (?) ; the Picture Gallery, with portraits of Viceroys; the Throne Room, richly decorated in gold (1740), with an 18th C. throne; the long State Drawing Room with its original furniture; and the Apollo Room or Music Room, with a ceiling of 1746.At the east end of the Upper Yard a passage leads into the Lower Yard. On the right of this is the Record Tower, one of the four old corner towers, well preserved with its 16ft/5m thick walls, which gives some impression of what the medieval castle was like. The neo-Romanesque Chapel (1807-14) is notable for its unusual external decoration of over 100 limestone heads of famous Irishmen.
More Dublin Castle Pictures
Map - Dublin Castle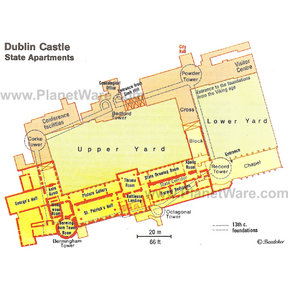 Map - Dublin Castle