Manitoba Centennial Centre, Winnipeg
The Manitoba Centennial Center with its lovely terraced gardens embellished with attractive fountains and appealing sculptures, was built for the Canadian centennial celebrations in 1967. Other features to date include a concert hall and planetarium. The province's own centenary was celebrated in 1970 when the Manitoba Museum of Man and Nature and the Manitoba Theatre Center were opened.
Manitoba Centennial Centre Map
Related Attractions
The Manitoba Museum (formerly the Manitoba Museum of Man and Nature)
The Manitoba Museum, formerly the Museum of Man and Nature, features the Museum, Planetarium, and Science Gallery. At the Museum there is always something new with regularly changing exhibits. Visitors will find everything from a 17th Century ship to the glam of the roaring 20s. The museum is primarily devoted to the human and natural history of Manitoba province. It also has sections covering the formation of the earth and universe, early human history, and the regional environment, past, present and future.In the Science Gallery is highly interactive, educational, and fun, covering a variety of science topics.The Planetarium is always a favorite, with a chance to immerse yourself in the night sky.
Planetarium
The excellent Planetarium at the Manitoba Museum has programs illustrating the wonders of the universe as well as shows and films on topics such as the exploration of space. The superb "Touch the Universe" science gallery with more than 60 multi-dimensional exhibits and hands-on activities for all ages engenders a unique appreciation of the universe as we know it today.The Planetarium is always showing new and unique programs, be sure to check in with the box office to se what's playing. Visitors to Winnipeg who want to take in the Planetarium along with the Manitoba Museum will be pleased, they are located right next door to one another and linked through a short stairway.
Map of Winnipeg Attractions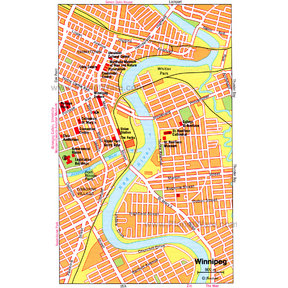 Winnipeg Map
More Winnipeg Attractions
Popular Destinations Nearby