United States Capitol, Washington
At the east end of the Mall, commandingly situated on the 100ft/30m high Capitol Hill, is the United States Capitol, seat of the House of Representatives and the Senate. The first building erected by William Thornton between 1793 and 1812, the present Senate Wing, was burned down by the British in 1814. Reconstruction was carried out in several stages: the central block was rebuilt by Latrobe and Bulfinch in 1829, following Thornton's plans; the side wings and the 270ft/82m high dome, modeled on the dome of St Peter's in Rome and crowned by an allegory of Freedom, were built between 1851 and 1865 to the design of Thomas Walter; and finally in 1958-62 the main façade, in front of which each President takes the oath, was enlarged.
United States Capitol Map
Important Information:
Address:
Capitol Hill, Washington, DC 20515, United States
Opening hours:
8:30am-4:30pm; Closed: Sun
Always closed on:
New Year's Day (Jan 1), Thanksgiving - USA (4th Thursday, Nov), Christmas - Christian (Dec 25)
Disability Access:
Full facilities for persons with disabilities.
Facilities:
Gift shop, Restaurant or food service
Transit:
Metro: Capitol South, Union Station. Bus: 32, 34, 35, 36, 90, 92, 96, D2, D4, D8, P6, X8.
The Capitol faces east, since it was originally thought that the city would develop in that direction. As a result the Capitol turns its back on the main part of the present city - though it is perhaps some compensation that there is a splendid marble terrace on the rear front which affords a marvelous view of the Mall.The interior of the Capitol is as busy as an ant-heap, swarming with Congressmen, lobbyists, security officers and tourists. The entrance on the main floor leads through heavy bronze doors with scenes from the life of Columbus into the Rotunda, under the great cast-iron dome with a ceiling painting of the Apotheosis of Washington (by Constantino Brumidi, 1865). On the walls are huge paintings of scenes from the history of North America. On the south side of the Rotunda is the former Chamber of the House of Representatives, since 1864 the National Hall of Statuary, in which each state has the right to set up statues of two of its leading citizens (some now displayed on the lower floor).On the north side of the central Rotunda is the small Senate Rotunda, leading into the finely restored Old Senate Chamber in which the Senate met from 1810 to 1859, followed until 1935 by the Supreme Court. Spiral staircases lead down to the lower floor, on which are an interesting exhibition on the history of the Capitol and the old Chamber of the Supreme Court.
More United States Capitol Pictures
Map of Washington, D.C. Attractions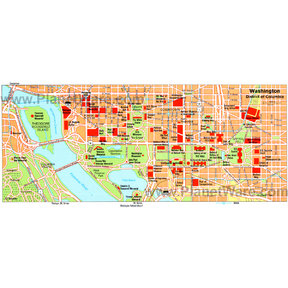 Washington, D.C. Map
More Washington, D.C. Attractions