Washington Monument
The Washington Monument is a 555-foot, white, stone obelisk built to honor the nation's first president. It has an observation tower on top accessible via elevator. It is surrounded by 50 American flags. The monument is the site a large Fourth of July celebration each year.The history of the tower's construction is long and checkered. Congress approved the idea back in 1783 but it wasn't until 1848 that the ground was broken. One of the first problems occurred when the Pope offered to donate building material. Anti-papists objected to the idea, initiating a heated political debate, resulting in a delay.The second interruption was the Civil War. Construction stopped completely during that period and it wasn't until 1878 that the U.S. Army Corps of Engineers resumed the project. The monument was finally dedicated to the memory of George Washington on February 21, 1885.
Important Information:
Address:
15th & Constitution Avenue NW, Washington, DC 20001, United States
Opening hours:
May 31 to Sep 6:
9am-10pm
Sep 7 to May 30:
9am-5pm
Always closed on:
American Independance Day (Jul 4), Christmas - Christian (Dec 25)
Useful tips:
Timed passes are required.
Disability Access:
Full facilities for persons with disabilities.
Transit:
Metro: Smithsonian
More Washington Monument Pictures
Map of Washington, D.C. Attractions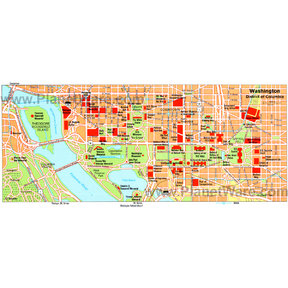 Washington, D.C. Map
More Washington, D.C. Attractions