University of Arizona, Tucson
On the campus of the renowned University of Arizona are the Arizona State Museum, the Mineralogical Museum, the Center for Creative Photography and a fine art collection belonging to the Faculty of Arts. Here too is the Flandrau Planetarium and Science Center.
University of Arizona Map
Important Information:
Opening hours:
Sep 1 to May 31:
Sat: 2pm-am, 2pm-am; Closed: Sun
University of Arizona Highlights
Arizona State Museum
With its large archeological collection the Arizona State Museum documents 10,000 years of Indian cultural history.Indigenous cultures of Arizona and northern Mexico are highlighted at the State Museum. It is the oldest and largest anthropology museum in the Southwest of the United States - it was established in 1893.Exhibits include the largest vessel collection of Southwest Indian pottery with over 20,000 pieces spanning 2,000 years. A comprehensive Hohokam artifact display, one of the top Navajo textile collections and over 500 Mexican folk masks are a few more notable collections on display.
Mineral Museum
The Mineral Museum has a vast collection of gems, minerals, and meteorites from the USA and around the world. The main focus is on minerals from Arizona and Mexico.The state has a long history of mining, with old mining towns spread throughout the area. Some of the most popular mining town's which have now become tourist attractions, include the mountain towns of Bisbee and Jerome. The "Miner's Story" offers an in-depth and more personal look at some of the history of these and other mining sites.The Mineral Museum is located on the lower level of the Flandrau Science Center.
Center for Creative Photography
The Center for Creative Photography at the University of Arizona, was created by the one time University of Arizona President John P. Schaefer, and photographer Ansel Adams, in 1975. It has a collection of over 80,000 photographs from 2,000 photographers. The focus is on the history of North American photography.The center features changing exhibits but also offers the opportunity for groups to study works in the collection. The archives house collections of photos from the likes of Ansel Adams, Edward Weston, Garry Winogrand, and Harry Callahan.
University of Arizona Museum of Art
The University of Arizona Museum of Art in Tucson features a collection of over 4,500 works from old masters to contemporary art. The paintings, sculptures and works on paper such as prints, date back to the 6th C BC. Artists, their families, and other benefactors have donated various collections to the museum.
Flandrau Science Center
The Flandrau Science Center at the University of Arizona in Tucson features a 16-inch telescope, public exhibit halls and a planetarium. The center is designed to inspire interest in the field.
Centennial Hall
Centennial Hall is part of the University of Arizona campus in Tucson. It is a center for cultural activities and a venue for year-round performances.
University of Arizona Pictures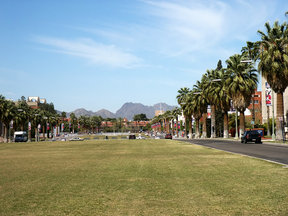 Map of Tucson Attractions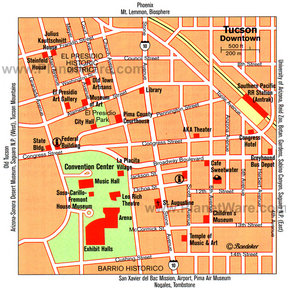 Tucson Map
More Tucson Attractions
Popular Destinations Nearby