12 Top-Rated Tourist Attractions in South Dakota
1 Mount Rushmore National Monument
This historical monument is South Dakota's most prominent tourist attraction. Carved majestically into the side of this mountain are the heads of Presidents George Washington, Thomas Jefferson, Abraham Lincoln and Theodore Roosevelt. The carving, designed by Gutzom, was begun in 1927, halted for several decades, and finally completed in 1991. In its creation, over 400,000 tons of rock was blasted from the side of the mountain. The monument is illuminated in the evening along with a patriotic ceremony.
2 Badlands National Park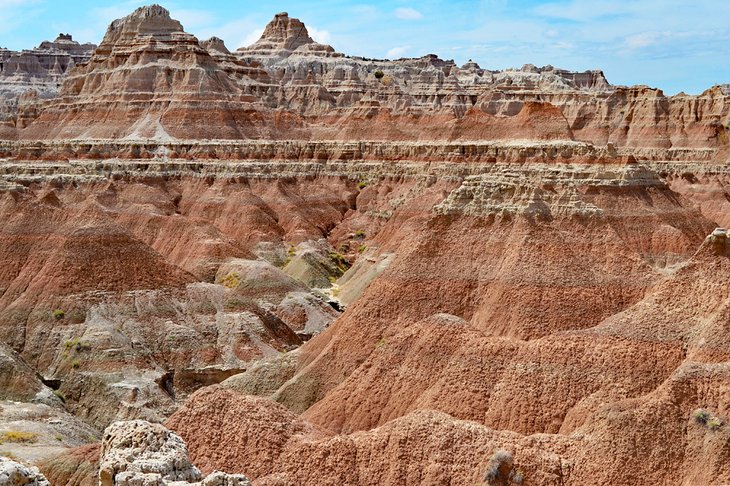 The dramatic landscape of Badlands National Park consists of uniquely formed hills and pinnacles made from the erosion of clay and sand. A large herd of bison roams freely within the park, adding a unique element to the whole experience. This inhospitable scenery is strangely beautiful and one of South Dakota's most visited destinations.
A road runs through the park from the northwestern entrance (Pinnacles Entrance), lined with parking places and viewpoints that offer changing vistas of the rugged rock formations to the south, and Buffalo Gap National Grassland, one of the last remaining intact prairie landscapes in North America. Throughout the park, particularly in the Cedar Pass area, there are marked hiking trails. Maps can be obtained from the park administration or from visitor centers.
3 Custer State Park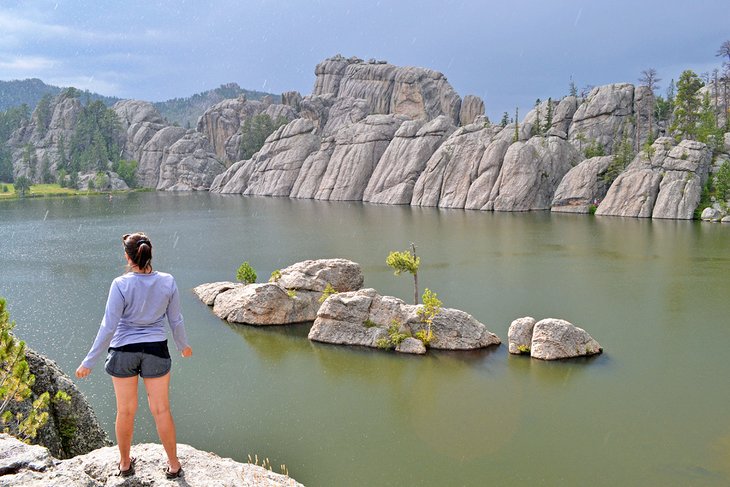 Custer State Park covers a wide range of different terrain, offering opportunities for outdoor recreation or sightseeing. A large herd of bison roams the peaceful landscape, which is also home to a wide variety of other wildlife. Granite peaks tower over the forests, lakes and streams. Scenic drives provide easy access to the park, offering great views, and for the more adventurous there are trails for hiking, biking, and horseback riding.
4 Crazy Horse Memorial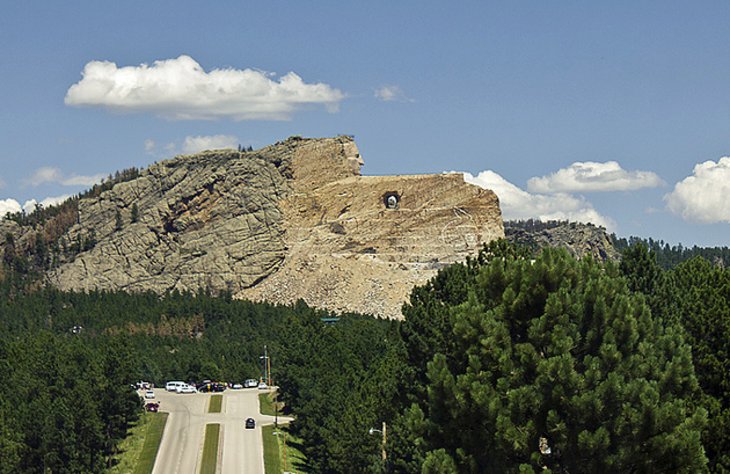 The Crazy Horse Memorial, north of Custer, has been a work in progress since it was begun in 1947. The head and upper body portion of Chief Standing Bear have been carved into this mountain, similar to the Mount Rushmore carvings. Although it is not completed it is still an impressive site and has already been dedicated as a memorial.
5 Wind Cave National Park
Wind Cave National Park, located just north of Hot Springs, is home to a huge karstic cave system, thought to be among the largest in the world. It was discovered in 1881 by a hunter who noticed a draft coming from a split in the rock. The cave contains a structure known as "boxwork", delicate honeycomb structures. For those not interested in an underground tour, the above ground area of the park is also very beautiful, with rolling hills and roaming bison.
6 Mammoth Site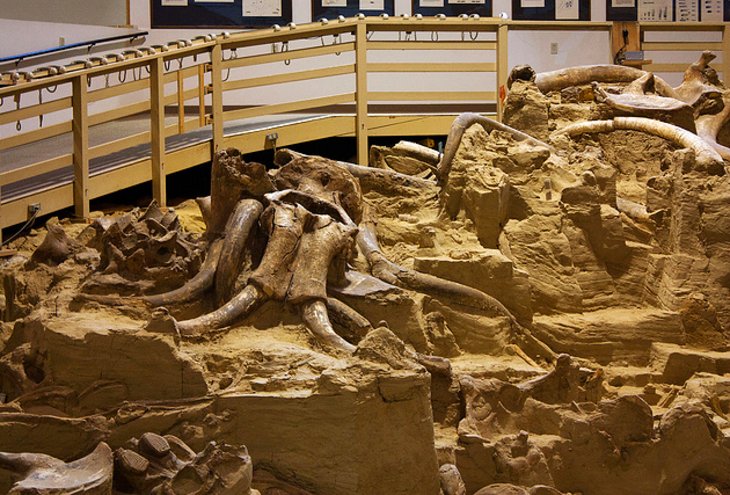 The Mammoth Site in Hot Springs features a large number of Columbian mammoth bones. More than 60 mammoths have been discovered here at this site, which is approximately 26,000 years old. It is believed to be a huge sinkhole. Visitors can see partially uncovered mammoth bones shown as they were found, in a covered, climate controlled building. Guided tours are available, giving visitors a glimpse of the excavation process.
7 Homestake Gold Mine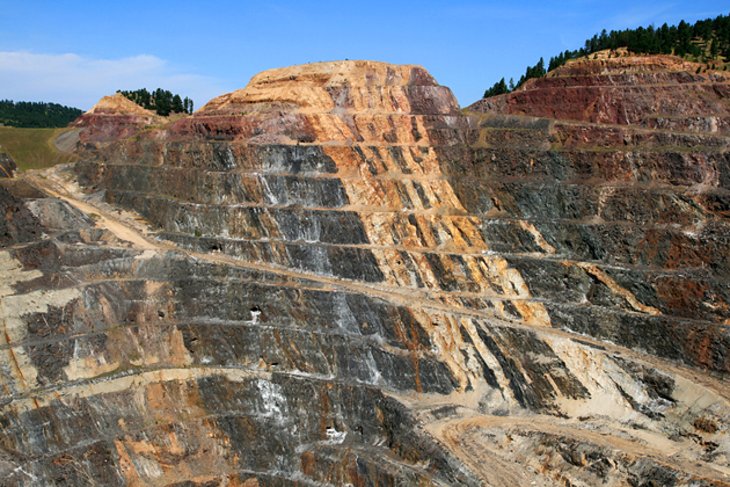 The Homestake Mine, which no longer operates, was the oldest and deepest mine in the Western Hemisphere. Today visitors can learn about the mine and the Black Hills Gold Rush of the 1870s at the visitors center. They also offer guided tours and a view over the original Open Cut mining area
8 Spearfish Canyon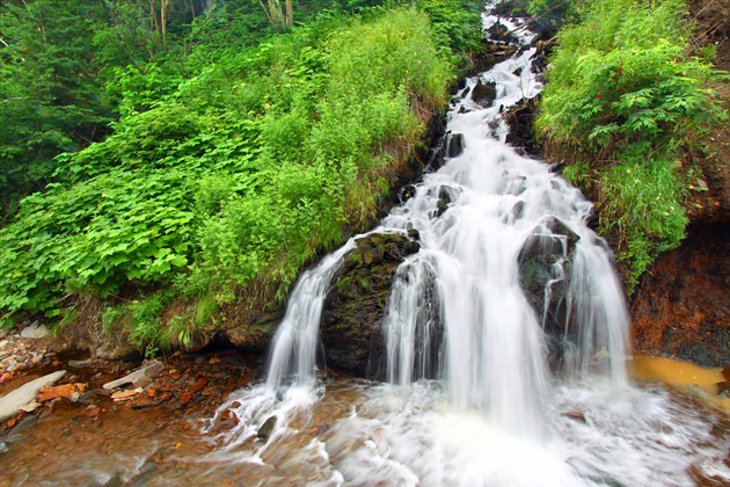 Spearfish Canyon is a beautiful natural area known for an abundance of Ponderosa and Spruce pine trees, as well as beautiful waterfalls and dramatic cliff walls. Of particular note are Bridal Veil and the Rough Lock Falls, and the Spearfish Peak and Little Crow Peak. This entire area is quite scenic in the fall when the foliage begins to turn color. Just north of Spearfish is the geographical center of the United States.
9 National Music Museum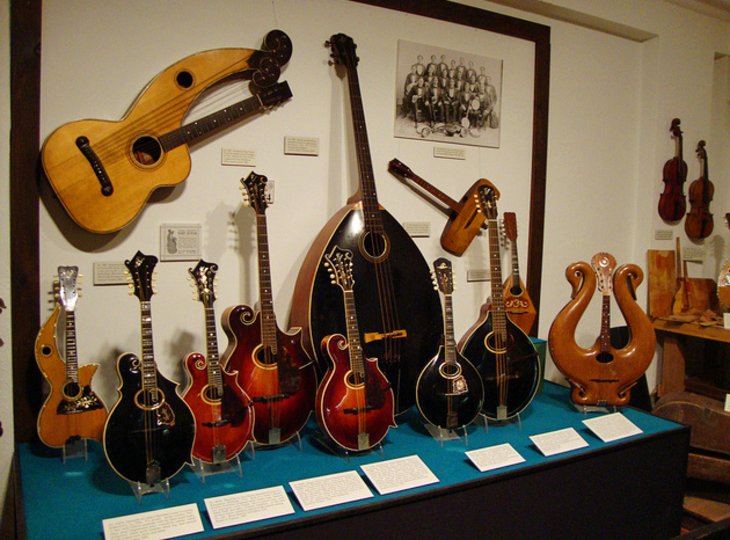 The National Music Museum & Center for Study of the History of Musical Instruments at the University of South Dakota in Vermillion features thousands of American, European, and non-Western instruments from all over the world and a range of historical periods.
Address: 414 East Clark Street, Vermillion
10 Pettigrew Home and Museum - Sioux Falls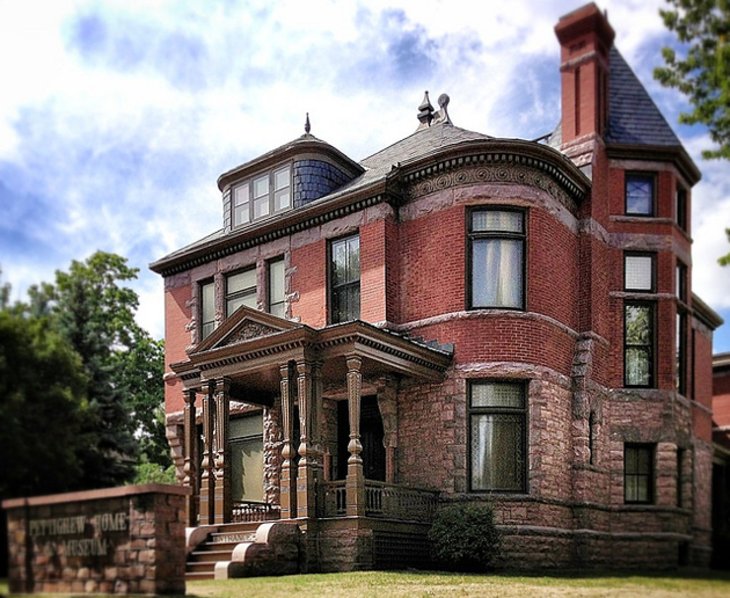 The Pettigrew Home & Museum in Sioux Falls is the Queen Anne-style home of South Dakota's first senator, Richard Pettigrew. It was built in 1889 and features exhibits on Siouxland's history and Pettigrew himself. Visitors can take a guided tour and admission is free.
11 Sertoma Butterfly House and Marine Cove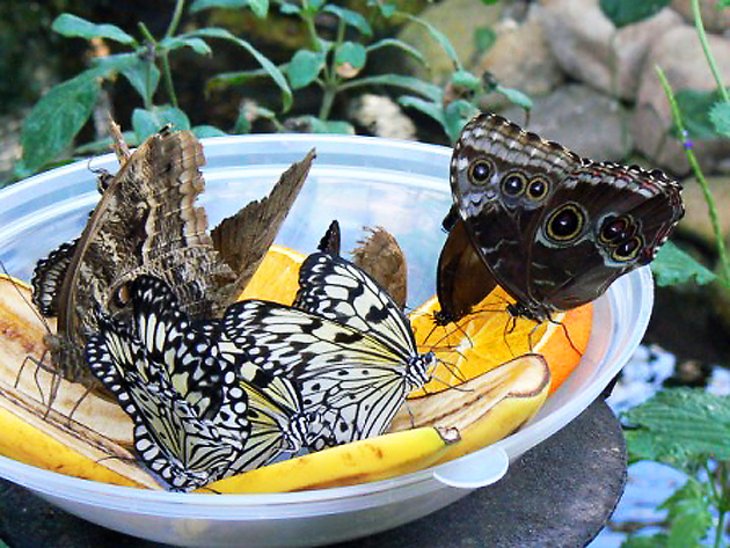 The Sertoma Butterfly House in Sioux Falls is home to hundreds of free-flying butterflies from all over the world. While the butterflies are the true highlight, Marine Cove is also home to a variety of marine life in tanks and petting pools.
Address: 4320 Oxbow Avenue, Sioux Falls
12 Old Courthouse Museum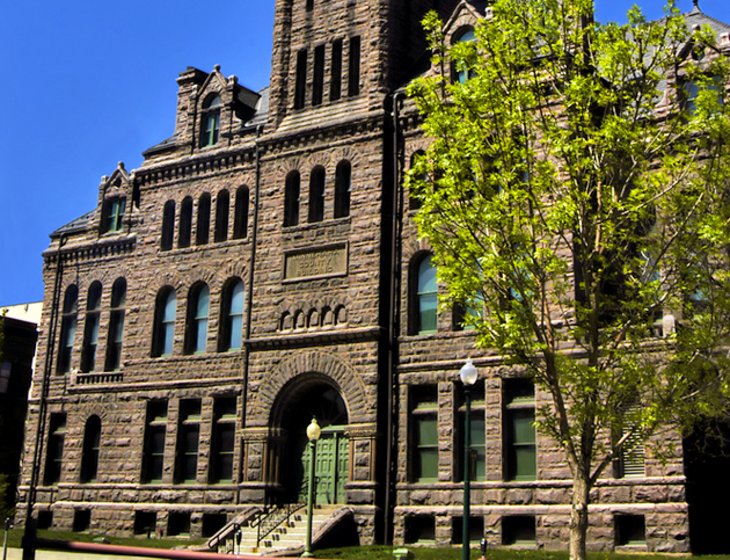 The Old Courthouse Museum in Sioux Falls is a restored 1800s quartzite building with three floors. The interior contains a number of interesting features, including murals on the walls showing life in an earlier time period in Dakota. The museum displays exhibits related to the history of the state and town.
Address: 6th and Main Street, Sioux Falls
More on South Dakota