Sentosa Island Attractions
Sentosa whose name means tranquility in Malay is anything but. Promoted for its beaches, sports facilities and its sprawling amusement park with water slides, butterfly parks and wax museums, Sentosa is connected to Singapore by a mono-rail and a string of cable-cars.
Sentosa - Underwater World
2,500 marine creatures including white sharks, eels, giant stingrays and dainty damsel fish can be examined up close in an 83m/272ft acrylic tunnel on a moving sidewalk.
Images of Singapore
Images of Singapore uses life-sized figures, rare artifacts and state-of-art technology to present a combination of realistic sights, sounds and smells of the Singapore of the past.Comprising 3 sections: Singapore Pioneers; the Surrender Chambers; and the Festivals of Singapore, visitors will experience recreations of Singapore from the 14th C to the 1950's.
Sentosa - Merlion
The Merlion, with its lion's head and fish body, is Singapore's famous tourism symbol. Elevators are taken to the open-air gallery on the crown of this 37m/121ft high viewing tower for 360-degree panoramic views of Sentosa, the city skyline, the harbor and on a clear day, the Indonesian Islands.
Sentosa Butterfly Park and Insect Kingdom
The Butterfly Park and Insect Kingdom, unique in Singapore features nearly 2,500 live butterflies spanning over 50 species. It also displays about 3,000 species of some of the world's most beautiful and rare insects, including a live enclosure of fireflies.
Fort Siloso
Singapore's only preserved fort, Fort Siloso's exhibits trace its development from the 19th C to the Battle for Singapore in 1942. The Barrack Room, Laundry, Cookhouse and Tailoring Shop can be explored.
Volcanoland (closed)
ATTRACTION IS CLOSED.An eruption of the 20m/66ft high 'active' volcano complete with earth tremors, bursts of hot air and hissing steam is experienced. Visitors can also ride in a "pit cage" which simulates a descent into the earth's core.
Musical Fountain (closed)
ATTRACTION IS CLOSED.A show of lights, sound and water and video effects are featured nightly at the Musical Fountain.
Map of Sentosa Island Attractions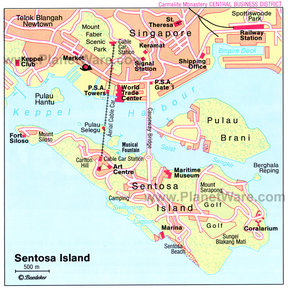 Map - Sentosa Island