12 Top-Rated Tourist Attractions in Philadelphia
Philadelphia is one of America's most important historical cities. At Independence Hall on July 4, 1776 the Declaration of Independence was adopted and in September 1787 the Constitution was drafted.
1 Independence National Historical Park
Independence National Historic Park is home to Philadelphia's most important and historic tourist attractions, including the Liberty Bell, Independence Hall, and Congress Hall. Numerous historic buildings line the cobbled streets and provide insight into some of America's early history.
2 Liberty Bell Pavilion
The liberty bell has long been a symbol of freedom and independence in the United States. It went on tour around the country in the late 19th C in an effort to inspire a sense of freedom and conquer divisions left by the Civil War. The bell completed its journey in Philadelphia in 1915, where it has remained.
Address: 143 South Third Street, Philadelphia, PA 19106, United States
3 Independence Hall
Independence Hall has seen some of America's most important historical moments and hosted some of its most famous fathers. It stood witness to the adoption of the Declaration of Independence on July 4, 1776, and the creation of the United States Constitution in 1787.
Address: 143 South Third Street, Philadelphia, PA 19106, United States
4 Philadelphia Museum of Art
The Philadelphia Museum of Art contains one of the United States largest collections of art. It is housed in a neoclassical building fronted by a broad set of stairs which became famous after their use in the well know American "Rocky" films.
5 Eastern State Penitentiary
The Eastern State Penitentiary was built in 1829 with the aim of rehabilitating criminals through solitary confinement. At the time of its opening, it was considered the world's most expensive and high-tech prison. Willie Sutton and Al Capone were some of the prison's notable "guests". It closed in 1971. Today it is open to the public as a museum with tours of the facility showing some sections which remain much the same as they were during its operational years.
Address: 2027 Fairmount Avenue, Philadelphia, PA 19130-2694, United States
6 Pennsylvania Academy of Fine Arts Museum
This Fine Arts Museum features a strong collection of American Art from the 18th, 19th, and 20th Centuries, including works by early American artists right through to Andy Warhol. The academy is also known for being the oldest of its kind in the United States.
Address: 118 North Broad Street, Philadelphia, PA 19102-1510, United States
7 City Center
The Philadelphia City Center is home to some interesting areas and sites, both old and new. The main attractions are the landmark City Hall with its outstanding Gothic tower, the Pennsylvania Academy of Fine Arts Museum, along with a modest Chinatown and numerous other architectural delights.
8 Society Hill Historic District
This interesting neighborhood is an unique blend of 18th Century buildings, restored warehouses, new homes, colonial homes, and apartments. Some of these are occupied by galleries and other tourist friendly retail. Additional highlights include the Old Pine Street Presbyterian Church and the Historical Society of Pennsylvania Library.
9 Rodin Museum
With more than 100 works by famous French sculptor, Auguste Rodin, this museum contains one of the most extensive collections of his work outside of France. On display are bronze casts of some of his most famous masterpieces.
10 Franklin Institute Science Museum
This creative museum is a tribute to scientist, Benjamin Franklin, complete with a huge marble statue of a seated Franklin located in one of the large halls. In addition to the museum, which offers an array of displays featuring all kinds of experiments including some of those designed by Franklin, the center is also home to an IMAX Theater and a Planetarium.
11 Fairmount Park
This lovely park along the Schuykill River and Wissahickon Creek is home to the Philadelphia Zoo, the Rodin Museum, the Philadelphia Museum of Art, and the Japanese House and Garden, along with numerous other attractions. The park also offers a variety of recreational opportunities with pools, courts, walking paths, and open spaces.
12 Fort Mifflin
Near the junction of the Schuylkill and Delaware Rivers is Fort Mifflin, the sight of a Revolutionary War battle. It was built by the British in 1772. During the War of Independence it fell into the hands of the American patriots and defended Philadelphia against British attacks. Both Fort Mifflin and the hospital that is on the grounds are listed on the National Register of Historic Buildings.
Address: Fort Mifflin Road, Philadelphia, PA 19153, United States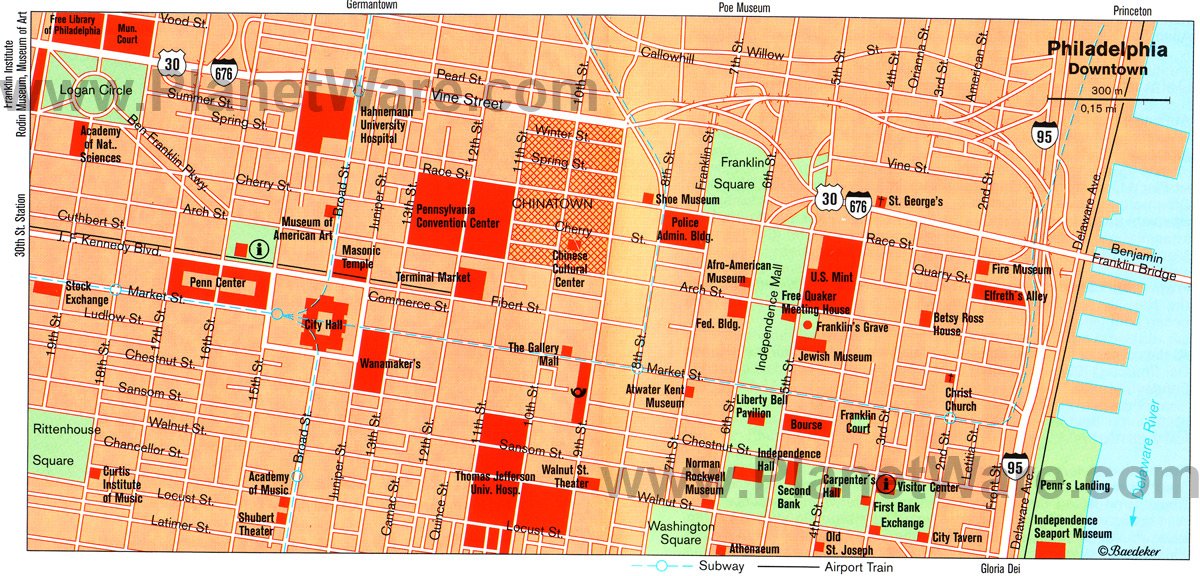 Philadelphia Map - Attractions
Destinations
popular right now