15 Top-Rated Tourist Attractions in Dubai
Glitzy Dubai is the United Arab Emirates' vacation hot spot. This city of high-rises and shopping malls has transformed itself from a desert outpost to a destination du-jour, where people flock for sales bargains, sunshine and family fun. Dubai is famous for sightseeing attractions such as the Burj Khalifa (the world's tallest building) and shopping malls that come complete with mammoth aquariums and indoor ski slopes.
But this city has many cultural highlights as well as all the glamorous modern add-ons. Take a wander around the Bastakia district and you'll discover the Dubai of old, then cruise along Dubai Creek in a traditional dhow and you'll soon realise there's more to this city than its flashy veneer.
1 Burj Khalifa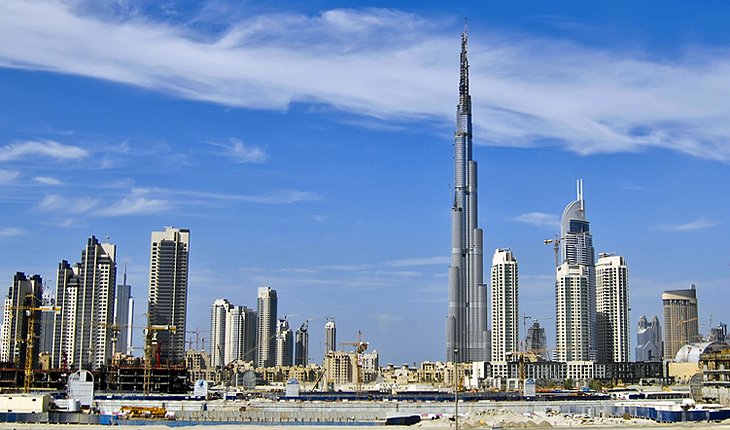 Burj Khalifa
Dubai's landmark building is the Burj Khalifa, which at 829.8 m is the tallest building in the world. For most visitors a trip to the observation deck on the 124th floor here is a must-do while in the city. The views across the city skyline from this bird's-eye perspective are simply staggering. The slick observation deck experience includes a multi-media presentation on both Dubai and the building of the Burj Khalifa (completed in 2010) before a high-speed elevator whizzes you up to the observation deck for those 360-degree views out across the skyscrapers to the desert on one side and the ocean on the other. Night-time visits are particularly popular with photographers due to Dubai's famous city-lights panoramas.
Back on the ground, wrapping around the Burj Khalifa, are the building's beautifully designed gardens with winding walkways. There are plenty of water features including the Dubai Fountain, the world's tallest performing fountain, modelled on Las Vegas' famous Fountains of Bellagio.
Hours: Daily 8:30am-1am
Admission: Observation Deck Entry: Adults 125AED (immediate entry 400AED), children 4-12 95AED, children under 4 free
Location: Entry from Dubai Mall, Sheikh Ziyeed Road, Downtown
2 Dubai Museum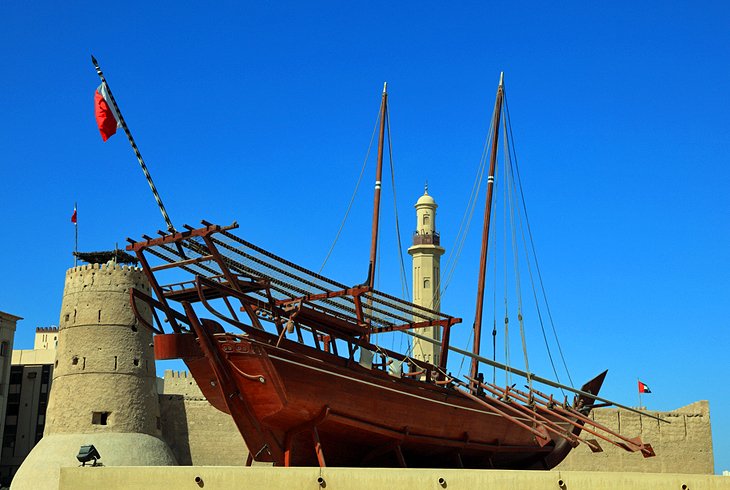 Dubai Museum
Dubai's excellent museum is housed in the Al-Fahidi Fort, built in 1787 to defend Dubai Creek. The fort's walls are built out of traditional coral-blocks and held together with lime. The upper floor is supported by wooden poles known as "handels", and the ceiling is constructed from palm fronts, mud and plaster. In its history, the fort has served as residence for the ruling family, seat of government, garrison and prison. Restored in 1971 (and again extensively in 1995) it is now the city's premier museum. The entrance has a fascinating exhibition of old maps of the Emirates and Dubai, showing the mammoth expansion that hit the region after the oil boom.
The courtyard is home to several traditional boats and a palm-leaf house with an Emirati wind-tower. The right-hand hall features weaponry and the left-hand hall showcases Emirati musical instruments. Below the ground floor are display halls with exhibits and dioramas covering various aspects of traditional Emirati lifestyle (including pearl fishing and Bedouin desert life) as well as artifacts from the 3,000-4,000 year old graves at Al Qusais archaeological site.
Location: Al-Fahidi Street, Bur Dubai
3 Bastakia (Old Dubai)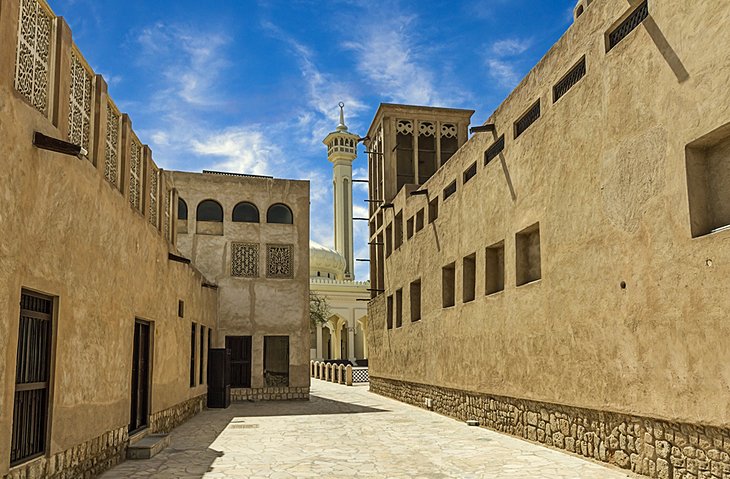 Bastakia (Old Dubai)
The Bastakia Quarter was built in the late 19th century to be the home of wealthy Persian merchants who dealt mainly in pearls and textiles, and were lured to Dubai because of the tax-free trading and access to Dubai Creek. Bastakia occupies the eastern portion of Bur Dubai along the creek and the coral and limestone buildings here, many with walls topped with wind-towers, have been excellently preserved. Wind-towers provided the homes here with an early form of air conditioning, with the wind trapped in the towers funnelled down into the houses. Persian merchants likely transplanted this architectural element (common in Iranian coastal houses) from their home country to the Gulf.
Lined with distinct Arabian architecture, narrow lanes are highly evocative of a bygone, and much slower, age in Dubai's history. Inside the district you'll find the Majlis Gallery with its collection of traditional Arab ceramics and furniture (housed in a wind-tower) and the XVA Gallery with a contemporary art collection (located in one of the historic buildings).
4 Sheikh Saeed Al-Maktoum House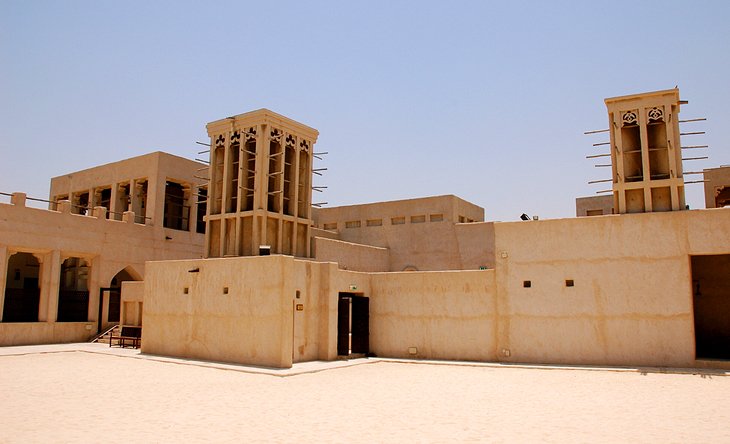 Sheikh Saeed Al-Maktoum House
Sheikh Saeed Al Maktoum was the Ruler of Dubai from 1921 to 1958 and grandfather to the current ruler. His former residence has been rebuilt and restored as a museum that is a fine example of Arabian architecture. The original house was built in 1896 by Sheikh Saeed's father, so he could observe shipping activity from the balconies. The original home was demolished but the current house was rebuilt next to the original site, staying true to the original model by incorporating carved teak doors, wooden lattice screens across the windows and gypsum ventilation screens with floral and geometric designs. Thirty rooms are built around a central courtyard with wind-tower details on top.
Inside are the exhibits of the Dubai Museum of Historical Photographs and Documents with many wonderful old photographs of Dubai from the period between 1948 and 1953. The marine wing of the museum has photos of fishing, pearling and boat building. Throughout the building there are many letters, maps, coins and stamps on display showing the development of the Emirate. Nearby is the Sheikh Obaid bin Thani House, restored with displays of traditional interiors.
Hours: Sat-Thu 8:30am-8:30pm, Fri 3-8:30pm
Admission: Adults 2AED, children 1AED
5 Dubai Creek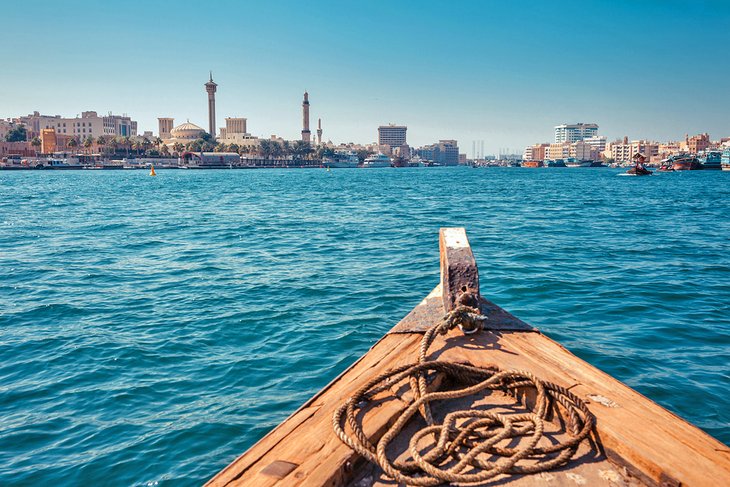 Dubai Creek
Dubai Creek separates the city into two towns with Deira to the north and Bur Dubai to the south. The creek has been an influential element in the city's growth, first attracting settlers here to fish and pearl dive. Small villages grew up alongside the creek as far back as 4,000 years ago, while the modern era began in the 1830s when the Bani Yas tribe settled in the area. The Dhow Wharfage is located along Dubai Creek's bank, north of Al-Maktoum Bridge. Still used by small traders from across the Gulf, some of the dhows anchored here are well over 100 years old. You can visit here, watching cargo being loaded and unloaded on and off the dhows. Dhow workers often invite visitors onto the vessels for a tour, where you can gain insight into the life of these traditional sailors. Many of the dhows here travel onwards to Kuwait, Iran, Oman, India, and down to Africa's horn. This tiny remnant of Dubai's traditional economy is still a bustling and fascinating place to wander around.
To travel across the creek you can either take a trip on one of the many dhows that have been restored as tourist cruise boats or take an abra (small wooden ferry) between the ferry points on the creek's Bur Dubai and Deira banks.
6 Jumeirah Mosque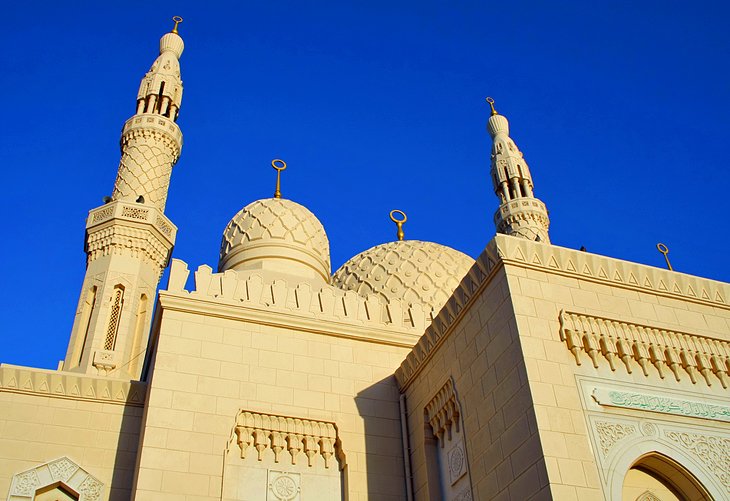 Jumeirah Mosque
Jumeirah Mosque is considered by many to be the most beautiful of Dubai's mosques. An exact copy of Cairo's Al-Azhar Mosque that is eight times its size, the Jumeirah Mosque is a fine example of Islamic architecture. This stone structure is built in the medieval Fatimid tradition with two minarets that display the subtle details in the stonework. It is particularly attractive in the evening when lit with floodlights. The Sheikh Mohammed Bin Rashid Centre for Cultural Understanding organises guided tours of the mosque designed to try to foster a better understanding of the Muslim faith. Tours begin at 10am daily, except Fridays.
7 Deira Souks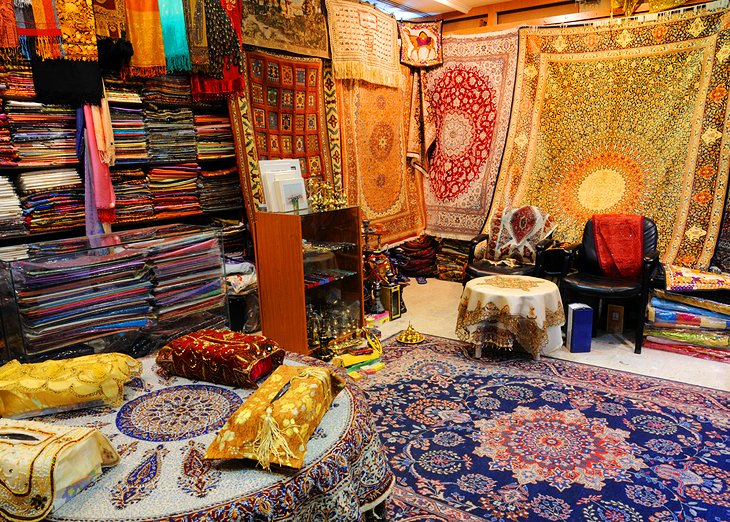 Deira Souks
Deira is located on the northern bank of Dubai Creek and the winding streets here unveil the melting pot of different nationalities that have come to call Dubai home. On the shore, ancient dhows load and unload with modern banks, hotels and office buildings for a backdrop. For travelers Deira is most famous for its traditional souks (markets), which bustle with shoppers at all times of the day. Deira Gold Souq is world-renowned as the largest gold bazaar in the world and the reason that Dubai has received the name "City of Gold". Jewellery of all kinds is available in a variety of designs from traditional to modern and plenty of options to customise your own design.
The Deira Spice Souq sells every imaginable spice with stalls overflowing with bags of frankincense, cumin, paprika, saffron, sumac and thyme as well as the fragrant oud wood, rose water and incense. The market was established in the 1830s and features restored wooden archways and wind-towers. For a much less touristy experience, head to the fish market where you'll find loads of local action.
8 Sheikh Ziyeed Road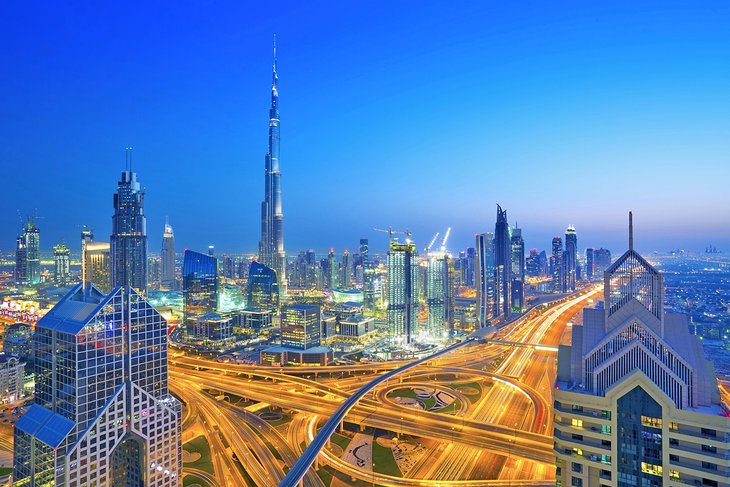 Sheikh Ziyeed Road
Sheikh Ziyeed Road is the main thoroughfare running through Dubai's modern downtown business district. This wide, eight-lane highway is rimmed with towering glass, chrome and steel highrises along its length. Main attractions are along, or just off, the strip between the roundabout and the first intersection. The Courtyard Gallery (6A Street) has an excellent permanent collection focused on contemporary art from Arab artists. Dubai World Trade Tower (Sheikh Ziyeed Road) has an observation deck on its top floor that offers visitors panoramic views.
The Gold and Diamond Park and Museum (Sheikh Ziyeed Road) is a one-stop shop for jewellery lovers with 118 manufacturers and 30 retailers all under one roof. The complex's museum presents the history of Arabic jewellery production and also offers short tours of the manufacturing plant.
9 Bastakia Mosque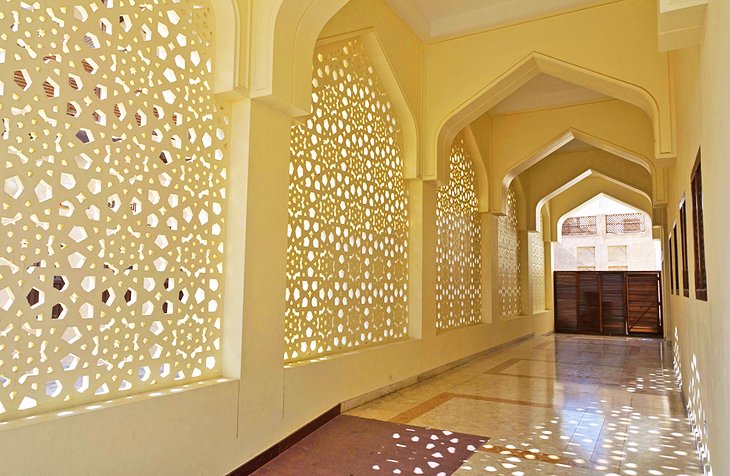 Bastakia Mosque
The Bastakia Mosque may not be the largest or most glitzy mosque in the United Arab Emirates but it has to be one of the most photogenic. This lovely little mosque has exquisite lattice-work detailing made more beautiful by the blindingly white facade. Nearby you can see the last remnants of Dubai's city walls, built in the mid-19th century from gypsum and coral.
10 Heritage and Diving Village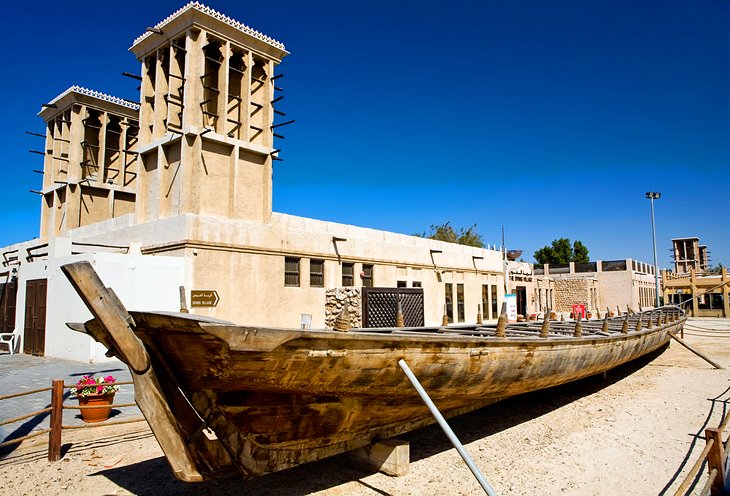 Heritage and Diving Village
Dubai's architectural, cultural and maritime heritage is showcased at the Heritage and Diving Village, with displays related to pearl diving and dhow building - two of old Dubai's historic economic mainstays. There are also recreations of traditional Bedouin and coastal village life, with Persian homes, a traditional coffeehouse and a small souk where potters and weavers practice their handicrafts at the stalls. Local music and dance are performed from October to April and visitors can get advice from practitioners of traditional medicine.
11 Dubai Aquarium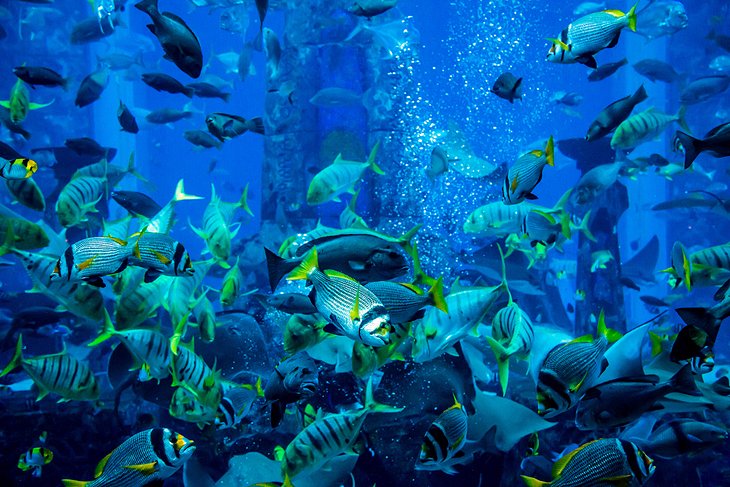 Dubai Aquarium
One of the city's top tourist attractions, the Dubai Aquarium houses 140 species of sea life in the huge suspended tank on the ground floor of the Dubai Mall. As well as free viewing from the mall, if you enter the Underwater Zoo you can walk through the aquarium tunnels.
There are a myriad of activities where you can get a closer look at the sea life. Glass bottom boat tours (on top of the tank) are particularly popular. Cage snorkeling and shark diving activities are also on offer.
Hours: Mon-Fri 10am-10pm, Sat-Sun 10am-midnight
Admission: Adults 70AED, Children 55AED
Location: Dubai Mall, Sheikh Ziyeed Road
12 Dubai Mall
Dubai Mall
Dubai Mall is the city's premier mall and provides entry to the Burj Khalifa as well as the Dubai Aquarium. There is also an ice-skating rink, gaming zone and cinema complex if you're looking for more entertainment options. The shopping and eating is endless and there are nearly always special events such as live music and fashion shows within the mall. The most famous of these are the annual Dubai Shopping Festival in January and February and the Dubai Summer Surprises Festival in July and August.
Location: Doha Road, just off Sheikh Ziyeed Road
13 Burj al-Arab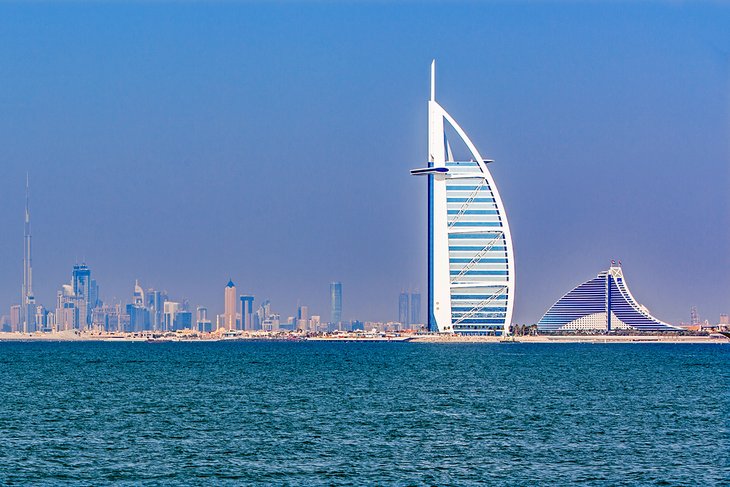 Burj al-Arab Kunal Mukherjee
The Burj Al-Arab is the world's tallest hotel, standing 321 m high, located on its own artificial island on the Dubai coastline. Designed to resemble a billowing dhow sail, the exterior of the Burj Al-Arab is lit up by a choreographed coloured lighting show at night. Decadent in every way possible, it is one of the most expensive hotels in the world with the most luxurious suites costing over $15,000 for one night.
For those without unlimited credit, the way to experience the over-the-top opulence is to go for dinner at the underwater Al-Mahara restaurant where floor-to-ceiling glass panels in the dining room walls allow you to view sea life while you eat. Or, book afternoon tea at the Skyview Bar (a minimum spend is required) on the 27th floor with its amazing panoramic views of the city.
14 Jumeirah Beach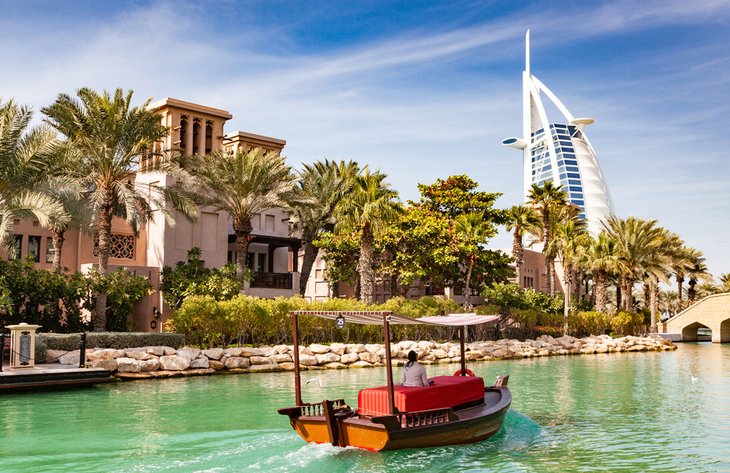 Jumeirah Beach
This strip of sandy white bliss is the number one beach destination for Dubai visitors. There are hotels strung out all along the length, with this being one of the most popular places to stay for tourists. The beach has excellent facilities with plenty of sun loungers, restaurants and water-sport operators offering jet skiing.
Location: Jumeirah Beach Road
15 Mall of the Emirates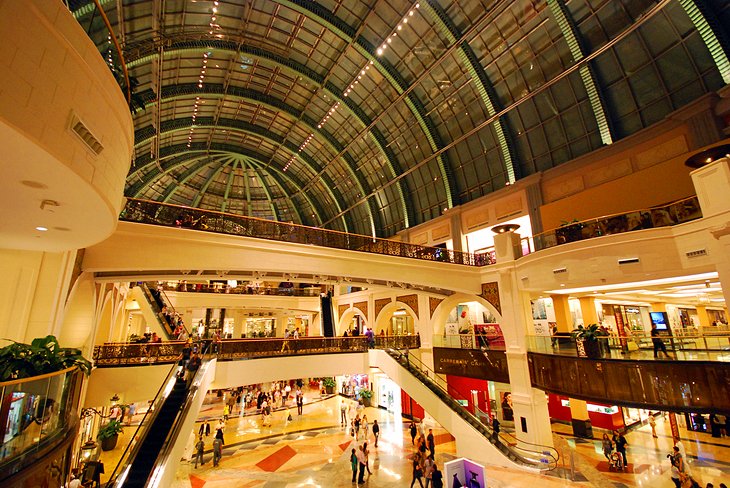 Mall of the Emirates
Mall of the Emirates is one of the city's most famous malls with the spectacular (and surreal) Ski Dubai facility inside. The indoor ski slope is complete with chairlifts and a penguin enclosure, all at a continuous temperature of -4 degrees Celsius. There's also a cinema complex and a family entertainment centre with a whole host of rides aimed at both the big and small. The shopping opportunities are boundless as are the eating options, offering every conceivable world cuisine.
Hours: Sat-Wed 10am-1am, Thu-Fri 10am-2am
Location: Sheikh Ziyeed Road
Other Notable Attractions
Sheikh Mohammed Bin Rashid Centre for Understanding
This cultural centre, located within the Old Dubai district of Bastakia, along the shore of Dubai Creek, runs a program of tours, lectures, Arabic classes and cultural meals.
Hours: Sun-Thu 8am-6pm, Sat 9am-1pm
Location: Bur Dubai
Majlis Ghorfat Um Al-Sheef
Built in 1955, this was the summer residence of the late Sheikh Rashid bin Saeed al-Maktoum. The residence, made out of gypsum and coral-block, has been restored and maintains much of the original beautiful decor giving you a better understanding of the opulent lifestyle of Dubai's rulers. The Majlis Gardens feature a reproduction of an impressive Arab irrigation system and many shady date palms.
Hours: Sat-Thu 8:30am-8:30pm, Fri 2:30-8:30pm
Admission: 1AED
Location: Jumeirah district
Heritage House
Built in 1890 as the home of a wealthy Iranian merchant, this building became the home of Sheikk Ahmed bin Dalmouk (a famous pearl merchant in Dubai) in 1910. Restored in 1994, Heritage House is now a great chance to see the interior of a traditional family home with 10 rooms and a large courtyard. The first room in the house is the meeting room where guests were welcomed. A second meeting room for women is located off the courtyard in a separate area to allow for traditional customs.
Location: Deira district
Al-Ahmadiya School
Al-Ahmadiya School was constructed in 1912 and is the oldest school in Dubai. The school was started by Ahmed Bin Dalmouk, a philanthropist pearl merchant. The first Al-Ahmadiya School taught only limited subjects including basic math, Islamic studies as well as Arabic language and grammar to about 200 boys. As other schools opened in the 1920s, Al-Ahmadiya School closed but re-opened in the 1930s. The school officially closed in 1965 and has been restored as a museum of public education.
Location: Deira district
Dubai Creek Golf and Yacht Club
This 18-hole golf resort opened in 1993 in the heart of Dubai and has become a modern landmark. British architect Brian Johnson utilising traditional elements in designing the distinctive clubhouse, giving the appearance of a dhow's white sails. It's a popular venue for tourists looking to enjoy the green oasis of well-groomed fairways lined with date and coconut palms.
Deira City Centre Mall
Deira City Centre houses over 300 stores, plenty of restaurants, and a children's entertainment centre. It's a favourite mall in the city which heaves with crowds on the weekends. If you want to visit, try to schedule your time here for a weekday so it's not quite so busy.
Mushrif Park
Mushrif Park is a natural ghaf forest with many trees, bushes and flowers. The park covers 124 ha with many features including swimming pools, fountain and lakes, children's play areas, as well as train, camel and pony rides. A population of Bruce's Scops owls nest in the park as well as a number of other species including Orphean warblers, eastern black redstarts, yellow-throated sparrows and Hoopoe. It's a great place to escape the city bustle.
Mamzar Park
This large park offers a sheltered beach area, lagoon and children's play areas. There are four beaches with lifeguards, two pools, chalets for rent and barbeque sites as well as picnic areas. It's an excellent alternative to some of Dubai's busier beaches.
Location: Dubai northern outskirts
Jumeirah Archaeological Site
The archaeological site at Jumeirah has revealed artifacts from the 7th to the 15th centuries. Jumeirah was a caravan station along an ancient trade route linking what is now known as Iraq with northern Oman. Discovered in 1968, a series of low stone walls, various dwellings, an old souk and a large stone house have been uncovered. The houses were built with beach rock and covered in lime plaster. Other items found here include pottery, tools and coins.
Many of the finds from Jumeirah can be seen in Dubai Museum. Jumeirah is the only complete settlement with well-preserved architecture from this first Islamic era. Although the site is not open to the public, tourists or tour operators may obtain a permit from the Dubai Museum to visit.
The Green Art Gallery
The Green Art Gallery opened in 1995 with a focus on contemporary Arab artists. It works to develop artists by educating them about exhibiting and promoting themselves overseas. Arabic inspired sculptures and paintings reflect the Arabic world, people, heritage and culture. Original art, limited edition prints, and handcrafted items from international artists are also on display at the Green Art Gallery. The collection includes works from artists such as Jaber Alwan, Paul Guiragossian, Ismail Fattah, Fateh Moudarres, Hrair and Omar Hamdi Malva.
Location: Jumeirah
Bayt Al-Wakeel
Bayt Al-Wakeel was the first office building in Dubai, built as a shipping office for Gray Mackenzie in 1935. The building has been restored and now houses a maritime museum dedicated to the fishing and sailing traditions of the Emirate. It is also home to a restaurant, specializing in seafood, Arabic and Emirati dishes.
Location: Dubai Creek
Grand Mosque
The Grand Mosque boasts Dubai's tallest minaret and is a notable landmark and important place of worship. Non-Muslims are not allowed to enter, but can take photos of the gorgeous facade with its sand-coloured walls and 45 small domes.
Location: Bur Dubai
Oud Metha district
Oud Metha offers a great selection of social, recreational and educational facilities with the Wafi City Mall, Al Nasr Leisureland theme park and plenty of other entertainment options within the district. Al Boom Tourist Village, near Al Garhoud Bridge, has a marina where you can take a dhow cruise. Nearby, visitors can observe a traditional wooden dhow being built.
Palm Islands
Located off the Dubai coastline these artificial islands, when completed, will function as a major resort centre for holiday villas and luxury hotels. Palm Jumeirah has been finished and is already home to hotels and a waterpark.
Camel Racecourse
On Thursdays and Fridays, the Dubai Camel Racecourse plays host to the popular local sport of camel racing. The camel racing season runs from November to March and racing begins early in the morning. Camel Racing is a major sport in Dubai and the track is located on the outskirts of the city at Nad Al Sheba (which also offers the only fully floodlit 18-hole golf course in the Middle East).
At the racecourse visitors can also see the Godolphin Gallery, home to a collection of horse racing trophies won by the Godolphin stable, which is owned by the ruling Maktoum family of Dubai.
Location: Nad Al Sheba