Top-Rated Tourist Attractions in Armagh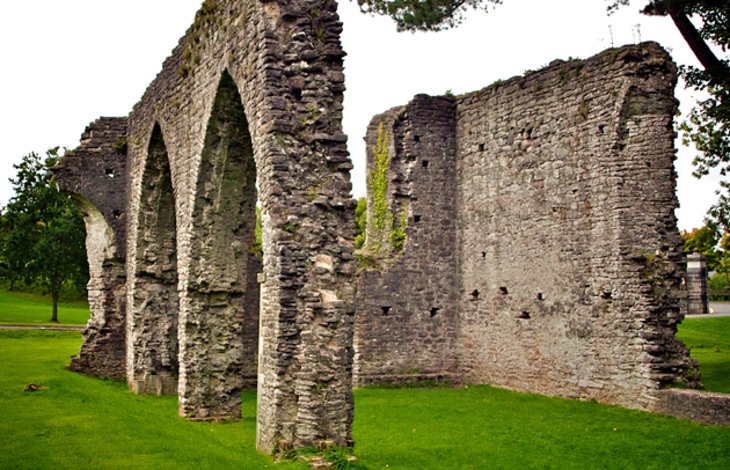 Franciscan Friary, Armagh Tony Bowden
View slideshow
The cathedral city of Armagh (pop. 13,000), is the seat of the primates of both the Catholic and Anglican Churches of Ireland. It took its name from a fortress built here in the third century by Queen Macha, remains of which can be seen 2mi/3km west. St Patrick built a cathedral here in about 445, but thereafter the town was several times burned down and rebuilt.
ENLARGE MAP
PRINT MAP
EMBED < >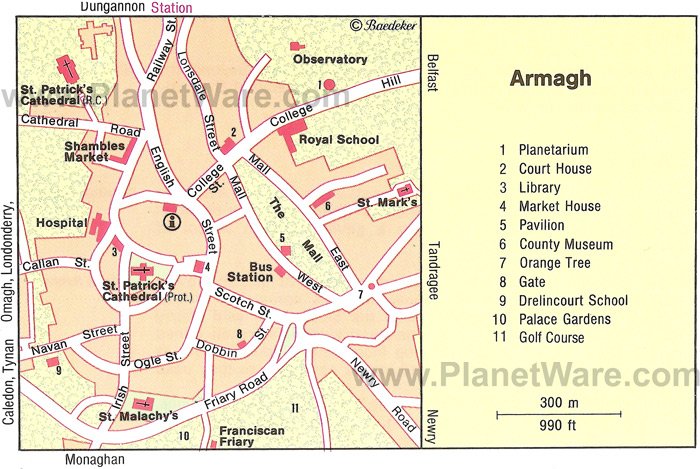 Armagh Map - Attractions
Mall Street
Many fine Georgian Houses are found in Armagh's Mall Street.
County Museum
Found in Armagh's Mall Street is the County Museum (local history).It details the prehistory of Armagh and includes costumes, a natural history room, library, an art gallery, and an extensive map collection.
Address:
The Mall East, Armagh BT61 9BE, Northern Ireland
Court House
One of Armagh's buildings worth seeing is the Court House (1809) by Francis Johnston (1761-1829).
Armagh Planetarium
The Armagh Planetarium illustrates the story of outer space in an entertaining way. Visitors can gaze at constellations and choose the direction of their own journey with an interactive computer system.It contains a Viewlex/Minolta S-11B which was installed in 1977. Its dome measures 13 meters.The site also includes an Eartharium and a solar system garden.
Address:
College Hill, Armagh BT61 9DB, Northern Ireland
Armagh Observatory
Worth seeing in Armagh is the Observatory (1791).It sits adjacent to the Planetarium and was home to some of the most famous astronomers of the last 200 years.
Address:
College Hill, Armagh BT61 9DG, Northern Ireland
Cathedral of the Church of Ireland
Royal School
Worth seeing in Armagh is the Royal School, founded by Charles I in 1774.
Address:
College Hill, Armagh BT61 9DH, Northern Ireland
Gosford Forest Park & Castle
The road from Newry continues via Markethill - with Gosford Castle, one of the largest in Ireland - to Armagh.The Gosford Estate is associated with Dean Swift. Visitors can see poultry in open paddocks, a deer park, ornamental pigeons, and a walled garden. Nature trails and barbecue facilities are also offered.The Castle is a good example of the mock-Norman style of architecture.
Address:
Gosford Road, Markethill BT60 1UG, Northern Ireland
Archbishop's Palace & Diocesan College
Near by Armagh's cathedrals are the splendid Georgian Archbishop's Palace and the Diocesan College.
Friary
The Armagh Friary was the longest friary church in Ireland. It was founded by Archbishop Patrick O'Scanail in 1263. Entrance to the ruins is at the Palace Heritage Centre.
Palace Stables Heritage Centre
Set in the grounds of the Palace Demesne is the Palace Stables Heritage Centre. Here the 18th C. Primate's life is the topic of a significant exhibition including life-size models and commentary. Buildings include: the archbishop's chapel, ice house and underground tunnels. Horse drawn carriage rides and crafts demonstrations are offered.
Navan Fort
Navan Fort is Ulster's most important archaeological site. For 700 years it was the royal capital of the High Kings of Ulster. Myths and legends of the Red Branch Knights, Queen Macha and Cuchulain are presented through interactive audio-visual displays.The center was voted best tourism project in Northern Ireland in 1993.
All About Science
This annual week-long festival runs from late February to early March and highlights Northern Ireland's contribution to science and technology.The event is held in conjunction with Queen's University.
Ardress House
Ardress is a 17th C farmhouse now owned by the National Trust. It features neo-classical plasterwork in the drawing room, fine furniture and pictures, a display of farm equipment, livestock, woodland walks and a playground for children.
Address:
64 Ardress Road, Portadown BT62 1SQ, Northern Ireland
Royal Irish Fusiliers Museum
The Royal Irish Fusiliers Museum in Armagh is renowned as one of the best in the British Army. It houses a significant display of medals and uniforms and also has a 1943 Christmas card from Hitler.
Address:
Sovereign's House, The Mall East, Armagh BT61 9DL, Northern Ireland
St Patrick's Trian
St Patrick's Trian is an exhibition on "the Armagh Story" and "The Land of Lilliput" (an adaption of Swift's Gulliver's Travels). It also features a St Patrick audio-visual display and a craft workshop.
Address:
40 English Street, Armagh BT61 7BA, Northern Ireland
Ancestry Centre
The Armagh Ancestry center provides genealogical information. Visitors can trace their family trees or have a tour planned around their family history.
Surroundings
Crossmaglen, Northern Ireland
Crossmaglen, known locally as Cross, is a small town with a strong heritage. There are a few historic sites to see and particularly, the large main town square. This is a good place to begin exploring Crossmaglen.
Portadown, Northern Ireland
Southwest of Belfast you will find the linen making centers of Northern Ireland. Portadown (pop. 21,333) is home to a well known linen manufacturer and is located west of Lurgan (another linen center).
Craigavon, Northern Ireland
Craigavon is located between Lurgan and Portadown in the lowlands surrounding Lough Neagh.
Tannaghmore Gardens and Farm
Tannaghmore Gardens includes a Victorian and rose garden. The farm has rare breeds such as: Irish Moiled, Kerry and Dexter cattle, Soay and Jacob sheep and Saddleback pigs.
Lurgan, Northern Ireland
The town of Lurgan (pop. 20,991) is located 20mi/32km southwest of Belfast, in the lowlands surrounding the Lough Neagh. It is noted for its linen manufacturing.
Lough Neagh Discovery Centre
The Discovery Centre on Oxford Island presents audio-visual information on the natural history of Lough Neagh and the island. Interactive exhibits, nature trails, birdwatching.