Squares of Savannah
A walking tour of the historic district of Savannah features the town's many public squares which are an historic and interesting part of this town.
Related Attractions
Chippewa Square
Savannah's Chippewa Square was laid out in 1815. It was named to pay tribute to the victory of American troops in the Battle of Chippewa during the War of 1812. Featured in the square is a bronze sculpture by Daniel Chester French of James Edward Oglethorpe.
Wright Square
Savannah's Wright Square was named for Sir James Wright who was Georgia's last colonial governor. The grave of Tomochichi, a Yamacraw Indian Chief, and a monument to William Washington Gordon, an early mayor of Savannah, are located within the square.
Evangelical Lutheran Church of the Ascension
The Evangelical Lutheran Church of the Ascension in Savannah was built in 1741 and is noted for its stained-glass windows and exhibits about church history.
Telfair Square
Savannah's Telfair Square was designed in 1883 and is named for the former governor, Edward Telfair.
Telfair Mansion and Art Museum
From Wright Square it is a short distance west to the Telfair Mansion and Art Museum (a very handsome Regency house of 1818) and Art Museum (American and European art of the 18th and 19th centuries). Then south, passing the birthplace (1820) of Juliet Gordon Low, who founded the Girl Scouts of the United States, to Oglethorpe Avenue, the southern boundary of the old town. From here it is possible to continue southwards to Chippewa Square, on which stands Forrest Gump's bench, and then Madison Square with the Green-Meldrim Home (1852). A shorter way back is along Oglethorpe Avenue, turning east into Abercorn Street, which runs north towards the river, passing the Owens-Thomas House (1816-19) and continuing to Reynolds Square, with the Pink House of 1790.
Calhoun Square
Calhoun Square in Savannah was created in 1851. It was named for one of the south's great statesmen, John Caldwell Calhoun. He served his country as Vice-President, Secretary of State and Secretary of War.
Crawford Square
Crawford Square was built in the 1840's and is one of the last that is still fenced in. It is named for William Harris Crawford who was a cabinet member for President Madison.
Elbert Square
Savannah's Elbert Square was created in 1801. It was named for General Samuel Elbert who was a member of the Provincial Congress of 1775. The square is now the site of the Savannah Civic Center.
Johnson Square
Savannah's Johnson Square was established in 1733 and was the city's first square. It is named for Robert Johnson who was the governor of South Carolina who aided the Georgia colony.
Pulaski Square
Savannah's Pulaski Square was designed in 1837. It was named for Count Casimir Pulaski who was a revolutionary war hero from Poland. He was killed in 1779 in the Siege of Savannah.
Chatham Square
Chatham Square in Savannah was named for the Earl of Chatham, William Pitt. This green space was laid out in 1847.
Columbia Square
Columbia Square in Savannah was laid out in 1799. This city square features a restored federal house and a luxury inn.
Davenport House
Davenport House in Savannah is an American Federal-style house that was built by master builder Isaiah Davenport in 1820.
Ellis Square
This square was laid out in 1733 and was one of the first four Savannah squares. It is named after Henry Ellis, who became the second royal governor.
Franklin Square
Savannah's Franklin Square was created in 1791 and named for Benjamin Franklin, who served as an agent for the Colony of Georgia from 1768 to 1775.
Greene Square
Savannah's Greene Square was named for Revolutionary War General Nathaniel Greene. It contains a monument to him.
Lafayette Square
Savannah's Lafayette Square was established in 1837. It is named after the Marquis de Lafayette who visited the town in 1825.
Andrew Low House
The Andrew Low House in Savannah was built by Andrew Low in 1849. Having attained wealth as a cotton merchant, he was one of the richest men in the city.
Liberty Square
Savannah's Liberty Square was named to honor the "Sons of Liberty" who fought the British during the Revolutionary War.
Madison Square
Savannah's Madison Square was named for James Madison who was the fourth President of the United States.
Green-Meldrim Home
The Green-Meldrim Home in Savannah was General William Tecumseh Sherman's personal headquarters during his 1864 occupation of the city. The house is now the Parish House for St John's Episcopal Church. Tours are available to the public.
Monterey Square
The Savannah's Monterey Square commemorates the Mexican War Battle and the capture of Monterey.
Mickve Israel
Congregation Mickve Israel was founded by 42 Jews who arrived in Savannah in 1733.
Oglethorpe Square
Savannah's Oglethorpe Square was established in 1742. It is dedicated to General James Edward Oglethorpe, the founder of the colony of Georgia.
Owens-Thomas House
The Owens-Thomas House was built in 1819 and overlooks Oglethorpe Square. It was designed by William Jay, one of the finest trained architects of the time. Today the house is thought to be one of the finest examples of English Regency Architecture in the United States.
Orleans Square
Savannah's Orleans Square was designed in 1815 and dedicated to the heroes of the War of 1812, Battle Of New Orleans after which it is named.
Reynolds Square
Savannah's Reynolds Square is named for the Georgia governor of 1754, Captain John Reynolds. Located in the square is a statue of John Wesley.
Troup Square
Savannah's Troup Square was established in 1851 and is named George Michael Troup, a former governor of Georgia.
Warren Square
Savannah's Warren Square was established in 1791. The square is named for General Joseph Warren who was president of the Third Provincial Congress.
Whitfield Square
Savannah's Whitfield Square was established in 1751 and named for a minister and the founder of the Bethesda Orphanage.
Washington Square
Savannah's Washington Square was named in honor of General George Washington.
Map of Savannah Attractions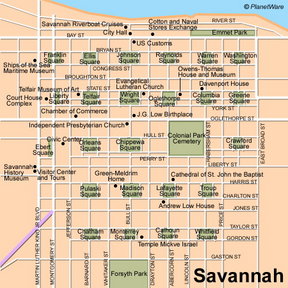 Savannah Map
Popular Destinations Nearby