Ghirardelli Square, San Francisco
Ghirardelli Square was inaugurated in 1964. It was the first of a number of projects designed to give new life to abandoned factory complexes. (Others that have been completed as shopping and leisure centers The Cannery, Pier 39 and The Anchorage). The Italian Domenico Ghirardelli's old red-brick chocolate factory has been turned into a center for shoppers, art-lovers and those in search of entertainment or a good meal.
Important Information:
Address:
900 North Point Street, Suite 100, San Francisco, CA 94109-1192, United States
Transit:
Buses: 19, 30, 42; Cable car: 60.
Its belfry (built in 1916) is modeled on that of the Château of Blois in France. Later additions are rose gardens decorated with fountains (for example, Rose Court with its concrete fountain by Lawrence Halpin, the garden-designer of Ghiradelli Square) and terraces with fine views.History of the chocolate factoryRedevelopmentThe complex was then taken over by a group of San Francisco businessmen. They commissioned a number of different architects to design the center with its more than 70 shops, galleries, cafés and cinema, arranged on three levels.Today the development is thriving; Ghirardelli Square is a popular rendezvous for San Franciscans, particularly on warm evenings.BelfryThe belfry, dating from 1916, housed the chocolate factory's main offices. Its architect, William Moosersen., took the Château de Blois in France as his model.Rose CourtThe Ghirardelli Square gardens were laid out by Lawrence Halpin who also designed the concrete fountain in Rose Court. In East Plaza there is a particularly noteworthy bronze fountain by Ruth Asawa depicting two mermaids surrounded by turtles, water-lilies and dancing frogs.
Ghirardelli Square Pictures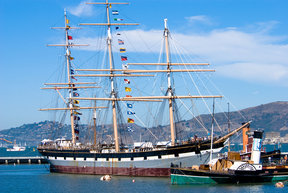 Map of San Francisco Attractions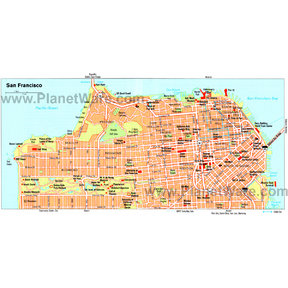 San Francisco Map
More San Francisco Attractions