Nazare Tourist Attractions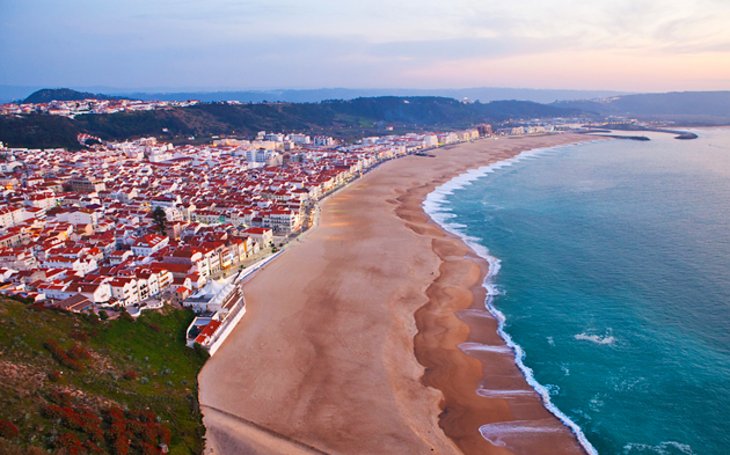 Nazare
The particularly picturesque little fishing town of Nazaré (Altitude: 0-110m/0-360f) has drawn increasing numbers of visitors in recent years because of its good beaches and the still genuinely colorful life and activity of its fisherfolk.
Costume
For special occasions and for the folk dance displays laid on by the tourist information center the people of Nazaré still wear their characteristic traditional costumes. The fishermen have check shirts, trousers in a different check, and black stocking caps, used like a purse for money, etc. The women's costume is covered in lace and has wide bouffant skirts with up to seven petticoats.
View
In the Pederneira district in the lower part of the town the square in front of the 16th C. church of the Misericórdia has a fine view over the beach towards Monte Sítio.
Sitio
Sítio View
An excellent view is to be had from the district of Sítio (110m/360ft) on the small promontory of Monte Sítio, reached by car, by funicular, or by walking up the steps of the Ladeira de Sítio.
Capela da Memória
According to legend the Capela da Memória was founded by a local dignitary named Dom Fuas Roupinho who was out hunting here in 1182 when the stag he was chasing leapt off the cliff at this point. His horse was about to follow when the Virgin heard the Dom's fast and fervent prayer and, dazzling the beast with her appearance, halted the horse on the brink of the precipice. In thanksgiving for this miraculous aid Dom Fuas Roupinho forthwith had the Capela da Memória built at this point.Near the chapel there is a pillar with an inscription which commemorates Vasco da Gama's visit here, after his voyage to India, to give thanks to Nossa Senhora de Nazaré for his safe return.
Nossa Senhora de Nazaré
Opposite the Capela da Memória is the 17th C. pilgrimage chapel of Nossa Senhora de Nazaré, containing an image of the Virgin which is revered as miraculous. The annual pilgrimages here on August 15 and in the second week of September attract visitors from near and far.
Address: Sítio, 2450-065 Nazaré, Portugal
Romaria da Senhora de Nazaré
Romaria, with impressive processions, traditional costumes, folk events, fair, fireworks, bullfights.
Sao Miguel
Some 500m/550yd west of Nossa Senhora de Nazaré is the old Fort of Sao Miguel, now a lighthouse.
Surroundings
Sao Martinho do Porto, Portugal
About 12km/7.5mi south of Nazaré, on the northeast side of a narrow sheltered bay, rather like a lake and known as "concha" (conch shell), because of its unusual shape, is the little seaside resort of Sao Martinho do Porto, much favored by families with small children.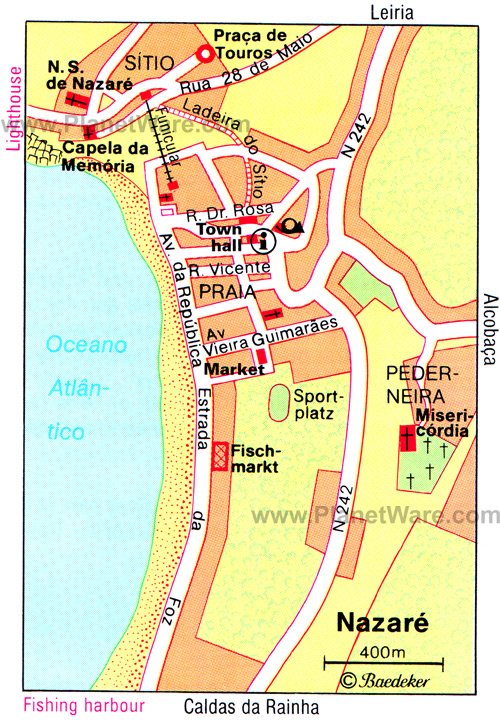 Nazare Map - Attractions
Popular Pages