Piccadilly Circus, London
Piccadilly Circus is one of the great centers of London life and one of its noisiest and busiest traffic intersections, situated at the meeting of five major streets. The many night spots and large cinemas in the surrounding area make it the heart of the West End world of entertainment. It is thus equally busy by night and by day. In the center of the Circus stands the Shaftesbury Memorial, commemorating the philanthropic seventh Earl of Shaftesbury (by Sir Alfred Gilbert, 1893). This is a bronze fountain topped by a cast aluminum figure of an archer, universally known as Eros although in fact the figure was intended to represent the angel of Christian charity. Piccadilly, one of London's most fashionable streets, runs west from the Circus. It is named after the "picadils" (ruffs) made by a well-known 18th century tailor.
Related Attractions
Burlington Arcade
Burlington Arcade is a very attractive and very expensive Regency-style shopping arcade lying in the heart of the West End.Its character is indicated by the old regulations, which specified that the arcade was intended for the sale of haberdashery, clothing and other articles which offended neither sight nor smell, and prohibited whistling, singing, playing a musical instrument, carrying a parcel and putting up an umbrella within its precincts. The patrolling "Beadles" enforce these regulations.Burlington Arcade is one of the earliest glass arcades in Europe.
Museum of Mankind (closed)
In the Museum of Mankind temporary exhibitions of the ethnographical department of the British Museum are mounted; these are concerned with the peoples and cultures of Africa, Australia, the Pacific area, North and South America, and some parts of Europe and Asia. Because of the lack of space only certain aspects can be included in the exhibition program.ATTRACTION CLOSED - EXHIBITS MOVED TO THE BRITISH MUSEUM.
Oxford Street
This long, busy and often congested street follows the course of a Roman road. One shop follows another a visit must include the giant department store, Selfridges.
Marble Arch
On an island site in the middle of London's rushing traffic stands Marble Arch, an imposing triumphal arch designed by John Nash on the model of the Arch of Constantine in Rome. Originally intended to serve as the main gateway to Buckingham Palace, it was found to be too narrow to admit the state coach and was moved in 1851 to its present site at the northeast corner of Hyde Park. It stands close to Tyburn, which from the 12th century to 1793 was London's place of execution; criminals were brought here from the Tower or from Newgate prison to end on the gallows ("Tyburn tree"). The site of Tyburn is marked by a small stone slab let into the roadway.
Map of London Attractions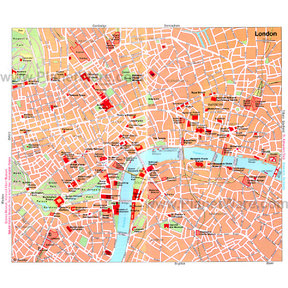 London Map