Boston Common
Boston Common is the starting-point of the Freedom Trail, a popular route linking many of Boston's historical sites. It is a 50-acre park which lies between downtown Boston and the Black Bay area. This is the oldest public park in the United States, municipal property since 1634, and throughout its history the home of free speech and free assembly. In the park are monuments commemorating the War of Independence and the Civil War.
At the south end is the Central Burying Ground of 1756.The Common is not just a tourist attraction, it is also a place that locals come to relax and enjoy on a year round basis. While tourists are wandering sightseeing, locals can be seen relaxing on the lawns and enjoying the open space. In winter there is an ice skating rink which is very popular with children and families. In the spring the Boston Common comes to life with tulips and fruit trees in bloom. And, in the autumn the park features many big old lovely trees that put on a full display of fall color.
Related Attractions
Frog Pond at Boston Common
Frog Pond is located at Boston Common, the oldest public park in the US. Visitors can skate on Frog Pond from November through mid-March or enjoy the tranquil reflecting pool in spring and fall. During July and August, the pond becomes a wading pool for young children.
Public Garden
Adjoining Boston Common, on the west side of Charles Street, is the24-acre Public Garden (opened 1859), with a large artificial lake (boating; skating in winter). It contains Victorian-style monuments and statues, including an equestrian statue of George Washington (1869) near Arlington Street.A ride in the famous swan boats, first launched in the 1870's, is a popular pastime in the Gardens.
More Boston Common Pictures
Map of Boston Attractions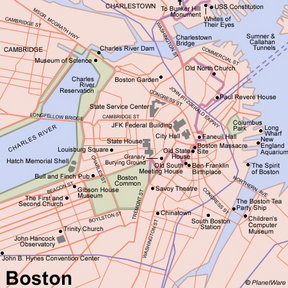 Boston Map
More Boston Attractions
Popular Destinations Nearby