Wat Pho, Bangkok
Situated immediately south of the Grand Palace precinct, Wat Pho (or Wat Chetuphon), built by King Rama I, is the oldest and also the largest temple in Bangkok. In the 16th c. the site is said to have been occupied by a small residence belonging to a prince of Ayutthaya, with a wat called the "Temple of the Sacred Bhodi-Tree" (hence "pho", i.e. bhodi).Wat Pho was renowned as a place of healing even in the olden days and famous for its pharmacy established at the time of Rama III. The same king turned the wat into Thailand's first "university", a seat of learning to which all had access.
Useful tips:
Admission charge.
Related Attractions
Temple of the Reclining Buddha
The Temple of the Reclining Buddha (as it is known in English) occupies the north-west corner of the compound. Inside the specially constructed wiharn lies an enormous reclining figure of the Buddha, 45 m (148 ft) long and 15 m (48 ft) high. Because the wiharn is narrow, it is quite impossible to take in the statue as a whole, attention having to be focused more on its detail, e.g. the finely curved lines of the face. The soles of the feet, inlaid with a myriad of precious stones, are particularly interesting, being decorated with the 108 signs of true faith. Also noteworthy are the long earlobes signifying noble birth and the lotus-bud configuration of the hand, a recurring symbol of purity and beauty.
More Wat Pho Pictures

Map of Bangkok Attractions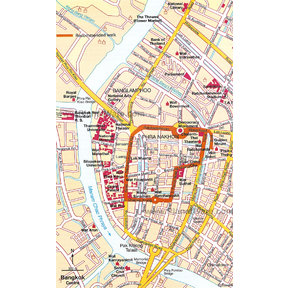 Bangkok Map
More Bangkok Attractions
Popular Destinations Nearby