Jerome Tourist Attractions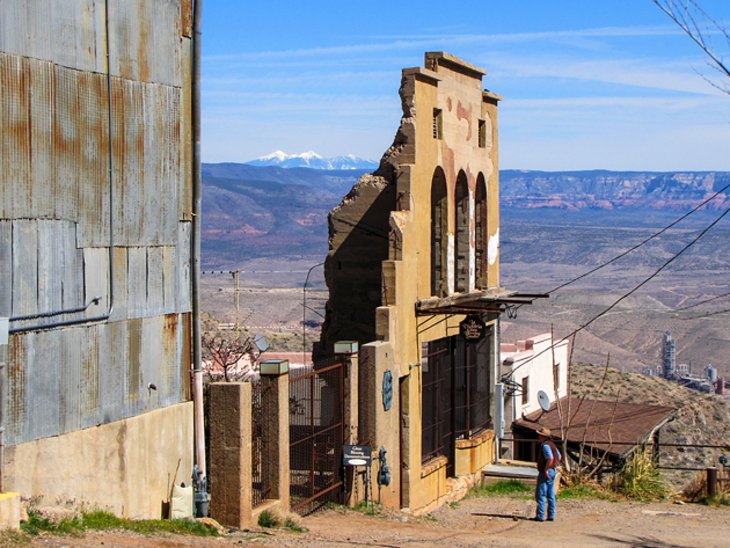 Jerome, AZ
Jerome was once a mining town known for its copper, gold, and silver.
Jerome State Historic Park
The Jerome State Historic Park re-opened in 2011 following some upgrades and improvements.The Douglas Mansion was built in 1917 by James "Rawhide Jimmy" Douglas, owner of the Little Daisy Mine in Jerome. This grand house which was built as an upper end hotel has long been a landmark building in Jerome. It sits on a hill overlooking the mine, is now a museum at the Jerome State Historic Park. Displays depict the town's mining history.
Little Daisy Hotel
The Little Daisy Hotel in Jerome was built in 1918 by Jimmy "Rawhide" Douglas for his mine workers. The miners were assigned eight hour shifts in their room.
Gold King Mine Museum and Ghost Town
Just outside of Jerome is the Gold King Mine Museum, a former working gold mine from the late 1800s. The site has mining artifacts, a replica of a mine shaft, old buildings, and other memorabilia. Visitors can walk around antique trucks, tractors, construction and mining equipment. Many of the original buildings and equipment that were used are still found at Gold King Mine.
Address: 200 Main Street, Jerome, AZ 86331, United States
Grand Hotel
The Jerome Grand Hotel was once the United Verde Hospital, the largest hospital in Arizona when it was built around 1927.The Jerome Grand Hotel is the highest public building in the Verde Valley, and it offers breathtaking views! Restoration of the structure began in 1994.
Address: 200 North Hill Street, Jerome, AZ 86331, United States
Bartlett Hotel
The Bartlett Hotel, now in ruins, was once one of Jerome's finest. It is now owned by the Historical Society. The hotel became unstable during the rock slides of the 1930's and 1940's. There is a plaque here explaining the history.
Address: Box 156, Jerome, AZ 86331-0156, United States
Holy Family Catholic Church
The Holy Family Catholic Church was a long serving church in Jerome with a priest who became a bit of an iconic figure in the town prior to his death. The church was built around 1898 and is today a favorite photography spot for visitors.
Sliding Jail
The Sliding Jail in Jerome was originally built around 1928. Built on a clay slick, it soon began to slide, and now sits 2,500 feet from its original location.
Episcopal Church
The Episcopal Church in Jerome was built in 1927 in the Spanish Colonial style.
Address: Box K, Jerome, AZ 86331-0307, United States
Popular Pages