Hiking for Beginners: Getting Started, Gear & Other Essentials
Hiking is one of the most accessible sports for beginners. That's because, in its purest form, hiking is nothing more than walking from one place to another using only body muscles. But, not to sell the sport short, a lifetime of good hiking habits opens a world of views, adventure, and healthy living.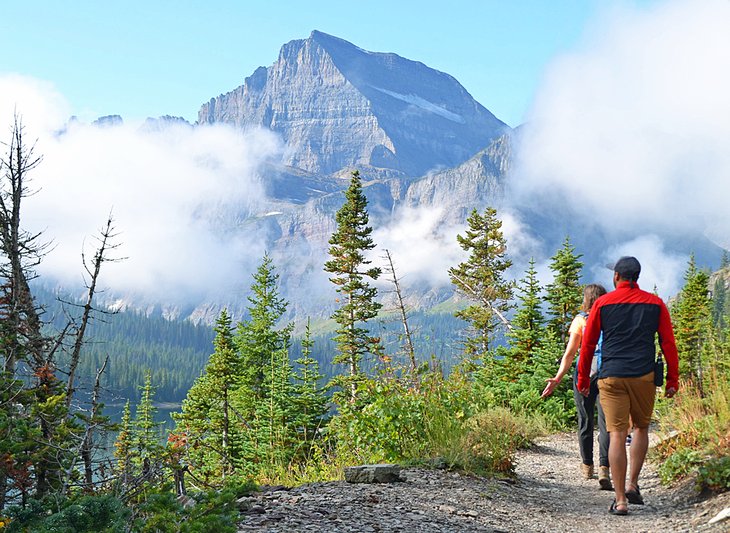 Every hiking adventure starts the same, and for those brand new to the sport, it begins with a single step. Hiking doesn't have to take place in the mountains, or the desert, or foreign lands far away. One of the best ways to get into hiking is taking a walk out the front door.
And after sufficiently exploring the immediate neighborhood, the sky's the limit for where the next hike may take you. Hiking trails across the world navigate massive sand dunes, behind rushing waterfalls, and the shorelines of remote mountain lakes. And it's a life skill that literally takes you places.
It's never too late to incorporate hiking into life, and these helpful tips for beginners will have you hitting the trails in no time.
Hiking Essentials for Beginners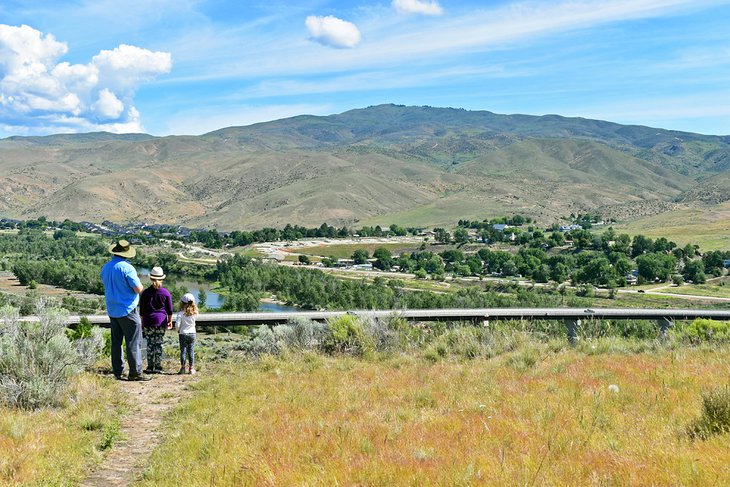 While hiking doesn't require much, a few small pieces of hiking gear add considerable value to trekking endeavors. When it comes to hiking gear for beginners, keep comfort in mind. From the shoes on your feet to the outfit keeping you dry, warm, and sweat-free, hiking essentials are all about making life easier.
Hiking Shoes & Boots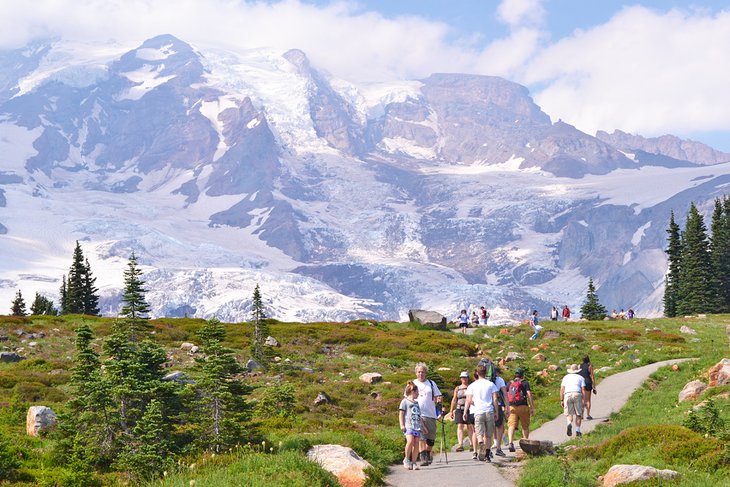 Not all hiking endeavors require big hiking shoes. In fact, most trails call for a lightweight hiking shoe instead. Big hiking shoes, ones that go above the ankles, are best suited for unstable terrain (like rocks and roots) and support for a heavy backpack. Taller hiking boots are also an excellent choice for those needing extra ankle support.
Otherwise, for shorter hikes on well-trodden trails, a lightweight hiking shoe or trail running shoe could be the right fit. Different shoe brands and models cater to different types of feet. From high-arch support to minimalist design, the right shoe depends on the foot wearing it. The best way to find the proper support is by heading to a local shoe or outdoor store and speaking to a knowledgeable sales representative.
For socks, wool or synthetic material is preferable. These two materials help wick and dry sweat, as opposed to cotton, which tends to collect moisture. A lightweight ankle sock works in most climates and for casual hikes. A thicker, mid-calf sock is more appropriate for colder conditions or ankle-high boots.
Appropriate Clothing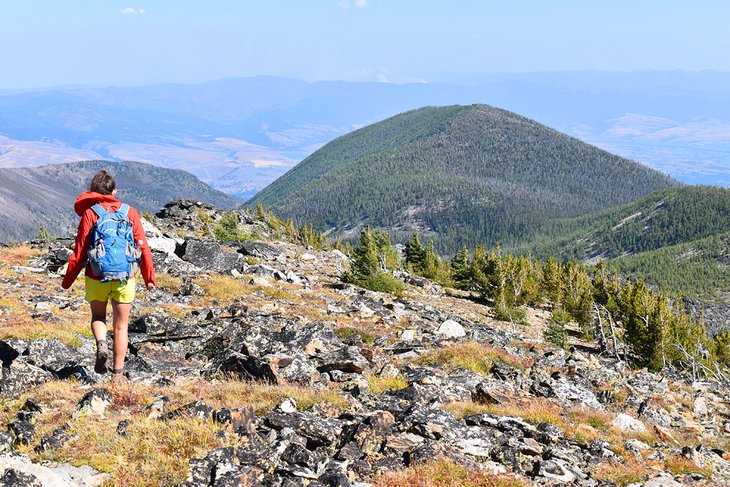 In hiking, there's no such thing as bad weather, just poor clothing choices. When choosing the proper hiking attire, rather than one single item, layers of clothing are crucial to staying comfortable. Body temperatures fluctuate on a hike, and the ability to add or take off layers helps regulate comfort levels.
The most important layer of clothing is the one closest to the skin, also known as the base layer. Synthetic or wool materials, as opposed to cotton, are an ideal choice for the base layer, thanks to their moisture-wicking properties. Unlike absorbent cotton, wool and synthetic materials wick and evaporate sweat away. This moisture management significantly helps regulate body temperatures.
For outer layers, consider the environment you'll be trekking across. A rain jacket is always something worth bringing along, as well as an extra warm fleece or jacket for any idle moments along the trail. Similarly, a wool cap is also helpful in preserving body heat.
Sun Protection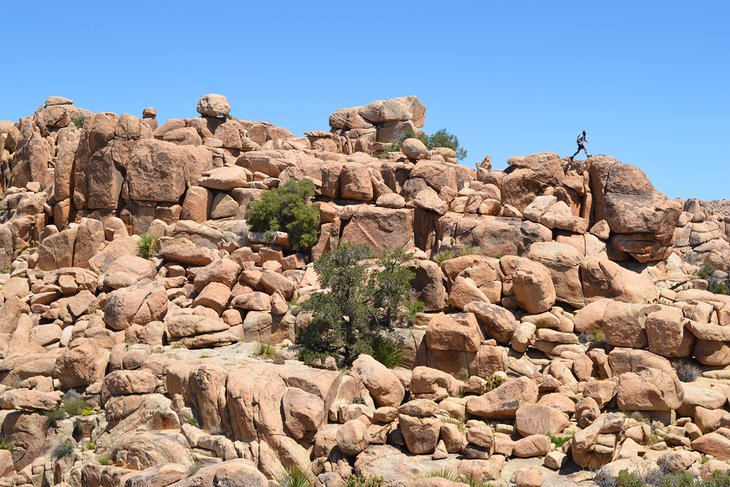 Having adequate protection from the sun is essential. Exposed skin and rising body temperatures can suck the energy right out of any experienced hiker, making each step harder than it needs to be. This sun-draining effect is especially apparent when hiking through an exposed environment (an area with little to no shade).
Appropriate clothing is the first step in sun protection. Items like a brimmed hat; a lightweight, long-sleeved hiking shirt; and hiking gloves offer significant protection. And other items like sunscreen and UV-blocking lip balm are recommended for sun-soaked environments.
Water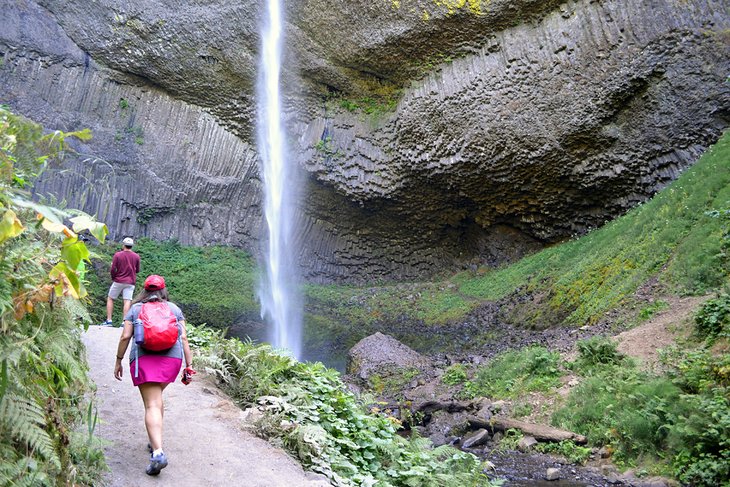 Every hike is easier when adequately hydrated. Enough water is an essential hiking item for beginners and experts alike. A general rule of thumb is for every hour of activity in moderate weather, it's recommended to bring half a liter of water. So, for a two-hour hike in mild conditions, bring along at least one liter of water.
For longer hikes, drinking only water may not be enough. Adding electrolytes like salt, sodium, and potassium can help avoid flushing out your system entirely. Powdered drink mixes and sports drinks often contain these essential minerals. Trail snacks also provide many of these compounds.
Instead of disposable plastic water bottles, consider investing in a reusable hard-sided water bottle. These easy-to-find reusable water bottles not only reduce excess waste but quickly save hikers tons of money over a short amount of time.
Trail Snacks
Trail snacks are another recommended item for longer hikes. And having some calories close by is a smart move for any outing over two hours long or any excursion to a new area. The key to trail snacks is bringing something that can survive outside (non-perishable), and items that keep their flavor after being smooshed in a backpack.
Snacks like beef jerky, trail mix, and snack bars are easy to bring along. Other popular items include dried fruit and snack nuts. For any hike, but especially longer ones, lightweight items with a lot of calories help maintain energy levels. Salty items are also preferable, as sweat can drain these electrolytes from the skin.
Hiking Poles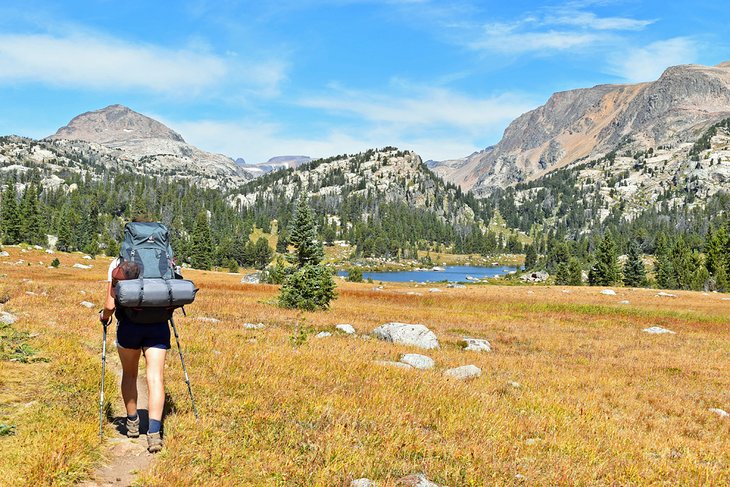 Hiking poles are recommended for every hiker. These lightweight tools help absorb each foot's impact, which adds up significantly, even on a short hike.
Poles are also helpful in navigating any vertical terrain, providing extra balance when going up or down. Hiking poles assist during an ascent by letting the upper body contribute to the effort. While going downhill, hiking poles absorb some of the shock from each step, adding up to significant relief in just a few miles.
And for rocky, rooty, or otherwise stumbly trails, hiking poles help you balance and navigate challenging terrain. Several varieties of hiking poles work well for casual hikes, including a severed stick found on the ground. Consider investing in a lightweight pair of hiking poles made from aluminum or carbon for more extended pursuits. These can also be easily adjusted to fit your size.
Where to Go Hiking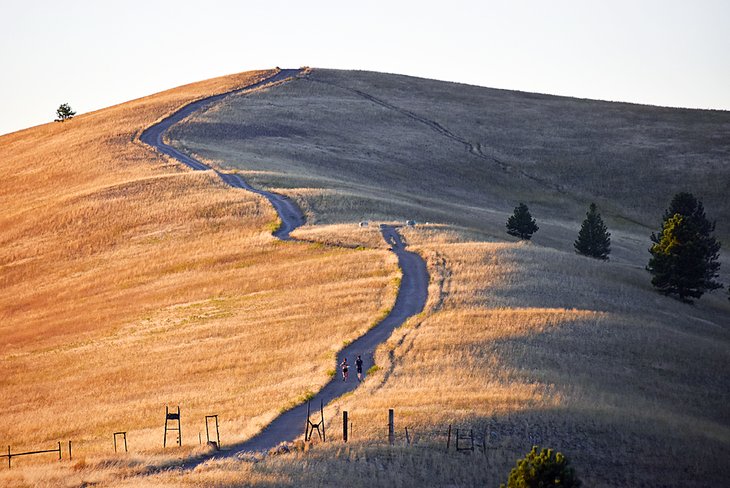 After exploring out your front door, finding established trails elsewhere is typically easy to do. For easier hikes, many community parks have paved or well-trodden dirt trails that are straightforward to follow, and most state parks in the U.S. have designated networks of trails for longer adventures. Always consult a hiking trail map before starting an adventure.
And for bucket-list hiking, national parks and national forests are proper playgrounds for hiking adventures. Abundant information is available online or at a local bookstore concerning hiking trails for nearby national parks. Information on national forest hiking is also available online and in print.
Visitor centers and ranger stations offer one of the best resources for local conditions and recommended hiking trails. It's always a good idea to check with someone on possible hazzards before heading out on a trail.
How to Decide What Trail is Best for Beginners
Each hiker experiences a trail differently. And deciding what trail is best for beginners comes down to the hiker and their abilities. Whenever choosing a hike, always keep personal limitations and comfort in mind. Erring on the side of caution is always better than overestimating abilities on a hike.
In the United States, many trail maps come with a color classification. Typically, but not always, routes marked with green indicate the most beginner-friendly routes. Often, trail maps and information guides will also specify which trails have the most accessible rating.
What makes one trail easier than the other centers around elevation gain and total length. A route with little ascending or descending is generally easier than one with many ups and downs. The type of trail also determines its ease. Rocky or uneven trails, trails that abut significant drop-offs, and generally harder-to-follow trails receive more challenging ratings.
Choosing the right trail is ultimately a personal judgment call. Talking to park rangers, asking for advice from a trusted friend, and researching officially published information can help inform a decision.
Helpful Tips for Beginners
Take Only Pictures, Leave Only Footprints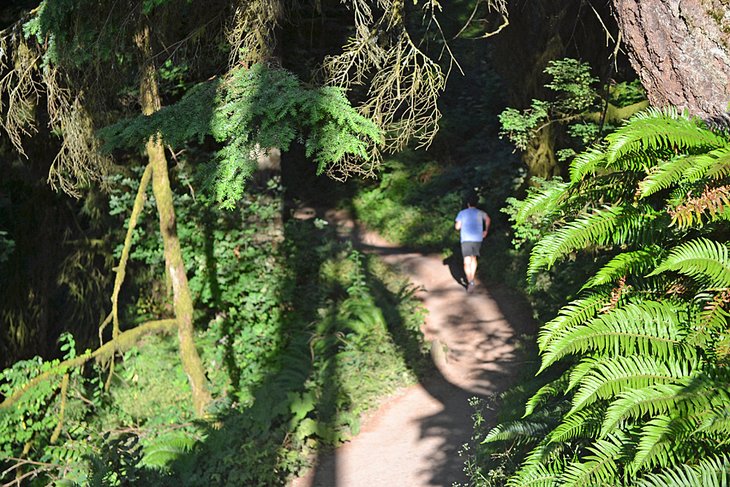 Leaving the hiking trail better than you found it is an essential hiking principle. This critical skill includes packing out personal trash, staying on designated footpaths, and not taking anything from the natural landscape. The 7 Principles of Leave No Trace outline best practices to ensure quality trail hiking for years.
Let Someone Know Where You are Going, Don't Rely on Cell Service
Before heading out, let someone know where you are going and what time you'll be back. In the rare instance of a trail emergency, having someone that can report you missing, significantly assists the rescue process. Don't rely on cell service on hikes into the wilderness.
Watch Out for Wildlife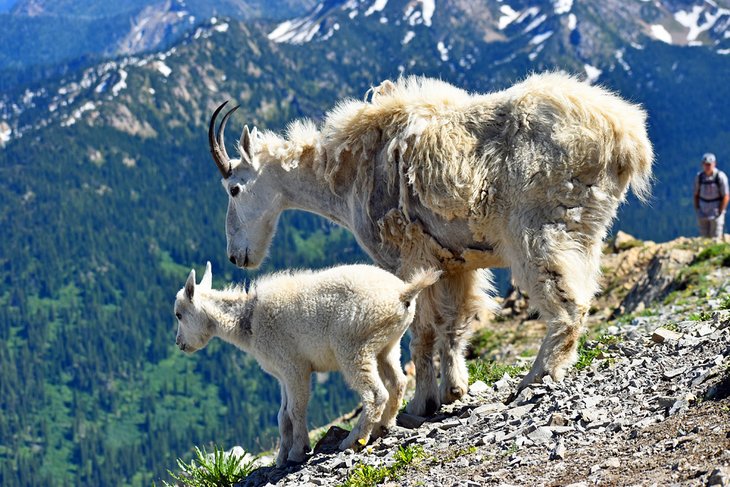 Seeing animals is often a big bonus of any hike. But no matter the animal encounter, it's essential to maintain distance and not interact with the local wildlife. Wild animals are dangerous and can be hazardous to themselves if they become too acclimated to human contact.
Research the region you'll be hiking to know what wildlife might be encountered. Some habitats pose extra dangers with wildlife like bears, rattlesnakes, and wild boars. Mountain lions, moose, and bison are a few other big mammals that are best to avoid. While animal encounters this size are rare, it's essential to know what wildlife is in the area and what extra precautions are needed.
Not interacting with wildlife includes not feeding animals. Feeding small animals like squirrels and chipmunks can cause serious problems for the area's ecology, as well as issues for future visitors. Every wild animal knows how to collect food on its own.
Don't Forget the Ears (and Back of the Neck)
When hiking out in the sun, the two most missed places to add sunscreen include the ears and the back of the neck. Not all hats cover these sensitive areas, which some hikers don't realize until it's too late. Hands also tend to get a lot of exposure, and items like lightweight sun gloves can help prevent lobster hands.
Don't Cut the Switchbacks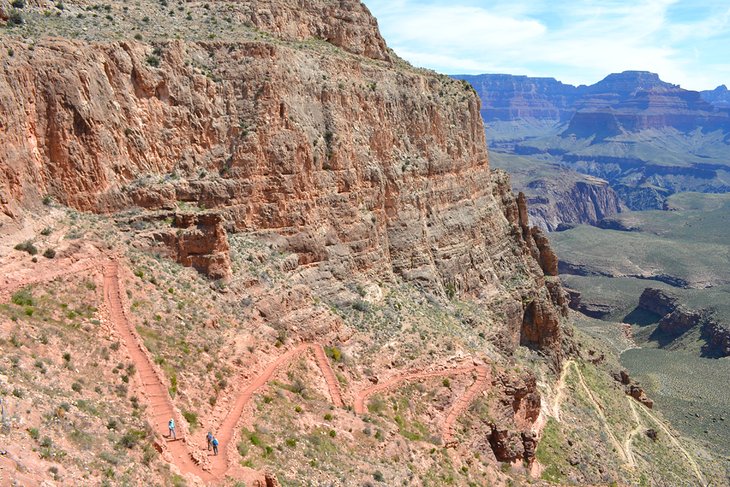 Trail construction is an artful science. And most of the designated trails across America were dutifully built by avid volunteers. Regardless of who made them, it's standard etiquette to stay on the trail whenever possible. Staying on course helps maintain the integrity of the trail and surrounding natural space.
Of particular note, it's especially important to stay on the trail when navigating switchbacks. These carefully constructed zigzags traverse up and down elevated terrain. Not only do they help hikers navigate particularly steep inclines, but they also significantly prevent erosion on the hillside. Always stay on the trail, and never cut across these prime examples of trail engineering.
Find a Hiking Buddy or Go it Alone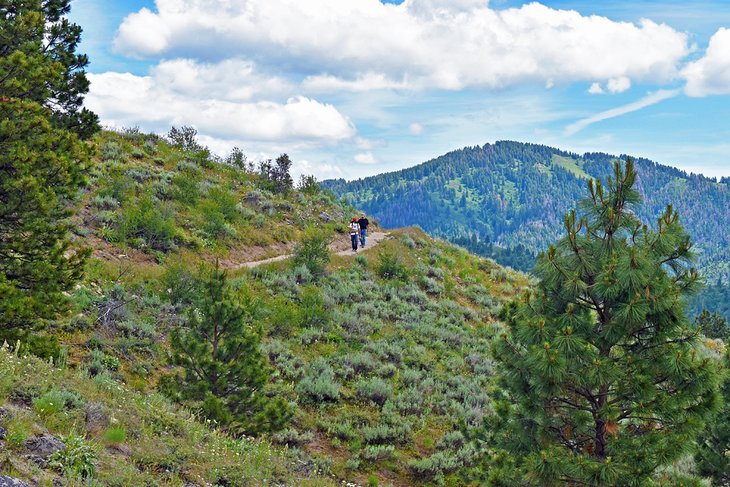 A hiking buddy helps ensure a safe and fun experience and happens to be a great way to get to know someone. Having somebody to chat with going uphill can help alleviate some of the mental efforts. Two heads can also assist in decision-making along the route. Agreeing to go on a hike with someone also adds accountability for showing up to the trailhead, ensuring some time spent outside.
Conversely, some unique benefits of hiking occur while traveling solo. After getting comfortable with nature hikes, exploring the quiet open country alone enhances an adventure. Be prepared to be self-sufficient when hiking alone, and consider your capabilities before starting a solo journey.
Avoid the Traffic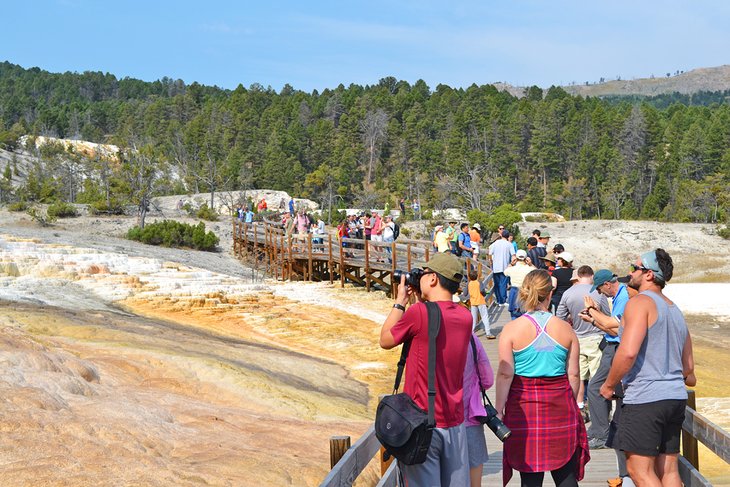 Hiking has become one of the most popular physical exercises in the United States. This boom in the hiking lifestyle leads to some popular trails experiencing overcrowding on the weekends. And while the human connection is often welcome, many prefer more solitude with their hiking endeavors.
To avoid the most congestion on popular hiking trails, avoid visiting on the weekends. Almost any day of the week will typically have less traffic than Saturday and Sunday. Although, on some of the most iconic hiking trails in America, visitors can expect crowds every day of the week. For these busy trails, or if you're visiting a popular trail on the weekend, the next best approach is arriving at the trailhead before daybreak.
Get the Timing Right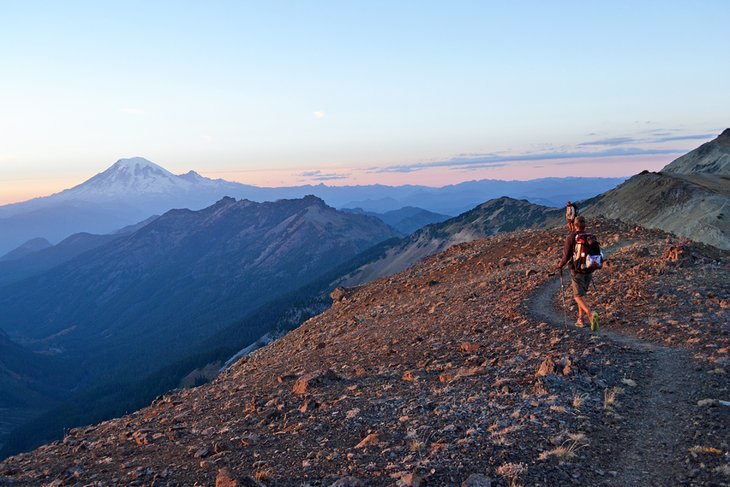 There's no wrong time of day to go for a hike, but in some instances, some parts of the day are better than others. If hiking in hotter climates, avoid trekking in the middle of the day and instead opt for an early morning hike. Early morning is advantageous in other ways, too, including for any longer hikes to ensure enough time in the day.
Arguably one of the most scenic times to hike is around sundown. The sky is often painted in soothing colors this time of day, followed quickly by all-consuming darkness. If looking to catch a sunset hike, be prepared with extra layers to stay warm, and have reliable light sources to navigate after dark.