9 Best Underwater Hotels
Everyone loves a good room with a view, and it doesn't get any better for nature lovers than a hotel under the sea. You don't have to know how to dive to experience the magic below sea level when you stay at these amazing underwater hotels.
Sprinkled across the globe, these luxurious and unusual undersea hotels include places like the Conrad Muraka in the Maldives and panoramic views of the Great Barrier Reef. You will find yourself surrounded by the finned and scaled creatures you love so much without having to leave the comfort of your hotel room.
With bedrooms and suites housed in partially submerged buildings or submarines, you will have your pick at the best underwater hotels. While some are still a work in progress, a majority of the hotels are available to book. Just be prepared to shell out anywhere from $250 to $225,000 per night. But the unbeatable views and the bragging rights you earn for sleeping with the fish are worth every bit.
Plan the ultimate vacation at hotels that look out into the marine world in the Indian Ocean or man-made aquariums with our list of the best underwater hotels.
1. The Muraka, Conrad Maldives Rangali Island, Maldives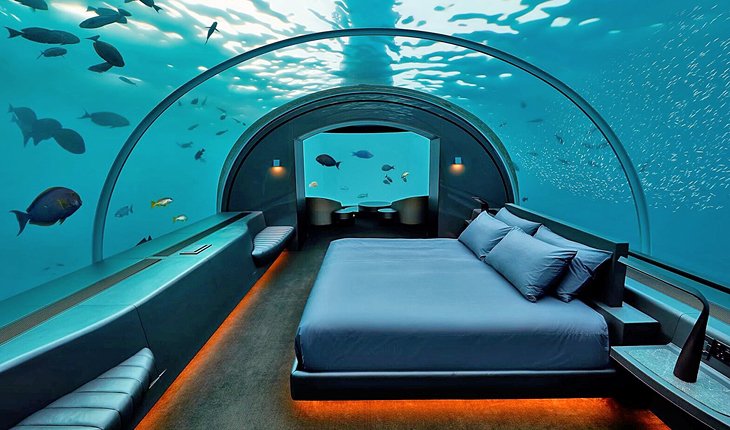 Accommodation: Conrad Maldives Rangali Island
The Muraka is a Hilton underwater hotel, which is part of the Conrad Maldives Rangali Island. Submerged 16 feet below sea level, this two-level villa debuted in November 2018 and has a master bedroom and a bathroom, both featuring floor-to-ceiling glass walls to take in the Indian Ocean's marine life. The word muraka translates to coral in the local language of Dhivehi.
At sea level, guests can enjoy two bedrooms and a bathroom, an outdoor deck with an infinity pool, 24-hour butler service, and access to a private chef. You can also have a fitness trainer and reserve some spa treatments in your suite.
If you are traveling with children, the resort will set up a teepee in the undersea suite, complete with a pillow fort and treats selected by you. The resort also offers a kids' club and Junior Diving Course.
The suite sleeps up to nine people, and prices start at $50,000 per night. You can arrive at Muraka via a private seaplane or travel from Conrad Maldives Rangali on a speedboat, which you can keep for the duration of your stay. Access to private jet skis is also available.
The Conrad Maldives Rangali Island opened its first undersea restaurant a decade ago. Considered a first-of-its-kind, the Ithaa (meaning "mother of pearl") restaurant, also located 16 feet below sea level, is surrounded by coral gardens and has set menus featuring a six-course meal.
Address: Rangali Island Rangali, 20077, Maldives
2. Atlantis, The Palm, Dubai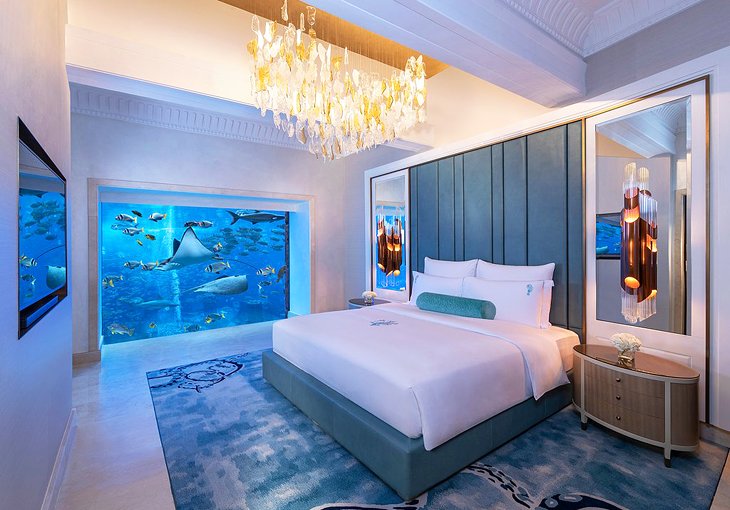 Accommodation: Atlantis, The Palm
With names like Neptune and Poseidon, the underwater suites at the Atlantis The Palm in Dubai beckon you to experience luxurious accommodations set amid the marine life of the Persian Gulf. The palatial Atlantis sits on a man-made, palm-tree-shaped island and is lauded as one of Dubai's most impressive hotels, in part for its architecture and aquatic wonderland.
The Atlantis underwater room looks onto the resort's aquarium that houses 65,000 creatures, including rays and sharks, gracefully swimming among the man-made ancient ruins of the lost city of Atlantis.
Each room costs around $7,000 per night and comes with in-room dining, a 30-minute personal training session, and free airport transfers. Guests can choose to go scuba diving in the aquarium to come face-to-face with the animals.
Address: Crescent Road - Dubai - United Arab Emirates
3. InterContinental Shanghai Wonderland, China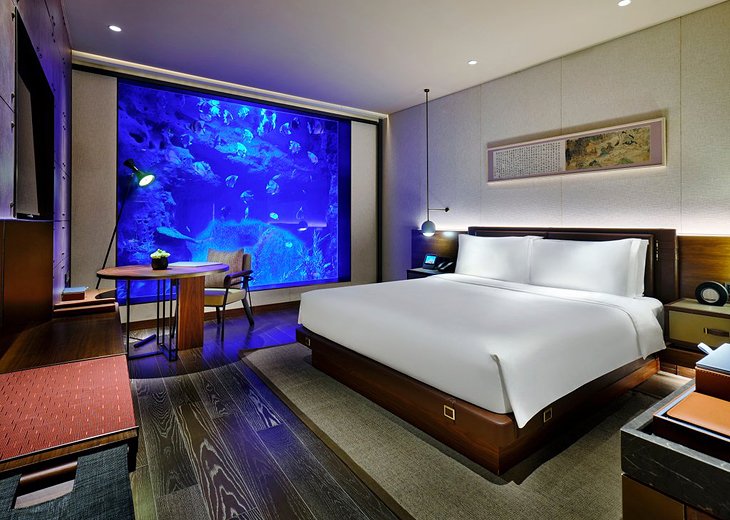 Accommodation: InterContinental Shanghai Wonderland, an IHG Hotel
You may have swum in some amazing locations, but have you ever swam in a pool underwater? That's right, the five-star InterContinental Shanghai Wonderland, now has two submerged floors where you can stay overnight and swim in comfort.
Built into the side of an abandoned quarry in Songjiang, the stunning new hotel is 20 miles from Shanghai city center. The Shanghai Wonderland was designed by the British firm Atkins, the agency behind the design of Dubai's Burj Al Arab Hotel.
The flagship InterContinental hotel's underwater suites are two stories tall; the bedroom looks out to the water's surface, while the living room underneath sits inside a saltwater aquarium. Nightly, you can watch the mesmerizing light and water show the hotel puts on right from a theater box attached to your room. The hotel also offers rock climbing, kayaking, and bungee jumping over the quarry.
Dine at the hotel's aptly named seafood restaurant, Mr. Fisher, which also features views of the aquarium. Prices per night start at $15,000, and the suites come with Club InterContinental exclusive privileges and butler service.
Address: Shanghai Songjiang District Chen Hua Road No. 5888, China
4. Resorts World Sentosa, Singapore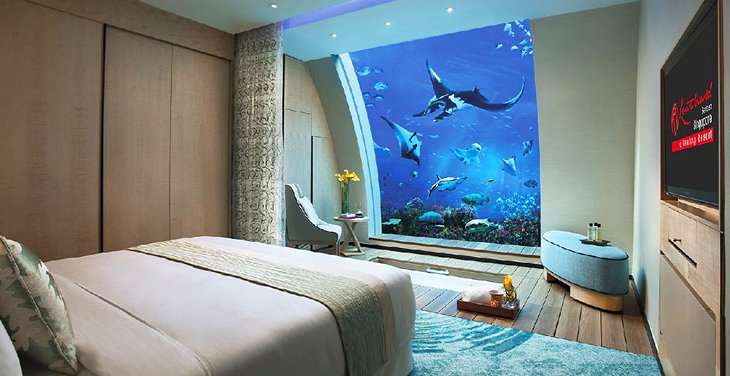 Accommodation: Resorts World Sentosa
Your kids will not soon forget a stay at the Resorts World Sentosa, located on the island of Sentosa on the southern edge of Singapore. The resort has 11 exclusive, two-story suites with access to the property's massive aquarium, housing 40,000 fish.
Guests can enjoy private butler service and views from the upper level patio with its own Jacuzzi while being mesmerized by the aquarium residents, including manta rays, clownfish, and more.
Kids can spend days exploring the resort's Universal Studios Singapore, Adventure Cove Waterpark, S.E.A. Aquarium (which includes the world's second largest oceanarium), and more. Prices for the underwater suites start at $1,750 per night. Guests in the Underwater rooms can choose from a number of Michelin-starred restaurant on the resort grounds.
Address: 8 Sentosa Gateway, Singapore
5. The Manta Resort, Pemba Island, Tanzania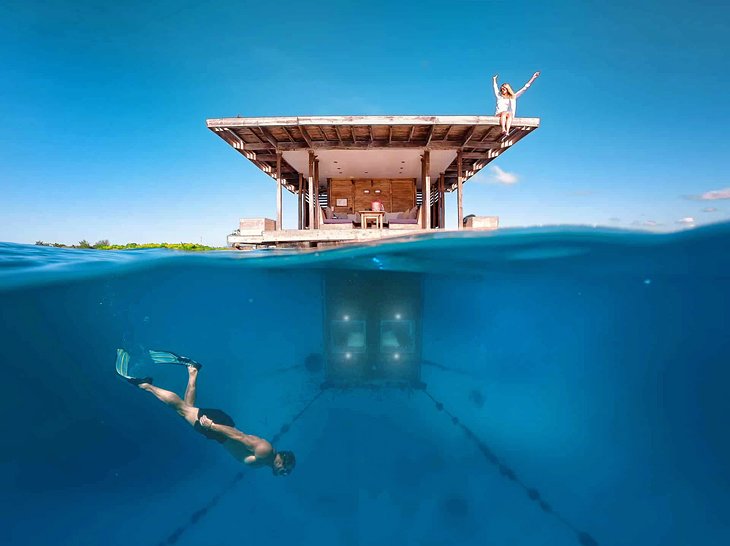 Accommodation: The Manta Resort
Located off the east coast of Tanzania, Pemba Island belongs to the Zanzibar archipelago, featuring some of the finest beaches and the most beautiful azure waters. In 2013, The Manta Resort unveiled its exclusive Underwater Room, a three-level floating suite offering crystal-clear views of the reef from its submerged bedroom in the Indian Ocean.
This all-inclusive villa, perfect for a honeymoon, can be accessed by a quick wooden boat ride from the beach. It's close enough to the beach, but provides the ultimate seclusion and has a living room, bathroom, and a sundeck crafted from local hardwood.
At night, this underwater hotel lights up on the sides to shed light on the sea turtles and reef sharks swimming alongside you as you rest. Prices start at $900 per night, and the hotel offers dive trips along the Pemba coast.
Address: Psv-zanzibar estate, Tanzania
6. Reef Suites, Whitsunday Islands, Australia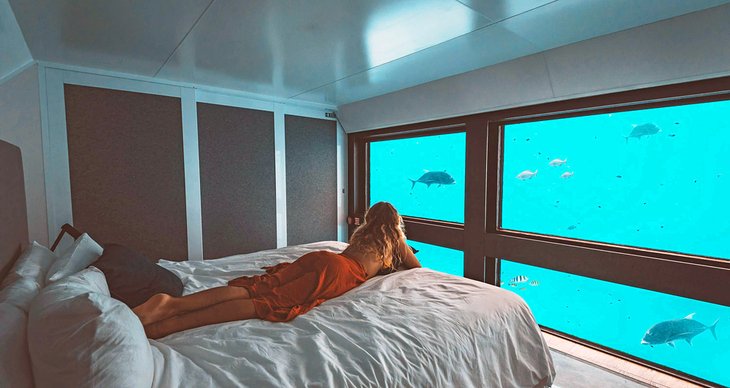 Accommodation: Reef Suites
Off the coast of Queensland in the Coral Sea, the Great Barrier Reef sits just beyond the Whitsunday Islands. Reef Suites hosts a combination of both day-cruise and overnight passengers on its Reefworld Pontoon. All guests enjoy a tour of the coastal islands and Hardy Reef, home to coral trout, snapper, giant Maori wrasse, and the giant Queensland groper, among a myriad of other sea life.
Overnight guests are treated to below-deck rooms that feature floor-to-ceiling windows that look directly out into the aquatic wonderland, and all meals (plus morning and afternoon tea) are included. The stay also includes a tour of the reef via a small glass-bottomed submarine as well as a guided snorkeling tour and a visit to an underwater observatory. Guests can also opt to get private SCUBA instruction from on-board experts to explore the deeper regions of the reef, or take a helicopter tour to get stunning views of the reef from above.
Those who want a similar experience with a lower price tag can forego the sub-aquatic lodgings and book a ReefSleep excursion. With this option, guests sleep on the deck in enclosed "Reefbeds" that are best described as glamping on a boat and they enjoy the same activity options as Reefsuite guests.
7. Utter Inn Hotel, Västerås, Sweden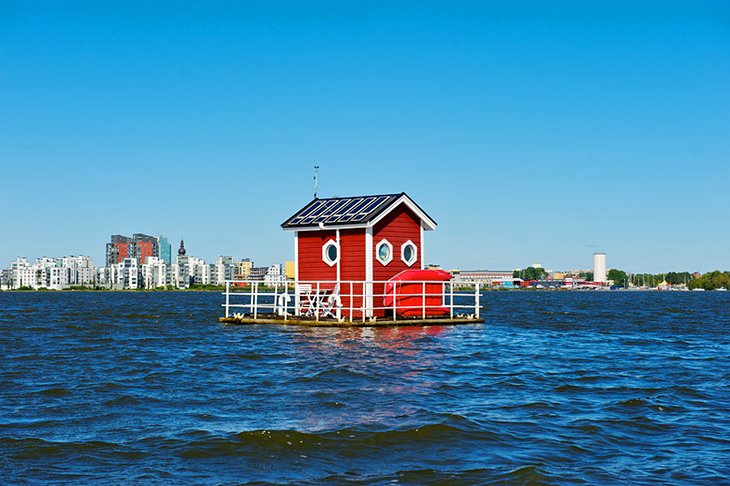 Accommodation: Utter Inn Hotel
Though the rooms are on the smaller size compared to other underwater hotel rooms, the Utter Inn Hotel near Stockholm in Sweden stands out because it sits under a lake and costs a fraction of the price of other submerged rooms.
Located miles from the shore on Lake Mälaren, the bare-bones, cabin-like room features twin beds, an end table, and windows facing the deep blue waters of the lake and the pike and perch that inhabit them.
The room doesn't have an electrical connection, so be prepared for a romantic evening with candles (and bring pre-charged batteries for your cellphones, unless you want to completely disconnect). Breakfast is served in cooler bags, and you can sign up for the deluxe version to have dinner delivered.
The top red-and-white wooden deck has two chairs that can be used for sunbathing and admiring the scenic landscape. You can explore the nearby islands by an inflatable canoe and visit a former Viking settlement in Birka. The hotel is only open during the summer months.
8. Jules' Undersea Lodge, Florida, United States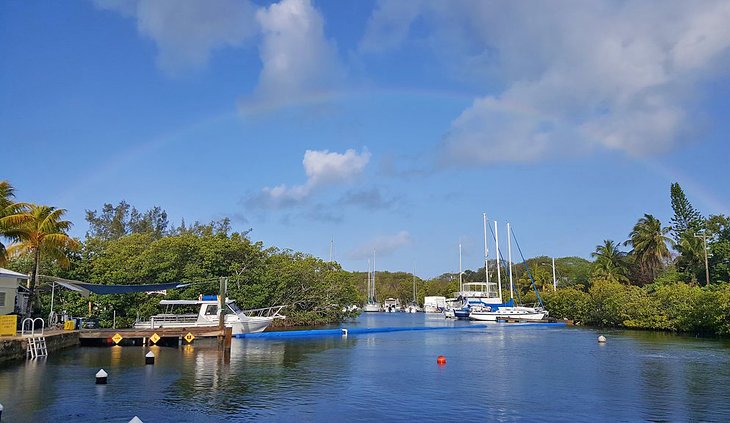 Accommodation: Jules' Undersea Lodge
Jules' Undersea Lodge is the only underwater hotel that involves scuba diving to get to your room. And this attracted the likes of Canadian Prime Minister Justin Trudeau, Aerosmith's Steve Tyler, and actor Tim Allen.
The Lodge also offers SCUBA training in its lagoon, so you can hone your skills. Located at Key Largo Undersea Park, the Jules' Lodge is 21 feet beneath the surface and is surrounded by dazzlingly colorful fish. Once you've dived to reach your room, expect to find a cozy accommodation where you can either enjoy food you've brought in (pizza seems to be a winner), or hire a "mer-chef" that can scuba down to your room to make a meal of your choice.
Price starts at around $800 for two. The lodge also offers some excursions for an additional fee, including the Labs in the Lodge tour where a marine biologist and a habitat education specialist will show you everything you need to know about aquatic life surrounding the lodge. Or you can opt to dive to the Undersea Garden with a master scuba diver and see how vegetables and herbs are grown in underwater spheres.
Address: 51 Shoreland Drive, Key Largo, Florida
9. Planet Ocean Underwater Hotel, Florida, United States
Accommodation: Planet Ocean Underwater Hotel
With coral restoration at its heart, Planet Ocean Underwater Hotel is still a work in progress. This is among the few hotels underwater that is going to be in the relatively reasonably priced category.
Once it opens, guests can take a glass elevator from the floating catamaran 24 to 30 feet below sea level to the guest capsules below, where you can enjoy a lounge/dining area, private bath, and a bedroom, encircled by crystal-clear acrylic walls overlooking the marine environment.
The rooms also come equipped with a refrigerator, internet, and an audio/visual entertainment center. Guests who are feeling adventurous can scuba dive into their submarine-like accommodations.
Map of Underwater Hotels