14 Best Cars for Road Trips
When it's time to set out on that road trip, driving the right car (or SUV) can make all the difference in the world. A good road trip car needs to be sporty and fun to drive, yet also offer good fuel economy. It needs to be roomy and filled with convenience, safety, and infotainment features as well.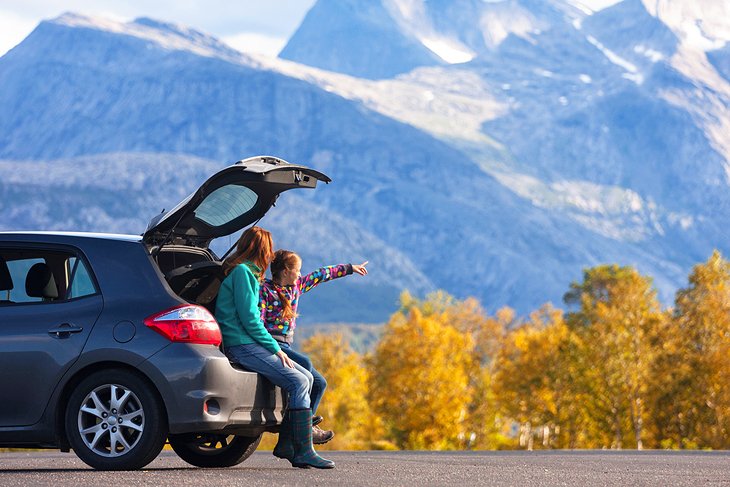 Roadtrippers with families may want a big SUV like the Chevy Suburban or something more compact like the Lexus UX crossover. Those looking for something sporty may want to go with a Chevrolet Corvette Z06 or with the very fast GMC Yukon Graphite Performance Edition.
Fuel economy is a big part of choosing the best road trip vehicle, and hybrids like the Toyota Prius, Lexus ES 300h, or even the Range Rover P400e provide luxury, performance, and hybrid fuel economy.
Discover the top vehicles for your next long-distance adventure with our list of the best cars for road trips.
Note: Some businesses may be temporarily closed due to recent global health and safety issues.
1. Audi A6
Audi's mid-size sedan has evolved into a world-class luxury car. It offers the performance, features, and style of a car costing twice as much, which makes it one of the best cars for road trips.
A four- or six-cylinder engine is available—go for the six for a more spirited driving experience. The A6 is one of those cars that is perfect for solo or getaways for two because it's fun to drive. You can also bring four friends (or family members) and take advantage of the car's interior room and spacious trunk.
That size and comfort comes with the full suite of Audi's legendary performance and safety technology, which starts with the sure-footed quattro all-wheel-drive system. Unlike a front- or rear-wheel drive sedan, Audi's quattro system is always on duty, sending power to all four wheels to ensure, regardless of the weather, your road trip always ends at your destination, not in a ditch.
2. Buick Regal TourX
Buick's version of a Subaru-like crossover is the ultimate modern station wagon. The road-trip-ready Regal TourX comes standard with a peppy turbocharged engine and Intelligent AWD (all-wheel-drive). The car senses which wheel needs traction and adjusts automatically via an active twin-clutch system.
A comfortable and luxurious interior is important for road trips, and the TourX gives you what Buick calls "affordable luxury." This means you get luxury features and performance at a reasonable cost. This includes Buick's QuietTuning technology, which uses things like laminated glass and special wheel-well insulation to give you a quiet cabin.
3. Chevrolet Suburban
Chevy's big SUV offers the total road trip package: room for up to eight of your friends and all kinds of cool amenities like multiple power outlets, an onboard 4G Wi-Fi hotspot, and even (optional) HD rear entertainment screens and a Blu-Ray / DVD player.
And even though it has a seating capacity for up to nine adults, this big SUV isn't as thirsty for fuel as you might think. Advanced fuel management and cylinder deactivation means the Suburban only uses four of its eight cylinders when all that power isn't needed (like when cruising down the freeway). The Suburban also gives you an 8,300 pound towing capacity, enough to haul many campers, toy trailers, or boats.
4. Lexus UX 250h
The new-for-2019 Lexus UX is their brand new compact crossover. The little UX 250h hybrid gets the highest mileage of any non-EV (electric vehicle) SUV on the market with a combined MPG of 39. You can also get the UX with a 2.0-liter gasoline engine. The hatchback design and small cargo area in the back make it practical, and that gas mileage makes it great for long distance driving.
It doesn't feel compact inside, and you get the wonderful array of Lexus' safety and driver aid technology. You also get the automaker's legendary build quality and reputation for bulletproof reliability. The UX is nimble—it has a special suspension that gives it a super tight turning radius of 17.1 feet, that's shorter than the length of a Suburban.
5. Hyundai Palisade
This new-for-2020 SUV is the first three-row offering from Hyundai. Its surprisingly luxurious interior and shift-by-wire transmission makes it probably the most comfortable SUV for long road trips. The Palisade is packed with available options and technology, giving you Lexus-like features and amenities at Hyundai prices.
Perfect for family adventures, the Palisade has some really cool features to help the driver manage their passengers. Driver Talk broadcasts the sound of the driver's voice through the sound system to all three rows of seats. Another helpful feature, unique to the Palisade, is tiny individual warning lights on the dashboard for each seat. One glance instantly tells who is buckled up and who isn't.
6. Cadillac ATS Coupe
Cadillac has really come back into prominence both as a luxury car brand and as one known for serious performance. Their ultimate road trip vehicle, especially for one or two people, is the sleek ATS Coupe. The ATS Coupe seats four adults comfortably, but as a coupe, has only two doors. Although you can kit it out with all kinds of luxury and performance features, even the base model is a very exciting car to drive.
The large, turbocharged V4 gives you almost 300 horsepower and 30 mpg on the highway for a good balance of performance and economy. There's a big trunk for all your gear and a nice array of infotainment and driver safety technologies. Most importantly for road trips, you get a thrilling driving experience with vehicle dynamics and performance technology (like Brembo brakes) proven on a race track with Cadillac's racing team.
Most importantly for road trips, you get a thrilling driving experience, with vehicle dynamics and performance technology (like Brembo brakes) proven on a race track with Cadillac's racing team.
7. Toyota Prius
With seating for five, lots of cargo space, bulletproof reliability, and 50-plus mpg, it's hard to go wrong with a Prius. For long distance driving, the full suite of available in-car infotainment options make it a fun place to spend time, whether you're a driver or a passenger.
The Prius has multiple models, including full, plug-in EV options, but even the standard hybrid Prius will get you north of 50 mpg. In 2019, Toyota introduced available AWD for the Prius, making it the highest mpg vehicle you can get with AWD.
These compact cars are surprisingly roomy inside, easily seating five adults. The rear space is also big and can fit a lot of luggage.
8. Corvette Z06
If you want to head out on a weekend getaway and get to your destination really, really quickly, the Corvette Z06 is the perfect road trip car. With Chevy's amazing supercharged, aluminum 6.2-liter V8 engine, the car has 650 horsepower and 650 pound-foot of torque.
In terms of practicality (yes, Corvettes can be practical), first, you get a huge rear cargo area, well, huge for a two-seat sports car. There is room for several full-size suitcases, even a few sets of golf clubs. Second, the Corvette, which goes from 0-60 in less than three seconds, has an Eco mode. The engine uses cylinder deactivation to only use four of its eight cylinders when only four are needed. With reasonable driving, it will give you 23 mpg.
9. Lexus ES 300h
Like the Audi A6, the Lexus ES also has the mass to give you a serious luxury car ride and driving experience. But unlike the Audi, the ES 300h is a luxury hybrid, providing that smooth ride at the fuel cost of only 44 mpg. In fact, it's considered the most fuel efficient luxury car you can buy, without going full plug-in. The luxurious ride, the bulletproof Lexus build quality, and the high fuel economy numbers make it great for long distance driving.
The ES 300h comes in three trim levels: a base version; a luxury version; and an ultra-luxury version with fancy leather seats, beautiful hand-lacquered wood trim pieces, and handcrafted aluminum accents inspired by Japanese samurai swords.
10. INFINITI QX60
INFINITI's three-row mid-size SUV offers a seriously luxurious cabin just packed with all the latest driver aid and infotainment technology. The base "Pure" model delivers all this at quite a reasonable price, freeing up more money for road trips. The QX60 will transport you and six of your friends to any road trip destination in comfort. And unlike many three-row SUVs, the QX60's third row can fit adults comfortably, not just children.
Power comes from an ultra-smooth 295 hp, 3.5-liter V6 engine with a Continuously Variable Transmission, which has a manual shift mode. That technically advanced engine gets you up to 27 mpg on the freeway, an impressive figure for a luxurious three-row SUV. That comfort and fuel economy makes the QX60 one of the best SUVs for long road trips.
11. Nissan Frontier
Sometimes, good road trips require a lot of gear, and you need a whole lot of cargo space to carry it all. Don't think of the Nissan Frontier Crew Cab Extended Bed as a pickup truck, think of it as a great SUV with a full-size truck bed in back.
The long version of Nissan's smaller pickup truck comes with a big back seat area, four doors, and a bed a little longer than six feet. All that bed space makes the Frontier a great vehicle for getaways, especially ones involving a lot of outdoor activities. The truck bed space can become a real bed if you get the optional Bed Tent, which is a full tent that mounts over the bed for camping.
Go for the Value Truck trim package, which gets you road trip necessities like a spray-on bedliner and a channel system in the bed with movable tie-down cleats. You can even order an optional Family Travel Clean Up kit with a range of products (plus gloves, brushes, and sponges) to handle any spills or interior accidents.
12. Range Rover P400e
Range Rovers have always been great road trip SUVs, with world-class off-road performance. Yes, you can cruise down the freeway in comfort and style, but you can also climb mountains and traverse snow, mud, or sand with ease.
Range Rover now offers the P400e, a plug-in electric hybrid (PHEV) version of its luxurious and seriously capable full-size SUV. If you're going on short road trips or errands, you can drive on electric power alone for up to about 30 miles.
For longer trips, the electric motor boosts the gasoline engine for more power and better fuel economy. The hybrid technology comes with all the off-road capability you expect from a Range Rover. There's automatic terrain sensing, hill descent control, and it will wade through up to 36 inches of water.
13. GMC Yukon Graphite Performance Edition
If you like very cool performance cars but really need a full-size SUV, the intense GMC Graphite Performance Edition is the perfect road trip vehicle. It looks very mean, with everything (body, grill, bumpers, trim pieces, etc.) blacked out, including its massive 22-inch rims. It sounds mean too, with a muscle car rumble generated by its massive 6.2-liter, 420 horsepower V8 engine.
The large SUV is filled with features that make it convenient for hauling around a lot of people and/or a lot of stuff. The second-row seats have a fold and tumble feature, just hit a button and they fold down and flip over, for easy access to the third row seats or rear cargo area.
Helpful road trip features include multiple power and USB outlets at every seat, a 4G Wi-Fi hotspot, and cool technology like the GMC Marketplace app. This app is on the SUV's infotainment system and allows you to remotely order food, pay for gas, make hotel reservations, and whole lot more.
14. Dodge Challenger SXT
This big, retro coupe from Dodge gives you a very smooth ride with a lot of room for passengers. Whether you're traveling alone, as a pair, or with four friends, it's a great road trip car. It's fun to drive and has a lot of passenger and trunk space.
The SXT is the base-level Challenger, with a wonderfully smooth V6 engine. Yes, you get the Challenger with all kinds of crazy, high-horsepower engines including the mind-blowing Hellcat version (with up to 797 hp) but the SXT's 305 hp V6 is just the right size for the car.
The Challenger SXT is also comparatively inexpensive, and it gets excellent gas mileage with up to 30 mpg on the highway.
More Related Articles on PlanetWare.com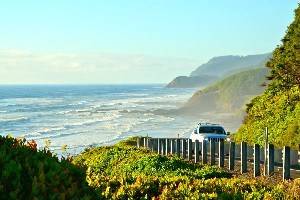 Best Road Trips in America: Wondering where to go on your next road trip? If your sites are set on California, Oregon, or Washington, have a read through our list of the Best West Coast Road Trips. Explore the coast, giant forest, mountains, and more with our suggestions. On the other side of the country you can also find great adventures. See our guide to the Best Coast Road Trips for ideas.