10 Best All-Inclusive Family Resorts in the World
We may earn a commission from affiliate links ()
Planning a family vacation can be stressful, especially if you're trying to stick to a budget. That's where all-inclusive family resorts come in. By booking accommodations that include everything from beverages to meals to activities to childcare, you're ensured a stress-free holiday packed with fun – and some well-deserved adult time!
All-inclusive family resorts remove that added decision-making and stress, so all that's left for you to do is sit back, relax, and watch your kids have the time of their lives. Or better yet, jump on in and have fun with them!
Whether you're hoping to ride horses at a dude ranch in Colorado, race down water slides at a resort in Turks and Caicos, or build sandcastles on an idyllic beach in Fiji, the world is chock-full of fabulous all-inclusive resorts that cater to families.
Before you book, use our list of the best all-inclusive family resorts in the world to help find the perfect spot for your holiday.
Note: Some businesses may be temporarily closed due to recent global health and safety issues.
1. Jean-Michel Cousteau Resort Fiji, Fiji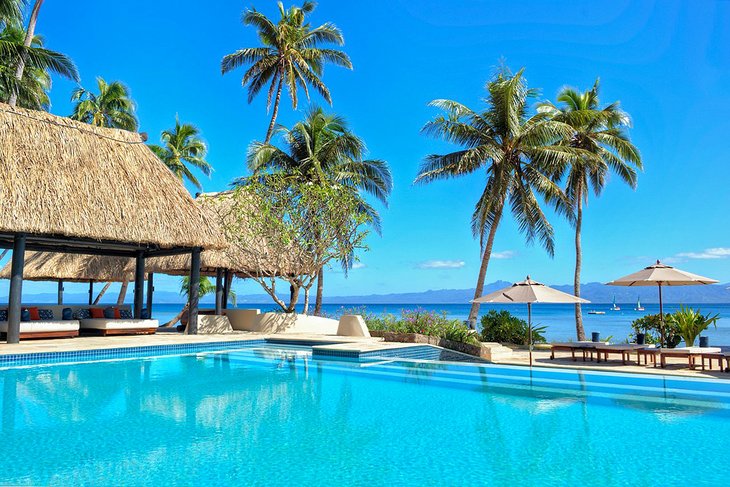 Jean-Michel Cousteau Resort is one of the best family resorts in Fiji, especially for those who love to spend their time below water. Named after the famed ocean explorer (and son of Jacques Cousteau), this top eco-luxe resort boasts access to some of the world's best dive sites.
This five-star marvel is also home to the Cousteau Dive Center, where guests can become certified to scuba dive in just three days. Kids 12 and under can join programs at the complimentary Bula Club, which include educational hikes around lush Vanua Levu, and snorkeling adventures.
As part of the complimentary club, kids under six are assigned a personal nanny who can take care of them during their stay, while older children are assigned a buddy to entertain them in small groups of five. A glass-bottom boat takes families out for a daily family snorkel. Little ones can stay aboard the boat with the nanny while those over six can snorkel with their parents or buddy.
Knowing their kids are safe and happy, blissed out parents can lounge by the pool, partake in a spa treatment, or head back to their family-friendly, two-bedroom bure to relax on the hammock or nap on the comfy patio.
All meals and non-alcoholic beverages are included, as well as five off-site excursions each week (i.e. to the rainforest or waterfall), evening entertainment, and multiple activities.
Address: Lesiaceva Point Road, Savusavu, Vanua Levu, Fiji
Accommodation: Jean-Michel Cousteau Resort Fiji
2. Grand Velas Riviera Maya, Mexico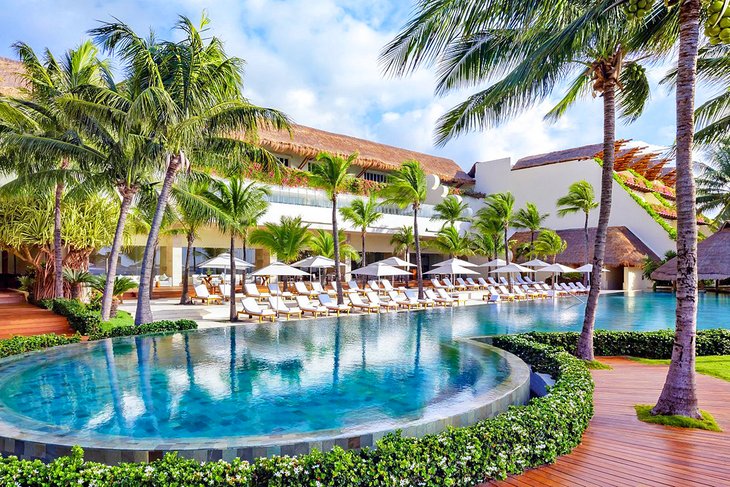 Want your kids to experience life in the lap of luxury? Take them to the sumptuous Grand Velas Riviera Maya Resort in Playa del Carmen, Mexico. Plush enough that you'll forget this is an all-inclusive family resort, this entrancing spot is a perfect place to spend a memorable family beach vacation.
The spacious suites come with a private terrace, Jacuzzi tub, personal concierge, 24-hour in-room service, and a stocked minibar; some even boast a private plunge pool and idyllic water views. The food served at each of the four on-site restaurants is so good (seriously, we're talking gourmet) that you won't believe it's included.
The Ambassador Experience is your best bet for a fun family vacation. It caters to families looking for awesome ocean views and is conveniently located near the kids' and teens' clubs. It lies mere steps from the soft, sandy beach, where guests can enjoy a ton of activities like volleyball, snorkeling, kayaking, and boogie boarding.
Sign up for the complimentary baby concierge service for access to amenities like baby carriers, rocking chairs, pacifiers, and a bottle sterilizer.
Address: Carretera Cancun, Tulum, Playa del Carmen, Mexico
Accommodation: Grand Velas Riviera Maya
3. C Lazy U Ranch, Colorado, United States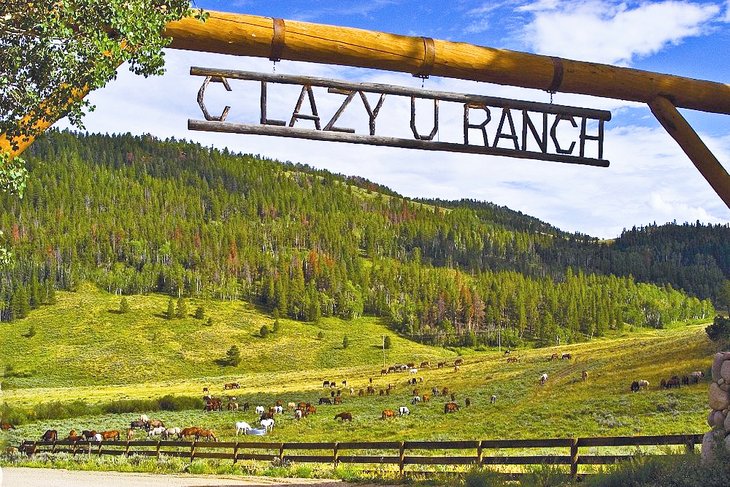 Howdy, city slicker. If you're looking to eschew technology in favor of getting back to the basics, you've come to the right place. C Lazy U Ranch is a top-notch, all-inclusive family luxury resort so cozy and beautiful, you'll want to strap on your stirrups and giddy on up through the mountainous scenery.
An eclectic dude ranch set in Granby, Colorado, this is the perfect place for your family to unleash their inner cowboy (or cowgirl) and learn how to herd cattle, fly fish, and use a bow and arrow. Winter vacations offer plenty of unique activities you'll talk about for years to come, like dogsledding, snowshoeing, and snow tubing.
Hike through the Rocky Mountains, fish in Willow Creek, or enjoy an afternoon at the spa. Kids' activities are available for all, including teens, who can partake in supervised camping trips, whitewater rafting, and a visit to a local rodeo.
Kids here are encouraged to enjoy activities away from their parents. Don't worry, they'll have a counselor to guide them. If you'd like to partake in the kids' daytime fun, you're free to take them out of the complimentary kids' program.
During "family seasons" (a.k.a. June through Labor Day, Christmas, New Year's, as well as President's and Memorial Day weekends) kids eat breakfast and lunch with their parents and dine with friends (and a counselor) for dinner. Adults are free to eat in an adult-only setting, rejoining their kids for ice cream and entertainment at the Patio House.
Comprising your rate are all meals and activities, plus luxury accommodations in adorable cabins. Family rooms include twin or bunk beds. Everything you'll need to stay active is included as well, so depending on the season, you'll have access to cross-country skis, snowshoes, ice skates, tennis rackets, basketballs, and volleyballs. Yee Haw!
Address: 3640 Coloroado Highway 125, Granby, Colorado, United States
Accommodation: C Lazy U Ranch
4. Beaches Turks & Caicos, Turks and Caicos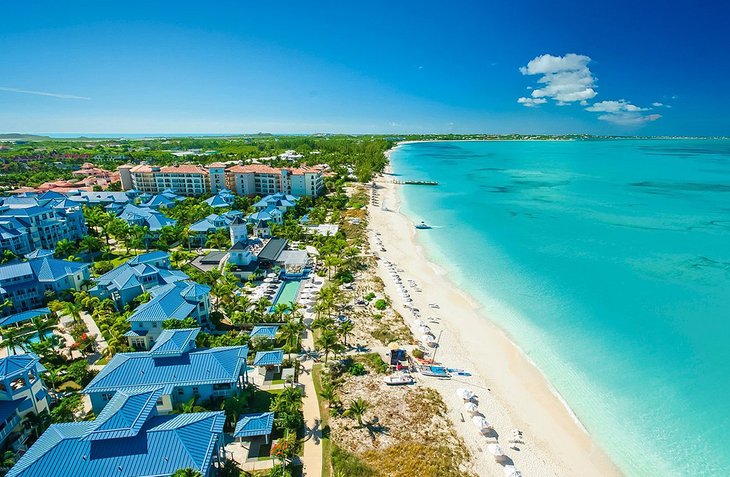 This family-friendly Beaches resort is so welcoming of kids, they added a 45,000-square-foot Pirates Island Waterpark to help keep them entertained. Not only can everyone attempt to hang 10 in the man-made wave rider, but they can also float down the lazy river or whiz down water slides before grabbing a drink at the swim-up soda bar.
Dig your toes into the soft, sugar-white sand of Grace Bay Beach, which lines over 12 miles of this massive resort. You'll find complimentary paddleboards, kayaks, windsurfers, and snorkel gear, as well as other water sports equipment as part of your package.
Want a break? Send the children to Kids Camp, where staff offer age-appropriate fun for children aged three to 17.
When we say the resort is massive, we really mean it. Five accommodation villages, 10 pools, and 21 restaurants cater to its guests. Grab a slice at Dino's Pizzeria Italiana, sushi at Soy Sushi Bar, or fresh seafood at the beachfront Barefoot by the Sea.
The fun continues after the sun sets, with games in the Xbox Play Lounge, movies by the pool, a tween disco, and various shows like Treasure Island. Have a Sesame Street afficionado? Book a tuck-in service with Elmo or grab breakfast with Big Bird.
Address: Lower Bight Road, Providenciales, Turks and Caicos
Accommodation: Beaches Turks & Caicos
5. Paradisus Playa del Carmen, Mexico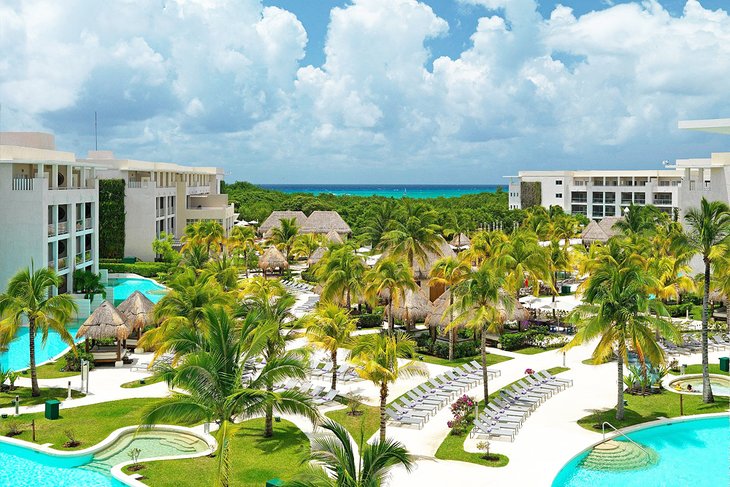 The Family Concierge program at Paradisus Playa del Carmen offers a vast array of family-friendly amenities and activities, as well as spacious rooms available only to guests of this section of the resort. The mini bar is stocked with child-friendly snacks and drinks, and the kids' turndown service is a particular hit, with milk and cookies. Children will love cozying up in the kid-sized bathrobes and slippers at the end of a busy day.
As a Meliá hotel, the Paradisus Playa del Carmen oozes luxury, so expect high quality everything during your stay. A private, heated pool with swim-up bar and Bali beds, separate beach with concierge service, fitness center, private massage area, special air-conditioned lounge, and access to the Olio restaurant are all perks of the Family Concierge. Other kid-friendly bonuses include a water park, game room, kid's pool, and theme parties.
The Kids Zone is a hotbed of fun activities for children aged five to 12 and keeps them going from 9am to 10pm. Those under five can make use of the nursery service when parents want to enjoy a little adult-only R&R. Teens gain access to inflatable water equipment, snorkeling, kayaking, and other fun activities.
Allow your private butler to take care of your needs during your stay (including packing and unpacking). After all, you have a lot of things on your plate, like deciding which of the 14 restaurants to visit and what type of spa treatment to indulge in. Meals, beverages, and gratuities are all included.
Address: Quinta Avenida Nte. Luis Donaldo, Colosio, Playa del Carmen, Mexico
Accommodation: Paradisus Playa del Carmen
6. Nickelodeon Hotels & Resorts Punta Cana, Dominican Republic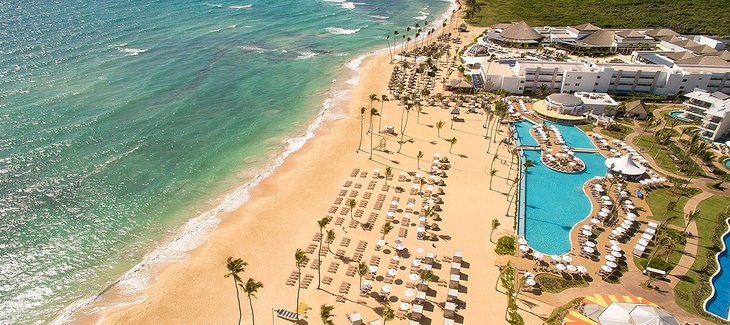 Nickelodeon knows kids, so it's not surprising that their resort would do such a good job at catering to families. Fans of the popular network can rest easy knowing their kids will be well and truly entertained during their visit to this Karisma retreat. The Gourmet Inclusive® package boasts everything you need: drinks, snacks, meals, activities, and even a private butler.
Kids can get slimed, swim till their toes wrinkle, and meet their beloved heroes: Spongebob Squarepants, Paw Patrol, Dora the Explorer, and the Teenage Mutant Ninja Turtles. They'll beg their parents to leave them at Just Kiddin', the fun children's clubhouse offering programs for kids aged four to 12.
If you're looking to score major points, book the Pineapple Villa (it's modeled after Spongebob's vibrant home). This themed retreat comes complete with two bedrooms, three bathrooms, a private patio with an infinity pool, and a dedicated butler to spoil every member of the family. Don't worry, the master suite is free from cartoon elements, and the entire suite drips with luxurious attributes.
Not willing to part with too much extra cash? A swim-up suite is a happy medium, offering guests a plunge pool and large wraparound patio. Speaking of swimming, the resort's water park, Aqua Nick, features slides, a lazy river, and the requisite sliming station.
When it comes time to eat, don't miss the whacky Spacewalker restaurant, where you'll dine on tasty dishes served by astronauts. Cool off with a slime smoothie. Don't worry, they taste much better than they sound. The Gourmet village is packed with restaurants to tempt every tastebud.
Speak with the hotel before you go, as they can provide everything from cribs to pack-n-plays to bottle warmers to baby monitors to change tables and booster seats.
Address: Carretera Uvero Alto Parcela, Uvero Alto, Punta Cana, Dominican Republic
Accommodation: Nickelodeon Hotels & Resorts Punta Cana
7. Royalton Bavaro All-Inclusive Resort & Spa, Dominican Republic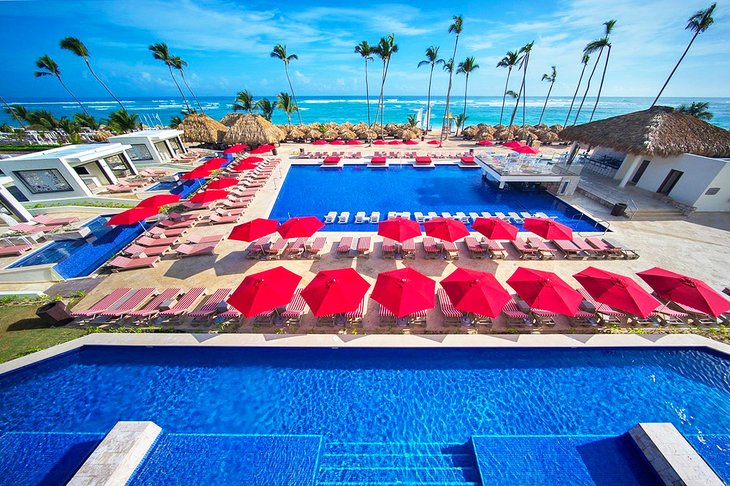 The Royalton Bavaro All-Inclusive Resort & Spa offers its guests an unforgettable Caribbean vacation. Located in the Dominican Republic's gorgeous Punta Cana, this five-star resort is a perfect destination for families, with enough activities to keep everyone happily entertained or extremely chilled out.
A main and beachfront pool are open for everyone to enjoy, while the Diamond Club™ pool is reserved for Diamond Club™ guests only. Spend the day floating on the lazy river, getting soaked in the splash park, or hanging 10 at the FlowRider sheet wave area. Play ping pong, have a massage at the spa, take a cooking class, go for par on the mini golf course, take an aerobics class, or head out on a paddleboard.
The All-In Luxury® package includes meals, beverages, and kids' clubs for little ones (Clubhouse for those aged four to 12) and teens (Hangout for 13 to 17 year olds). Choose from one of the nine buffet and á la cart restaurants, or grab a latte with a side of delicious gelato from Scoops.
Family suites are spacious and elegant, boasting luxe amenities and comfy beds. The sofa bed is separated from the King by a sliding door for added privacy. Upgrade to a Diamond Club™ two-, three-, or four-bedroom suite for more space, ideal ocean views, and an outdoor Jacuzzi in addition to the added perks of butler service, the private pool, and a separate beach section.
Address: Highway Macao Playa Arena Gorda, Punta Cana, Dominican Republic
Accommodation: Royalton Bavaro All-Inclusive Resort & Spa
8. Club Med Cancún Yucatán, Mexico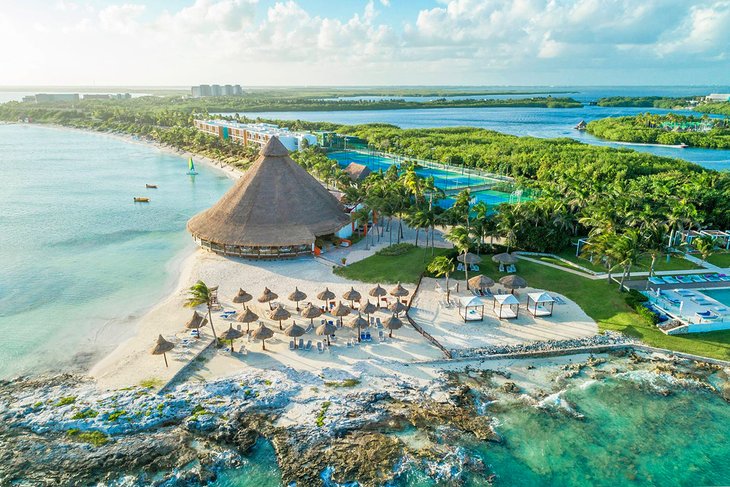 It's easy to tire your kids out at the Club Med Cancún Yucatán, which boasts way more facilities than a mere swimming pool (they have three) and beach (again, there are three) to keep your little ones busy. You can also expect a first-class all-inclusive family resort experience at this Club Med.
Beverages, meals, and gratuities are included in your stay, as are unlimited land and water sports like flying trapeze, archery, sailing, tennis, waterskiing, and snorkeling on the world's second largest coral reef. Exciting shows and dances are part of the daily entertainment program, which runs day and night.
Explore Mayan ruins on a family-friendly adventure to Tulum or Chichen Itza, where kids can swim in cave pools (for an added fee). Then, settle in for a tasty meal at the resort. The tacos and guac at Taco Arte Beach Lounge are hard to beat. In all, the resort boasts four restaurants, most of which feature great snacks.
Set at the tip of the Mayan Riviera, 30 minutes outside Cancún, this luxurious resort sprawls across 50 acres of lush grounds and boasts a newly revamped resort center. Sign the kids up for a few hours (or a full day) at Petit Club Med (for kids under four), Mini Club Med (ages four to 10), or Club Med Passworld (teens aged 11 to 17) where they can participate in activities with kids their age, attend circus school, or perform a show with friends. While they're occupied, why not enjoy some alone time in the on-site spa or a quiet poolside read?
The Aquamarina buildings are designed with families in mind, offering close proximity to the ocean and activities, as well as separate sleeping quarters and private balconies or patios.
Address: Nizuc, Carretera, Zona Hotelera, Cancun, Mexico
Accommodation: Club Med Cancún Yucatán
9. Barceló Maya Beach Resort, Mexico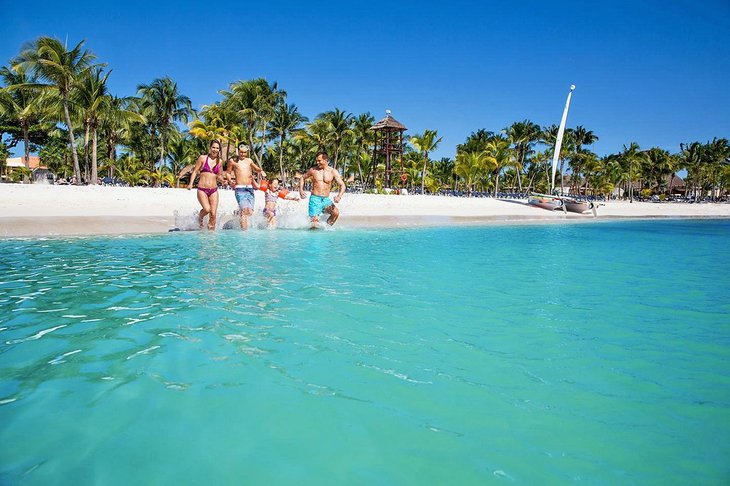 A dolphinarium, eight swimming pools, an 18-hole mini-golf course, and two water parks welcome families to the Barceló Maya Beach Resort. An old hand at providing some of the best all-inclusive family accommodations in the world, this haven is fringed by 1.2 miles of soft, white sandy beach and enough activities to keep everyone happy.
A stay at this complex grants visitors access to its sister resorts and their facilities and services–Barceló Maya Caribe, Barceló Maya Colonial, and Barceló Maya Tropical, which are part of the Barceló Maya Grand Resort. That means you're essentially getting four hotels for the price of one. Not bad!
Meals can be enjoyed at one of three on-site eateries: the Beach Buffet, Mexico Lindo Restaurant, and Rando Grande Grill. Snacks and drinks are also included, as are a host of activities. Family rooms measure about 1,260 feet squared and offer two sofa beds and one King-size bed.
Barceló understands that sometimes kids need a little pampering, too. That's why they added the U-Kids Spa, which offers treatments for kids while their grownups get blissed out at the U-Spa. These services will incur a fee. When they aren't having their toes painted, kids aged four to 12 can join in the fun at the complimentary Barcy Kids Club.
Address: Carretera Chetumal Puerto Juarez Km. 266.3, Puerto Aventuras, Mexico
Accommodation: Barceló Maya Beach Resort
10. Club Med Punta Cana, Dominican Republic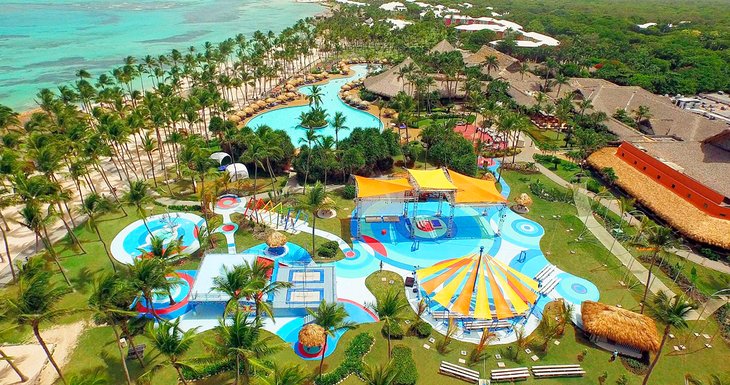 As you're well aware, Club Med knows how to do a family vacation! From fab kids' clubs to giant pools, to all-star menus to endless activities (like scavenger hunts, splash parks, playgrounds, trapeze, tightrope walking, pickle ball and water sports), Club Med Punta Cana is a mecca for all-inclusive family fun.
This lovely, four-star resort lies a mere 10 minutes from the airport, which means you'll be in the thick of vacay mode almost immediately. No bumpy two-hour van transfers for you. Kids are given a separate space to sleep in family rooms, allowing their adults a bit of privacy when it's time for lights out.
Up your vacation game with a stay in the 753-square-foot Exclusive Collection Space Family Suite for even more space to spread out, and views that'll make your camera quake with joy.
Speaking of relaxing, adults are presented with plenty of opportunities to unwind when their kids are happily occupied in the Baby Club Med, Petit Club Med, Mini Club Med, or Club Med Password (depending on their ages). Have a massage under a palapa at the spa, enjoy a game of golf, or battle it out on the tennis court. Then, soak up some rays on the adult-only Quiet Beach.
The oversized Zen lagoon pool is where grownup guests spend the majority of their kid-free time. Grab a healthy bite and a smoothie at the poolside Wellness bar. If you'd like to have a romantic dinner for two, leave the kids at the group Pyjamas Club or hire a babysitter to come to your room.
Traveling with a baby? Book the Baby Welcome service before you arrive to receive all the extras you won't want to pack, like a diaper change pad, stroller, and portable crib.
Address: Punta Cana, Dominican Republic
Accommodation: Club Med Punta Cana