20 Best All-Inclusive, Adult-Only Resorts in the World
We may earn a commission from affiliate links ()
Nothing screams romance like an adult-only luxury resort set on the soft, sandy shores of a tropical beach. Well, we won't shy away from a five-star mountain resort that caters to grownups, either. Add in an all-inclusive rate, and your couples' getaway is about to become a dream come true.
With no screaming children to mar a tranquil poolside experience; high-end amenities; and the most luxurious of accommodations to enjoy when the sun goes down, an all-inclusive, adult-only resort really is the best option for a loved up, stress-free getaway.
Whether you hope for an action-packed vacation, where activities like snorkeling and horseback riding are included in the rate, or yearn for an unforgettable stay in a Maldivian overwater villa, there are plenty of fantastic options across the globe.
Plan a romantic vacation (or honeymoon) you'll never forget with our list of the best all-inclusive, adult-only resorts in the world.
1. Kandolhu Maldives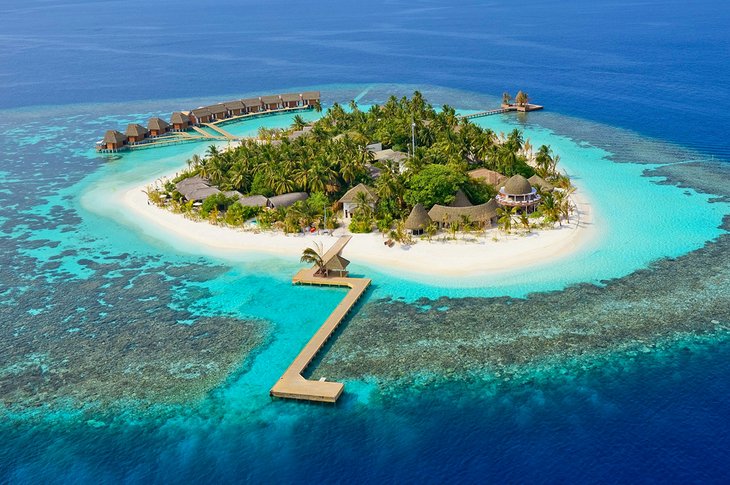 Overwater bungalows perch above the crystal-clear cerulean water, allowing guests to admire fish swimming around the offshore reefs from their private plunge pools. At this exclusive resort, reachable only by seaplane or boat, you can expect a once-in-a-lifetime level of luxury, privacy, and comfort during your stay — they have only 30 villas.
The best bang for your buck comes in the form of the Ultimate Inclusions Package, which boasts all meals at the resort's five restaurants, beverages, a discount on spa treatments, a private snorkeling tour or sunset cruise, and complimentary use of non-motorized water sports equipment. The À La Carte Dining package is just as good, but doesn't include the spa discount, snorkeling tour, or sunset cruise.
2. Kagi Maldives Spa Island, Maldives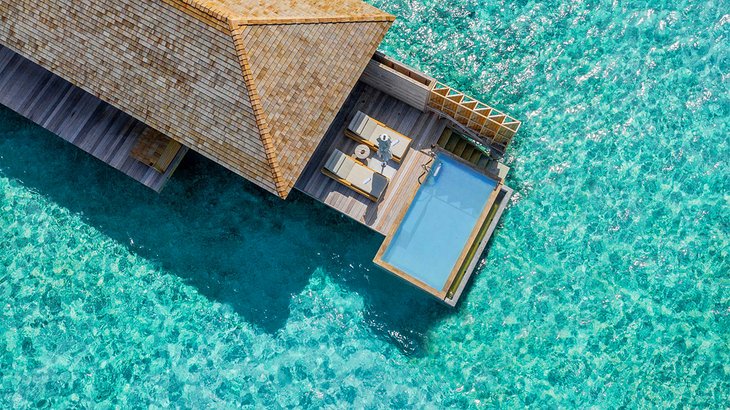 Book a few hours at the spa, have your pulse read and interpreted by a Certified Traditional Bhutanese medicine practitioner, practice mindfulness on the beach, or be wowed by the area's impressive underwater creatures by snorkeling or kayaking around the off-site reef.
Choose from 50 villas set in serene locations, either on the beach or over the water. They're bright, airy, and boast a private verandah and plunge pool.
The Premium All-Inclusive Plan includes meals, drinks, a four-course chef's table dinner in the herb garden, snacks, a discount at the spa, sunset dolphin cruise, yoga and stretching classes, as well as use of non-motorized sports equipment (including snorkel gear).
3. The Palms, Zanzibar, Tanzania, Africa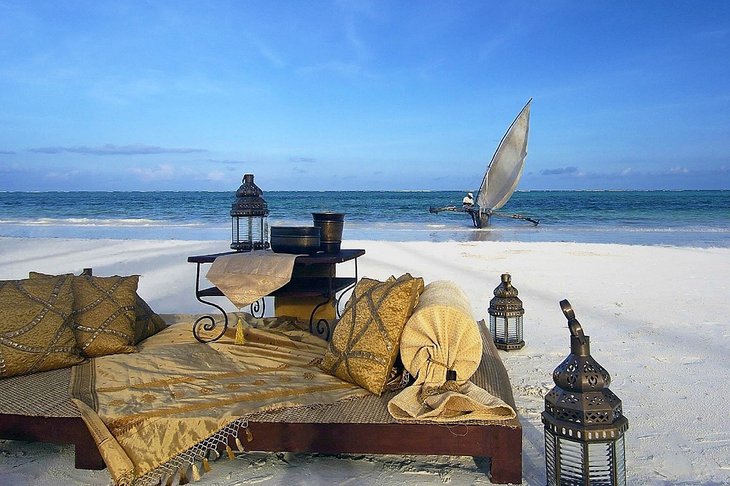 Here, guests can swim or snorkel in the azure ocean; learn to kite surf at the Water Club; have a scuba lesson; or lounge on the luxurious, silk-draped Zanzibar bed on their private veranda. The seven spacious villas offer exceptional views, a private plunge pool, bedroom, living room, and a full en suite bathroom.
Included with each stay are all meals, afternoon tea, beverages, and non-motorized water sports.
4. Royal Davui Island Resort, Fiji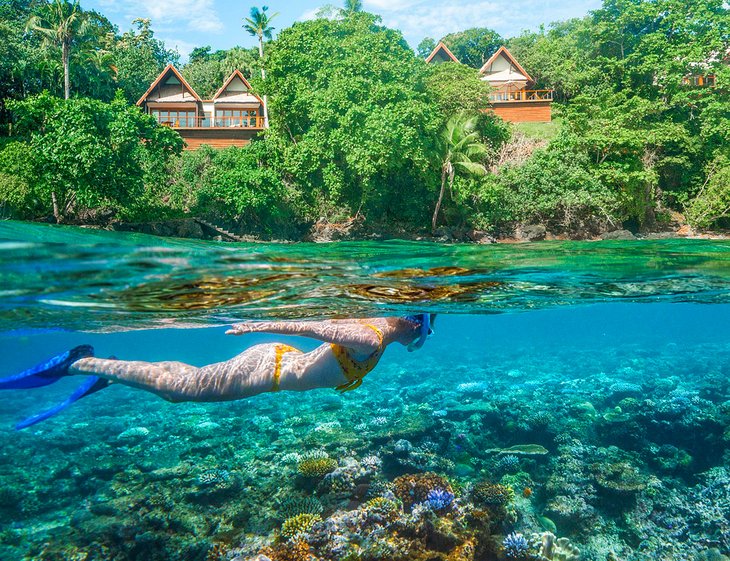 In addition to top-notch service from smiling staff members, you can expect a luxurious oasis filled with the most fun and relaxing amenities at this top all-inclusive, adult-only resort in the world.
Included in your stay are sailing trips on a Hobie Cat, a kava ceremony, cooking classes, guided tours of the reef that lies right offshore, use of non-motorized water sports equipment like kayaks and snorkeling equipment, as well as coconut classes, local entertainment, and beach games.
As for food, menus change daily and feature only the freshest of ingredients. All meals are complimentary, as is a picnic on the beach.
5. Hurawalhi Island Resort, Maldives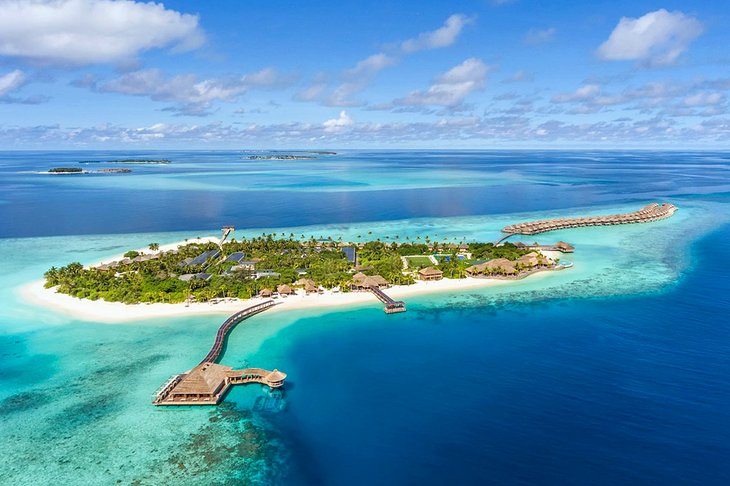 Not surprisingly, this is deemed one of the best couples' resorts in the world.
The Hurawalhi Island Resort's all-inclusive plan won't leave you hungry! All meals are included at Canneli Restaurant, and lunch and dinner at Kashibo and J.F.K. Beverages are also complimentary, as are snacks and drinks found in the mini bar.
A sunset dolphin cruise, use of the fitness center, tennis courts, and football grounds, as well as a half-hour snorkeling tour and windsurfing lesson are also included. Yoga classes and use of the resort's kayaks and windsurfers are free, too. If you're hoping to dine in the famed 5.8 Undersea Restaurant, though, you'll have to fork out some extra cash.
6. Jade Mountain Resort, St. Lucia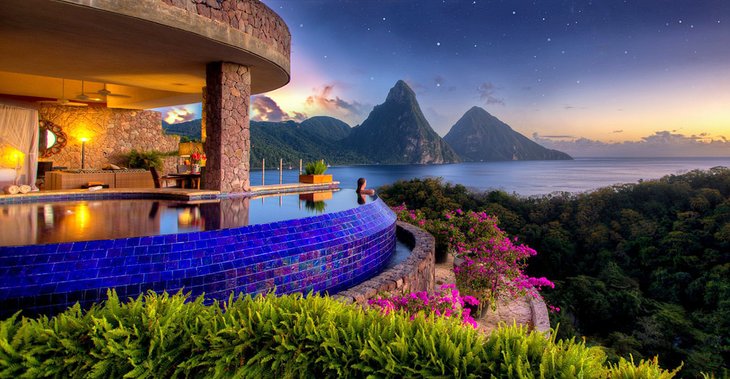 This cliff-side retreat features dramatic architecture that makes many rooms appear to float above the rugged shore. Each spectacular guest suite (a.k.a. sanctuary) includes a private infinity pool that overlooks the ocean; vast square footage (expect between 1,600 and 2,000 square feet); and only three walls, so you can feel as if you're one with the scenery.
Meals, drinks, kayaking adventures, snorkeling on the offshore reefs, scuba diving, tennis, sailing, windsurfing, kayaking, mountain biking, a daily escorted walk or hike, access to the fitness studio, a visit to the resort's organic farm, fitness and yoga classes, and sunset cruises are included in the rate.
Guests are also granted access to amenities like restaurants, an art gallery, spa, two beaches, water sports facilities, and boutiques at their sister resort, Anse Chastanet, which lies an easy walk or shuttle-ride away.
7. Komandoo Maldives Island Resort, Maldives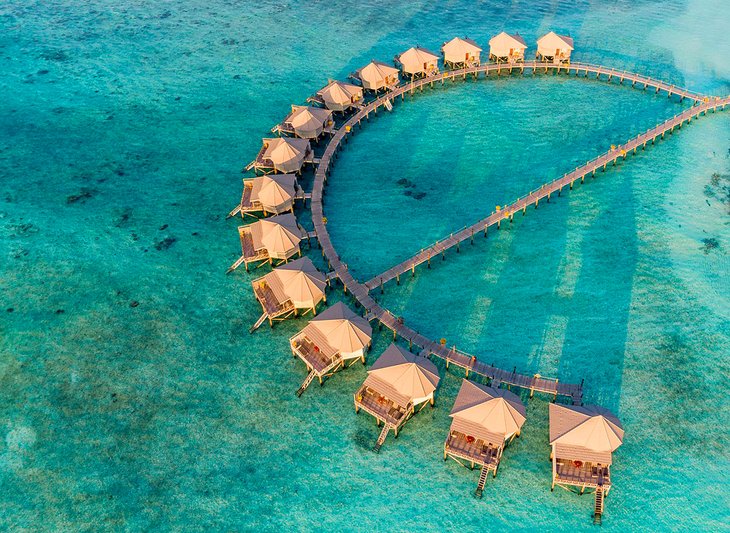 While getting here is a trek—it involves an extra, 40-minute seaplane ride from Male airport, you'll appreciate the exclusivity as soon as you step foot in this sanctuary. Set in the Lhaviyani Atoll, this intimate retreat is one of the best resorts for couples in the Maldives.
Villas range from plush beach accommodations to Jacuzzi water villas perched above the waves. Once voted one of the best Maldives resorts for romance, this loved up locale is, not surprisingly, also one of the best honeymoon resorts in the Maldives.
The all-inclusive Plus Package includes a few more perks than the all-inclusive Gold Package. You'll receive the same buffet meals, snacks, drinks, an à la carte dinner at Aqua (their underwater restaurant) and non-motorized water sports access.
You will receive a complimentary sunset cruise, a one-hour spa treatment per week, half-hour group snorkeling and windsurfing lessons, just as you would with the Gold Package. With the Plus Package, you'll also receive 20 percent off spa treatment and food at Aqua.
8. Le Blanc Spa Resort Los Cabos, Mexico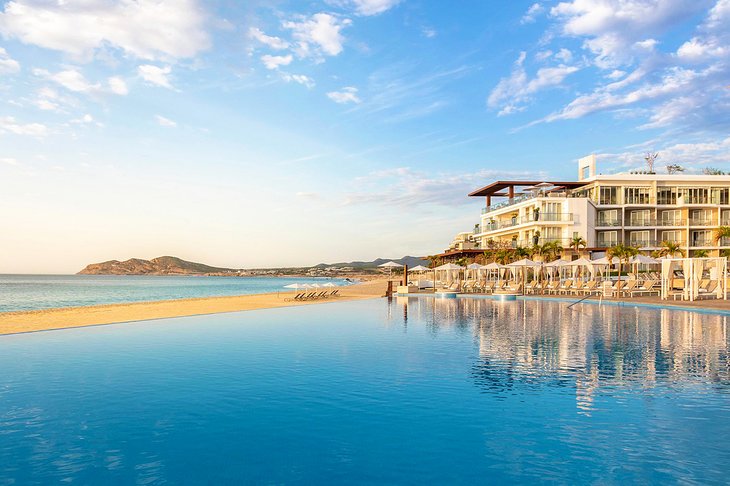 The resort's design is as sleek and chic as you'd hope for at a luxury resort, and its surroundings are romantically lavish. Bright, azure waves lap the white sandy beach, which is the highlighted view from the guest rooms' floor-to-ceiling windows. Spacious rooms and suites feature private balconies, deep soaking tubs, and high-end amenities. Some suites come with private plunge pools.
All meals at the four on-site restaurants are included, as well as those served in your room. So are drinks, yoga and fitness classes, TRX, aqua spinning, and hydrotherapy. Enjoy a romantic swim in one of the infinity pools or a spa treatment (for an extra fee) while you're here.
Not surprisingly, Le Blanc Spa Resort is also deemed one of the top resorts in Cancun for couples.
9. Likuliku Lagoon Resort Fiji, Fiji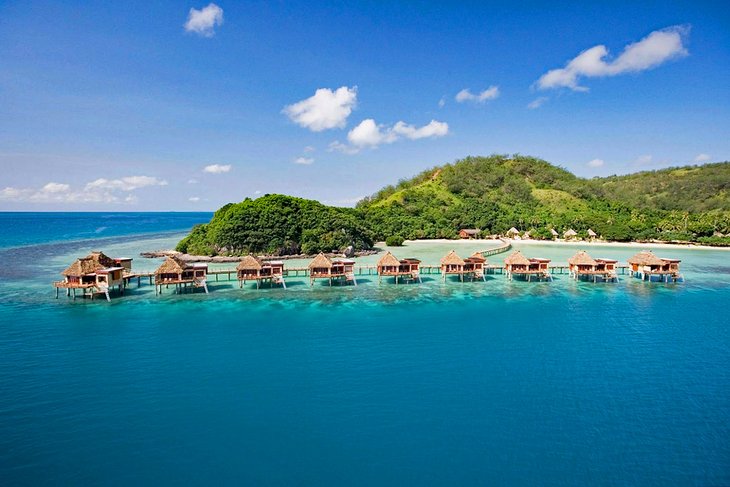 The 10 beautifully designed overwater bures are gorgeous, and among the best overwater bungalows in the world. On land, you'll find another 18 bures, which are just as lavish and feature garden, coconut grove, or lagoon vistas.
All food is included with your stay (beverages are extra) as are a sarong and non-motorized water sports, including snorkeling. Friday evenings are exciting. Locals from a nearby village perform dances and music for guests at the "end-of-week party," which is followed by a traditional South Pacific and Fijian Lovo grill.
10. Chiva-Som, Thailand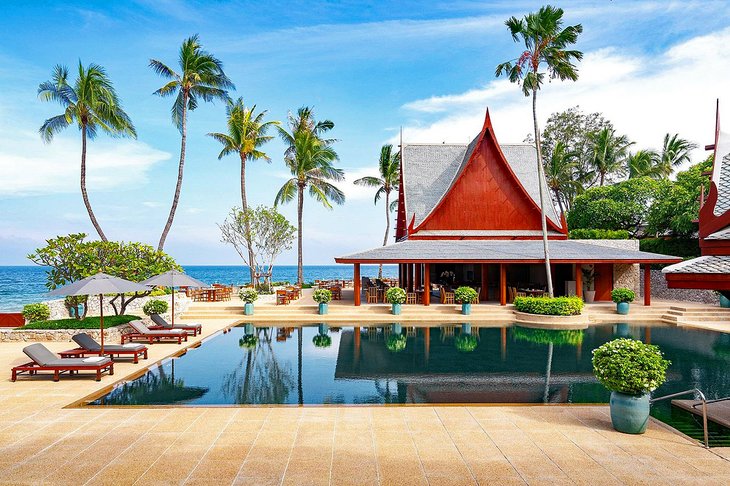 Chiva-Som has all the must-haves we look for in every top resort: a spa, fitness center, outdoor pool, and first-rate dining facilities. This wondrous wellness sanctuary also boasts a bathing pavilion complete with a steam room, cold plunge pool, and Jacuzzi.
In-house health practitioners can help craft a wellness plan to help you get the most out of your stay. Depending on your goals, they can create a perfect program of activities, treatments, and classes to help rejuvenate your body and mind.
Included in your stay are three wellness cuisine meals per night of stay, complimentary exercise and relaxation classes, daily afternoon tea, access to the water therapy suites and gym, private butler service, a physical analysis, and one wellness treatment per person per night of stay.
11. Sandals Grenada Resort & Spa, Grenada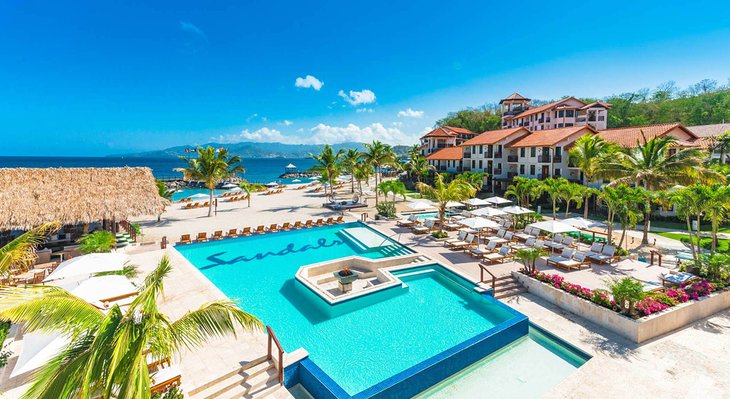 Love Nest Suites are the peak of extravagance. They include a cantilevered infinity plunge pool overlooking the pristine beach, a large living room, plush bedding, and a claw-foot soaking tub. Up your romance game with a South Seas Honeymoon One Bedroom Butler Villa. These include a private pool sanctuary boasting access to an outdoor sundeck from your bedroom and living room.
All meals are included at 10 restaurants, as are beverages, snacks, all items in your mini bar, and more activities than you'll find included at other top all-inclusive adult-only resorts in the world. An introductory scuba dive and use of their gear, a half-hour group snorkeling and windsurfing lesson (with equipment), non-motorized water sports like SUP and kayaking, as well as Hobie Cats are complimentary.
That's not all! Daily and nightly entertainment, access to the fitness center and tennis courts, personalized butler service, and airport transfers are also part of your stay.
12. Excellence Playa Mujeres, Mexico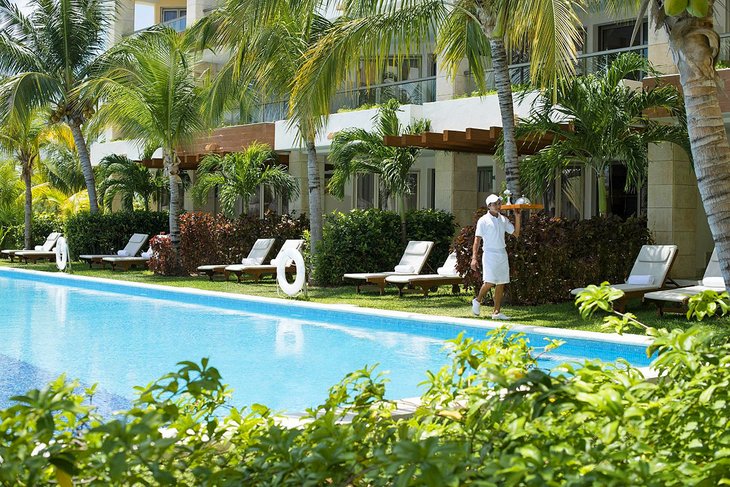 What you'll remember best, though, is the luxurious finishings in this all-suite resort—in addition to the friendly staff and seemingly endless activities, that is. Whether you're hoping to snorkel, SUP, sail, or take a yoga class, you'll find complimentary access to these fun offerings, and so much more.
Meals and drinks are included at 13 restaurants, a beach snack grill, and a food truck. Nightly entertainment, access to the fitness club, water aerobics classes, dancing lessons, tennis, fat bikes, and non-motorized water sports are also free.
If you're hoping for an even more specialized experience, book an Excellence Club Room. These come with added bonuses like a private concierge, use of a private lounge, and an exclusive beach area and restaurant.
13. Secrets Maroma Beach Riviera Cancun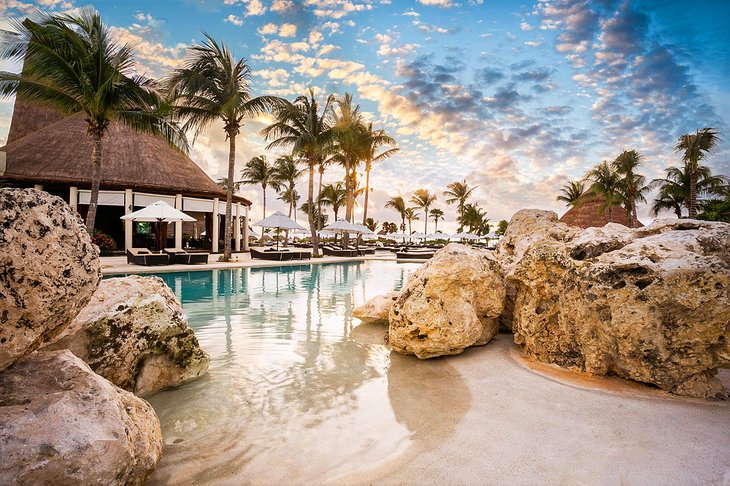 Those who want to up their stay can book a suite in the Preferred Club. This comes with added privileges and use of extra amenities, for a higher fee, of course.
The all-inclusive perks are extensive in this lavish spot. Greens fees at two golf courses, concerts, beach parties, theme nights, a sunrise kayak tour, and taco-making class are all included. Other bonuses include archery, tennis, use of multiple pools and hot tubs, use of a catamaran, Euro-bungee, and non-motorized water sports.
Meals at six à la carte restaurants, the buffet venue, grill, and café are included, as are beverages. Deep-sea fishing, snorkeling, and the spa are available for an added fee.
14. Marquis Los Cabos, Mexico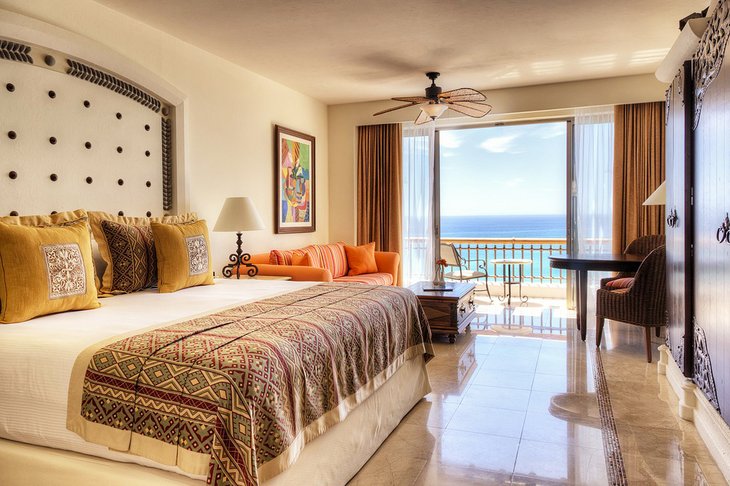 Set in a place where the desert meets the sea (in this case, the Sea of Cortez), the beauty of this juxtaposition won't be lost on you. Every room boasts a balcony with a view of the ocean, so you're in for a treat no matter which suite you book. To enjoy a private pool, you'll have to arrange for the highest category of rooms, known as The Casitas.
Also on-site are two infinity pools, tennis courts, and a spa (treatments are extra). Included in your stay are meals and beverages at five restaurants, mini bar offerings, treats at the coffee shops, dance lessons, archery, outdoor movies, and live music performances.
15. Twin Farms, Vermont, USA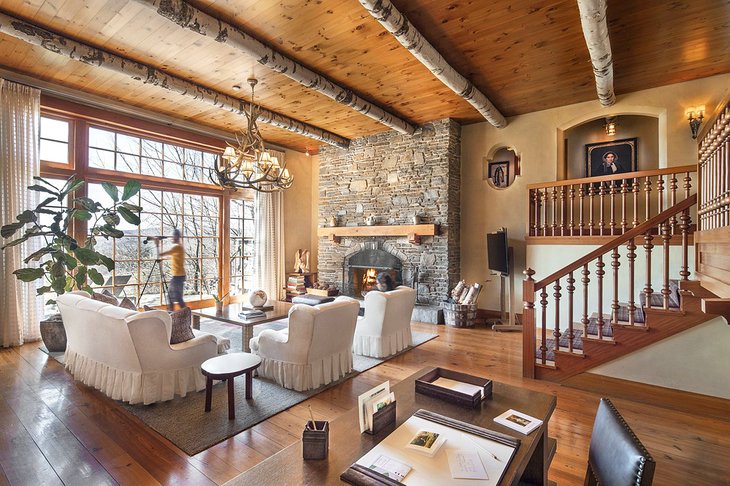 Hoping to explore? No worries. A gourmet farm-to-table picnic will be prepped for your journey to the top of the ski hill or bank of the sparkling pond. Feel like staying in? Have your tasty dishes delivered to your luxurious room.
Choose from one of 20 impeccably designed, super cozy cottages and suites. In the winter, you'll want to make use of the fireplace, while summertime will have you spending much of your time enjoying the idyllic view from your screened-in porch.
Activities are included, and the list is extensive. Depending on the season, you can enjoy archery, canoeing, kayaking, a bee tour, tennis, fly fishing, cross-country or downhill skiing, fat tire biking, or ice fishing.
16. Live Aqua Beach Resort Punta Cana, Dominican Republic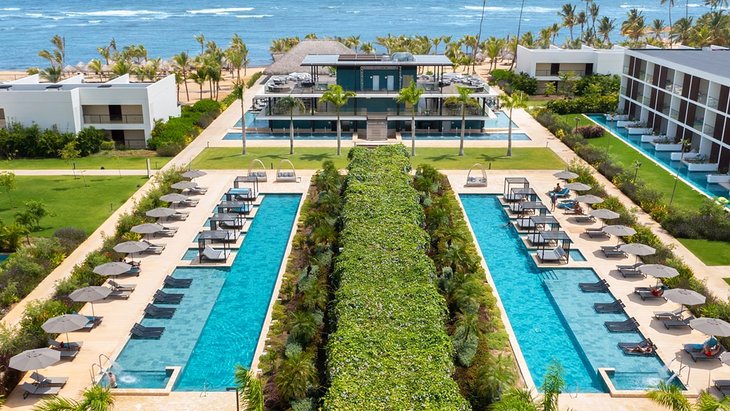 Lush gardens and multiple swimming pools take center stage, some of which can be accessed from a private terrace if you've chosen a swim-up suite. While all the action (including paddleboard yoga and aquarobics) take place in the main oceanfront pool, the more serene pools lie a bit farther back, boasting a quieter environment complete with hydrotherapy showers. The beach features sand so soft, your feet sink right in – literally, this is some of the softest sand your toes will ever have the pleasure of feeling. If you upgrade to the Acqua Club, you'll have access to a separate area of the beach with its own refreshment area and chair service. You'll also be privy to a club lounge, reception area, and a welcome hand massage in the spa.
Gastronomes will salivate over the multiple cuisines on offer at this resort, so be sure to arrive hungry. Whether you're in the mood for Italian, Japanese, French, or Mexican dishes, you're in luck, and each of these themed restaurants serve food à la carte. Liberi boasts an exceptional buffet breakfast and a variety of buffet-style food for lunch and dinner. A bonus: all food and drinks are included in your stay (with the exception of high-end drinks and choice cuts of meat), as are live entertainment and access to beach yoga classes and the fitness center. The Feel Harmony Spa is heavenly, but treatments cost extra.
Choose a suite if you're looking for the highest level of luxury (and romance) at this top beach resort in the Dominican Republic. They come with an infinity pool, one 25-minute couples' massage, discounted spa treatments, and unlimited access to wet rooms and the water ritual at the spa.
No worries if you don't want to upgrade. The regular suites are modern and spacious with double rain showers and a Jacuzzi tub and bed on the balcony. Ask for a room in one of the buildings located towards the middle of the resort if you want a quieter experience. The beachfront and main building can get loud with outdoor music. Don't worry, it ends at 11.
17. Castle Hot Springs, Arizona, USA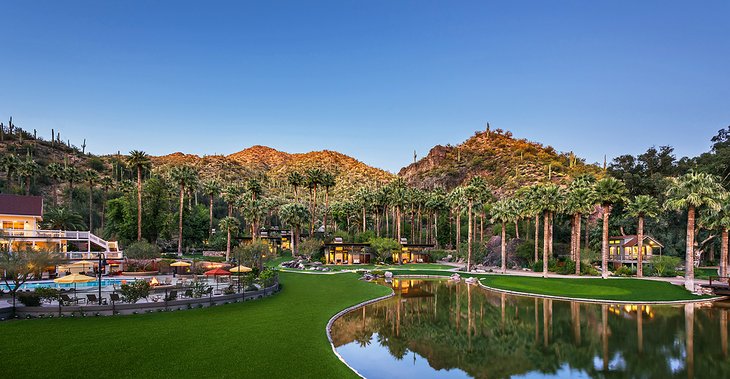 The food is grown on the resort's own farm, so you know you're in for a fresh, local treat with every dish.
Explore the Sonoran Desert during the day and luxuriate in a private bungalow complete with a deep soaking tub. Grab a good book and a blanket and enjoy some quiet time, reveling in the outdoor beauty and lulling sounds of the nearby spring from a private outdoor deck.
18. Triple Creek Ranch, Montana, USA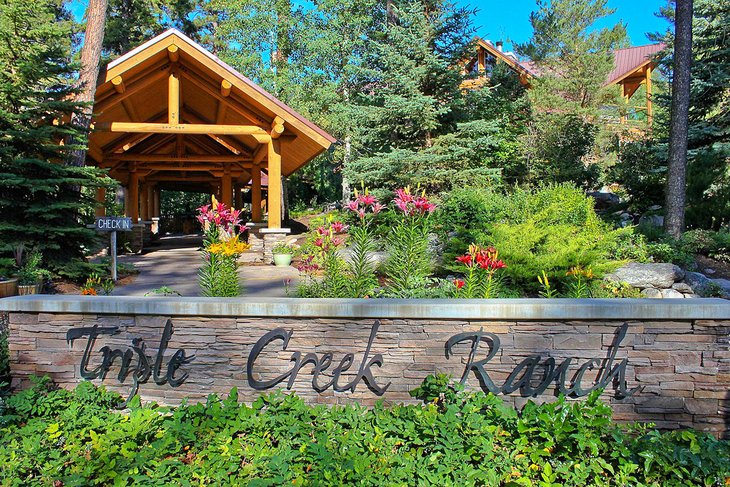 Log cabins are dotted across the property, offering guests a chance to settle in for a plush ranch experience. Depending on your budget, you can stay in a log-cabin or upgrade to a ranch of your own.
When joined to its sister property, CB Ranch, Triple Creek boasts over 26,000 acres of spectacular countryside and a slew of activities to please every adult guest, no matter the season.
Ranch experiences like horseback riding, cattle driving, fly fishing, fat tire snow biking, cross-country skiing, and yoga classes are included in the rate. Even the fitness center, disc golf course, tennis and pickle ball courts, and winter gear including parkas and boots are part of your rate.
Don't worry if you're not the cowboy type, there are plenty of relaxing activities like panning for sapphires, guided meditation, and hikes to enjoy.
All meals, including those in your cabin, are part of the deal, as are snacks and a packed breakfast and/or lunch to accompany your exciting excursions. The dinner menu changes each evening.
19. Miraval Arizona, Arizona, USA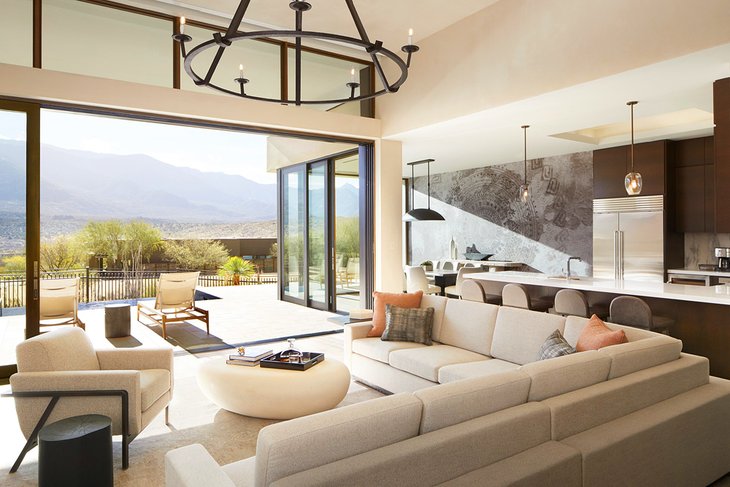 A personal experience planner will set your itinerary. All you must do is tell them the types of things you're hoping to try during your stay. Whether you envision yourself walking along a slackline, traversing a cable that's 35 feet in the air, or conducting a leap of faith while jumping from a 25-foot pole, there are many ways to push yourself (or not), and they're all included.
Fitness classes, wellness counseling, hiking, mountain biking, cooking workshops, and photography classes are a few more activities that are complimentary with your stay at this top resort in Tucson.
Unlimited meals, smoothies, snacks, and non-alcoholic beverages will help keep you satiated, while the nightly resort credit per person can be used towards spa treatments or fee-based activities.
Did we mention this is a device-free resort (at least in public areas)? This is the perfect place to step back, destress, and disconnect. By the time you're packing to leave, you won't believe the incredible transformation. No wonder this is deemed one of the best luxury all-inclusive resorts in the world.
20. Spicers Peak Lodge, Australia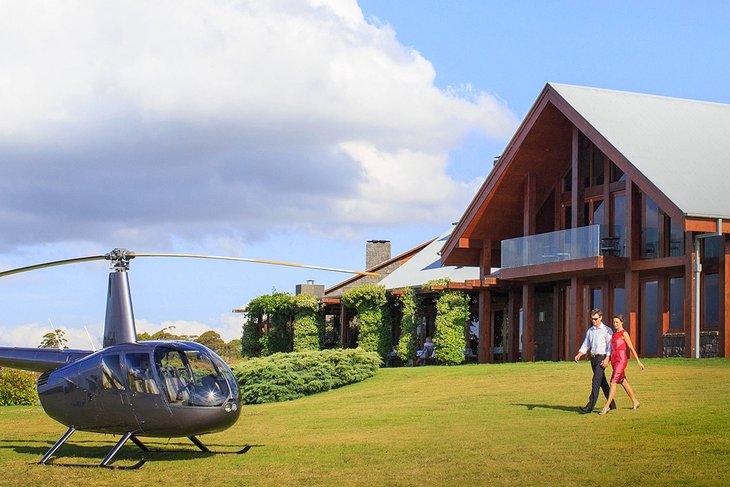 In addition to spectacular grounds, guests are treated to gourmet meals, spacious suites (some with fireplaces), and private lodges. There's a spa on-site (for an additional fee).
The all-inclusive package includes all meals and most beverages. Daily activities, including outdoor fun like mountain biking, are also complimentary during your stay.
While not technically an adult-only resort, this plush spot does not cater to kids (you won't find highchairs, children's menus, or kids' programs on-site) and only permits families to stay in a two-bedroom private lodge. That means you aren't likely to run into screaming toddlers during your romantic stay in this nirvana.