12 Top-Rated Resorts in Lake Geneva, Wisconsin
We may earn a commission from affiliate links ()
A beautiful city in a beautiful state, Lake Geneva in Wisconsin is a must-visit for anyone looking to experience the quintessential US Midwest. In addition to its fun attractions, some of the best places to visit are also centered around the city's many great places to stay. Top things to do here include kicking back and unwinding by the lake, or using your accommodations as a base from which to explore this scenic state.
From luxurious and romantic couple-friendly resorts, like the exquisite Geneva Inn on the shores of Geneva Lake, to the sprawling Grand Geneva Resort & Spa, which sits on a magnificent 1,300 acres of unspoiled countryside and is popular with families, there's something for everyone in Lake Geneva and its vicinity.
For some great ideas on the best accommodation options, be sure to browse our list of the top resorts in Lake Geneva, WI.
1. The Geneva Inn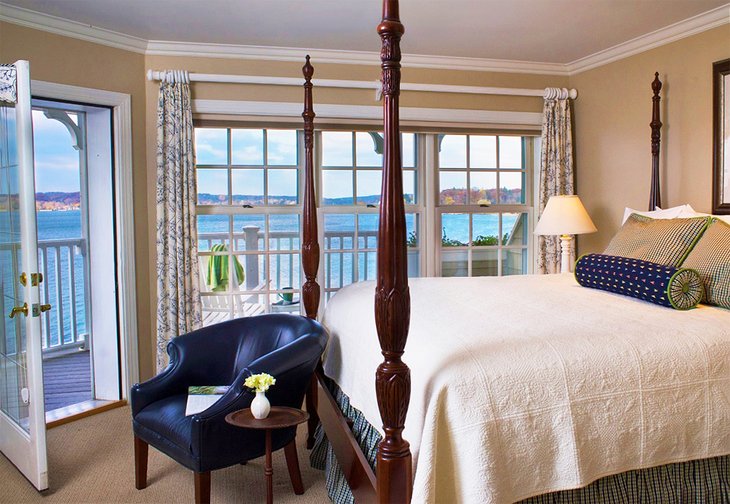 Accommodation: The Geneva Inn
The handsome 4-star Geneva Inn certainly has plenty to commend it to travelers in search of a classy stay in Wisconsin. Nestled on the shores of beautiful Geneva Lake, this exquisite historic resort has been offering year-round, all-season escapes from the hustle and bustle of everyday life for 40 years.
In addition to its serene and peaceful setting, the inn offers world-class dining in its lake-view restaurant, as well as the option to dine alfresco on the patio when weather permits.
For those wanting to bring a boat along, slips are available (boat rentals can also be arranged). Nearby summer activities include golf, horse riding, biking, and swimming at the public beaches. In winter, guests can enjoy activities such as downhill and cross-country skiing.
The rooms at Geneva Inn are well-appointed and bright. Standard options include a choice of king, queen, or double beds, along with spacious bathrooms with large Jacuzzi tubs and bathrobes.
Other amenities of note include good-sized balconies (be sure to request a lake view suite if available), mini-fridges, Keurig coffee makers, and HD TVs. An evening turndown service is also provided. Be sure to check for special seasonal event deals including Thanksgiving, Christmas, and Easter brunch packages.
Address: N2009 S. Lake Shore Drive, Lake Geneva, Wisconsin
2. Grand Geneva Resort & Spa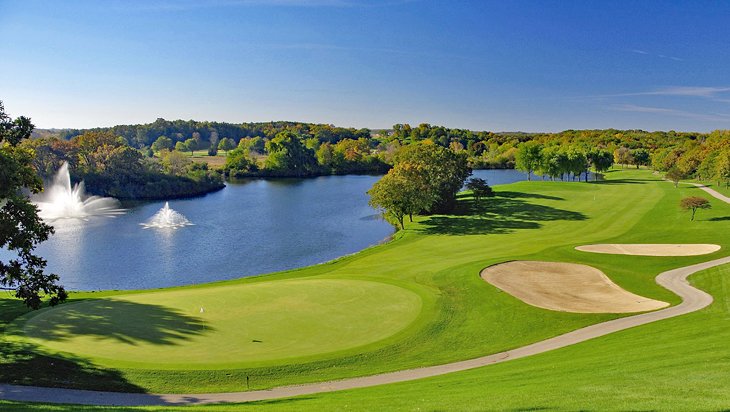 Accommodation: Grand Geneva Resort & Spa
A highlight of a stay at the stunning Grand Geneva Resort & Spa is exploring the grounds of this sprawling resort. Opened in 1968, this 4-star resort is spread across some 1,300 acres of mostly wooded countryside with its own private lake. The resort owes its spectacular design to Wisconsin's most famous son, Frank Lloyd Wright.
Highlights of a stay include spending time at the two heated swimming pools (one indoors, one outdoors), or enjoying a round of golf on either of the championship 18-hole courses. In winter, relaxing in the dedicated ski lounge after enjoying the nearby ski and snowboard slopes. There's also a very large and well-equipped spa, along with a gym.
Thanks to its 609 guestrooms, there's plenty of choice when it comes to deciding which accommodation option best suits your needs. Popular for larger groups and families are the spacious suites and villas. Consisting of large separate bedrooms and plenty of living space, these extremely luxurious units include full kitchens with modern appliances, private furnished patios, and cozy gas fireplaces.
Guests also have access to a pool and fire pit available only to guests staying in the villas. Another good perk to consider is the Geneva Club, which comes with breakfast and hors d'oeuvres in an elegant private lounge area. A number of pet-friendly villas are available.
Address: 7036 Grand Geneva Way, Lake Geneva, Wisconsin
3. The Abbey Resort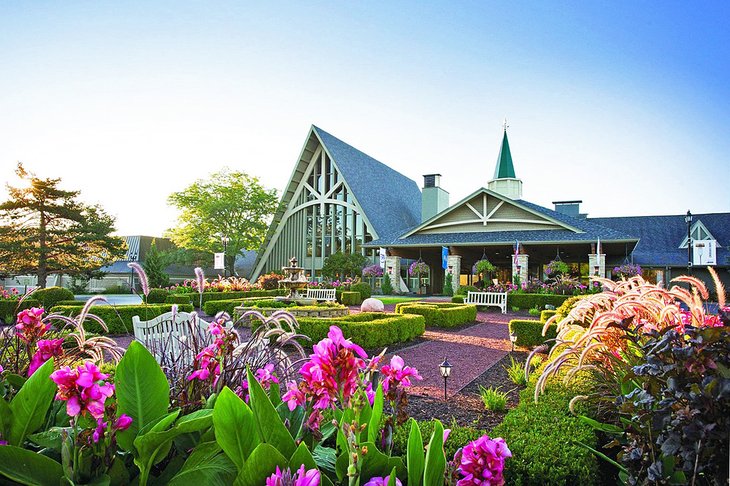 Accommodation: The Abbey Resort
The lovely Abbey Resort is another great 4-star destination to consider for your lakeside vacation in Wisconsin. Located on the east end of this popular body of water on a 90-acre site in the community of Fontana-On-Geneva Lake, the resort is ideally positioned a short stroll from the beach and an easy drive to top area attractions such as Black Point and the Yerkes Observatory.
There are plenty of great excuses to want to hang around the resort, too. In addition to its heated indoor and outdoor swimming pools (including an adults only pool) and sunbathing areas, there's also an on-site marina offering watercraft rentals and docking if you bring your own boat. Guests also have access to a fitness center and a variety of exercise classes.
For many, though, the highlight is spending time at the spa. This first-rate facility offers a variety of treatments, including popular couples' massages. Afterwards, enjoy a meal at one of the two on-site eateries. Better still, relax on the terrace as you dine and soak up those great lake views.
A variety of well-appointed family rooms and spacious suites are available. Standard features include mini fridges and microwaves, while the larger units add pull-out couches and patios (or balconies).
Address: 269 Fontana Blvd, Fontana-On-Geneva Lake, Wisconsin
4. The Ridge Hotel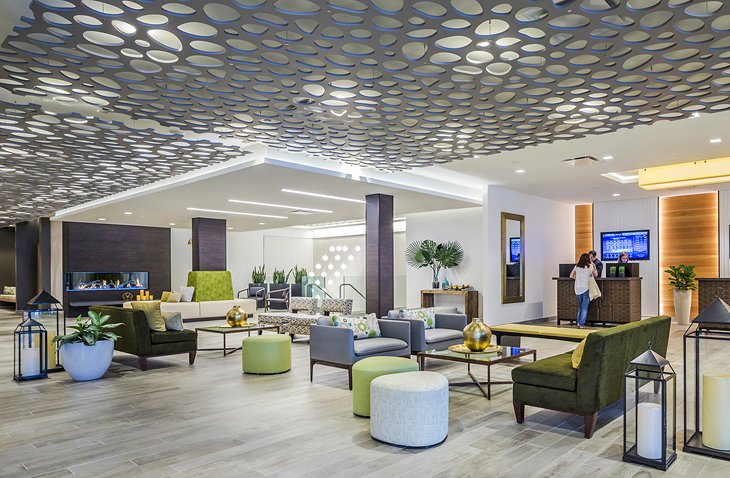 Accommodation: The Ridge Hotel
For those seeking an upscale vacation experience, the 146-room Ridge Hotel is worth considering. The hotel's charmingly decorated guest suites are spacious and provide plenty of space for those who want more than your typical standard room.
Notable in-room features of this popular 3-star resort include custom furnishings and comfortable beds; big-screen HDTVs; and, for those into high tech gadgetry, a Google Chromecast on which you can stream video content from your personal devices.
If available, ask for a room with a view over the lake, or better still, one of the stand-alone villas; it's well worth the additional cost, as these large units come with separate bedrooms, kitchens, as well as living and dining rooms.
The Ridge also offers plenty of superb on-site amenities, too. Highlights include indoor and outdoor heated swimming pools, an indoor hot tub, a steam room and sauna, and a 24-hour fitness center offering yoga classes. Notable outdoor activities include hiking trails; free bike use; a championship golf course; and, in winter, a skating rink.
Three on-site restaurants are available and provide in-room and alfresco dining options. There's also a full-service spa and a hair salon.
Address: W4240 WI-50, Lake Geneva, Wisconsin
5. Cottages and Suites of Geneva National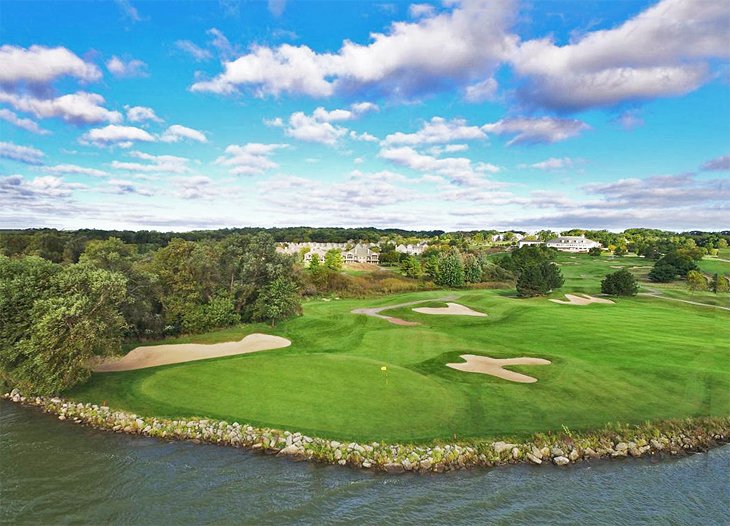 Accommodation: Cottages and Suites of Geneva National
A great option for those who enjoy a more intimate vacation experience, Cottages and Suitess of Geneva National is well worth considering. Part of the large Geneva National Resort complex that overlooks Lake Como, this sprawling 3-star resort actually consists of a mix of resort-style accommodations and stand-alone cottages that each boast a high level of privacy and opulence.
Accommodations are bright and spacious and include features such as full kitchens, large bathrooms, and plenty of living space, including dining rooms, seating areas, and rec rooms. Another nice touch are the spacious patios and private putting greens.
Guests staying at the inns also have access to a well-equipped wellness and fitness center, a heated outdoor swimming pool, tennis courts, golf courses (club rentals are available), and in-room dining courtesy of the resort's restaurant. The resort also offers concierge and grocery delivery services, and restaurants are located on the main resort property.
Christmas is an especially popular time to visit the resort thanks to its displays of ice castles.
Address: 1091 Hidden Cottage Cir, Lake Geneva, Wisconsin
6. Cove of Lake Geneva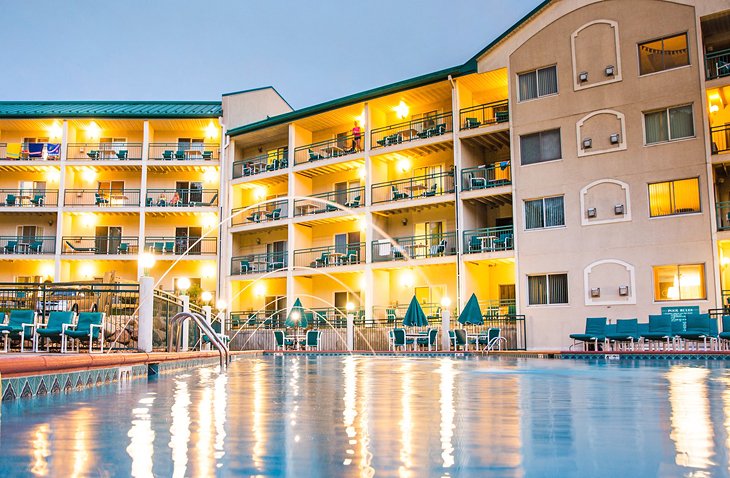 Accommodation: Cove of Lake Geneva
Located in the heart of Lake Geneva – and just a short walk from the city's best shopping, dining, and entertainment – sits the Cove of Lake Geneva. Consisting of large suites and condo-style units, this modern 3-star resort is a perfect getaway retreat for larger groups and families looking for a first-rate waterfront vacation.
Guests can choose from one- or two-bedroom units, each boasting plenty of space to spread out. Features of note include full-kitchens, separate living rooms with fireplaces and pull-out couches, large private balconies, and spacious bathrooms with Jacuzzi tubs and stand-alone showers.
On-site amenities include both indoor and outdoor heated swimming pools, hot tubs, and large pool terraces with the option to rent a private cabana (be sure to try the poolside food and beverage service). Other handy amenities include a restaurant and in-room dining.
Address: 111 Center Street, Lake Geneva, Wisconsin
7. Timber Ridge Lodge & Waterpark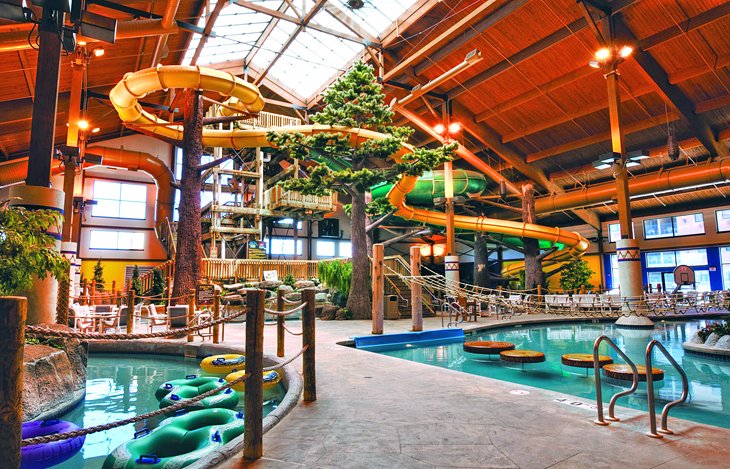 Accommodation: Timber Ridge Lodge & Waterpark
Part of the huge Grand Geneva Resort & Spa complex, the 3-star Timber Ridge Lodge resort is designed with family fun in mind.
The main attraction is Moose Mountain Falls, a vast 50,000-square-foot waterpark with plenty of watery fun inside and out. Highlights include a 35-foot-high and 300-foot-long waterslide and a relaxing 500-foot-long lazy river. Tickets for the water park are included in the cost of some of the larger units. Other fun things to do include golf and on-site dining.
Accommodations consist of 225 spacious guest suites, including one- and two-bedroom units. Features of note are the large kitchens with modern appliances, a whirlpool bathtub in the marble bathrooms, large covered balconies, huge HD TVs, and a separate living room with a fireplace.
Address: 7020 Grand Geneva Way, Lake Geneva, Wisconsin
8. The Baker House Hotel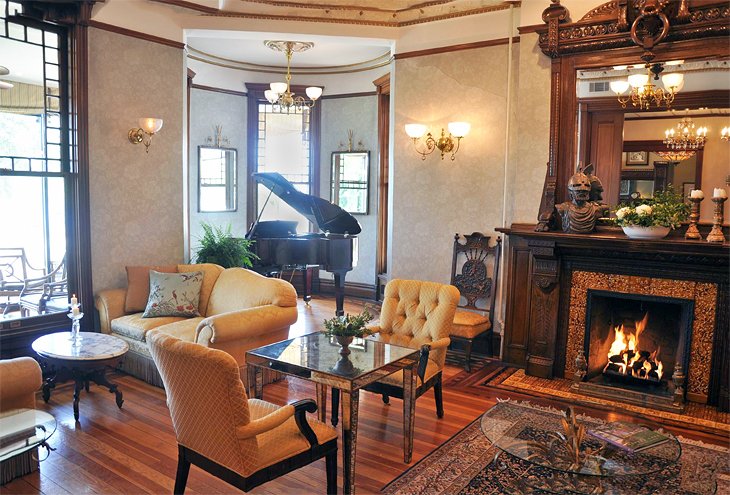 Accommodation: The Baker House Hotel
A fascinating opportunity for those who enjoy staying in historic homes, The Baker House Hotel is set in a majestic old mansion that's been exquisitely restored (it was built in 1885).
Elegantly furnished and beautifully decorated throughout, this luxurious hotel offers world-class dining, along with elegantly appointed rooms. For a special treat, be sure to try one of the exquisite afternoon teas, an especially memorable experience thanks to the lovely views over Geneva Lake.
No two rooms are the same at the Baker House Hotel, which certainly adds to the fun of a stay. Lavishly decorated with antiques and artifacts, the hotel's guest rooms and suites include sumptuous en suite bathrooms, original fireplaces, and plenty of seating. A great option are the rooms of the old carriage house and stables. These rooms are modern and luxurious and come in a choice of king or queen beds with large, two-person whirlpool bathtubs.
Address: 327 Wrigley Drive, Lake Geneva, Wisconsin
9. Maxwell Mansion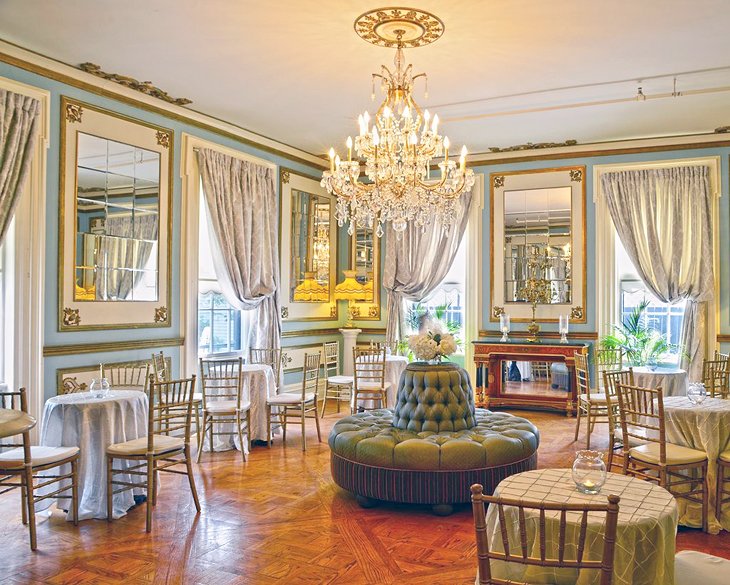 Accommodation: Maxwell Mansion
Another delightful hotel set in a beautiful old home, the elegant Maxwell Mansion was built in 1856 and has undergone a stunning redevelopment that preserves its original elegance.
A highlight of a stay is relaxing in the stunning grounds of the old estate. In addition to the fine gardens, you'll find quiet areas to sit and relax, lovely outdoor fireplaces, and a heated swimming pool. There's also a croquet lawn (bocce balls are also available).
Accommodations include six elegantly appointed and lavishly decorated guest rooms, furnished with antiques and featuring large ensuite bathrooms. Larger and more modern options are available in the Carriage House and Stable Suites. Here, you'll find a selection of classy rooms with a choice of king or queen beds; large, two-person jetted bathtubs; and stand-alone showers. Some pet-friendly rooms are available.
Address: 314 S Wells Street, Lake Geneva, Wisconsin
10. Holiday Inn Club Vacations at Lake Geneva Resort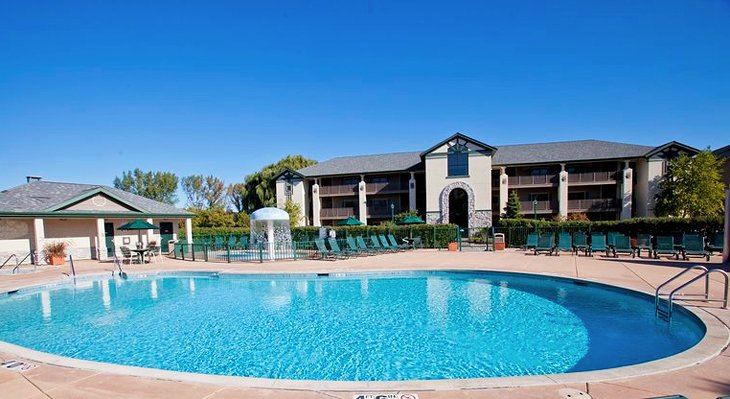 Accommodation: Holiday Inn Club Vacations at Lake Geneva Resort
The 3-star Holiday Inn Club Vacations at Lake Geneva Resort offers a variety of quality affordable accommodations. Ranging in size from 540-square-foot hotel rooms to large, two-bedroom villas covering some 1,268 square feet, these accommodations are perfect for families traveling together. Notable features of the larger units include a modern spacious bathroom with a stand-alone bathtub and shower, and a well-equipped kitchen with full appliances.
The resort boasts numerous on-site amenities, too, including large heated outdoor and indoor swimming pools. Guests also have access to the amenities at the neighboring Grand Geneva Resort. Highlights include a lazy river and indoor water park, two championship golf courses, a huge fitness center, as well as horseback adventures. There's also a full-service spa and a choice of seven restaurants.
The resort is also popular in winter and offers guests direct and easy access to ski slopes and a snowboard park.
Address: 7036 Grand Geneva Way, Lake Geneva, Wisconsin
11. Bella Vista Suites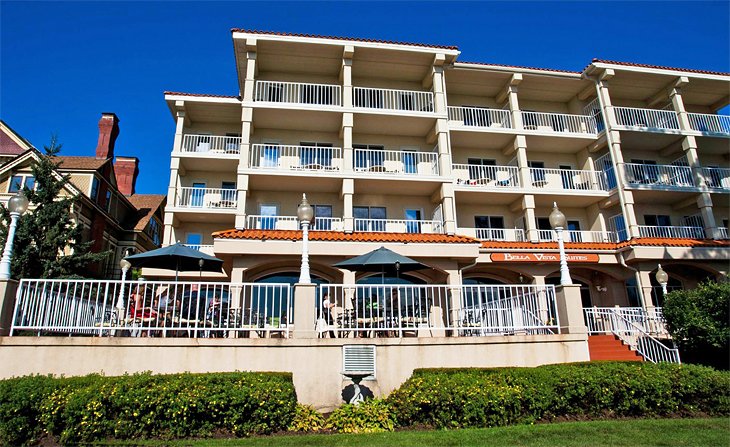 Accommodation: Bella Vista Suites
For those seeking an intimate, boutique hotel-style getaway, be sure to consider the Bella Vista Suites. Perched overlooking Geneva Lake and just steps from the restaurants and shopping in downtown Lake Geneva, this luxurious 3-star hotel consists of just 39 elegant units. Each spacious suite features a large bathroom with a stand-alone shower and Jacuzzi bathtub (and bathrobes), comfy pillow-top mattresses, HDTVs with free movies, private balconies, mini-fridges, and microwaves.
A number of larger one-bedroom units are available that come with full kitchens and modern appliances. On-site amenities include a large indoor swimming pool with a hot tub, a fitness center, full-service spa, and Himalayan salt sauna.
It's also nice to relax in the hotel's lobby with its huge glass atrium, complete with fountain and koi fish pond. There's also a private pier extending over the lake, along with access to hiking and biking trails.
Address: 335 Wrigley Drive, Lake Geneva, Wisconsin
12. Mill Creek Hotel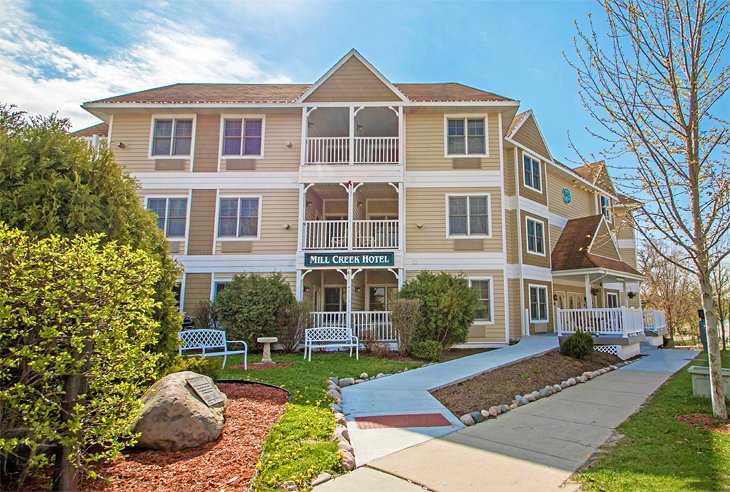 Accommodation: Mill Creek Hotel
Located close to a small nature reserve, the all-suite Mill Creek Hotel is a great choice for those wanting more space during their vacation. Popular guest room choices include the one-bedroom king or queen suites. Features of these spacious units include a full kitchen with appliances, a cozy fireplace, large-screen HDTV, pullout couch, a large bathroom with jet tubs and separate showers, plus a furnished balcony.
Notable on-site features include dedicated underground parking, a heated indoor swimming pool and hot tub, well-equipped fitness center, and an outdoor terrace on which to sunbathe and unwind. A laundry facility is also available on-site.
A nice perk is the inclusion of a fresh cookie when you check in, along with complimentary bottled water in your room.
Address: 123 Center Street, Lake Geneva, Wisconsin