10 Top-Rated Resorts in West Virginia
We may earn a commission from affiliate links ()
The natural beauty of West Virginia, with breathtaking views of the Appalachian Mountains and rivers, make it a four-season destination for outdoor recreation and relaxation. The resorts throughout the state capitalize on the natural landscape to offer challenging ski slopes in the winter and white water rafting experiences in the summer - some of the best in the United States.
Since West Virginia is within a day's drive of 75 percent of the US population, it is an easy destination to consider for a weekend away or a week-long vacation. From spas, golf, and fine dining at some resorts to wilderness adventures at others, a resort vacation in this scenic state is unlike any other. Check out our list of the top resorts in West Virginia.
1. The Greenbrier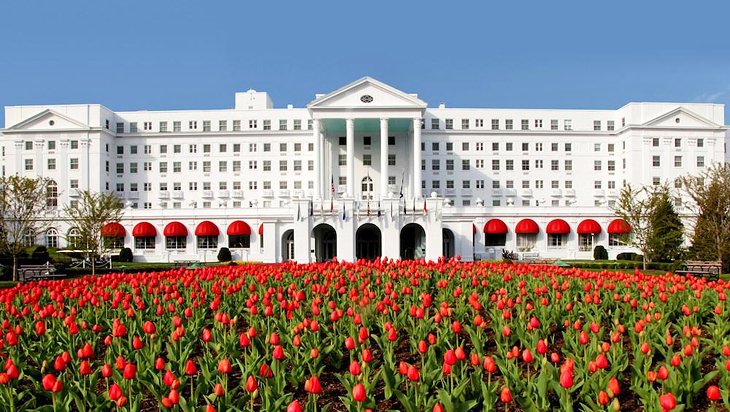 Accommodation: The Greenbrier
The elegance and historic allure of The Greenbrier is unmatched. This grand resort is a National Historic Landmark that has been a luxury getaway since 1778.
The resort has a collection of golf courses, a golf academy, and even indoor golf in the winter. Greenbrier lodging is a memorable experience, from their historic and period-decorated resort rooms to the 200-year-old luxury Legacy Cottages.
The Greenbrier Estate Homes with up to seven rooms let you live like an aristocrat for the duration of your stay. While you might be tempted to stay in and enjoy your room, there are more than 55 activities available on-site, from golf and horseback riding to adventure courses.
The spa features mineral water that is known worldwide. If you go, book some time to take a Bunker Tour that takes you behind the scenes of the declassified Congressional fallout shelter on the grounds.
The Greenbrier is also famous for its culinary experience, with around 20 restaurants on-site. The Main Dining Room has been serving up Southern and American cooking for more than 100 years now. The dining room itself is impressive, with custom chandeliers, arched windows, and columns.
Address: 300 W. Main Street, White Sulphur Springs, West Virginia
2. Mardi Gras Casino & Resort

Accommodation: Mardi Gras Casino & Resort
In the Cross Lanes shopping district, the Mardi Gras Casino & Resort is also convenient to popular Nitro City Park, the Avampato Discovery Museum, and the Clay Center for the Arts and Sciences. The hotel is also just 20 minutes from the Charleston airport.
Rated as a 4-star hotel, the 150 rooms here come with either a king bed or two queen beds. Note that the property is not child-friendly, and you must be at least 21-years-old to stay here. Rooms are comfortable, with pillow-top mattresses and down comforters. A pillow menu is also available.
Amenities include a fitness center along with an indoor swimming pool and hot tub. Breakfast is complimentary, and there is also a restaurant on-site.
Address: 1 Greyhound Drive, Nitro, West Virginia
3. Stonewall Resort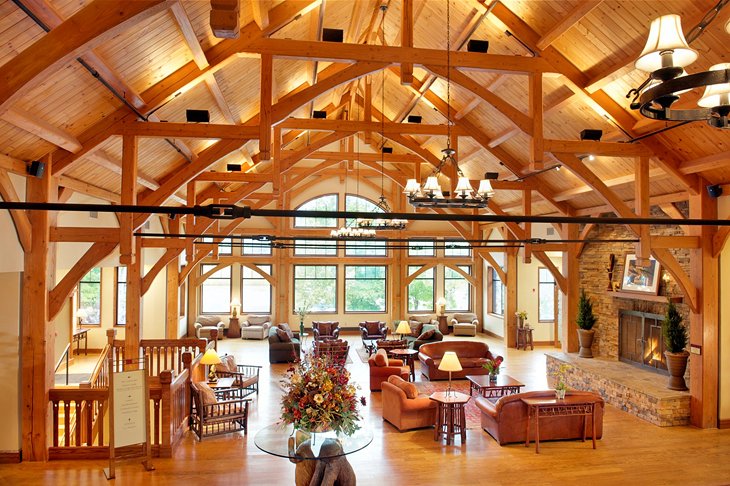 Accommodation: Stonewall Resort
When you curl up in the luxurious lakeside lodge or a cottage at Stonewall Resort, there is no question that you are officially on vacation. The 1,900-acre resort is located in Roanoke, in north central West Virginia.
You might choose to spend one day playing a round of golf on the expansive Arnold Palmer Signature Golf Course and wind down with an aromatherapy massage at the Mountain Laurel Spa.
The next day you might play on the water along the 26 miles of shoreline with a paddle boat or kayak, or explore the West Virginia wilderness along the 16 miles of hiking trails.
Satisfy your appetite at one of several restaurants on-site, which make meals with locally sourced seasonal ingredients, or make s'mores on a summer night under the dark, starry sky at the resort's fire pit on the patio.
Address: 940 Resort Drive, Roanoke, West Virginia
4. Wilson Lodge at Oglebay Resort & Conference Center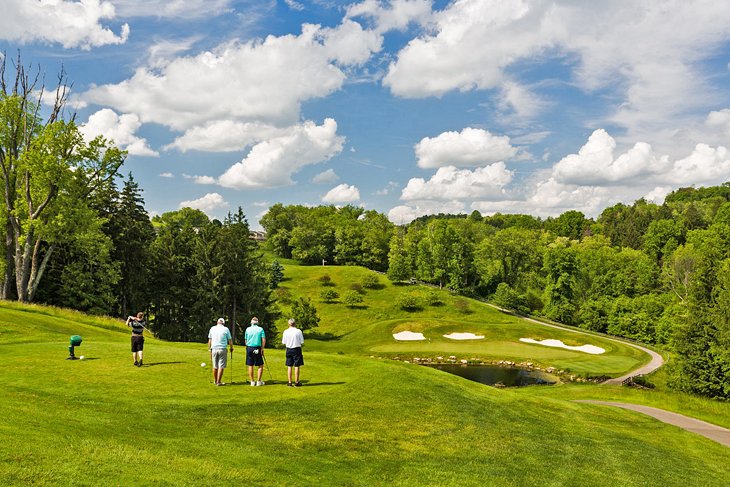 There is a championship golf course and more than 1,700-acres of outdoor opportunities, like skiing, fishing, hiking, and swimming. There is a zoo with more than 50 species on-site, as well as gardens, museums, and shopping.
The spa features a full menu for relaxation, or you can just find a quiet spot at the Oglebay Garden Bistro and enjoy a cup of coffee on the patio.
Most visitors stay at Wilson Lodge, but the resort also has cottages and estate homes available. One of the best times to visit Oglebay is in the winter to experience their famous Festival of Lights.
Address: 465 Lodge Drive, Wheeling, West Virginia
5. Morgantown Marriott at Waterfront Place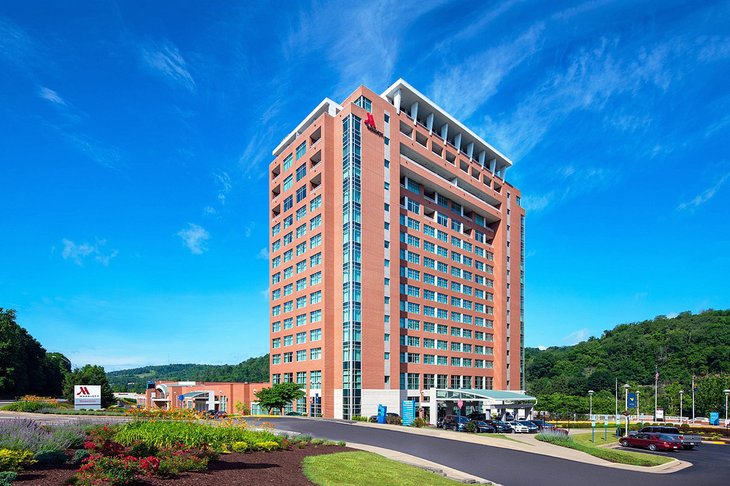 Accommodation: Morgantown Marriott at Waterfront Place
Just a mile from West Virginia University, Morgantown Marriott at Waterfront Place is an upscale property with many amenities. The recently renovated rooms and suites have a modern look. Done up in neutral hues, they feature wood floors, crisp white linens, and work stations with comfy leather desk chairs. Rooms also have fridges, and room service is available.
If you are traveling with children, there is an outdoor playground for kids. Other amenities include an indoor swimming pool with lap lanes and an adjacent hot tub.
Travelers can also grab a bite to eat at the house restaurant cooking up American fare. Or book a massage at the spa, which also has a sauna. A workout room, coffee shop, concierge service, airport shuttle bike rental, and a gift shop are also found on-site.
Address: 2 Waterfront Place, Morgantown, West Virginia
6. The Resort at Glade Springs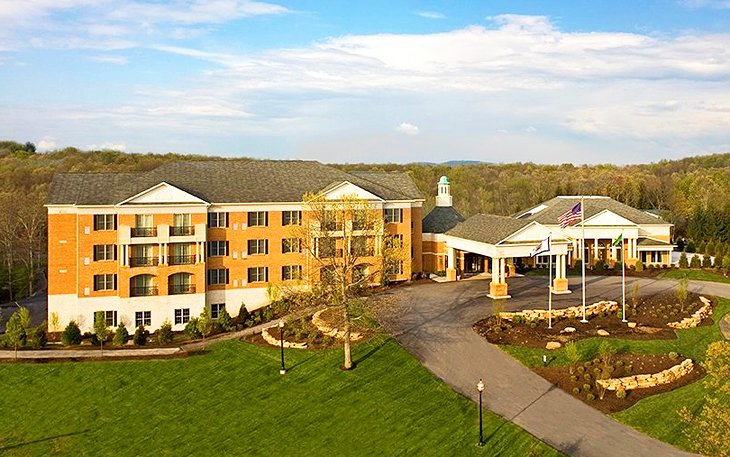 Accommodation: The Resort at Glade Springs
Tucked away in Daniels, West Virginia is The Resort at Glade Springs. Rooms come in all shapes and sizes here, including a deluxe king room that features a Jacuzzi tub, which is perfect for couples. If you're traveling with family, there are multi-bedroom villas and even an eight-bedroom lodge that can be rented. The resort is also pet friendly, should you be traveling with a pup.
Three championship golf courses have the backdrop of the Appalachian Mountains, making for a prime golf-focused getaway. The spa features therapeutic treatments and a salon catering to relaxation or a girl's getaway.
While the resort caters to relaxing on the grounds, it has an abundance of recreational activities. Skiing is the big draw in the winter, but the warmer months mean white water rafting, ziplining, rock climbing, fishing on Mallard Lake, hiking, and archery.
For a fun excursion, take a tour at the Exhibition Coal Mine for an underground exploration of the area's coal mining culture. There is even a bowling alley on the resort grounds. Head to their Leisure Center to bowl their 10 lanes.
Address: 255 Resort Drive, Daniels, West Virginia
7. Lakeview Golf Resort & Spa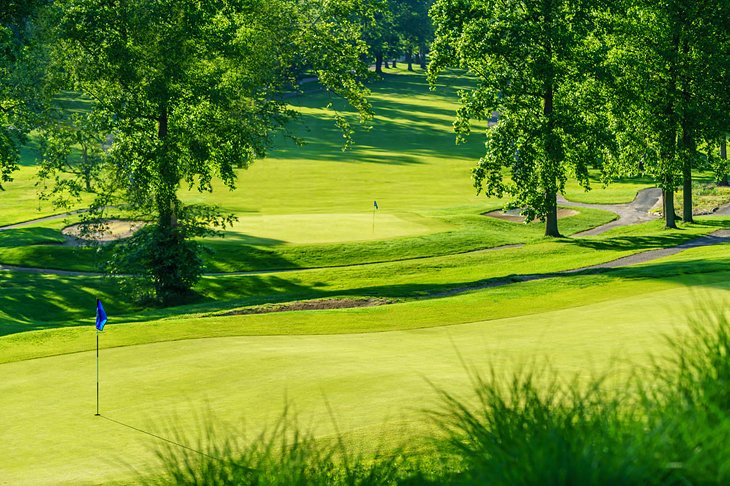 Accommodation: Lakeview Golf Resort & Spa
On the shore of Cheat Lake in Morgantown, West Virginia is the sprawling landscape of Lakeview Resort and Spa. The rolling hills that surround the resort are the views from the suites in the lodge, and two championship golf courses are on-site.
A walk outside at sunset is unforgettable on the manicured lakefront, but the 40,000-square-foot sports and fitness center might tempt you to work off some energy indoors.
The lakeview fitness center features tennis courts, racquetball, and modern workout equipment. Relax after your workout in the indoor pool or Jacuzzi, or schedule a facial and massage at the full-service spa.
There are several food options at the resort, but plan at least one meal at Fusion Restaurant. With panoramic golf-course and lake views, it serves a modern American menu daily for breakfast and in season for dinner. On Friday and Saturday nights, they offer a prime rib buffet that is quite popular.
Address: 1 Lakeview Drive, Morgantown, West Virginia
8. Capon Springs and Farms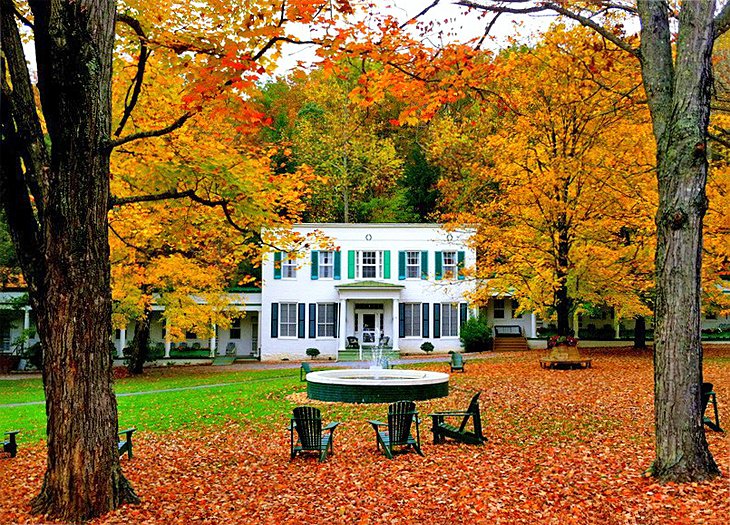 Accommodation: Capon Springs and Farms
Capon Springs and Farms is an all-inclusive resort in the mountains of West Virginia. This family owned resort makes you feel as if you are on your own private estate. Homemade breakfasts are served with ingredients like fresh eggs and produce right from the property.
After a hearty breakfast head out for activities, like golf on one of the two courses, fishing on two ponds on the property, hiking on one of the six trails, swimming, or learning how to play pickleball.
You can also relax at the spa and enjoy reflexology, a massage, or a soak in the natural spring water at the bath house. Your lodging will be in a room in one of the historic cottages on the farm, like The President's Cottage, or the Main House.
Address: 3818 Capon Springs Road, Capon Springs, West Virginia
9. Canaan Valley Resort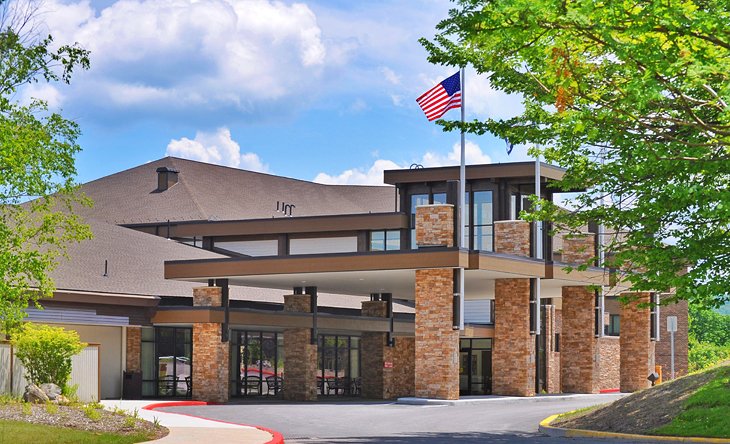 Accommodation: Canaan Valley Resort
Canaan Valley Resort is located in the Canaan Valley State Park in Davis, West Virginia. Winter means a full season of downhill slopes and snowboarding for the entire family, with three ski lifts and 47 trails. The ski area caters to all ski levels with a ski school and other winter activities like tubing and ice skating.
Spring, summer, and fall are times to make your resort suite, cabin, or cottage your home base and set out for full days of golf, hiking, or just taking a scenic chairlift ride to the top of the mountain.
If you go in the fall, you can see a spectacular display of colorful, changing leaves. There are more than 50 species of trees, like oaks and maples, that produce vibrant fall colors.
Address: 230 Main Lodge Road, Davis, West Virginia
10. Adventures on the Gorge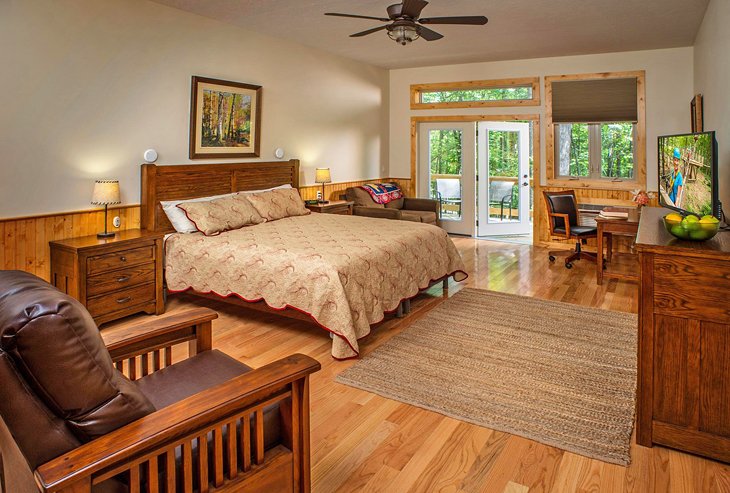 Accommodation: Adventures on the Gorge
The Adventures on the Gorge experience can best be described as high-end rustic. You have all the comforts of a resort, including hearty meals and cozy lodges, but it caters to people looking to spend their time enjoying outdoor adventures.
During the day, you can get your adrenaline going with rock climbing, white water rafting, ziplining, fishing, kayaking, caving, and paddleboarding. Your scenic and spacious cabin places you in the heart of a natural forest surrounded by trees.
There are even full-size luxury homes available for larger groups. The resort customizes adventures for every skill level in your party to make sure everyone ups the adventure ante in their own way. In the evening, wind down in the outdoor pool and hot tub.
Address: 219 Chestnutburg Road, Lansing, West Virginia