11 Best Resorts in Washington State
It's hard not to fall in love with Washington State, especially if you're a fan of nature. You'll find it all here: lush green forests, towering mountains, sparkling lakes, and captivating islands, not to mention bustling cities. With so much to see, it's no wonder so many fantastic resorts have set up shop in this natural wonderland.
Whether you're hoping to take the kids to a resort where they can kayak, head out on hiking trails or mountain biking paths, practice cannonballs in the pool, or aim for a more secluded, romantic escape with a plush spa and room service, you're sure to find it in one of Washington's top resorts.
Looking for more action in the heart of a big city? Seattle is home to a music-inspired resort you won't want to miss. The Beatles once fished from the balcony in their room in this unique spot.
No matter what you're searching for in your vacation to the Northwest coast, you'll find it in our list of the best resorts in Washington State.
1. Cameo Heights Mansion, Touchet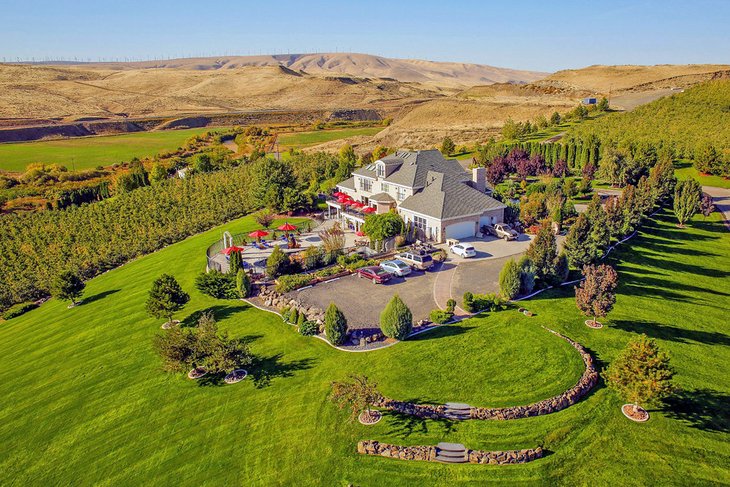 Accommodation: Cameo Heights Mansion
Cameo Heights Mansion is one of the most romantic resorts in Washington State. Perched on basalt bluffs, this couples' resort offers stunning views of the Walla Walla River and over 400 acres of lush land and trails to explore.
This intimate retreat is home to only seven suites, which means you can spend all your time focusing on each other instead of being annoyed by screaming kids or hordes of tourists. All are luxurious, spacious, and fitted with gas fireplaces, and they offer views so stunning, they'll make you gasp. Dimmable lights, a small dining table, and air-jetted bathtubs for two help increase the romance factor.
A free gourmet breakfast can be enjoyed in the on-site restaurant, The Vine at Cameo Heights Mansion, or in your room (for a fee). When you aren't enjoying your plush room or stuffing your face with five-star meals, enjoy a dip in the outdoor, waterfall-filled pool, book a couples' massage at the spa, cuddle by the outdoor fire pit, or challenge each other to a game of tetherball. There's also a theater room, library, driving range, and hot tub on-site.
Address: 1072 Oasis Road, Touchet, Washington
2. Willows Lodge, Woodinville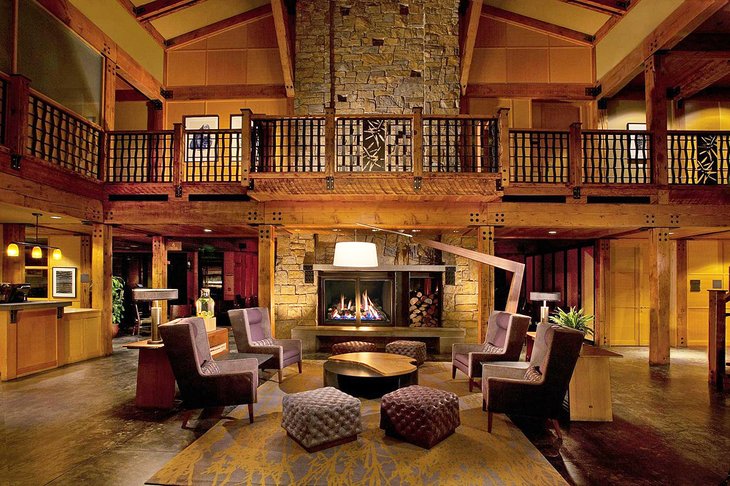 Accommodation: Willows Lodge
You'll know you're in the northwest as soon as you enter the charmingly rustic lobby at Willows Lodge. Set on five acres of wooded wonderland, this lovely resort is about a 40-minute drive northwest of Seattle in Woodinville. It sits on the banks of the Sammamish River, which only adds to its romantic allure.
Rooms here are super cozy with stone fireplaces, walk-in showers, large soaking tubs, and balconies featuring beautiful views. A luxurious resort, this lodge is better suited to adults than children, making it the perfect place to visit for a romantic vacation.
The two restaurants are so good, you'll beg for seconds at every meal. Barking Frog mixes Pacific Northwest cuisine with American fare while Herbfarm Restaurant, a five-diamond eatery, is more upscale with a nine-course menu.
Hoping to unwind? The spa services are tempting enough to book multiple during your stay. Don't miss the outdoor "relaxation pool" and indoor steam room.
Address: 14580 NE 145th Street, Woodinville, Washington
3. Sun Mountain Lodge, Winthrop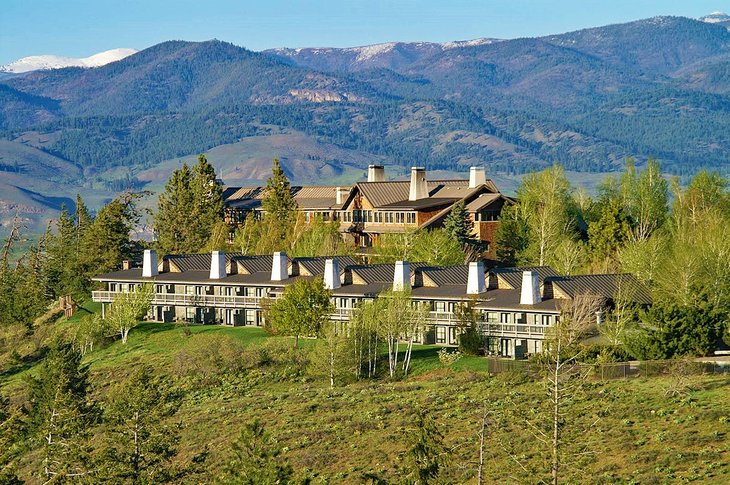 Accommodation: Sun Mountain Lodge
If you're a fan of stunning mountain vistas, first-rate service, and a slew of outdoor fun, Sun Mountain Lodge is the perfect Washington State resort for you. Set in a sublime mountain top locale above Methow Valley, this gorgeous and remote lodge entices guests to step back, breathe in the crisp mountain air, and reassess what's important in life.
Unwind in the on-site spa, enjoy a warm cup of tea by your private fireplace, or luxuriate in a private wagon or sleigh ride (depending on the season). The resort restaurant is mouthwateringly good and super popular. You'll have to reserve a spot for breakfast and dinner.
A mecca for outdoor enthusiasts, the resort boasts immediate access to hiking paths, cross-country ski trails, tennis courts, horseback riding, biking routes, and snowshoeing. There's also a game room on-site and access to fishing, boating, and river rafting. Two outdoor swimming pools entice summer visitors to enjoy a cooling dip, while the year-round outdoor hot tubs are the perfect place to soothe sore muscles.
Why not bring the kids along? They'll never get bored and will be so tired at the end of a busy day that they'll sleep through the night in the uber-comfy beds. Choose from a guest room in the Main Lodge, a patio-lined room at the Gardner building, a super-luxurious suite with unbeatable views in Mt. Robinson, or a private cabin at nearby Patterson Lake. It's easy to see why this is one of the best resorts for families in Washington State.
Address: 604 Patterson Lake Road, Winthrop, Washington
4. Salish Lodge & Spa, Snoqualmie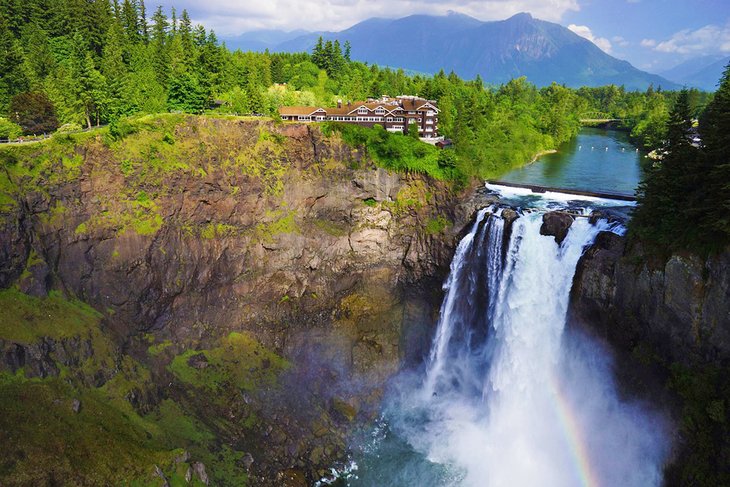 Accommodation: Salish Lodge & Spa
It's hard to beat the beauty found at the Salish Lodge & Spa. Perched at the precipice of the thundering Snoqualmie Falls, one of the most beautiful waterfalls in Washington. The view is literally breathtaking. If you're one of those people who love to fall asleep to the soothing sound of rushing water, you'll never want to leave-or get off the comfy memory foam mattress, for that matter.
This special resort is owned by the Snoqualmie Indian Tribe, and you can feel their love of detail in everything from the elegant Pacific Northwest décor to the Northwest-inspired treatments at the spa. The 86 guest rooms are both contemporary and luxurious. They feature gas fireplaces, a patio, balcony, or chaise lounge, and unbeatable views enhanced by the audible lull of the falls.
The food here is divine and can be enjoyed in one of two restaurants. Don't miss the famous Country Breakfast, which features honey straight from the resort's resident hives, poured from a height onto homemade biscuits. Yum!
As for things to do at the resort, you can relax in the spa, hike the trails, exercise in the fitness center, or lounge in the hot tub. This resort is also only a 35-minute drive from Summit Snoqualmie, one of the best ski resorts in Washington.
Address: 6501 Railroad Avenue SE, Snoqualmie, Washington
5. The Lodge at Columbia Point, Richland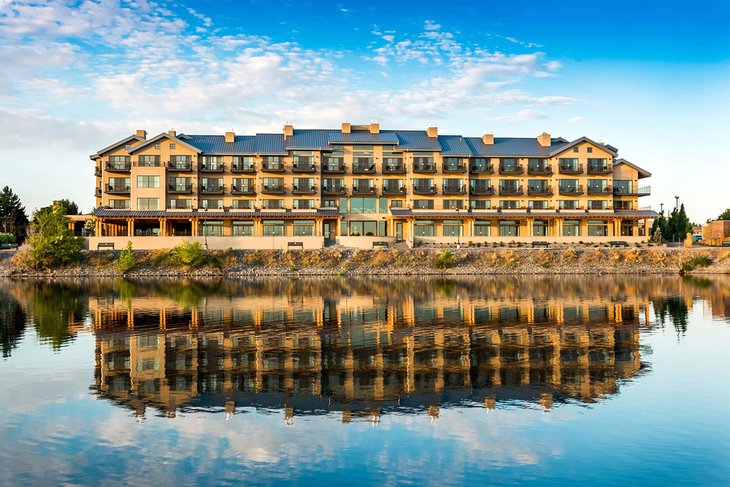 Accommodation: The Lodge at Columbia Point
Richland is a dreamy destination perfect for a romantic escape. Set at the confluence of the Yakima and Columbia Rivers, the resort features captivating scenery. The Lodge at Columbia Point makes the most out of the area's beauty. A river-view deck is primed for scenic relaxation, while the marina invites guests to hop on the lake on a rented kayak, kitesurfing board, or paddleboard.
Other fun activities include biking or jogging along the River Walk, fishing, waterskiing, and tubing. A fitness center, pool, and hot tub make it easy to take a load off, while the Columbia Point Golf Course lets guests perfect their swing across the road.
Drumheller's Food & Drink is the resort's on-site restaurant, which also offers takeout and room service options.
The rooms here are bright, spacious, and comfortable, with gas fireplaces and a kitchenette. Opt for the Grand Cru Riverfront King Premium if you want to assure a magical view from your private riverfront deck.
Address: 530 Columbia Point Drive, Richland, Washington
6. Alderbrook Resort & Spa, Union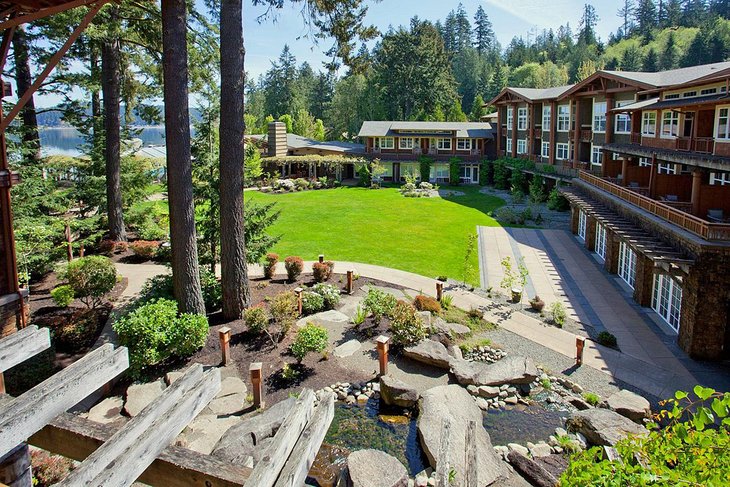 Accommodation: Alderbrook Resort & Spa
Alderbrook Resort & Spa is the place to be if you want to up the romance factor. Located on the majestic Hood Canal, this intimate resort offers guests a choice between cozy guestrooms and more spacious cottages. All include soft and luxurious linens, contemporary designs, pretty views, and balconies. Many include a deep soaking tub.
The Spa at Alderbrook is as impressive as you would hope. The vast array of treatments make it easy to find something you'll love. When you've finished being pampered, head to the saltwater pool, hot tub, sauna, or steam room. Bring your clubs and enjoy a round on the Alderbrook Golf Club's par 72 course.
The fitness center is also at the ready for those who'd like to work off the incredible meal they enjoyed at the snazzy on-site restaurant. Hook & Fork is another dining option located two miles down the canal. It is technically offsite but affiliated with the hotel, and offers fresh seasonal fare in a more laid-back, casual environment.
Address: 10 East Alderbrook Drive, Union, Washington
7. The Edgewater Hotel, Seattle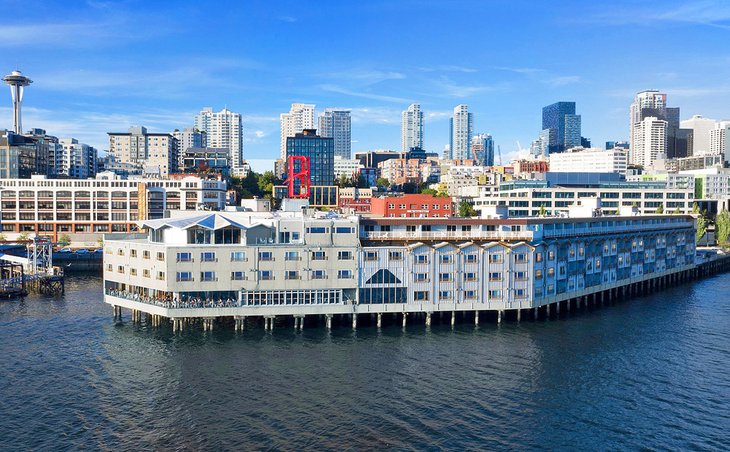 Accommodation: The Edgewater Hotel
Bet you've never stayed on top of a pier jutting into the lustrous Elliott Bay. The only over-water hotel in Seattle, The Edgewater is a unique and uber luxurious resort set in the heart of the city. Its upscale rustic décor, however, will make you feel like you're staying in a luxe mountain lodge.
Centrally located to all the best tourist attractions in Seattle, this must-visit resort was built for the World's Fair in 1962. As a result of its epic design and awesome location, it has played host to some of music's greatest legends like Neil Young, The Beatles, and Led Zeppelin.
Cozy up by your in-room fireplace, admire the water and city views from your private balcony, and revel in the plush furnishings of your guest room.
This is by far one of the best resorts in Washington State for music lovers. Hard-core music fans can book a stay in the Beatles Suite, where the famed band once stayed and fished off their balcony. Or keep it local with a night or two in the Pearl Jam Suite, which was designed with the help of lead singer Eddie Vedder and the band's fan club.
When hunger pangs hit, visit Six Seven, the beautiful restaurant offering Pacific Northwest cuisine in a picturesque setting. You can also enjoy a meal in your room. The daily resort fee includes use of a bicycle, access to the fitness center, use of a record player and albums, and Wi-Fi.
If you've brought a car, be prepared for a steep overnight parking fee.
Address: 2411 Alaskan Way Pier 67, Seattle, Washington
8. Suncadia Resort, Cle Elum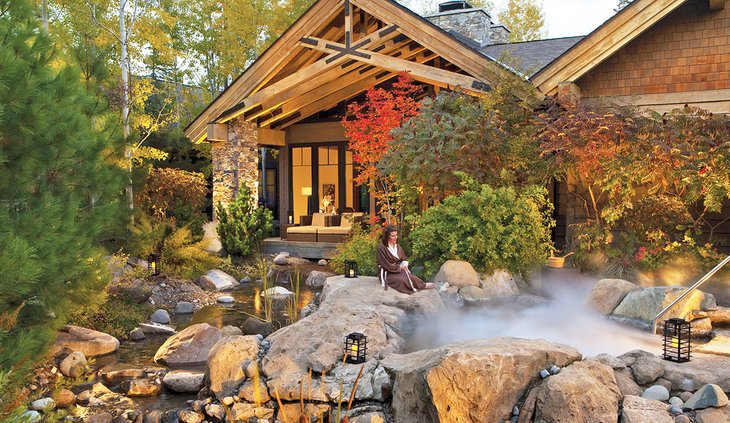 Choose between three types of accommodations: luxury condos that come in studio and one- and two-bedroom sizes; an intimate inn experience featuring 14 elegant yet rustic rooms and suites: or a trailhead condo, a luxury vacation home with enough room to fit your skis, snowshoes, fishing gear, and more, plus mood-lifting mountain vistas.
Accommodation: Suncadia Resort
You won't get bored at the stunning Suncadia Resort. Home to over 40 miles of picturesque biking and hiking trails and three championship level golf courses (yes, that does say three), you'll have a bevy of activities to keep you busy during your stay.
As if those amenities weren't enough to tempt those of you who hate to sit still, there's a dense forest to explore, the expansive Suncadia Club Swim & Fitness Center (complete with waterslides), and 6,400 acres of breathtaking landscape to enjoy. If you're more of a sit-back-and-relax kind of traveler, the Glad Spring Spa will see to all your pampering needs.
When it's time to eat, you can opt for a luxurious fine-dining experience or more laid-back casual fare in the multiple on-site restaurants. Coal House Market is your best bet for a tasty cup of tea or coffee.
Address: 3600 Suncadia Trail, Cle Elum, Washington
9. Northern Quest Resort, Airway Heights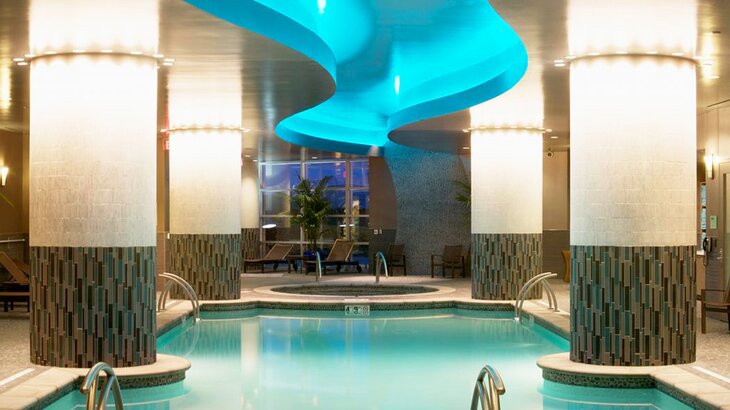 Accommodation: Northern Quest Resort
It's impossible to feel bored when staying at the Northern Quest Resort in Airway Heights, which lies just outside Spokane. A haven for those who like to be entertained, there are so many activities on offer that you're guaranteed something to tickle your proverbial fancy.
Practice a little retail therapy at the on-site stores, grab a bite at the multitude of restaurants, de-stress in the lavish spa, swim laps in the pool, or have some kid-centric fun in the family-friendly resort areas of Cyber Quest and Kids Quest. Close your eyes, and you might just think you're in a top Las Vegas resort!
With a bevy of offerings ranging from concerts featuring stars like LeAnn Rimes and Lynyrd Skynyrd to comedy acts and blockbuster films, it's easy to sit back, relax, and be entertained. The outdoor concerts are a massive draw each summer, so be sure to book early.
The rooms here are large enough that you won't mind staying in for a few extra hours, but with so many fun things to do on the property, most spend the majority of their time exploring the venue.
Address: 100 North Hayford Road, Airway Heights, Washington
10. Mountain Home Lodge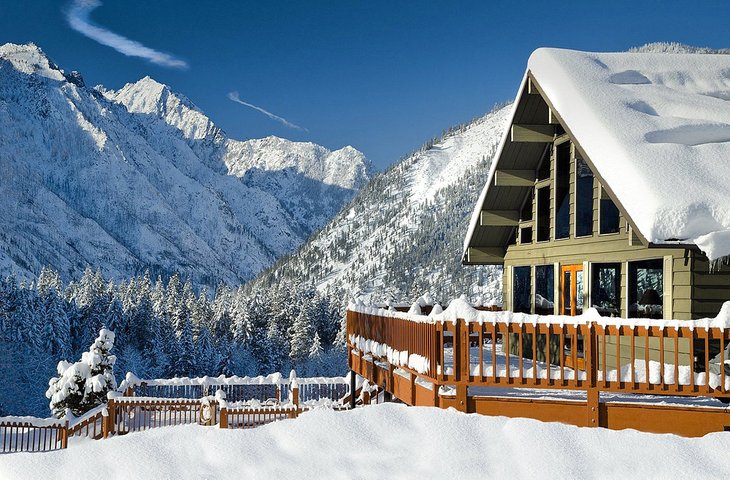 Accommodation: Mountain Home Lodge
Mountain Home Lodge is a dreamy spot for a tranquil getaway. Serenely posited on a large meadow high in the mountains, it offers luxurious cabins nestled in the woods and views so breathtaking, you'll be forced to slow down. It's situated 1,000 feet above Leavenworth.
During winter, this resort can only be accessed by a snow coach, which only adds to its romantic allure. Hoping to canoodle under the stars or hold hands while watching the sun set behind jagged peaks? You can do that, and so much more, like swim in the seasonal outdoor pool, in this idyllic locale.
When you aren't relaxing in your gorgeously rustic cabin (which comes complete with a Jacuzzi and fireplace), head out for a hike on one of the many surrounding trails. A complimentary hydro pack and hiking sticks are available for your journey.
As for food, a delish breakfast and tasty nighttime appetizers are included with your stay while freshly packed lunches, a casual dinner, seasonal salad, or charcuterie plate are available for order.
Address: 8201 Mountain Home Road, Leavenworth, Washington
11. Skamania Lodge, Stevenson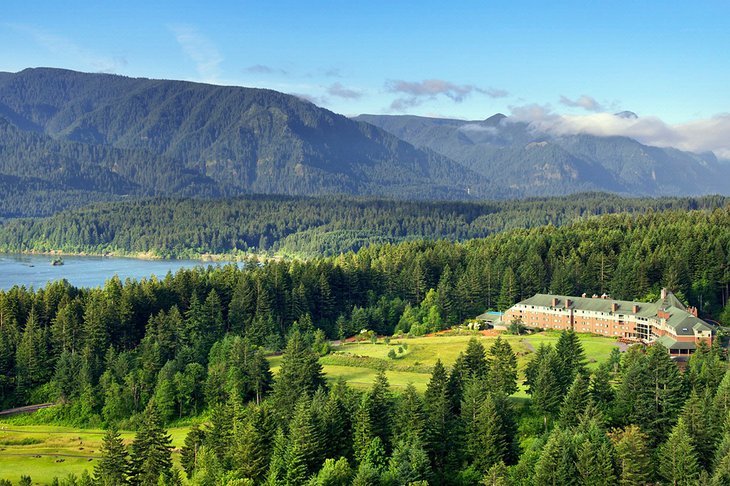 Accommodation: Skamania Lodge
Skamania Lodge is serenely placed between Portland and Hood River, a striking blip on 175 acres of magnificent scenery. An upscale yet rustic resort in Washington state, it is conveniently located near the Bridge of Gods, which lies about two miles away.
Whether you like to play golf the old-fashioned way (a.k.a. with clubs and a ball) or have converted to a disc golf aficionado, you'll find a new par 3 course and fun disc golf course at this resort. Ziplining is also available, as are hiking trails and nightly fires in the fire pits.
The food at the on-site restaurant is particularly good for dinner, but it can get quite busy, especially if there's a large wedding or conference at the resort, so we'd suggest trying room service on a super busy night.
Address: 1131 Skamania Lodge Drive, Stevenson, Washington
Map of Resorts in Washington State