11 Best Resorts on Lake Chelan, WA
Located about three hours from Seattle, Lake Chelan is best known for its stunning mountain vistas, sparkling azure water, and endless opportunities to be active. It is also beloved for its stellar resorts, which boast impressive views and cozy accommodations.
Peppered with charming towns, quaint boutiques, and a vast array of activities, this over-50-mile glacier-made lake is one of the best lakes in Washington. Not surprisingly, its array of delightful attractions and innate beauty have established Lake Chelan as one of the most beautiful lakes in the U.S.
Visitors are spoiled for choice when it comes to lakeside retreats. Whether you're looking for a family-friendly resort with multiple pools; a quiet, tech-free hideaway; or an action-packed resort jammed with entertainment, you're sure to find a perfect place to stay in this stellar West Coast gem.
Find your ideal holiday locale with our list of the best resorts on Lake Chelan.
1. Peterson's Waterfront Resort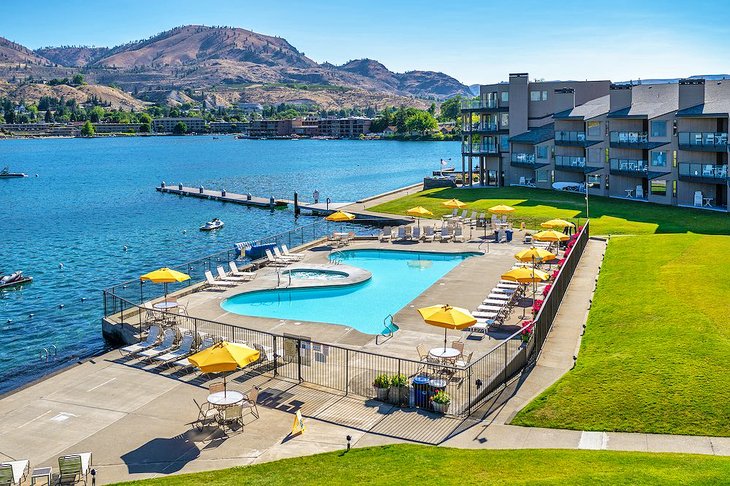 Accommodation: Peterson's Waterfront Resort
Peterson's Waterfront Resort knows how to make its guests feel at home. Nestled along the sparkling shore of Lake Chelan, each luxury condo unit provides the essentials you need while on a lakeside vacation.
A washer and dryer make it easy to keep up with laundry, electric grills present the perfect spot for making dinner alfresco, and the fireplace makes it easy to warm yourself on a cool evening. There's also a full kitchen on offer, so you won't need to wander far for a meal. No wonder it's been deemed one of the best resorts on Lake Chelan.
An outdoor pool, hot tub, and private dock encourage relaxing in this picturesque setting. That said, if you're visiting with hopes of embarking on an outdoor adventure, you won't be disappointed. From jet skiing to kayaking to tennis to snowmobiling to hiking, there are plenty of fun ways to pass the time at Peterson's Waterfront Resort in every season.
This resort lacks a restaurant but lies so close to town (less than a mile) that you can walk to eateries when you don't feel like cooking in your condo. You'll be more than happy to spend some time wandering the beautiful streets of this Washington small town.
Address: 103 Park Street, Chelan, Washington
2. Kelly's Resort

Accommodation: Kelly's Resort
The charmingly rustic Kelly's Resort has been providing a relaxing base for Lake Chelan vacationers for over 70 years. Best visited between Memorial Day and Labor Day, this fun spot is a family-friendly mecca filled with water-based activities like canoeing, kayaking, swimming, and diving. They even have a rowboat.
During the late spring and summer months, the resort really comes to life. This is when the outdoor pool is open, and the coffee bar and convenience store are happily serving customers. The main lodge is where you'll find a comfy fireplace room and an outdoor deck to lounge upon with a good book and a cup of joe.
The upper cottage area boasts a grass playground, the hillside pool, laundry machines, and walking trails, as well as a pavilion for hosting a meeting or other large get-together.
Choose from 11 Hillside Cottages and four Lakeside Condos, all of which include Wi-Fi, air-conditioning, fully equipped kitchens, and furnished decks. Some boast fireplaces and gas grills.
Address: 12800 South Lakeshore Road, Chelan, Washington
3. Wapato Point Resort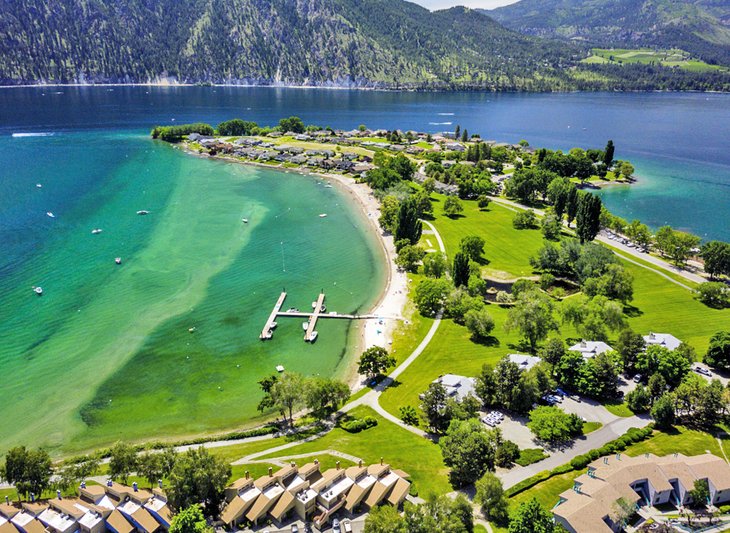 Accommodation: Wapato Point Resort
It's impossible to feel bored when staying at the 116-acre Wapato Point Resort in Manson. Packed with activities like Jet Ski rentals, fishing, tennis courts, beaches, boat rentals, miniature golf, and eight swimming pools, you'll be spoiled for choice when it comes to playing outside.
There's also an indoor pool, gym, and enclosed tennis courts if the weather is less than ideal. Bocce ball, badminton, and shuffleboard are also available. In winter, guests can ice-skate, ski, snowshoe, or sled.
Kids and adults fall in love with the daily activities, which include ceramics, tie-dying, S'more making, coloring, beach ball games, and birdhouse building.
When hunger pangs hit, the beachfront Snack Shack is a popular place to grab a bite during the summer. A large grill restaurant is located in the northeast corner of the grounds and includes a picturesque patio for outdoor dining.
When it comes time to rest, head back to your condo. Depending on your wants and needs, you can choose a beachfront condo with quick access to the marina; a two-bedroom lakefront condo on the beach; a one-, two-, or three-bedroom condo in the lodge; or cozy condos near the tennis courts. All come with fireplaces, private patios or decks, fully equipped kitchens, and living and dining areas.
A note: Toiletry items aren't offered in the units but are available to buy from the reception desk. We'd suggest packing what you need.
Address: 1 Wapato Way, Manson, Washington
4. WorldMark Chelan – Lake House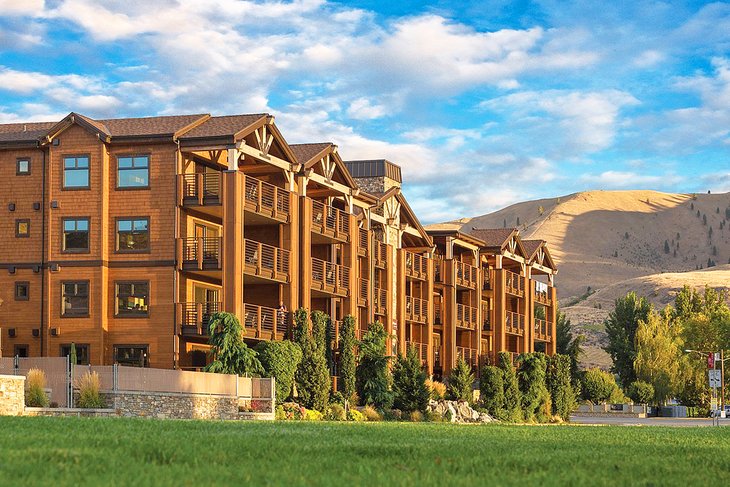 Accommodation: WorldMark Chelan – Lake House
WorldMark Chelan – Lake House is a Club Wyndham Property, which means you can be assured of great service, clean surroundings, and comfortable rooms during your stay. One-, two-, and three-bedroom units offer guests a ton of extra space to spread out. Since most visit here for at least a long weekend (especially in summer), these roomy condos are a perfect place to relax.
Each unit comes with a full kitchen, fireplace, and large private deck. Most boast fabulous lake views. There are also grills in common areas. When it's time to load up on groceries, there's a store just down the street. Nearby, you'll also find local restaurants to enjoy for a dinner out.
On-site, you'll find an outdoor pool, game room, fitness center, and access to water sports like canoeing. A large park lies across the street. One note of warning: the property fronts onto a busy road, so ask for the lakeside view when booking.
Address: 402 West Manson Highway, Chelan, Washington
5. Campbell's Resort on Lake Chelan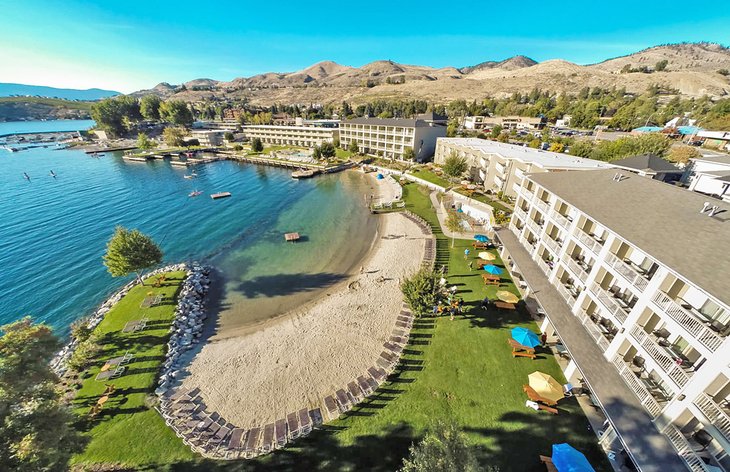 Accommodation: Campbell's Resort on Lake Chelan
In business since 1901, Campbell's Resort on Lake Chelan has been open for a long time. That means the staff really know what they are doing. Before you panic, thinking the rooms date back that far, the resort's been revamped and features comfortably chic rooms and waterfront views. It's also home to an award-winning restaurant.
Each of the 170 guestrooms at Campbell's Resort boasts a private deck or balcony to better enjoy your waterfront view, and they range in size from large, family-friendly suites to two-bedroom units. The rooms come with either a mini or full-sized fridge, television, and coffee machine, and some include either a kitchenette or a full kitchen.
The resort itself is home to an 1,800-foot private beach, two hot tubs, a fitness center, a business center, grill stations, laundry machines, and two heated pools, which are open from spring to fall. During summer, guests can enjoy live music on the beach or outdoor veranda, kids' activities, and fitness classes.
Address: 104 West Woodin Avenue, Chelan, Washington
6. North Cascades Lodge at Stehekin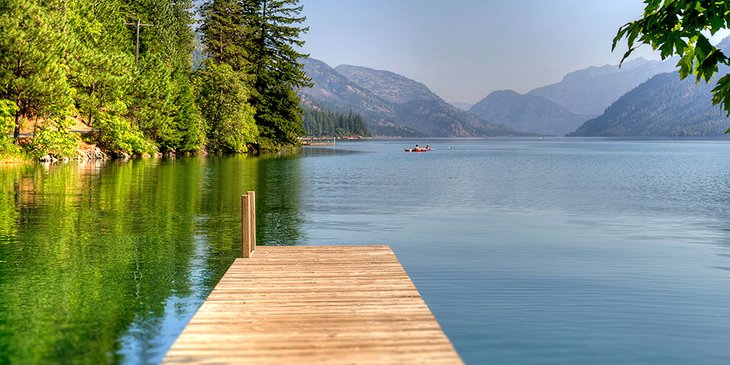 Accommodation: North Cascades Lodge at Stehekin
Get away from it all at North Cascades Lodge at Stehekin, a rustic resort nestled on the shore of Lake Chelan. This isolated haven takes a bit of preplanning to reach. After a three-hour drive from Seattle, you'll have to board a ferry for the two-and-a-half to four-hour trip to the resort. The speed depends upon which ferry you choose. You could also hike your way in or book a flight.
Once you arrive, you'll realize the trek was more than worthwhile. Private cabins and a 27-room lodge are set back from the lake, within a verdant forest surrounding the resort's majestic grounds. If you're traveling with friends or family, opt for the large Lake House. It sleeps 12 and boasts a private deck, hot tub, and grill.
You won't find TVs or Wi-Fi in the rooms, so it's easy to get back to your roots and appreciate the impeccable surroundings. Make use of the Recreation Center if you're bored — you'll find puzzles, books, a pool table, and board games here.
Some rooms offer a fully equipped kitchen to make it simple to prepare meals on your own schedule. If you're planning to cook, stop somewhere on the way as the general store only has true basics. Not up for making meals? No worries, there's a restaurant on-site. But be sure to check that it's open before you go. Recent staffing shortages have forced it to shut for the fall and winter.
Address: Stehekin Valley Road, Stehekin, Washington
7. Lakeside Lodge and Suites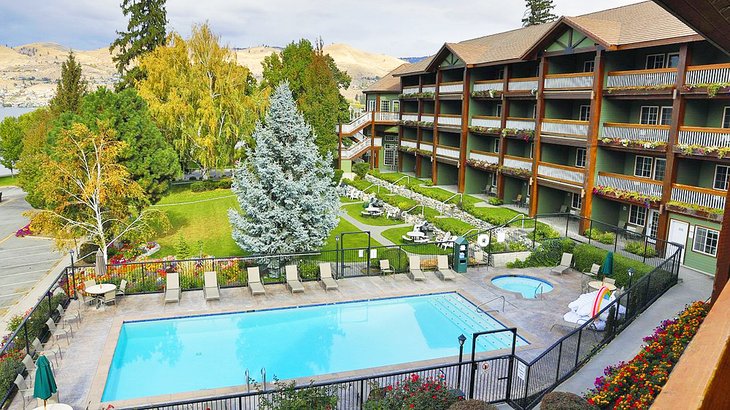 Accommodation: Lakeside Lodge and Suites
If you're a fan of spending more time outside than in, Lakeside Lodge and Suites is an ideal spot for your Lake Chelan vacation. A family-friendly retreat, this pretty spot features everything you need to have an active (yet still relaxing) holiday.
Indoor and outdoor pools and hot tubs, plus easy access to the lake mean you'll want to spend less time inside your room on a nice, sunny day. The resort also boasts a fitness center and an ideal location next to Lakeside Park, where you'll find a beach, basketball and volleyball courts, and a children's playground.
Not that there's anything wrong with lounging in your room! The view from your private balcony is hard to beat. Towering mountains, a shimmering lake, and a sandy shore greet visitors to this nirvana set in a pastoral valley in the North Cascades.
A Standard Queen room includes a coffee maker, kitchenette, and DVD player. The King Jacuzzi Suite offers more space, as well as a Jacuzzi tub and kitchenette. If you're traveling with kids, book the Family King Suite. Its kitchenette includes a stovetop, and it has a separate living area, as well as a sleeper sofa. All rooms come with a complimentary breakfast.
Address: 2312 West Woodin Avenue, Chelan, Washington
8. GrandView on the Lake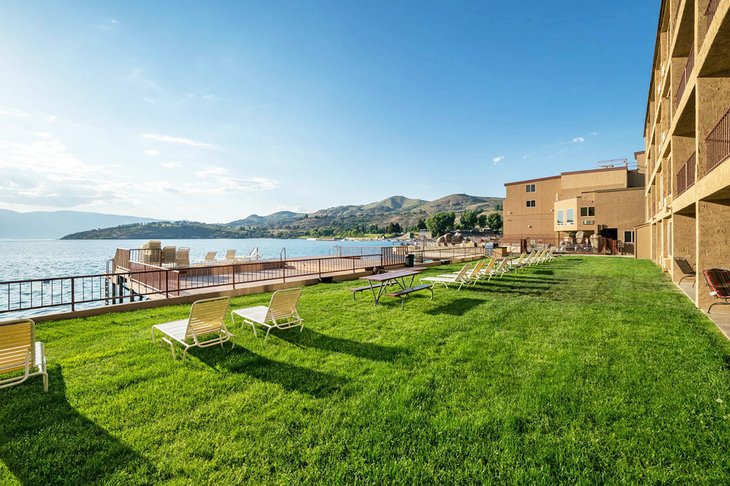 Accommodation: GrandView on the Lake
Given its picturesque locale, GrandView on the Lake was bequeathed a perfect moniker. Majestic mountains and shimmering water vistas are available throughout the property, and each of the 93 deluxe condos and suites makes the most of the flawless surroundings.
A waterfront pool and hot tub present a lovely way to relax while soaking up the scenery, and if you're feeling peckish while you're there, just grab a treat from the poolside concession stand. Between Memorial Day and Labor Day, you can enjoy a refreshment, snacks, brunch, or lunch in this convenient locale.
Prefer your water activities in the lake? You're in luck. GrandView boasts 700 feet of private waterfront. Hop off the dock in the swimming area.
The condos are owned by different people, so no two are alike in terms of furnishings. You can also choose between a one-, two-, or the presidential three-bedroom rental. We recommend booking a unit with a view to make the most of your holiday.
Each condo comes with a fully equipped kitchen, some have a Jacuzzi tub, and others boast a fireplace and private balcony or patio.
Address: 322 West Woodin Avenue, Chelan, Washington
9. Lake Chelan Shores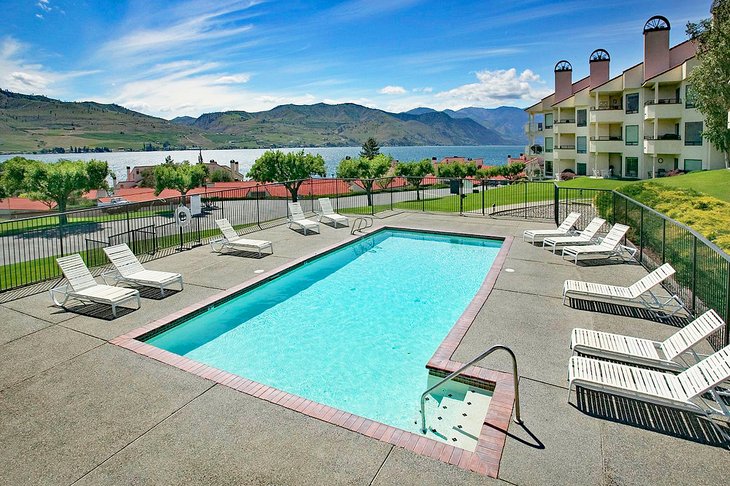 Accommodation: Lake Chelan Shores
The red tile roofs and tan stucco buildings of Lake Chelan Shores make it easy to spot, especially from the water. The happy screams from kids enjoying the five swimming pools, tennis courts, Jet Ski rentals, and basketball games are also hard to miss. They also serve as a great testament to the fun that can be had on these grounds.
This 18-acre resort also boasts a private beach, racquetball court, fitness center, playground, and central clubhouse, as well as a boat ramp, boat buoys, and dock. The privately-owned condos are available for rent, and all offer comfortable furnishings, captivating views, patios, and a kitchen. Most also include gas grills, a fireplace, laundry machines, and a hide-a-bed.
Address: 100 Lake Chelan Shores Drive, Chelan, Washington
10. Lake's Edge Tuscan Lodge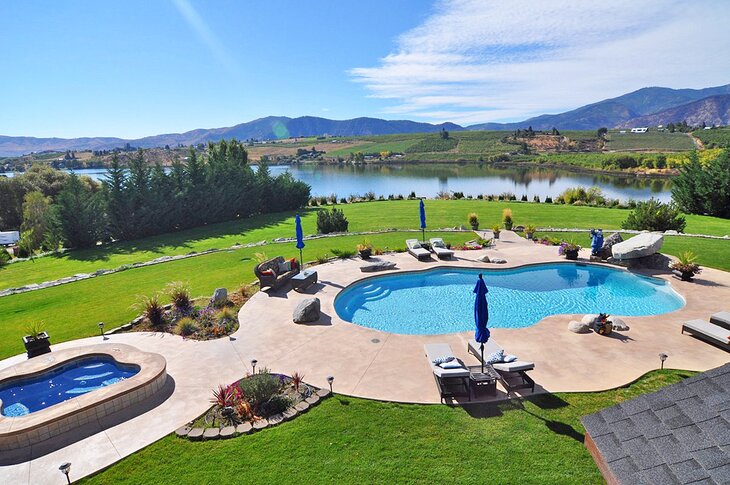 Accommodation: Lake's Edge Tuscan Lodge
It's hard to beat the view from Lake's Edge Tuscan Lodge in Manson. A stunning vista of the mountain-backed lake can be enjoyed from the outdoor pool and hot tub. The grounds and gardens here are pristine, with grass so green and soft, it's tempting to sit in it all day, waiting to spot a bald eagle on the horizon.
Inside lie eight luxury suites, which come complete with an en suite bathroom. The décor is rustic and bright, with large windows to enjoy the captivating scenery.
Considering a family reunion? Host it here. Guests are able to rent out the entire resort, which includes a large chef's kitchen, two living rooms, a dining room, and a kids' room.
Note: Although technically on Roses Lake, this pretty resort lies just three miles from Manson Bay Park, on Lake Chelan.
Address: 3445 Wapato Lake Road, Manson, Washington
11. Darnell's Lake Resort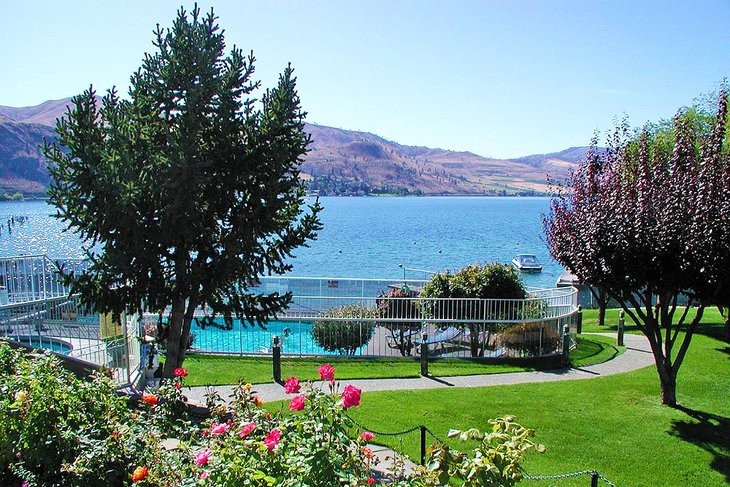 Accommodation: Darnell's Lake Resort
If you're looking for summer excitement, you'll find it in spades at Darnell's Lake Resort. Open from late April through early October, this seasonal resort is a family-friendly fun zone brimming with activities to keep everyone entertained.
A nine-hole putting course, tennis courts, ping pong, beach volleyball, water sports, a heated outdoor pool, hot tub, playground, beach volleyball court, boat slips, and basketball court are yours for the taking when you're a guest at Darnell's.
There are 38 units to choose from, varying in size. All come with lovely vistas, a kitchen or kitchenette, and a private patio or deck. One- and two-bedroom units make it easier to spread out if you're traveling with kids or friends. Outdoor grills are also on-site. The Cabana restaurant serves food and drinks, as well as offering multiple games.
Address: 901 Spader Bay Road, Chelan, Washington
Map of Resorts on Lake Chelan, WA