Where to Stay in Virginia Beach: Best Areas & Hotels, 2018
When vacationing in Virginia Beach, tourists can find a wide selection of places to stay right along the shoreline, which offer a variety of amenities and services to fit anyone's needs. These hotels are lined up behind the Virginia Beach Boardwalk, which stretches for three miles along the sandy shores of the Atlantic. On the northern end of the beach, you will find a lively array of things to see and do including the Neptune Statue and the Naval Aviation Monument, while hotels at the southern end of the beach are closer to family attractions like the Virginia Aquarium and Marine Science Center and the Ocean Breeze Water Park. A designated bike path runs parallel to the boardwalk, and many hotels offer complimentary use of bicycles. There are also numerous rental shops with bikes, as well as water sports equipment like kiteboards, paddleboards, and Jet Skis. Seclusion-seekers and those who want a quieter beach vacation may want to consider hotels set back from the water, closer to Norfolk yet within an easy drive to the beach.
Where to Stay for Luxury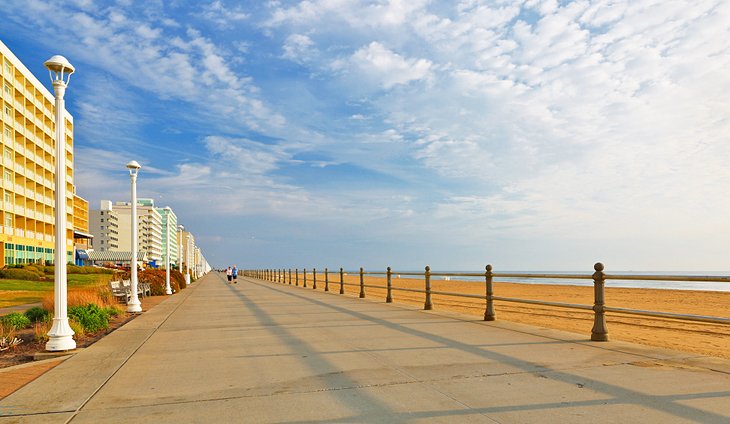 Cavalier Hotel is Virginia Beach's most elegant place to stay, from its stately exterior to its tastefully curated décor. Built in 1927, this historic hotel has been restored to its former glory inside and out, offering excellent views of the ocean from both the guest rooms and restaurant. The whole family is welcome here, including four-legged children, and there are kid's activities on-site, as well as babysitting services. Guests can also enjoy the use of a well-equipped fitness center, the tennis courts, and, of course, the white-sand beaches just steps from the hotel.
Situated closer to the northern end of Virginia Beach just a few blocks from the Neptune Statue, the Oceanaire Resort Hotel is another great high-end option for families. The hotel offers daily kids' craft programs, as well as four pools, two indoor, with a designated zero-entry pool for the youngest kids and a fun splash pad. To make mom and dad's lives easier, family suites with a full kitchen are available and there is the option of both self-serve and hotel laundry. Grown-ups will also appreciate the upscale atmosphere, adults-only pool, fitness center, and excellent dining options just steps away like the popular Manninos Italian Bistro.
Where to Stay: Mid-Range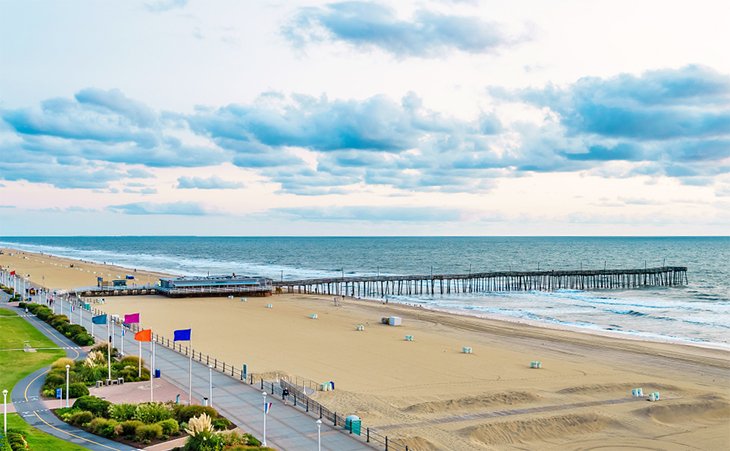 The guest rooms at the Best Western Plus Sandcastle Beachfront Hotel have lively and bright balconies which face the beach, each well-appointed to make good use of the space. All rooms include a mini-fridge and microwave, and suites come with a fully-equipped kitchen. The hotel's heated indoor pool and accompanying hot tub sit in a lovely atrium with a spacious sunbathing deck just beyond the glass doors, while beachgoers have merely steps to go. There is also an outdoor kiddie pool for little ones. Located on the southern end of the long stretch of sandy beach, this hotel is also a stone's throw from the Virginia Beach Fishing Pier. This hotel offers excellent value with free parking and complimentary breakfast.
Another excellent mid-range option is the Hilton Garden Inn Virginia Beach Oceanfront, which sits along the Boardwalk close to the Neptune Statue. Guest rooms all feature a private ocean-facing balcony, free Wi-Fi, a microwave, coffee maker, and mini fridge, and family rooms and suites are available. Both kids and adults will enjoy the unique indoor-outdoor pool, perfect for those who want to swim in the fresh air without being in the direct sun. The pool area also features fountains and a relaxing jet tub. Reminiscent of a large cruise ship, the waterfront side of the hotel has a lounging deck perfect for sunbathing.
Another good mid-range hotel along the northern end of Virginia Beach is the Hampton Inn Virginia Beach Oceanfront North. It offers good value, with free parking, Wi-Fi, and breakfast, as well as conveniences like an in-room microwave and fridge and self-serve laundry facilities. All rooms have private balconies that look out over the beach, and there are extremely spacious suites available. The hotel also has a lovely heated indoor pool with a waterfall-grotto theme, hot tub, well-equipped fitness center, and an on-site restaurant with ocean views.
Where to Stay on a Budget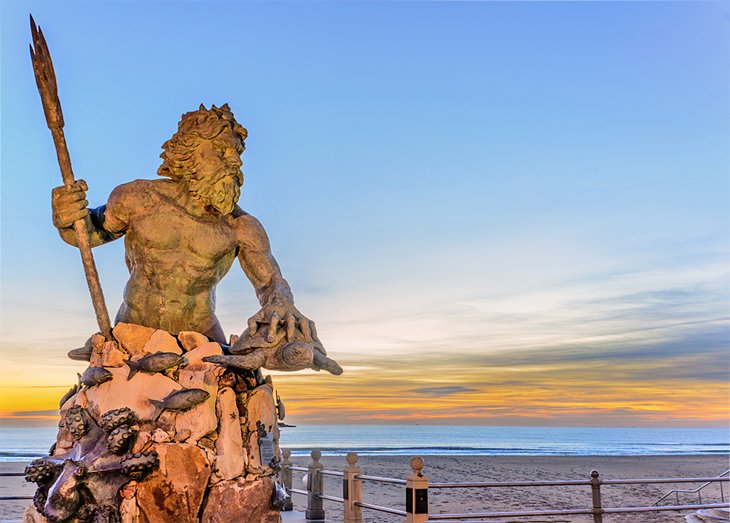 Although it is difficult to find a budget hotel right on the water in Virginia Beach, it's not impossible - the Econo Lodge on the Ocean is an exceptionally affordable beachfront option, which offers many of the same perks and amenities as its more expensive counterparts. What it lacks in frills this hotel makes up for in location and views, with each guest room overlooking the beach from a private balcony or terrace. Rooms are equipped with standard conveniences like a fridge, microwave, safe, and coffee maker, and guests are treated to complimentary breakfast, Wi-Fi, and bicycles. This Econo Lodge sits near the middle of the Boardwalk just steps from the beach and Neptune Statue, and also has an outdoor pool.
For those who don't mind driving to the beach, the Best Western Center Inn is an affordable inland place to stay, located close to the Lake Lawson/Lake Smith Natural Area and the historic Norfolk Academy, and within a few minutes' drive of the Norfolk Botanical Garden. The hotel has an outdoor pool, self-serve laundry facilities, and offers free parking, Wi-Fi, and continental breakfast; rooms are equipped with a small fridge and microwave, and there are also several restaurants within walking distance of the hotel.
Another budget-friendly hotel is the Red Roof Inn Virginia Beach, which is located about fifteen minutes from Virginia Beach, right off I-264 on the route to Norfolk. There are several restaurants close by, which, like the hotel, are far more reasonably priced than their counterparts at the beach. There are also nearby family attractions and activities, including escape rooms, mini-golf, and an indoor sports center. This clean, tidy hotel welcomes pets and has an outdoor pool.
Where to Stay for Families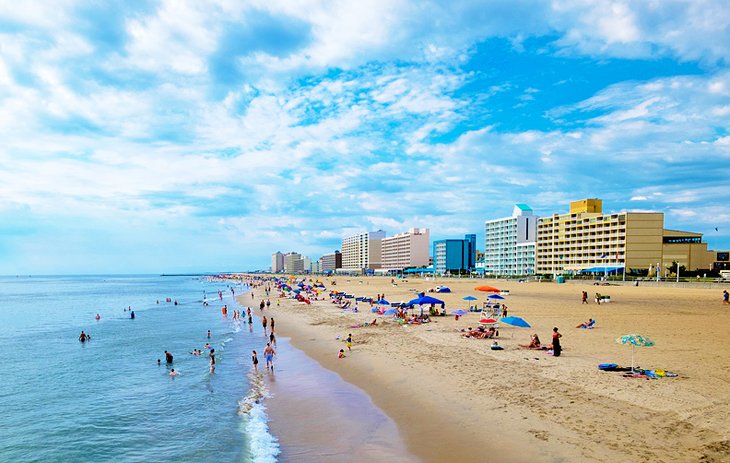 Virginia Beach has several great options for families, and the Comfort Suites Beachfront is one of the top choices. The hotel is located in the heart of Virginia Beach, next to the Virginia Beach Surf and Rescue Museum and the refreshingly green 24th Street Park. Every guest suite includes a bedroom and a living room equipped with a sleeper sofa and kitchenette. The hotel welcomes four-legged family members, and each room also features a private balcony facing the water. Families will enjoy the complimentary continental breakfast, large pool, and the convenience of self-service laundry facilities on-site.
Families will be equally pleased with the Comfort Inn & Suites Virginia Beach - Oceanfront, which also offers beach-facing rooms with private balconies. Kids will enjoy the indoor pool while parents relax in the hot tub, and there are plenty of other amenities, including a fitness center and self-serve laundry. With free breakfast, free on-site parking, and free Wi-Fi, this hotel offers very good value. It sits closer to the southern end of the beach and is convenient to several family attractions, including two mini-golf courses and a large arcade.
Located on the same block, the Econo Lodge Oceanfront is a particularly affordable option for families while maintaining the convenience of sitting right on the beach. Family rooms are available, and there is a heated indoor pool, which is perfect for rainy days. Rooms are equipped with a mini-fridge and coffee maker, and breakfast is included, as well as free covered parking.
Where to Stay for Romance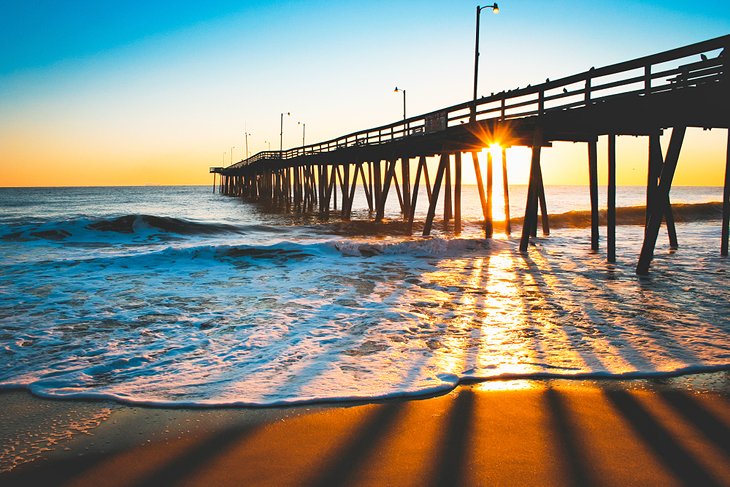 Couples will fall in love with Barclay Cottage Bed and Breakfast, a cozy five-room bed-and-breakfast, which specializes in romantic getaways for every occasion, from the perfect proposal to an ideal honeymoon. It is housed in an 1895 historic Victorian home located in a residential neighborhood just two blocks from the beach, and the hosts go the extra mile to make sure that couples experience the most memorable getaway. In addition to the generous home-cooked gourmet breakfasts, a stay includes the use of a full array of beach gear, including over-sized towels for sunbathing and bicycles for cruising the Boardwalk.
Couples who want to be within a reasonable distance of the beach without all the crowds will enjoy the tranquility of The Founders Inn and Spa. From the manicured English gardens to the charming brick façade, this four-star inn sets the stage for romance. Couples can enjoy a plethora of amenities, not the least of which is a full range of spa services right on the property. The inn also houses a well-equipped fitness center, tennis courts, and a pool and hot tub, and offers conveniences including room service, airport transportation, and concierge service. Pet-friendly rooms are available.
The recently renovated and privately owned Belvedere Beach Resort is a great option for couples who are on a budget but don't want to sacrifice quality. The spacious rooms, which all overlook the water from a private balcony, have a rustic beach-house ambiance and come equipped with a mini-fridge, microwave, and a strong Wi-Fi signal. This small, intimate resort also provides bicycles free of charge, as well as parking, and there is an adorable retro-style diner on-site, which is open for breakfast and lunch.
More on Virginia