Where to Stay in Hanoi: Best Areas & Hotels
We may earn a commission from affiliate links ()
Hanoi can feel like a crazy, chaotic place. The capital of Vietnam, it is at once modern and old-fashioned, and on the narrow streets of the Old Quarter, you'll find honking horns attached to everything from bicycles to buses, all weaving in and out of traffic together.
The Old Quarter is home to much of the city's sightseeing, like the Night Market, Water Puppet Theater, and Turtle Pagoda, as well as its café, restaurant, and traditional shopping scene-with entire streets devoted to just one item, like shoes or tires. You'll also find many of the tourist hotels within a 10-minute walk of this district, whether you're with the family or on a romantic getaway. The Old Quarter is also home to beautiful Hoan Kiem Lake, which provides some respite from the pulsating district.
If you come to Hanoi for business, West Hanoi is home to the city's new business district. Here, you'll find the National Convention Center and more hotels, mostly of the luxury chain variety.
On This Page:
Where to Stay in Hanoi for Luxury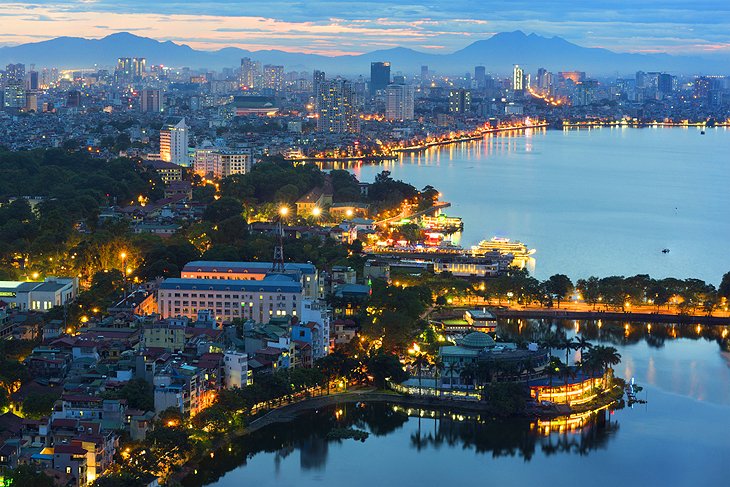 To stay away from the chaos and constant horn honking of the Old Quarter, check out the Hilton Hanoi Opera. Next to the Hanoi Opera House, this hotel is within walking distance of the Old Quarter, but in a quieter neighborhood that also hosts high-end luxury shops.
Rooms are spacious and clean, with free Wi-Fi, and the staff is friendly. The food at the on-site restaurant is very good. Other amenities include a swimming pool, fitness center, and childcare services. There's also a helpful travel desk.
The Sofitel Legend Metropole Hanoi features luxe, beautiful rooms with silky, soft linens over comfy beds and a pillow menu to ensure you get a perfect night's rest in its colonial-style building. The hotel is not far from the Opera House and hosts multiple restaurants plus a beautiful garden area and a heated outdoor swimming pool.
The architecturally stunning JW Marriott Hotel Hanoi fronts a lake in the West Hanoi business district and hosted President Barack Obama when he visited Hanoi. The glass and steel designer hotel features contemporary rooms with all the mod cons.
The suites are particularly noteworthy, with floor-to-ceiling windows overlooking the city. Service is excellent. Since the JW Marriott is not within walking distance of most of the tourist attractions, like the Old Quarter, the hotel runs free shuttles to them frequently throughout the day.
The 5-star The Oriental Jade Hotel has a fantastic location in Hanoi's old quarter. A smaller hotel, it has a more intimate feeling than many of Hanoi's luxe properties. The hotel has a variety of room and suite configurations, but all abodes are modern luxe with large windows featuring city views in many. If you are traveling with kids there are connecting room options in a few different classes.
Make sure to save some time for a dip in the rooftop swimming pool with panoramic views – sunset and after dark are especially photogenic. There is also a spa on-site, a complimentary breakfast is served, and the restaurant is open for lunch and dinner.
Where to Stay in Hanoi for the Best Value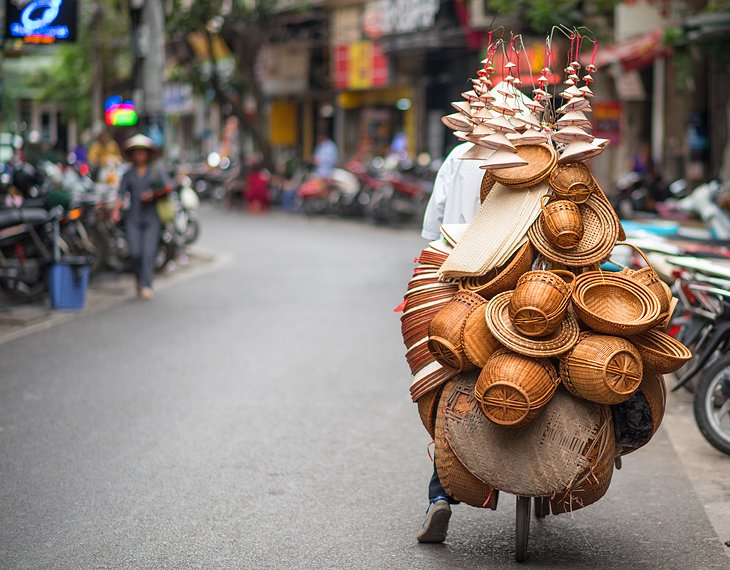 In a fabulous, buzzy Old Quarter location, the Hanoi Emerald Waters Hotel Trendy is a best-value pick for its funky, very clean rooms that are spacious for the location. The decor includes accent walls and bright velvet sofas. The staff is super friendly and happy to help with everything from bookings to restaurant recommendations. The included breakfast is also delicious.
Hanoi Trendy Hotel & Spa is on the edge of the Old Quarter, meaning it's not as crazy and noisy as some places, and is another one of the city's best-value bets. The rooms feature bold colors and trendy decor and feel very comfortable. The staff is amazing, and extras like vouchers for free foot massages are often included at check in. There are also cooking classes available. An excellent full breakfast is included in the rate.
Also on the edge of Old Quarter is the Calypso Premier Hotel, which offers chic rooms featuring a crimson and white color scheme; old black and white photos hanging on the walls; light wood floors; and in the most deluxe ones, floor-to-ceiling doors opening onto balconies. The staff here always seems to be smiling and are very welcoming. The included breakfast is delicious and there is fast, free Wi-Fi.
Where to Stay in Hanoi on a Budget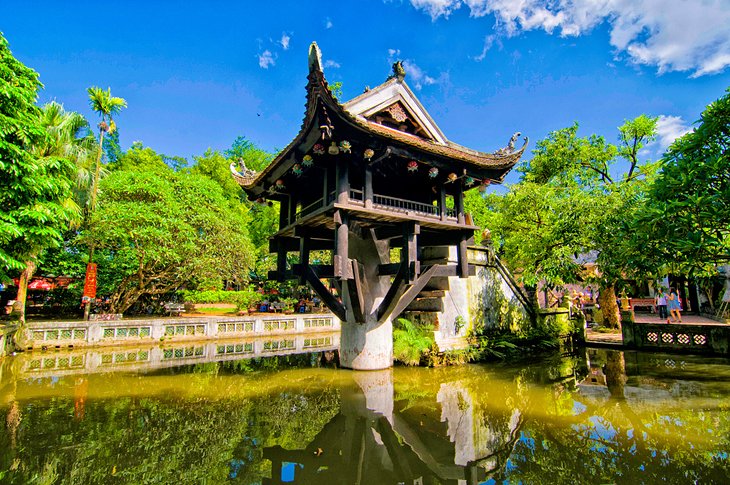 In the Old Quarter, just a 10-minute walk from Hoan Kiem Lake, Hanoi Holiday Diamond Hotel is a good bet for families on a budget, with family rooms available. Rooms are basic but clean, and the staff here is very helpful, offering directions and dining recommendations. It is also possible to book day tours from the front desk. For less noise, ask for a room in the back of the hotel, which is farthest away from the busy street.
Another excellent budget bet is the Hanoi Rendezvous Boutique Hotel, which offers small and simple but clean rooms. The staff is welcoming and the location is right in the Old Quarter and within walking distance to everything, including the Night Market. Free Wi-Fi is another perk, and airport transfers can be arranged.
Green Diamond Hotel is a basic budget option in a fantastic Old Quarter location. Rooms are dated, but very clean, and for the price prove to be good value. The friendly staff is excellent, holding doors for guests, giving directions, and making sure rooms are properly cleaned.
If you don't like noise, ask for a room in the back of the hotel. These lack windows, but offer a quieter sleep. Rooms in the front come with balconies over busy Hang Bac Street, which are great for people watching but not easy on sensitive ears.
Where to Stay in Hanoi for Romance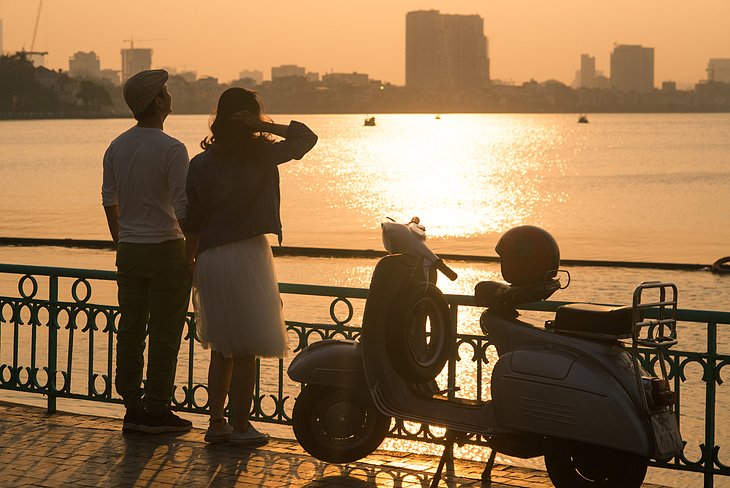 For five-star luxury romance try Lotte Hotel Hanoi, just west of the Old Quarter in the Ba Dinh neighborhood. The property is housed in the top floors of the 65-floor Lotte Center and features panoramic views from floor-to-ceiling windows in the luxe, modern rooms and suites. There are four restaurants, two swimming pools (one indoors, the other out), as well as a spa and fitness center.
For personalized romance, check out the Holiday Emerald Hotel, which is a small boutique hotel in the Old Quarter featuring friendly staff that goes out of their way to help guests celebrate special dates, from birthdays to honeymoons. Rooms are clean and comfortable, and you'll find flower petals on the bedspreads upon check-in.
With fresh roses in the well-appointed rooms, the elegant Little Hanoi Deluxe Hotel is another romantic choice. A boutique option off a small lane in the Old Quarter, it is just a few minutes walk from Hoan Kiem Lake. The breakfast here is wonderful and extensive, focusing on local food. The service is also extremely friendly.
For a romantic mountain retreat head to the Melia BaVi Mountain Retreat. Nestled in the Ba Vi Mountain range, it features panoramic Northern Delta views and five-star luxury and service. Rooms have a rustic chic charm with rattan and wood-laced pitched ceilings and polished wood floors. There are also stone fireplaces, floor-to-ceiling windows, and freestanding soaking tubs.
Get pampered at the on-site spa with a full range of treatments, as well as a restaurant, pool, and concierge services. Breakfast is included.
Where to Stay in Hanoi for Families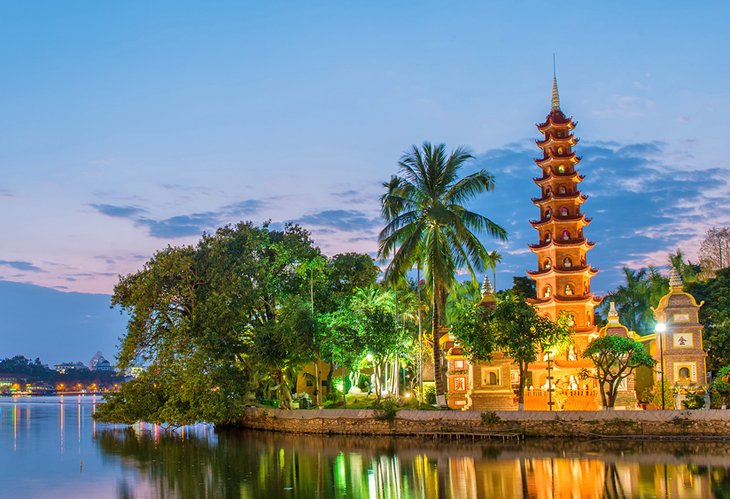 One family-friendly property in a central Old Quarter locale is Hanoi La Castela Hotel. This luxury boutique property offers a family room with a king bed and a single bed configuration. Rooms are minimalist in styling but comfortable and clean.
This property also doubles as a travel agency and runs a number of day trips from Hanoi, as well as booking excursions to other parts of Vietnam, like trekking in Sapa or houseboat trips in Halong Bay.
Another great family hotel, which also runs tours to other parts of Vietnam Hanoi La Siesta Diamond Hotel & Spa is located at the edge of the Old Quarter and just a few minutes' walk from the beautiful Hoan Kiem Lake. We like the location for walking between ancient and modern Hanoi.
The rooms and suites here are comfortable, and the family rooms have two double beds and can accommodate a family of five (as long as one of the children is under four). On-site amenities include a top-floor restaurant with panoramic city views across Hanoi, as well as a decent spa and an on-site travel agency that also arranges visas.
Hanoi Antique Legend Hotel is also a family-friendly choice. It is located in the center of the Old Quarter and also right near the Hoan Kiem Lake's edge. It offers stylish and contemporary rooms that are also clean and comfortable and done up with dark wood furnishings and polished floors.
This property is kid-friendly, and children under five stay free. Beds for children can also be arranged, and there are family rooms. There is a free breakfast buffet at the on-site restaurant, which also serves lunch and dinner, but there are plenty of other dining choices within walking distance.