12 Best Resorts in St. Croix
The largest of the three islands making up the U.S Virgin Islands (USVI), St. Croix is less driven by tourism than the other islands and has no large, splashy five-star resorts. But, St. Croix does have a good selection of moderately priced hotel and resort accommodations, including some luxe 4-star choices.
Located in a part of the Caribbean known as the Lesser Antilles, about 40 miles from Puerto Rico, the USVI is an American territory made up of some 50 different islands and cays.
Besides St. Croix, the other two tourist islands are St. Thomas, which is home to the capital city of Charlotte Amalie, a cruise ship port, and St. John, which caters to ecotourism. Because the USVI is a part of the U.S., Americans do not need a passport to visit this Caribbean nation.
While staying at any of the top resorts listed in this article, it is also easy to explore St. Croix's top attractions, which include wandering around Christiansted, its largest town; hiking the Heritage Trail that runs along the coast; and checking out the underwater monument at Buck Island Reef.
Find out more about the top places to stay with our list of the best resorts in St. Croix.
1. The Buccaneer Beach & Golf Resort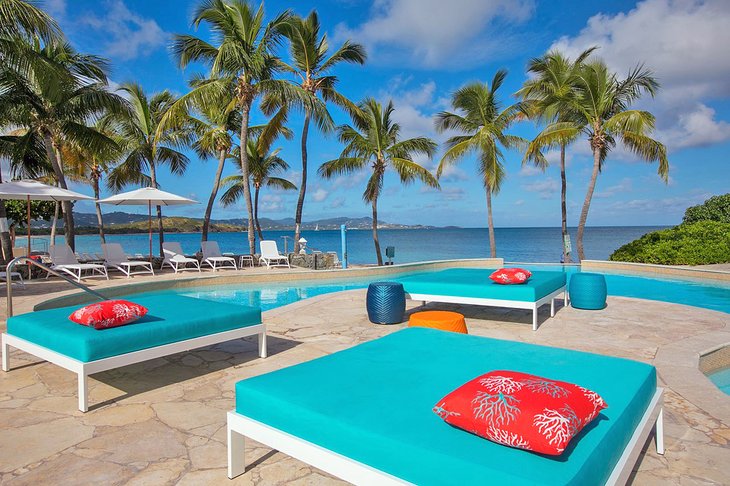 Accommodation: The Buccaneer Beach & Golf Resort
The Buccaneer Beach & Golf Resort is a historic 4-star property that is about as luxe as St. Croix gets lodging-wise. Located right on the beach in the village of Christiansted, this pink-façade hotel features a mix of rooms and suites, many with ocean views.
These are decorated in island style, with bold splashes of color in the form of bed skirts and pillows, local art, and tile floors that keep rooms clean and cool. The wood ceilings and large sliding glass doors onto private verandahs are also lovely.
The Buccaneer also offers an all-inclusive package, should you not wish to worry about meal costs. However, the location in Christiansted also makes it easy to dine off property for more variety. The Buccaneer is family-friendly, and there are organized kids' activities that give parents a much-needed break. Babysitting is also available.
Other amenities here include a swimming pool, private beach access, a spa, a golf course, and a gym. Water activities can also be arranged, including snorkeling and diving excursions. Even if you don't take the all-inclusive package, breakfast is included in room rates at the on-site restaurant.
Address: 5007 Estate Shoys, Christiansted 00820-4557 St. Croix
2. Carambola Beach Resort St. Croix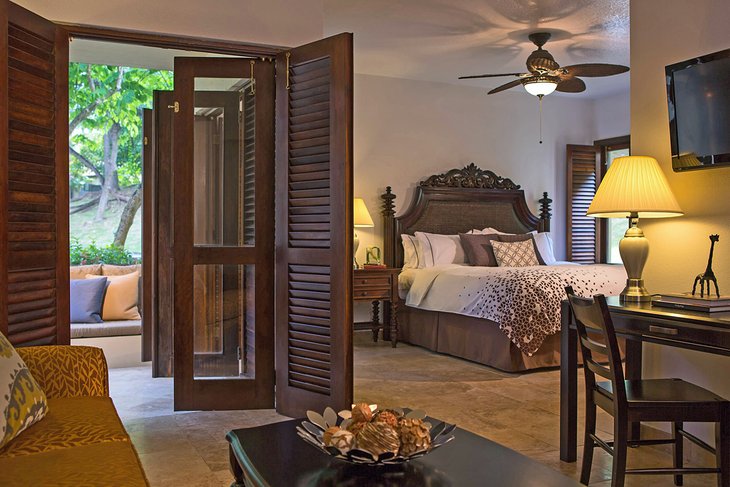 Accommodation: Carambola Beach Resort St. Croix
Another 4-star property is Carambola Beach Resort St. Croix. The secluded beachfront property offers newly renovated studio suites with either beach or island views.
All come with pullout sofa beds, making them a popular choice with families. The decor is elegant with lots of dark polished wood throughout. They also include love terraces furnished with cushioned chairs and couches.
There is a beach restaurant called the Flamboyant Lounge that serves up seasonal fare in an alfresco setting. There is also a large swimming pool with ocean views surrounded by sun-loungers, a hot tub, and direct beach access.
There is a gym on-site with cardio equipment and weights. Activities like scuba diving can also be arranged. More amenities are expected to open in the future.
Address: Estate Davis Bay, 00851-3031 St. Croix
3. The Fred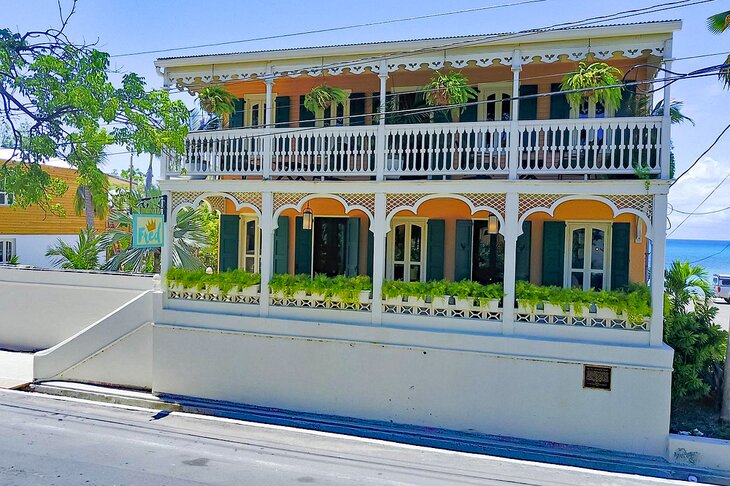 Accommodation: The Fred
An adults-only, boutique resort, The Fred is the only property on the beachfront in Frederiksted. When it opened in 2018, it was also the first new hotel to open on the island since 1986. This upscale, hip property is set in a collection of six renovated historic structures, each with its own personality and story.
The individually decorated rooms and suites have a few different configurations. Each has lots of bright colors and character, with local art and fun modern furnishings. Some have ocean views from balconies. If you are traveling with a small group of friends, the classic quadruple room can sleep four people.
Besides sun loungers, umbrellas, and towel service on the beach, the Fred has two saltwater swimming pools and a hot tub to splash around in. Water sports from diving and snorkeling to stand up paddleboarding can be arranged here as well. And, if you need a massage, The Fred has a spa and a wellness center on the grounds.
Grab a bite to eat at their barefoot chic restaurant while taking in one of St. Croix's stunning sunsets. It serves a small set course menu and has a daily features menu for a rotating variety. It focuses on locally sourced ingredients and seasonal flavors.
The resort's location in town also makes it easy to walk to some of Frederiksted's other excellent restaurants.
Address: 605 Strand Street, Frederiksted, St. Croix
4. Sand Castle on the Beach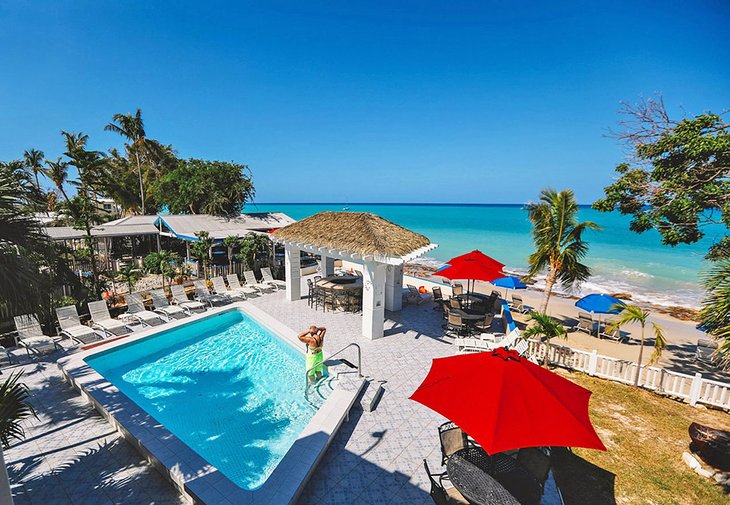 Accommodation: Sand Castle on the Beach
One of the top 3-star resorts on St. Croix, Sand Castle on the Beach is a privately owned small hotel with five different room types. Catering to couples and destination weddings (they have a bridal suite), the friendly property offers beachfront villas, studios, and suites. All come with kitchenettes, private balconies, and flat-screen TVs.
The hotel gets great reviews for its attentive staff. There is also an award-winning restaurant on the grounds, the Beach Side Cafe, serving local and international cuisine. They also make fresh-pressed juices.
Amenities include a swimming pool, beachfront with sun loungers and umbrellas, yoga classes, and bike rental. Free Wi-Fi is also included.
Address: 127 Smithfield Road, Frederiksted 00840-3677, St. Croix
5. The Palms at Pelican Cove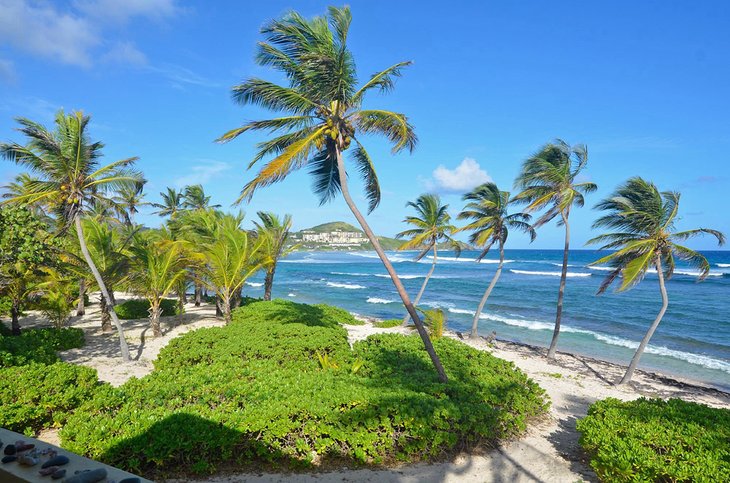 Accommodation: The Palms at Pelican Cove
The family-friendly Palms at Pelican Cove is a casual resort on a pretty white-sand beach. The location is about three miles west of Christiansted, and the property sits on eight acres with lots of coconut palms.
This location is awesome if you want to go swimming or snorkeling, as you'll find Long Reef just offshore—it has colorful coral and fish to check out through your mask. The resort offers guests complimentary snorkeling gear, making this a fun, free activity that doesn't require a boat trip.
The hotel has spacious rooms and suites with private balconies. Many have ocean views. All have relaxed Caribbean-style decor with bright-hued pillows and bed runners plus tile floors.
Amenities include an oceanfront restaurant serving three meals a day, free Wi-Fi, and one of the largest swimming pools on the island. No extra resort fee is charged.
Should you wish to explore, day trips including island tours, fishing trips, and diving excursions, can be arranged.
Address: 4126 La Grande Princesse, Christiansted 00820 St. Croix
6. Hotel Caravelle on St. Croix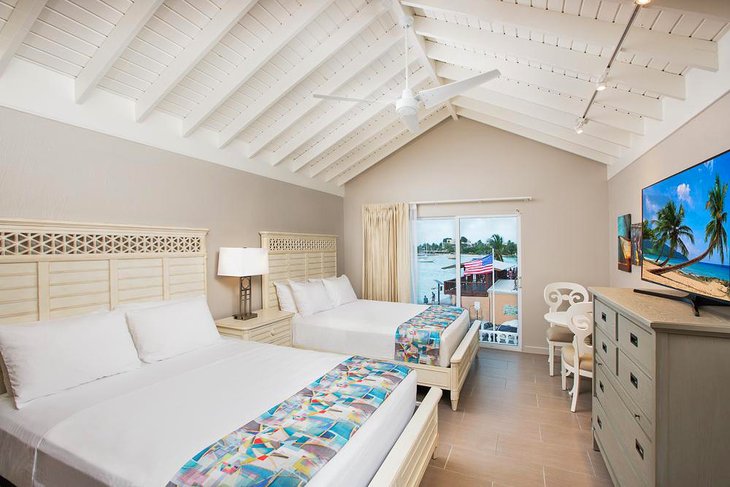 Accommodation: Hotel Caravelle on St. Croix
As long as you don't mind not being directly on the beach, the Hotel Caravelle has a nice waterfront location that is convenient for exploring downtown Christiansted.
The boutique hotel has just 43 rooms and one suite that is tastefully decorated with white walls and pitched beam roofed ceilings, as well as pale wood furnishings that give it a very airy feel. It is good value for money if you're looking for a practical base with easy access to historic sites, restaurants, and beaches.
Amenities here include a locally acclaimed restaurant that serves a menu of Caribbean and American food with staples like fettuccine alfredo, if you're just craving pasta, along with burgers, wraps, and lots of salads.
There is also a swimming pool with sun-loungers and umbrellas, and the option to arrange all sorts of activities, including sailing trips, island tours, and guided walking tours that depart from the front of the hotel.
The hotel is also within walking distance of lots of boutique shops selling everything from locally made jewelry to art galleries.
Address: 44A Queen Cross Street, Christiansted 00820-5020 St. Croix
7. Hotel on the Cay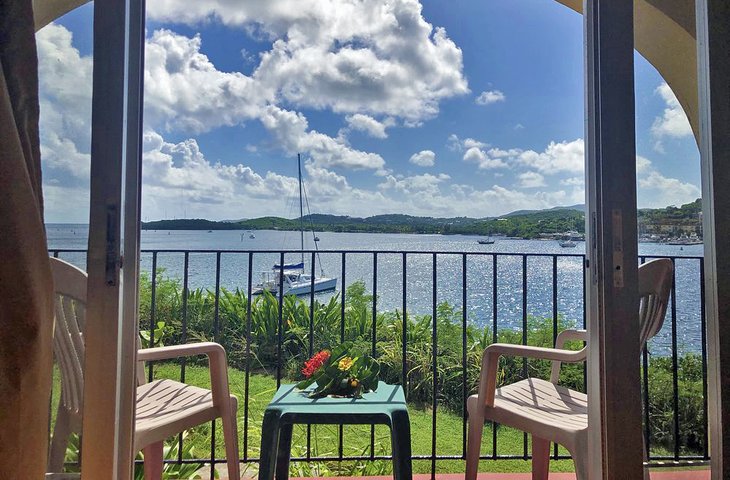 Accommodation: Hotel on the Cay
This 3-star hotel offers the option to stay on a private island. The Hotel on the Cay sits on its own cay in the Caribbean Sea accessed by a private boat. It is just a few minutes by boat from the shops, historical sights, and restaurants in Christiansted Harbor, but provides a secluded experience.
Catering to families and couples alike, the hotel has just 53 rooms and suites that come with kitchenettes with fridges and microwaves, as well as private balconies. They are a little dated, with flowery bedspreads, but they are good value for the location.
Amenities include a swimming pool, a private beach with sun-loungers, an on-site restaurant, and a water sports activity center where everything from diving and snorkeling to fishing trips can be arranged. The restaurant is known for its BBQ specials, as well as its good views.
Address: Protestant Cay, Christiansted 00822 St. Croix
8. Tamarind Reef Resort, Spa & Marina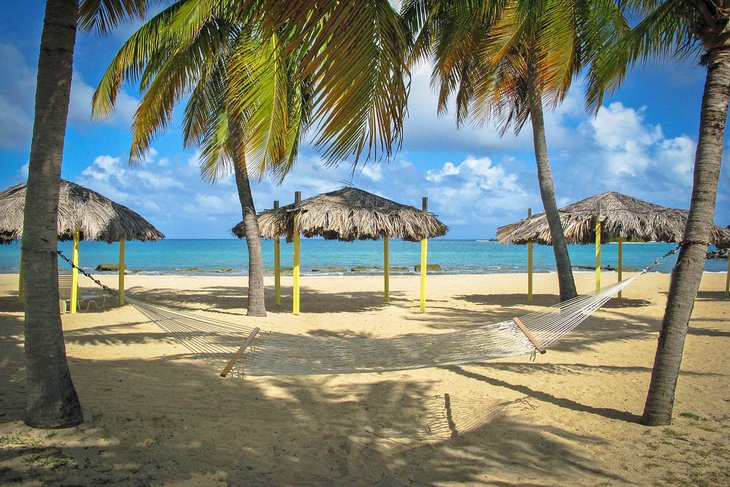 Accommodation: Tamarind Reef Resort, Spa & Marina
If you enjoy snorkeling, you'll want to check out the good-value Tamarind Reef Resort, Spa & Marina. The resort is set on a beautiful beach with the colorful, fish-filled Buck Island Reef National Monument accessible from the shore, meaning you won't need to join an excursion or get in a boat to experience it.
Set on 40 acres, the grounds are also beautiful with lots of lush green gardens and swaying coconut palms. There is a swimming pool facing the ocean, four tennis courts, a 154-slip marina, and a spa with a range of treatments that will leave you feeling refreshed and relaxed.
Two restaurants, one fine dining and the other serving more casual fare by the pool, round out the on-site amenities.
There are four types of room configurations here, but all feature ocean views on either the first or second floor. They also come with furnished patios and plenty of space to move around. They are decorated in Caribbean style with splashes of color, rattan furniture, and cool tile floors.
The superior rooms also come with kitchenettes should you wish to do some of your meals in-room.
Address: 5001 Tamarind Reef, Christiansted 00820-4582 St. Croix
9. Divi Carina Bay Beach Resort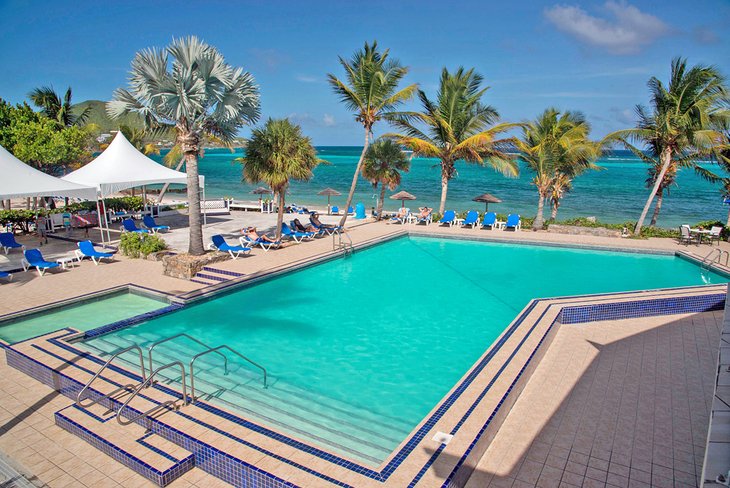 Accommodation: Divi Carina Bay Beach Resort
Recently renovated, Divi Carina Bay Beach Resort, which is also known as "CB," is one of the few resorts offering all-inclusive packages on St. Croix. This hotel offers a range of dining choices, including restaurants serving American fare, an Italian restaurant, wood-fired pizzas, and gourmet coffee and pastries.
Other amenities at this family-friendly property include a miniature golf course and driving range, tennis and pickleball courts, a fitness center, shuffleboard, and a water sports center. At the latter, you can arrange a host of activities, from island tours to diving trips and fishing excursions. There are also two swimming pools and direct beach access.
If you are traveling with the children, kids 12 and under stay free, and there is a kids' club on-site with organized activities.
Choose from rooms on the beach with ocean views from private balconies or suites on the hillside. All feature Caribbean chic, modern design with a blue and white color scheme—think blue-hued art on walls and patterned pillows in varying shades of aqua and cerulean.
Address: 5025 Turner Hole, Christiansted 00820-4548 St. Croix
10. Club St. Croix Beach and Tennis Resort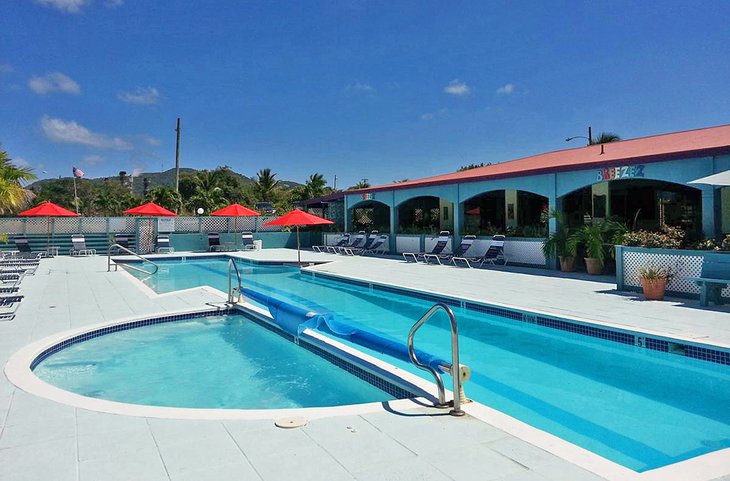 Accommodation: Club St. Croix Beach and Tennis Resort
In a convenient Christiansted location, right on a private stretch of beach lined with tall coconut palms and chairs and umbrellas for guests, Club St. Croix Beach and Tennis Resort is another good-value mid-range resort choice.
This family-friendly property is an all-suite property. Suites come in studio and one- and two-bedroom configurations and are spacious and tidy. All come with kitchenettes and fridges. If you are traveling with the kids, babysitting can be arranged.
Amenities here include a beach with chaise lounges reserved for guests, a huge 80-foot long swimming pool with an adjacent hot tub, complimentary snorkeling, and an activity center that can arrange for Jet Ski rentals, parasailing experiences, and scuba and sailing trips for a fee.
There is also an open-air restaurant called Breezes that serves up fresh local fare, as well as international staples, and does a good brunch. There are also lighted tennis courts.
For pampering, head to the on-site spa with a range of treatments, including massage. If you need to do laundry, there are also facilities on the property. Wi-Fi is free.
Address: 3280 Estate Golden Rock Rte 752, Christiansted 00820-4105 St. Croix
11. Company House Hotel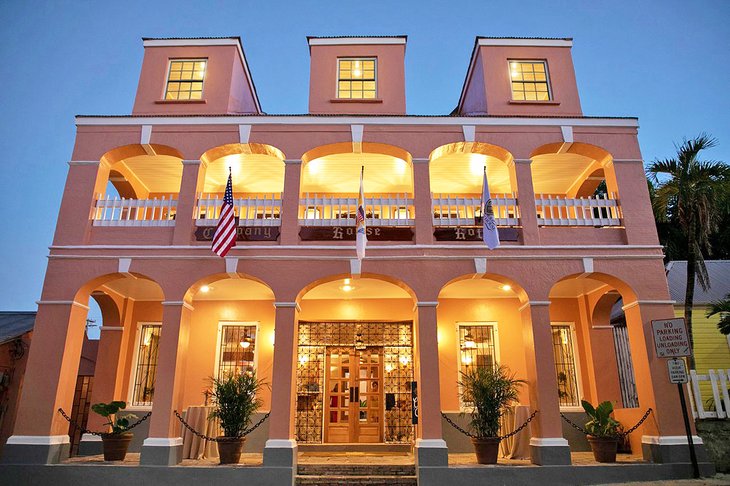 Accommodation: Company House Hotel
In the heart of Christiansted, the 3-star Company House Hotel is a newly renovated boutique property with a modern Caribbean vibe. The rooms here come in three different styles, but all are spacious and tidy, with crisp white linens and duvets, white-painted furnishings, and clay-hued tile floors.
There are even a few suite options here, including the King's Suite, which features fabulous harbor views. If you're traveling with the kids, check out one of the adjoining room combos—note that children 12 and under stay free here with an adult. And, if you are on a budget and just need a place to lay your head, there are even windowless room choices at economical rates.
Although it is not directly on the beach, the Company House Hotel is just a two-minute walk to Cay Beach. Amenities here include a swimming pool and sundeck.
Address: 2 Company Street, Christiansted 00820-4973 St. Croix
12. Holger Danske Hotel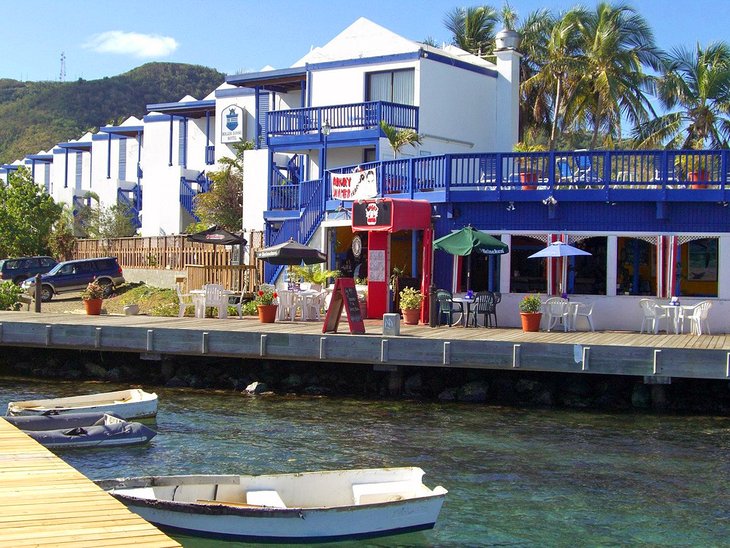 Accommodation: Holger Danske Hotel
In the heart of Christiansted, the 2-star Holger Danske Hotel is a good-value property with a great location. It sits right on the boardwalk, overlooks the harbor, and is just 15 minutes from the airport.
Rooms come in a variety of configurations. The standard rooms with garden views are a great choice if you don't care about the view and prefer to save money. They come with double beds, which is perfect if you are traveling as friends or with the kids.
The most classy rooms are the deluxe king ocean views. These have furnished balconies. All rooms have tile floors and framed artwork.
Amenities include an outdoor swimming pool with ocean views. There is also a restaurant facing the boardwalk that opened in 2021. Many guests chose to eat off-property, which is easy to do, as the location is so central that the town and boardwalk area are both just steps away.
Address: 1200 King Cross Street, Christiansted 00820-5139 St. Croix