13 Top-Rated Beach Resorts in Dubai
We may earn a commission from affiliate links ()
The Middle Eastern emirate of Dubai, part of the United Arab Emirates, is known internationally as a luxury travel destination. It's also an awesome beach resort destination, as the emirate has not only miles of natural coastline but also four giant artificial archipelagos.
These massive developments, sometimes called the eighth wonder of the world, each have their own beach and coastal areas. These clusters of man-made islands make up The World Islands development and the three Palm Island developments (Palm Jumeirah, Palm Deira, and Palm Jebel Ali).
Dubai has miles of coastline along the Persian Gulf (referred to locally as the Arabic Gulf) but many beach resorts are grouped in three main areas. Many luxury hotels are located on the outer perimeter reef area of the iconic Palm Jumeirah development. Another area with a nice array of mid-range options is the neighborhood known as JBR (Jumeirah Beach Residence). Many mid-range, and a few luxury beach resorts can be found in the Jumeirah Beach area, (which is not the same as JBR).
Visitors should remember or be happy to learn that Dubai is one of the safest destinations in the world for tourists. Fancy a stroll on the beach at 3am? Go for it. Need to leave your phone and valuables on your sun lounger when you go for a swim? Don't think twice.
Another key Dubai travel tip is that the weekend in Dubai is Friday and Saturday, with most people working Sunday through Thursday. Friday is a popular day for locals to go and have fun and also a popular day for lavish buffets, like Sunday brunches.
On This Page:
Luxury Beach Resorts in Dubai
Dubai is home to branches of all of the world's best known luxury hotel brands, some offering more than one location in the emirate. Many of the luxury beach resorts are located on Palm Jumeirah, combining sumptuous accommodations, multiple dining environments, and extensive beach and water sports.
1. Atlantis, The Palm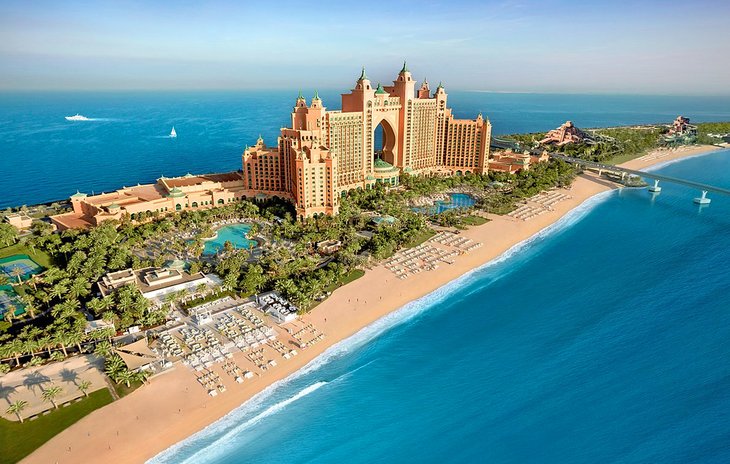 Accommodation: Atlantis, The Palm
Perhaps the world's ultra beach resort, the massive Atlantis, The Palm occupies the top outer edge of the Palm Jumeirah development, facing out to the Persian Gulf with its signature middle open section. It's a like a giant tan palace serving as a gateway to Dubai.
The accommodations here are truly spectacular, with options including Signature Suites, which include "underwater" suites with walls of glass looking into one of the resort's aquariums. The area above the hotel's giant open section is occupied by their iconic Royal Bridge Suite, one of the best and most expensive in Dubai.
More than just a beach resort, with destinations on-property like the Aquaventure Waterpark, The Lost Chambers Aquarium, Dolphin Bay, and Sea Lion Point, it's also an amusement park, a water park, and an aquarium. You can even get into the water and swim (scuba, snorkel, or dive with an Aquatrek helmet) in one of the aquariums, the Ambassador Lagoon.
2. Four Seasons Resort Dubai at Jumeirah Beach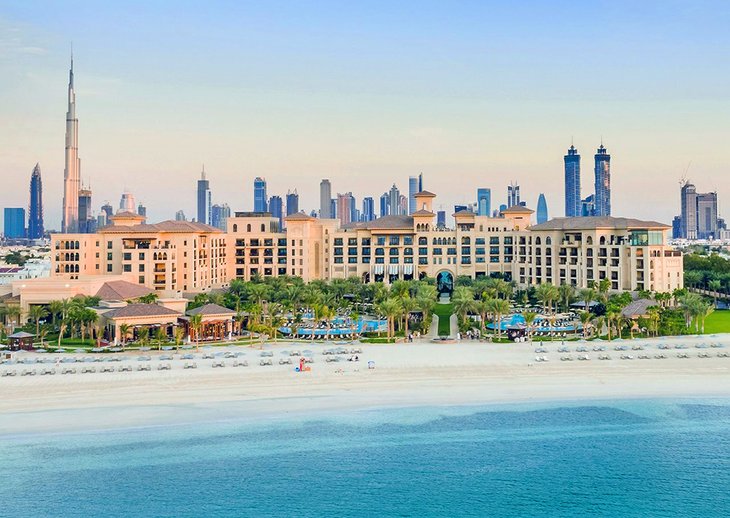 Accommodation: Four Seasons Resort Dubai at Jumeirah Beach
The fabulous Four Seasons Resort Dubai at Jumeirah Beach provides a true five-star experience on the shore of the Arabian Gulf. Located in the Jumeirah Beach area, some rooms and suites face out to the sea, some face the downtown skyline, and some have an interior resort view. All have furnished balconies and beautiful, spa-like marble bathrooms.
The resort has lots of amenities and activities for families, and their complimentary Kids for All Seasons program offers all-day supervised activities. Families staying at the resort also get four passes to Dubai Parks and Resorts (Motiongate, Bollywood, and Legoland amusement parks).
The resort's Pearl Spa is an oasis in the city with a range of beauty, skin, and massage treatments along with its own indoor pool. There's also a large, free-form outdoor pool and an additional, adults-only pool.
When you get hungry, there's an Asian seafood-focused menu at Sea Fu, an Arabian market-style dining experience at Suq or try Shai, their casual outdoor terrace café. There's also Folia, a vegetarian restaurant located in a garden, and a little upscale food court right across from the main entrance at the Dubai Water Canal entertainment zone.
3. Burj Al Arab Jumeirah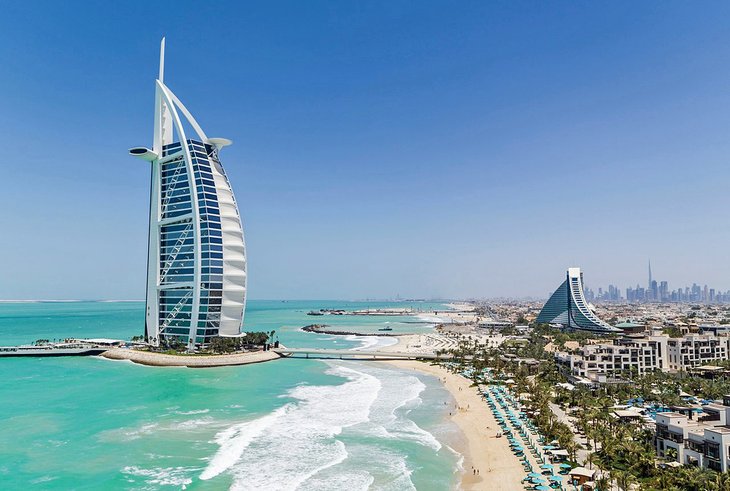 Accommodation: Burj Al Arab Jumeirah
No list of Dubai's luxury beach resorts is complete without a mention of the iconic Burj Al Arab. It's considered the best hotel in the world and the only one ranked seven stars (two more than five-star). Known also for its beautiful sail-inspired design, the luxury resort sits off the shore on its own little peninsula, near the Jumeirah Beach area.
The huge building, which has the world's tallest atrium at its core, has only 201 duplex apartment suites. Each of those ornately decorated suites comes with its own butler, Hermes bath amenities, its own Jacuzzi, and the option to choose from nine different pillow types. Your butler will unpack your luggage on arrival, arrange for dinners or excursions, and even draw your bath.
The Burj Al Arab Terrace is a man-made beach right next to the sea, leading into a wide infinity pool. It's like you're swimming in the ocean, but you have the comfort and security of swimming in a pool.
You have your choice of nine different restaurants and dining experiences of all types. Everything is run by the hotel's Michelin-starred culinary team.
When you're ready to leave the property, the hotel has a fleet of exotic supercars (Aston Martin, Ferrari, Rolls-Royce, and Lamborghini) you can drive or be driven in. Or maybe book an afternoon outing on the Burj's private yacht.
The hotel is next to Wild Wadi Waterpark (guests get free, VIP access) and also has its own golf course. Burj guests can even help care for marine turtles, as the hotel sponsors a local turtle rehab and rescue group.
4. Mandarin Oriental Jumeira, Dubai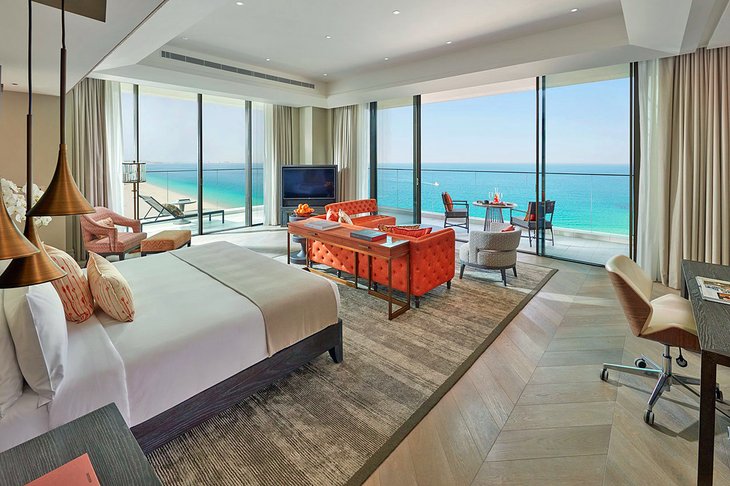 Accommodation: Mandarin Oriental Jumeira, Dubai
This luxury beachfront resort is a bit north of the Jumeirah Beach area in Jumeira, a newly-developed beach resort. It's on a peninsula, so there are views out to the sea and towards the skyline of downtown Dubai on the other side.
Rooms and suites are modern, but exceptionally luxurious, with touches like oak-paneled entry foyers and spa-like marble bathrooms. Some have furnished balconies, allowing you to take advantage of the sea or the Burj Khalifa views.
Of course there's a fantastic spa with a focus on Asian treatments, keeping in tune with the hotel's Asian origins. The spa is well known for their Signature VitaDrip, a vitamin infusion delivered via IV. It's part of an extensive anti-aging spa menu.
Foodie dining options include celebrity-helmed restaurants, like Tasca by Jose Avillez and Netsu by Ross Shonhan, along with a beachside brasserie, a pool grill, and even a Beluga caviar bar. For your sweet tooth, there's a Mandarin Cake Shop in the lobby.
5. Waldorf Astoria Dubai Palm Jumeirah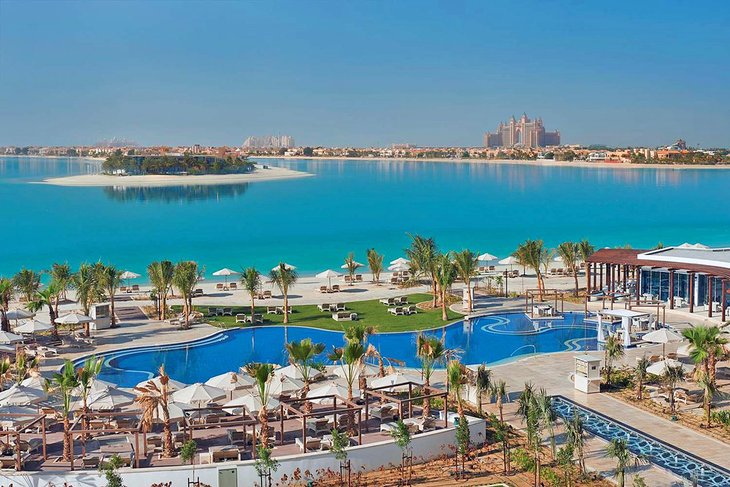 Accommodation: Waldorf Astoria Dubai Palm Jumeirah
The Waldorf Dubai occupies some prime real estate at the center right side of the Palm Jumeirah. The majority of the rooms and all the suites have ocean views, some face out to the Persian Gulf, and some face across the water looking back at JBR or the downtown Dubai skyline.
Rooms and suites are large, larger than most other Palm hotels, with equally large marble bathrooms. The style is modern Arabic, with white walls with silver accents, a lot of rich wood finishes, and light pastels.
The Waldorf has a huge, 200-meter-long private beach filled with all kinds of ways to either relax or enjoy the water. The luxury resort has a Kids Club with daily, supervised activities, most focused on the beach.
Other activities include tennis or all kinds of water sports and watercraft. There are two huge pools, including a lagoon-style pool with its own beach. There's also a protected area of the real beach, with lifeguards, perfect for enjoying the warm water.
Foodies love the Waldorf, as it's home to six different gourmet dining options. The highlight is Social by Heinz Beck. Chef Beck is famous for La Pergola, the only three-Michelin-star restaurant in Rome.
6. Bulgari Resort Dubai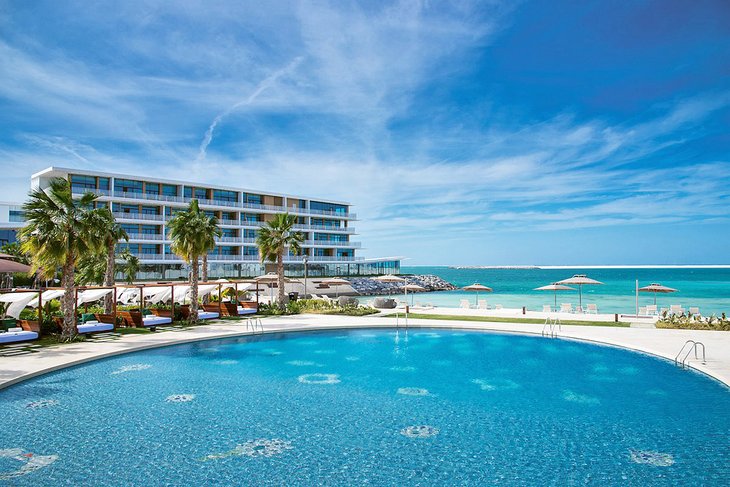 Accommodation: Bulgari Resort Dubai
If you're looking for a Dubai beach resort with its own yacht club, the Bulgari Resort is a perfect destination for you. The resort is on Jumeira Bay Island in the newly developed Jumeira Bay area, near Jumeirah Beach.
The resort, one of a select few around the world from the Italian jeweler, is the epitome of luxury. There are only 101 rooms and suites plus 20 villas, so you get a bit more of an exclusive, private vibe than at some of Dubai's other luxury resorts.
The experience starts with in-room check-in, no waiting in line in a lobby. There are rooms, suites, and villas, starting with luxurious hotel rooms going up to mansion-like villas. The hotel's villas, especially the Skyline Villas, provide a Miami Beach-like luxury apartment experience in Dubai. All the rooms and suites have spa-like marble bathrooms with huge soaking tubs. Villas have amenities like private pools and outdoor Jacuzzis.
The resort has an extensive fitness program, including a large 24-hour fitness center and a Workshop Gymnasium training system (a London-based private training method featured at all Bulgari properties). The spa has an indoor pool; there are also several outdoor pools and a private beach.
Bulgari has its own yacht club and marina. It's a fun place to walk around and explore the big ships, and there's an Italian restaurant and other facilities in the yacht club clubhouse.
7. Nikki Beach Resort & Spa Dubai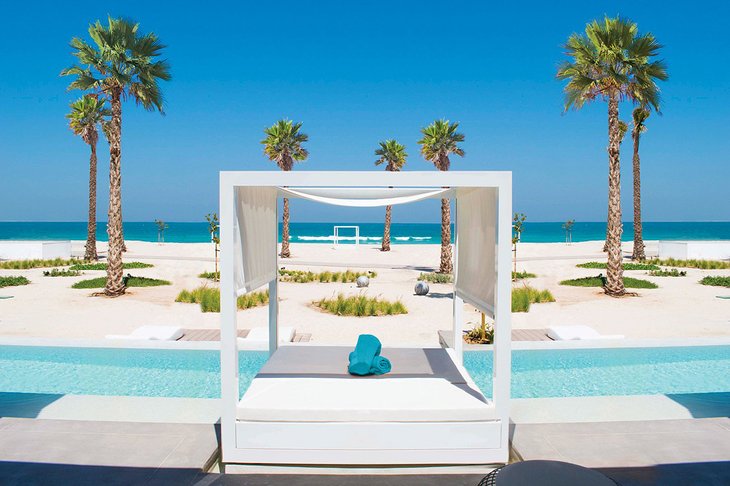 Accommodation: Nikki Beach Resort & Spa Dubai
Located on Pearl Jumeirah, Nikki Beach Resort & Spa is set on its own private beach about 15 minutes' drive from the airport.
The luxury lifestyle resort offers a range of rooms and suites, many with ocean views from balconies. The hotel is kid friendly and offers family room options, as well as babysitting. The design throughout the property is very modern, with lots of white stucco, glass, and blue accents. There are also 15 opulent villas that come with private pools.
Amenities are also plentiful. There are four dining options on-site, including a beach and pool lounge area with DJ music entertainment. If you need a little pampering, check out the luxe spa offering a full range of treatments, from massages to facials. Breakfast is included in the rate and there is also free parking. If you've come to Dubai to shop, Nikki Beach offers easy access to the city's over-the-top shopping malls.
Mid-Range Beach Resorts in Dubai
Dubai has a surprisingly large number of very nice, mid-range beach resorts. Most are located in the JBR area and provide guests with a wide range of activities, as well as multiple dining options.
8. JA Beach Hotel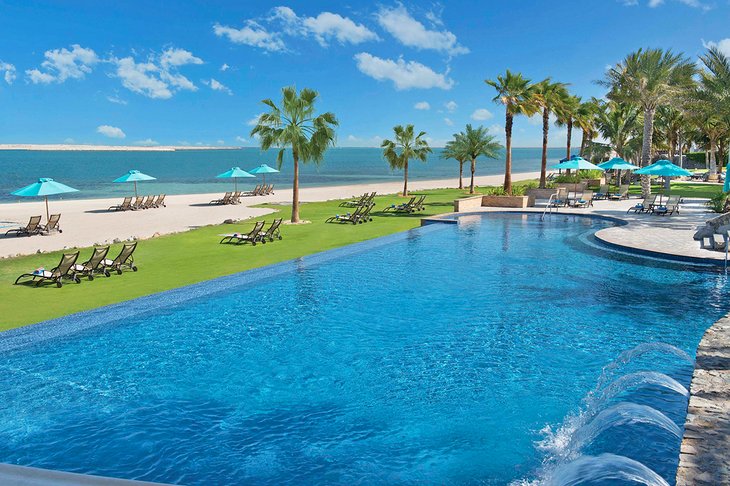 Accommodation: JA Beach Hotel
If you're willing to stay in the newer (formerly industrial) Jebel Ali area, the JA Beach Resort offers a good deal for a 5-star property and rewards you with its own private beach, a marina, and views of the new Palm Jebel Ali archipelago.
The JA Beach Resort is part of a vast new complex, JA The Resort. There are three resorts on the property: the JA Lake View Hotel, the beach hotel, and the JA Palm Tree Court.
Rooms and suites are large; most with sea views. They all have balconies, but try for something on the ground floor, as those accommodations have private terraces.
The resort is also a great option for families. They offer a full- or half-board plan (that means all or some meals are included) with about 20 different dining options and venues of all styles and prices. There's a CoolZone Kids Club and a ChillZone Teens Club with daily supervised activities and hang-out areas.
9. DoubleTree by Hilton Hotel Dubai - Jumeirah Beach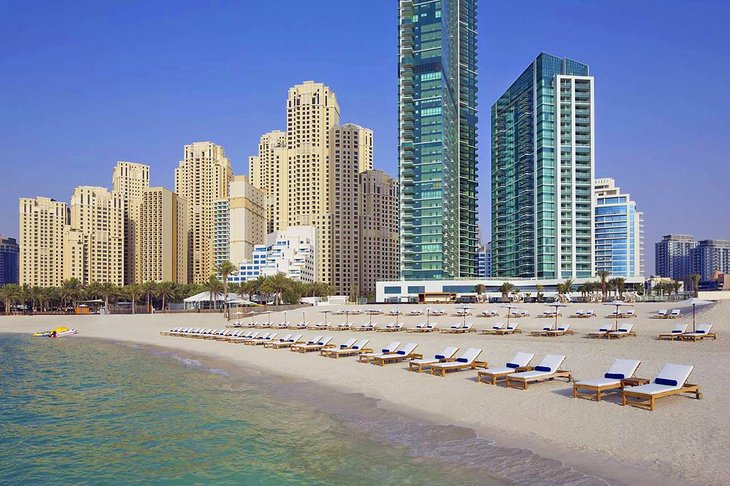 Accommodation: DoubleTree by Hilton Hotel Dubai - Jumeirah Beach
If you took the DoubleTree name off this stylish, high-rise resort, you might think you were at a luxury hotel. The hotel is right on the sand at the end of JBR's The Walk shopping street. It has a great beach area but it's also convenient for exploring The Walk and the surrounding area. It's even close to a Dubai Metro stop, which is great for exploring other tourist attractions in the city.
There are no regular rooms here - they are all one-, two-, and even three-bedroom apartments. The apartments come with full kitchens, separate bedrooms, in-room laundry, and huge patio-sized furnished balconies. Some rooms are direct ocean front, some have partial ocean views, and some face the other direction, towards Dubai Marina.
You get free Wi-Fi and a complimentary DoubleTree fresh-baked chocolate chip cookie upon check-in.
The DoubleTree has a huge private beach, as well as an outdoor pool and deck area with waiter service and a pool grill. You can work out in the fitness center (with sea views), open 24 hours a day, or get a massage, or maybe enjoy the sauna or steam room.
10. Hilton Dubai The Walk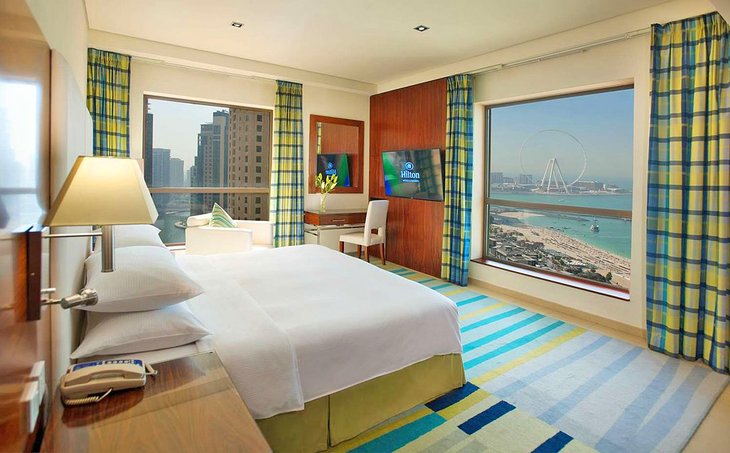 Accommodation: Hilton Dubai The Walk
One of two Hilton hotels across from each other, the Hilton Dubai The Walk isn't quite on the beach and has lower rates than the beachfront Hilton Dubai Jumeirah. Guests have access to a private beach -you just need to cross The Walk via a footbridge to the other Hilton to get to it.
Accommodations range from basic hotel rooms and studios with kitchenettes to one-, two-, three-, and even four-bedroom apartments with full kitchens, en-suite laundry, and other long-term stay amenities. Most have large, furnished balconies.
Kids are welcome with a beach playground, kids' amenities, and dining discounts. Kids six and under eat free at the all-day dining restaurants on-property, kids six to 12 get 50 percent off their food.
11. Hilton Dubai Jumeirah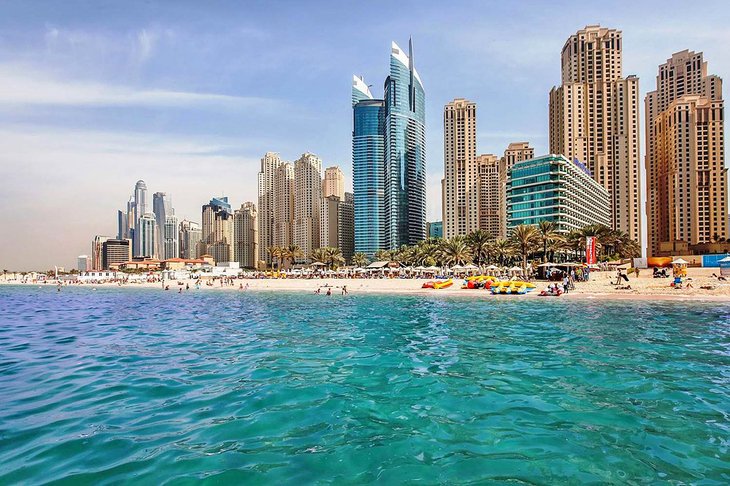 Accommodation: Hilton Dubai Jumeirah
The other Hilton in JBR is on the beach and as such, a bit more expensive. The Hilton Dubai Jumeirah is a beautiful, amenity-filled beachfront resort, with its own section of private beach. The location is perfect for exploring The Walk and the Dubai Marina area. It's also within an easy walk from the metro station.
The Hilton offers the full range of water sports along with several swimming pools, including a large, heated outdoor one to enjoy. There is also a large health club with private training and yoga classes available.
Dining options seem almost endless, with 10 different restaurants to choose from. Highlights include BICE, their popular Italian eatery, and a location of the legendary Trader Vic's tiki restaurant.
12. Sheraton Jumeirah Beach Resort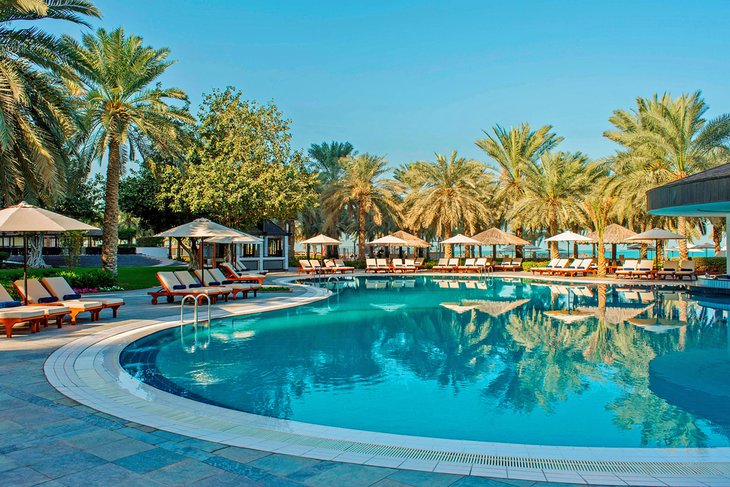 Accommodation: Sheraton Jumeirah Beach Resort
Located close to the Hilton along JBR's The Walk, the Sheraton Jumeirah Beach Resort is a great mid-range beach resort option. Aside from the large beachfront area, the Sheraton has a huge garden, which is a wonderful oasis from the desert heat.
The rooms and suites are recently refreshed, with a clean, modern style. Some have direct ocean views, and some face down the walk or towards the JBR skyline and the Dubai Marina.
There are five restaurants at the Sheraton: Palm Terrace is their main buffet, Ciao is an Italian option, and The Peacock is their Chinese restaurant. Al Hadiqa is their Middle Eastern restaurant, located in a giant tent in the hotel's gardens. There's even a beachside Cajun restaurant called Bliss, with live music every night. You can also eat at the poolside/beachside café.
13. Roda Beach Resort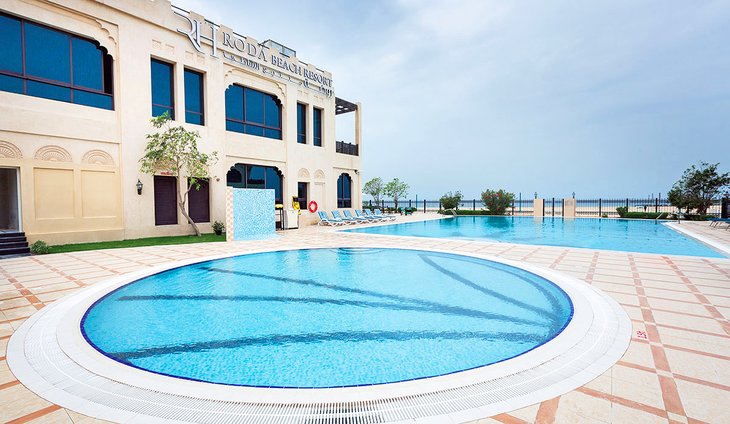 Accommodation: Roda Beach Resort
This budget resort is in Jumeirah, near Jumeirah Beach and overlooking Dubai's famous Kite Beach. The beach is a few minutes' walk away, but the accommodations are large, and the prices are low. These low prices at the Roda Beach Resort include free Wi-Fi, but there is no on-property restaurant or dining option.
The units are full apartments with half and full kitchens. The sizes range from studios to multiple bedroom apartments and even a single five-bedroom villa. The best option is the sea-view units with large balconies.
Guests can enjoy a big outdoor pool, surrounded by sun loungers. There's also a full fitness center with locker rooms and a steam room plus a sauna.