14 Top-Rated Attractions & Things to Do in Fujairah
The Emirate of Fujairah incorporates much of the eastern coast of the UAE (United Arab Emirates) and a swath of the country's Hajar Mountain region. Its main center is the modern industrial town of Fujairah city, which itself has few tourist attractions.
Although you maybe won't want to linger long in town itself, away from Fujairah city's grid pattern of high-rise office blocks, the emirate offers plenty of things to do.
Fujairah Emirate's beaches to the north attract a steady stream of visitors looking for a quieter sun-and-sand vacation than offered in Dubai. This slice of coastline is also one of the best places to visit in the UAE for scuba diving.
Although the main sightseeing attraction is the sand, for adventurous travelers, the Emirate of Fujairah's section of the Hajar Mountains offers hiking within the rugged desert mountain heartland, and scenery-laden road-tripping opportunities.
For ideas on what this lesser-visited emirate can offer, use our list of the top attractions and things to do in Fujairah.
1. Beach Time & Diving in Al Aqah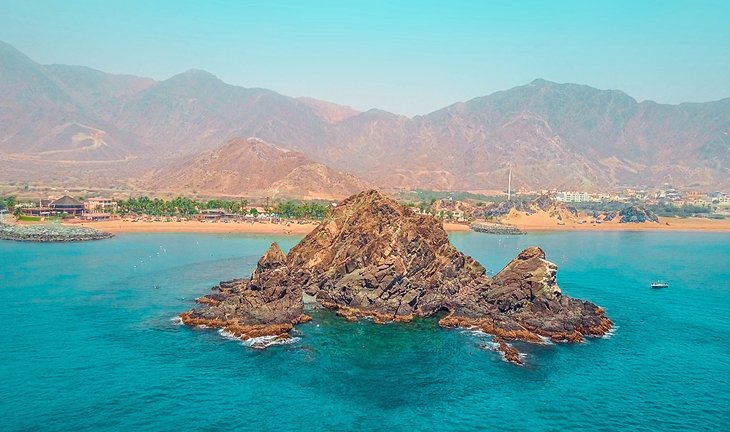 For sun-and-sand in the Emirate of Fujairah, most people head straight to Al Aqah, with its long beach rimming the shore and the rocky outcrop of Snoopy Island dominating the view of the Gulf of Oman from the sun-loungers.
Just 45 kilometers north of Fujairah city, Al Aqah is one of the UAE's lesser-developed resort areas, with only a scatter of five-star hotels lining the beachfront, though a lot more development is planned for the future.
For now, this is still the place to escape the crowded beaches of Dubai for a quieter beach vacation.
The beach resort hotels studding the coast here cater both for visitors seeking easygoing days of sunbathing and water sports enthusiasts, with facilities on-site for divers, snorkelers, and paddleboarders.
Al Aqah is the center of the UAE's scuba diving scene, and although the reefs just offshore in the Gulf of Oman are not on par with the Middle East's famed Red Sea, there is plenty of fish life to see.
The main dive sites include two wrecks that were purposely sunk to create an artificial reef for divers and the car cemetery site (created during the 1980s when a series of cars and trucks were sunk to create an artificial reef for local fishermen).
Marine life is abundant for divers, with turtles and black tip sharks regularly seen at some sites, as well as large shoals of fish ranging from trevally to parrotfish.
2. Road-Trip to the Hajar Mountains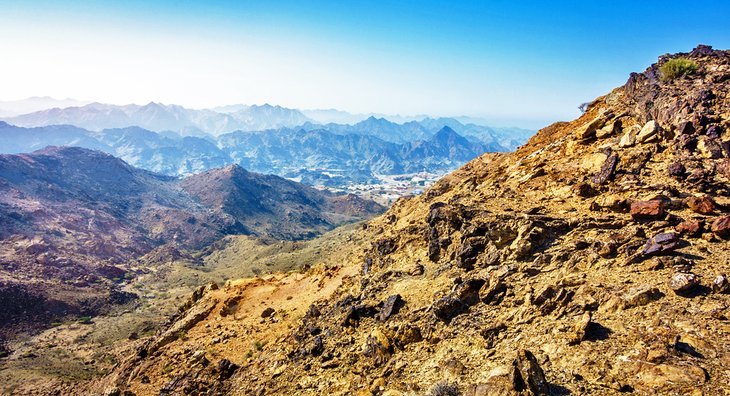 The Hajar Mountains slice through the inland northern region of the UAE. The scenery of jagged mountain peaks is a world away from what most people associate with the country and is prime road-trip territory.
Officially different sections of the Hajar belong to Fujairah, Ras Al-Khaimah, and Sharjah emirates and even on a short drive trip between the west coast and the east, you'll be able to take in a sliver of the majestic mountain views.
The main connecting roads running inland, such as the E18 and E87 running from Ras Al-Khaimah to the east coast, and the particularly beautiful E89 running north from Masafi to Dibba Al-Fujairah, offer a feast of panoramas.
3. Visit Al-Bidyah Mosque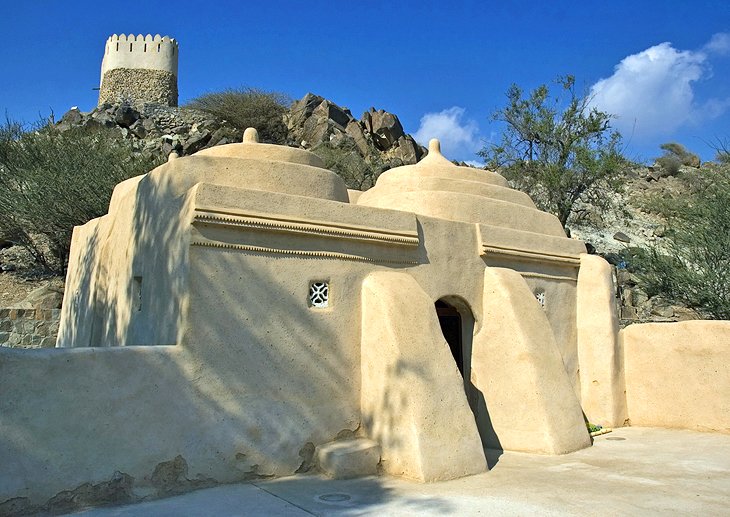 About 35 kilometers north of Fujairah city, the mud-brick Al-Bidyah Mosque is the oldest in the United Arab Emirates and was named after the town that once surrounded it.
The engineering features are a major accomplishment for the period of construction.
The mosque consists of a prayer hall, decorated with arches and featuring ventilation openings and a mihrab (prayer niche pointing to Mecca). A central pillar divides the internal space into four squares of similar dimensions, covered by domed ceilings.
The site surrounding the mosque has been excavated to reveal that it has been inhabited for 4,000 years.
A large Islamic graveyard just to the north contains a massive tomb dating back to the Iron Age, which when unearthed revealed fragments of pottery, metal arrowheads, and other artifacts dating back to at least 1000 BCE.
4. Explore the Hajar Mountain Wadis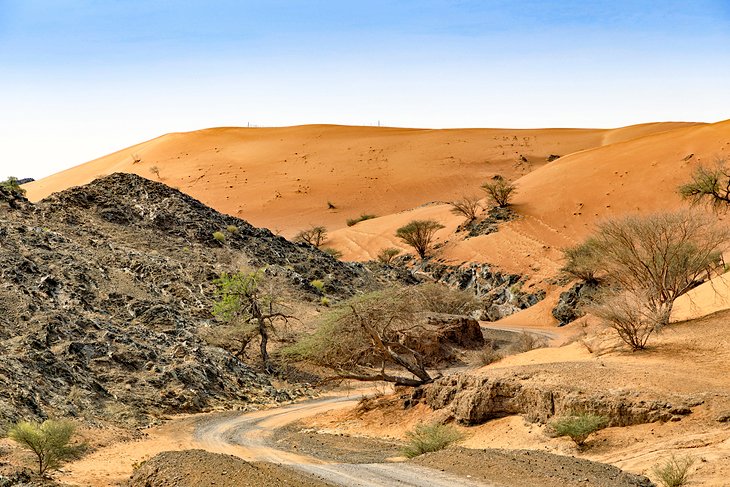 For hikers and climbers, exploring Fujairah's Hajar Mountain wadis (a wadi is essentially a dry riverbed that can contain water after a heavy rain but can also refer to any valley oasis) is one of the main things to do in Fujairah.
Among the most beautiful wadis in the area are Wadi Siji, Wadi Saham, and Wadi Maidaq.
Wadi Ham, with its northern section in Ras Al-Khaimah running down to its southern tip in Fujairah, is the longest valley, and Wadi Al Taiwan is a fun place to visit just as much for the stunning mountainous route it takes to reach it.
North of Fujairah, Wadi al-Wurayah is the UAE's most famous wadi and is a UNESCO biosphere reserve, though it has been closed to the public by the authorities to preserve its sensitive and unique ecology for the past few years.
5. Visit Fujairah Fort in Fujairah City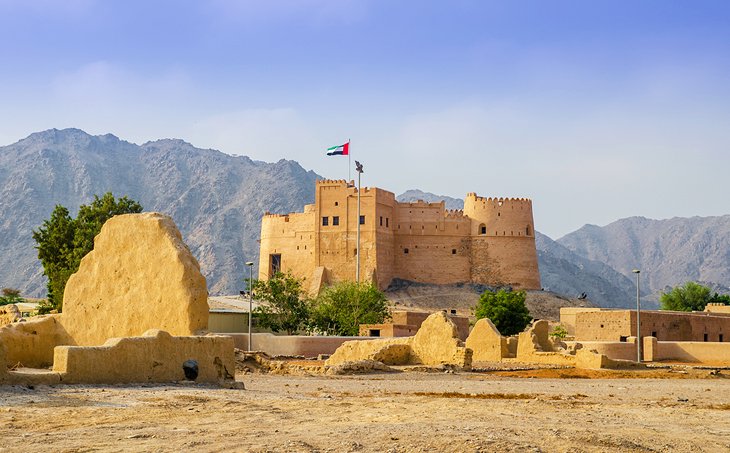 Built in 1670, Fujairah Fort was badly damaged by a British attack in the early 20th century.
Considered the oldest fort in the United Arab Emirates, it has served previously as both a defensive building and a home for the ruling family. For many centuries, it was the only stone building along the Fujairah coast.
The fort has three major sections, several halls, one square tower, and two round towers. In recent years, it has been fully restored to its former glory.
The area surrounding the fort is part of a small Heritage Village set up by Fujairah's Department of Archaeology and Heritage.
Here, you can see restored old houses, exhibits about traditional life, and a display of the Al Yazrah irrigation system that Emirati farmers used in their fields.
Address: Madhab Road, Fujairah city
6. See Khor Fakkan Waterfall & Theater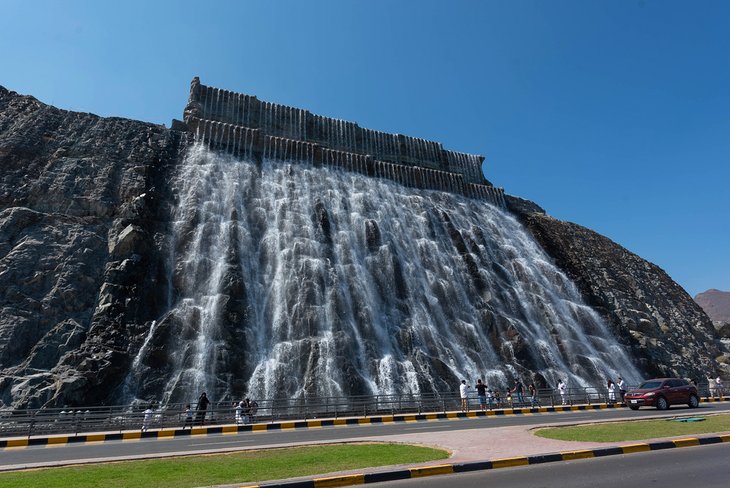 Khor Fakkan is one of Sharjah Emirate's three exclaves on the eastern coast (along with Dibba and Kalba), but most people will visit as part of a trip through the Emirate of Fujairah, as the town of Khor Fakkan is just 30 kilometers north from Fujairah city.
Right on the eastern coast's main north-south highway overlooking the beach, in central Khor Fakkan town, is an artificial 43-meter-high waterfall, cascading down a purpose-built rocky cliff face, and a large modern theater built in Classical-Roman-era style.
Opened in 2020, this has become a popular place for tourists to stop off to stretch their legs and take a few photos on the journey between Al Aqah and Fujairah. Both offer great panoramic views across to the sea and are slightly surreal attractions to snap a few pics of, themselves.
7. Kayak on Al-Rafisah Dam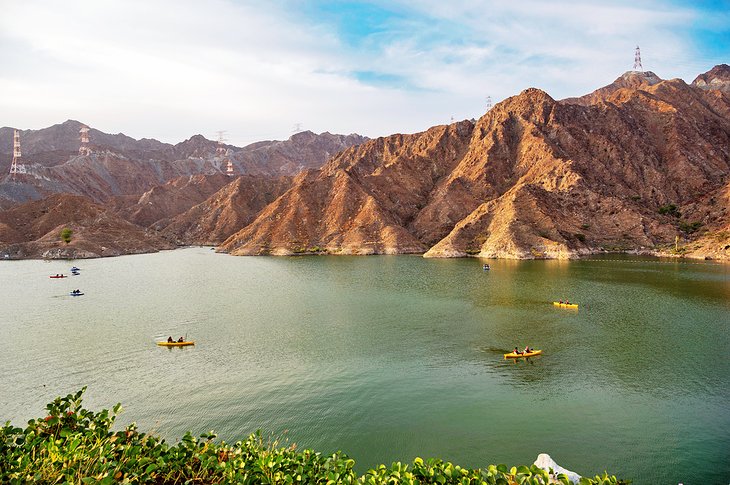 Part of Sharjah's east coast exclave of Khor Fakkan, the Al-Rafisah Dam is six kilometers inland from Khor Fakkan town and 30 kilometers north from Fujairah city.
The Dam, surrounded by a landscape of jagged, dusky mountain peaks and home to plenty of birdlife, is a popular destination for families who want to enjoy an easygoing day out of the city surrounded by nature.
On the shorefront there are good facilities including a restaurant, café, a couple of shops, and a large children's playground, as well as plenty of space for picnicking. If you want to get out onto the water itself, there are kayaks and pedal-boats for hire.
Note that it can get very busy here on weekend afternoons so if you're looking for a quieter experience, try to come on a weekday.
8. Stop by Bithnah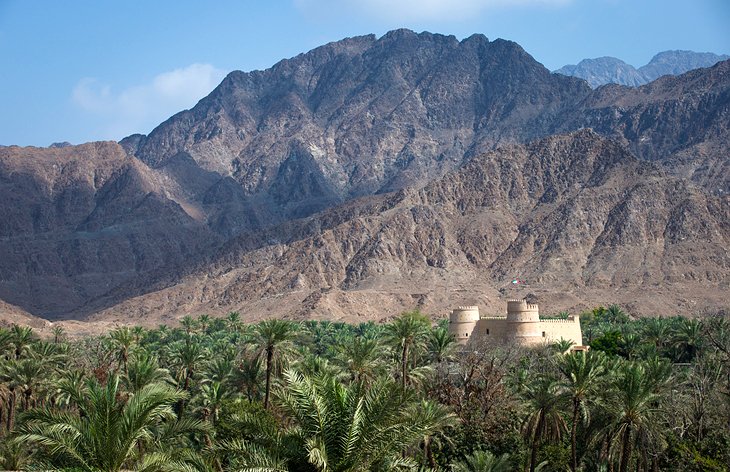 If you're heading into the Hajar Mountains to explore, make sure to stop off at Bithnah.
This small settlement in Wadi Ham, just 13 kilometers west from Fujairah city, was a strategic stop on the trade routes between the west and east coast for centuries.
The main tourist attraction here is Bithnah Fort, built in 1735, which was considered of vital importance to the defense of this section of the Arabian Peninsula's eastern coastline.
The fort's bulky frame of thick golden-stoned walls, edged by a chunky circular watch tower, makes it particularly photogenic, while the views from the ramparts over the countryside of palm groves and jagged mountains behind are spectacular.
9. View Fujairah City's Sheikh Zayed Mosque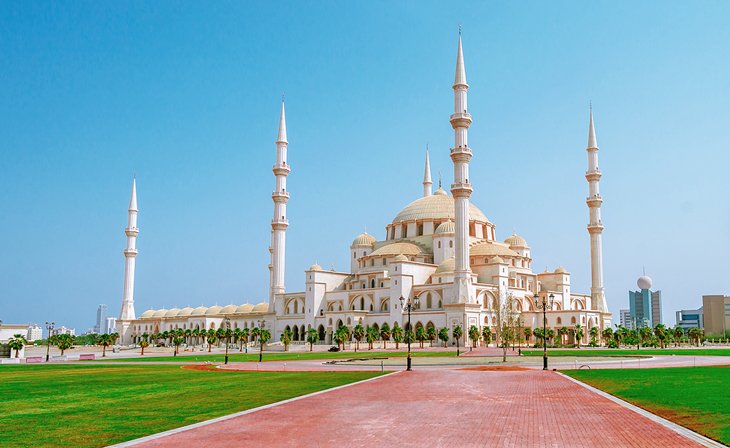 Fujairah's modern Sheikh Zayed Mosque covers a site the size of three football pitches and boasts six minarets which are 100 meters high. The mammoth prayer hall has space for 32,000 worshipers.
Since its opening in 2015, the traditional Ottoman-style mosque has become one of Fujairah city's major landmarks, and it ranks as the second biggest mosque in the United Arab Emirates after the more famous Sheikh Zayed Grand Mosque in Abu Dhabi.
Non-Muslim visitors can enter the mosque to view the ornate interior, which features grand chandeliers and Moorish-style arches, between 9am and noon Saturday to Thursday. The mosque offers free tours to visitors during this time.
If you would like to visit make sure to dress appropriately, wearing long-sleeved tops and long trousers or skirts, and female visitors should bring a head scarf.
Address: Al Ittihad Road, Fujairah City
10. Explore Local History at Fujairah Museum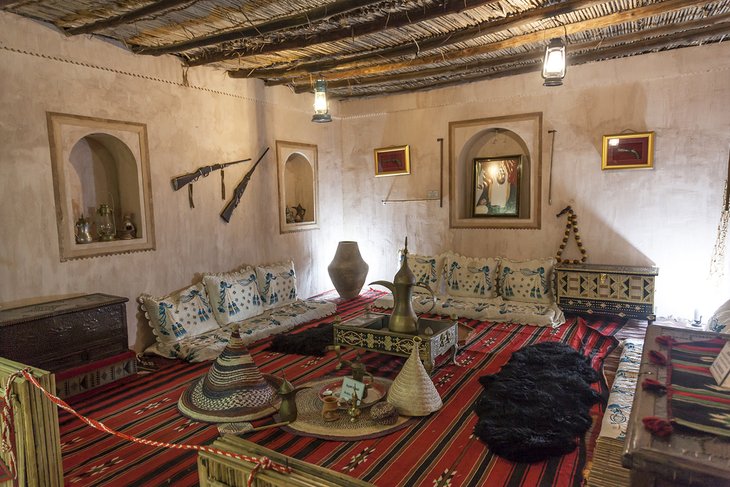 Just south of Fujairah Fort, the Fujairah Museum has an excellent collection of artifacts, dating from the early Bronze Age, that were unearthed during archaeological digs at Qidfa and Bithnah.
Exhibits include Bronze and Iron Age weaponry, painted pottery, carved soapstone vessels, and pre-Islamic silver coins.
One of the museum's prized pieces, discovered at Qidfa, is a bowl made from ostrich egg dating back 2,200 years.
There is also a good ethnography section, with displays of traditional Emirati daily life and craft work.
Address: Madhab Road, Fujairah City
11. Road Trip Between Fujairah's Smaller Forts
The UAE's east is home to a handful of forts that make for good stop-off points on a road trip heading south from Fujairah city.
Al-Hayl Castle, 11 kilometers west of Fujairah City, was once used as the headquarters for Fujairah's ruling family.
Built approximately 250 years ago, it has played an important role in the area's defense, used as a base for surveillance and patrolling to guard Fujairah from attack.
Not much remains today – the original fortifications have long since been demolished – except one two-level tower, which sits on the hill as a reminder of the days when these forts were scattered all across strategic hillsides in what is now the United Arab Emirates.
From Al-Hayl, turn south and drive 30 kilometers on the minor inland roads heading for the village of Wahlah (also spelt Aouhlah).
Here, you'll find the distinctive Awhlah Fort (also spelt Wahlah Fort), which, with its thick high walls, is one of the best preserved examples of defensive architecture in the emirate.
It lacks the over-restored "new" look of many of the other forts in the United Arab Emirates and so is a great place for history buffs to come and capture a sense of Emirati heritage.
Inside, the circular watch tower is 20 meters high and has narrow windows built into the walls for archers and excellent views.
12. Take a Soak in Madhab Hot Springs Park
On the northwestern edge of Fujairah city, the hot springs of Madhab Springs Park are a popular local retreat.
The Ain al-Madhab mineral springs here produce warm sulfuric water that is pumped into two swimming pools (separated by gender).
The pools are surrounded by a large park, which is where Fujairah families come for barbecues, picnics, and games. There is also a well-maintained dedicated children's playground area. Unsurprisingly, the Madhab Springs Park area gets packed on weekends.
If you've been traveling and need a soak to soothe out niggly pains, the mineral-rich waters of the pool here are a good option.
13. Bargain for Goods at Masafi Market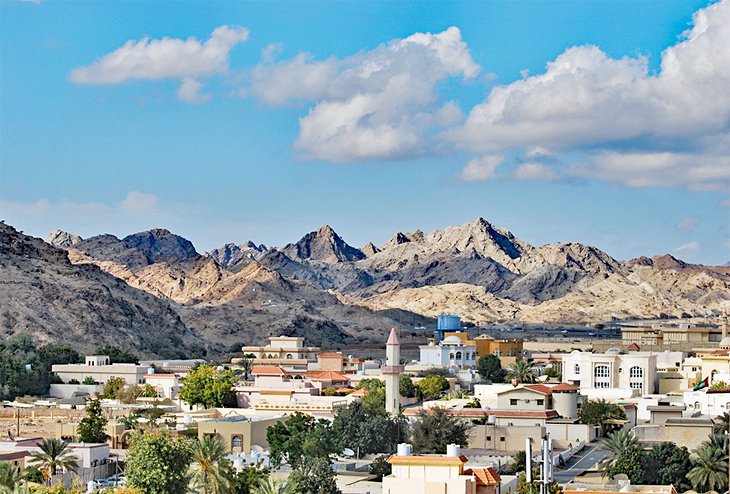 About 33 kilometers northwest from Fujairah, the village of Masafi is on the edge of the Hajar Mountains, on the crossroads of the main inland routes north to Dibba and west to Dubai. It was originally a trading post and refueling stop before the region's modern highways were built in the 1970s.
Masafi sits on the border between two emirates, with the larger section of town part of Fujairah, and the smaller section belonging to the Emirate of Ras al-Khaimah.
Masafi is famous in the United Arab Emirates for its natural springs, and the Gulf's leading mineral water producer (named after the town) is nearby.
For travelers, though, it's mostly known for its local market, with stalls lining the main Dubai-Fujairah Road on the edge of town.
The market sells local produce, earthenware pottery, local handicrafts, and carpets and is a popular place to visit on a road trip to stretch your legs while browsing the stores.
14. View Fujairah's Bull Butting Spectacle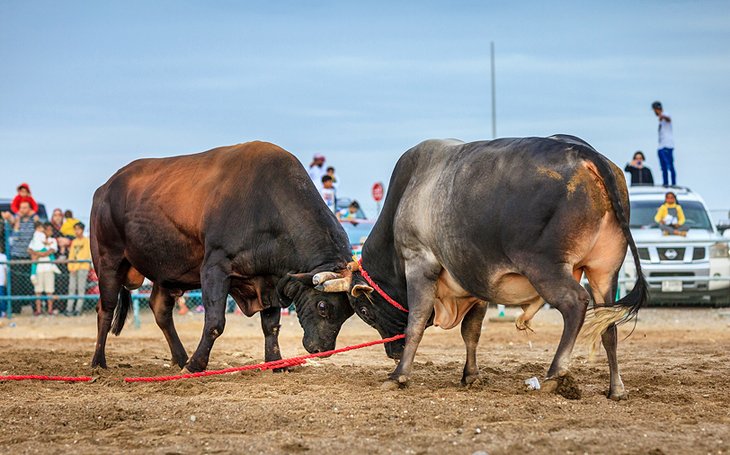 The sport of bull butting is thought to have been introduced to this region of the Arabian Peninsula by the Portuguese. Today Fujairah is one of the few places in the UAE where the tradition still survives.
In Fujairah, bull butting is a popular family event. It takes place every Friday evening during the winter months at a field along the city's coastal road.
The event begins with 20 bulls battling each other by going head-to-head and pushing each other until one gives up. Numbers slowly dwindle as winners move on to the next round. There's no prize for the ultimate winner except for the value of the winning bull being increased.
Address: Corniche Road, Fujairah City
Map of Attractions & Things to Do in Fujairah
More Related Articles on PlanetWare.com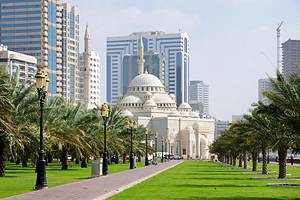 More UAE Cities: Dubai is the ultimate UAE city experience with its contemporary towers, beaches, and mammoth shopping malls. The capital, Abu Dhabi, offers two of the country's top cultural attractions, home to both the Sheikh Zayed Grand Mosque and the Louvre Abu Dhabi. Sharjah is a must-do for museum fans for its restored heritage district and the excellent Sharjah Museum of Islamic Civilization.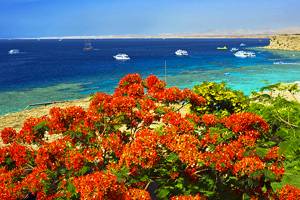 More Diving Destinations: Fujairah emirate's beach resorts, with their scuba diving activities, are one of its top attractions. For the Middle East's best diving head to Egypt for the renowned dive sites of the Red Sea. Sharm el-Sheikh is where you go to dive the coral reefs of Ras Mohammed National Park, while Hurghada is the base for the reefs and wrecks of the Straits of Gubal.