12 Best Resorts in Abu Dhabi
Whether you're looking for a beach break with city-slicker style or a desert getaway with rolling dune-scapes as your neighbor, the Emirate of Abu Dhabi has a resort for you.
The vast majority of the resorts are within Abu Dhabi city, fringing the prime beachfront areas of town. Saadiyat Island and the Khor Al-Maqta (the waterway that separates Abu Dhabi Island from the mainland) are two of the main resort areas.
The historic town of Al Ain is also home to a handful of (mostly older) resorts. These are hugely popular getaway destinations on the weekend with Abu Dhabi locals, so if you can, visit mid-week when room rates are lower.
If you want to explore further, you'll find resorts catering specifically to desert and wilderness adventures on Sir Bani Yas Island and the Liwa Oasis in the farther reaches of the emirate.
The sweltering summer months of June to September are Abu Dhabi's low season when resort prices are at their lowest.
Resort high season is November to February when temperatures drop to balmy, easily manageable levels and European visitors arrive for a winter beach break.
Unless you're traveling to Abu Dhabi specifically for the F1 Grand Prix, avoid November, as this is when resort prices peak.
Start your vacation planning in Abu Dhabi with our list of the best resorts.
1. Ritz Carlton Abu Dhabi Grand Canal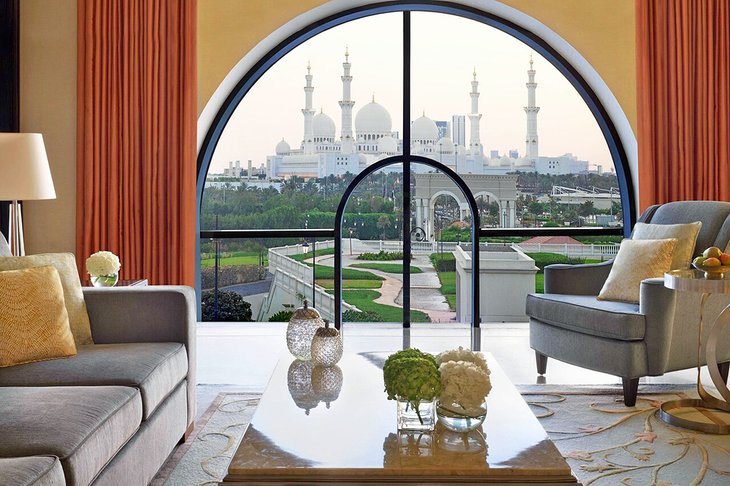 Known for its mammoth swimming pool, which spans 1600 square meters, as well as the resort's views of the neighboring Sheikh Zayed Grand Mosque, the Ritz-Carlton Abu Dhabi Grand Canal sprawls along a 57-acre slice of land, on Abu Dhabi Island's shore of the Khor Al-Maqta.
This five-star resort is a foodie favorite with eight restaurants on-site. Li Jiang is one of Abu Dhabi's most renowned dining spots for East Asian flavors, and Mijana serves up high-class Lebanese cuisine, while the Alba Lounge is where you head to partake in the hotel's signature afternoon tea.
Accommodation ranges from deluxe guest rooms and suites, all with balconies that overlook the lush gardens and out to the water of the Khor Al-Maqta, to villas with dedicated butler service and private plunge pools.
The private beach provides sun-seekers with a tranquil shore of soft white sand, while the Ritz-Carlton's signature ESPA, set directly on the beachfront, is known for its ornate hammam (Turkish bath), where guests can have any travel aches steamed and scrubbed away.
Address: Khor Al-Maqta, Abu Dhabi Island
2. Anantara Sir Bani Yas Island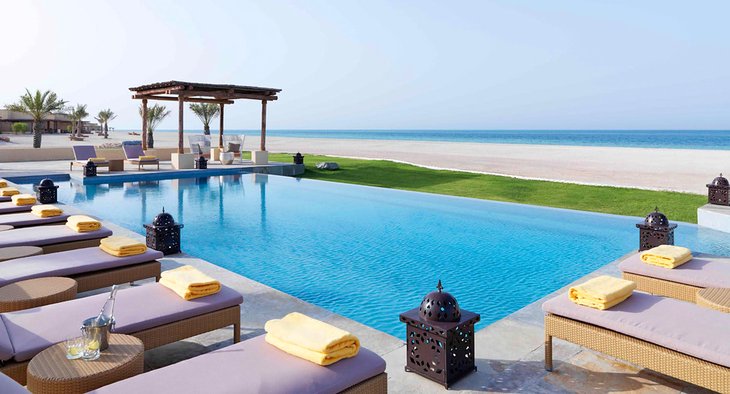 Sir Bani Yas Island, 266 kilometers west of Abu Dhabi city, is a little slice of paradise that was developed into a wildlife conservation reserve by the UAE's founding father, Sheikh Zayed.
Today, the island is one of the best destinations in the country to experience both stunning desert landscapes and wildlife up close.
Anantara operates the three resorts allowed on the island, which all have their own individual styles to suit different types of travelers.
All offer their own restaurant, while complimentary transfers allow guests to hop between the resorts to dine, as well as to make use of the facilities at the main complex.
The main resort is Desert Islands Resort & Spa, set in the building Sheikh Zayed once utilized as the island's guesthouse. It brims with original mid-20th century architectural features and furnishings.
The elegant, classically European-styled rooms here have large balconies overlooking the manicured gardens and sea. There's a wide swoop of beach, a large swimming pool, and a spa.
On a secluded patch of coast, east of the main complex is Anantara Al Yamm Villa Resort, fronted by a white-sand beach and a waterfront speckled with mangroves.
Al Yamm's low-lying villas blend traditional Arabic architectural features with smooth minimalist design for easy-breezy beachfront style. They all have large outdoor terraces - most with private plunge pools - to create seamless indoor-outdoor living.
In the island interior is Al Sahel Villa Resort, the most idiosyncratic Sir Bani Yas Island stay. Here you can wildlife-watch right on your terrace, with the island's free-ranging gazelle and peacocks, as well as many of the other smaller island inhabitants, grazing on the lawns outside.
Al Sahel Villa Resort's 30 villas are inspired by traditional safari design and kitted out with accents of bamboo and earthy tones. They all have large terraces with plunge pools.
For most guests, a stay at Sir Bani Yas Island is all about the activities on offer, which range from 4WD wildlife tours into the island interior to spot the free-roaming Arabian oryx, gazelles, and giraffes (as well as many other animals); guided hikes and horse rides to kayaking.
Address: Sir Bani Yas Island, Abu Dhabi
3. Fairmont Bab Al Bahr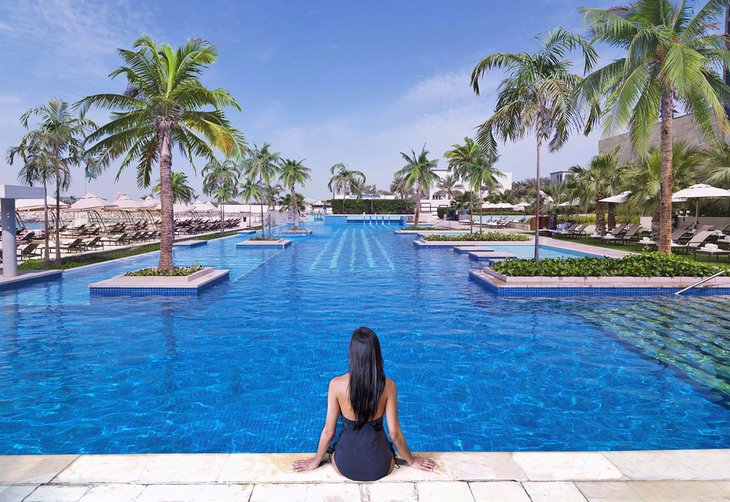 Straddling the mainland side of the shore of the Khor Al-Maqta, directly overlooking the Sheikh Zayed Grand Mosque from the Olympic-length pool and long strip of white-sand beach, the Fairmont offers guests some of the best views in town.
While most Abu Dhabi resorts play on opulent, traditional Arabic design in their architecture, the Fairmont Bab Al Bahr takes a thoroughly contemporary approach to style.
All rooms are decked out with a modern, minimalist flair that utilizes a soothing palette of chocolate and oatmeal. To wake up with vistas of the Sheikh Zayed Grand Mosque, upgrade to a Fairmont View Room.
The six restaurants here include the city's renowned Marco Pierre White Steakhouse, as well as his New York Italian Restaurant. While there are more casual eating options, with mosque and waterfront views, and a Mediterranean menu, in the beach garden setting of Mazaj Bab Al Bahr.
This is a great choice for families, with a designated children's swimming pool area and the Flamingo Kids Club providing a soft play area, a Lego wall, and activities that range from movie screenings to interactive gaming.
Families traveling with active teens will also appreciate the resort's watersports facilities, with paddle-boards and kayaks both available to rent.
Address: Khor Al-Maqta, Mainland
4. Qasr Al Sarab Desert Resort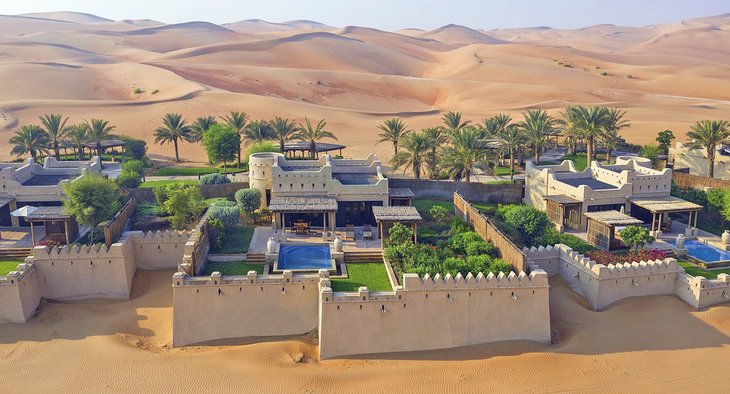 Located in the Liwa Oasis, on the edge of the Rub Al-Khali's (Empty Quarter's) rolling sea of sand dunes, the Qasr Al Sarab is the ultimate desert destination.
Rimmed by orange and apricot dunes, this resort is all about soaking up the desert scenery without sacrificing your comfort.
Designed to blend traditional desert architecture with hints of palatial Arabic style, rooms here offer guests a sumptuous and tranquil retreat from city life. All have terraces overlooking the rolling desert beyond the resort's lush gardens of palm trees. For the best desert vistas, upgrade to a deluxe terrace room.
Despite the resort's remote location, you're not sacrificing any creature comforts here, so expect your dining experience to live up to the high standard you'd find in Abu Dhabi city itself.
Suhail is the resort's rooftop steak restaurant, where dining comes with vistas across the surrounding roll of dunes, and Ghadeer serves a globe-trotting menu of firm favorites, beside the swimming pool. There are also options to arrange private dining experiences, under the stars in the desert.
It's all about making the most of the desert environment, right on the resort's doorstep, here. Available activities range from guided sunrise and sunset desert walks and 4WD dune trips to camel and horse trekking and traditional falconry shows.
For adrenaline fans, sandboards are available to rent, so you can set off into the surrounding dunes for some speed-fueled fun.
If you want to relax, though, simply head to the pool or book a hammam (Turkish bath) treatment or Thai-style massage at the spa.
Address: Qasr Al Sarab Road, Hamin, Liwa Oasis
5. Park Hyatt Abu Dhabi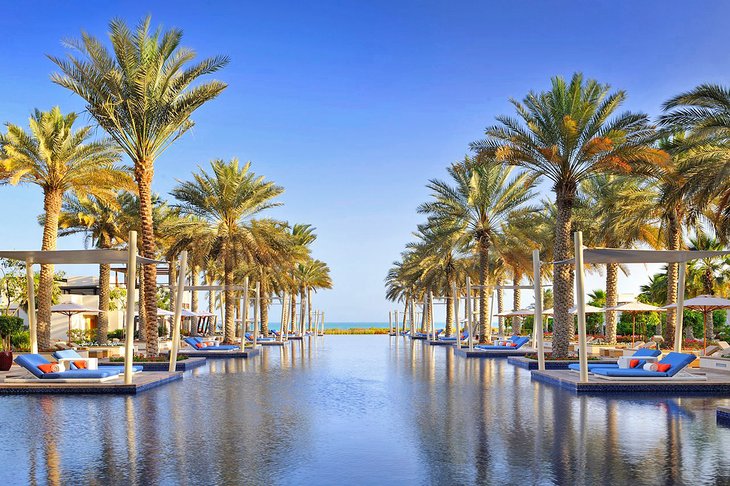 For a true beach resort experience, still within the city, Saadiyat Island is Abu Dhabi's top location, and the Park Hyatt Abu Dhabi has scored one of Saadiyat's premier swathes of soft white sand.
The sprawling nine-kilometer beachfront here, lapping the turquoise waters of the Gulf and backed by a massive swimming pool rimmed by palm trees, is the resort's trump card.
For even more relaxation, the Atarmia Spa offers another lap pool and a spa menu that ranges from sport massages to lavish beauty treatments.
Capitalizing on the sea-and-sand atmosphere it's known for, the Park Hyatt also offers boat trips around Abu Dhabi's mangrove area and islands.
Guests have plenty of dining options within the resort and often feel no need to head outside for evening meals. The Park Grill is all about fine dining with its succulent seafood and meat dishes, while the Beach House provides Mediterranean cooking right on the beach for premier sea views while you dine.
All the 306 rooms, suites, and villas have balconies to make the most of the resort's beachfront location. Upgrade to a Sea View Room for direct beach vistas. Villas come with private plunge pools and direct beach access.
Address: Saadiyat Island, Abu Dhabi
6. Anantara Eastern Mangroves Abu Dhabi Hotel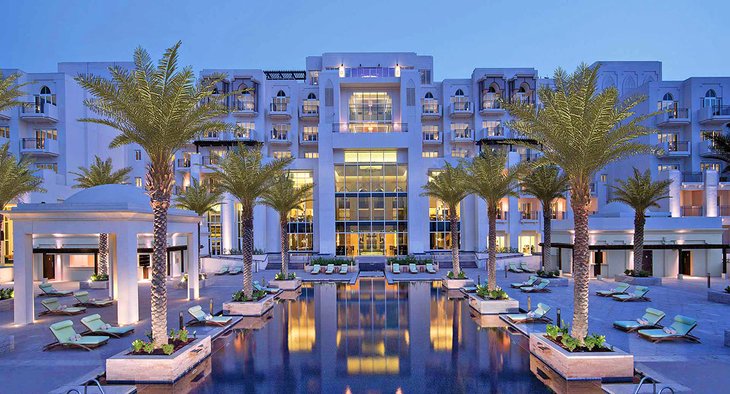 Fronting Abu Dhabi city's sprawling mangrove national park, the five-star Anantara Eastern Mangroves Abu Dhabi Hotel is a tranquil retreat right in the city.
All the light-filled rooms at the resort have balconies and a modern design accented in a palette of light pastel tones.
To make the most of this resort's unique position, make sure to book a Deluxe Mangrove View room, so you can sit out on your balcony with a serene vista overlooking the water and vast expanse of mangrove forest.
Particularly well-known for its award-winning Anantara Spa, this is the resort to pick if you want to compliment your Abu Dhabi city break with some pampering.
As well as the multitude of hammam (Turkish bath) rituals offered, which showcase traditional hammam culture from across the Middle East and North Africa, there's a huge spa menu of massage remedies, body treatments, and facials.
The infinity pool, fronting the waterfront, provides a serene ambience for further chilling out, and if you're itching for activities right on the doorstep, book a kayaking or stand-up paddleboard tour of the mangroves.
The pool is also the setting for the Mediterranean-inspired flavors and Middle Eastern mezze dishes of The Pool Deck restaurant, while there are more global offerings and themed evenings at Ingredients restaurant.
For foodie travelers, there's also the option of signing up for the resort's Spice and Spoon cooking class, which takes you out to purchase fresh seafood at Abu Dhabi's Al Mina Market and back into the kitchen with the chef to create Middle Eastern cuisine classics.
While rooms are contemporary in feel, the lobby and other common areas utilize components of regal Arabic design to create a sumptuous palatial ambience.
Address: Sheikh Zayed Road, Eastern Mangroves, Abu Dhabi Island
7. Four Seasons Al Maryah Island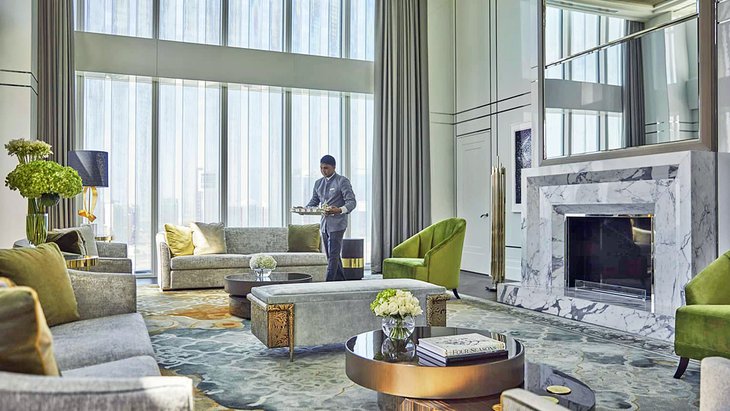 Just a short jaunt into central Abu Dhabi, the Four Seasons Al Maryah Island is an ultra-contemporary resort rising up from the waterfront on Al Maryah Island, the city's purpose-built new downtown hub.
This city-slicker five-star caters equally well to vacationing families and its business travelers and conference guests. Families benefit from the daily schedule of entertainment organized for younger travelers through the complimentary Kids For All Seasons program.
Six restaurants offer oodles of dining choice. Take your pick from Chicago-style steaks at Butcher & Still or pasta and seafood dishes at Café Milano, while the outdoor terrace of Al Meylas Lounge, with its views over to the glinting skyscrapers of Abu Dhabi Island, is a top destination for afternoon tea.
Although there's no beachfront here, the expansive third-floor pool terrace offers plenty of space for swimming and sunbathing and maximizes those city skyline views.
Further relaxation can be found in the Pearl Spa, which specializes in ultrasophisticated treatments and therapies with a distinctly local twist, such as massages utilizing Arabian oud.
Rooms and suites here combine lashings of white with accents of oatmeal and gray to create a chic, serene interior, while the floor-to-ceiling windows make the most of the waterfront panoramas.
Address: Abu Dhabi Global Market Square, Al Maryah Island, Abu Dhabi
8. Emirates Palace Mandarin Oriental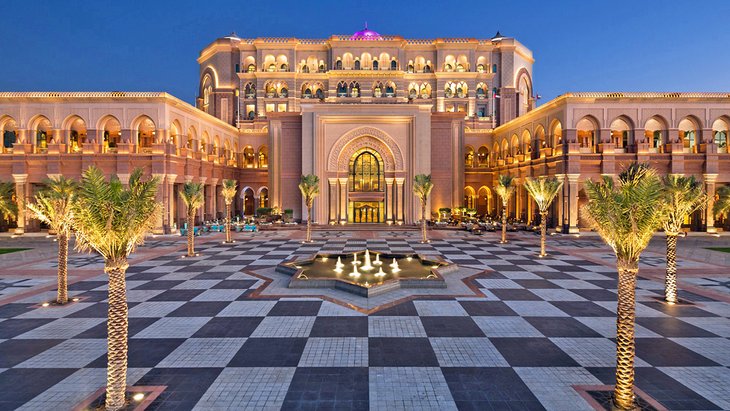 The Emirates Palace is one of Abu Dhabi's most iconic buildings, as well as the most famous five-star resort in the city.
The grand, multiple-domed stone complex sits right on Abu Dhabi's Corniche, surrounded by palm tree gardens and rimmed by soft white-sand beach.
This is the place you come to immerse yourself in glitz and glamour and enjoy the regal atmosphere amid opulent interiors festooned with marble, gold-leaf gilding, and mosaic tiles.
Dining options here are, unsurprisingly, first class, with nine restaurants to choose from. Martabaan offers contemporary Indian cuisine created by renowned chef Hemant Oberoi. The Chinese menu at Hakkasan has made it one of Abu Dhabi's most lauded restaurants and, in the main atrium, Le Café serves up the city's most decadent afternoon tea.
For relaxation beyond the pool and wide swath of private beach, the expansive Emirates Palace Spa offers decadent treatments and hammam (Turkish bath) rituals amid an ornate Moroccan-styled interior replete with columned arches and mosaic tile detailing. Signature treatments utilize gold and ghassoul clay.
For more active guests, there's an entire swath of water sports on offer from kayaking, windsurfing and jet-skiing, to boating from the resort's private marina.
Rooms and suites, all with balconies either overlooking the gardens and skyscrapers beyond, or waterfront, blend European palace-style furnishings with accents of Arabic design for a fittingly regal atmosphere and come with 24-hour butler service.
Address: West Corniche, Abu Dhabi Island
9. The St. Regis Saadiyat Island Resort, Abu Dhabi
Rimming a prime sweep of white-sand private beach, the St. Regis Saadiyat Island Resort is one of Saadiyat Island's best beach resorts and is also a favored destination for golfers, as it neighbors the exclusive Saadiyat Beach Golf Club.
This five-star resort has eschewed the palatial design of many other resorts in the city to instead focus on a breezy Mediterranean-inspired style, with rooms and suites (which all come with butler service and balconies) decorated in a contemporary palette of soothing neutrals and natural stone and rattan accents.
With three outdoor swimming pools (including one reserved for children), as well as the beach and the Iridium Spa, which specializes in bespoke therapies and beauty treatments, there's plenty of space for guests who simply want to relax.
More active guests can tee off at the 18-hole course of Saadiyat Beach Golf Club, which was designed by Gary Player, or take advantage of the on-site facilities of the St. Regis Athletic Club, which include an extensive state-of-the-art gym, squash courts, and tennis courts.
Dining here offers plenty of choices for guests, too, ranging from the Asian flavors of Sontaya Restaurant to the Mediterranean menu of Olea. While families here will find children's menus offered at all the resort's seven restaurants.
Address: Saadiyat Island, Abu Dhabi
10. Intercontinental Abu Dhabi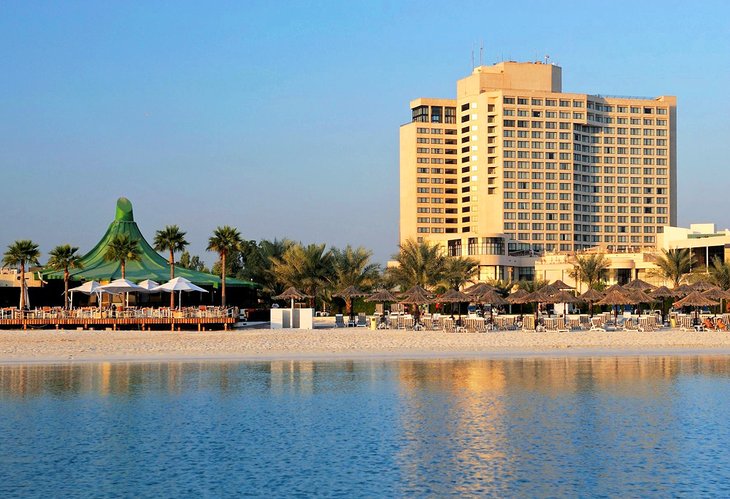 One of Abu Dhabi's longest-running resorts, the Intercontinental Abu Dhabi has kept up with newer five-star players with a complete renovation and upgrade of its waterfront and manicured tropical garden grounds.
The resort boasts a marina with space for 183 yachts, a long sweep of beach, multiple pools, and oodles of family-friendly outdoor facilities, including a separate pool area for kids and a children's playground area.
Six of the restaurants here are located on the marina, offering diners waterfront vistas. Cho Gau Marina Walk dishes up a fusion of Asian flavors and is one of Abu Dhabi's favorite casual dining destinations, while Byblos Sur Mer serves fine dining Lebanese classics with sea views from the terrace.
The rooms and suites are decked out in a contemporary business-travel style.
Address: King Abdullah bin Abdul Aziz Al Saud Street, Abu Dhabi Island
11. Rixos Premium Saadiyat Island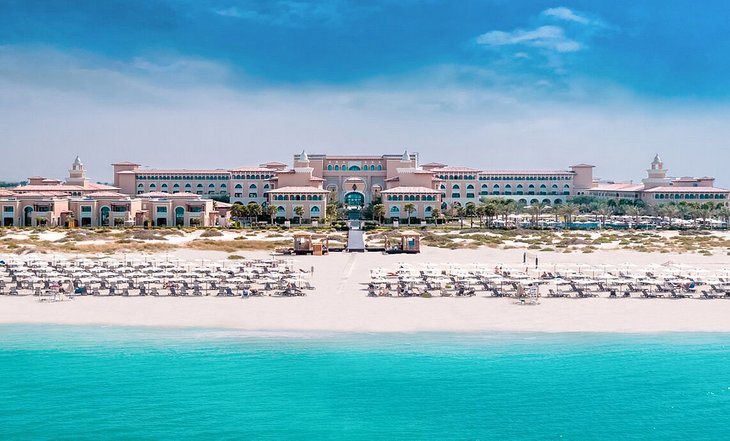 Known for its family-friendly focus and all-inclusive five-star amenities, the Rixos Premium offers families relaxed stays right on Saadiyat Island's beachfront.
Younger members of the family won't get bored here, with a water park, two pools reserved for children, oodles of activities and excursions organized by the Rixy Kid's Club, as well as a regular program of evening entertainment.
The resort's huge main pool sits amid manicured palm gardens, which front the wide strip of private beach. Paddleboarding and a range of other water sports are available if you don't want to simply sloth on the sand.
If you need further pampering after a long day at the beach, the Rixos Spa offers traditional Turkish hammam (Turkish bath) experiences, as well as a wide variety of massage treatments and beauty rituals.
With seven restaurants, there's plenty of dining choice for everyone here, whether you feel like Italian at O'Livio, teppanyaki and sushi at Aja, or traditional Turkish at Orient.
Rooms and suites (all with balconies) are designed in a fresh, contemporary style utilizing bold accents of green and blue. Accommodation choice for traveling families ranges from large family suites to four-room villas with private pools.
Address: Saadiyat Island, Abu Dhabi
12. Radisson Blu Hotel & Resort, Al Ain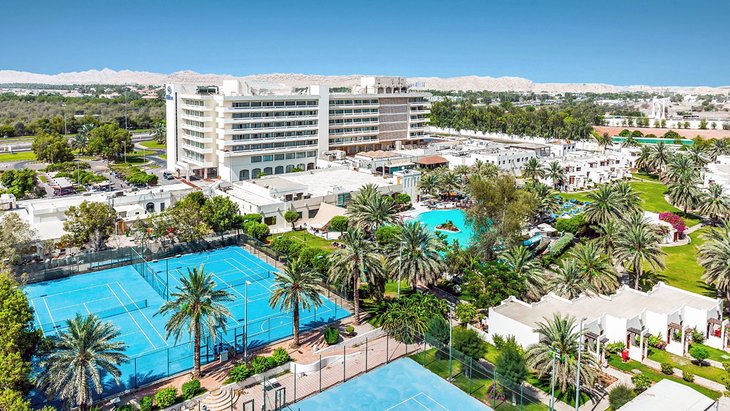 In the east of the Emirate of Abu Dhabi, 173 kilometers from Abu Dhabi city, the oasis town of Al Ain is a favored weekend getaway destination. Cocooned within a swath of palm-tree-trimmed lush gardens, the good-value Radisson Blu offers Al Ain's best relaxing resort stay.
There are three mammoth swimming pools here; tennis courts; and a spa offering a menu of massages and beauty treatments if you simply want to chill out, swim, and sunbathe.
For dining, guests who don't feel like heading into town are well catered for with Mexican cuisine at Paco's and traditional Arabic dishes at Makani.
Accommodation choice ranges from rooms and suites through to studios and villas. All use an unfussy, modern approach in the decor. It's worthwhile upgrading to a Superior Room for the balcony.
Address: Al Sarooj District, Al Ain, Abu Dhabi
Map of Resorts in Abu Dhabi