10 Best All-Inclusive Resorts in Dubai
Dubai's all-inclusive resorts are just as popular with city-slicker travelers as beach-goers.
Because most visitors are likely to be spending time heading out of the resort to enjoy all the things to do in Dubai–picking up shopping bargains at the city's famed mall sales, sampling the city's world-class dining, and enjoying a day out at one of the theme parks–you'll find far fewer all-inclusive resort concepts than you would in other beach destinations.
Most of the large resorts in Dubai, though, do offer all-inclusive deals and packages along with their more regular bed-and-breakfast (or room-only) rates.
These can be good value in comparison, particularly if you're traveling as a family and are aiming to spend most of your time on one of Dubai's beaches soaking up the sun.
The prime resort season here stretches from November to February when the weather is balmy and the resorts are lively with plenty of families who fly in for a dose of winter sunshine. The shoulder seasons of October and March to April can be good for bagging an all-inclusive deal bargain.
Check out where to search for deals with our list of the best all-inclusive resorts in Dubai.
1. Rixos The Palm Hotel & Suites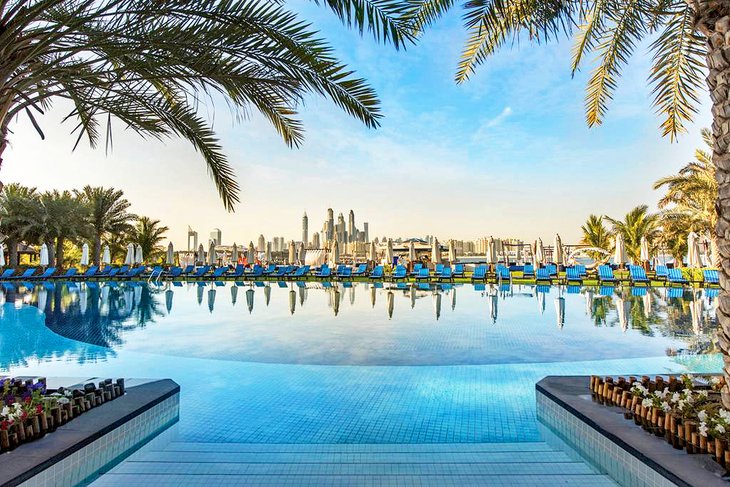 Rixos The Palm sits on the eastern tip of Dubai's famed man-made Palm Jumeirah islands, secreted amid lush, mature gardens of palms and fronting a long swoop of private white-sand beach with views that look back at Dubai's skyline across the water.
The huge main swimming pool dominates the center of the resort, while a separate lap pool provides extra space for swimmers and a small children's pool offers little ones water playground equipment.
Four main restaurants make sure there is dining for all tastes on tap, whether you're looking for a romantic dinner or a family-friendly experience.
L'Olivo's menu takes inspiration from traditional Mediterranean flavors, while Toro Loco is a carnivore's favorite offering wagyu, Argentinian, and Canadian dry-aged steaks.
For guests here for a spa break, the Anjana Spa is a tranquil haven set amid the gardens with its own traditional hammam (Turkish bath) on-site for indulgent hammam rituals, as well as a full menu of body and beauty treatments.
The 316 rooms and suites are designed in a slick contemporary style, with wooden panel features adding a tropical vacation accent. All have floor-to-ceiling windows for a light-drenched ambience, opening out onto balconies that overlook the gardens or the sea.
Address: East Crescent Road, Palm Jumeirah
2. Sofitel Dubai The Palm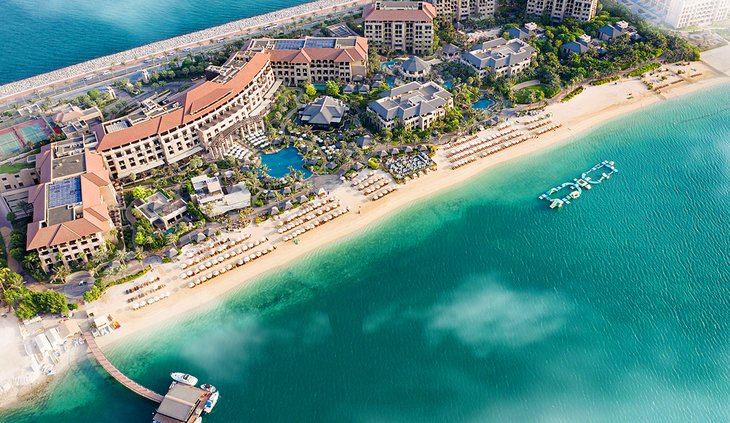 Straddling a long slice of private beach on the Palm Jumeirah's crescent, Sofitel Dubai The Palm is a tropical hideaway with five-star facilities on tap.
There are six swimming pools here, including a waterslide pool for the kids to splash about in and a large lagoon-like central pool set amid lush palm tree gardens.
The spa here specializes in French-Polynesian beauty traditions, with a full range of rejuvenating body and beauty treatments on-site, making the Sofitel a popular destination for a spa break.
The 320 good-sized rooms and suites are classically designed, with accents of warm-toned wood. All have balconies though for a sea view, you need to upgrade from a classic room to a luxury room.
For a more boutique hotel experience, opt to stay in the resort's The Palm Signature Collection annex. The suites here are decorated in a modern-luxury style of blonde wood and cream-on-cream soft furnishings and come with large balconies overlooking the gardens, 24-hour butler service, and complimentary Sofitel Spa access.
There are five restaurants as well as five more lounging, café, and entertainment venues, so there's never an issue with dining choice.
The indoor-outdoor dining under the pagoda of Moana Restaurant is a favorite for sampling pan-Asian flavors and fresh seafood, while Porterhouse Steaks & Grill delivers some of the best beef in the world to your plate.
Families are well-looked-after here as well, with Sofitel's kid's club providing a full program of activities and entertainment for under-12s and a babysitting service that allows parents a night off when needed.
Address: Crescent Road, Palm Jumeirah
3. JA Palm Tree Court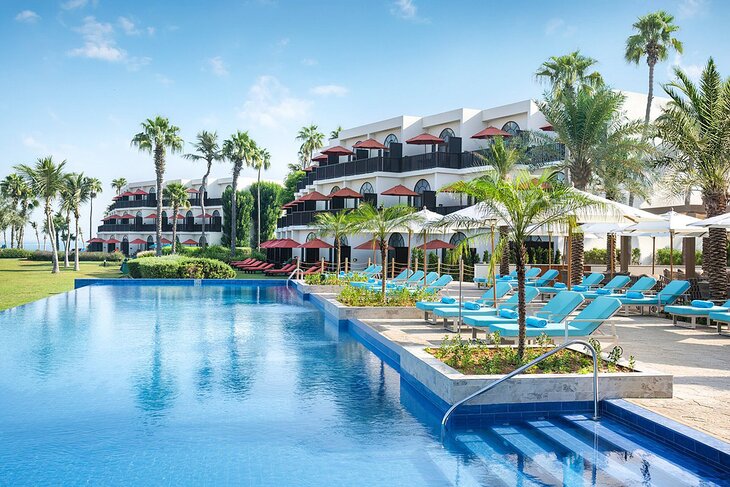 The JA resort complex is cocooned within palm-studded, manicured grounds, fringed by a swoop of white sand beach, on Dubai's southwest coast.
JA Palm Tree Court is the most exclusive of the three JA resorts here, comprising 212 suites overlooking lush gardens or the beachfront.
This resort is dedicated to providing full facilities for whatever your vacation needs from resort-goers simply seeking a tranquil beach hideaway to the more activity-focused guests.
There are 25 eating venues spread across the complex offering a choice for every type of diner from a casual burger night at Smokin' Gun to modern Spanish cuisine at Taperia.
Families have plenty of options at their fingertips from the waterslides of the resort's splash park and a mini-golf course, to tennis lessons at the JA Tennis Academy and horse riding at the equestrian center. A wide variety of activities and entertainment is also provided by the resort's Pirates and Mermaids Kids Club.
The number of water sports available here, from SUP and wakeboarding to diving and yachting, will satisfy even the most enthusiastic water enthusiast. While back on land, the nine-hole Par 35 championship golf course has been played by many golf luminaries including Tiger Woods.
If that all sounds too energetic for a beach holiday though, the long stretch of private white sand beach and seven swimming pools provide all your sun-sloth needs, and the spa offers a wide range of beauty and rejuvenation treatments for further relaxation.
Address: Mina Jebel Ali
4. Jumeirah Mina A'Salam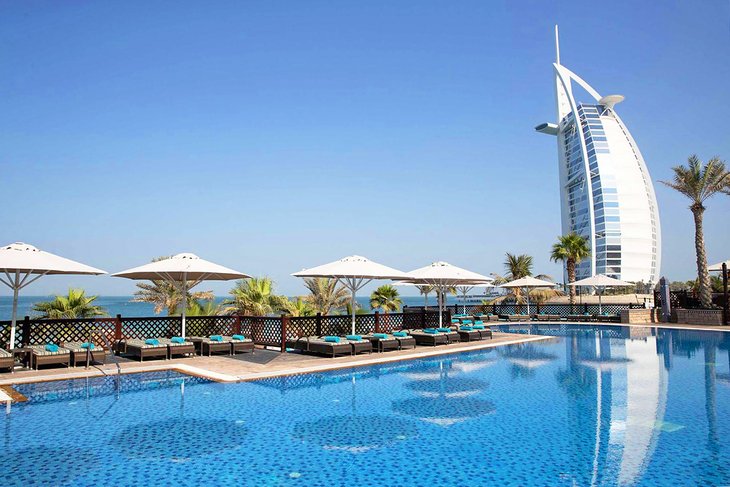 The Jumeriah Mina A'Salam has been architecturally designed in traditional Arabian Gulf style, with buildings topped by wind towers, and is set amid the man-made canals of the Madinat Jumeirah district.
Fronted by a two-kilometer sweep of private white-sand beach, this is a five-star resort that manages to be both infused with local character and fully devoted to sun, sand, and sea.
The prime slice of sand here, rimmed by palm trees, hosts stunning views of the Burj Al Arab just offshore and is home to an infinity pool, while there's another larger pool set back from the sand as well.
For resort-goers who want to get off the sand, the watersports operator offers a good range of activities from jet-skiing to boating and kayak hire. There are also tennis and squash courts as well as a wide range of workout classes, as well as personal training, available at the resort's J Club.
This is a hugely popular resort with families thanks to all guests having complimentary access to Wild Wadi Waterpark, just a short 600-meter hop to the north.
Guests also have complimentary access to the Madinat Jumeriah district's abra (small traditional boat) tours that shuttle around the waterways.
Dining is a particular strength of this resort, which allows guests to take a globe-trotting journey whether you fancy modern Chinese flair at Zheng He's, Mexican cuisine at Tortuga, or the pan-Mediterranean menu of Shimmers right on the beachfront.
Rooms and suites merge grand Arabesque design features with chic contemporary style, and all come with balconies.
Address: Jumeirah Street, Madinat Jumeirah, Umm Suqeim 3
5. Al Maha, a Luxury Collection Desert Resort & Spa, Dubai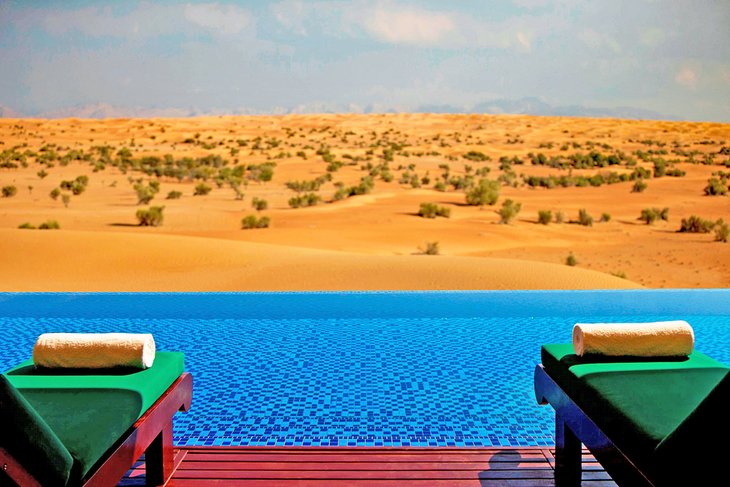 For an exclusive desert experience, the Al Maha Desert Resort & Spa is the ultimate wilderness escape, set in a palm-ringed oasis amid the protected landscape and wildlife of the Dubai Desert Conservation Reserve, 65 kilometers south of central Dubai.
This sumptuous boutique resort has 42 suites, all with luxe Bedouin-inspired interiors featuring tented ceilings, handcrafted Omani doors and woodwork, antiques, and art.
The suites open out onto sun decks with private plunge pools, where you can soak up the surrounding vista of orange sand dunes that roll out to the horizon.
It's all about experiencing the desert here, with guests setting out on 4WD safaris to spot the reserve's population of Arabian oryx, going camel and horse trekking across the dunes to watch the sun set, or opting to experience the raw beauty of the Dubai Desert Conservation Reserve on a nature walk.
When your desert adventures are done, Al Maha's Timeless Spa provides a host of treatments and healing therapies cherry-picked from cultures across the world, as well as a large outdoor swimming pool.
Al Diwaan is the resort's main restaurant, with a menu of international cuisine served on the terrace. For an extra-exclusive dining experience though, the resort can arrange dining atop a dune under the night sky, or dining on your suite's private deck.
Address: Dubai Desert Conservation Reserve, Dubai-Al Ain Road
6. Waldorf Astoria Dubai Palm Jumeirah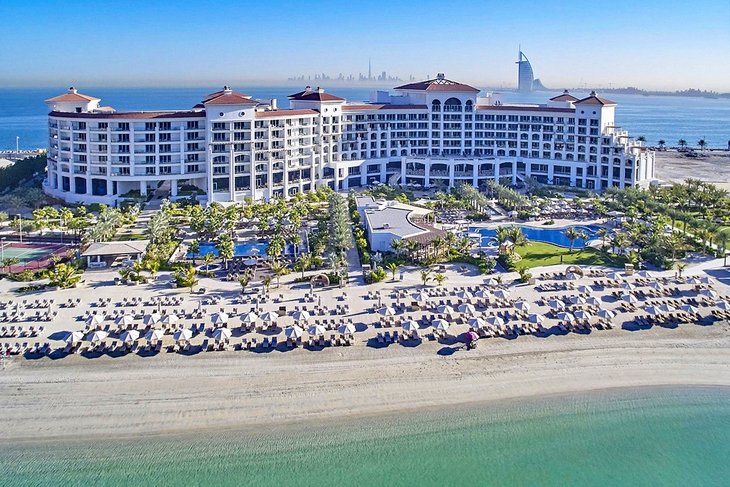 The Waldorf Astoria Dubai Palm sits astride a strip of private white-sand beach on the northern stretch of the Palm Jumeirah's eastern crescent.
This resort has 319 spacious rooms and suites, all decked out in an elegant European style utilizing white and soft pastel tones against warm-toned wood.
All come with floor-to-ceiling windows for a light-filled ambience, good-sized balconies, walk-in closet dressing rooms, and a personal concierge service that will help with any requests throughout your stay. For direct sea views, upgrade to a King Deluxe Room.
This is a resort that foodies will love. It is home to three-star Michelin Chef Heinz Beck's modern Italian restaurant Social, and there are five other dining and entertainment venues here as well. Lao offers a menu of pan-Asian flavors, while Palm Avenue brings California-style comfort food to Dubai.
At the center of the resort are two large swimming pools, while on the beach, the Waldorf Astoria's dedicated water sports operator organizes wakeboarding, parasailing, fishing trips, boat cruises, and a variety of other water-based activities for guests who want to do more than relax.
If that all sounds too strenuous, though, the Waldorf Astoria Spa is a destination in itself for guests seeking a spa break. This is the place to indulge in one of the spa's signature Pearl Purifying and Gold Rejuvenating Hammam rituals, or treat yourself to a facial therapy using LING skincare methodology.
Address: East Crescent Road, Palm Jumeirah
7. Burj Al Arab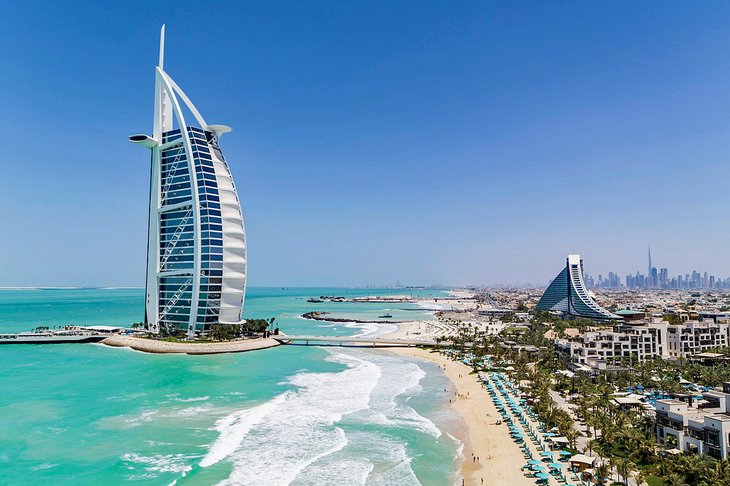 One of Dubai's landmark buildings, the distinctive sail-shaped high-rise of the Burj Al Arab sits on its own private island just off Jumeirah Beach.
If you're looking for an ultra-luxe all-inclusive experience this is the city's most famous choice.
Considered the pinnacle of modern luxury, the Burj Al Arab offers an all-suite experience in one of the world's most iconic hotels, soaking up its over-the-top sumptuous interiors.
The 209 suites are lavishly designed with colorful regal flair, gold accents, and nods to palatial 19th-century European furnishing style.
All are duplex-style and come with stunning floor-to-ceiling views over the sea or coast, separate living rooms, dedicated dressing rooms, Hermes amenities in the bathroom, and a world-class personal butler service.
Guests also have unlimited access to Summersalt Beach Club and Wild Wadi Waterpark during their stay, both directly opposite the Burj Al Arab island, a 400-meter hop across the bridge to the east.
There's no need to take the short stroll to the beach club, though, if you don't want to leave the hotel grounds–the Burj Al Arab's own man-made beach terrace covers 10,000 square meters with a private white sand beach, large swimming pool, four Jacuzzis, and a separate curved saltwater infinity pool jutting out over the sea.
The resort's Talise Spa makes this a world-class spa break destination with its signature spa journey packages, massages, beauty therapies, and renowned leg treatments.
There are nine restaurants and entertainment spaces here that rate among Dubai's most feted dining spaces.
The one Michelin-starred Al Muntaha serves French and Italian fine dining with panoramic vistas across the city, while Ristorante L'Olivo at Al Mahara is the Dubai branch of Capri's two Michelin-starred Ristorante L'Olivo, serving fine dining seafood dishes with views into the huge aquarium that dominates the center of the dining room.
Address: Burj Al Arab Island, Umm Suqeim 3
8. Oaks Ibn Battuta Gate Dubai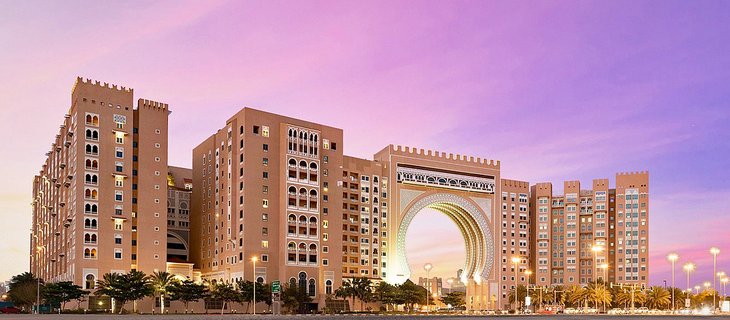 For an all-inclusive option not on the beach, the Oaks Ibn Battuta is a five-star choice with easy access to shopping (next door to the vast Ibn Battuta Mall), city attractions, and the sand.
The resort is themed around the adventures of the famed 14th-century traveler Ibn Battuta, with interior and architectural influences within the hotel cherry-picked from across the world he traversed and documented.
Guests have complimentary access and shuttle service to the sand of the exclusive Riva Beach Club, while the resort's large rooftop pool provides plenty of space to sunbathe and swim on-site.
For further relaxation, the Soul Senses Spa offers a full range of therapies and treatments using natural ingredients such as eucalyptus, lavender, and cedar wood in revitalizing body scrubs and rejuvenating massages.
With five restaurants and cafés, dining is a particular delight of a stay here. Don't miss a dinner of Middle Eastern flavors at Al Bahau, served underneath the grand atrium's soaring 90-meter ceiling strung with 88 Moroccan lamps.
The 396 rooms and suites are styled in a classic modern design with subtle nods to traditional Arabic design such as mashrabiyya screen features.
Address: Sheikh Zayed Road, Jebel Ali
9. Jumeirah Beach Hotel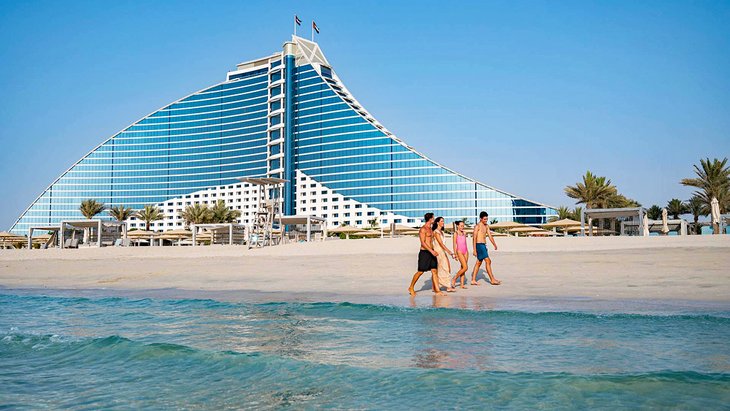 The curvaceous wave-shaped glass high-rise of the Jumeirah Beach Hotel is a Jumeirah Beach district landmark fronted by a private two-kilometer slice of white sand.
Well fitted-out for traveling families, there is an excellent kids' club here offering a range of activities and a large family swimming pool. Guests also have unlimited access to Wild Wadi Waterpark, a short 400-meter hop to the south.
The Jumeirah Beach Hotel has five swimming pools in total, so there's a space for every style of guest beside the pool.
The spacious rooms and suites are designed in a chic contemporary design with natural tones, stone accents, and floor-to-ceiling windows with stunning views across the beachfront and sea. Upgrade to an Ocean Deluxe Balcony for a balcony.
There are eight dining and entertainment spaces here, so even the pickiest eater will find a favorite restaurant, whether it's the global flavors and family-friendly atmosphere of Kitchen Connection or the European brasserie-style dishes of Bastion, which offers skyline views from the 25th floor.
Address: Jumeirah Street, Um Suqeim 3
10. Movenpick Hotel Jumeirah Beach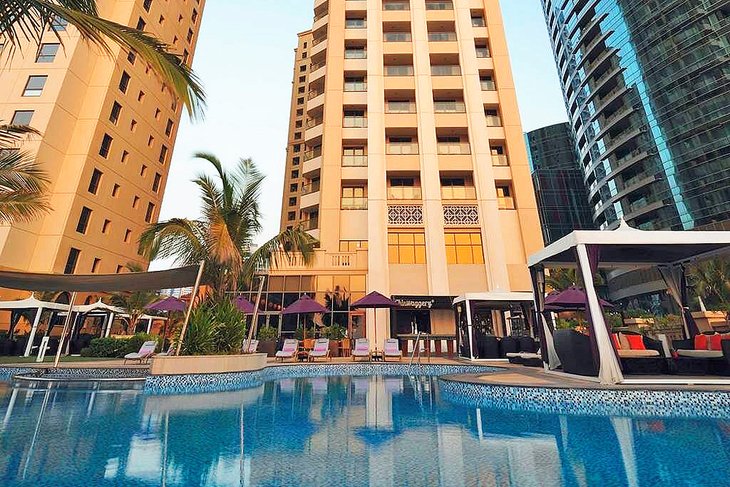 All the attractions, activities, and shopping of the JBR Beach area and Dubai Marina are at your fingertips if you stay at the Movenpick Jumeirah Beach, making its all-inclusive option a good choice for guests who still want to head out of the hotel.
Although the Movenpick doesn't have its own private beach, the wide stretch of the famous JBR Beach is just a couple of steps away.
For sunbathing and swimming in the resort's privacy, head to the swimming pool with its cabanas as well as sun loungers. The Body Talk Wellness Center Spa offers a wide range of beauty treatments, massages, and body therapies.
Six restaurants and café venues offer guests global dining right on-site, from the New York-style casual bistro cooking of Soul to the live cooking stations and international buffets of The Talk.
Rooms are modern and bright and all come with small balconies, though you'll need to upgrade for a sea view.
Address: The Walk, Jumeirah Beach Residence, Dubai Marina
Map of All-Inclusive Resorts in Dubai
Dubai, United Arab Emirates - Climate Chart
Average minimum and maximum temperatures for Dubai, United Arab Emirates in °C
J
F
M
A
M
J
J
A
S
O
N
D

23

14

23

15

27

17

31

21

36

24

38

27

39

29

39

30

38

27

34

23

30

19

25

16

PlanetWare.com
Average minimum and maximum temperatures for Dubai, United Arab Emirates in °F
J
F
M
A
M
J
J
A
S
O
N
D

73

58

74

59

80

63

88

69

97

76

100

80

103

85

103

86

100

81

93

74

86

67

77

61

PlanetWare.com