14 Best Resorts in Turks and Caicos
We may earn a commission from affiliate links ()
If you're looking for an unforgettable holiday, you'll find it in Turks and Caicos. A stunning archipelago of pristine islands ringed by sugar-white sandy beaches and the most turquoise of seas, this is one of the best places to visit for a beach vacation. It is also home to some of the most stunning resorts in the Caribbean.
Whether you're searching for a top beach resort for families, a romantic resort for a couples' retreat, or a luxury resort that boasts five-star service and top-notch amenities, you'll find it (and so much more) in Turks and Caicos.
While you're here, carve out time to explore the islands' most interesting tourist attractions, snorkel along the area's impressive coral reefs, and bask in the sun's warm rays beside your villa's private infinity pool.
Before you go, find the perfect spot to eat, play, and relax with our list of the best resorts in Turks and Caicos.
1. Ambergris Cay–Turks & Caicos Islands, Ambergris Cay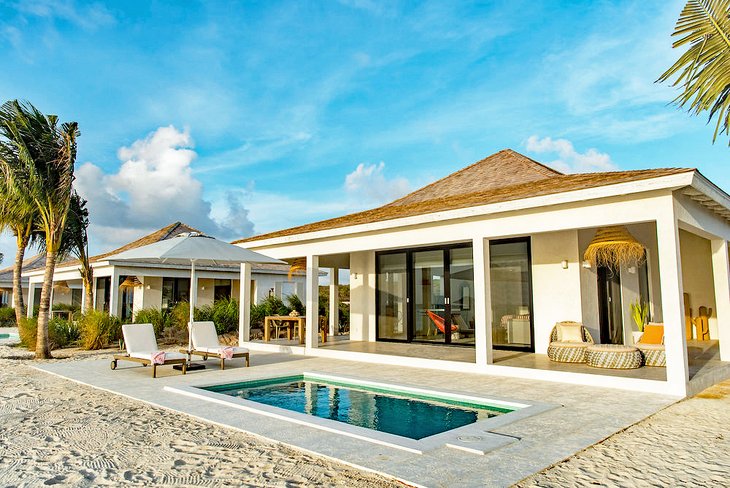 All non-motorized water sports are included with your stay, as is every meal and the beverages you'll need to stay hydrated after spending so long on the silky soft sand of the immaculate, sun-drenched beach on Ambergris Cay.
Boat excursions (including a sunset sail and snorkeling tour) are also part of your stay, as is use of the tennis and pickleball courts, bike rentals, and access to the swimming pool. Hop in a golf cart to explore the property, sign the kids up for some fun in the Explorer's Hut (ages 4 to 12 only), take a complimentary fishing lesson or a guided nature walk, or enjoy a kayaking excursion.
The 10 one-bedroom beachfront suites are particularly stunning, and you can't beat the ocean view from your bed, not to mention the plush plunge pool and outdoor shower. There are also nine three-, four-, and six-bedroom villas available at this intimate resort.
2. The Meridian Club, Pine Cay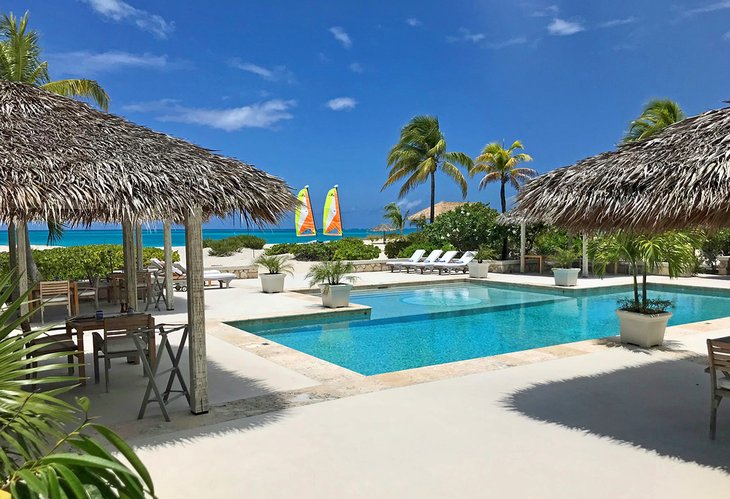 Choose from 11 beachfront rooms, or stretch your budget further for a beachfront luxury cottage or villa. This is another of the best all-inclusive resorts in Turks and Caicos, and the only thing you'll have to worry about while vacationing in this elysian spot is which activity to try next.
Should you make a splash in the crystalline turquoise water; swan dive into the pristine pool; practice yoga on the beach; snorkel the nearby barrier reef (the third largest in the world); kayak; sail; or enjoy a relaxing treatment in the Balinese Spa? Let your mood decide.
3. Beach Enclave Turks and Caicos, Providenciales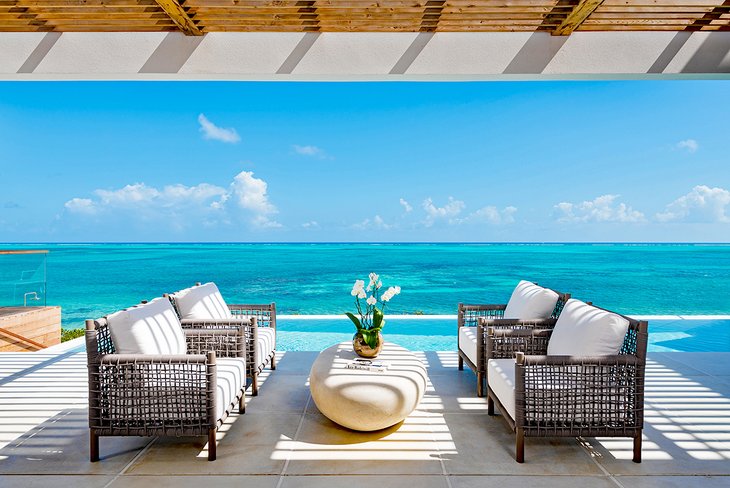 Not sure which water sport to try first? Your butler can help decide and book your activities, so you don't have to stress. He or she will even make a complimentary breakfast in your fully equipped kitchen. The resort's grocery service makes it easy to be sure you always have treats on hand.
At Beach Enclave Turks and Caicos, each opulent villa is as beautiful as you'd expect from a five-star resort. They come complete with floor-to-ceiling windows that showcase the real star of this resort: its stunning ocean views. You'll also be privy to a private infinity pool, walk-in closets, and expansive modern bathrooms, and some villas include an outdoor shower and soaking tub.
4. Seven Stars Resort & Spa, Grace Bay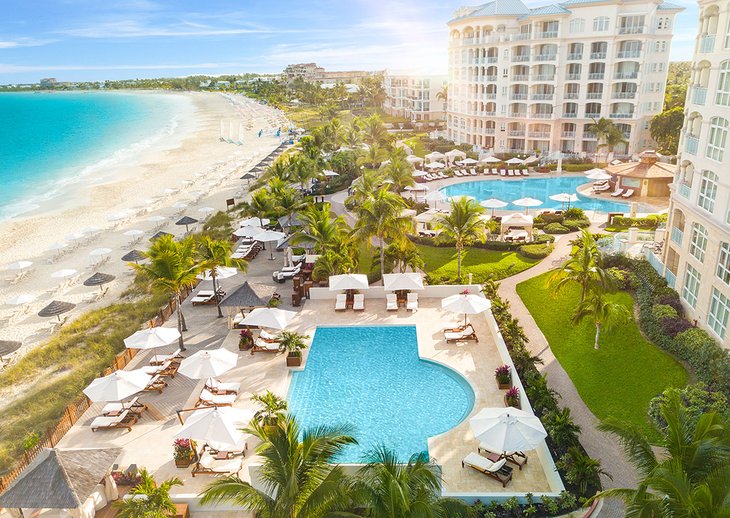 The luxurious all-suite rooms are bright and airy, as well as extremely comfortable, which makes it easy for kids to feel right at home. The rooms feature high-end furniture and linens, as well as plenty of space to stretch out. Marble bathrooms and a soaking tub are decadent additions that turn bath time into a deluxe affair.
5. The Somerset on Grace Bay, Providenciales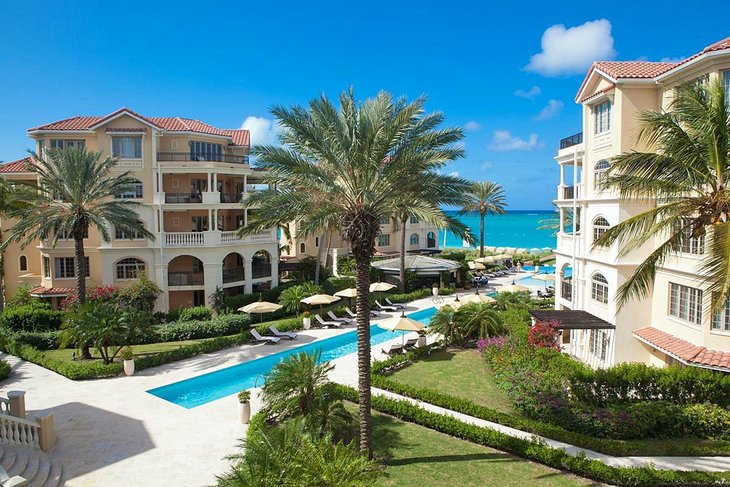 Luxury: The guest rooms are as pleasing as the breathtaking ocean and beach views. Choose from 53 lavish accommodations that range from gorgeous waterfront estates to ocean-view villas to a 5,300-square-foot, five-bedroom penthouse estate.
Style: The resort's designers chose to enhance each room's stellar views with Caribbean highlights like dark wood furniture and brightly colored fabric accents so divine, you'll hate to leave your deluxe space.
Service: Your tastebuds will delight in the dishes on offer at the multiple dining options, or you can up the romance factor by booking a private meal on the beach. Not sure where to dine first? Contact the helpful concierge. They'll offer spot-on recommendations instantly and make a booking on your behalf when required.
6. Grace Bay Club, Providenciales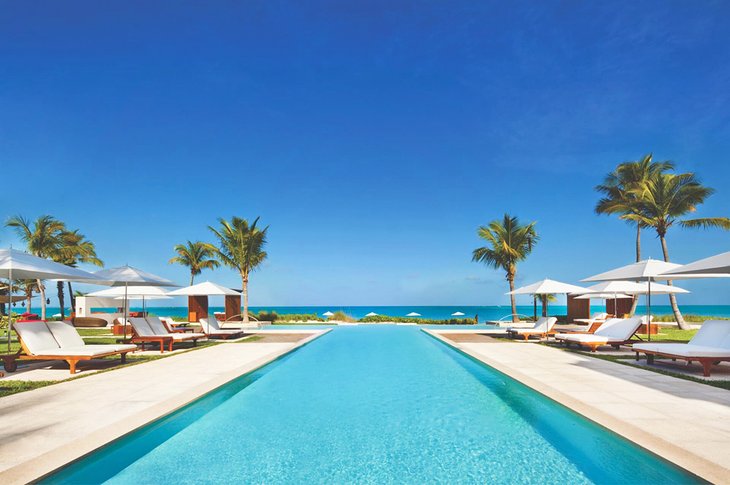 The all-suite rooms feature floor-to-ceiling windows that make it easy to lounge indoors while still enjoying the remarkable view. All suites are granted an ocean view. A mix of contemporary and comfortable but bright Caribbean style, these spacious accommodations are a treat for visitors who love extra space to move around, especially those traveling with kids.
Not a fan of screaming kids splashing you from the pool? Grace Bay Club offers three sections of rooms, one of which is an adults-only haven with its own pool and restaurant. Also a wonderful resort for families, this fab find offers large villas that come with their own family-friendly pool and restaurant.
Morning activities at the Kids Town kids' club are complimentary and fun, while the Anani Spa boasts enough revitalizing treatments to cure what ails you. A fitness center, tennis courts, water sports, and multiple restaurants are on-site.
7. COMO Parrot Cay, Parrot Cay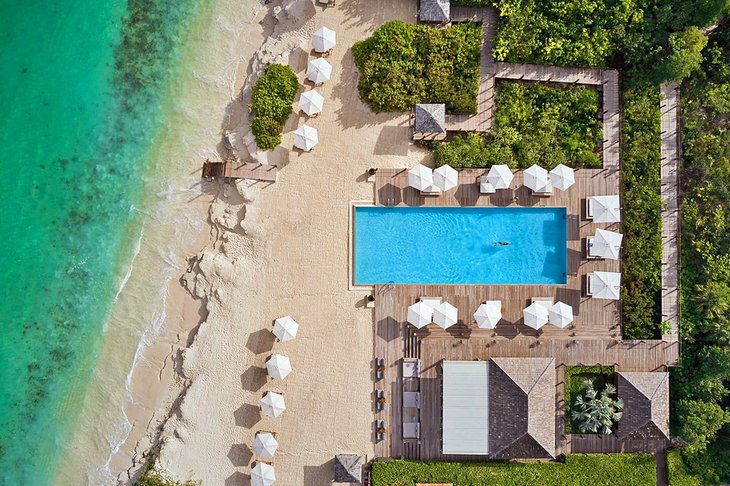 Everything in this resort screams opulent vacation. The beachside villas are immaculate and feature private pools that face the sparkling water. More than four miles of soft sand cover the beach, begging visitors to spend hours on it, building sandcastles or lounging by the surf. The Spa is a must-visit for those looking to enjoy Asian-inspired treatments designed to relax and rejuvenate.
Even the smaller garden-view rooms are spacious and upscale, featuring a four-poster bed and large private balcony. If you're hoping to be spoiled with butler service, you'll have to book a two-bedroom (or larger) beach house.
8. The Shore Club Turks and Caicos, Providenciales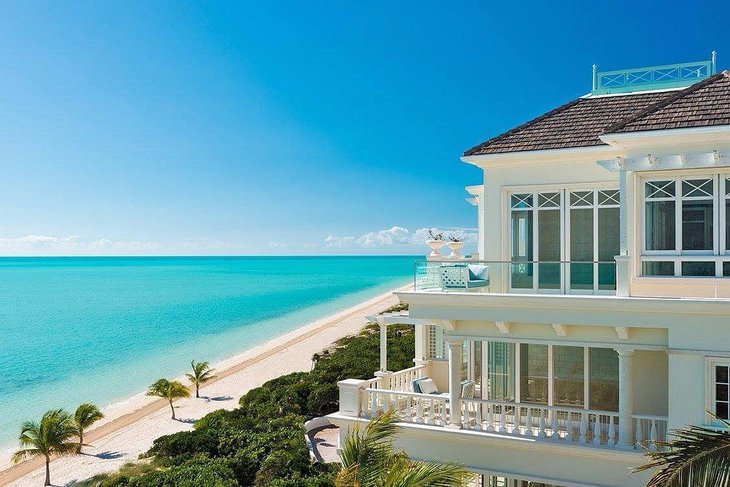 Three restaurants make it easy to tempt your palate in a number of different settings. From the laid-back, lighter fare served poolside at Colonnade to the more elegant dishes on offer at SUI-REN to the comfort food (including wood-fired pizza) at Almond Tree, you're in for a treat no matter what you crave.
Jungle Jam entertains the resort's youngest guests (aged four to 12), while adults can spend hours unwinding in the Dune Spa, sweating it out in the fitness center, chasing balls on the tennis court, or swimming laps in the adults-only pool.
When the kids are back, you can all enjoy a family kayak, paddleboard, or sail at the beach. The shallow beach is an ideal spot for little ones to frolic in the turquoise water, and snorkeling is a must if you're a fan of underwater life.
Accommodations are chic and comfortable, offering high-end linens, inviting beds, and stunning views. Up your vacation game with butler service if you're looking to truly relax.
9. Beaches Turks & Caicos, Providenciales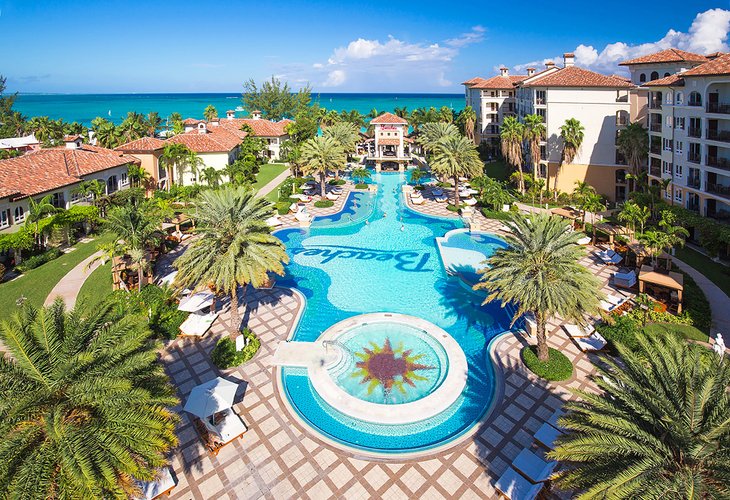 There are 10 pools to choose from, a massive fitness center, weekly parades, and an endless array of water activities on offer at Grace Bay Beach. Pirates Island Water Park boasts giant waterslides, a lazy river, multiple pools, and swim-up soda bars. It will be harder to get the kids to leave here than it was to get them to eat their greens.
The resort is home to 21 gourmet restaurants (yes, you read that right), so you can fill your bellies with everything from Caribbean cuisine to Asian fusion masterpieces to fresh seafood to American diner fare. No matter what you crave, you'll find it here. The best part: everything's included, even the beverages.
Beaches Kids Camp is an epic place to leave your kids while you enjoy some quieter, more grown-up aspects of the resort (hello, spa and candlelight dinner for two). Kids from newborn to 17 can enjoy a variety of activities (or babysitting) geared to their age.
Camp Sesame is a beloved part of the resort that offers kids a chance to bake with Cookie Monster or dance with Zoe and Rosita.
10. Amanyara, Providenciales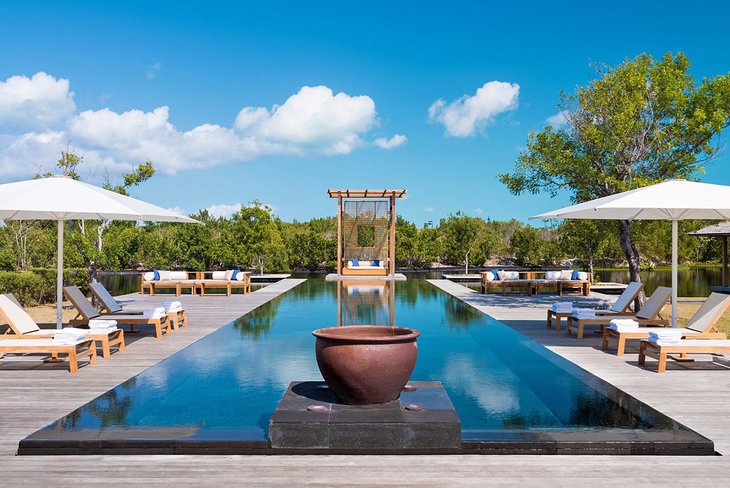 Visitors will be wowed by the serene natural beauty that surrounds them. Lush forest, coral reefs, deep ponds, and the most crystalline water are just a few of mother nature's impressive additions to this elysian resort.
The pavilions represent the base guest room, but there's nothing basic about them. They are beautiful structures, with floor-to-ceiling windows on three sides, deep soaking tubs, and expansive sun decks. Some have a private pathway to the beach, while others boast private pools.
If you've still got money to spare and want the type of vacation people drool over, book one of the resort's opulent villas. They come with a private chef and butler, as well as over 1.5 acres of gardens.
Become one with yourself by joining a bespoke Immersion mindfulness & stress management program, which includes meditation, spa rituals, yoga, and a nutrition overhaul. Enjoy a family nature walk, play tennis, snorkel, swim, sail, kayak, or lounge beachside.
The Clubhouse is a fun place for kids and teens to play soccer, beach volleyball, or basketball. At night, it turns into a screening room.
11. The Tuscany on Grace Bay, Grace Bay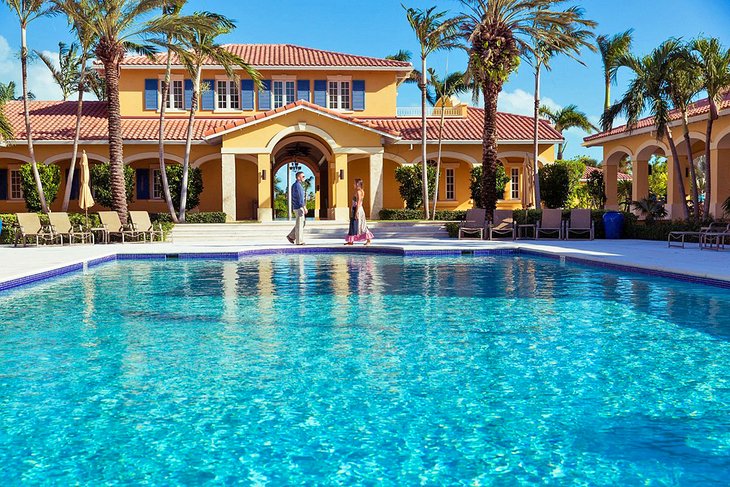 As its name implies, The Tuscany was designed with strong Italian influences and includes a European-style courtyard centered around a heated pool and hot tub.
Each of the plush rooms features bright accents, floor-to-ceiling windows, and fabulous views from a private screened-in balcony. The fitness center, tennis courts, and beach area are the most visited places in this cushy resort.
12. Ocean Club West, Providenciales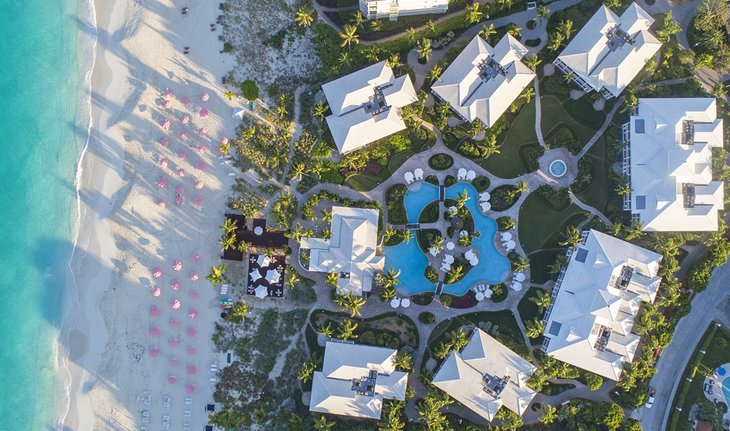 Second to the dreamy beach and captivating turquoise water at Ocean Club West is the unique, lagoon pool that lies in the center of the resort, crossed by multiple bridges, with a grill on an island in the middle. Hoping to do more? Visit the Activities Concierge to book extra fun excursions like kitesurfing, horseback riding, and boating.
13. Blue Haven Resort, Providenciales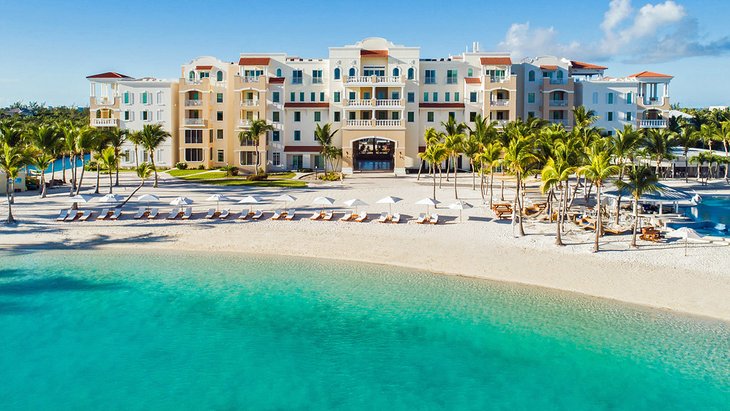 The fitness center is small, but you won't bemoan the lack of equipment or gym space when you've got such beautiful external space to enjoy. Rent a bike, swim laps in the oceanfront infinity pool, hike through the mangroves, or enjoy a treatment in the spa.
A free shuttle transports guests to the resort's sister properties, Beach House Turks and Caicos and Alexandra Resort, where they are free to use all the amenities and dine in their on-site restaurants.
Those who stay for a minimum of four nights can make use of the all-inclusive package. Meals, beverages, and non-motorized water sports at any of the three properties will be included.
14. The Sands at Grace Bay, Providenciales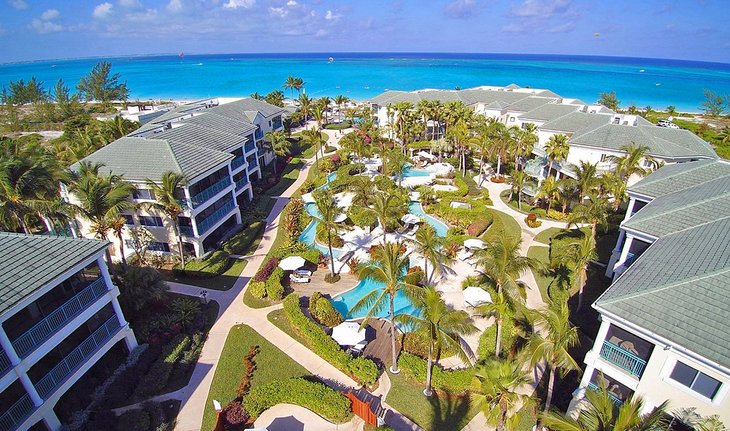 One of the best resorts for families in Turks and Caicos, your spacious suite (choose between one- and three-bedroom accommodations) includes a kitchenette, living room, and floor-to-ceiling windows that highlight the impeccable view. They also have a washer and dryer, which we all know come in handy when you're traveling with kids.