9 Top-Rated Resorts in Trinidad
One half of the Caribbean nation of Trinidad and Tobago, Trinidad is home to some of the country's top resorts. The capital city of Port of Spain is on Trinidad, and the island attracts a lot of tourists, who come here for hiking, bird-watching, and heritage sites.
Additionally, as the international airport is in Port of Spain, many travelers choose to spend a few nights in Trinidad's resorts before hopping on a flight or a ferry to the sister island of Tobago, which is where you'll find the classic white-sand beaches, turquoise seas, and snorkeling and diving experiences the Caribbean is known for.
Trinidad has resorts for all types of travelers, from business executives to vacationing families and couples looking for a romantic getaway. Most of the properties listed here are in or around Port of Spain, where you'll find the greatest concentration of resorts. But others are scattered around the island, including on the dramatic northern coast around Toco.
Check out this list for our picks of the best resorts in Trinidad.
1. Hyatt Regency Trinidad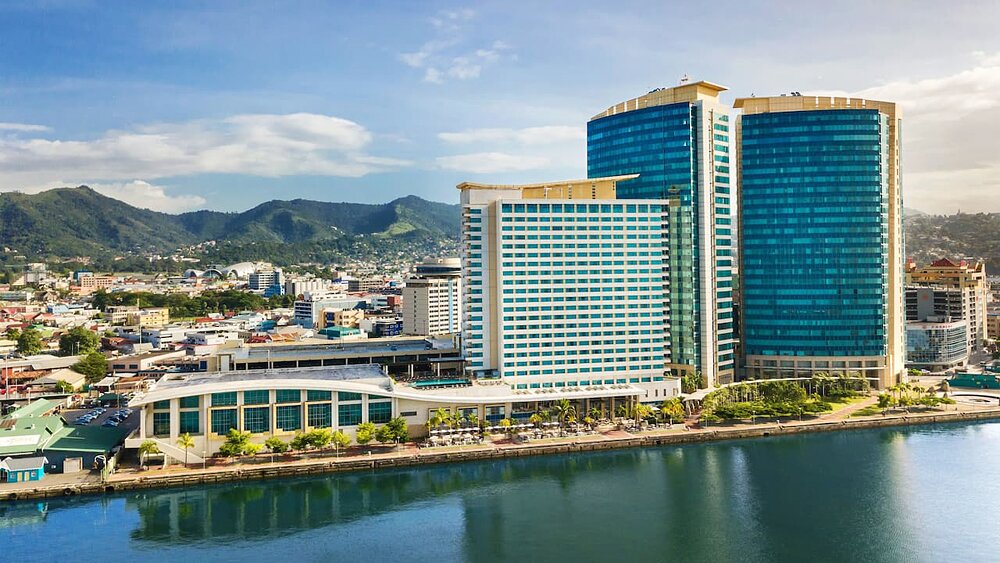 Accommodation: Hyatt Regency Trinidad
The most luxurious resort in Trinidad, the Hyatt Regency is a 5-star property in the country's capital city, Port of Spain. Inside a contemporary glass and steel high-rise building overlooking the waterfront downtown, it is just 40 minutes from Picaro International Airport.
The hotel has 422 rooms, inclusive of 15 suites. These have a luxe, modern ambience with polished oak floors, a neutral color palette, and lots of natural light thanks to a wall of floor-to-ceiling windows. These face either the Bay of Paria or the city center.
Popular with business and leisure travelers (including families), the Hyatt Regency has lots of amenities. The rooftop infinity swimming pool has panoramic views and is a top spot to watch the sunset. There is also a spa on the third floor with a full range of treatments.
The lobby terrace is another favorite spot for relaxing and taking in the views. There is also a trendy restaurant and a 24-hour café. Evening entertainment on some nights, free parking, and a fitness center round out the on-site offerings.
Address: 1 Wrightson Road, Port of Spain, Trinidad
2. Hilton Trinidad & Conference Centre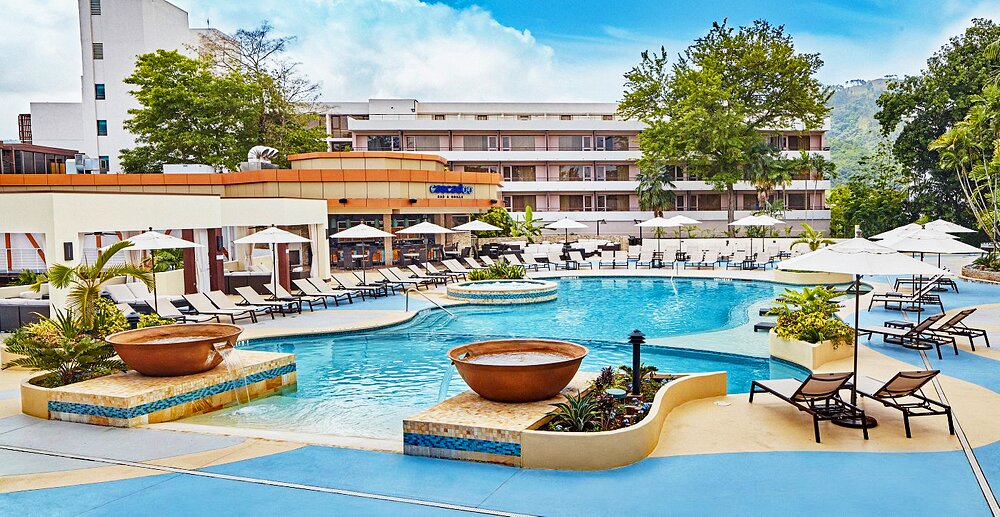 Accommodation: Hilton Trinidad & Conference Centre
In Port of Spain, Trinidad's capital city, the Hilton Trinidad & Conference Centre has a hilltop locale overlooking Queen's Park Savannah, where Carnival takes place each year. Set on 25 acres of manicured gardens, the resort is less than a 10-minute drive from the National Museum of Art, the Royal Botanic Gardens, and the Emperor Valley Zoo.
The rooms and suites come in various configurations. They have views of either the hotel gardens, the lush green mountains, or the swimming pool. The least expensive rooms have two double beds and garden views. These still feature enough space to sleep four people and have furnished balconies and rainfall showers.
For more space, book one of the stylish suites. All suites have two balconies with either city or garden views. They also boast separate living space, giant TVs, microwaves, and two bathrooms. The décor is modern Caribbean.
Spend a sultry afternoon at the free-form pool surrounded by sun loungers and umbrellas. You can also play tennis on the courts or get a workout at the fitness center. A spa rounds out the amenity offerings.
There are multiple restaurants on-site. Cascadoo is where to head for daytime meals by the pool. It has barbecue specials on weekends and entertainment for kids. Herbs & Spices is the signature restaurant. Serving three meals a day including daily buffets, Sunday brunch and weekend theme night dinners. There is also a grab and go café, and room service is offered.
Address: Lady Young Road, Port of Spain Trinidad
3. The BRIX, Autograph Collection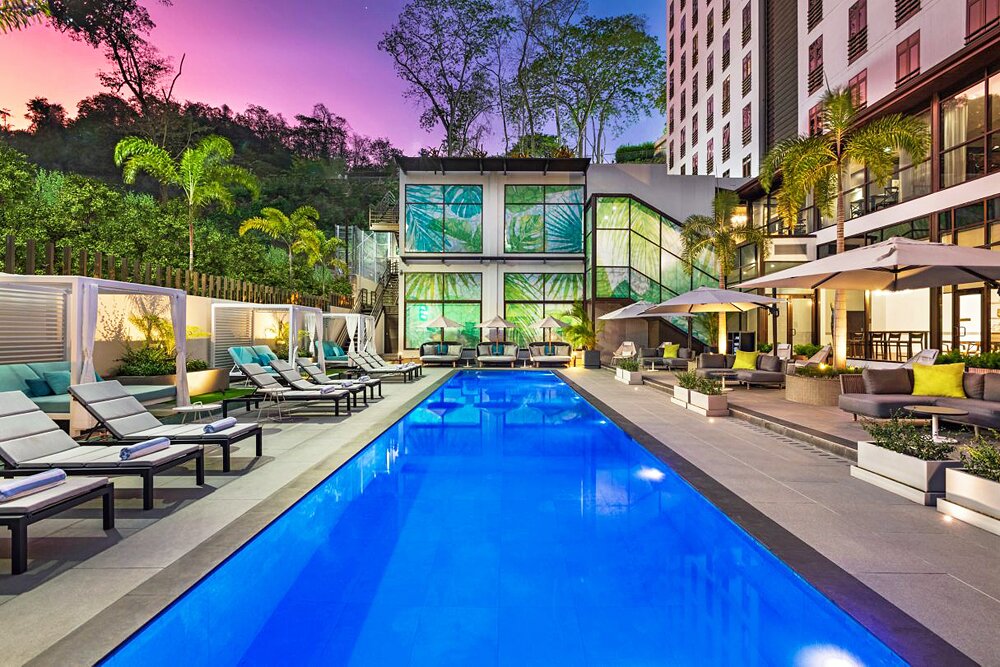 Accommodation: The BRIX, Autograph Collection
Blending modern elegance with Caribbean charm, The BRIX is an Autograph Collection property (you can use Marriott Bonvoy points here). The unique boutique resort in Port of Spain has great views of Trinidad's lush Northern Range of mountains, as well as Queen's Park Savannah.
The design is bold but not overbearing and makes use of textures and sleek contemporary décor. The rooms and suites have a cozy yet eclectic vibe with bold blue hues, local art on walls, polished wood style floors, and plush area rugs. They come in a variety of layouts, but all are quite spacious.
If you are traveling with one child, consider the Island View King, which can sleep three on a king and sofa bed. Floor-to-ceiling windows let in lots of light. Interconnecting rooms are also an option for families.
Head up to the rooftop for tapas and awesome sunset views at the Sugar High Roof-Top Lounge. You can grab a more substantial dinner at The Exchange Restaurant, which serves international fare with Caribbean influences.
Other amenities include a pool, fitness center, and yoga classes.
Address: 2-4 Coblentz Avenue Cascade, Port of Spain Trinidad
4. Trade Winds Hotel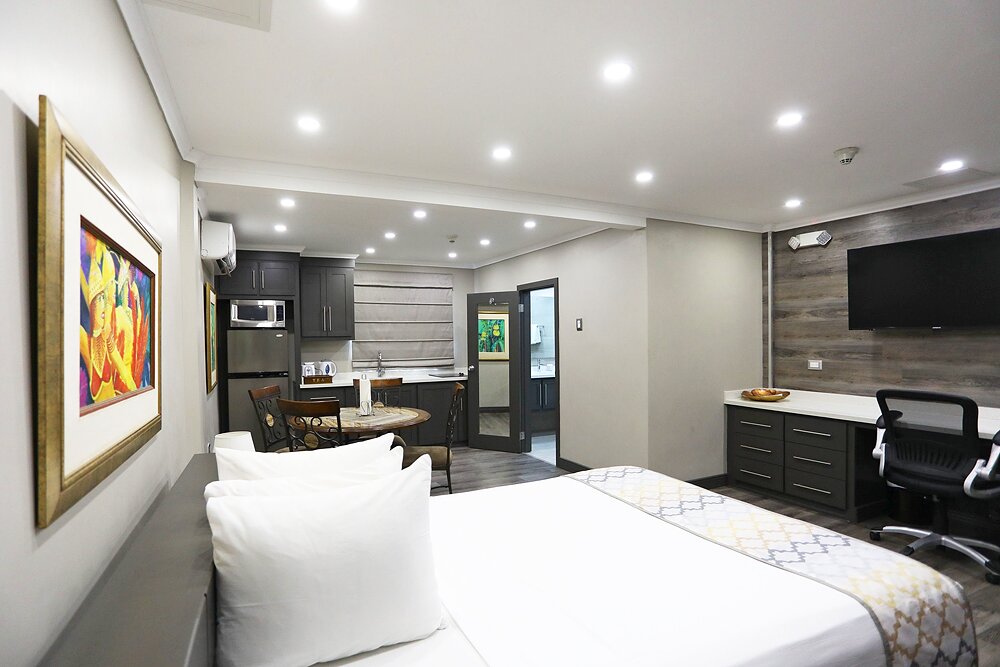 Accommodation: Trade Winds Hotel
If you need to visit Trinidad's industrial capital of San Fernando, referred to as "Sando" by locals, at the western end of the island's Central Range of mountains, then check out the Trade Winds Hotel. The 4-star property is in the heart of the city's business area.
Choose from rooms or suites. All are spacious and stylish with comfortable beds. Some have kitchenettes. The executive rooms can sleep up to four people and have sitting areas. All rooms come with complimentary breakfast and a tea plate on the night of check in.
If you need to stay for a month or longer, there are residences that can be booked. There is also a free airport shuttle service and a tea plate on the night of check in.
Guests can spend an afternoon by the swimming pool, which is surrounded by sun loungers. There is also a well-equipped gym and a mini mart on the grounds.
The concierge can book island tours, as well as restaurant reservations in town. You can also eat at the hotel's house restaurant.
Address: 36-38 London Street, Joseph Village, San Fernando, Trinidad
5. Acajou Hotel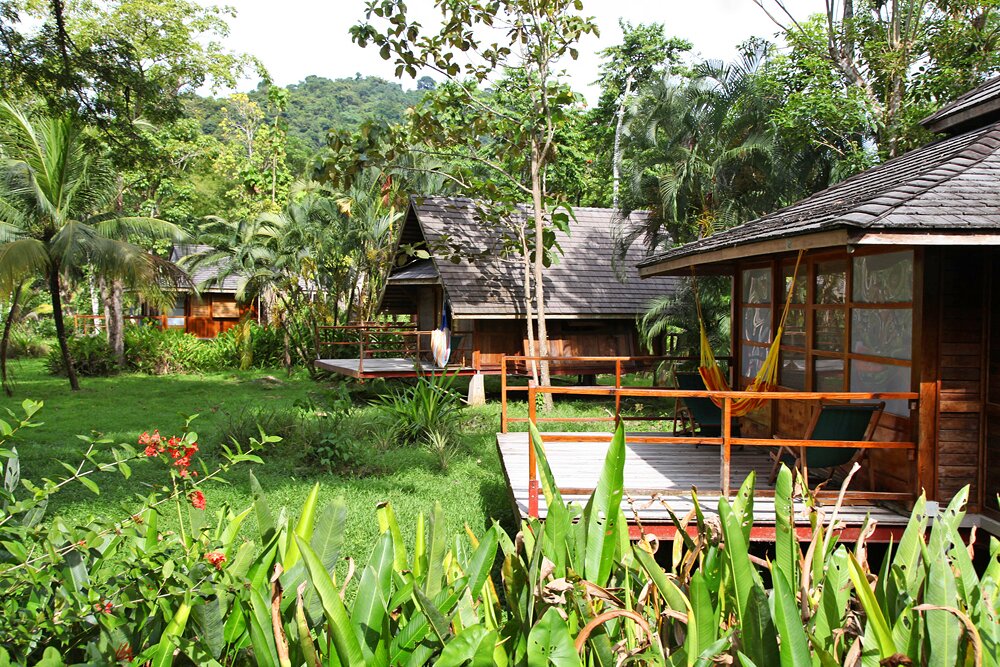 Accommodation: Acajou Hotel
On Trinidad's naturally beautiful northern coast around Toco, Acajou Hotel is in the sleepy fishing village of Grande Riviere. The family-run, eco-friendly hotel is small but boasts resort amenities.
The location is gorgeous, with the property set between a beach, a crystal-clear river, and bright green rainforest-covered peaks.
Accommodation is in traditional cottages. There are only six, and each is unique and draws style and architectural influence from Japan, Polynesia, and Indonesia. Expect lots of woods, including bamboo. You'll also have a private balcony and a hammock.
The cottages vary in size, and all but one can accommodate up to three people in a king bed and sleeper sofa. There is one cottage that has a sleeping loft with two single beds in addition to the king bed. It is a great option for a family with two kids.
The hotel has an on-site restaurant serving locally sourced food when possible.
The beach here also has a sheltered beach surf break. There is also snorkeling in the vicinity. Other activities include hikes to one of the rainforest waterfalls.
Address: 209 Paria Main Road Grande Riviere, Grand Riviere, Toco, Trinidad
6. Courtyard by Marriott Port of Spain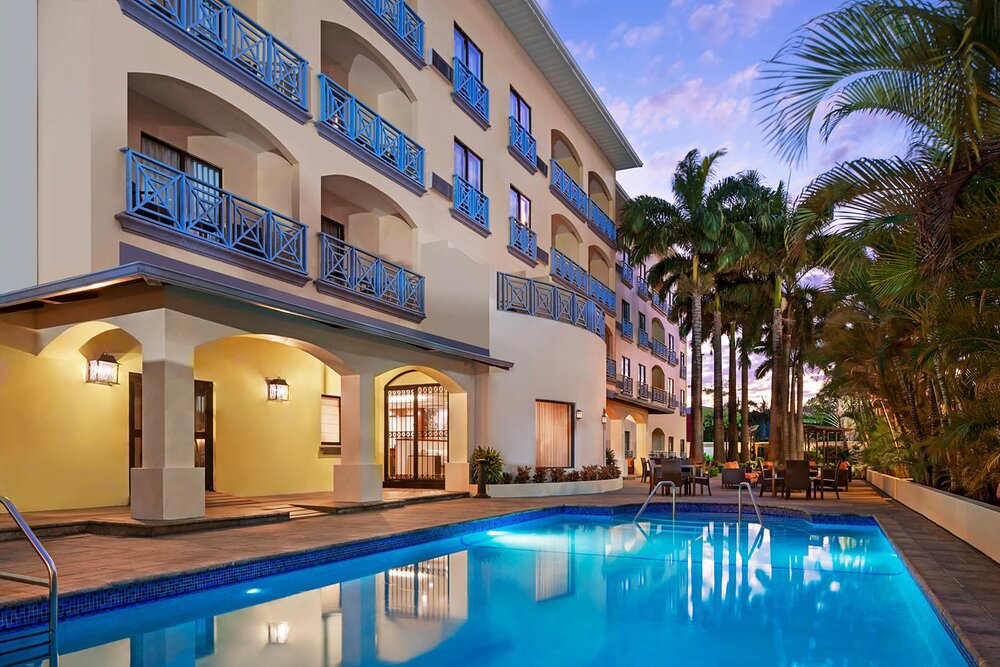 Accommodation: Courtyard by Marriott Port of Spain
Near downtown, as well as the waterfront, Courtyard by Marriott Port of Spain is a clean and comfortable 3-star property. It caters to a mix of business and leisure travelers.
The rooms and suites are modern and have colorful yet soothing accent wall murals. The beds come with quality linens, fluffy duvets, and soft pillows. They also have flatscreen TVs and ergometric workstations. Many have furnished balconies and sitting areas with comfy love seats.
Suites add pull-out sofa beds, as well as full-size kitchens. They are popular with families and visitors on extended stays.
There is an outdoor swimming pool and a well-equipped fitness center on the grounds. The Centro is the hotel restaurant, open daily for breakfast, lunch, and dinner. It serves international fare with some regional Trini dishes.
If you'd prefer to eat off-site, there are two steakhouses and an Italian restaurant within walking distance.
Address: Audrey Jeffers Highway Audrey Jeffers Highway, Port of Spain, Trinidad
7. Kapok Hotel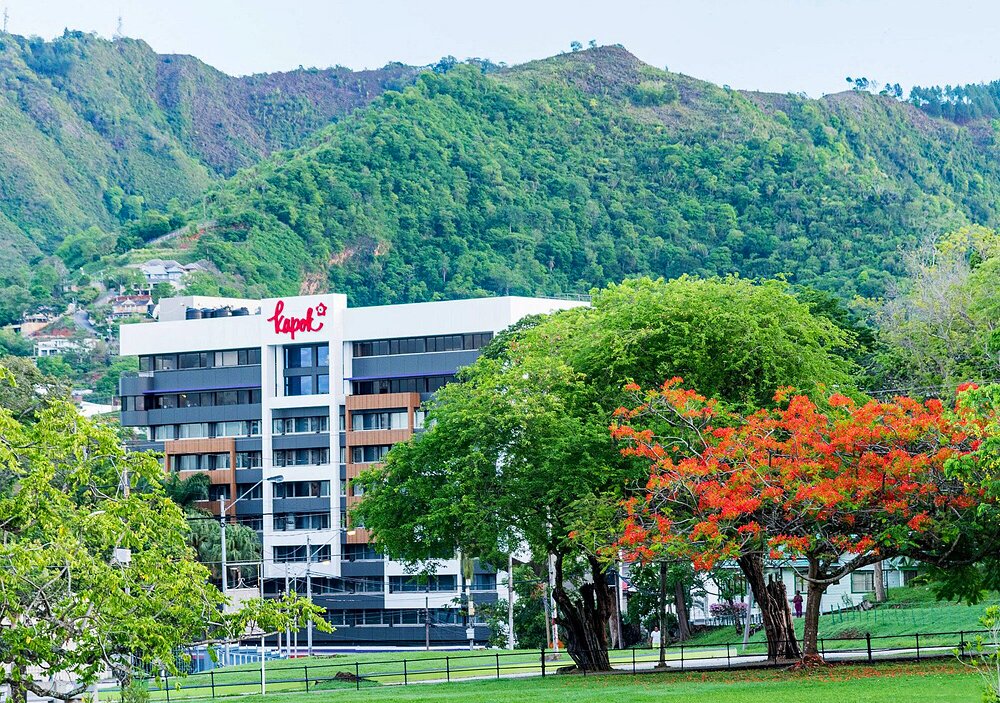 Accommodation: Kapok Hotel
Just outside downtown Port of Spain, Kapok Hotel is another top choice if you are staying in the capital city. It is within walking distance of the Queen's Park Savannah, where Trinidad's famous Carnival is held on the Monday and Tuesday before Ash Wednesday each year.
A boutique 94-room property, Kapok began as a family-owned restaurant is 1964. Today it is a locally owned, independent, mid-range priced hotel.
Rooms and suites come in many shapes and sizes. All are clean, comfortable, and stylishly cozy. The standard queen is the most basic of the room classes, with hillside views and just one bed. For more space, go with the studio queen room. It has a kitchenette, a large work desk, and lots of closet space.
Families on a budget will like the standard doubles that can accommodate up to four people.
The kitchen suite is another good option if you want to cook for yourself. It can also sleep up to four people with a sleeper sofa in the living room. It has a full kitchen and views of Queen's Park Savannah.
Kapok has two restaurants, one of which is quite famous. Set in treetops on the property, Tiki Village offers panoramic views and serves excellent Asian fare created by a chef from Beijing. Dim Sum is what to order. Its second restaurant, Kava, cooks up everything from brick-oven pizzas to steaks, pastas, burgers, and salads.
Address: 16-18 Cotton Hill St. Clair, Port of Spain, Trinidad
8. Radisson Hotel Trinidad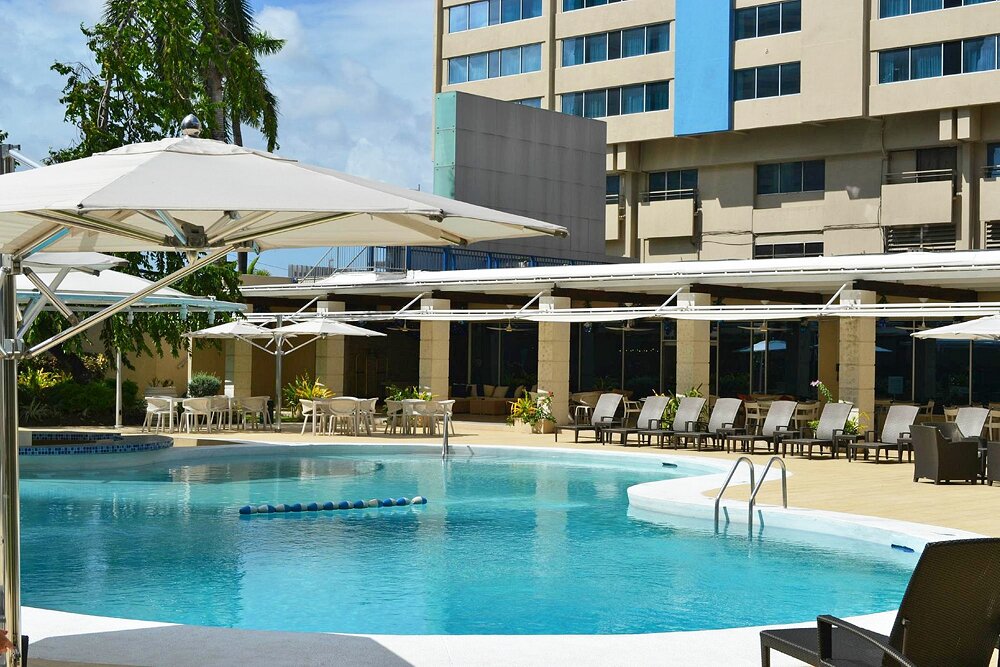 Accommodation: Radisson Hotel Trinidad
In downtown Port of Spain just a five-minute walk from the waterfront, the Radisson Hotel Trinidad is a convenient choice whether you are traveling for business or pleasure. The property is also just a quick drive or taxi ride from the Royal Botanic Gardens and the Hasely Crawford Stadium where sporting events are held.
The Radisson's most famous asset is its revolving rooftop restaurant, which is one of a kind in the Caribbean. From here, you can take in panoramic views of the city, mountains, and Gulf of Paria.
Other amenities include a swimming pool, hot tub, a fitness center, and concierge services. If you happen to be traveling with a dog, the hotel is pet friendly (rare in Trinidad).
Rooms and suites are contemporary and comfortable. Beds are draped with quality linen, and many of the rooms have good views of the waterfront. Family rooms are available.
Address: Wrightson Road, Port of Spain, Trinidad
9. The Normandie Hotel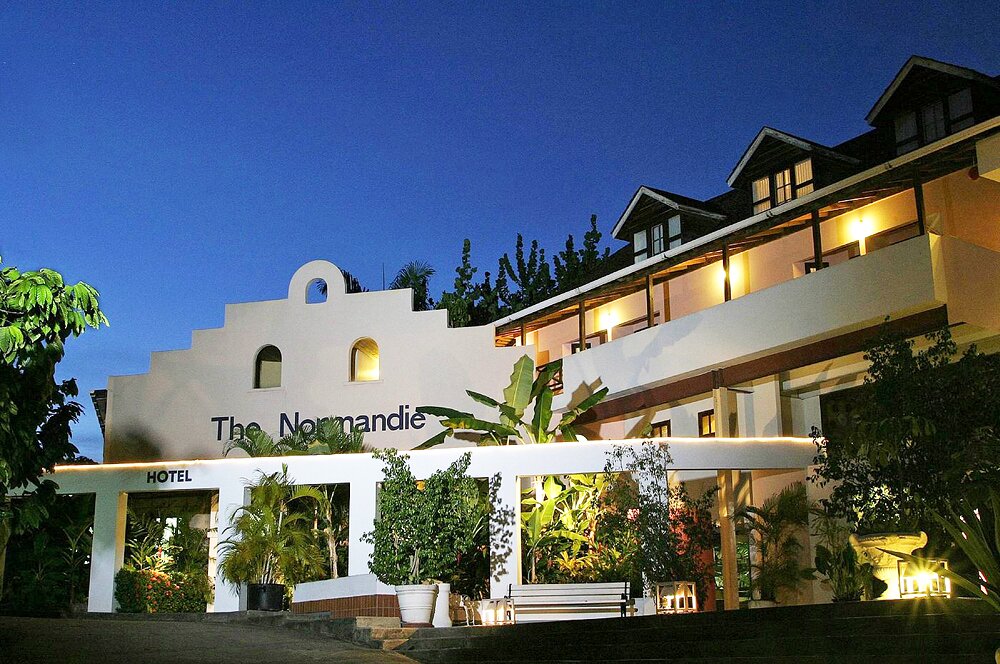 Accommodation: The Normandie Hotel
In the foothills of the Northern Range mountains, between the rainforest and Queen's Park Savannah, The Normandie Hotel is about 10 minutes from downtown Port of Spain. The colorful boutique property has a quiet location.
There are 80 rooms in a few different layouts. Most are colorful and eclectically decorated with bright, patterned throw pillows and matching drapes. They also have framed wall art, tile floors, and workstations.
The Garden Rooms are a great choice for groups or families. They feature four twin beds. The décor is more basic than other rooms, however.
There is a swimming pool and gym on-site.
The restaurant is known for its Sunday brunch. It also serves Italian-influenced international fare. There is also a café for coffee, tea, and snacks, and room service is available. The tour desk can arrange excursions around the island.
Address: Nook Ave, St. Anns 10, Port of Spain, Trinidad