13 Top-Rated Attractions & Things to Do in Norwich
We may earn a commission from affiliate links ()
Norwich, the county town of Norfolk, lies on the little River Wensum within easy reach of the beautiful Norfolk Broads, which are fun to explore by boat. Norwich has more medieval churches (32 in all) than any other city in England except London. A bustling business and shopping center, Norwich is East Anglia's traditional capital, a fact reflected in its splendid Norman cathedral, its castle, and the city's many other historic points of interest.
Centuries of history can be found in its old gateways and winding lanes. It's also a vibrant cultural hub offering many things to do, from browsing the lovely boutique shops to enjoying the famous two-week-long Norfolk & Norwich Festival. This fun event takes place each May with musical and theatrical performances, as well as visual art exhibits.
To find out more about this and other upcoming events, be sure to refer to our list of the top tourist attractions and fun things to do in Norwich, England.
See also: Where to Stay in Norwich
1. Take a Tour of Norwich Cathedral
Unique for its gleaming cream-colored limestone exterior, Norwich Cathedral was built between 1096 and 1145 and should be at the top of your Norfolk travel itinerary. Notable for its striking 315-foot-tall spire – the second highest in England after Salisbury Cathedral – it's also famous for its nesting peregrine falcons, which have become the city's most celebrated (and viewed) residents.
Having preserved its Norman character better than any other church in the country, it's a delightful place to visit for a few hours, especially when a visit is combined with spending time in Cathedral Close. Highlights include the Monk's Door and the Prior's Door leading to the two-story cloisters, built between 1297 and 1425.
Also of interest is the nave with its 14 bays, low massive columns, and fine lierne vaulting, as well as the impressive choir, with its 62 stalls, many splendid canopies, and beautifully carved misericords dating from 1420. There are also a number of interesting tombs, and behind the high altar is the old stone bishop's throne dating from the 6th century.
2. Tombland Alley: The Heart of Historic Norwich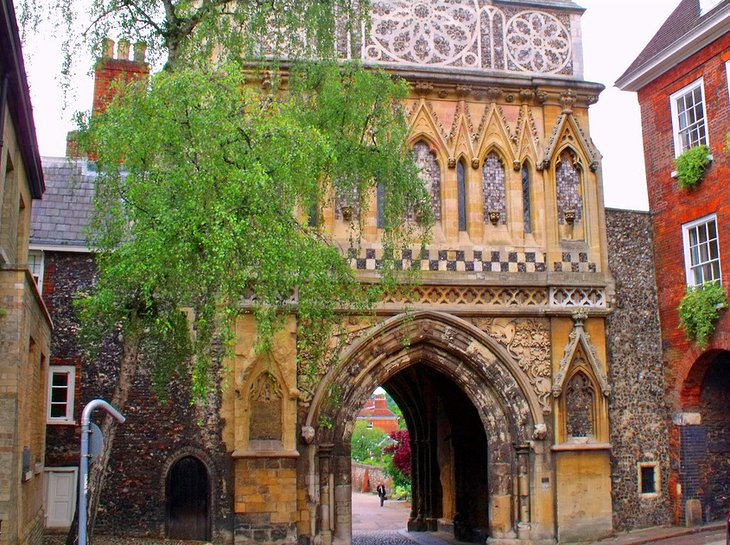 Once a Saxon marketplace, Tombland Alley is a wonderful place to begin exploring the rest of old Norwich. From here, two gates – St. Ethelbert's (1272) and Erpingham (1420) – lead into the idyllic tranquility of the Cathedral Close, with its wealth of historic buildings, including the medieval deanery.
It's also close to Elm Hill, a lovely medieval cobbled street near the River Wensum lined with tiny old houses, many of them now attractive shops, restaurants, and cafés.
Near the top end of Elm Hill are St. Andrew's and Blackfriars Halls, and just a short distance away in Bridewell Alley is the Museum of Norwich at the Bridewell, housed in a 700-year-old former "house of correction." Highlights include exhibits devoted to industry and handicrafts in Norfolk, as well as a display of silk shawls once prized by Queen Victoria.
Location: Bridewell Alley, Norwich
3. Explore Cathedral Close & Cathedral Quarter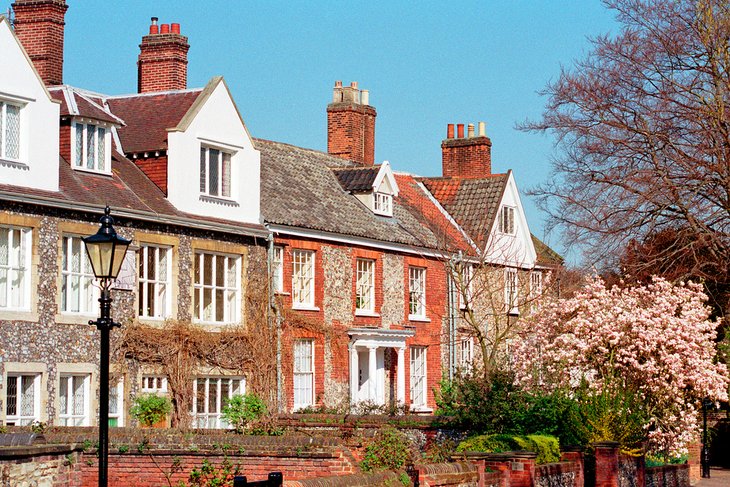 At some point in your Norwich visit, be sure to allocate time to properly explore The Close, the area around the cathedral. One of the largest such spaces in the UK, the close covers an area of around 44 acres, and also has the distinction of being home to more residents than any other cathedral close in Europe.
The Close is home to some 80 listed historic buildings, as well as the delightful Cathedral Quarters with its many fine shops and cafés. Along the way, you'll discover the 15th-century Bishop's Palace and St. John's Chapel, both dating from 1322 and now part of Norwich School. Other nearby churches worth visiting include St. Peter Mancroft, the city's largest after the cathedral, and the Roman Catholic St. John the Baptist Cathedral.
4. Visit Norwich Castle Museum and Art Gallery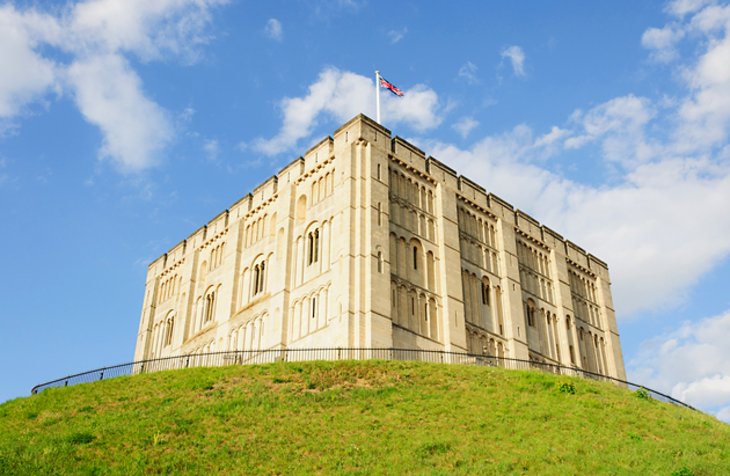 Built on a large artificial mound, Norwich Castle consists of a splendid Norman keep constructed around 1095 by William II. It's now home to a superb museum and art gallery. Set out as a rotunda surrounded by various galleries containing extensive archaeological sections, the castle's interior also houses natural history dioramas, collections of medieval weapons, glassware, and ceramics.
The painting collection includes English and Dutch masters of the 17th and 18th centuries, as well as examples from the famous Norwich School of painting. Guided tours along with workshops for adults and kids are just some of the other fun things to do here for visitors.
A café and a picnic room are located on-site, along with a gift shop. Also located within the castle is the Royal Norfolk Regimental Museum, with its excellent collections of uniforms, medals, and paintings.
5. Explore Norwich City Center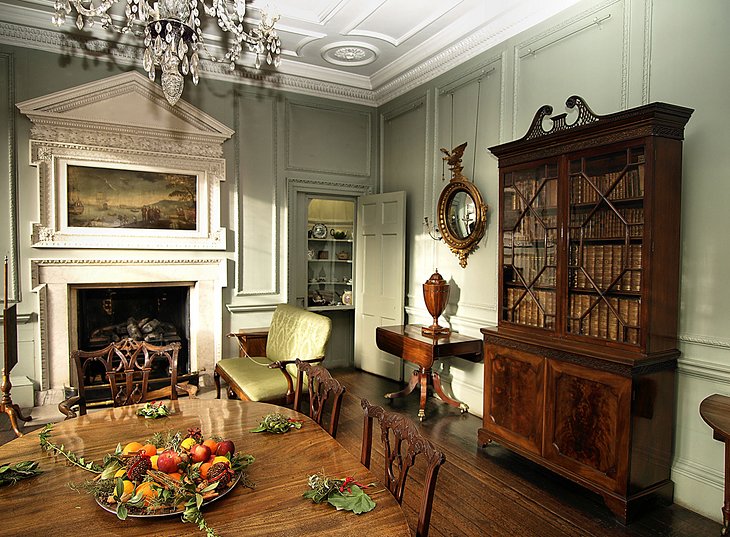 Exploring the center of this delightful city will lead to the discovery of such gems as Strangers' Hall in Charing Cross. This medieval merchant's house now serves as a museum documenting domestic life from the Tudor period to the Victorian era through costumes and furniture.
Suckling House, adjacent to St. Andrew's Church, is a handsome example of a medieval townhouse. Nearby St. Peter Hungate, a former church turned into a museum, contains a display of medieval religious arts and crafts. Another fine piece of medieval architecture is St. George Colegate, a church built in 1459 and practically unchanged since.
Culture lovers will also want to linger a little longer in Norwich to enjoy some of the city's first-rate theater. Leading the pack is the recently renovated Norwich Theatre Royal, notable for hosting a variety of touring shows, and The Maddermarket Theatre, founded in 1921 and famous for its Elizabethan-style stage. Those traveling with kids should visit the Norwich Puppet Theatre, known for its many excellent educational programs.
6. Sainsbury Centre for Visual Arts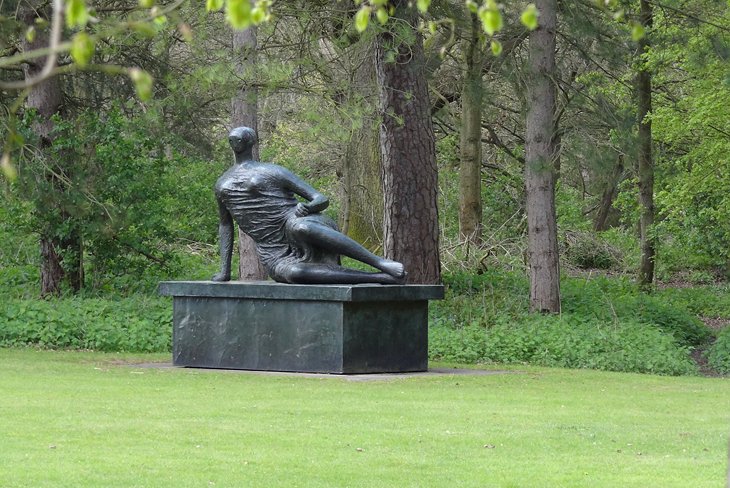 Part of the University of East Anglia, the Sainsbury Centre for Visual Arts should be included in your Norwich itinerary. Highlights of this impressive modern structure include its displays of modern art by the likes of Picasso, Giacometti, and Henry Moore. It also boasts a large collection of primitive art from across the globe and hosts numerous visiting exhibits and education programs throughout the year. There's also on-site dining and a shop.
7. Lost and Found: Visit the Historic Dragon Hall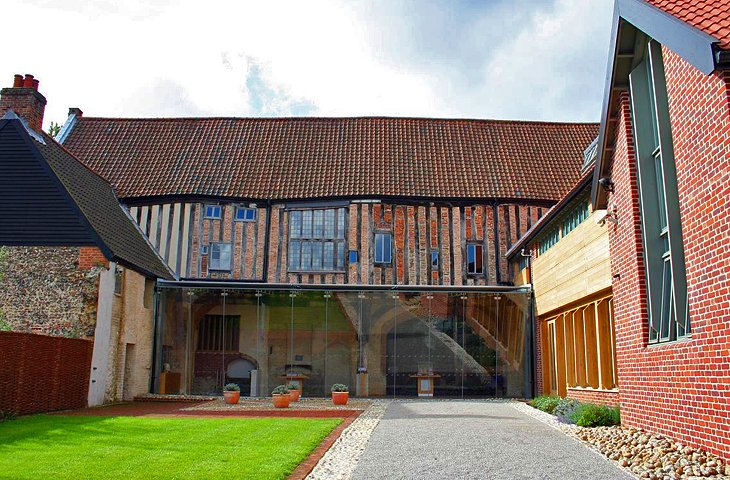 Dragon Hall, an outstanding Grade 1 listed medieval trading hall dating from 1430, is famous for its spectacular Great Hall. Featuring an impressive timber crown-post roof and intricately carved dragon, it was built by merchant Robert Toppes as the heart of his international trading empire, and was once full of wool, cloth, timber, spices, pottery, and other items of trade.
8. Run Wild at BeWILDerwood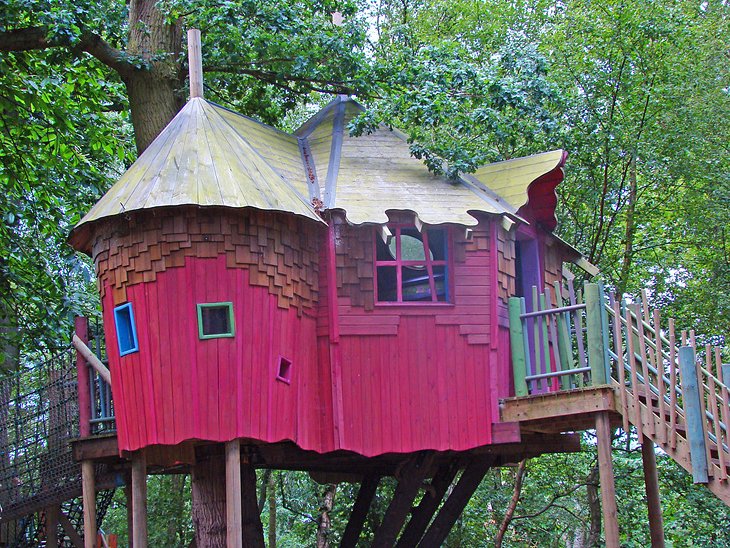 Of the region's many tourist attractions, few are as family-centric as the wonderful BeWILDerwood. Located in the village of Horning, this fun adventure park is the perfect place for kids to burn off some steam and encompasses a large area of woodland sprinkled with numerous treehouses, ziplines, and rope bridges to tackle, along with a maze and special areas for toddlers to explore.
9. Take a Cruise on the Norfolk Broads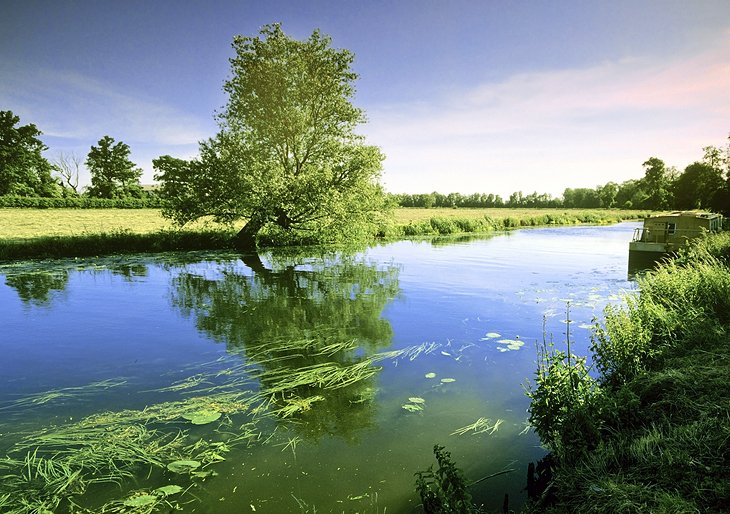 The Norfolk Broads, often referred to simply as The Broads, are an easy drive east of Norwich, and comprise a fascinating nature reserve ideal for sailing and boating holidays. Occupying a vast triangle of land formed by Yarmouth, Wroxham, and Stalham, and protected under the umbrella of The Broads National Park, the area is traversed by the River Yare and its tributaries the Ant, Thurne, Bure, and Waveney.
Totaling an impressive 120 miles of waterways, much of the area can be explored via rental boats (including cozy cabin cruisers for weekend or week-long getaways. Along the way, you'll spot many windmills, such as the wooden Boardman's Mill at Ludham, the brick-built Thurne Dyke Windpump on the bank of the Thurne, and the 82-foot-high Sutton Mill. These were once used for drainage and call to mind similar scenery in the Netherlands.
Nature lovers will find waterfowl, butterflies, dragonflies, and rare flowers, and anglers will be attracted by the large numbers of fish, including bream, rudd, roach, perch, and pike.
10. Visit Hickling Broad and Horsey Windpump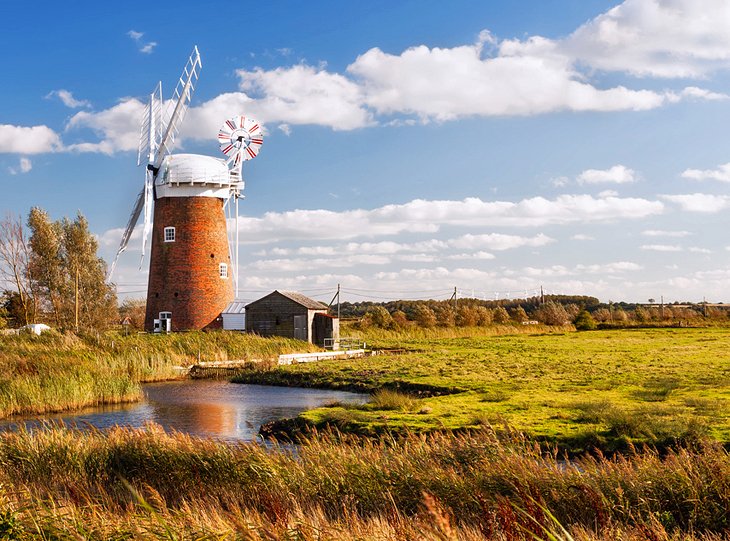 The largest of the Norfolk Broads – and one of the most beautiful – is Hickling Broad, where you'll find the old (and fully restored) Horsey Windpump. One of the region's most impressive windmills, it's a source of great views over the surrounding countryside, along with a tearoom.
The best starting point for an exploration of the area is Potter Heigham, going upstream on the River Thurne to Martham Broad, Horsey Mere, and Hickling Broad. Downstream leads to the River Bure. From here, it's possible to explore the southeast by way of Breydon Water and the River Waveney to Oulton Broad outside Lowestoft, or westwards through Wroxham Broad.
Other good centers from which to explore Hickling Broad are Ranworth and South Walsham, small picturesque villages with interesting churches. The beauty of the Broads can best be appreciated from the water, and while sailboats and motor cruisers can be rented, numerous boat tours are also available.
11. Whitlingham Country Park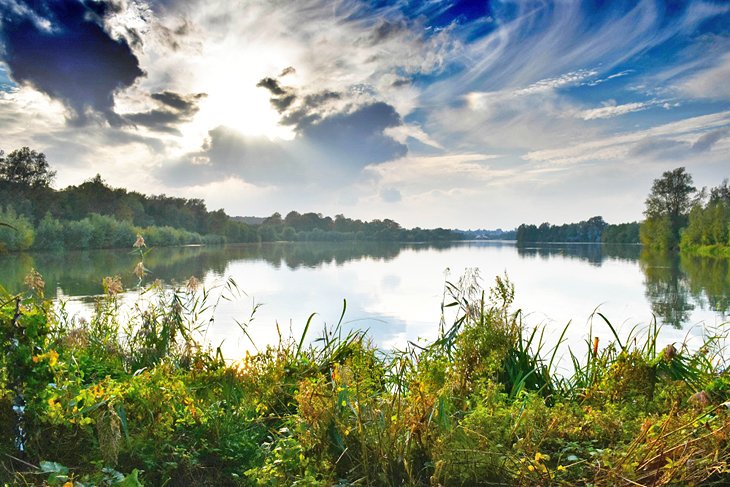 For those wanting to get a taste of the beautiful Norfolk Broads without having to venture too far from Norwich city center, Whitlingham Country Park may prove just the ticket. Start your experience at Broads Authority Tourist Information Centre. Situated in an old flint barn, you can learn more about the unique flora and fauna of the region through its interactive displays, as well as book a fun ride in the facility's electric tour boat, the perfect chance to get in some wildlife spotting.
12. Bressingham Steam & Gardens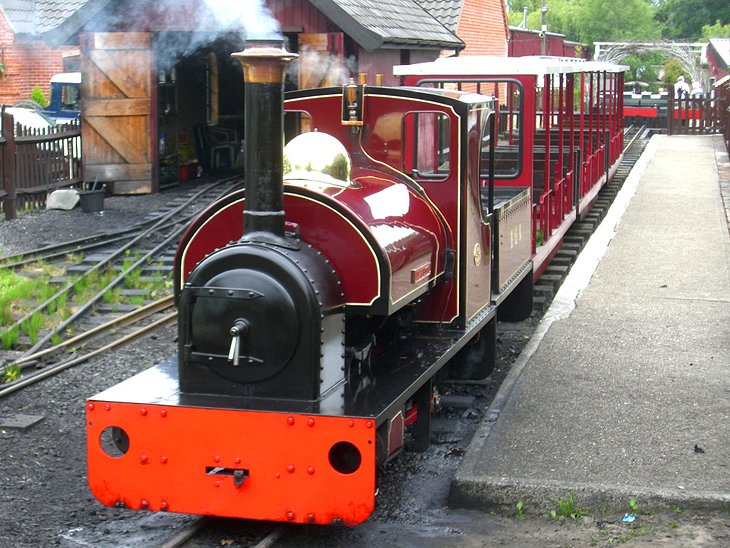 The delightful Bressingham Steam & Gardens tourist attraction is home to a unique collection of vintage steam locomotives and traction engines, as well as the five-acre Dell Garden. In addition to a collection of standard gauge locomotives, the museum operates three distinct narrow garage lines around the property, plus a 1.5-mile length of track. For a memorable experience, take one of the train driving courses.
Also on-site is a museum of railway memorabilia, an extensive fire engine collection, and a Victorian steam carousel with a steam-driven organ. Bressingham is also home of the Dad's Army Appreciation Society and its recreation of fictional Walmington-on-Sea from the hit TV show of the same name. The nearby village is also worth exploring, in particular the 14th-century St. Mary The Virgin Church.
13. City of Norwich Aviation Museum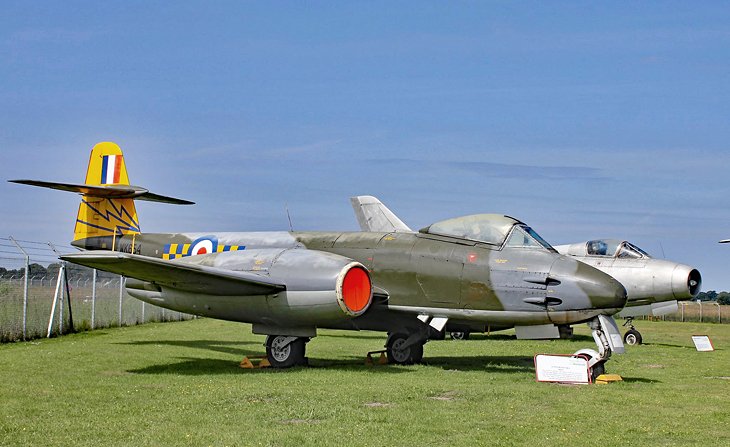 A must-visit attraction for aircraft fans, the City of Norwich Aviation Museum in Horsham St. Faith features first-rate displays of aircraft such as the Vulcan, Dart Herald, and Vampire. Exhibits include memorabilia from the 8th Army Air Force stationed here in WWII.
If time permits, be sure to also visit the Norfolk and Suffolk Aviation Museum, with its fascinating displays covering the history of the Royal Observer Corps, as well as a rare nosepiece of a Felixstowe F5 flying boat that was discovered in a garden after 60 years of use as a potting shed.
Where to Stay in Norwich for Sightseeing
If you're planning a vacation or weekend getaway to Norfolk, we highly recommend the following charming Norwich hotels located near the city's top attractions such as the cathedral and Norwich Castle Museum:
More Related Articles on PlanetWare.com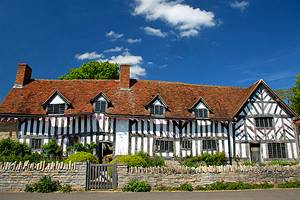 Top Historical Destinations: History is everywhere in Britain, and nowhere more so than spectacular Bath, popular for its amazingly well-preserved Roman baths and splendid Georgian architecture. And fans of great literature should check out Stratford-upon-Avon, birthplace of Shakespeare and home to the Royal Shakespeare Theatre. The cathedral city of Salisbury is also a must-visit, with top attractions including famous Stonehenge.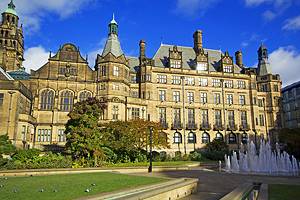 England Vacation Ideas: The former industrial city of Sheffield makes a great base for an England vacation. After viewing its industrial-themed museums and attractions, it's a hop, skip, and a jump to nearby Leeds, popular for its historic architecture and old pedestrian arcades. Though smaller, Durham is famous for the density of its historic points of interest, including Durham Cathedral and the magnificent castle.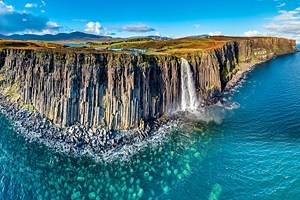 UK Vacation Ideas: Scotland has much to offer vacationers, not least of all the beautiful city of Edinburgh with its famous castle and medieval cityscape along the Royal Mile. The tiny country of Wales is another great destination, and features superb natural beauty in its national parks, particularly Snowdonia. Northern Ireland, too, has much to commend it, not least of all the natural wonder that is the spectacular Giant's Causeway.