Where to Stay in Pattaya: Best Areas & Hotels
Whether you are visiting Pattaya for a vacation with the family or on a romantic holiday for two, this popular beach town on Thailand's Eastern Gulf Coast offers tourists plenty of hotel options for all budgets and tastes.
Pattaya is a resort town with accommodation both in the central downtown area, which extends from the beachfront back for a few kilometers, and in a few different areas south of the city center.
If you want to be away from the hustle and bustle and on a lovely beach, consider heading south to the Royal Wing Suites & Spa or Royal Cliff Grand Hotel, which is part of a four-hotel complex on two private beaches, about 10 minutes from downtown Pattaya.
Another popular beach, especially with families, in the Pattaya area is Jomtien, which is about five kilometers south of downtown Pattaya and is a prettier and less chaotic option than Pattaya Beach. Here, you'll find good-value properties like Tara Court Hotel.
Where to Stay in Pattaya for Luxury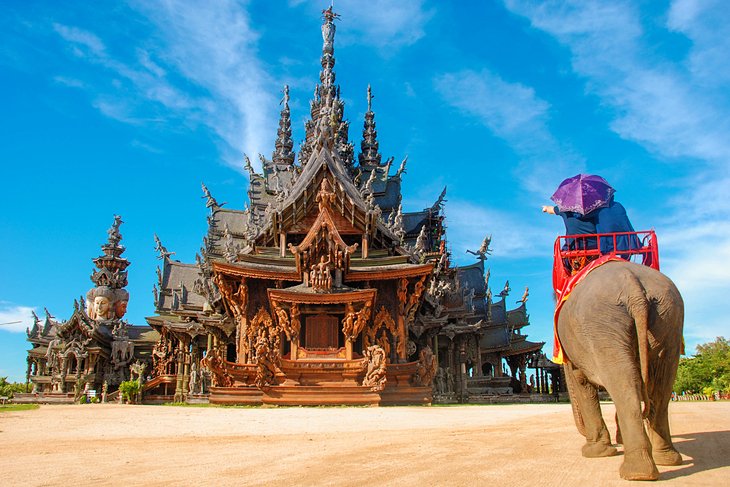 If you're looking for luxury and privacy right on the beach then check out Royal Wing Suites & Spa, which is set on a private beach just about 10 minutes drive south from the city center. Part of a 64-acre resort complex, Royal Wing Suites offers 85 opulent suites, which are spacious and done up in gold and marble. Many also feature terraces with ocean views.
On-site amenities include two private beaches for guests, a spa with a steam room and sauna, and multiple dining options. There is also a lovely freeform swimming pool with butler service. Royal Wing is a family-friendly property, with plenty of amenities for kids of all ages.
The Wave Hotel is another luxury option and a good bet if you're looking to stay in downtown Pattaya. Situated right on Beach Road with ocean views, this Art Deco, boutique hotel has just 18 rooms and suites and is styled to feel like sleeping on Miami's South Beach.
Rooms and public spaces are beautifully designed, with plenty of color and meticulously chosen furnishings and accessories. There is also an on-site restaurant, serving a mix of American comfort food and Asian favorites, and a swimming pool with sea views.
InterContinental Pattaya Resort is also located on a private beach about three kilometers from downtown Pattaya. This hotel offers elegant rooms and swanky villas done up with Thai-style decor, which are spacious and comfortable. Many come with perks like butler service, soaking tubs made for two, and even private plunge pools in the case of the villas.
On-site amenities include three different restaurants, three swimming pools set amid manicured tropical gardens, a fitness center, gym, and on-site parking. There is also a free shuttle to downtown Pattaya and a speedboat to Ko La island for a fee.
Where to Stay in Pattaya: Mid-Range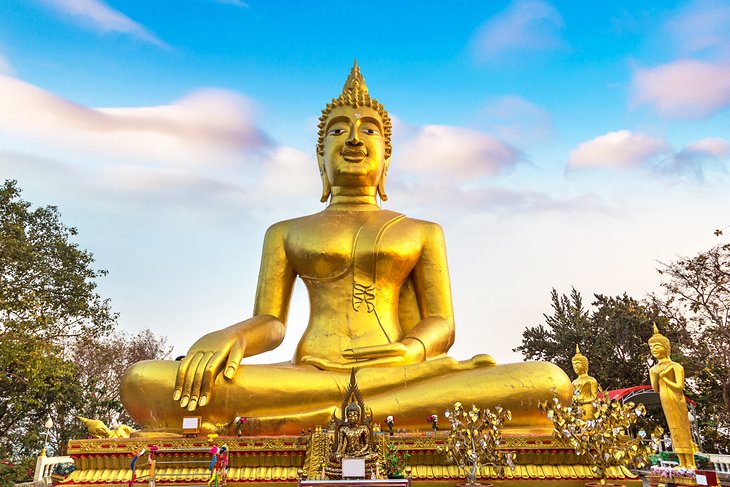 If you're looking for a modern, mid-range sleep by a trusted brand then check out the Holiday Inn Pattaya, which features rooms and suites overlooking Pattaya's main beach. The decor is ocean oriented, and all accommodations come with floor-to-ceiling windows and balconies with views. For families, kids under 18 stay free, and amenities include a kids' club. You'll also find five restaurants, a spa, outdoor pool, and fitness center among the on-site amenities.
Tara Court Hotel is a good-value, apartment-style boutique property just one kilometer inland from Jomtien Beach to the south of Pattaya town. You can choose from studios and one- or two-bedroom apartments, which come with kitchenettes, dining tables, living space, and sofa beds to sleep extra people - it's a great choice for families.
On-site amenities here include an Irish restaurant, bike rentals, and an outdoor swimming pool off the 7th floor.
Siam@Siam Design Hotel Pattaya is another solid good-value pick. This modern tower property features colorful, modern rooms with panoramic city and sea views from floor-to-ceiling windows, as well as free bottled water and Wi-Fi and comfortable beds.
Away from the rooms, on-site amenities include three restaurants, free parking, a rooftop swimming pool, a hot tub with awesome city views, a spa and fitness center. Breakfast is also included in the rate. Staff members are super friendly.
Where to Stay in Pattaya on a Budget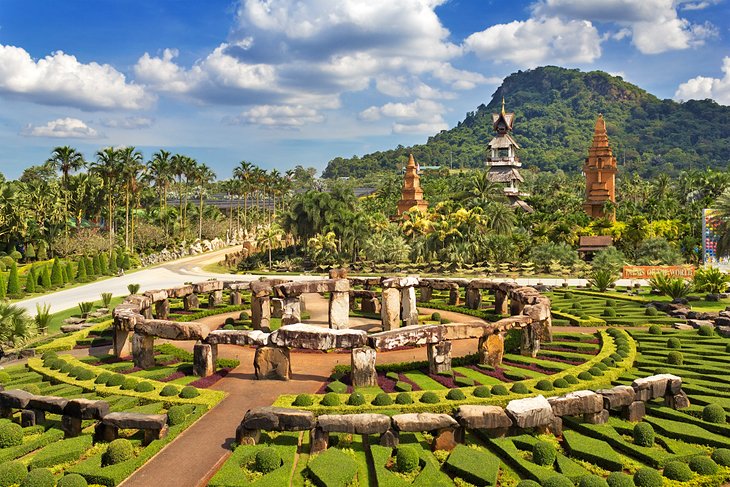 Travelodge Pattaya is a great budget pick, which is just under a 10-minute walk from Pattaya Beach and 15 minutes from downtown's buzzy Walking Street. The rooms are modern, clean, and comfortable and come with flatscreen TVs built into walls; crisp white sheets; and splashes of color in the form of bed-runners, pillows, and wall art.
There are family rooms available, and children under 15 stay free with their parents in these. On-site amenities include a restaurant, outdoor pool with Gulf of Thailand views, gym, and laundry service.
For no-frills, budget lodging on a buzzy street in a convenient city center location, check out Red Planet Pattaya, which has friendly and attentive staff members. Rooms are clean and tidy with comfortable beds and wood floors. The hotel is kid-friendly and features perks like free Wi-Fi, parking, and an on-site restaurant. It is also just a five-minute walk from the beach.
Where to Stay in Pattaya for Families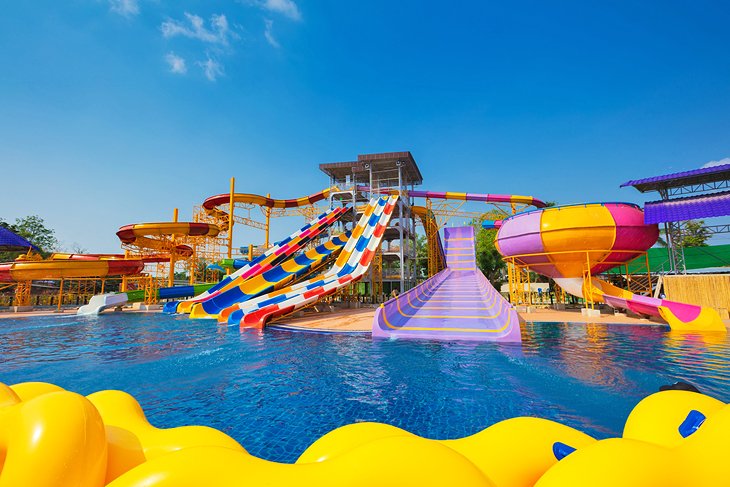 The Grand Scenaria Hotel is a family-friendly property just two kilometers from Pattaya Beach. Rooms and suites are bright and colorful with sea-themed art on the walls. There are interconnecting room options for families with older children. The hotel also has a kids' club on-site.
Amenities here include a cool swimming pool featuring underwater night lighting and a few different restaurant choices. Breakfast is also included.
The Agate Pattaya Boutique Resort is just five minutes' walk from Jomtien Beach, which is five kilometers south of downtown Pattaya and is considered the prettier of the public beaches. The kid-friendly property offers bright rooms with wooden floors and fun furnishings, like bean bag chairs. Some also have balconies with city views, and others have private al fresco showers.
If you're driving, there is parking on-site, and the hotel also operates a shuttle to the beach. Other amenities include a restaurant, two swimming pools, a hot tub, and spa.
Where to Stay in Pattaya for Couples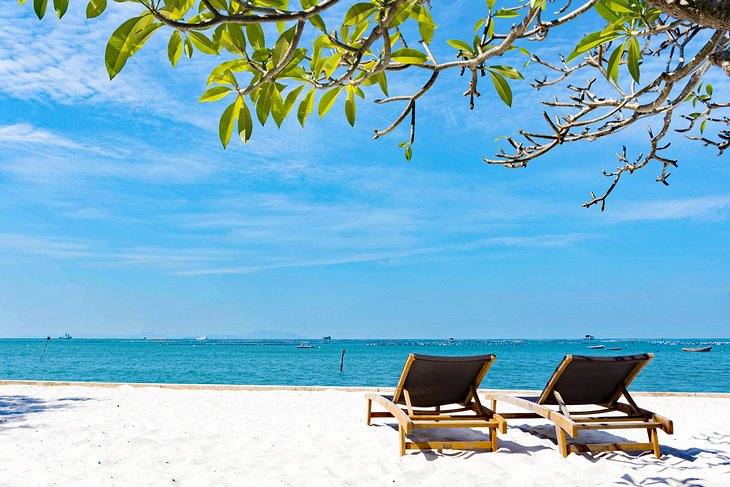 The Royal Cliff Grand Hotel is part of a complex of four hotels located about 10 minutes south of Pattaya town on two private beaches. It is an excellent luxury choice for couples who want to be in a resort setting away from the rather chaotic city center.
The rooms and suites feature stylish decor, and in the case of the suites, plenty of space to move around, kitchens, and Jacuzzi tubs in the bathrooms. Amenities shared between the four resorts include some 11 restaurants, two spas, and seven swimming pools.
Rabbit Resort Pattaya is another popular pick for couples looking for boutique-style lodging. Located just across the street from Dongtan Beach, it features spacious and elegant rooms done up with Thai-style decor, including romantic handcrafted furnishings and colorful artwork in the 100-year-old main guesthouse or in individual cottages with multiple rooms.
Couples will also like the adults-only swimming pool and the tranquil vibe throughout the well-maintained grounds. Amenities include free parking, Wi-Fi, and a beachfront restaurant.
Where to Stay in Pattaya near the Airport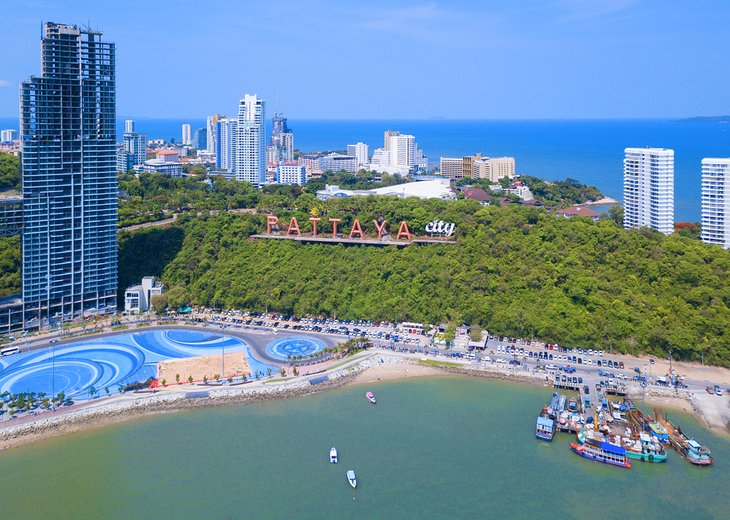 If you are flying in or out of Pattaya, you'll depart from Utapao Airport in the town of Ban Chang. Staying near the airport is convenient for late or early morning flights. The Moonlight Resort is just a mile from the airport and despite its title is actually a small hotel.
Rooms are colorful and tidy, with air-conditioning. The hotel offers free Wi-Fi, as well as airport transportation. The front desk is open 24 hours, and there is a restaurant just a short walk away (but no dining options on-site).
Also near the airport in Ban Chang is Grand Garden Hotel & Serviced Apartment. The hotel offers airport transportation and features spacious and comfy rooms and suites. There is an on-site restaurant, and room service is available. Should you choose to dine out, there are also numerous restaurants within walking distance.
Amenities here include free parking and Wi-Fi. There is also a swimming pool, hot tub, and small fitness room on-site.