Where to Stay in Koh Samui: Best Areas & Hotels
Deciding where to stay in Koh Samui can be tricky. With so many beautiful beaches and islands to choose from, picking one over the other will be mostly a matter of deciding what you're looking for.
If you don't mind a busy location, Chaweng Beach is ideal-this is where the action is at, with plenty of places to eat, lots of attractions, and boat access to some of the best islands around. Lamai Beach, on the other hand, is less crowded-a great place for luxury accommodations and people looking to escape to their own little corner of paradise.
Island accommodations, on the other hand, can offer the best of both worlds, as many areas are protected land and remain underdeveloped. But if you want a hotel away from the mainland, Koh Tao is a good choice, offering peace and quiet and some of the best scuba diving you'll find in Thailand.
Chaweng Beach Area: Best Access to Shopping and Amenities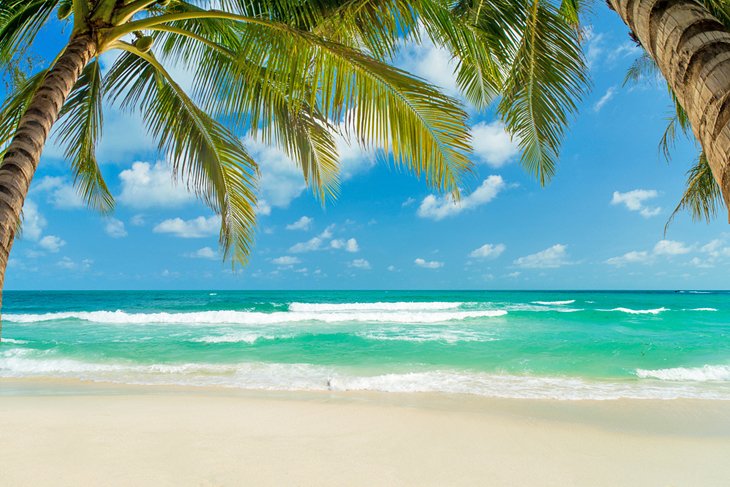 Chaweng is Koh Samui's biggest resort town, best known for being home to the largest shopping complex in southern Thailand, a wide range of hotels in all price points, and lots of things to do and places to eat. Although Chaweng is also well known for its nightlife, this also includes a softer side of late-night cafes, live music venues that stay open well past midnight, and plenty of oceanside restaurants to lounge under the light of the moon.
When it comes to daytime entertainment, Chaweng has lots of different things to offer as well. Petchbuncha Boxing Stadium has live muay Thai fights three times per week, and it's a great place to get an introduction to the sport. The secluded Wat Khao Hua Jook temple (which contains a replica of Buddha's footprint) and the 90,000-square-meter Central Festival Samui shopping center are also popular attractions here.
Above everything else, however, Chaweng's most important attraction is its golden white beach. Chaweng's best resorts are oceanfront, some offering private beach access, complete with their own sunbeds and umbrellas. For those finding their own spot on the sand, there are always vendors pacing around selling products and services-everything from henna tattoos and foot massages to ice-creams and jewelry.
Bangrak Pier Area: For Easy Access to Ferries and Boats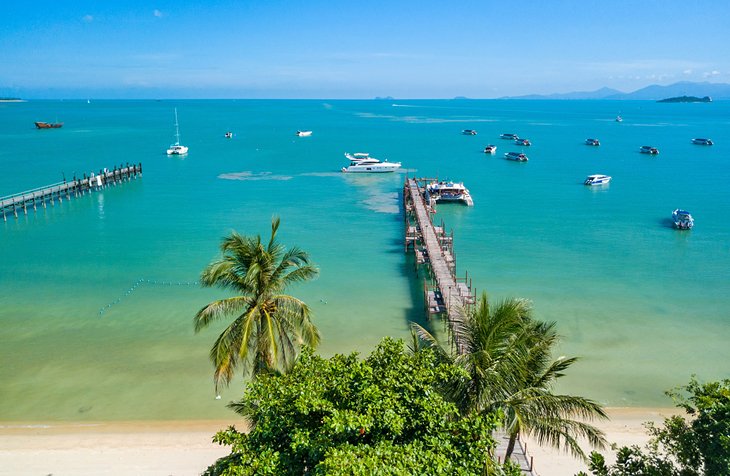 Samui has four ferry piers, but the boats that come and go from each one differ. Located towards the northwest end of Koh Samui, right next to Big Buddha Temple, Bangrak Pier is the main connection to Koh Tao and Koh Phangan, the two islands known for their magnificent coral reefs and many water adventures. There's also a ferry that connects to Donsak, from where you can easily proceed towards Surat Thani for train and airport connections.
Bangrak Pier has become a lively and popular area, with cafés, restaurants, and beautiful sunny views across the bay. There are several beachfront hotels just minutes away on foot, perfect for a couple of nights' sleep while you explore Big Buddha island, Wat Plai Laem and its gigantic statue of the Chinese Goddess Kwan Yin, and nearby Choeng Mon Beach.
Koh Tao Island: For Active Pursuits and Adventures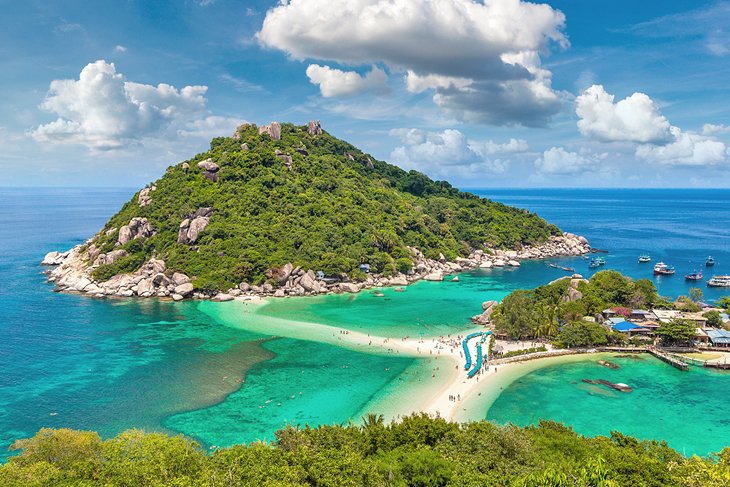 Koh Tao ("Turtle Island") has long been considered one of the best places for scuba diving in the world. Aside from plenty of options for diving sites, there are also many schools and shops catering to divers of all experience levels. Those coming to Koh Samui for water adventures will definitely head to Koh Tao to explore dive sites like Chumphon, rich in sea life, and the Sattakut wreck, a sunken US Navy ship where stingrays congregate.
Koh Tao accommodations tend to be cozy, beautiful villas with sea views and usually within walking distance of the coastline. Many are in the area surrounding Mae Haad Pier, where boats coming from the mainland and other islands stop. Mae Haad Bay offers plenty of shopping opportunities and it's a good place to grab last-minute equipment for a diving or snorkeling trip.
One of the best resort options on Koh Tao is the luxury Jamahkiri Resort & Spa, with a fantastic oceanfront setting, beautiful views, and a lovely pool. If you are looking for more of a budget hotel and interested in diving, check out Ban's Diving Resort.
Where to Stay in Koh Samui For Luxury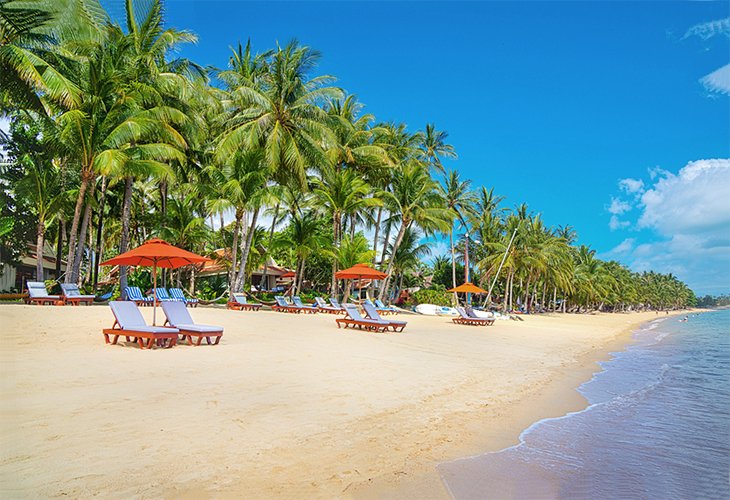 Even some of the high-end hotels in Koh Samui only offer partial sea views rather than the inspiring view you might have expected-blame busy roads, telephone cables, and palm trees for it. If you want Thai luxury complete with sea views, the best luxury hotels in Koh Samui-with plenty of amenities, absolute beachfront views, and luxurious facilities-are found on Lamai Beach, one of Koh Samui's most breathtaking seacoast areas.
Banyan Tree Samui is Lamai's ultimate luxury destination. Designed as a series of cascading terraces that look over the stunning turquoise waters of Lamai Bay, each of the 5-star villas here comes with its own infinity pool, rain shower, and outdoor dining area. When it comes to amenities, Banyan Tree Samui doesn't disappoint either, offering a world-class spa, a well-equipped fitness center and beauty center, fitness and yoga classes, and free bicycles to explore the surroundings. Exclusive snorkeling trips can be organized by the staff for the guests.
Ammatara Pura Pool Villas is another hotel set right on the soft golden sands of Lamai Beach. With just 18 pool villas on the premises, this is a great place for serene privacy. All villas feature delicate décor with details inspired by Thai palaces and temples, their own private pool, and 24-hour room service. The hotel is also big on services and amenities, which include an on-site tour desk, a luxurious spa and wellness center, and a beachfront restaurant with an award-winning menu.
Silavadee Pool Spa Resort sits on a private hill near the end of Lamai Beach and offers villas with their own private pools, as well as deluxe rooms. Much of the furniture and art here is supplied by local artists and designers, providing a truly unique look and feel. An outdoor fireplace and sun terrace, a private beach and picnic area, free use of water sports equipment, and spa/wellness packages add to the list of what makes Silavadee a great example of world-class service.
Located between Chaweng Beach and Lamai Beach, Sandalwood Luxury Villas offers the perfect blend of Thai and modern style with touches of sophistication and luxury in the process. All fourteen Thai-style pavilions here have open views over the Gulf of Siam, and nine of them have their own private infinity pools. The large outdoor deck areas come with Jacuzzi baths, sliding glass doors to create an indoor-outdoor feel, outdoor rain showers, and lounge chairs. The resort has a restaurant, offering authentic regional dishes with a modern twist, and a spa with plenty of options to relax and unwind.
Where to Stay in Koh Samui for Mid-Range Hotels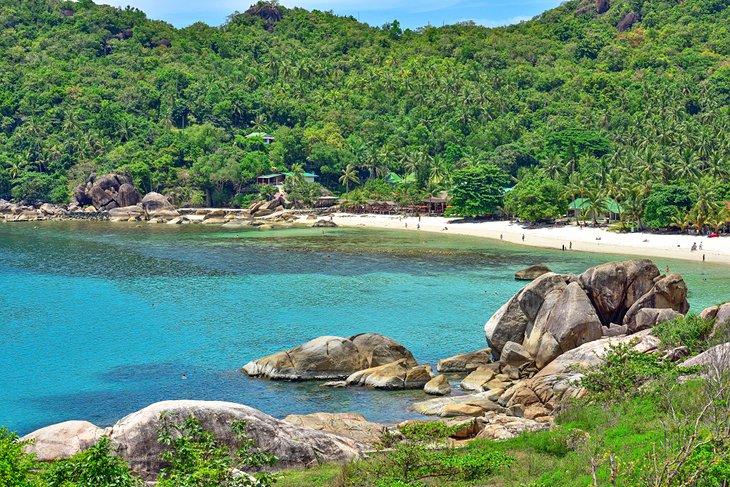 Koh Samui's mid-range hotels are everywhere. Luckily for visitors, you're not limited to a certain area of town or a certain beach for affordable prices. The key to keeping costs down here is booking well in advance and making sure you have a list of must-have amenities in mind (as well as things you're willing to be flexible about). If you're looking for mid-range hotels near the beach, Chaweng Noi Beach has a number of affordable accommodation options and even luxurious Lamai Beach also has some nice mid-range hotels.
Banana Fan Sea Resort is on the high end of middle-priced hotels, but still very affordable. Located at the south end of Chaweng Beach, this boutique hotel offers charming bungalows with their own private terraces and surrounded by quiet tropical gardens. From standard rooms with garden views to beachfront suites and villas with private pools, there's something for everybody here. Aside from an open-air restaurant serving Thai favorites, the resort also has a swimming pool; a tour desk to help you arrange activities; and plenty of complimentary activities, including free bikes and beach volleyball.
Baan Sukreep - Zen Garden Cottages is a small hotel that offers only 10 bungalows and villas nestled in a lush garden and with lots of luxury touches for a very affordable price. Just a five-minute walk away from Chaweng Noi Beach, the hotel offers a poolside restaurant; free yoga classes; an airport shuttle; a Thai massage area; and a tour desk to help you organize walks, kayaking, and more.
Sallamai Resort sits at the foot of the Lamai hills, just a few minutes' walk from the beach. This small hotel with only 10 rooms-some with private Jacuzzis and some with sea views-offers a pool surrounded by a tropical garden, an on-site coffee house, a large terrace with lounge chairs to relax in the sun, and bicycle rental services. A lush paradise at the end of a quiet road, Sallami Resort is the perfect place to unwind after a long day exploring Lamai Beach.
Baan Samui Resort is a colorful, quirky hotel with Thai-style rooms and traditional wooden furnishings. Great food is available on location, but the hotel is also located within steps of many restaurants and cafés, so you can always try a new place every day. Located right on Chaweng Beach, the resort offers Thai massages by the beachfront, a large swimming pool, live music every night, and a restaurant right on the sand.
Where to Stay in Koh Samui on a Budget: Hostels & Cheap Hotels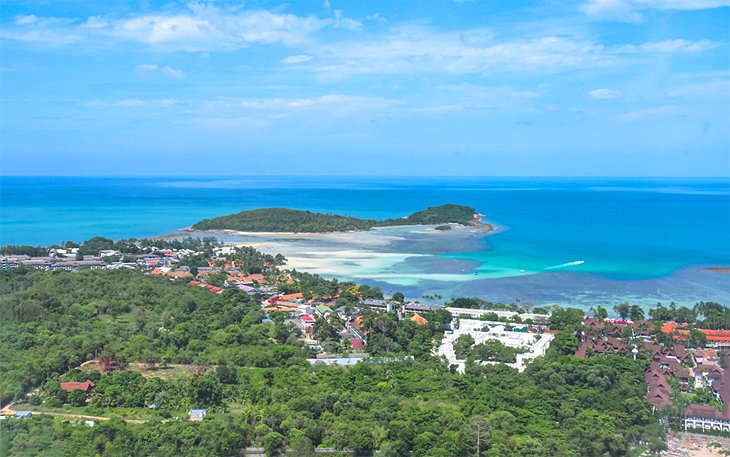 Some of the best budget hotels in Koh Samui are located around the Bophut area. Bophut is primarily a fishermen's village with an authentic Thai feel and a very popular outdoor market that attracts both locals and visitors. There's enough development here to provide comfort and entertainment without the massive crowds you'll find in other seaside towns in Samui.
Bophut is home to a quiet beach and a promenade that offers plenty of dining and shopping options plus affordable hotels and hostels-some right on the oceanfront or a short walk away. While lots of backpackers head here for the low prices, you'll also find plenty of solo travelers and families looking for a bargain.
Chalala Samui Resort is a small hotel with 15 simple Thai-style beach bungalows. In a quiet location right next to the ocean, Chalala Samui Resort offers comfortable, split-level, air-conditioned bungalows and a traditional Thai restaurant that sits right on the sand. A large swimming pool rests among the quiet, lush gardens, and you can even get a massage in an open-air sala right next to the ocean.

Us Hostel is located on a quiet corner in Big Buddha Beach, a leisurely 15-minute walk from Bophut beach. There are bunk beds available in shared rooms for maximum savings, but visitors can also get their own double rooms with either a shared or a private bathroom. A unique place built completely using metal containers as rooms, Us Hostel offers a large common kitchen area; a massive swimming pool; a tour desk; and a social area with a TV, board games, puzzles, and bicycles available for rent.

Riviera Beach Hotel is just 200 meters from Fisherman Village and steps from the beach, in a perfectly idyllic location with modern Thai-style rooms that have private balconies and open sea views. A bicycle rental service, a spa, and a sun terrace are also available within the premises. Guests can ask for hypoallergenic or soundproof rooms, and the hotel also provides sun loungers or beach chairs for direct private access to your own piece of white-sand paradise.
Where to Stay in Koh Samui for Families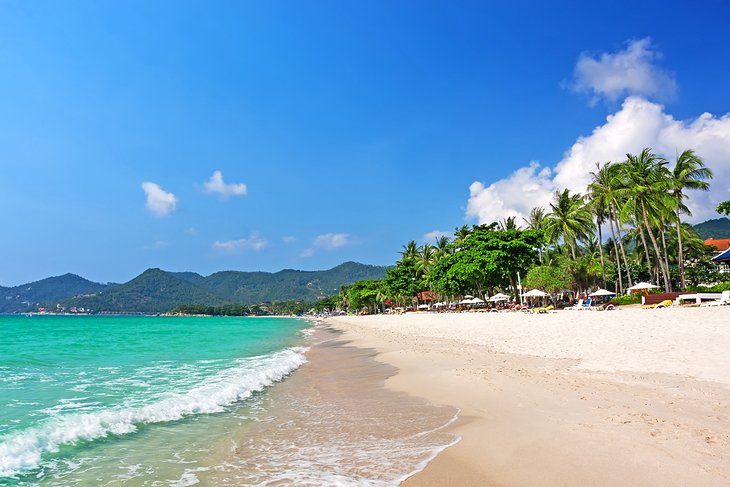 For extra space, interconnecting rooms, and kid-friendly amenities, your best bet is to find accommodations on Chaweng Bay, Koh Samui's most developed resort area. While you can find some family-friendly accommodations away from town and near quieter beaches, you'll have less access to attractions and little to do besides lounging on the beach. Chaweng, on the other hand, offers plenty of activities for all ages, still quiet and safe beaches, and plenty of things to keep the young ones occupied.
Muang Samui Spa Resort sits right on the powdery-white sands of Chaweng Beach, away from the busier areas and enveloped in lush peaceful greenery. With over 50 luxurious rooms-most with their own private balconies and outdoor dining area-eco-friendly Muang Samui feels like the perfect family escape after a day out in the sun. The hotel offers a kids' pool, child-friendly live music and themed dinner nights, water sports facilities, and the option to rent bicycles to explore the surroundings.
Boujis Boutique Resort offers traditional Thai-style décor in a relaxing oceanfront resort with amazing sunrise views over Chaweng Bay. This eco-friendly boutique hotel has villas that can accommodate up to six people-ideal for large families who want some privacy. Swimming pool toys are available for kids, and the hotel also offers babysitting and childcare for when the grown-ups need some time on their own. The staff can also help arrange zipline adventures and island tours that are family-friendly.
Chaweng Regent Beach Resort offers sweeping ocean views in a luxurious atmosphere of modern Thai-style décor and rooms with private terraces. With two outdoor pools plus a children's pool, a playground on-site, a kids' club and even a library, Chaweng Regent ticks all the boxes for families. There is also childcare and supervised activities available for an extra fee.
More Related Articles on PlanetWare.com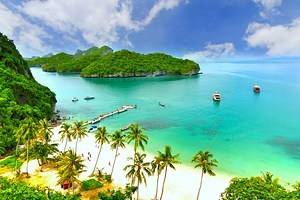 Getting to Koh Samui: If you are traveling to Koh Samui from Bangkok there are several ways of getting here. How you decide to travel may depend on your budget or the type of luxury you're looking for in your travels. For the best options, regardless of your budget, see our article, From Bangkok to Koh Samui: 4 Best Ways to Get There.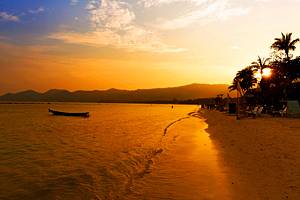 What to Do in Koh Samui: This probably seems obvious. Spend some time at the beach, enjoy a little nightlife, and relax. But if you are interested in sightseeing, diving, or a little adventure, have a read through our list of the Top Things to Do on Koh Samui.