12 Top-Rated Beach Resorts in Krabi, Thailand
We may earn a commission from affiliate links ()
Krabi is one of Southeast Asia's favorite destinations for sunseekers. Fortunately for travelers, resorts in the Krabi province offer plenty of comforts, amenities, and luxury touches to those ready for beachfront adventure. With things like spas, infinity pools, private terraces, and stunning views of the turquoise Andaman sea as part of their regular offerings, resorts in this area will not disappoint.
Whether you're after a secluded space like Pimalai Resort and Spa in the tiny island of Ko Lanta or a chain hotel like the Phulay Bay, a Ritz-Carlton Reserve and its world-renowned quality, there's something for you waiting in Krabi. To help you find the perfect hotel for your next trip to this tropical paradise, take a look at our list of top beach resorts in Krabi, Thailand.
Note: Some businesses may be temporarily closed due to recent global health and safety issues.
1. SAii Phi Phi Island Village, Ao Nang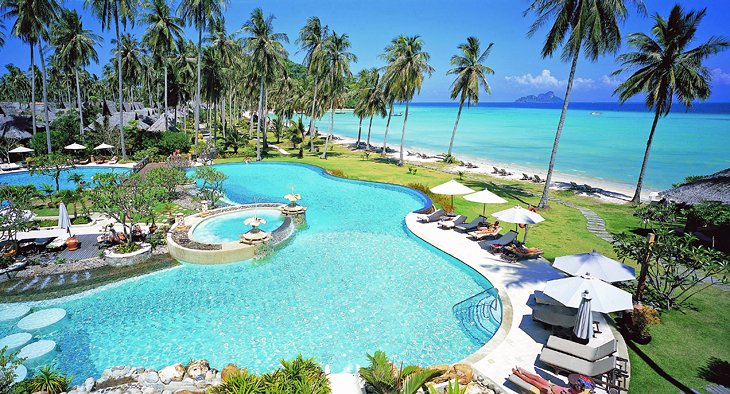 Located on an 800-meter stretch of private beach, this stunning oceanfront resort offers 189 luxury air-conditioned bungalows with thatched roofs, open-air showers, and private balconies with outdoor seating and sea views, as well as 12 exclusive Hillside Pool Villas. Amenities include a tennis court, a large infinity pool that opens over the powdery golden sands, and plenty of food options.
The on-site restaurants and cafés offer a wide variety of a la carte dishes, pre-fixed meals, and buffet breakfasts–a mix of Thai, Italian, and European award-winning specialties to satisfy even the most discerning diners. There's also a pool snack bar that offers unexpected things like homemade ice cream and a grill house serving al fresco dinners right on the sand and overlooking the turquoise waters.
The resort offers a fitness center, a spa with a range of massage and treatment options, a dive center, and a Marine Discovery Center with interactive displays and organized yoga classes, kayaks and paddleboards for rent, and a tennis court. Loh Bagao Bay is 50 meters away from the hotel–a calm oasis hugged by coconut palm trees and turquoise waters where you can go kayaking or snorkeling.
Address: 49 Moo 8, Aonang, Muang, Ko Phi Phi Don
Accommodation: SAii Phi Phi Island Village
2. Dusit Thani Krabi Beach Resort, Klong Muang Beach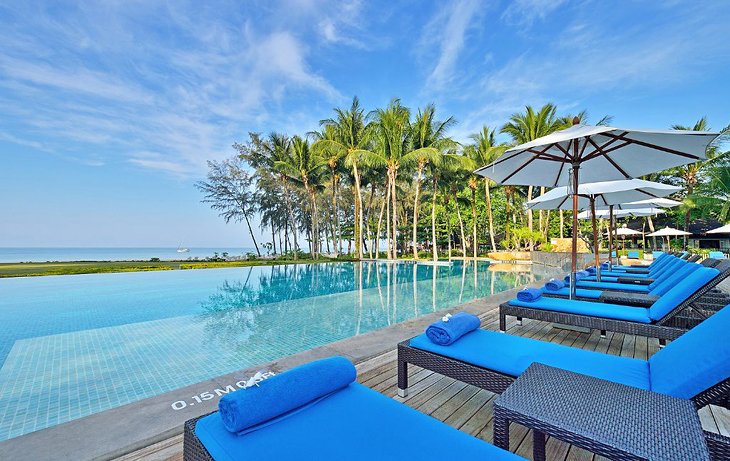 Sitting right on the soft white sands of Klong Muang Beach, the Dusit Thani offers a mix of rooms and suites with either garden or sea views set on sixteen beautifully landscaped acres. Some of the suites come with their own plunge pool, and most include outdoor seating and private balconies. Beautifully decorated in sleek, modern furniture and soft colors, the rooms are perfect for both couples and families.
Two beachfront pools, a world-class spa, and soft garden hammocks make the hotel perfect for relaxing before you walk back to the beach for a dip in the jade waters of the Andaman Sea. There are tennis and badminton courts available, and guests can visit the water sports center, jump into a Muay Thai ring, borrow a kayak, or rent a bicycle to go exploring.
The on-site restaurant offers American, Thai, and Asian cuisine in both buffet and à la carte options.
Address: 155 Moo 2, Nong Thale, Krabi Town
Accommodation: Dusit Thani Krabi Beach Resort
3. Rayavadee, Railay Beach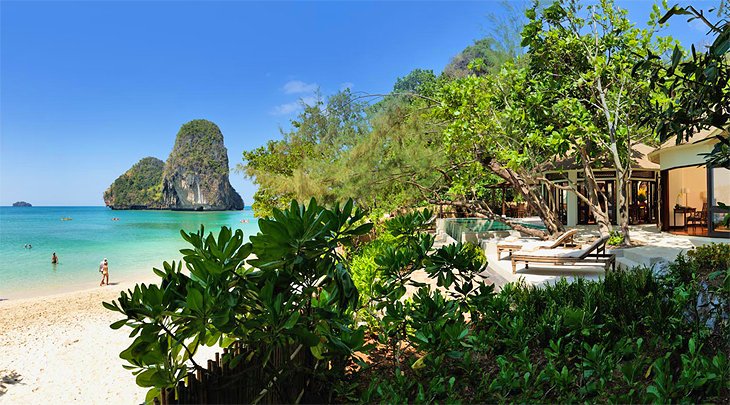 With a background of majestic cliff formations and surrounded by lush rainforest and powdery soft beaches, Rayavadee is one of Krabi's most breathtaking resorts. Rather than working around its location in a quiet corner of Krabi's most popular beach, the hotel has completely embraced its surroundings, building villas and pavilions that seem to melt into the 26 acres of coconut trees and an infinity pool that blends right into the turquoise sea.
Rayavadee offers a full-service spa, rooms with their own private pool and tropical garden, water sports facilities, and four different restaurants with award-winning menus. All rooms come with a seating area, luxurious bathtubs, and traditional tropical décor with rich fabrics and handcrafted details. Rayavadee offers a truly stunning tropical escape, complete with friendly macaques visiting the grounds and a tour desk available to help you organize hiking or snorkeling tours.
Address: 214 Moo 2, Tambon Ao-Nang Amphoe Muang, Railay Beach, Krabi Town
Accommodation: Rayavadee
4. Pimalai Resort and Spa, Ko Lanta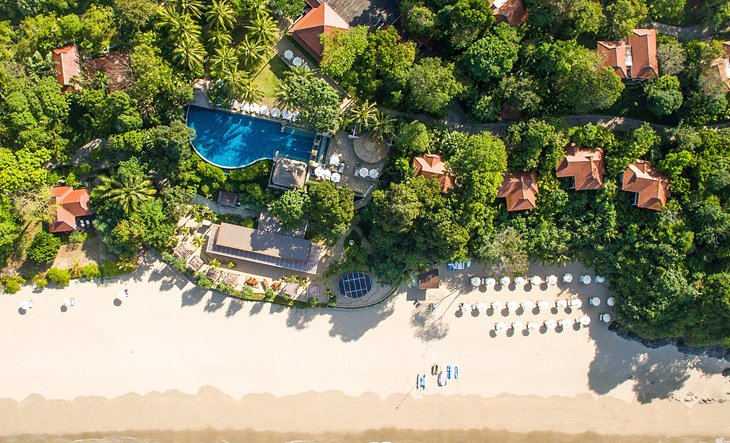 Ko Lanta is famous for its coral-fringed beaches and amazing scuba diving–and Pimalai Resort and Spa takes advantage of those things in an idyllic setting against the blue waters and powdery soft sands of Ba Kan Tiang Beach. Built right into 100 acres of lush rainforest, the resort offers serene and luxurious accommodations that overlook the ocean from their private balconies.
Guests can choose from hillside or ground villas, both with their own infinity pools, outdoor salas with lounging furniture, full glass walls, and stunning views over Kan Tiang bay.
Three on-site restaurants offer Thai and international meals and there's also a spa and wellness center, yoga classes, a steam room and gym, and a kids' club on the premises. Active guests can rent a bike, try the water sports facilities, use the tennis court, or arrange a cooking class or a canoe trip to explore the surrounding islands.
Address: 99 Moo 5, Ba Kan Tiang Beach, Ko Lanta
Accommodation: Pimalai Resort and Spa
5. Koyao Island Resort, Ko Yao Noi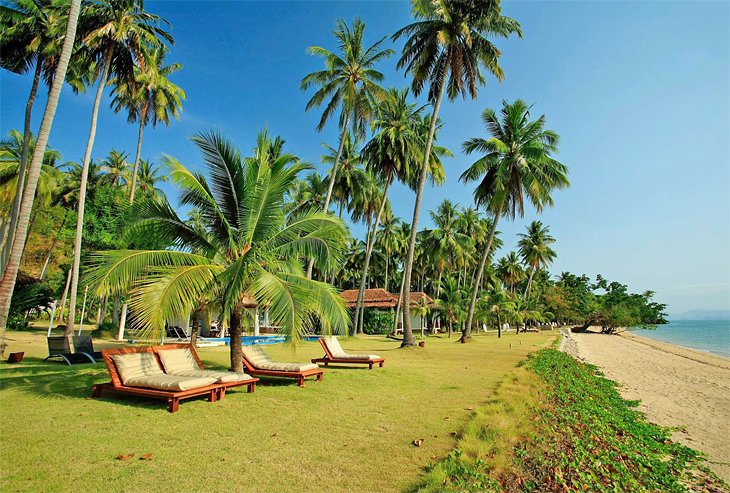 This very unique resort offers "sea gypsy"-style villas, an homage to the traditional Thai bungalows, with moving walls that can be opened at night to let the sea breeze and the light of the moon in. The bungalows are built using palm leaves on the roofs, eco-friendly materials, and details like outdoor showers and sitting areas that look over Phang Nga Bay.
For guests with a bigger sense of adventure, the resort also offers panorama tented pool villas, a unique safari-style luxury tent with special insulation, an air-conditioning system and their own private pool.
Aside from an infinity pool and lounge chairs on the quiet white sand, guests can also enjoy a spa, a library with both reading material and board games, an on-site restaurant offering international cuisine, and packed lunches for those leaving the resort for an adventure. The hotel's activity center can help you organize everything from climbing trips to kayaking tours to the neighboring islands.
Address: 24/2 Moo 5, Ko Yao Noi
Accommodation: Koyao Island Resort
6. The Tubkaak Krabi Boutique Resort, Tubkaak Beach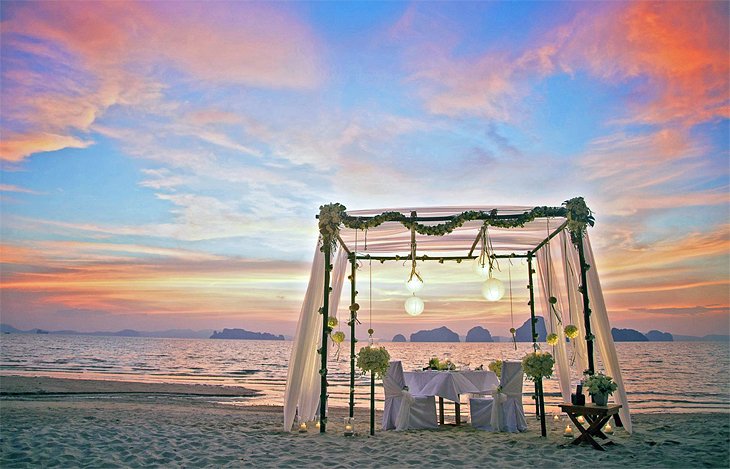 Sun loungers and hammocks on a stretch of private beach set the welcome mood for this 5-star hotel resort with much to offer guests. A boutique hotel with 59 villas and rooms, the Tubkaak Krabi Boutique Resort is all about the details–the outdoor showers, the stunning cliff or sea views, and the private infinity pools surrounded by lush gardens and lily ponds. Spa bathtubs, floor-to-ceiling glass windows, and separate living areas make the villas ideal for couples or solo travelers looking for the ultimate in pampering.
Although located on a popular beach, the resort is designed to offer a serene atmosphere–koi ponds; private gardens hugged by trees; outdoor showers; and a chance to eat breakfast in your room, away from the crowds.
The resort offers a number of organized tours and activities, including canoeing, snorkeling, and access to a nearby golf course. Bikes are available to borrow free of charge, and guests can choose to have breakfast in their rooms, visit the on-site restaurant, or arrange private evening meals on the beach.
Address: 123 Moo 3, Tumbol Nongtalay, Nong Thale, Krabi Town
Accommodation: The Tubkaak Krabi Boutique Resort
7. Ko Jum Beach Villas, Nua Klong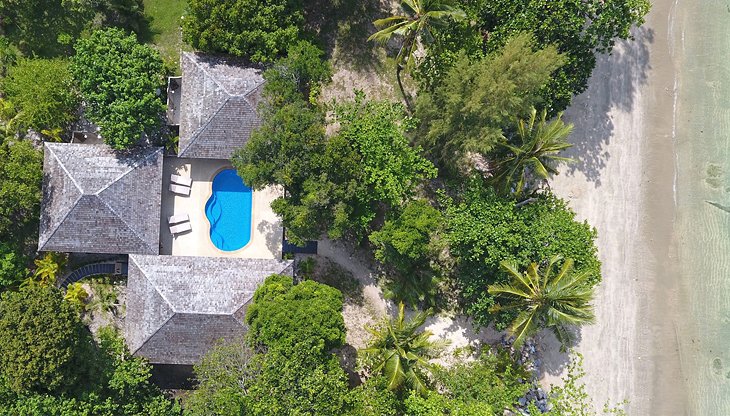 Located on a tiny island off the tourist radar, the Ko Jum Beach Villas is the perfect choice for travelers who want something different–a small resort with their own private stretch of sand, away from the buzz of popular beaches. Here, the villas and bungalows aren't just facing the beach–they are actually on it, with outdoor furniture set right on your own piece of golden sand.
Some villas offer private pools; some offer walls made completely out of glass that you can open to feel like you're almost sleeping under the stars. Beachfront villas have a stunning sunset view from their private terraces, while poolside villas are lost in a lush tropical garden of palm trees and secret corners where you can sit for quiet privacy once the sun comes down.
Reachable only by boat, the resort is set up so you can have access to anything you might want when on the island. There are family rooms available and childcare provided, as well as a library, cooking classes, and an on-site cafe available. You can also borrow a bicycle or a canoe for free, or have the tour desk arrange a snorkeling trip for you.
Address: 320/29 Moo 3 T. Koh Sriboya, Nua Klong, Ko Jum
Accommodation: Ko Jum Beach Villas
8. Bhu Nga Thani Resort and Spa, Railay Beach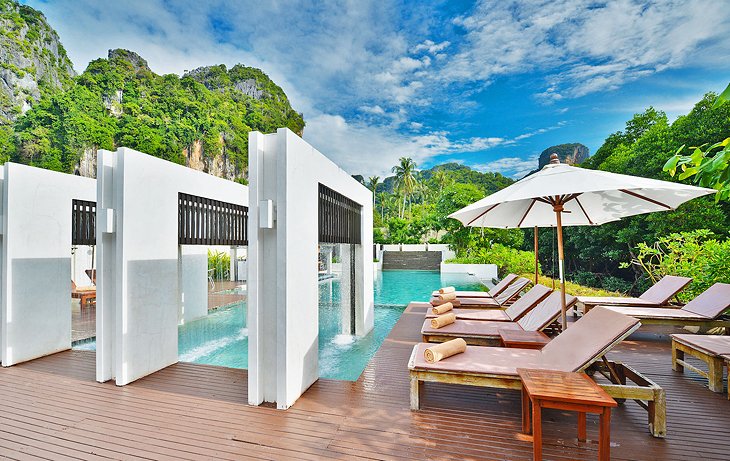 A luxurious, modern resort surrounded by mangrove forests and breathtaking views of the Andaman sea, Bhu Nga Thani Resort and Spa offers a secluded getaway on one of the best beaches in Krabi. A popular choice for couples, the hotel is a great option for affordable luxury, with rooms and villas featuring private swimming pools, sun decks, and oversized bathtubs. All villas also feature a dining or sitting area, outdoor rain showers, free high-end toiletries, and beach towels for when you're ready to spend some time sunbathing and enjoying the waves.
Aside from a large outdoor pool with a stunning view and a fitness and spa center, guests can also take advantage of amenities such as the on-site restaurant with tables sitting right on the golden sand, and guided activities, including island-hopping tours and snorkeling.
Address: 142 Moo. 2, Ao Nang, Railay Beach, Krabi Town
Accommodation: Bhu Nga Thani Resort and Spa
9. Centara Grand Beach Resort & Villas Krabi, Ao Nang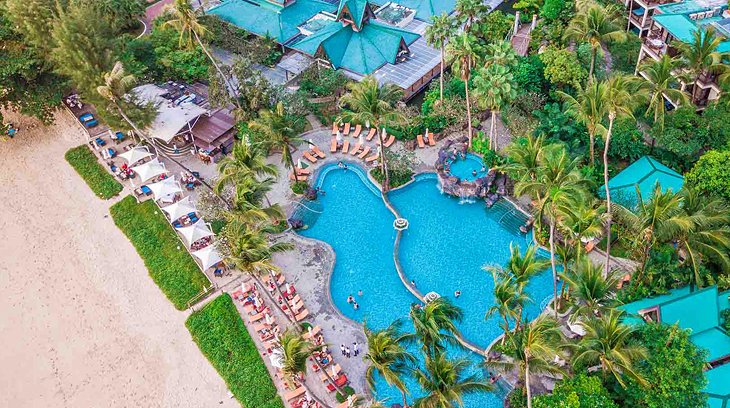 Located within a national park in Pai Plong Bay, this secluded resort offers beachfront-facing villas with stunning sunset views, as well as a number of rooms with either garden or sea views, terraces overlooking the foamy blue waters, and a rain shower. Rooms and villas also come equipped with hardwood floors, stylish traditional Thai décor, and even an outdoor spa bath in some of the executive villas.
Two laid-back pools stretch right into the golden sands and the ocean, with plenty of beach chairs and space for sunbathing. There are clear views of the water from their open-air Thai restaurant, while three other on-site restaurants offer evening entertainment, movie nights, and live music and performances.
Trails leave right from the hotel into the surrounding limestone cliffs, and guests can enjoy sailing, snorkeling, and windsurfing just steps from the resort's tropical gardens.
Address: 396-396/1 Moo 2, Amphur Muang, Ao Nang, Krabi Town
Accommodation: Centara Grand Beach Resort & Villas Krabi
10. Phulay Bay, a Ritz-Carlton Reserve, Nong Thale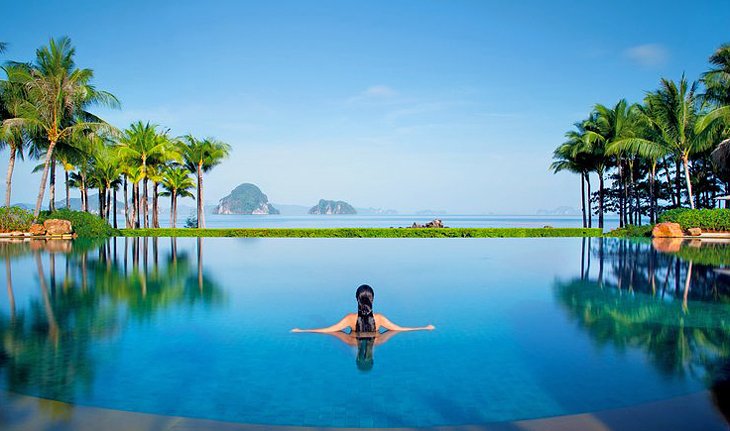 This 5-star resort, part of the Ritz-Carlton family, sits on an exclusive corner of Phulay Bay, overlooking both turquoise seas and towering limestone cliffs. Created to combine serenity and luxury, the resort offers a 24-hour butler service; five on-site restaurants and a picnic area; a well-equipped fitness center with personal trainers; a steam room and full-service spa with yoga lessons and massages; and a kids' outdoor play equipment area, ideal for families.
In addition to the main infinity pool, several of the villas come with their own private pools, outdoor bathtubs, and dipping pools. The Beach Villa offers open views over the ocean from its own pool and outdoor seating area, plus extras that include hardwood floors, four-poster beds, a completely secluded terrace, and plenty of free toiletries and snacks.
Diving, snorkeling, and sea kayaking tours can be organized by your personal butter, and the resort also offers movie nights, themed dinner nights, and batik painting or Thai cooking lessons. For those wanting to explore on their own, there are bicycles for rent here, or you can ask the tour desk to suggest a good hiking route to explore the bay.
Address: 111 Moo 3 Nongthalay, Muang Krabi, Nong Thale, Krabi Town
Accommodation: Phulay Bay, a Ritz-Carlton Reserve
11. Layana Resort & Spa, Ko Lanta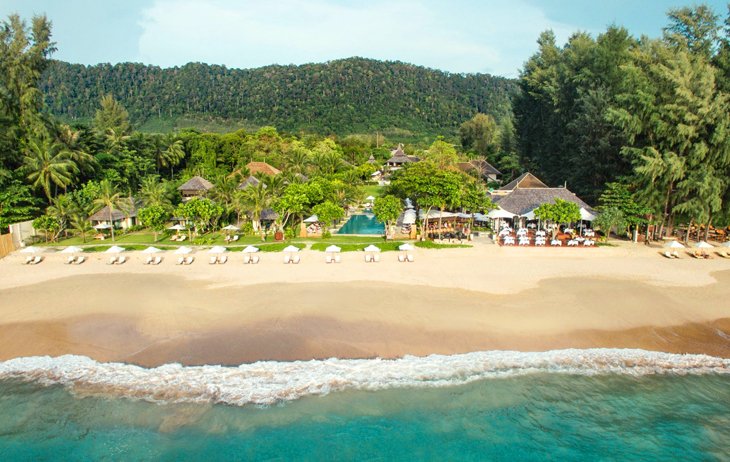 Located within the Mu Koh Lanta National Park, the adults-only Layana Resort and Spa offers ultimate luxury in a stunning beachfront location. Here, traditional Thai design of dark woods and sumptuous silk textiles mixes in with contemporary decor and amenities to offer the best of both worlds.
Guests have a choice between deluxe rooms with terraces; small beach villas; and large spaces such as La Maison, which features its own swimming pool, two bedrooms, an outdoor dining area, and a lush private garden. The hotel's main pools overlook the ocean and the three-kilometer stretch of private beach.
The resort is packed-full with amenities, including three on-site restaurants, an outdoor fireplace and picnic area, yoga and fitness classes, and a first-class spa offering everything from Thai massage to couple's massages to a Jacuzzi.
For guests looking for adventure, the hotel can organize a number of activities off-site, including diving, snorkeling, and sea kayaking tours. Bicycles are available for rent, and the hotel offers live performances in the evenings.
Address: 272 Moo 3 Phra-Ae Beach Saladan, Ko Lanta
Accommodation: Layana Resort & Spa
12. Zeavola Resort, Ko Phi Phi Don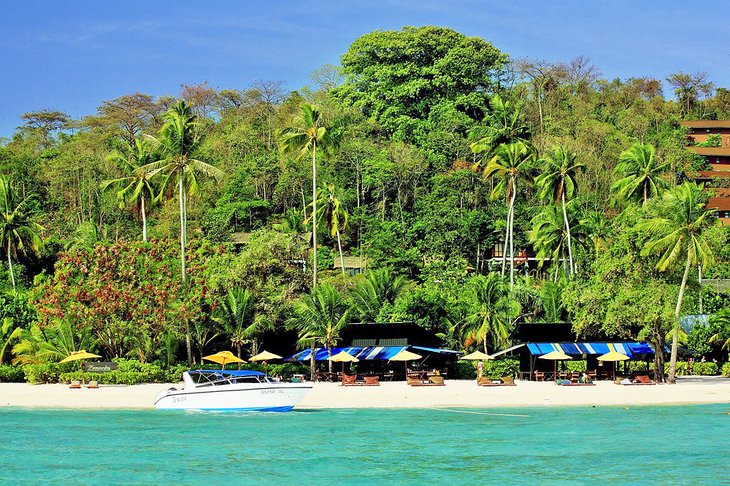 This sustainable resort offers teakwood villas and suites that seamlessly blend rustic charm with luxurious interiors and large private outdoor living areas. Enjoy a rainfall shower, jump into your private pool, or catch the 180-degree views of the exotic rainforest surrounding your villa.
The Pool Villa Suites offer an expansive outdoor living space among the forested hillside and a split-level design perfect for honeymooners, while the Beachfront Suites enjoy a prime beach location on the edge of the resort, where visitors can enjoy the lull of the waves away from everything and everybody.
All rooms come equipped with the ultimate in comfort, turndown service, luxurious textiles, and full-length windows that can be opened completely to let the sea breeze come in.
The hotel has a rainforest spa and two restaurants that offer a superb mix of authentic Thai and Mediterranean cuisine, or you can ask for your own candlelit table on the beach. There are also packages for romantic sunset cruises (canapé and tapas included) and a Thai cooking class if you're up for preparing your own lunch.
For those who want a more active day out, the resort also offers dive packages and a number of boat excursions to discover the Phi Phi National Marine Park, the almost-secret Wang Long Cove, and local islands, as well as jungle trekking and snorkeling trips.
Address: 11 Moo 8 Laem Tong, Ao Nang, Ko Phi Phi Don
Accommodation: Zeavola Resort
More Related Articles on PlanetWare.com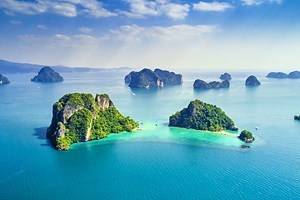 Popular Destinations in Thailand: If beautiful beaches and tropical islands are what you're looking for, have a read through our article on Phuket Island and our guide to the best beaches in Thailand. For a general overview of what to see and do on your trip to Thailand, see our article on the Top Tourist Attractions in Thailand.