16 Top-Rated Resorts in Texas
We may earn a commission from affiliate links ()
Boasting some of the most dramatic scenery in the US – not to mention some of the country's leading attractions and top things to do – Texas offers no end of great accommodation options. Topping the list of the best places to visit and stay are properties from some of the country's leading luxury hotel and resort brands.
Popular choices include Four Seasons Resort and Club Dallas at Las Colinas, a great family getaway that's well-known for its many activities and kids' programs. Also worth considering when it comes time to make an online reservation are the opulent Ritz-Carlton, Dallas, and the JW Marriott San Antonio Hill Country Resort and Spa, the perfect getaway for those seeking some pampering while they explore the surrounding countryside.
Whatever your needs, and whether you're here on business or pleasure, traveling solo or with a partner or family members, the Lone Star state has just what you're looking for.
Find the best match for your travel style and budget with our list of the top resorts in Texas.
1. Four Seasons Resort and Club Dallas at Las Colinas, Irving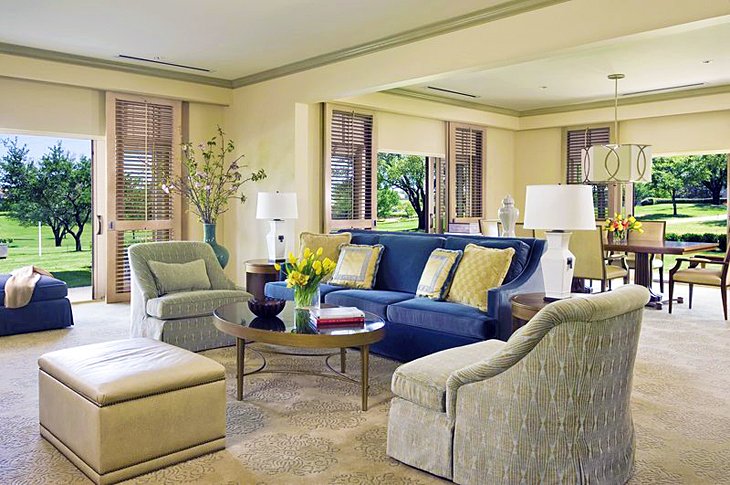 There are also two quieter pools available for guest enjoyment, along with plenty of terrace space on which to unwind and sunbathe. Other notable amenities include a large fitness center, a full-service spa, and plenty of dining options including a fine-dining restaurant.
There's also much to commend the resort's accommodations. The bright and spacious one-bedroom units are especially popular with couples and families thanks to the convenient pullout sofa in the generously-sized living area.
2. Hotel Granduca Houston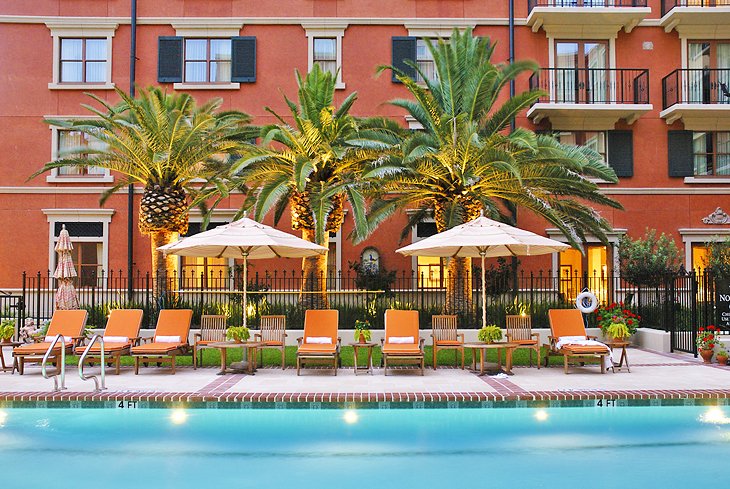 The hotel is also well known for another fancy repast: its elegant afternoon tea. Along with its sumptuous brunches (especially popular is the hotel's Christmas brunch), the hotel's tea experiences do book up, so be sure to make a reservation.
Other notable amenities include meeting and banquet space that's perfect for elegant weddings and other functions, a business center, a delightful heated swimming pool in a pleasant courtyard setting, and a well-equipped gym. For a special treat, make use of the hotel's limo service, which will whisk you about town in a luxurious Italian Maserati. Concierge and room services are also available.
3. The Ritz-Carlton, Dallas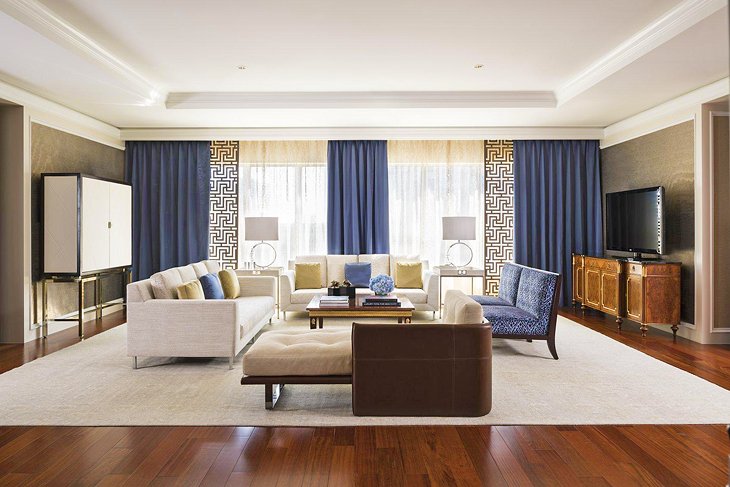 A great choice of accommodations for those wanting a little more space than your typical hotel room are the well-appointed one-bedroom suites. These spacious units come with such features as master bedrooms with their own parlor, plenty of comfy seating, and ensuite bathrooms with large bathtubs and separate showers.
On-site amenities include a beautiful lobby and lounge area in which to mix and mingle, and an elegant fine-dining restaurant. Be sure to request one of the restaurant's quiet private dining rooms if traveling with a group, and be sure to enquire about their popular high tea experience.
4. Rosewood Mansion on Turtle Creek, Dallas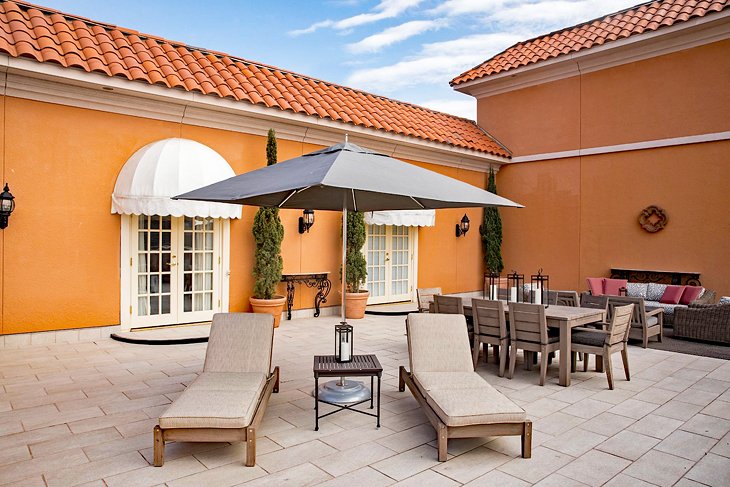 Located in downtown Dallas, this historic former private mansion has become increasingly popular for its elegant restaurant (the locals dine here, so you know it's good). Other on-site amenities worth mentioning include a fully-equipped fitness center, a full-service spa, and a large heated outdoor swimming pool with lounge chairs and umbrellas.
Each of the hotel's chic accommodations have been refurbished and offer a delightful, relaxing retreat just steps away from the hustle and bustle of the big city. Equally popular with couples as they are for those in town for business are the spacious 450-square-foot king suites.
5. Hotel ZaZa Dallas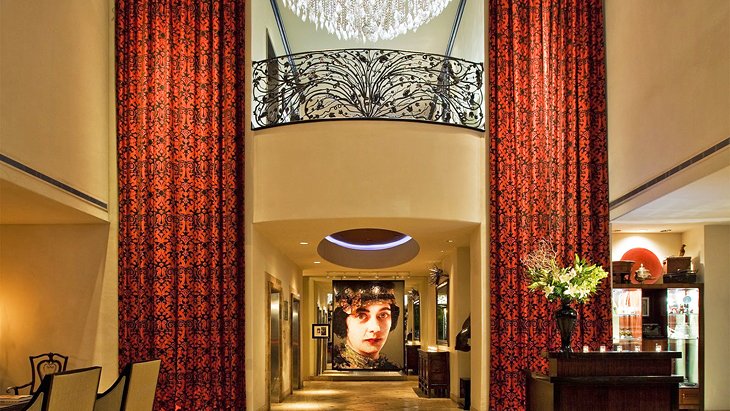 In addition to its eclectic art collections, the hotel offers a world-class restaurant, a full-service spa, and a fitness center. There's also a good-sized heated outdoor swimming pool, and plenty of space to lounge about and relax in. Valet parking and concierge services are available.
The accommodations are equally interesting in their choice of décor and also include many fine examples of local artwork. Popular choices include a 1960s-themed suite, complete with love beads, lava lamps, and beanbag seating. With its king bed and futon, this spacious room can sleep up to four guests comfortably.
6. Four Seasons Hotel Austin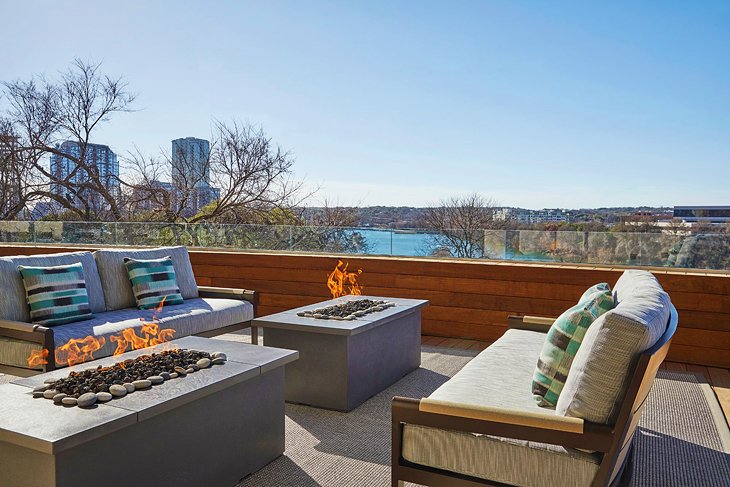 Other nice touches include having access to a chauffeur-driven luxury car, valet parking, and, for those with the talent, free loan of musical instruments, including guitars. The hotel's restaurant is also worth checking out and features a very popular weekend brunch.
When it comes to the hotel's airy, bright guest rooms - it's a fairly large place with some 294 rooms and suites - you can certainly expect the same level of quality. Features of note include large bathrooms with high-end bath products, quality bedding, and a choice of king or two queen beds.
7. The Woodlands Resort, The Woodlands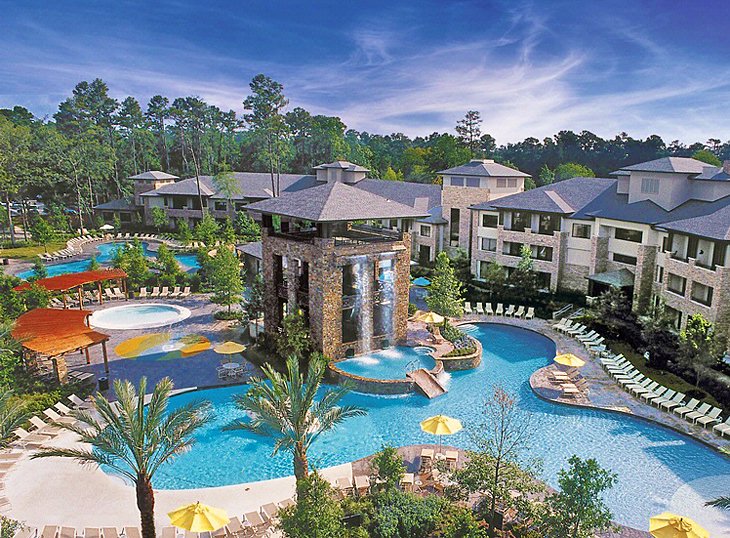 In addition to exploring its magnificent setting - there are plenty of hiking and biking trails here - the resort boasts two first-class golf courses, plus a large tennis center offering lessons and programs for all ages.
There are also a number of outdoor heated swimming pools. Youngsters, too, are well catered to and will love the waterslides and activities available at the resort's private water park, while adults will enjoy the full-service spa and great dining.
8. La Cantera Resort & Spa, San Antonio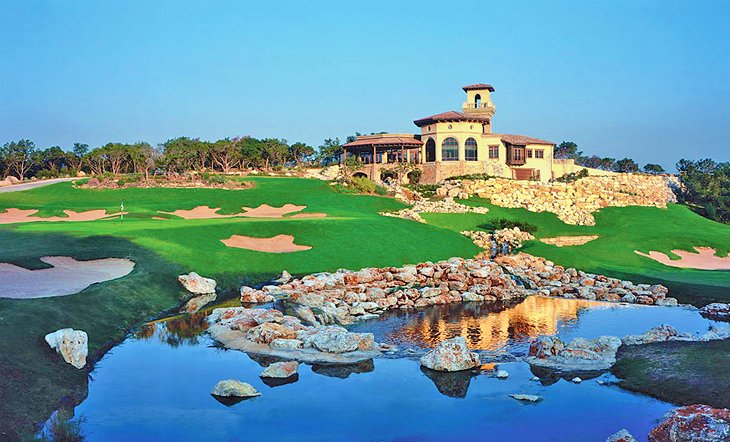 The resort also boasts two championship golf courses along with a pro shop and coaching should you want to work on your game. Other features include a large and fully-equipped fitness center, jogging trails, a full-service spa, and on-site shopping. The resort offers a variety of dining options and restaurants, all of which have great kids' menus.
9. Moody Gardens Hotel, Spa, & Convention Center, Galveston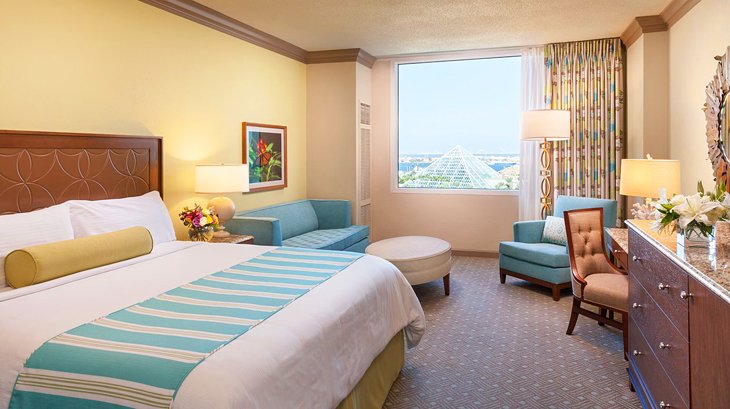 Guests also have easy access to the delightful Moody Gardens, one of the top botanical attractions in Texas. Other on-site amenities include a full-service spa, fitness center, and a number of restaurants.
10. The San Luis Resort, Galveston Island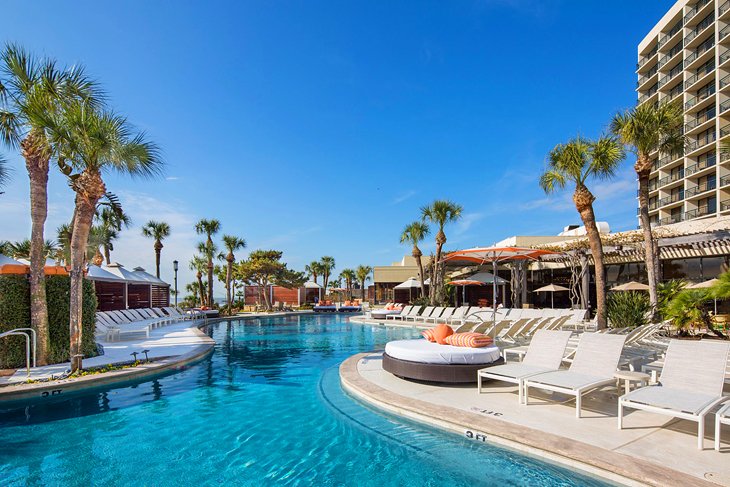 Other standard features consist of Keurig coffee makers, mini-fridges, and microwaves. A number of executive suites are also available. If available, be sure to request a gulf view.
In addition to having direct access to a long stretch of beach, guests will also enjoy on-site amenities including a large heated outdoor swimming pool with plenty of space to sunbathe. Comfy lounge chairs and umbrellas are provided, while luxurious cabanas with fridges and TVs can be rented.
11. Gaylord Texan Resort & Convention Center, Grapevine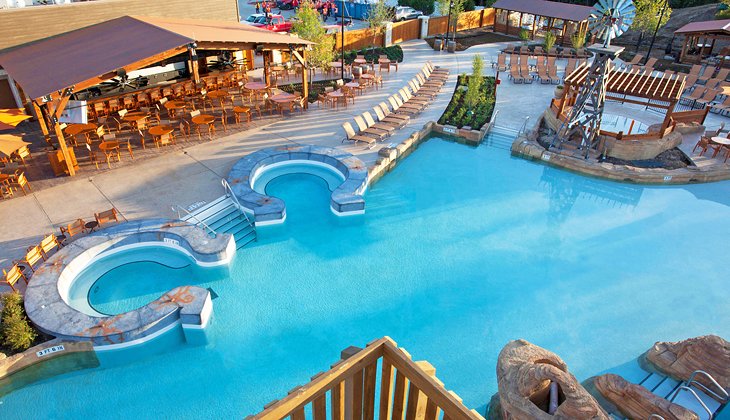 Popular room choices in this top-rated 4-star resort - particularly for families - are the spacious one-bedroom units. These come with separate master bedrooms, large bathrooms with deep soaker bathtubs and separate showers, and large dining rooms. Whatever size of room you choose, though, you can expect quality features, such as furnished balconies, HDTVs, and mini-fridges.
12. Lake Austin Spa Resort, Austin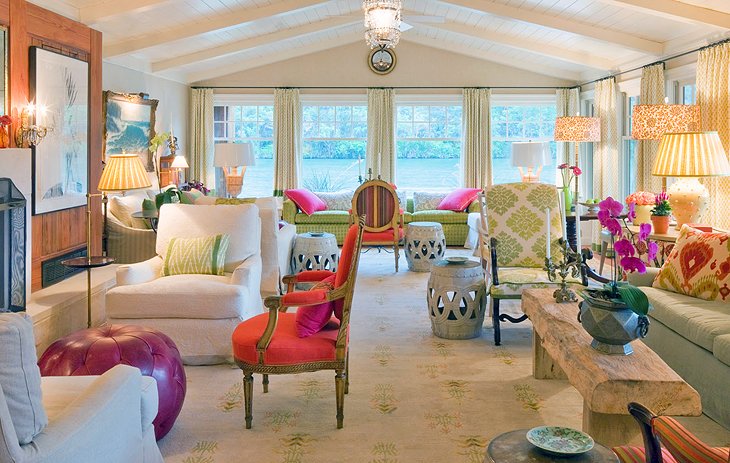 Highlights of a stay include relaxing in your spacious king room with its king bed (queen beds are also available), or hanging out on the large balcony with its shady awnings and great views over Lake Austin. Other features worth mentioning include displays of local art, large bathrooms complete with stand-alone showers, and soaker tubs with plush bathrobes provided. Also included as standard features are large-screen HDTVs, and work desks.
13. JW Marriott San Antonio Hill Country Resort and Spa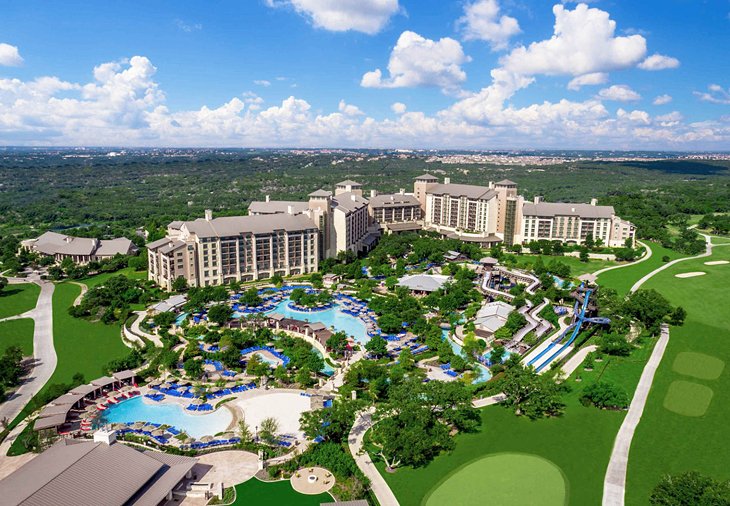 This large resort-based water park has much to commend it, from its heart-thumping rapid-river ride to the more sedate 1,100-foot-long meandering lazy river. Also worth enjoying are the two championship golf courses, the many dining options, a full-service spa, and outdoor movies.
14. Hyatt Regency Hill Country Resort and Spa, San Antonio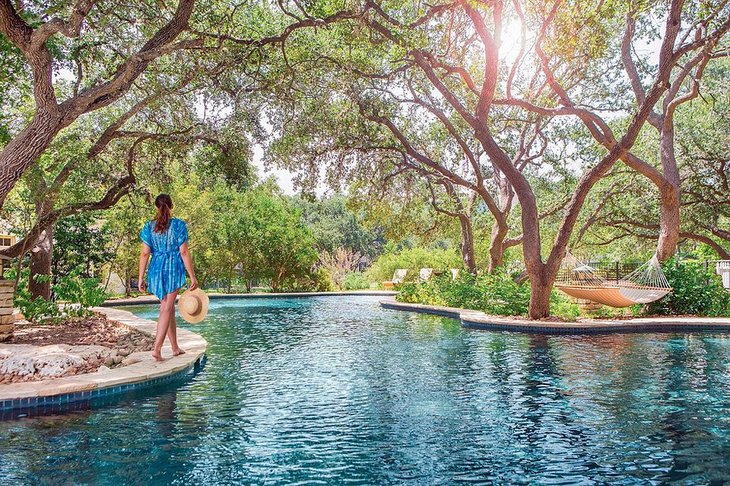 Things to do and popular resort activities include having the chance to play 27 holes of championship golf (a pro shop and lessons are available), and a large water park complete with a lazy river and waterslides. Also fun is spending time at the full-service spa and enjoying a tasty meal in one of the on-site restaurants.
When it comes time to bed down for the night, you won't be disappointed with the high-quality of the rooms available here. A great choice for those wanting a little more room are the spacious one- and two-bedroom units, complete with elegant master bedrooms and ensuite bathrooms with separate showers and bathtubs.
15. The Houstonian Hotel, Club & Spa, Houston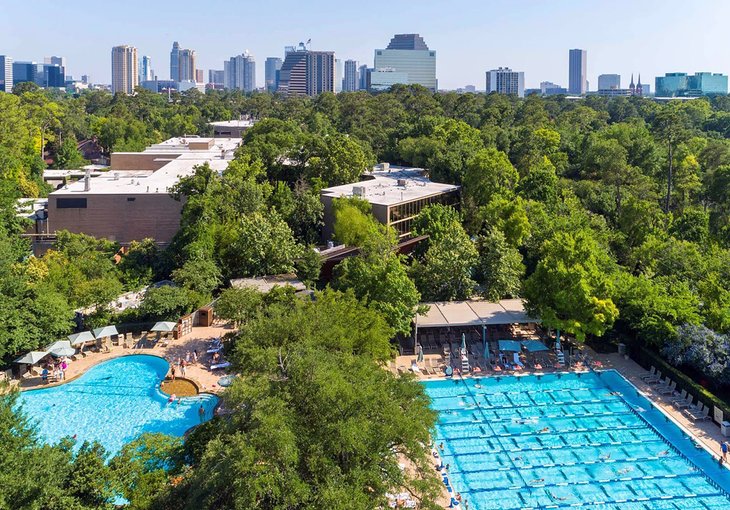 A great choice of room, if it's available, are the exquisitely decorated two-room suites with their custom furnishings and artworks and separate bedrooms. If you can, upgrade to the executive level rooms, which provide a personal concierge and access to a private lounge with complimentary food and drink.
There's certainly much to make you want to stay on-site at this popular 4-star Texas resort. In addition to wandering around the expansive property with its many quiet spots, guests are granted access to a private members-only health club, which comes with a choice of three heated swimming pools plus a state-of-the-art fitness facility.
16. Hyatt Regency Lost Pines Resort and Spa, Cedar Creek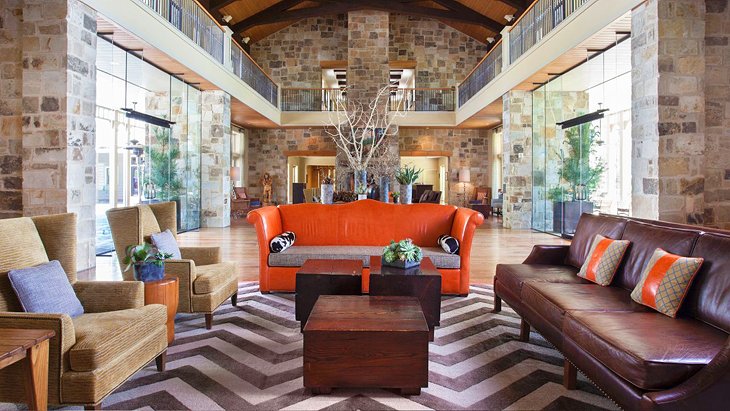 The larger units come with additional perks such as separate bedrooms and additional bathrooms, as well as separate work areas, and spacious dining and living rooms. A number of pet-friendly suites are available, so be sure to make your request known when booking.
There are plenty of things to do around the resort, too. Highlights include walking and biking the trails that crisscross the resort's 400-acres, or exploring the endless trails of the nearby McKinney Roughs Nature Park. Drive. Other fun activities include enjoying a nature tour, relaxing poolside, and toasting marshmallows on one of the fire pits.