11 Top-Rated Resorts in San Antonio, TX
Welcome to San Antonio – America's original cowboy town. The historic, 300-year-old city is one of Texas' most visually stunning, with historic sites like the Alamo, River Walk, mission churches, and leafy green parks. The city is surrounded by Texas Hill Country, as well, which provides ample room to roam, and a gorgeous setting for the top resorts in San Antonio.
Because of the city's location, guests have the best of both worlds. They can opt for historic, glamorous urban resorts, like the luxurious Hotel Emma, or swing more traditional at resorts with sprawling complexes complete with golf courses and palatial-style spas.
No matter where you stay, you are never very far from the top attractions and things to do in San Antonio, from its restaurants and history to its theme parks, entertainment, and much more.
So strap on the boots and tighten the spurs. Here is our list of the best resorts in San Antonio, TX.
1. Hotel Emma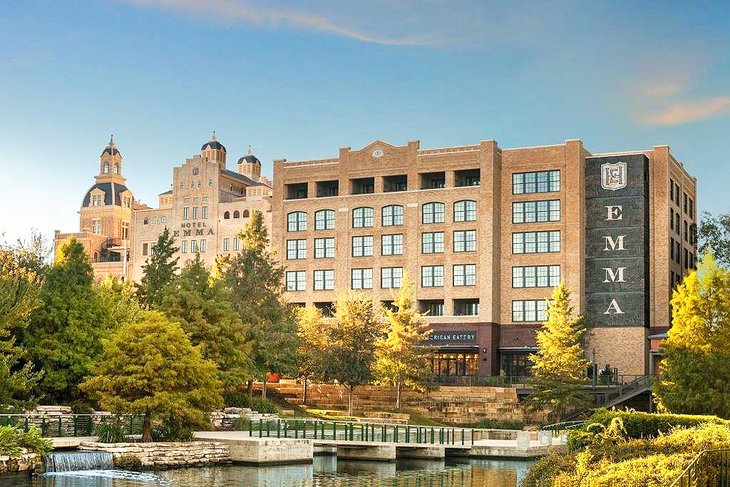 Accommodation: Hotel Emma
Hotel Emma burst on the San Antonio scene in 2015 and has skyrocketed to become one of the best resorts in San Antonio. The historical urban resort was once a 19th-century brewhouse. Today, it is a 146-room waterfront hotel in the Pearl District.
The historic hotel is in the trendy Pearl District, on the north side of downtown. You can see the history in every inch of the hotel, like the powerful steam engines that stand guard in the lobby. Still, so much of the hotel is thoroughly modern, with decor and aesthetics designed by the team behind the Ace hotels and the Standard Highline in New York.
Accommodations are split between rooms and suites, each with its own name and design. The top-of-the-line room is the Emma Koehler Suite, a light-filled mega-room complete with a fireplace, grand piano, and floor-to-ceiling windows.
As for dining, Hotel Emma is the jewel in the crown of the Pearl dining community. It has three restaurants, including Supper, Larder, and Sternewirth. Supper is your all-American eatery right on the banks of the San Antonio River. Down in the cellars, Larder is about fine dining and hearty cuts of meat. For cozy conversation and small plates, it has to be the dimly lit Sternewirth.
And what's an urban resort without a pool? Hotel Emma's brick pool deck is lined with lounge chairs and decorated with beautiful greenery. A food truck here serves casual pool snacks. It is one of the hotel's most popular spots for kicking back and relaxing under that San Antonio sun.
Address: 136 E. Grayson Street, San Antonio, Texas
2. Thompson San Antonio - Riverwalk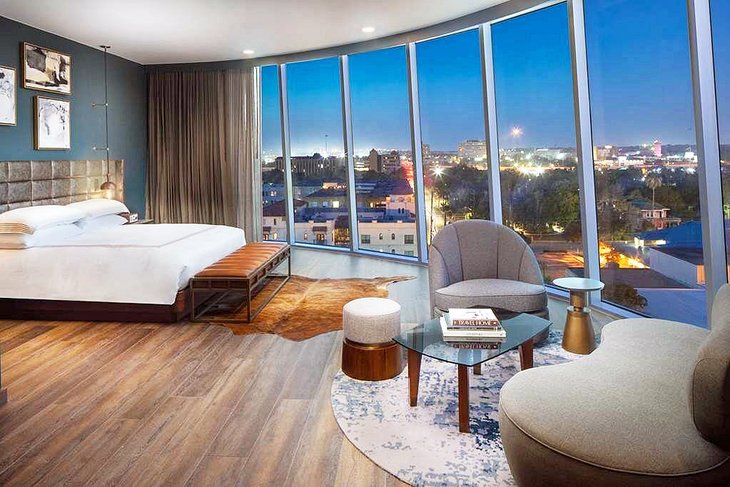 Accommodation: Thompson San Antonio - Riverwalk
Located right on the River Walk, Thompson San Antonio - Riverwalk oozes modern Mad Men glamor, with mid-century style furniture and lots of leather, wood, and bold pops of color.
The lobby sets the tone instantly, with gold light fixtures and a gorgeous staircase that stands out with an orange leather handrail. Then it is up to the 162 guest rooms and 33 suites, all of which echo that same "elevated man cave" vibe. Think floor-to-ceiling windows with heavy, slate-gray drapes, dark walls, wood floors, and plenty of areas to lounge.
If you're really wanting to impress, book the Penthouse Suite with 1 king bed, which has a private terrace; dining area; pool table; and views of downtown, Hill Country, and the River Walk.
Two restaurants include an all-day farm-to-table, as well as a rooftop Mediterranean-inspired venue. On the fourth floor is the spacious pool deck, which has a pool (of course), private cabanas, VIP service, and music on weekends.
Address: 115 Lexington Ave, San Antonio, Texas
3. Mokara Hotel and Spa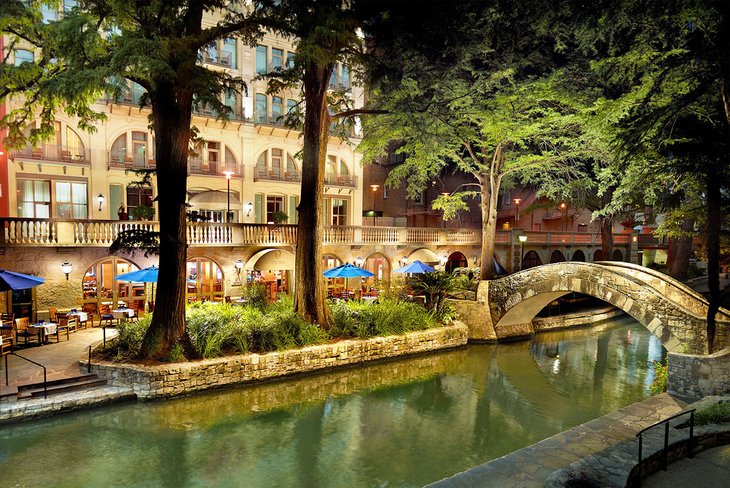 Accommodation: Mokara Hotel and Spa
The 99-room Mokara Hotel and Spa is one of the most luxurious hotels in San Antonio. In fact, it's the spa portion of this experience that sets it apart.
The spa itself is a sprawling oasis, spanning 17,000 square feet of space. Within the spa are hydrotherapy features, relaxation lounges, a menu of massage options, manicures, and hair services. But outside of the spa, the hotel still includes wellness touches everywhere you turn, from the chilled water on arrival to the hot tea on demand, any time of day.
Guests are welcomed to the lobby, which is evocative of the building's past – it used to be a saddlery in the 19th century. Hints of that can be found in the leather chairs, limestone walls, and dark wooden accents.
Rooms, however, are decidedly airy. Ask about the river-facing rooms, which also come with balconies. Bathrooms are marble-clad, with jetted tubs and walk-in showers.
The fitness center is a sight to behold, as well, with massive windows, and fresh fruit on offer all day. Pop up to the roof to see the rooftop pool, which has gorgeous views over San Antonio.
As for dining, a Rooftop Cafe serves casual fare, while Ostra, the main restaurant, is all about seafood. If you are interested in keeping your wellness diet going, the hotel has a "Spa & Fitness Choices" section on its menus that can help you stick to your daily goals.
Address: 212 West Crockett Street, San Antonio, Texas
4. The St. Anthony, A Luxury Collection Hotel, San Antonio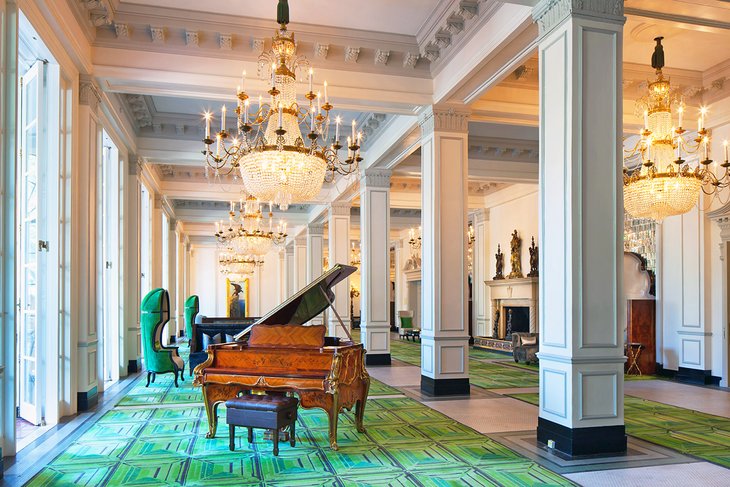 Accommodation: The St. Anthony, A Luxury Collection Hotel, San Antonio
The lovely, historic halls of The St. Anthony hotel have graced San Antonio since the early 20th century. The historic hotel, actually, was the first luxury hotel in the city, and today continues to be one of the top hotels in San Antonio. Back in 2015, it joined the exclusive ranks of Starwood's Luxury Collection.
Today the hotel is still a pillar to history, with lavish sculptures, tapestries, and murals. You can also find the 1927 Steinway grand piano in the lobby, not far from the glittering chandeliers or roaring fireplace.
While visitors do appreciate the historic air to the hotel, they also love that the rooms were renovated a few years ago to have updated decor, modern furniture, and a color palette that is anything but outdated. We love the slate gray and charcoal colors with the pops of bright, Kerry green – reminiscent of the colors in the lofty lobby.
You'll find guests lounging by the heated rooftop pool in one of the many sunbeds or private cabanas. When the weather gets chilly, the fire pits on the roof are blazing. No spa is available, but the hotel does have a modern fitness center.
As for dining, The Loggia serves breakfast and lunch, while ReBelle is open for fine dining in the evenings. At night, slip into the St. Anthony Club, once a members-only establishment that today retains its Jazz Age charm.
Address: 300 East Travis Street, San Antonio, Texas
5. Eilan Hotel and Spa, Ascend Hotel Collection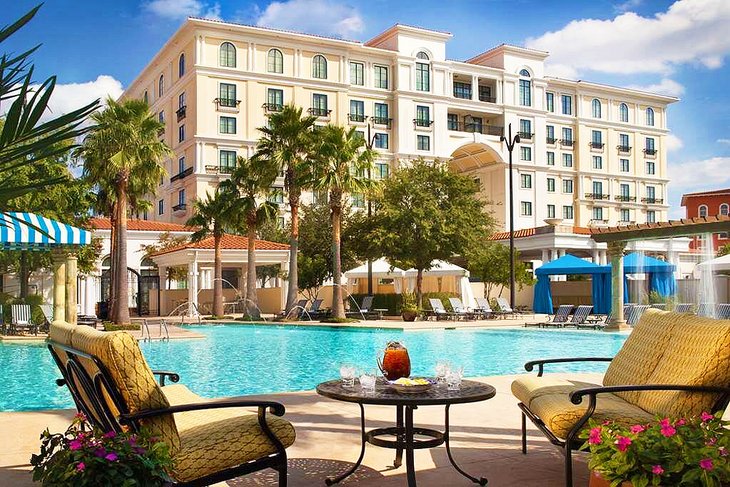 Accommodation: Eilan Hotel and Spa, Ascend Hotel Collection
The Eilan Hotel & Spa is a resort hotel in the leafy, well-to-do suburbs north of San Antonio. Regal is one way to describe this luxury resort. In fact, it looks like it belongs on the historic streets of a European capital. Think glittering chandeliers, natural light, and soaring coffered ceilings. There may even be a marble column, or two.
The elegant 165 rooms are washed in white and cream. All come with 42-inch televisions, Keurig coffee makers, and spacious marble bathrooms. But the real decadence comes in the details.
Let's start with the dining – Sustenio restaurant is all about locally sourced, farm-to-table food. It prides itself on serving modern Texas cuisine, in addition to brick oven pizzas and Mexican-influenced specialties. A more casual option is the Mercato Cafe, which serves grab-and-go meals and coffee.
And then there is the Spa at Eilan, which is brimming with high-end touches, like the therapy baths, steam room, and whirlpool. A fitness center and studio for yoga is also available.
Address: 18603 La Cantera Ter, San Antonio, Texas
6. Hyatt Residence Club San Antonio, Wild Oak Ranch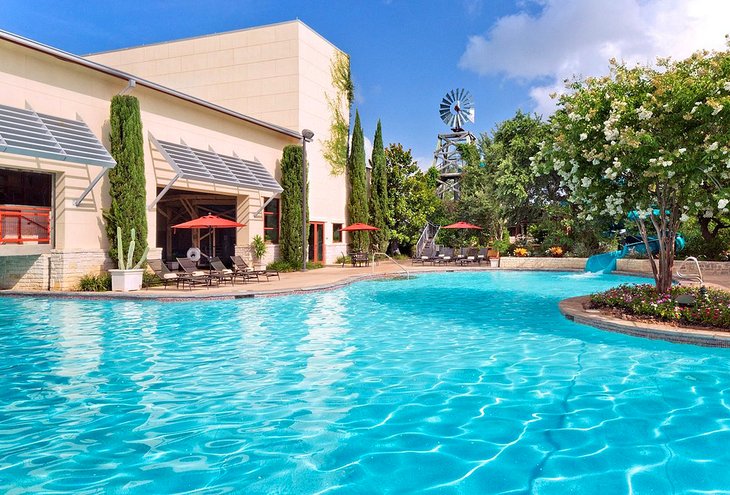 Accommodation: Hyatt Residence Club San Antonio, Wild Oak Ranch
When we are talking about the best resorts in San Antonio, we have to mention the Hyatt Residence Club San Antonio. Technically the resort is located just outside the city, in rolling Texas Hill Country – but it's a San Antonio resort to the core.
The Hyatt Residence Club San Antonio, Wild Oak Ranch sits on 39 acres of what reads like a luxury adult summer camp. Think a maze of nature trails, glowing fire pits, and even an outdoor movie theater.
The elegant resort is similar to an elevated lodge, with 156 studios and apartments, all with frontier-style decor (think earth tones, dark woods, leather, and indigenous-style embroidery). All rooms have balconies or patios and either a kitchenette or fully-equipped kitchen, depending on whether it's a studio or an apartment.
As we said earlier, this is really like a luxury summer camp for families. The whole clan can kick back at movie night, break a sweat at volleyball, or cruise down the lazy river. Parents can treat themselves to a menu of wellness offerings at the spa at sister resort, Hyatt Regency Hill Country Resort and Spa.
Address: 9700 W. Military Drive, San Antonio, Texas
7. La Cantera Resort & Spa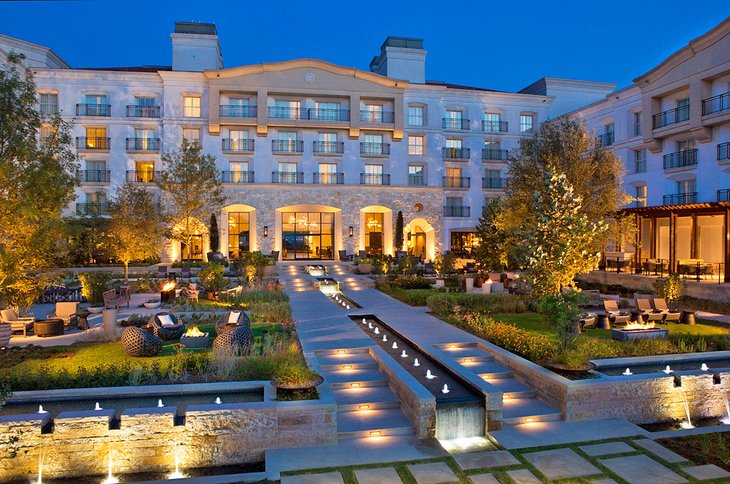 Accommodation: La Cantera Resort & Spa
Perched in the stunning Hill Country just outside San Antonio, La Cantera Resort & Spa is just what you'd want from a resort in San Antonio. The resort was formerly a Westin, but became the 496-room La Cantera at the end of the 1990s. Today the rooms are surrounded by rolling golf courses, forest, and that iconic Hill Country desert bush.
Arriving at the resort is like rolling up to a high-end ranch. Picture wood-beam ceilings, marble floors, and plenty of equestrian touches throughout. In fact, you can see a massive oil painting of Assault, the 1946 Triple Crown winner watching over the lobby area.
The rooms are spacious and clean, with standard rooms starting at 395 square feet. The resort has four Presidential Suites that range between 1,000 and 1,700 square feet. These have separate dining areas, as well. If you're interested in adults-only rooms, the entire seventh floor is dedicated to those 18 and older. These rooms even have their own check-in.
You can also book one of the resort's villas, which are in a separate section surrounded by woods. These rooms have their own golf carts in order to get around the property.
What has earned this resort a few extra stars is its spa. The 25,000-square-foot palatial spa is built into the hillside and affords dramatic views over the surrounding hills. Book one of the many custom-designed treatments, like mud wraps and oxygen facials, or simply saunter in for a decadent mani/pedi experience. From here, guests are ushered to an outdoor terrace with an infinity pool, as well as an indoor area with a Himalayan pink suit sauna.
The spa isn't the only place to play, however. The resort itself has about a dozen pools and hot tubs scattered throughout, including an adults-only pool with its own cabanas. Guests also have the option of 10 dining venues, including poolside dining.
And, of course, we'd be remiss not to mention the two 18-hole golf courses that are part of the compound.
Address: 16641 La Cantera Parkway, San Antonio, Texas
8. Hyatt Regency Hill Country Resort and Spa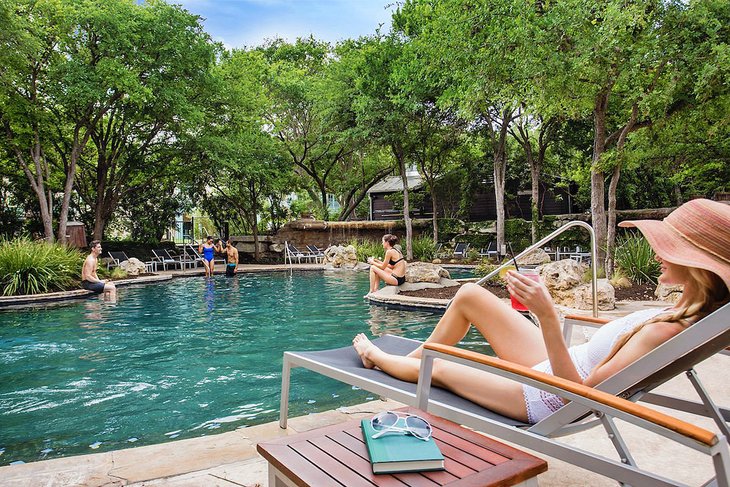 Accommodation: Hyatt Regency Hill Country Resort and Spa
Set on a rolling 300 acres in the middle of Texas Hill Country, the Hyatt Regency Country Resort and Spa is a family-friendly resort with plenty of amenities to keep everyone entertained – which is good because the resort is out in the middle of nowhere, so you're going to want to have things to do.
Guests arrive at the property, which is shrouded in stately oak trees. The lobby is clad in marble and marked with gorgeous fixtures, like roaring fireplaces and ranch-style furniture.
The property has 500 rooms, all decorated with conservative dark woods, ranch-style textiles, and leather accents. Deluxe Rooms have French doors that open to a patio or balcony. The suites are 500 square feet and have living rooms with pull-out sofas. If you book a Regency Club Room, you will have access to free breakfast and afternoon snacks in the Club Room.
Now for the amenities. Guests have to pay a daily resort fee, but what that covers is quite a bit, from access to the spa facilities to bike rental, and use of the golf practice facilities. In fact, the Arthur Hills-designed golf course is one of the highlights of the property. The resort also has three outdoor whirlpools, five heated pools, a lazy river, surf-simulator, and waterslide.
Guests can also use the fitness center or book a spa treatment in one of the spa's 21 treatment rooms. For dining, the resort has eight different venues, including a Starbucks.
Address: 9800 Hyatt Resort Drive, San Antonio, Texas
9. JW Marriott San Antonio Hill Country Resort & Spa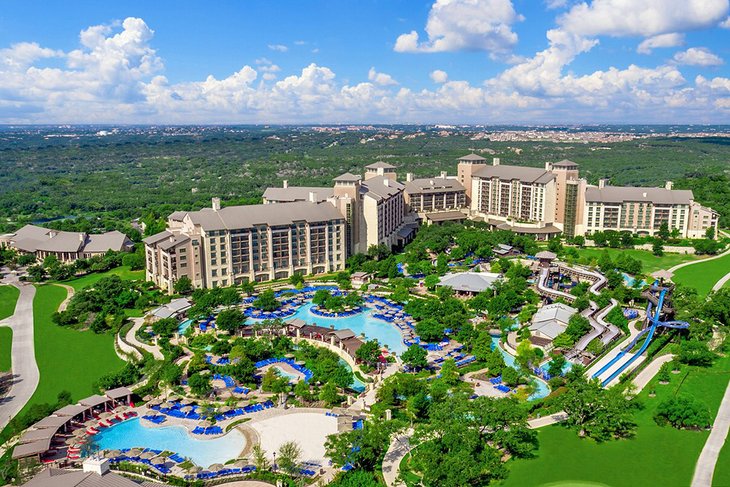 Accommodation: JW Marriott San Antonio Hill Country Resort & Spa
JW Marriott has plenty of resorts in its fold, but the San Antonio resort is one of its largest, with more than 1,000 rooms. But as it sits on 2,800 acres, things are spread out enough that you can still find privacy. It's a wonderful resort for families, as it is absolutely chock-full of activities and amenities.
Let's start with the location, which is on the northeastern edge of San Antonio. Close enough to the city, but still its own compound, the resort is surrounded by forest and landscaped golf courses.
Now, back to those 1,002 rooms. The rooms are warm and ranch-inspired, with leather and cowhide accents. All rooms have flat-screen televisions and mini-fridges, and most rooms have Juliet balconies. If you book a higher category room, the balconies get even bigger. Eighty-five suites are available, with kitchens or kitchenettes, fireplaces, and living rooms.
Families flock to the expansive pool area, which includes a winding lazy river, a rapid-river ride, slides, and a kids' pool. Kids' activities also include airbrush face-painting and s'mores-making.
But adults have plenty of areas to play, too, from the infinity pool to the golf course, and a sandy "beach" area. The sprawling spa is popular for adults, as well, with 32 treatment rooms and indoor hydrotherapy areas.
Seven restaurants are available for dining, including the Cibolo Moon, which serves Southern hill Country cuisine.
Address: 23808 Resort Parkway, San Antonio, Texas
10. Omni La Mansion del Rio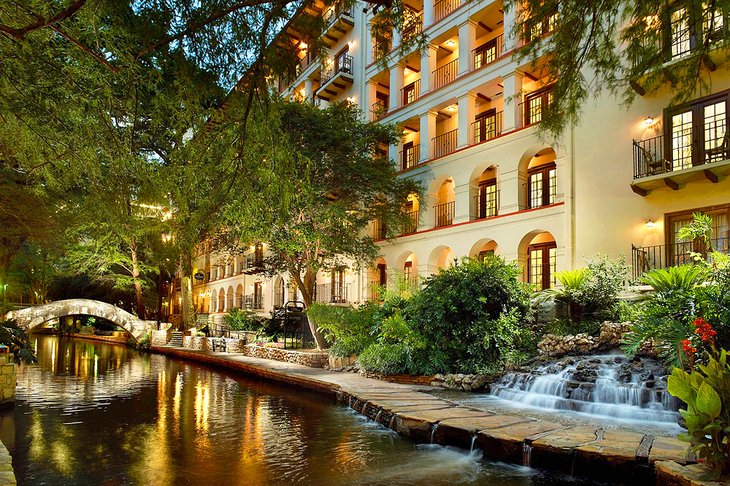 Accommodation: Omni La Mansion del Rio
Located right on the River Walk, the historic Omni La Mansion del Rio opened as a school in the mid-19th century. The gorgeous historic architecture is done justice with a throwback to its vintage vibes, from the arched doorways to the iron staircase and the tile floors. You'll feel like you've stepped back in time, until the modern amenities bring you firmly back to the present.
Omni La Mansion has 338 rooms all in Spanish style, with creams, earth tones, and accents like exposed brick and wood-beamed ceilings. Opt for the River-view rooms, which have gorgeous views over the River Walk from their private balconies.
La Mansion is the sister property to Mokara, so guests have access to its impeccable fitness center and spa. At La Mansion, however, guests love the heated swimming pool, which sits at the center of a Spanish courtyard.
Families like to stay at this particular resort because of the Omni Kids Crew program, which equips guests with check-in goodie bags that have stickers and games. Kids are also treated to their own turndown on the first night, with special milk and cookies.
Speaking of food, the restaurant, Las Canarias, is one of San Antonio's best. It is the all-day dining venue and features an outdoor patio that overlooks the River Walk.
Address: 112 College Street, San Antonio, Texas
11. Riverwalk Plaza Hotel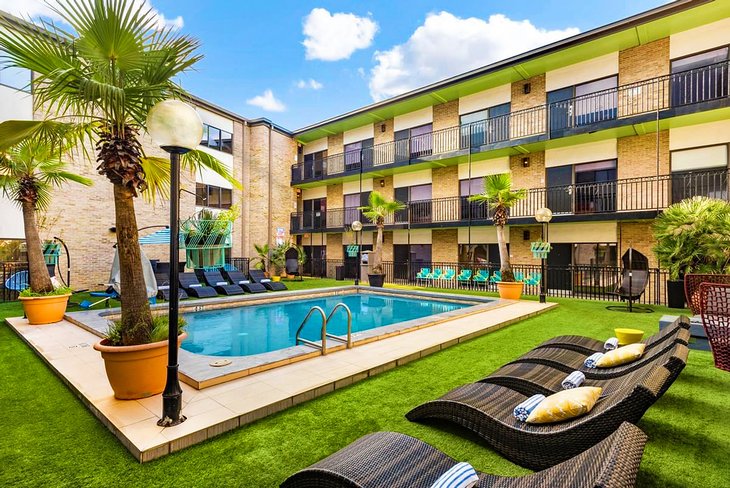 Accommodation: Riverwalk Plaza Hotel
Perched on the famous River Walk, this San Antonio resort is all about a fabulous location and great amenities. The Riverwalk Plaza Hotel is within walking distance to the Alamo, the Main Plaza, San Fernando Cathedral, and other top San Antonio attractions and sites.
Rooms here are sleek, minimalist, and comfortable, with large windows that flood the space in natural light. Many rooms have balconies, while others have Jacuzzi tubs or full kitchens. The rooms have views of either the San Antonio cityscape or the resort's courtyard pool.
Speaking of pool, the resort's outdoor pool is heated and has lounge chairs for soaking up that Texas sun. The resort also has a 24-hour business center, free Wi-Fi, a 24-hour lounge with games, and even a Tesla Supercharger station.
Every weekend, the resort opens an all-you-can-eat breakfast buffet, which is extremely popular with guests and residents.
While the resort does not have a spa on-site, it does partner with the Casa Doson Spa, which is a five-minute walk from the hotel. Guests can also arrange for in-room treatments if they have booked a Junior Suite or a Suite.
Address: 100 Villita Street, San Antonio, Texas
Map of Resorts in San Antonio, TX
San Antonio, TX - Climate Chart
Average minimum and maximum temperatures for San Antonio, TX in °C
J
F
M
A
M
J
J
A
S
O
N
D

17

4

19

6

23

10

27

14

30

19

33

22

35

23

35

23

32

21

28

15

22

9

18

5

PlanetWare.com
Average monthly precipitation totals for San Antonio, TX in mm.

42

45

48

66

120

109

52

65

76

98

66

50

Average monthly snowfall totals for San Antonio, TX in cm.

2

1

0

0

0

0

0

0

0

0

0

0
Average minimum and maximum temperatures for San Antonio, TX in °F
J
F
M
A
M
J
J
A
S
O
N
D

62

39

67

43

74

50

80

57

86

66

91

72

95

74

95

74

90

69

82

59

71

49

64

41

PlanetWare.com
Average monthly precipitation totals for San Antonio, TX in inches.

1.7

1.8

1.9

2.6

4.7

4.3

2.0

2.6

3.0

3.9

2.6

2.0

Average monthly snowfall totals for San Antonio, TX in inches.

0.6

0.3

0

0

0

0

0

0

0

0

0

0