9 Top-Rated Resorts in Houston, TX
Popular among tourists and travelers for its many attractions and fine historic buildings, Houston, Texas offers no end of great accommodation options, whatever your specific need or budget.
Those looking for a little luxury with their Houston experience can choose from some impressive properties. Leading the way is the elegant Hotel Granduca Houston, an Italianesque masterpiece that offers spacious rooms and suites in addition to great dining. Also worth considering at the higher end of the luxury scale are the large suites at the exquisite Hotel ZaZa, as well as the elegant Four Seasons Houston, a fine offering from one of the world's leading hotel brands.
Visiting on business or seeking a great family getaway? You'll also find somewhere suitable to stay in this lovely city, which many of the locals fondly refer to as "Bayou Town" for its many rivers. The JW Marriott Houston is a popular choice, with more than 40,000 square feet of convention, meeting, and banquet space.
While Houston is one of the best places to visit in Texas, regardless of the season, its climate is particularly pleasant in spring (February to April) or autumn (September to November).
To help you find the best Houston resort for your next visit, be sure to refer often to our list of the best resorts in Houston.
Our Team's Resort Picks
Best Overall Luxury: Hotel Granduca Houston
Best for Families: The Houstonian Hotel
Best for Business Travellers: Four Seasons Hotel Houston
Best Spa: The Post Oak Hotel at Uptown Houston
1. Hotel Granduca Houston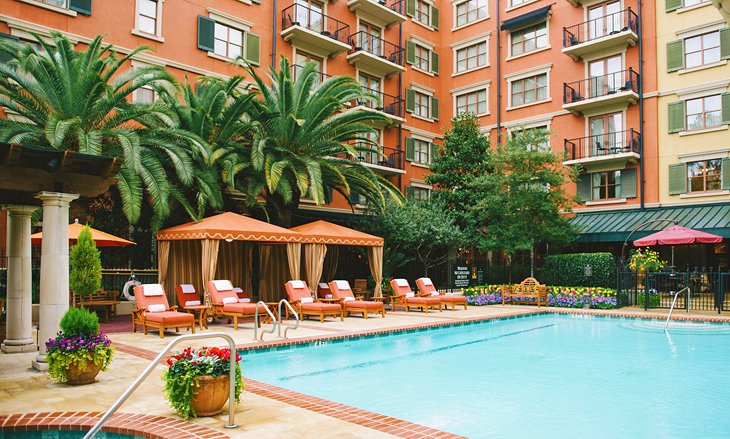 One of the most popular luxury offerings in Houston, the exquisite 5-star Hotel Granduca opened in 2006 and has remained one of the city's top-ranking hotels ever since.
Part of the Leading Hotels of the World group, this Italian-inspired property is situated in the city's popular Uptown Park area and offers a choice of 122 well-appointed and bright luxury rooms and suites. Notable features of the larger 825-square-foot premium Granduca suites include fully-equipped kitchens with granite counter tops, separate dining and living areas, HDTVs, large walk-in closets, and private balconies.
On-site amenities include the fine-dining restaurant, Ristorante Cavour, also popular with locals due to its emphasis on cuisine from Northern Italy. The resort is also well-known for offering guests the chance to indulge in weekend brunches - especially popular at Christmas - and afternoon tea.
The hotel also has a magnificent banquet hall and ballroom, perfect for weddings and other functions. There's also a full-service spa, a heated outdoor courtyard swimming pool with plenty of comfortable lounge seating for sunbathing and relaxing, and a well-equipped fitness center.
Those in the city for work will find the business center handy, along with the conference and meeting rooms. Other nice perks include room service, newspaper delivery, shoe shine and dry-cleaning services, and a chauffeur service that includes being shuttled around town in a Maserati.
Hotel Class: 5-Star
Ratings: TripAdvisor: 4.5/5 | Expedia: 9.2/10 | Booking.com: 8.7/10
Address: 1080 Uptown Park Blvd, Houston
Tel: +1 (713) 418-1000
2. Four Seasons Hotel Houston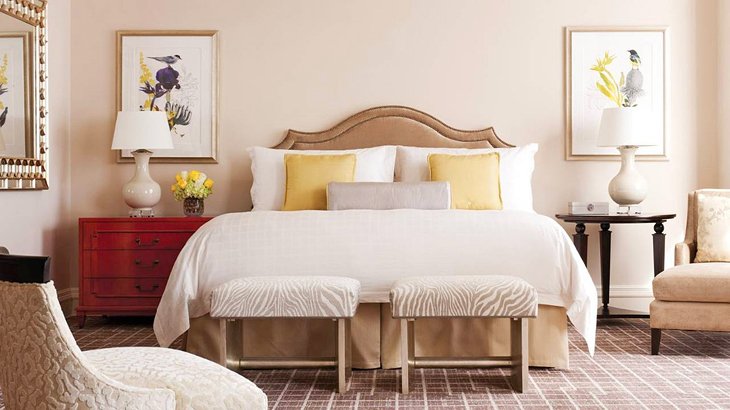 Located in the heart of the city, the luxurious 5-star Four Seasons Hotel Houston is as great a choice for those looking to explore the area as it is for those passing through on business. In fact, it's worth the stay just to experience the hotel's magnificent rooftop swimming pool with its large terrace and superb views over the city.
Other notable features include valet parking, an on-site fine-dining restaurant that also offers a variety of private dining options, laundry and dry cleaning services, plus a concierge desk. There's also a gym on-site, along with a full-service spa offering treatments including massages, facials, manicures, and pedicures.
While a variety of room types are available, popular options include the bright standard king rooms. These elegant accommodations feature plush bedding, elegant marble bathrooms complete with plush bathrobes, and great city views.
A nice added perk is the inclusion of breakfast and free newspapers, as well as the chance to enjoy a meal in your room. And for those traveling with kids, they'll be spoiled with a fun welcome gift, their own bathrobes and toiletries, and special menus. Babysitting services are also available.
Hotel Class: 5-Star
Ratings: TripAdvisor: 4.5/5 | Expedia: 9.0/10 | Booking.com: 8.2/10
Address: 1300 Lamar St, Houston, TX
Tel: +1 (713) 650-1300
3. The St. Regis Houston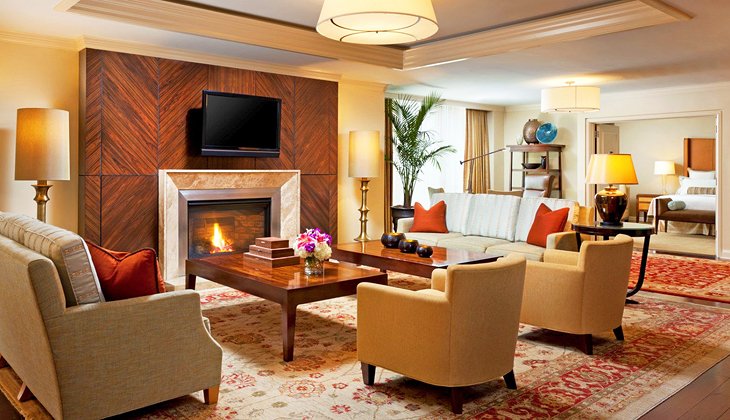 Another excellent choice for those seeking a luxury stay in Houston, the 5-star St. Regis Hotel is located near the upmarket residential River Oaks area and The Galleria, a high-end shopping and entertainment complex.
A popular option when it comes to accommodations are the Grand Luxe rooms. These spacious and bright luxury units come with floor-to-ceiling windows offering great views over the city, comfortable pillow-top beds, separate seating areas with custom furniture (including a sofa bed), HDTVs, and butler service.
Highlights of a stay include spending time in the full-service River Oaks Spa and dining in the world-class restaurant. Be sure to consider booking one of their excellent afternoon tea experiences, including special "teddy bear teas" for the kids. There's also a fitness center, sauna, business center, tea lounge, concierge services, and valet parking. Be sure to also visit the pool area with its large heated outdoor pool and terrace.
Hotel Class: 5-Star
Ratings: TripAdvisor: 4.5/5 | Expedia: 9.2/10 | Booking.com 8.4/10
Address: 1919 Briar Oaks Ln, Houston, TX
Tel: +1 (713) 840-7600
4. The Post Oak Hotel at Uptown Houston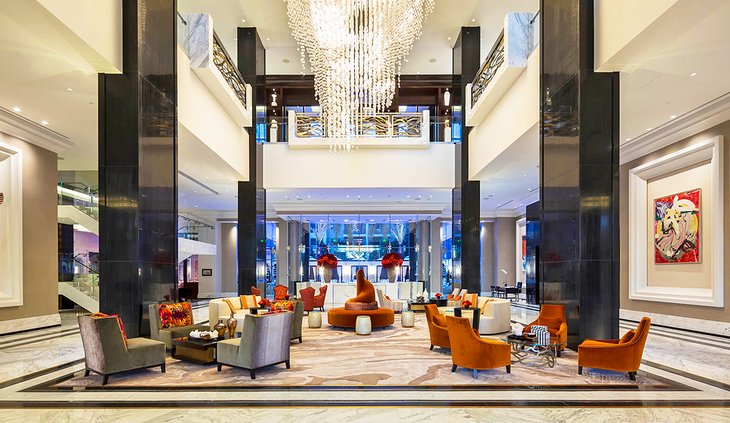 The chic Post Oak Hotel at Uptown Houston is another great 5-star resort to consider if you're looking for a luxury address at which to stay. Set in a tall, modern building close to the city's top attractions, dining, shopping, and entertainment, this posh resort certainly over delivers in terms of world-class amenities.
Topping the list are the hotel's dining experiences. With three restaurants to choose from, there's everything here from fine dining to classy casual fare, as well as private dining. Looking for a little romance? Be sure to consider opting for the first-rate in-room dining experience, the perfect excuse to not leave your luxury accommodations. For a quick snack or a mid-morning coffee, pay a visit to the hotel's café.
The accommodations on offer here are among the most luxurious in Texas. Standard features include Nespresso machines, minibars, and separate living areas. Be sure to request one of the corner units with panoramic city views if available.
Better still, upgrade to one of the one-bedroom units. These spacious suites come with even more room to spread out in, wet bars, and the option to add a full kitchen (perfect for those traveling with kids). There's even a two-bedroom unit that comes with its own gym, a spacious private balcony, and a media room.
Additional amenities of note include a heated outdoor swimming pool, a full-service spa, as well as convention and function space. Be sure to pop into the on-site luxury car dealership, too, even if just for a browse at the elegant Rolls Royce and Bentley vehicles on display. Now that's luxury!
Hotel Class: 5-Star
Ratings: TripAdvisor: 4.5/5 | Expedia: 9.4/10 | Booking.com: 9.3/10
Address: 1600 W Loop S, Houston, TX
Tel: +1 (844) 386-1600
5. La Colombe d'Or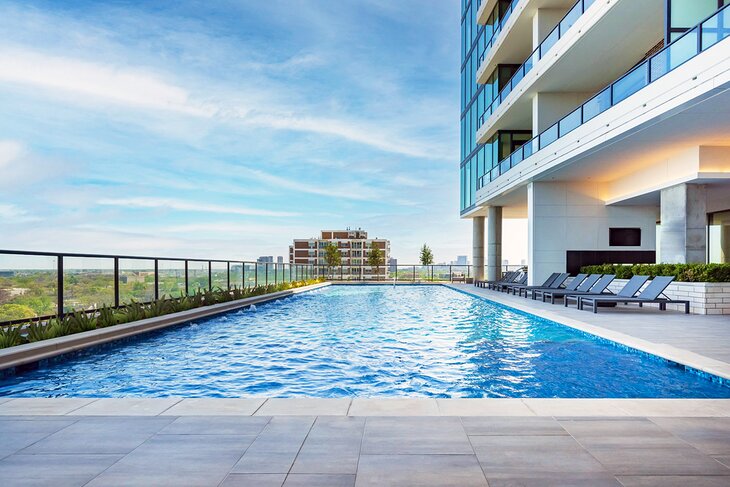 Recently reopened after renovations that include redesigned garden bungalows and an entirely new tower, La Colombe d'Or is a 5-star boutique property with a major focus on art.
Located in Houston's buzzy Montrose neighborhood, the resort in a historic 1920s mansion is named after the famous French hotel where Picasso used to hang out. It has a museum-worthy art collection, with more than 400 pieces of art and sculptures on display at any time — exhibits here are frequently rotating.
There are just 32 suites in three locations. Inside the mansion, you'll find five suites with restored parquet floors and woodwork along with stylish, modern details. The newly constructed tower has 18 lavish suites done up in luxe, contemporary style. The garden bungalows are set around a courtyard and have one or two bedrooms with full kitchens, living spaces, and custom furnishings.
Although the hotel is small, it boasts plenty of resort-style amenities. You'll find an elevated French bistro menu at the restaurant, Tonight + Tomorrow, which is popular with locals and guests alike. It offers indoor and outdoor dining options.
On the 10th floor of the tower, you'll a rooftop swimming pool with city views. There is also a fitness center and a game room.
If you are traveling with a dog, the hotel is pet-friendly.
Hotel Class: 5-Star
Ratings: TripAdvisor: 4/5 | Expedia: 9/10 | Booking.com: 9.2/10
Address: 3410 Montrose Blvd, Houston, TX
Tel: +1 (713) 524-7999
6. Hotel ZaZa Museum District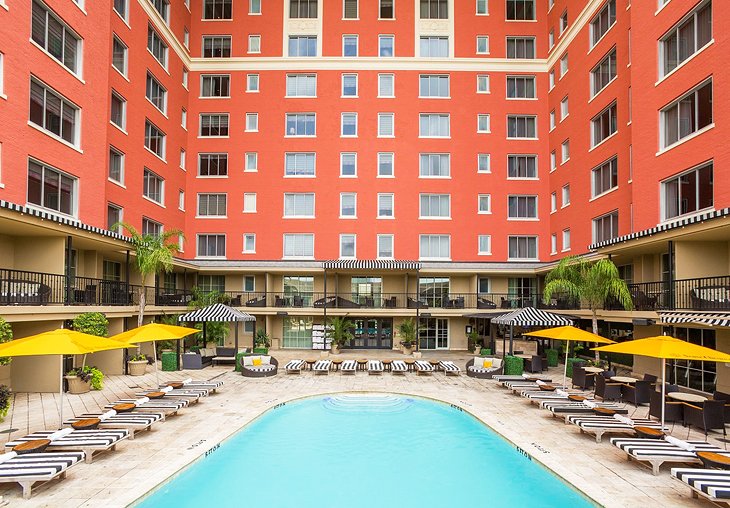 The wonderfully named and quirky Hotel ZaZa, located in the heart of Houston's Museum District, is regarded as one of the city's top boutique hotels. The accommodations at this lovely 4-star location are large and luxurious with décor that can best be described as fun.
The biggest units feature separate master bedrooms with spacious bathrooms and stand-alone bathtubs and showers, fully-equipped kitchens with modern appliances, work desks, lovely hardwood flooring throughout, large-screen HDTVs, laundry rooms, and even butler's pantries.
For those really wanting the height of luxury, why not book the 1,584-square-foot two-bedroom suite complete with crystal chandeliers and a second bathroom. Some pet-friendly rooms are available, so be sure to ask when making your reservation.
The on-site amenities are equally hip. Highlights include alfresco and restaurant dining (in-room services also available), a fitness center (TVs and headphones provided), and a full-service spa. There's also a heated, outdoor swimming pool with a large and quiet terrace for sunbathing.
Hotel Class: 4-Star
Ratings: TripAdvisor: 4.5/5 | Expedia: 8.8/10 | Booking.com: 8.3/10
Address: 5701 Main St, Houston, TX
Tel: +1 (713) 526-1991
7. The Moran CITYCENTRE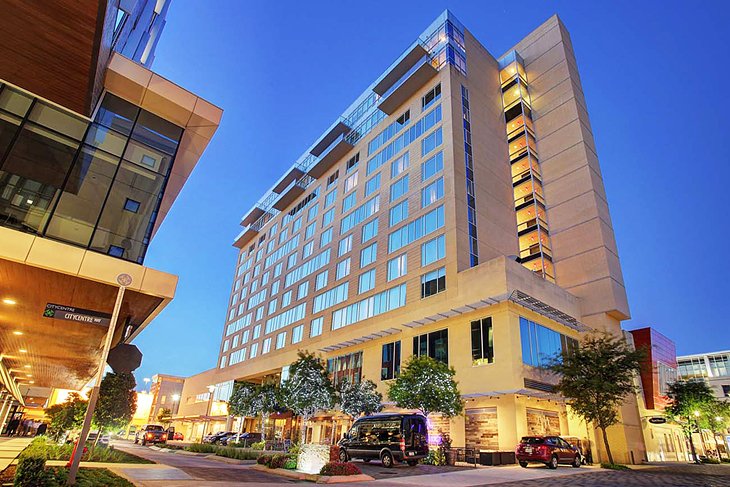 Located in the heart of Houston's trendy new CITYCENTRE district, an upscale planned community of housing, accommodations, and office and retail space, The Moran CITYCENTRE is a great option for those who enjoy living the good life. In addition to its proximity to great shopping, dining, and entertainment, this new 4-star hotel offers plenty of opportunity for some good old-fashioned rest and relaxation.
Notable on-site amenities include a large heated outdoor swimming pool, a restaurant, a state-of-the-art fitness center, plus ample meeting and function space. Valet parking, concierge services, and dry cleaning and laundry services are also available.
The hotel's luxurious rooms are all bright and elegantly appointed, decorated throughout with custom designer furnishings and bedding. They also carry a distinct European flare. Features include floor-to-ceiling windows offering superb city views, hardwood floors, a seating area plus a desk, and gorgeous white marble bathrooms with separate showers and tubs. Upgrades include one- and two-bedroom penthouse suites.
Hotel Class: 4-Star
Ratings: TripAdvisor: 4.5/5 | Expedia: 8.6/10 | Booking.com 8.5/10
Address: 800 Sorella Ct, Houston, TX
Tel: +1 (713) 973-1600
8. The Houstonian Hotel, Club & Spa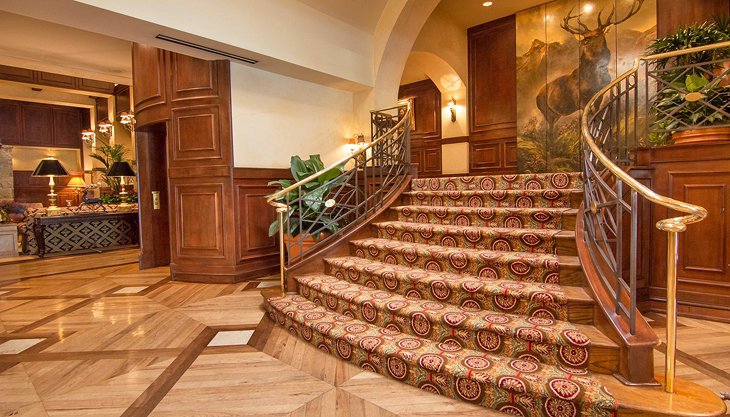 One of the few independently owned luxury hotels in Houston, The Houstonian Hotel, Club & Spa is well worth considering when visiting this vibrant city. Situated on its own lovely 18-acre wooded lot near the city center, this elegant 4-star hotel offers guests access to a variety of great amenities, including a members-only health club with three excellent swimming pools (guests also have access to the hotel's pool), a large fitness center, and a smoothie bar.
In addition to its world-class restaurant, guests can also indulge themselves in the full-service spa. This impressive facility boasts 20 treatment rooms, a second-story lounge area, and a hair salon. On-site self-parking and valet parking are available.
The plush accommodations are equally appealing. Popular options include the deluxe two-room guest suites, perfect for couples looking for a romantic getaway. Features of these spacious places to stay include a separate bedroom area, custom furnishings, a desk, and lovely views over the woods.
If you can swing it, book one of the upscale concierge level rooms. If you do, you'll have access to a personal concierge and a classy lounge area, where you'll enjoy complimentary breakfasts, snacks, hors d'oeuvres, and even desserts.
Hotel Class: 4-Star
Ratings: TripAdvisor 4.5/5
Address: 111 N Post Oak Ln, Houston, TX
Tel: +1 (713) 680-2626
9. JW Marriott Houston by the Galleria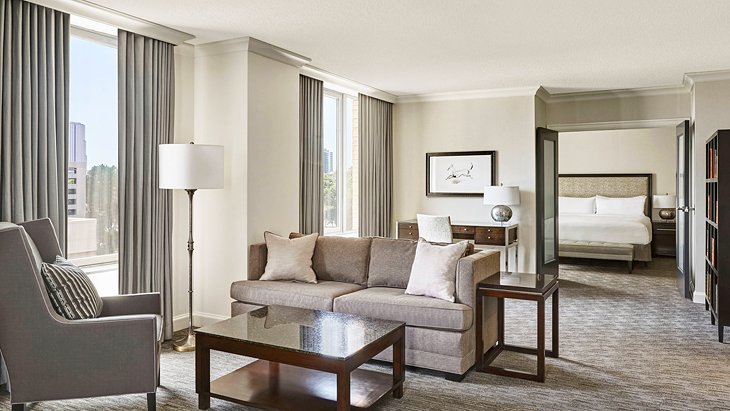 Another leading luxury hotel brand with a presence in the city, the 4-star JW Marriott Houston by the Galleria is well worth considering when planning a stay in this dynamic city. Located a short walk away from the biggest shopping mall in Texas, the ritzy Galleria after which it's named, the hotel's rooms and suites are each elegantly decorated and furnished.
A popular option for those seeking a high degree of pampering are the one-bedroom suites. Ranging in size from 900 to 1,200 square feet, these spacious units include separate sleeping and living spaces (the latter with ample seating and a pullout couch), a king bed, work desk, mini-fridge, and a large bathroom with separate bathtubs and showers (comfy bathrobes and slippers provided). Upgrade to the concierge level suites, and you'll also enjoy access to a private lounge area.
There's plenty of fun things to do around the hotel, too. Highlights include enjoying a meal in Destino, the hotel's fine-dining restaurant, working out in the fitness center, and taking a dip in the heated rooftop swimming pool.
The hotel also boasts more than 40,000 square feet of meeting and convention space, as well as a business center. Valet parking and a dry-cleaning service are also available.
Hotel Class: 4-Star
Ratings: TripAdvisor: 4.5/5 | Expedia: 8.6/10 | Booking.com 9.3/10
Address: 5150 Westheimer Rd, Houston, TX
Tel: +1 (713) 961-1500
Map of Resorts in Houston, TX
Houston, TX - Climate Chart
Average minimum and maximum temperatures for Houston, TX in °C
J
F
M
A
M
J
J
A
S
O
N
D

17

7

19

9

23

13

26

16

30

20

33

23

34

24

34

24

32

22

28

17

23

12

18

8

PlanetWare.com
Average monthly precipitation totals for Houston, TX in mm.

108

77

81

88

130

174

111

115

143

134

115

96