10 Top-Rated Resorts in Austin, TX
As the capital of Texas, Austin has no shortage of great hotels and resorts for visitors to enjoy, whether they are here for business or pleasure.
Popular options for those seeking luxury accommodations include the elegant Four Seasons Hotel in Austin's downtown core and the opulent JW Marriott Austin, both equally well-situated for sightseeing in Austin. Brought to you by two of the world's leading luxury hotel brands, these elegant properties spoil you from the moment you check in.
The charming Hotel Viata, with its European flare, is also worth considering if pampering is your thing. And, for those wanting a great boutique hotel experience, Hotel Ella is well worth it for its charming old architecture and chic rooms.
Those wanting to enjoy a less frantic pace away from the city center should consider the excellent Lake Austin Spa Resort. This exquisite lakeside property is considered by most travelers to be one of the best places to stay in the city, with access to hiking trails and other outdoor activities.
Whatever your preference and whatever your reason for visiting this vibrant southern city, you'll find the best places to stay with our list of the top resorts in Austin, Texas.
1. Four Seasons Hotel Austin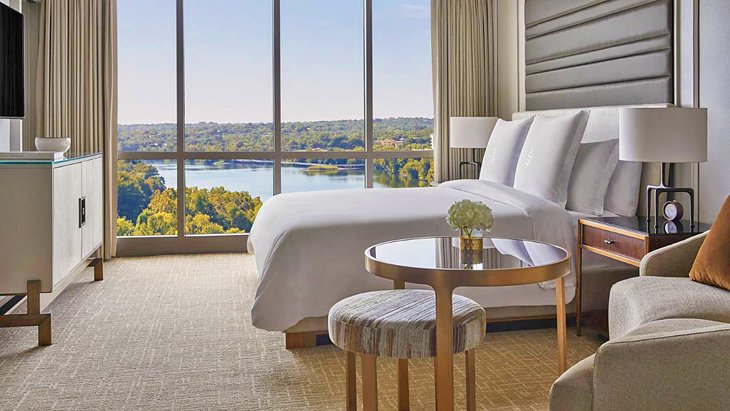 Accommodation: Four Seasons Hotel Austin
Set overlooking lovely Lady Bird Lake in the heart of the city's downtown core, the majestic Four Seasons Hotel Austin is a great choice for those needing to be close to the city center but still craving a dose of luxury with their stay. This luxurious 5-star hotel is one of the best resorts in the state, consisting of 294 elegant rooms and suites, each boasting superb lake or city views.
Options to consider when booking include the upgraded suites featuring walkout balconies, as well as separate living rooms. Whatever room size you go for, you can expect high-end standard features including 55-inch HD TVs, work desks, L'Occitane care products in your spacious bathroom, and an evening turndown service. A number of mobility-friendly units are available, as well as some pet-friendly rooms, too, but be sure to make your needs known when booking.
Traveling with children? If so, kids are also catered to and are provided with mini-bathrobes, toiletries, and menus. A babysitting service is also available.
Notable amenities include a luxury chauffeur-driven shuttle service when heading out for the evening, as well as valet parking. In addition to the hotel's full-service spa with steam rooms, there's a fitness center and a heated outdoor saltwater swimming pool.
If you're musically inclined, be sure to borrow one of the hotel's guitars for a garden jam session; or if you're a newbie, book a lesson from a pro. The resort's restaurant is also highly recommended and is as popular with locals as it is visitors to the city, especially for Sunday brunch.
Address: 98 San Jacinto Blvd, Austin, Texas
2. JW Marriott Austin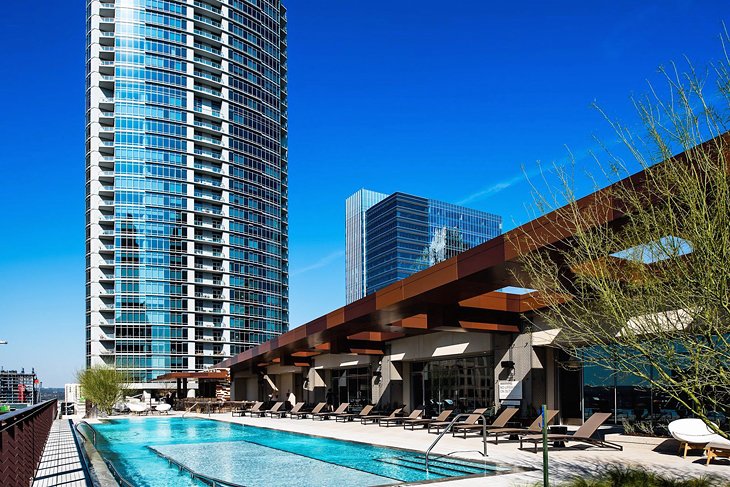 Accommodation: JW Marriott Austin
As one of the world's top luxury hotel brands, JW Marriott know a thing or two about how to look after their guests. Boasting some of the city's most spacious accommodations among its 1,012 rooms, the JW Marriott Austin is certainly no exception.
This elegant 4-star hotel offers everything from standard sized units to expansive one- and two-bedroom suites with all the comforts of home. The larger units, including the exquisite presidential suites (the hotel has three), come with separate living and dining rooms, workspaces with desks and chairs, and three HDTVs. They also come with large bathrooms with marble countertops, stand-alone glass showers and bathtubs (and bathrobes), and great views over the city.
The same high standards can also be seen in the hotel's amenities. Notable features include a number of excellent on-site restaurants serving a mix of international and American dishes. For a special treat, be sure to try one of the in-room dining options available.
There's also a large heated outdoor swimming pool on the roof with terrace and cabanas, a fitness center, and 12,000-square-feet of meeting and function space.
Fancy a little pampering? Then avail yourself of the hotel's fancy full-service spa. Laundry and concierge services are also available. On-site parking is a treat, especially if you make use of the resort's valet parking service.
Address: 110 E 2nd Street, Austin, Texas
3. Hotel Viata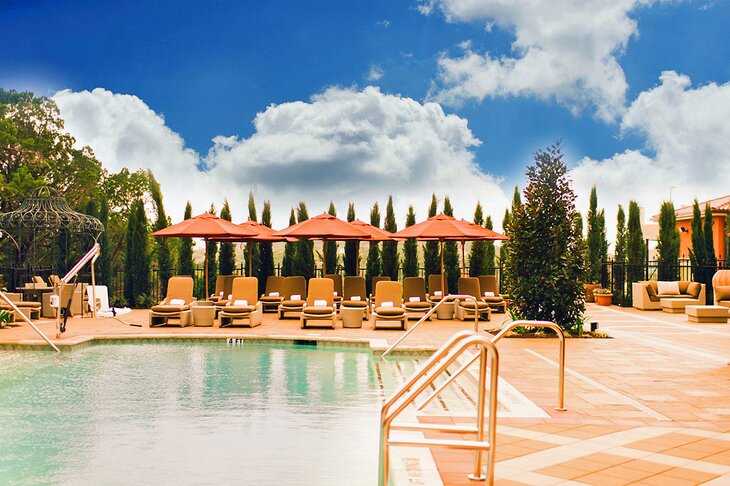 Accommodation: Hotel Viata
Drawing inspiration from a 16th-century Italian palace, Hotel Viata is certainly worth considering when staying in the Texan capital. Affectionately known by locals and regular guests as the "Palace of the Duke," the amenities of this 4-star hotel are certainly world-class.
Highlights of a stay include indulging in simple perks such as daily newspaper delivery to your room and complimentary shoe shines, or being chauffeured around town in a BMW 7-Series luxury vehicle. On-site self-parking or valet parking services are available.
The hotel also has a large heated outdoor swimming pool, a fitness center, on-site dining, and concierge services. It has also become popular among wedding planners, too, for its first-rate function spaces and ballrooms.
This high level of luxury certainly also extends to the hotel's rooms and suites. In addition to standard features such as phone charging stations, HDTVs, and free Wi-Fi, guests are provided with complimentary bottled water, large bathrooms with separate tubs, showers, and plush bathrobes included, as well as upgraded bedding.
Some of the popular junior suites even come with handy kitchenettes complete with granite countertops, sinks, microwaves, and mini fridges, plus a spacious separate master bedroom. Be sure to put in a request for a balcony suite if available, as well as a sofa-bed if more sleeping space is needed.
Address: 320 S Capital of Texas Hwy, West Lake Hills, Texas
4. Hyatt Regency Austin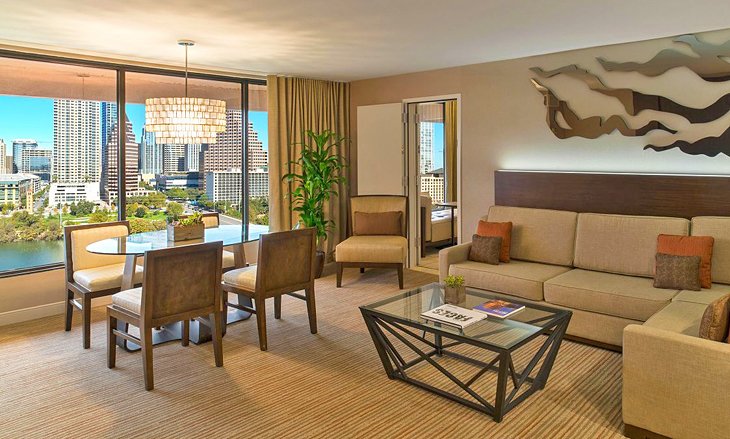 Accommodation: Hyatt Regency Austin
The recently renovated Hyatt Regency Austin provides guests with no end of good reasons to want to stay in this downtown hotel.
Just a few minutes' walk away from the city's best dining, shopping, and entertainment experiences, this fine 4-star luxury hotel offering from Hyatt consists of 448 accommodations ranging in size from standard yet spacious hotel rooms up to deluxe one-bedroom suites.
The biggest of these suites are more than 1,200 square feet in size, allowing for plenty of space to spread out. Notable features of these larger units, which are perfect for families or couples wanting a little more space to relax, include a choice of king or two queen beds, marble bathrooms with walk-in showers and separate soaker tubs, mini-fridges, and the hotel's best views over Lady Bird Lake.
A number of pet-friendly units are also available, so be sure to request one when making your reservation. Those with mobility issues can also request accessible accommodations.
On-site amenities include 50,000 square feet of convention and event space, including two elegant ballrooms popular for weddings, as well as a business center. When it's time to unwind, the hotel has a variety of dining options, including in-room dining, a Starbucks when a caffeine fix is needed, as well as regular live music.
The fitness center is popular for its yoga classes. Afterwards, be sure to check out the large heated outdoor swimming pool and hot tub. For golfers, be sure to talk to the hotel's dedicated concierge for reservations at the area's top courses.
Address: 208 Barton Springs Road, Austin, Texas
5. Hotel Saint Cecilia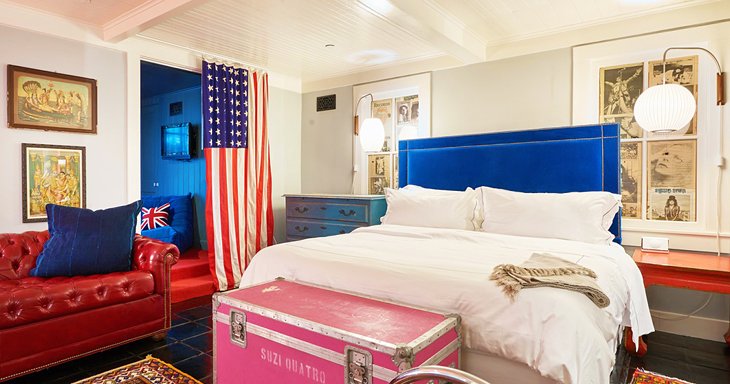 Accommodation: Hotel Saint Cecilia
A great option for those seeking a more intimate, personalized getaway in Austin is the charming 4-star Hotel Saint Cecilia. Named after the patron saint of music, this quirky boutique hotel offers a choice of studios, suites, and stand-alone cottages overlooking the property's lush gardens in South Austin.
Regardless of your preference, you'll enjoy such features as custom-made European mattresses and beds, plush bathrobes and toiletries, and top-of-the-range sound systems with record decks. A fun perk is the fact you can even borrow classic vinyl records from the resort's sizeable music collection.
Suite 1 is a popular choice for its separate bedroom, sitting room, study, and outdoor shower. It even comes with a quaint and private porch area. Also worth booking are the six poolside bungalows, which boast additional living space indoors and out, including a furnished wraparound porch. Pets are welcome, but be sure to let the hotel know prior to arrival.
On-site amenities include the 24-hour, 50-foot outdoor heated lap pool, and for a special treat, you can even enjoy a poolside breakfast or dinner. Another highlight is the attractive lounge area, perfect for private functions and gatherings of up to 20 people, such as small intimate weddings. A well-stocked reading library is also available.
Address: 112 Academy Drive, Austin, Texas
6. Fairmont Austin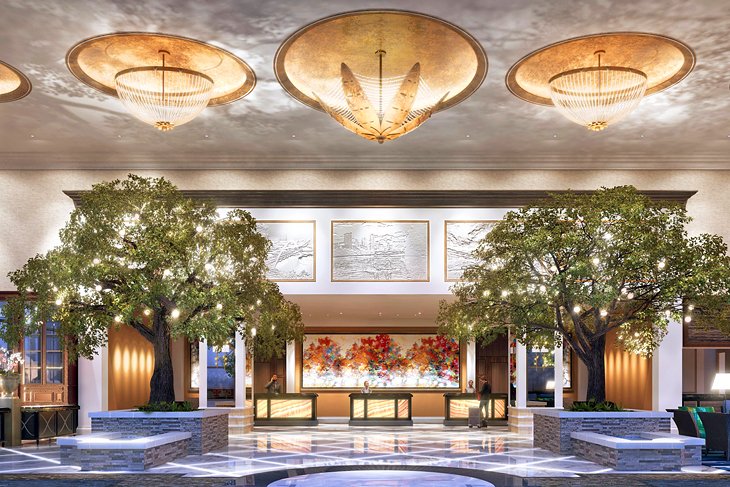 Accommodation: Fairmont Austin
When it comes to luxury, it's pretty difficult to top the Fairmont brand. And the exquisite new Fairmont Austin is certainly no exception. Located in the very heart of Austin, this impressive structure consists of 37 floors with 1,048 elegant rooms and suites, many offering superb views over Lady Bird Lake.
Notable amenities at this plush 4-star hotel include a gradual-entry outdoor heated swimming pool with plenty of space to lounge about. And if your budget allows, go for one of the private cabanas.
There are also plenty of dining options at the resort's restaurants, including in-room and private dining experiences. The resort also features expansive meeting spaces, and a full-service spa with steam rooms and saunas, a fitness center, and hair salon. The complimentary valet parking services are a nice touch.
Popular room choices include the Fairmont Rooms. These bright and spacious hotel rooms come in either single king or double queen bed configurations, each with comfy pillow-top mattresses, work desks and phone chargers, as well as large bathrooms with separate bathtubs and showers plus bathrobes. The deluxe suites with lake views are a great upgrade option, and come with pull-out sofas and separate seating areas.
Address: 101 Red River Street, Austin, Texas
7. Lake Austin Spa Resort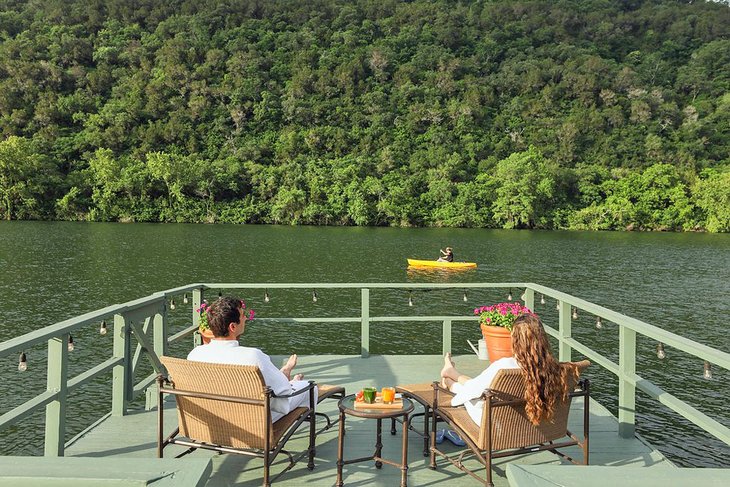 Accommodation: Lake Austin Spa Resort
After a stay at the elegant Lake Austin Spa Resort, you'll certainly understand why this all-inclusive boutique hotel is so popular. While much of the appeal has to do with its idyllic Texas Hill Country location overlooking Lake Austin, another contributing factor is this 4-star hotel's size.
Comprising just 40 well-appointed and sumptuously decorated rooms, it's so intimate and tranquil that you'd easily be forgiven for thinking you are much farther away from the hustle and bustle of the state capital than you actually are. Notable on-site amenities include a good-sized gym with yoga and meditation classes, as well as the chance to get in some paddleboarding out on the lake; boating is also available.
Aquafit classes are also available in the heated outdoor swimming pool, or if sunbathing is your thing, just pull up a lounge chair and relax. There's also a full-service spa when a little additional pampering is required. The hotel has earned a great reputation for its food, too. Its fine dining experiences are definitely a highlight of a stay here, and guests should certainly consider trying the romantic in-room dining option at least once during their stay.
Room features include a choice of king or queen beds, exquisite décor with original local artworks, plus excellent views over the lake. They also come with spacious bathrooms with separate bathtubs and showers with bathrobes provided, work desks, and furnished patios with awnings. A nice touch is the inclusion of fresh cut flowers in your room.
Address: 1705 S Quinlan Park Road, Austin, Texas
8. Hotel Ella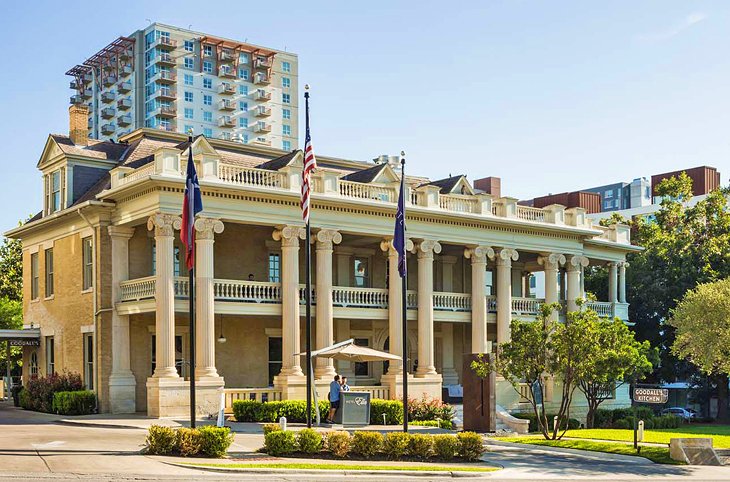 Accommodation: Hotel Ella
Looking not unlike something out of Grecian times due to its huge columns and detailed façade, the beautiful Hotel Ella certainly stands out among the city's top luxury places to stay. Located in the downtown area, this delightful 4-star luxury boutique hotel is housed in Goodall Wooten House, one of the city's top historic landmarks.
Built in 1900, this completely renovated mansion now comprises 47 elegant guest rooms featuring exquisite décor and custom furnishings, luxury bedding, and HDTVs. Upgrade to a larger suite, such as the wonderful Ella's Parlor Suite, and you'll enjoy a spacious bathroom, separate living space, and great views. Larger still are the Mansion Petite Suites with their king beds and private balconies.
A highlight of any stay at Hotel Ella is simply relaxing on the huge wraparound verandah, where you can even enjoy a delicious snack or meal. Also fun is hanging around the large heated outdoor swimming pool, whether soaking up the sun or relaxing in one of the cabanas provided.
Be sure to stroll the estate grounds with its lush lawns and gardens, a popular pastime thanks to the addition of a collection of fine sculptures. Valet parking is available.
Address: 1900 Rio Grande Street, Austin, Texas
9. Omni Barton Creek Resort & Spa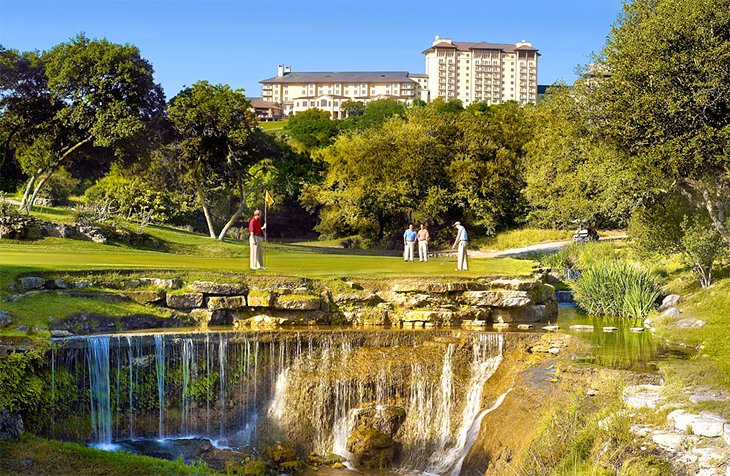 Accommodation: Omni Barton Creek Resort & Spa
Having recently undergone a massive renovation, the 4-star Omni Barton Creek Resort & Spa is better than ever. Continuing to offer guests the same high level of hospitality that has made the brand one of the leading luxury hotel groups in North America, the resort's 493 rooms offer great views over Austin's surrounding Hill Country.
All renovated rooms feature luxury bedding, large bathrooms with glass showers and separate bathtubs, custom furnishings, floor-to-ceiling windows, and bright modern décor throughout. An added benefit is the inclusion of a mini-fridge and coffee bar.
It's a large property, so there's plenty of amenities to enjoy. Highlights include a new luxury full-service spa; a large convention center; six restaurants; and an 11,000-square-foot, state-of-the-art fitness center offering classes, trainers, and programs.
Other notable amenities include a large heated outdoor swimming pool, with a massive terrace area for sunbathing and relaxing, and a golf course with a clubhouse. Be sure to check out the resort's seasonal packages, including around Christmas.
Address: 8212 Barton Club Drive, Austin, Texas
10. Miraval Austin Resort & Spa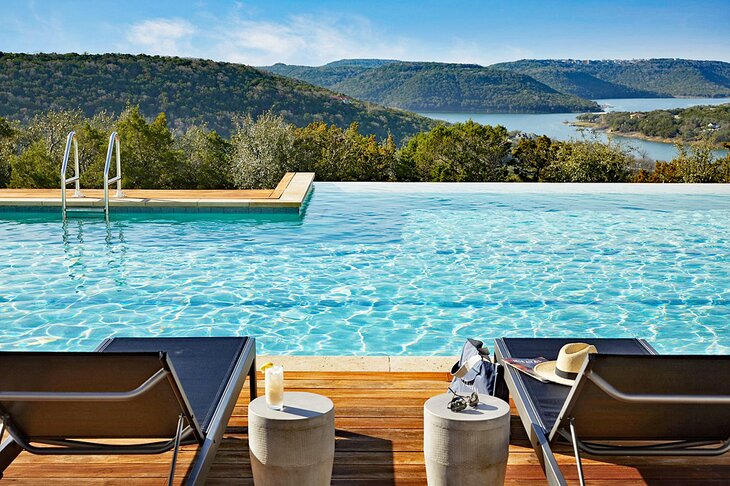 Accommodation: Miraval Austin Resort & Spa
Those seeking a unique country-resort experience that's close enough to downtown Austin should definitely consider booking a stay at Miraval Austin Resort & Spa.
Standing amid a densely wooded 220-acre site, this luxurious 4-star wellness resort offers all-inclusive holiday packages within an easy drive of Lake Travis, which is popular for boating, kayaking, and fishing.
A variety of elegant rooms and suites are available, ranging in size from traditional hotel-style accommodations to larger suites suitable for groups and families. True to the resort's wellness focus, interior décor consists of relaxing tones and meditation equipment is provided as standard. Other notable in-room features include HD TVs, complementary Wi-Fi, coffeemakers, and mini-fridges.
If your budget allows, consider booking one of the larger suites. These spacious units consist of separate living rooms and trendy outdoor showers.
On-site amenities are plentiful. In addition to a classy restaurant specializing in healthy menu options made with locally sourced ingredients, guests can also indulge in poolside snacks and beverages, too.
Two infinity swimming pools are available for guests use, while a fitness center and spa are also popular.
The resort also offers a variety of interesting programming, including aerobics, horse-riding, cooking classes, as well as chance to explore and learn from its very own working farm.
Address: 13500 FM2769, Austin, Texas
Map of Resorts in Austin, TX
Austin, TX - Climate Chart
Average minimum and maximum temperatures for Austin, TX in °C
J
F
M
A
M
J
J
A
S
O
N
D

16

4

18

7

23

11

26

14

29

18

33

22

35

23

36

23

32

21

27

16

21

9

17

6

PlanetWare.com
Average monthly precipitation totals for Austin, TX in mm.

48

51

54

64

128

97

50

59

74

101

68

62

Average monthly snowfall totals for Austin, TX in cm.

1

1

0

0

0

0

0

0

0

0

0

0
Average minimum and maximum temperatures for Austin, TX in °F
J
F
M
A
M
J
J
A
S
O
N
D

60

40

65

44

73

51

79

58

85

65

91

71

95

73

96

73

90

69

81

60

70

49

62

42

PlanetWare.com
Average monthly precipitation totals for Austin, TX in inches.

1.9

2.0

2.1

2.5

5.0

3.8

2.0

2.3

2.9

4.0

2.7

2.4

Average monthly snowfall totals for Austin, TX in inches.

0.4

0.5

0.1

0

0

0

0

0

0

0

0.1

0