11 Best Resorts in Corpus Christi, TX
Known merely as "Corpus" by locals, the Texan city of Corpus Christi is a popular place to enjoy a sunny holiday by the sparkling bay of the same name. Whether you're hoping to get out on the water to fish, build a sandcastle on the beach, or relax poolside, you will find plenty of top resorts to help you unwind in comfort and style.
Depending on the type of vacation you're looking for — upscale or affordable — you are sure to settle in the perfect resort for your needs. From large chain hotels that boast salons and presidential suites to a smaller, lesser-known gem that grants its guests direct beach access, Corpus Christi covers all the bases when it comes to accommodations. All you have to do is pack a swimsuit, sunblock, and a fishing rod.
Hoping to visit for a while? Corpus Christi is also home to extended-stay resorts that make it easy to feel at home for a week or more.
Before you go, choose the resort that best suits your travel needs with our list of the top resorts in Corpus Christi.
1. Omni Corpus Christi Hotel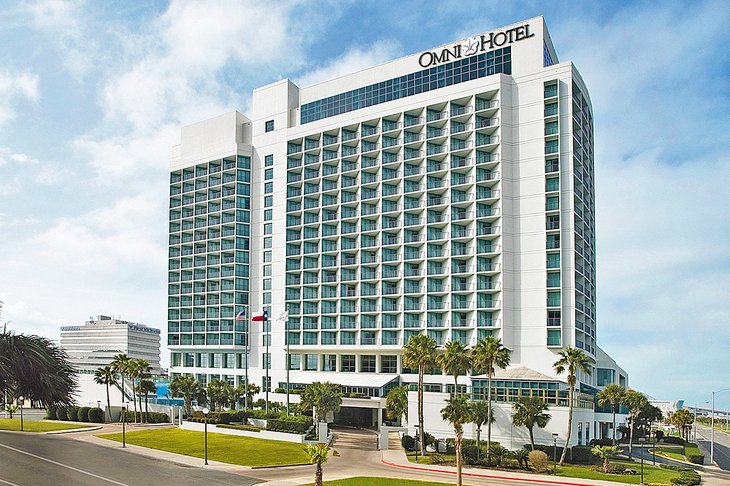 The Omni Corpus Christi Hotel checks off three of the most important attributes in a beach resort: location, location, location. Set in the Marina District in downtown Corpus Christi, guests can enjoy stunning Corpus Christi Bay vistas from their private balconies and can easily walk into town to shop, eat, and find entertainment. It's conveniently located near some of the best tourist attractions in Corpus Christi.
With a fitness center, indoor and outdoor swimming pools, an indoor racquetball court, and salon, you'll find plenty of things to do on the resort's grounds. You can even grab a bite while lounging poolside between 11am and 8pm on Thursday through Saturday.
While in-room dining is also available, you'd be amiss to skip a meal at the resort's restaurants. Not only is the food divine, but the views are spectacular, especially at the multi-level rooftop grill restaurant. The Glass Pavilion boasts floor-to-ceiling windows to compliment the tasty fare, and a Kids Eat Free promo that is sure to please traveling families.
The rooms here are elegant, chic, and uber comfortable. The Presidential Suite is as lavish as it sounds, boasting 1,320 square feet that spreads over two levels and includes a private sauna, two balconies, and large living and dining areas. Not surprisingly, this luxe Omni resort is deemed one of the best Corpus Christi Beach Hotels.
Address: 900 North Shoreline Blvd, Corpus Christi, Texas
2. Residence Inn Corpus Christi Downtown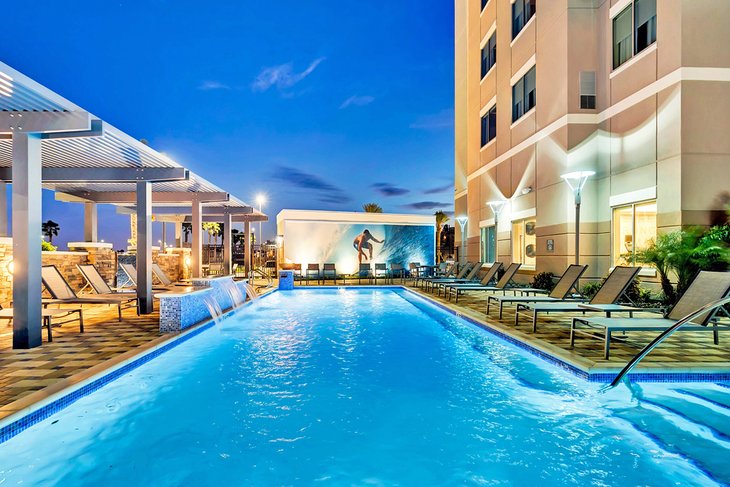 It's easy to see why the Residence Inn Corpus Christi Downtown is one of the best resorts in Corpus Christi. The spacious rooms are clean and crisp, white bedding highlights the elegant dark wood features, with an accent wall adding a pop of color to brighten your mood.
Choose from a studio or a larger suite that contains separate working, living, and sleeping areas. This is an ideal room choice if you're traveling with family or friends. All guest rooms contain plush bedding, a memory foam mattress, stove top, microwave, dishwasher, and a fridge, which makes it easy to cook in your unit. Book a room with a view if you're hoping to enjoy the sparkling waters of Corpus Christi Bay and McGee Beach.
No one will pass judgement if you can't tear yourself away from the luxurious outdoor pool area. With comfy lounge chairs, a giant surfing mural, palm trees, and a waterfall, there's a lot to love about this relaxing oasis.
Complimentary breakfast is available daily, and you'll find a fitness center on-site, as well as an arcade room and laundry facilities. There are grills on-site, as well as a picnic area, so you can make your own meals and enjoy them al fresco. Food from external restaurants can be delivered if you'd rather not cook. There's also a convenience store on the property.
Address: 309 South Shoreline Blvd., Corpus Christi, Texas
3. Staybridge Suites Corpus Christi, an IHG Hotel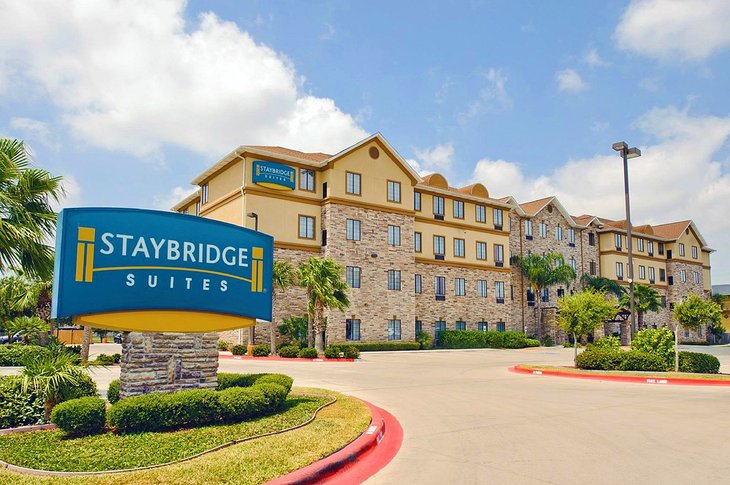 If you're planning to stay in Corpus Christi for more than a weekend, you should definitely check out the Staybridge Suites. This IHG Hotel is a perfect spot to relax for an extended holiday. Their suites are bright and spacious, the staff helpful and friendly, and the complimentary breakfast buffet is hot and tasty.
In addition to full kitchens which include a fridge, microwave, oven, and dishwasher, each suite includes a workspace, free Wi-FI, a flat-screen TV, and a living room area. There's laundry on-site, as well as a 24-hour fitness center, snack bar, convenience store, and outdoor grills. Complimentary light dinner and drinks are served between 5:30 and 7:30pm from Monday to Wednesday during the Social Reception.
The outdoor pool and hot tub are well loved, as is the outdoor basketball court. At night, guests tend to gravitate towards the fire pit to share stories, roast marshmallows, and relax beneath the stars.
Address: 5201 Oakhurst Drive, Corpus Christi, Texas
4. Best Western Corpus Christi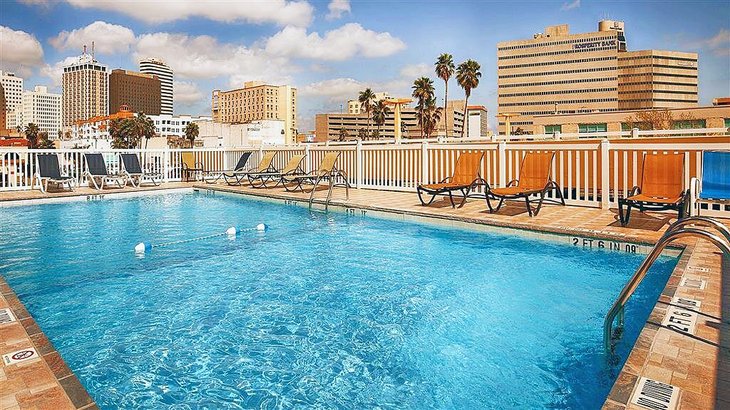 You're guaranteed a comfy night at the Best Western Corpus Christi resort. In addition to plush mattresses, each room in this waterfront hotel is clean, spacious, and bright. They also boast a microwave, fridge, coffee machine, and a free newspaper, which you can enjoy while admiring the vista through your massive floor-to-ceiling windows.
The resort is located a minute's walk from the Marina, and only an eight-minute walk from the shops and restaurants in downtown's One Shoreline Plaza. McGee Beach takes only 10 minutes to reach by foot.
Breakfast is included in your room rate, and we promise you won't be disappointed by the variety of yummy treats offered in this extensive spread. In terms of amenities, you'll find an outdoor pool (open seasonally), restaurant, fitness center, and laundry on-site. If you can't escape work during your vacation, you'll be happy to know there's also a business center and meeting rooms.
Tip: When booking, request a room with a view of the water. Not only will you enjoy the scenery, but these are quieter as well.
Address: 300 North Shoreline Blvd., Corpus Christi, Texas
5. Aloft Corpus Christi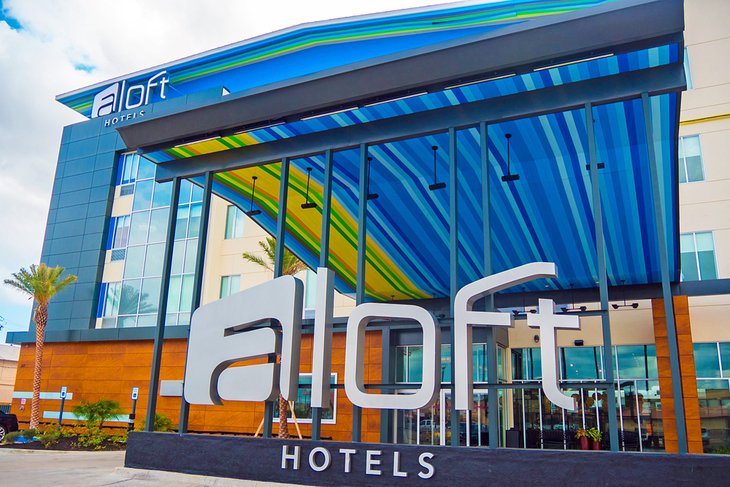 You'll never go hungry at Aloft Corpus Christi. Their Re:fuel, 24-hour pantry is stocked with snacks you can enjoy at all hours. That said, if you're hoping for more sustenance than what you find in the pantry, a short walk will get you to some fab local restaurants.
The rooms in this Aloft resort are modern chic with a neutral palate accentuated with vibrant pops of color in the soft carpet and pillows. The pillowtop mattresses are easy to sink into, while the mini fridges and microwaves encourage in-room snacking. Coffee, water, and Wi-Fi are complimentary, and the ergonomic workstation makes having to work while on vacation a little less painful.
The lobby is the place to be if you're looking for friends. It boasts a pool table and a place to grab a drink if you're feeling parched. The fitness center (a.k.a. Re:charge) offers all the equipment you need to stay active, while the outdoor pool is a fun place to unwind on a warm, sunny day.
Address: 5117 Embassy Drive, Corpus Christi, Texas
6. Hampton Inn & Suites Corpus Christi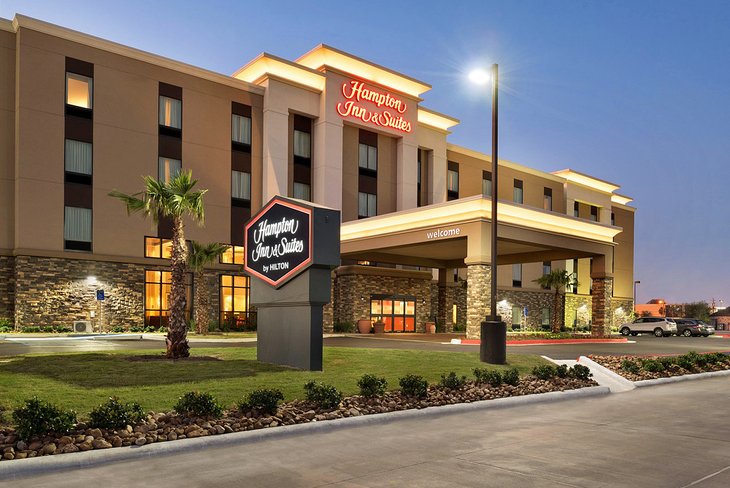 It's easy to feel at home at the Hampton Inn & Suites Corpus Christi. Each of the 101 guest rooms include mini fridges and microwaves, as well as sofa beds. Choose the studio suite if you're hoping for more space. It, too, comes with a sofa bed, as well as a large work desk.
Breakfast is included and will please even the pickiest of early morning eaters–the freshly made waffles are a must! You can work off that second serving in the outdoor pool, which is open seasonally, or hit the fitness center for a sweaty workout.
While not directly on the water, guests of Hampton Inn & Suites Corpus Christi are only a short drive or walk to both Oso Bay and Corpus Christi Bay.
Address: 5879 South Padre Island Drive, Corpus Christi, Texas
7. Best Western Padre Island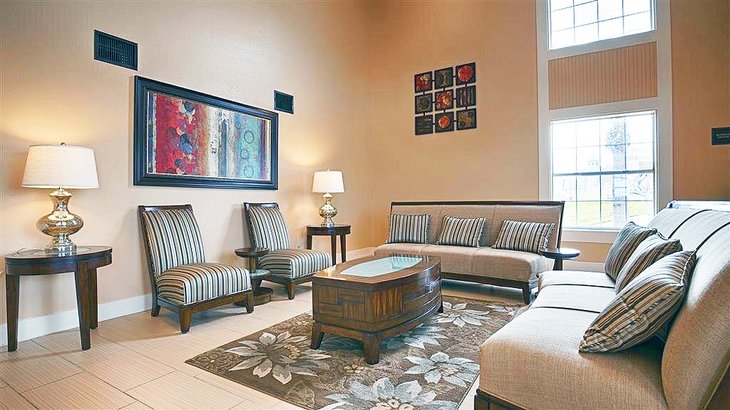 A stay at the Best Western Padre Island won't break the bank, which is always a plus when it comes to planning a vacation, especially if you're traveling with children.
One of the best resorts in Corpus Christi, this popular chain hotel features rooms with fireplaces, microwaves, flat-screen televisions, and refrigerators. They are clean, uncluttered, and come with free Wi-Fi. Some also boast sparkling views of Corpus Christi Bay.
Kids and pets are more than welcome here, and humans under 12 stay free. During summer, the outdoor pool is a hot spot for fun, and there are plenty of chairs to lounge in if you're not ready to jump in.
While there's no restaurant on-site, guests are rewarded with an extensive selection of free breakfast items, which includes warm waffles.
Brought your boat? No problem, the resort features complimentary boat parking.
Address: 14050 South Padre Island Drive, Corpus Christi, Texas
8. Hilton Garden Inn Corpus Christi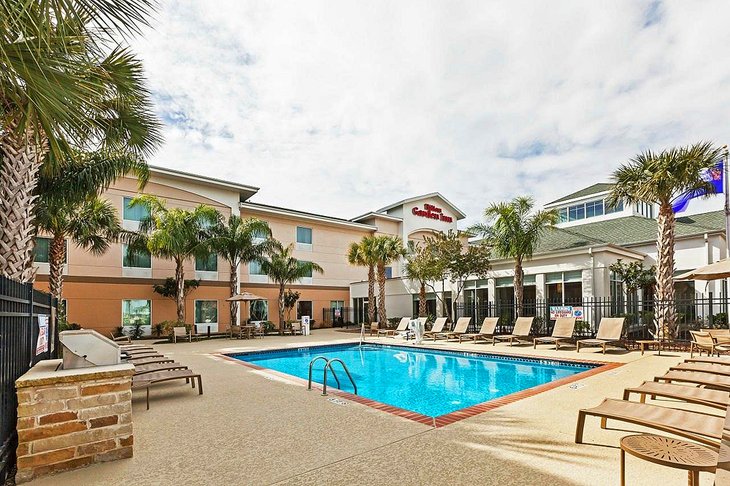 Palm trees line the outdoor pool at the Hilton Garden Inn Corpus Christi, lending it a tropical feel no matter what season you visit. The warm and friendly staff also enhance your feeling of tranquility, as do the comfortable beds and quiet rooms.
Breakfast and dinner are served in the on-site restaurant, and lunch can be found mere minutes away. There's also a lounge on-site for snacks and refreshments. Coffee and tea are available in the common areas of the resort.
Other popular amenities include the outdoor pool we mentioned earlier, bike rentals, a fitness center, and the business center for those who just can't leave their work behind. If the need arises, there are laundry facilities here as well.
Hoping to get in some beach time? We don't blame you. Luckily, both Padre and Mustang Islands are easily accessible from this resort, and you can enjoy shopping in the nearby La Palmera or Sunrise Mall, which are a two- to three-minute drive away.
Address: 6717 South Padre Island Drive, Corpus Christi, Texas
9. Courtyard Corpus Christi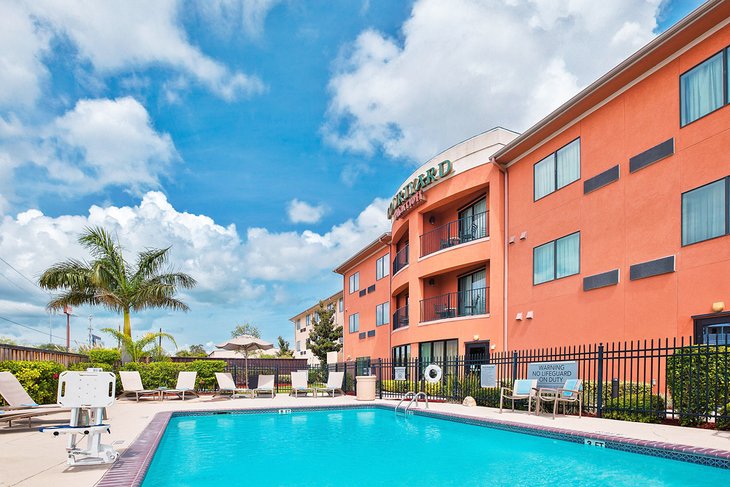 The Courtyard Corpus Christi has pretty much everything you'll need for a stress-free vacation. An on-site bar and lounge, coffee shop, fitness center, outdoor pool, and laundry are just a few of the amenities that make a stay here worthwhile.
The 105 guest rooms and suites provide ample space to stretch out, free Wi-Fi, a mini fridge, luxury bedding, and super fluffy pillows. If you really must work, there's a business center and computer station on-site, as well as a conference area and meeting room.
The Bistro is open for breakfast and dinner, and there are outdoor grills and a convenience store on-site for those who prefer to make their own meals. The fire pit is a nice touch on a warm evening, and the beach is a short car ride away, as are local restaurants and shops.
Address: 5133 Flynn Parkway, Corpus Christi, Texas
10. DoubleTree by Hilton Corpus Christi Beachfront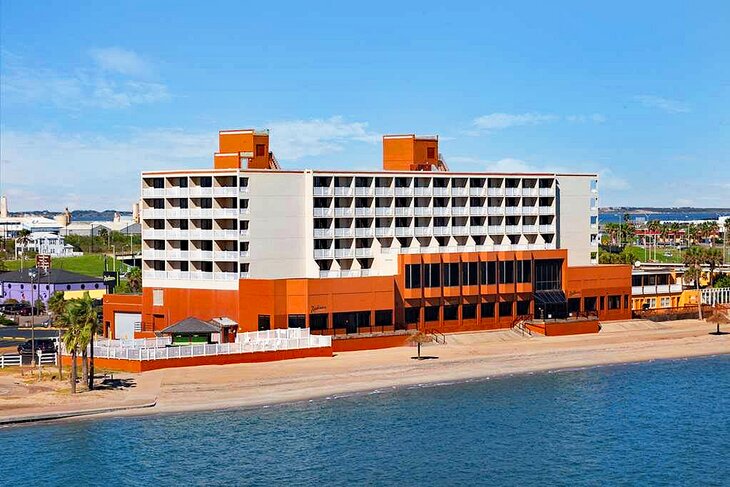 There are plenty of amenities to please all types of travelers to the DoubleTree by Hilton Corpus Christi Beachfront resort. Whether you're traveling as a family or a romantic couple, you'll enjoy the fitness center, outdoor pool (in the summer), and beach access. Those arriving by car will also celebrate the free parking on offer at this three-star resort.
The rooms here are spacious and comfortable, boasting high quality linens and floor-to-ceiling windows. If you're hoping for an optimal view, choose a Premium Higher Floor Bay View room. There's nothing quite as relaxing as watching the sun sparkle off waves as you sit on a private balcony.
The on-site restaurant is open from 7am to 10pm, which means guests can enjoy breakfast, lunch, and dinner without having to leave the resort grounds.
Address: 3200 East Surfside Boulevard, Corpus Christi, Texas
11. Emerald Beach Hotel Corpus Christi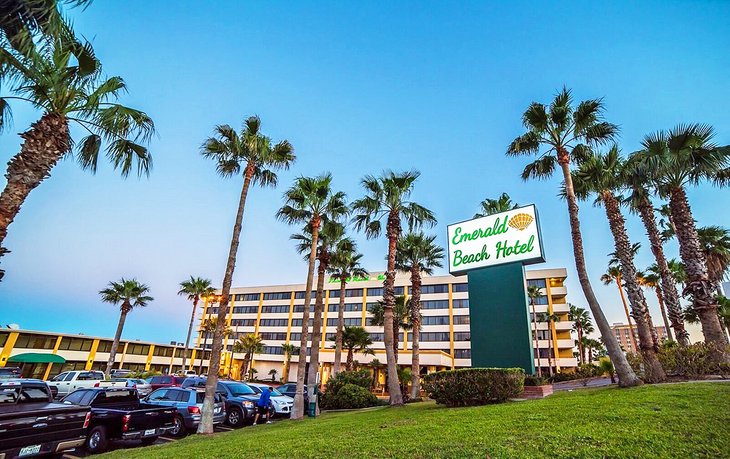 Another downtown gem, the Emerald Beach Hotel has 368 guest rooms with either city or premium bay views. All are tastefully decorated, have a microwave and mini-fridge, and blackout drapes to ensure a good night's sleep. Some offer direct beach access, so if this is what you're after, be sure to request that upon booking.
During the day, enjoy the indoor pool and hot tub, play or lounge on the beach, or hit the fitness center for a workout. The sun deck is particularly relaxing, especially if you can nab one of the comfy chaise lounges.
One of the best resorts in Corpus Christi, this beach hotel features a restaurant and two lounges to help quell hunger pangs and quench your thirst. Since this is a more popular place to visit during the summer, some of these eateries are only open seasonally (from March to early October). At these times, for instance, the Sandpiper Restaurant may only open for breakfast. This is also the time when you can enjoy nightly entertainment on the deck.
Address: 1102 South Shoreline Blvd., Corpus Christi, Texas
Map of Resorts in Corpus Christi, TX
Corpus Christi, TX - Climate Chart
Average minimum and maximum temperatures for Corpus Christi, TX in °C
J
F
M
A
M
J
J
A
S
O
N
D

19

8

21

9

24

13

27

17

30

21

32

23

34

23

34

24

32

22

29

18

24

13

20

9

PlanetWare.com
Average monthly precipitation totals for Corpus Christi, TX in mm.

41

47

44

52

88

90

51

90

128

100

44

45