6 Best Places to Stay near Big Bend National Park
Author Lana Law reviewed properties around Big Bend National Park while on assignment for PlanetWare.
Big Bend National Park is large, and getting around takes time. Options for accommodation in the park are limited to three main campgrounds, backcountry camping, or the motel-style Chisos Mountain Lodge.
Most visitors set up base in one of the nearby towns. Although hotel choices outside the park are still very limited, some of the lodging is outstanding. The best options are in the quaint little town of Marathon or the resort town of Lajitas. Both of these places offer beautiful hotels or resorts that can truly make your vacation a memorable trip.
Marathon lies about 40 miles north of the park on the east side. Lajitas is about 20 miles from the west entrance of the park. The drive is easy, and it's well worth the trip to stay at some of the beautiful lodgings in these towns.
Other towns in the area include the two side-by-side communities of Study Butte and Terlingua, including the nearby Terlingua Ghost Town, about three to 10 miles from the park on the west side. These towns combined are tiny and quality lodging choices here are limited.
Where you stay may simply depend on which direction you are arriving from. Marathon is the main gateway if you're coming from the east and north, including Houston, Dallas, Austin, and San Antonio. Lajitas and Terlingua are the main choices if you're arriving from the west.
Below are our top picks for the best hotels and resorts near Big Bend National Park.
1. The Gage Hotel, Marathon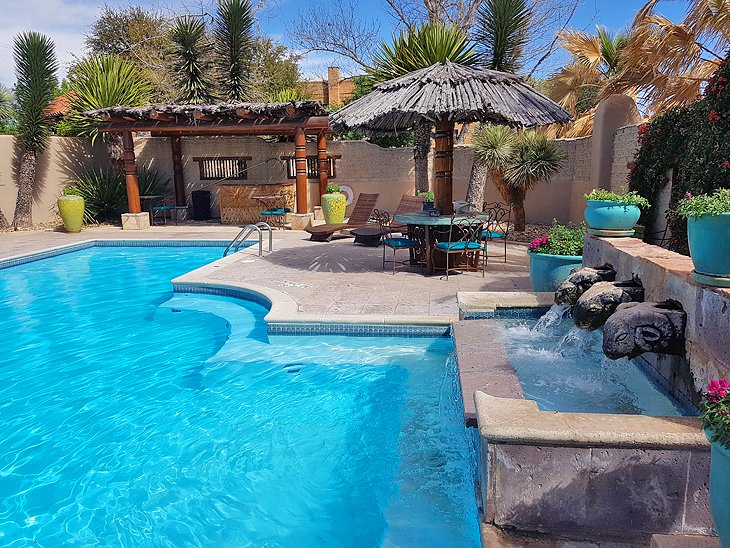 Marathon is by far the most charming town near the park, and one of the main reasons to visit Marathon is for a stay at the historic Gage Hotel.
This luxury property, with a beautiful pool and quaint rooms, does not have TVs in the suites. Instead, they offer enticing common areas for socializing, from the main lobby area with a huge fireplace, to a TV room for those who simply can't miss an important game, and a huge fire ring in the courtyard, where guests are invited to gather fireside each night.
This is a wonderful place to meet people and enjoy inspired conversation. The Gage Hotel is also known for its fabulous dining at the 12 Gage Restaurant, where you'll find some of the best food in Big Bend Country.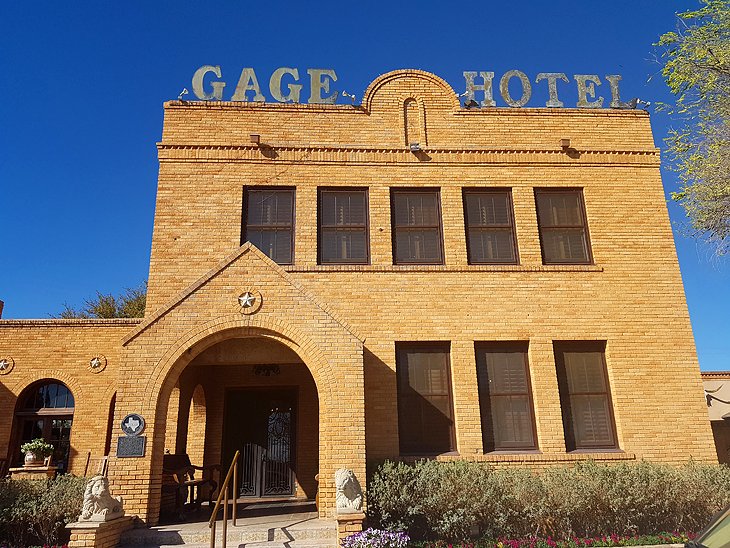 The property consists of the main building, with beautiful hotel rooms featuring wooden ceilings and open beams, and bungalow-style suites surrounding a quiet courtyard.
The Gage Spa is located in a separate building and offers a full range of treatments, from massage therapy to facials. The hotel also has a fun itinerary for up to 14 days to help guests plan their time in and around the park.
If you can't get in at the Gage Hotel, ask about the Captain Albion E Shepard House, which is also operated through the Gage. This is a small but grand looking white, two-story building with balconies, on a street behind the Gage Hotel.
2. Lajitas Golf Resort, Lajitas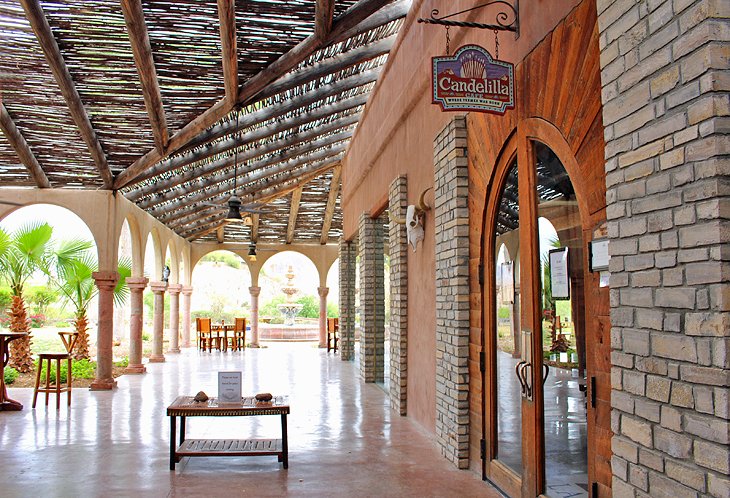 On the west side of Big Bend National Park, about 20 miles from the park gate, is the Lajitas Golf Resort. Like a true oasis in the desert, you can see the green trees and grass of the golf course at the base of the mountains as you approach.
This large complex is the place to come to relax and pamper yourself. It features an 18-hole golf course designed by Lanny Wadkins, a lovely pool, a glass-walled restaurant looking out to the scenic hills, and all kinds of recreational opportunities.
The main lobby and connecting buildings, which include the outfitters, fitness center, and activities center, are designed in an old Western style, with covered wooden walkways and wagon-wheel-inspired furniture.
The resort has several buildings with guest rooms, each of which is unique. Some are near the pool, others look out onto the golf course, but each offers large suites and elegant furnishings.
Activities: If you want to spend a few days here, you'll have no trouble keeping busy. You can go ziplining, arrange a one-way canoe trip down the nearby Rio Grande River with a shuttle back to the resort, or go horseback riding. An activities coordinator is happy to help you set everything up.
If you don't feel like making the long drive down to Lajitas Golf Resort, consider flying in on Resort Air. They have flights from Dallas, San Antonio, Houston, or via custom charter.
In addition to the hotel rooms, the resort also operates the huge RV Park, Maverick Ranch. This pet-friendly place might be one of the best deals in Texas. Guests staying in their own RV are allowed to use all the first-class facilities of the resort for no additional charge. Maverick RV Ranch is conveniently located on the same property within easy walking distance of all the things to do.
3. Eve's Garden Bed and Breakfast, Marathon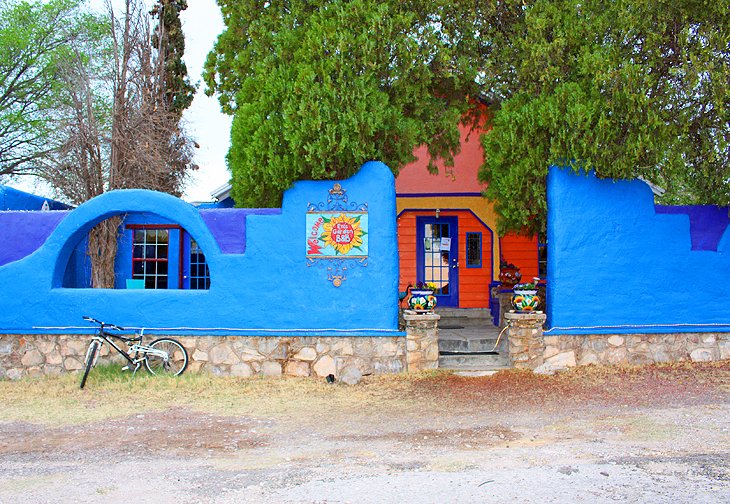 For the eco-minded and nature-loving sorts who still want a high degree of comfort and ambience, Eve's Garden B&B is the place to stay. They tout themselves as an "Organic Bed & Breakfast and Ecology Resource Center" in the town of Marathon, and offer a unique concept when it comes to lodging.
This colorful inn, with romantic archways and sprawling adobe-style architecture, is a peaceful retreat on a quiet street. The indoor organic gardens provide year-round blossoms, and the central courtyard, complete with a pond and tea room are beautiful spaces to relax and meet other guests.
Guest rooms are all individually decorated in a variety of colors and adorned with interesting and elegant decor.
Much like the Gage Hotel, guests here can break free from the television and cozy up with a book on a reading chair. This place is a true gem in the high desert.
4. Terlingua Ranch Lodge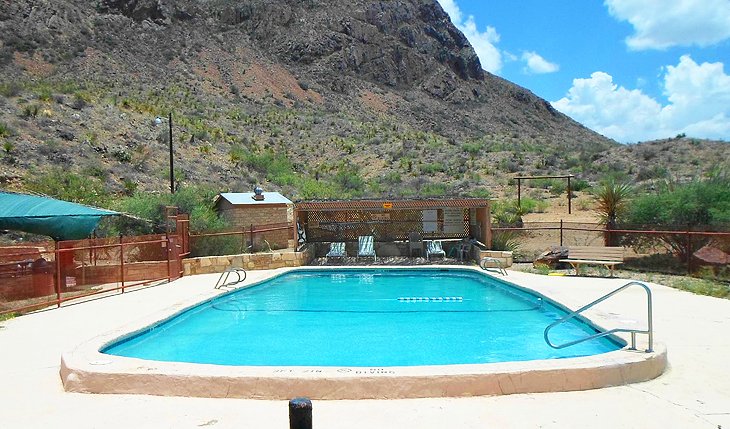 If you really want to get away from it all and park yourself at a cabin in the mountains, the Terlingua Ranch Lodge is perfect.
Set off on its own, 16 miles from the main road and about 45 minutes from Big Bend National Park, this is a wonderful place to see the night sky and enjoy peace and quiet in the desert.
Rooms are very basic, with no TVs or phones. Wireless internet is available, but there is no cell coverage. However, you can count on a spotlessly clean room, comfortable bed, and an outdoor patio to sit out on and watch the stars.
The lodge has 32 rooms; a pool; a small airstrip; and the Bad Rabbit Café, a restaurant serving homemade meals in a stone and masonry building, known as the Whitehouse.
On weekends and sometimes on weekdays during the high season, the café offers live entertainment featuring local musicians. The first Thursday of each month is a potluck dinner event at the Bad Rabbit Café, where everyone is invited to bring their favorite prepared dish to share.
Driving your own RV? Terlingua Ranch Lodge offers 21 RV sites, as well. You'll find eight 30/50-amp pull-through sites along with another 12 sites with only 30-amp service limited to rigs less than 25 feet long. All sites have water hookups and a fire ring; some have sewer service.
Guests in the RV park have access to all the ranch's facilities, including the pool. The last three miles from the paved highway to the ranch are not paved and can be washboarded.
5. La Posada Milagro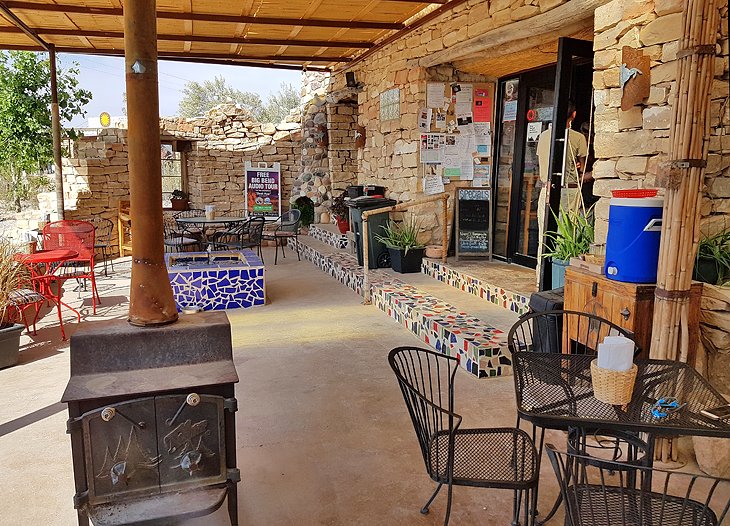 Located in the Terlingua Ghost Town, La Posada Milagro offers a small number of rooms, set up behind La Posada Milagro restaurant. Options here range from multi-bed rooms with shared bathroom and shower to rooms with private baths.
This property can be a good option for small groups looking to save money on accommodation. Rooms are rustic-style but tastefully decorated.
The restaurant out front serves a tasty breakfast and lunch until 2pm, with an order-at-the-window approach, and a very pleasant covered outdoor seating area with a central fountain and wood stove. It makes a wonderful stop for lunch.
6. Big Bend Casitas at Far Flung Outdoor Center
If you prefer to do your own cooking and prefer a stand-alone casita as opposed to a hotel room, the Big Bend Casitas are a great option. The units are perfect for families, holding up to four people; children under 17 stay free.
Each unit has a lovely porch, and gas BBQs are available for guests' use in the central courtyard. One of the best features of the property is the large pool. Nothing quite beats a dip in the cool waters after a dusty day exploring the park.
Map of Places to Stay near Big Bend National Park
More Related Articles on PlanetWare.com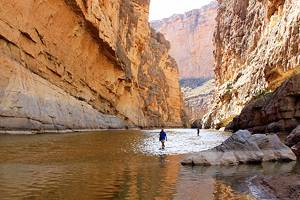 Exploring Big Bend National Park: The main reason people come to this part of Texas is to visit this incredible park. To plan out your excursion, see our guide to the top things to do in Big Bend National Park. If you know hiking is going to be on your agenda, be sure to see our list of the best hikes in Big Bend National Park.