Where to Stay in Memphis: Best Areas & Hotels
We may earn a commission from affiliate links ()
Memphis, with a population of 1.8 million, covers a lot of territory. When it was founded in 1819, it was a small town along the Mississippi River and has since swelled into a sizable city.
The downtown neighborhood is the nucleus of the city and the best area to stay, whether you are booking for the family or a romantic getaway. This is the most walkable section of Memphis, with top hotels, restaurants, shops, and galleries. Here, attractions like Sun Studio, the National Civil Rights Museum at the Lorraine Motel, the Peabody Ducks, and Beale Street are within walking distance of each other and they are also on the Main Street Trolley routes.
If you are making a pilgrimage to Memphis to see everything Elvis, Graceland is 10 miles from the downtown area and worth the trip.
Note: Some businesses may be temporarily closed due to recent global health and safety issues.
Where to Stay in Memphis for Luxury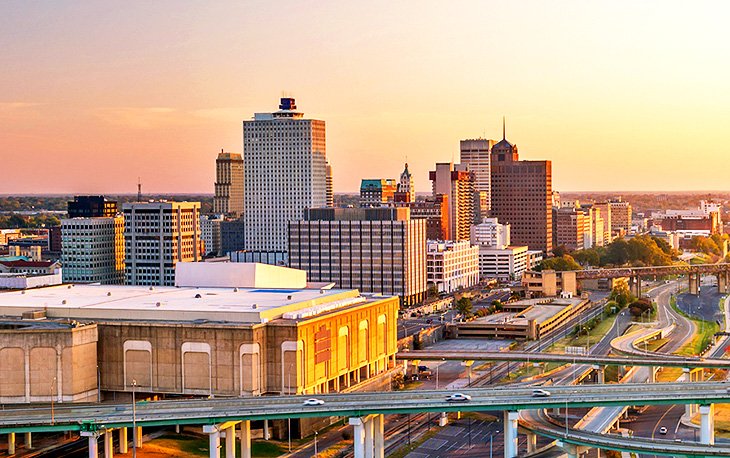 Your first word when you walk into the lobby of the River Inn of Harbor Town will be "Wow." With its wood-burning fireplace, oriental rugs, and original paintings, it exudes Southern hospitality. And, it doesn't end there, the staff is charming, and will cater to you.
With only 28 richly-decorated rooms, several with views of the Mississippi River, the vibe here is intimate and luxurious. The location is sublime, with the river and nature trails, and the hotel lies only a short walk away from downtown. A full breakfast comes with the room rate.
Duck is not on the menus of any of the restaurants in The Peabody Memphis. The reason why is the live ducks paddling in the lobby fountain. Every day at 11am, the Duck Master leads eight ducks down from their rooftop abode, and at 5pm he leads them back up.
Built in 1925, the hotel is a historic icon of Memphis. Rooms are small but tastefully appointed. Walk out the front door, and you are in the heart of downtown and Beale Street. After a busy day of sightseeing, pamper yourself with a massage in the spa or a swim in the indoor pool.
The key word for The Westin Memphis Beale Street is location. It lies within walking distance of several attractions: the National Civil Rights Museum at the Lorraine Motel, the Gibson Guitar Museum, Sun Studio, and the FedExForum. Room décor is sleek and minimalist in style, with large floor-to-ceiling windows. Coffee lovers will enjoy the Starbucks café in the lobby.
Where to Stay in Memphis: Mid-Range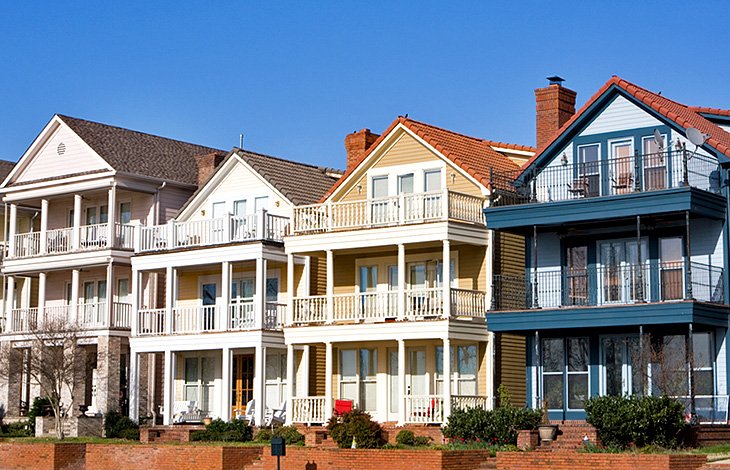 If Elvis is your prime reason for visiting Memphis then The Guest House at Graceland is the place for you. Everything, including the mansion, Graceland, Elvis's pink Cadillac, his jets, and museums are an easy walk from the hotel. RV hook-ups and camping are available on the property.
The pluses here are large rooms decorated the way Elvis would have wanted them to be, free shuttles to the airport and downtown, an outdoor pool, and two restaurants. Buy your tour tickets from the hotel's concierge and skip the lines at Elvis attractions.
The Residence Inn Memphis Downtown offers generous sized rooms, with microwaves and coffee makers. The hotel is within walking distance of Beale Street, Mud Island River Park, Bass Pro Shops, Memphis Rock 'n' Soul Museum, and the National Civil Rights Museum at the Lorraine Motel. Breakfast is included in the rate, and Wi-Fi is free.
At the Hampton Inn & Suites Memphis - Beale Street, rooms are decorated in muted tones and have flat-screen TVs and coffeemakers. The hotel is around the corner from Beale Street and within walking distance of Victorian Village, FedExForum, Mud Island River Park, and the Orpheum Theater. Enjoy a swim in the indoor pool before or after your day of sightseeing.
Located 15 minutes from downtown off Interstate 240, the Staybridge Suites Memphis - Poplar Ave East rooms are two-room suites with fully equipped kitchens. Breakfast is included in the room rate, and parking, Wi-Fi, breakfast, and a downtown shuttle are complimentary. You can work out in the 24-hour fitness center or relax in the outdoor pool.
Where to Stay in Memphis on a Budget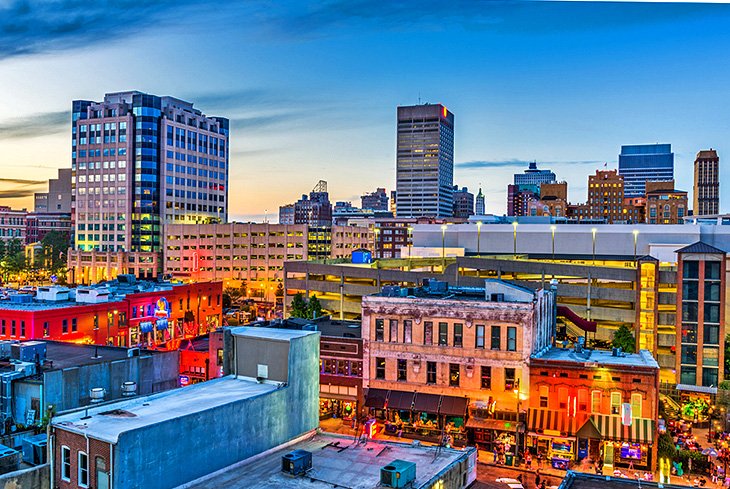 The Sleep Inn at Court Square is directly off Interstates 40 & 55. Nearby is River Bluff Walkway, Beale Street Landing, and Memphis River Boats. Rooms are small, basic, and have microwaves. Breakfast and Wi-Fi are included in the room rate, and rooms in back have views of Memphis.
The Comfort Inn Downtown is two blocks back from the Mississippi River, near Mud Island River Park and the Bass Pro Shop. Rooms are equipped with microwaves, coffeemakers, and refrigerators. Breakfast is included in the rate, and Wi-Fi is free. The rooftop pool is a welcome relief from summer heat.
Rooms at the Vista Inn & Suites Memphis are colorful and simply furnished. The hotel offers free Wi-Fi and parking, and breakfast is included in the room rate. FedExForum, AutoZone Park, Jerry Lee Lewis Café, and Honky Tonk are all within walking distance.
The Holiday Inn Select Memphis - Downtown (Beale Street) is an easy walk to the Gibson Guitar Plant, Rock 'n' Soul Museum, and the Cook Convention Center. Rooms are a good size with large reading lamps. Windows have blackout shades, and Wi-Fi is complimentary. The outdoor pool is heated.
Where to Stay in Memphis for Couples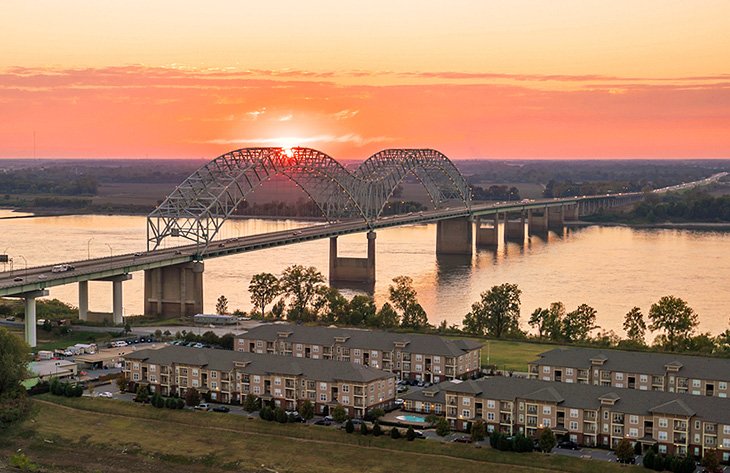 Recently opened, ARRIVE Memphis is one of the trendiest sleeps in town and a great choice for couples. Located right across the street from the National Civil Rights Museum at the Lorraine Motel and within walking distance of a number of restaurants, it is also a super pet-friendly property.
This boutique hotel has 62 rooms, which are modern industrial luxe with large windows, area rugs on concrete-style floors, and designer wallpaper. The lobby area is super cozy, and guests can order pizza and salads here. There is also an in-house, artisanal coffee shop.
Tucked away in a quiet neighborhood near downtown, the Hotel Napoleon - An Ascend Hotel Collection Member is housed in a 1902 building that is on the National Register of Historic Places. The lobby is a jaw dropper with gleaming chrome, white walls, and floor-to-ceiling glass panels.
The spacious guest rooms are filled with natural light from Palladian windows, with designer furnishings and 50-inch HD TVs. Complimentary Wi-Fi and coffee machines are available in the lobby. The hotel is within walking distance of the National Civil Rights Museum at the Lorraine Motel, Mud Island River Park, Memphis River Boats, and Beale Street Landing.
On a quiet, tree-lined street less than a mile from downtown is the James Lee House, a National Historic Landmark. This stunning Victorian was built in 1848. The five guest suites are filled with layer upon layer of luxury: fireplaces, four-poster beds, fine linens, king-size luxury mattresses, tower windows, state-of-the-art steam showers with multiple shower heads, and deep claw-foot tubs.
Gourmet breakfasts are served in the front dining room at tables set for two. At the end of a busy day of sightseeing, you can relax with a refreshment in the elegant music room.
Where to Stay in Memphis for Families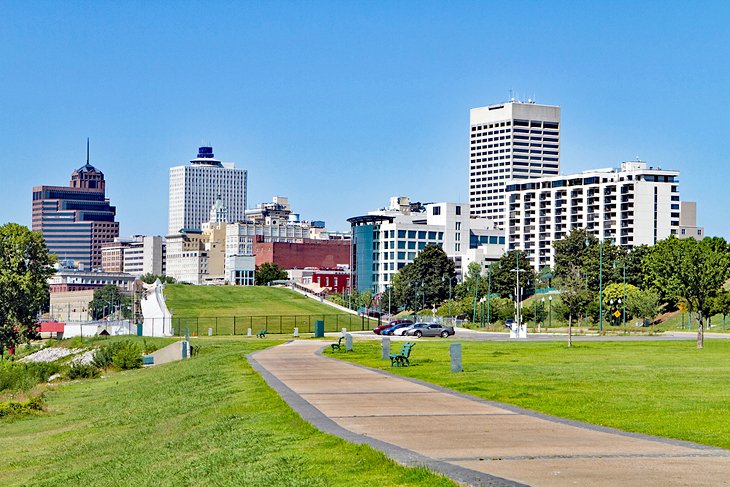 For families looking for a hotel, the Holiday Inn Express - Medical Center Midtown is very good value and has family specific rooms available to book. The location in Midtown is convenient to major attractions like Beale Street and Graceland, which are just a few minutes' drive away. The hotel is also next to Methodist University Hospital if you are in town for a medical reason. Amenities include an outdoor swimming pool and workout room.
Another good-value family hotel that is closer to the city center is La Quinta Inn & Suites Memphis Downtown. This brand new property features modern rooms and suites with bold-hued accent walls, and comfortable beds topped by crisp white linens and duvets. The location is fabulous, just a minute walk from Beale Street in the historic downtown district. There is a heated indoor swimming pool for kids to get out their energy and a fitness center.
Hampton Inn & Suites Memphis-Shady Grove Road is a little farther from downtown in a residential neighborhood but within walking distance of a number of restaurants, and it offers easy access to the highway. Families will like the spacious rooms and suites, which include microwaves for heating up snacks. A free breakfast is also included. There is also ample free parking, a swimming pool, and coin-op laundry.
Hyatt Place Memphis/Wolfchase Galleria is for families who need more space. The hotel is on the outskirts of town, next to the Wolfchase Galleria shopping mall and the suburb of Bartlett. There are numerous restaurants, both in the Galleria and Cordova, within walking distance of the hotel, but you will need a car to get into the city. Rooms are modern, clean, and comfortable and designed for long-term stays, which mean they have amenities like sleeper sofas and mini-fridges. On-site amenities include a 24/7 room service menu, swimming pool, and workout room.
Where to Stay in Memphis near the Airport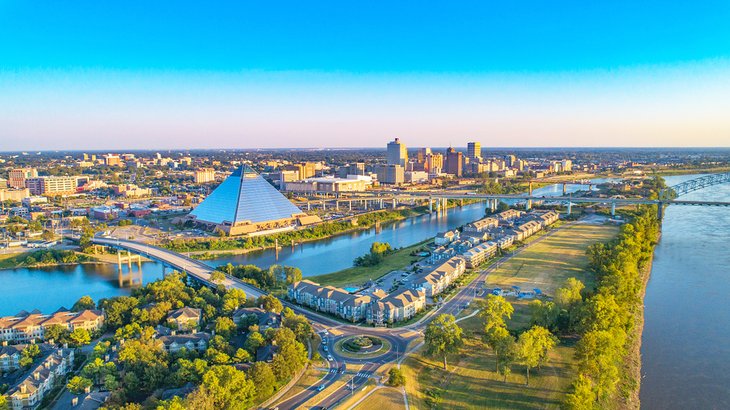 Located just seven miles southeast of downtown, Memphis International Airport is quite convenient to the city. That said, if you have a very late flight or early morning flight, or maybe a 24-hour layover, and you want to be as close to the airport as possible, there are hotel options.
One good budget choice is the Quality Inn Airport I-240. Rooms are basic but come with microwaves and refrigerators. The front desk here is open 24 hours a day and there is free parking. A complimentary breakfast is also served. Other amenities include a swimming pool and workout room.