9 Top-Rated Resorts in Nashville, TN
We may earn a commission from affiliate links ()
America's country music headquarters, Nashville draws all styles of travelers year-round, who come to experience its honky-tonk legacy and fantastic resorts. As such, Tennessee's capital city caters to visitors in all budgets, whether they are looking for a romantic weekend escape or a summer holiday with the entire family.
Most of the best resorts, hotels, inns, and bed-and-breakfasts with resort-style amenities are found in downtown Nashville, with some located right on the city's famed Music Row. Others are found adjacent to experiences like the Country Music Hall of Fame and Museum. There are also some luxury options just on the outskirts of town.
Nashville can be visited year-round, but winters can definitely be cold and dreary. On the other hand, summer can be quite hot and humid. The best time to really experience the city is in April or May, before the temperatures rise too much, or in the fall, when you can also witness the changing leaves.
For ideas on the best places to stay, see our list of the top resorts in Nashville.
1. The Hermitage Hotel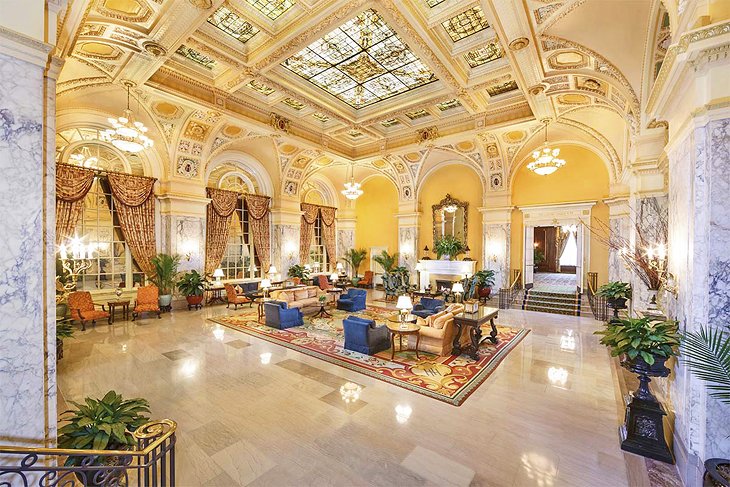 Accommodation: The Hermitage Hotel
Right in downtown Nashville, The Hermitage Hotel dates back to 1910 and is one of Nashville's last surviving grand dame properties, with a wonderfully opulent lobby. On the National Register of Historic Places, the hotel is an architectural beauty designed in Beaux Arts style and also comes with a local political legacy, serving as the home for many campaigns in the first quarter of the 20th century.
The rooms here are spacious, clean, and comfortable, with period decor and mod cons like free WiFi and flat-screen TVs. There is also an on-site restaurant and 24-hour room service. Other amenities include a spa and well-equipped gym. Service is professional and attentive.
2. Noelle Nashville, A Tribute Portfolio Hotel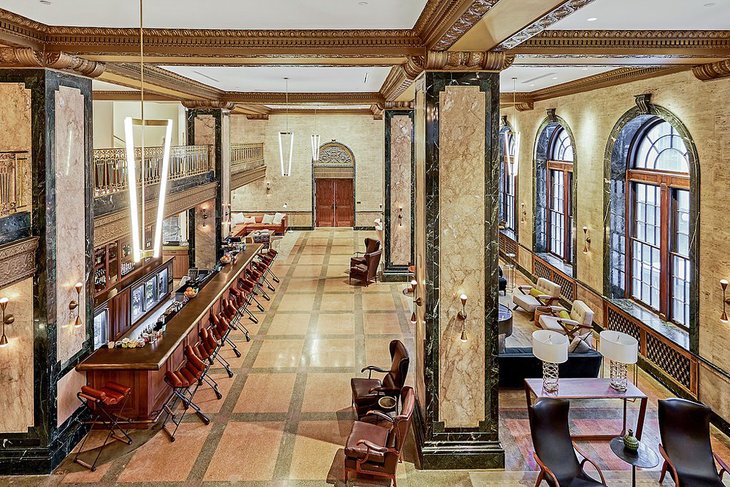 Accommodation: Noelle Nashville, A Tribute Portfolio Hotel
Right by Printer's Alley, Noelle Nashville is in a historic building that dates back to 1930. It is an elegant four-star, four-diamond boutique property that is also within walking distance of Broadway and the Bridgestone Arena. The hotel is both kid-friendly and pet-friendly and offers a mix of rooms and suites. All feature floor-to-ceiling windows, as well as local art and comfortable beds.
On-site amenities here include a few different restaurants and a lively coffee shop that does responsibly sourced espresso drinks and pastries. There is also a gym that stays open 24/7.
3. Omni Nashville Hotel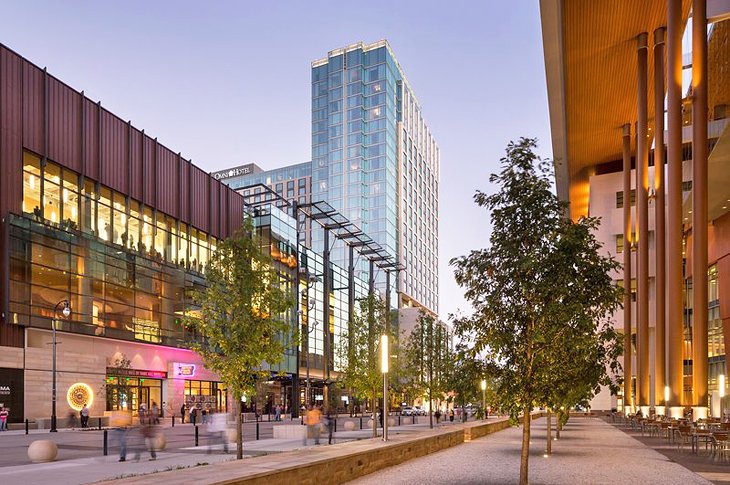 Accommodation: Omni Nashville Hotel
Also in central Nashville, the Omni Nashville Hotel is attached to the Country Music Hall of Fame and Museum and is a luxe choice for music lovers. It features a contemporary exterior, as well as 800 bright rooms with floor-to-ceiling windows and colorful contemporary decor of which the best feature is direct city skyline views.
Also check out the 54 posh suites with separate living space and kitchenettes that are a great choice for families. On-site amenities include a coffee shop with live music, multiple restaurants including one serving Southern home cooking and another doing steak and chops, and a rooftop pool and deck with fantastic views. There is also a well-equipped fitness center and a shop selling local goods.
4. Holston House Nashville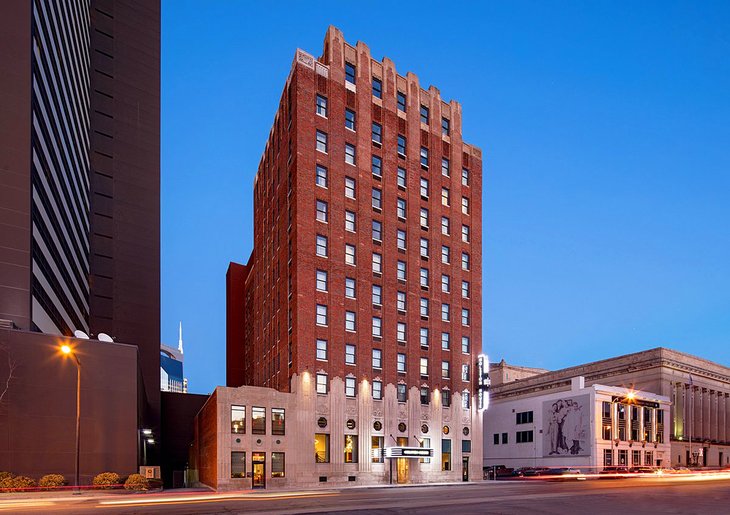 Accommodation: Holston House Nashville
Located within walking distance of Broadway's live music venues, Holston House Nashville is a stylish downtown boutique property. Its ambience is inspired by its historic Art Deco roots, and it has vibrant interior decor. Spend some time in the living-room-style lobby area, with its comfy couches and brown and yellow checkerboard floors.
There are 191 rooms, including two suites. These have modern amenities, comfy beds with quality linens, and fun patterned drapes and area rugs. There are also two signature penthouse suites on the 12th floor with fantastic city views.
The downtown location means the hotel is within walking distance of many of Nashville's top attractions including the restaurants on Music Row. But if you would like to dine on-site, there is a street level restaurant serving up American dishes with an emphasis on Southern favorites. There is also a rooftop swimming pool that is very popular on hot summer days.
Other amenities include a fitness room and 3,000 square feet of meeting and event space. If you are traveling with a pet, the hotel welcomes dogs for an extra fee. Finally, the Holston House gets great feedback for its service, which is excellent. Valet parking is available for a fee and is very fast.
5. Bode Nashville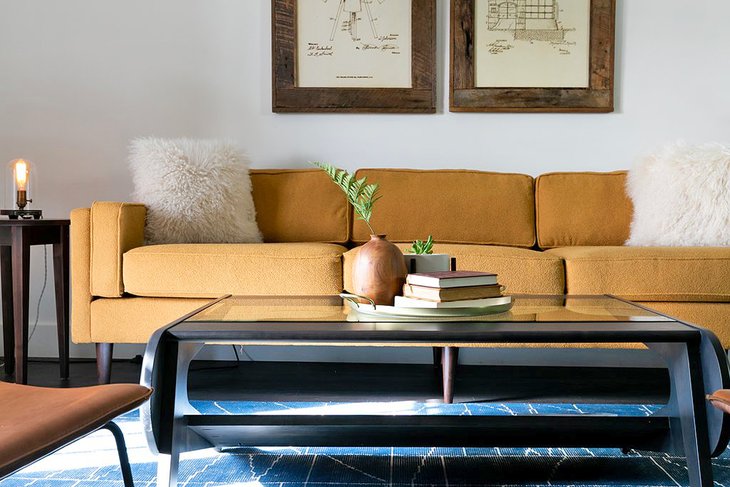 Accommodation: Bode Nashville
Located within walking distance of Broadway and downtown, Bode Nashville is an apartment-style resort hybrid. It features apartments with full kitchens ranging from one to four bedrooms. These are decorated in an elegant, modern style with fun extras like a guitar in every apartment.
Unlike traditional hotels, you don't check in at a desk; instead, staff text the key code to your room, which gives you more privacy.
Once you are on the grounds, the staff are super responsive. There is also an on-site hangout and coffee shop area called The Hub, where you can grab a latte or a light lunch. There is free Wi-Fi in this area. There are also outdoor tables and lawn games to play when the weather is warm.
6. Kimpton Aertson Hotel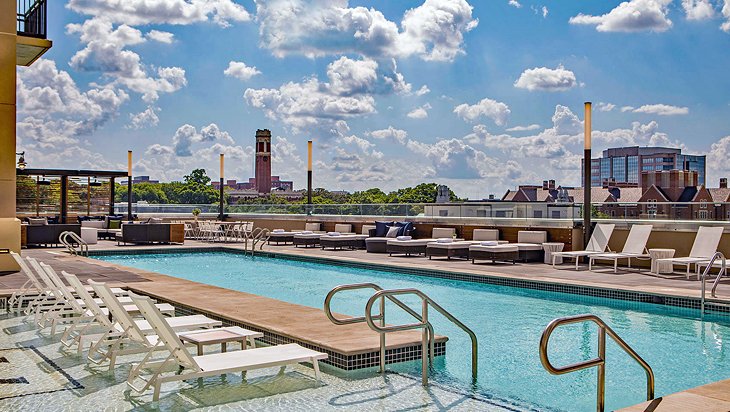 Accommodation: Kimpton Aertson Hotel
In a fantastic downtown location right in the legendary Music Row district, the Kimpton Aertson is a super trendy luxe property. The rooms and suites here feature original art, Italian linens on comfortable beds, and large bathrooms done up in marble with high-end toiletries. The suites also come with floor-to-ceiling windows, Jacuzzi tubs, and balconies.
Away from the rooms, resort-like amenities include loaner cruiser bikes, a chic restaurant with terrace dining, a rooftop swimming pool and deck with fabulous views, a 24-hour fitness center, and spa.
The property is also child-friendly and known for treating its canine guests like royalty. The service here, especially at reception, also gets high marks from guests.
7. The Westin Nashville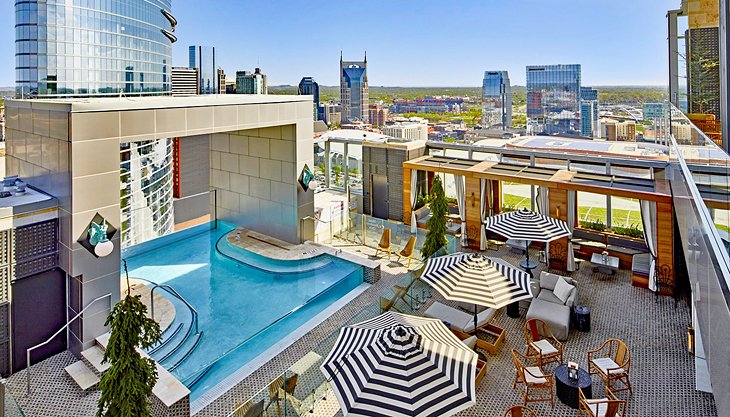 Accommodation: The Westin Nashville
The Westin Nashville is just across the street from Music City Center and only a five-minute walk from the honky-tonks of Music Row in downtown Nashville. The property is elegant and modern in its design, with sleek public areas featuring plenty of marble and chic leather and wood decor.
Rooms and suites are equally posh, with super comfy beds and quality linens and spacious bathrooms.
On-site amenities include a rooftop swimming pool and lounge; a couple of restaurants, including a popular steakhouse; and the fantastic resort-like Rhapsody Spa. There is also an indoor swimming pool, gym, and breakfast included in the rate. Plus the property offers free accommodation to children under the age of 17 staying with an adult.
8. Gaylord Opryland Resort and Convention Center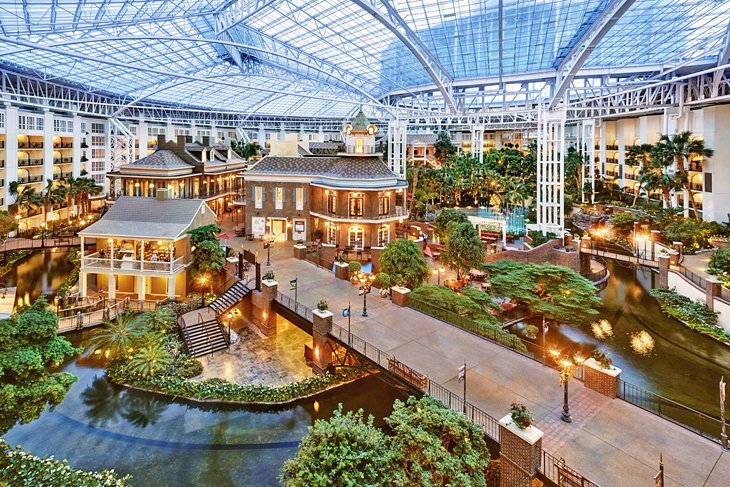 Accommodation: Gaylord Opryland Resort & Convention Center
Just under a 15-minute walk from the Grand Ole Opry in Nashville, the Gaylord Opryland Resort and Convention Center features some nine acres of indoor gardens and waterways, which are organized under a few different atriums. These include one with a quarter-mile-long river featuring its own boat tours and another with twin waterfalls. There are also botanical gardens with walking paths alongside streams.
For sleeping, there is a mix of modern rooms and suites, some of which come with great views across the lush indoor garden atriums. For families, suites feature separate living areas and pull-out couches for the kids.
There are also some 15 on-site restaurants, along with a golf course, outdoor and indoor swimming pools, and an exercise room.
9. Wyndham Nashville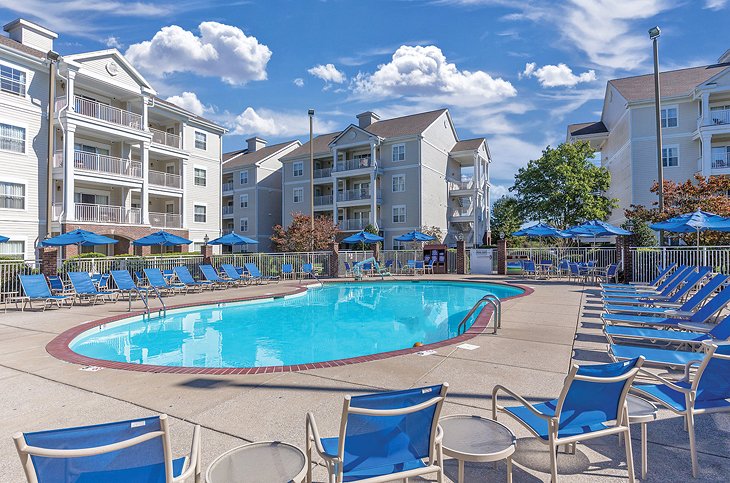 Accommodation: Wyndham Nashville
Located less than 1.5 miles from the Country Music Hall of Fame and Museum, the Wyndham Nashville is another popular resort option in the capital city.
It works especially well for families, as the property is an all-suite resort with either one or two-bedroom selections. Each is comfortable, clean, and spacious with, at minimum, a kitchenette, although the most luxe choices have full kitchens, along with flat-screen TVs with DVD players, free Wi-Fi, pullout sofa sleeping, and separate dining and living spaces.
Away from the rooms, amenities at this Wyndham resort include both indoor and outdoor swimming pools, a hot tub, barbecue area, gym, basketball court, and a playground for the children. There is also free on-site parking.