7 Top-Rated Resorts in Nashville, TN
America's country music headquarters, Nashville draws all styles of travelers year-round, who come to experience its honky-tonk legacy and fantastic resorts. As such, Tennessee's capital city caters to visitors in all budgets whether they are looking for a romantic weekend escape or a summer holiday with the entire family.
Most of the best resorts, hotels, inns, and bed-and-breakfasts with resort-style amenities are found in downtown Nashville with some, like the super hip Kimpton Aertson, located right on the city's famed Music Row. Others, like the Omni Nashville Hotel, are found adjacent to experiences like the Country Music Hall of Fame and Museum. While properties like the Heritage Hotel, also located downtown, offer a romantic, historic sleeping experience in opulent, early-20th-century buildings.
Finally, if you want to sleep away from the city center, there are luxury options like the gorgeous Inn at Fontanel, which despite only having six suites, has a distinct resort feel thanks to its amenities, including everything from ziplining to outdoor concerts by A-list artists. Find the best place to stay with our list of the top resorts in Nashville, Tennessee.
1. The Inn at Fontanel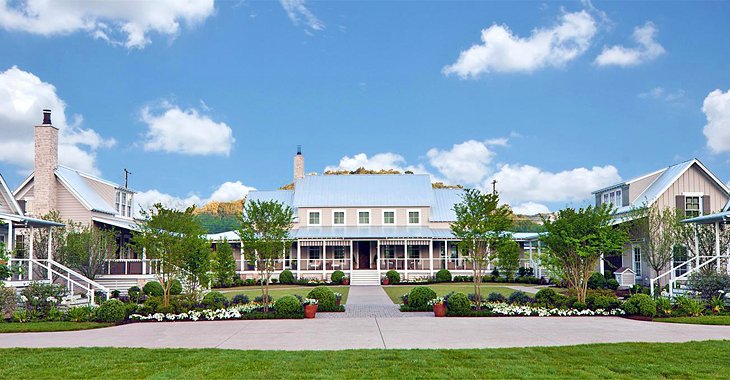 In the Whites Creek neighborhood, about 11 miles north of downtown, the Inn at Fontanel sits on the grounds of the one time home of country music star Barbara Mandrell. In 2013, it was the Southern Living Idea House and has since been turned into a boutique luxury inn with just six suites spread across three buildings that all face a beautifully maintained central courtyard. All are elegant affairs with traditional meets modern decor. Some have kitchenettes, and the inn is both child- and pet-friendly. The on-site amenities are resort-like and include a course with eight ziplines; hiking trails; an amphitheater; which hosts big name music concerts in the summer; and two excellent restaurants. A continental breakfast is included in the rate.
Accommodation: The Inn at Fontanel
2. The Hermitage Hotel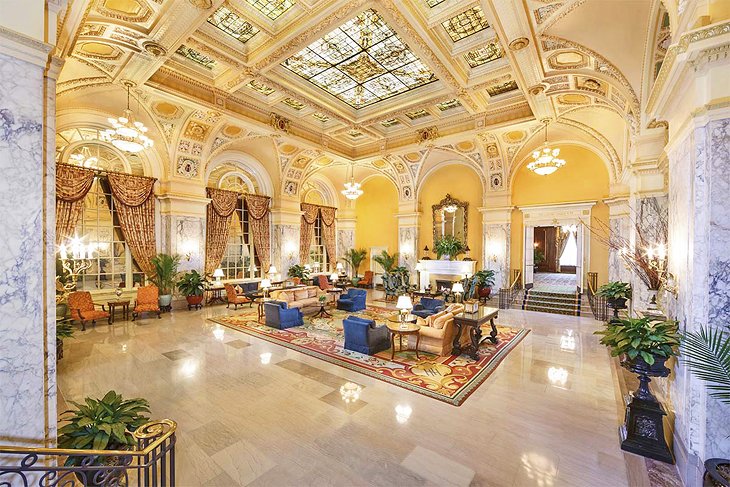 Right in downtown Nashville, The Hermitage Hotel dates back to 1910 and is one of Nashville's last surviving grand dame properties, with a wonderfully opulent lobby. On the National Register of Historic Places, the hotel is an architectural beauty designed in Beaux Arts style and also comes with a local political legacy, serving as the home for many campaigns in the first quarter of the 20th century. The rooms here are spacious, clean, and comfortable, with period decor and mod cons like free WiFi and flat-screen TVs. There is also an on-site restaurant and 24-hour room service. Other amenities include a spa and well-equipped gym. Service is professional and attentive.
Accommodation: The Hermitage Hotel
3. Omni Nashville Hotel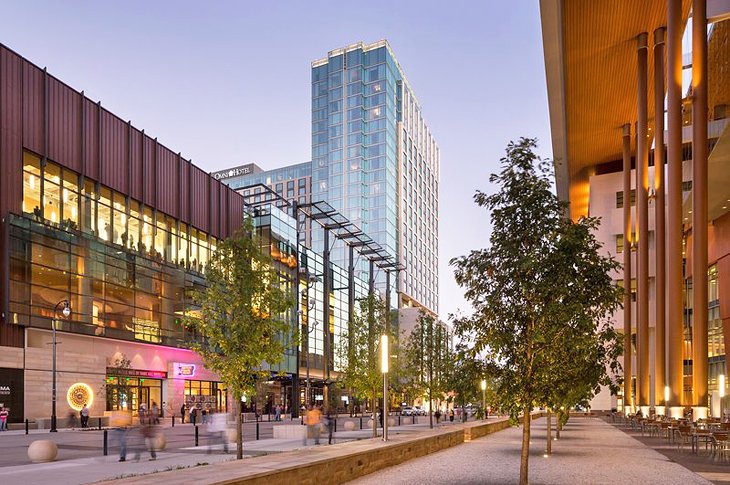 Also in central Nashville, the Omni Nashville Hotel is attached to the Country Music Hall of Fame and Museum and is a luxe choice for music lovers. It features a contemporary exterior, as well as 800 bright rooms with floor-to-ceiling windows and colorful contemporary decor of which the best feature is direct city skyline views. There are also 54 posh suites with separate living space and kitchenettes that are a great choice for families. On-site amenities include a coffee shop with live music, multiple restaurants including one serving Southern home cooking and another doing steak and chops, and a rooftop pool and deck with fantastic views. There is also a well-equipped fitness center and a shop selling local goods.
Accommodation: Omni Nashville Hotel
4. Kimpton Aertson Hotel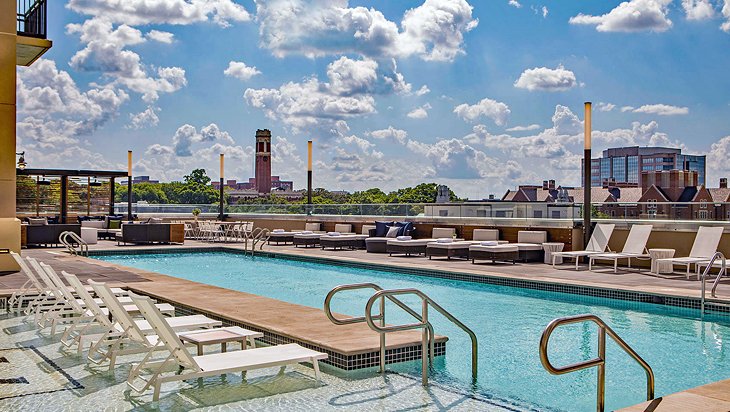 In a fantastic downtown location right in the legendary Music Row district, the Kimpton Aertson is a super trendy luxe property. The rooms and suites here feature original art, Italian linens on comfortable beds, and large bathrooms done up in marble with high-end toiletries. The suites also come with floor-to-ceiling windows, Jacuzzi tubs, and balconies. Away from the rooms, resort-like amenities include loaner cruiser bikes, a chic restaurant with terrace dining, a rooftop swimming pool and deck with fabulous views, a 24-hour fitness center, and spa. The property is also child-friendly and known for treating its canine guests like royalty. The service here, especially at reception, also gets high marks from guests.
Accommodation: Kimpton Aertson Hotel
5. The Westin Nashville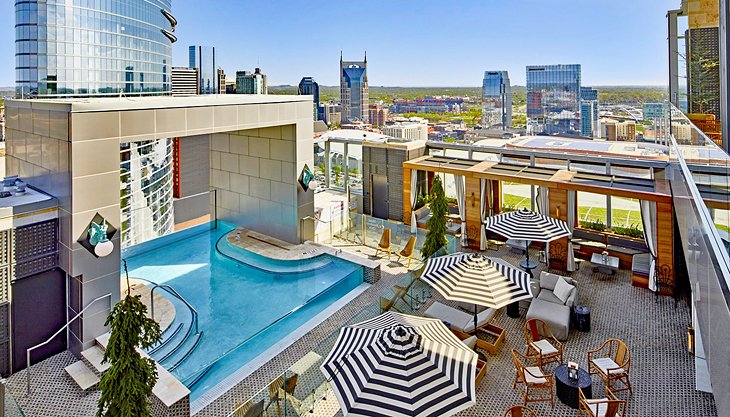 The Westin Nashville is just across the street from Music City Center and only a five-minute walk from the honky-tonks of Music Row in downtown Nashville. The property is elegant and modern in its design, with sleek public areas featuring plenty of marble and chic leather and wood decor. Rooms and suites are equally posh, with super comfy beds and quality linens and spacious bathrooms. On-site amenities include a rooftop swimming pool and lounge; a couple of restaurants, including a popular steakhouse; and the fantastic resort-like Rhapsody Spa. There is also an indoor swimming pool, gym, and breakfast included in the rate. Plus the property offers free accommodation to children under the age of 17 staying with an adult.
Accommodation: The Westin Nashville
6. Gaylord Opryland Resort and Convention Center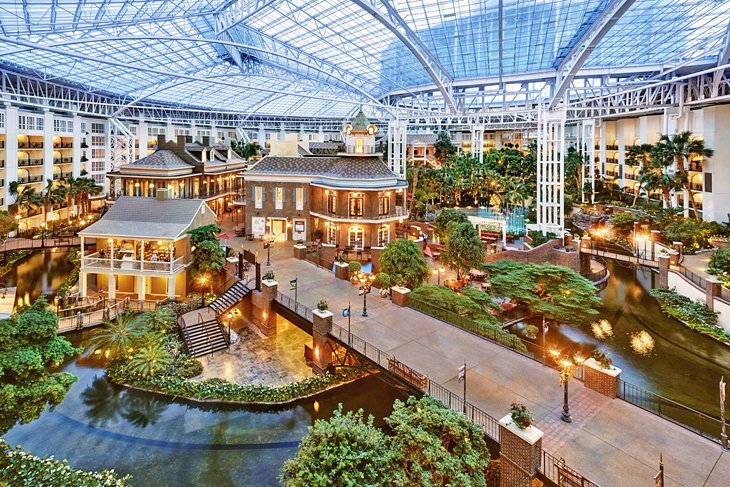 Just under a 15-minute walk from the Grand Ole Opry in Nashville, the Gaylord Opryland Resort and Convention Center features some nine acres of indoor gardens and waterways, which are organized under a few different atriums. These include one with a quarter-mile-long river featuring its own boat tours and another with twin waterfalls. There are also botanical gardens with walking paths alongside streams. For sleeping, there is a mix of modern rooms and suites, some of which come with great views across the lush indoor garden atriums. For families, suites feature separate living areas and pull-out couches for the kids. There are also some 15 on-site restaurants, along with a golf course, outdoor and indoor swimming pools, and an exercise room.
Accommodation: Gaylord Opryland Resort & Convention Center
7. Wyndham Nashville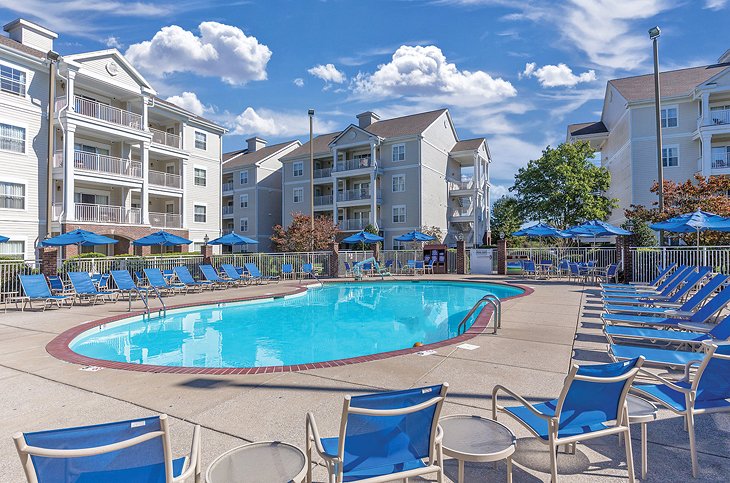 Located less than 1.5 miles from the Country Music Hall of Fame and Museum, the Wyndham Nashville is another popular resort option in the capital city. It works especially well for families, as the property is an all-suite resort with either one or two-bedroom selections that offer comfortable, clean, and spacious abodes with at minimum a kitchenette, although the most luxe choices have full kitchens, along with flat-screen TVs with DVD players, free Wi-Fi, pull-out sofa sleeping, and separate dining and living space. Away from the rooms, amenities at this Wyndham resort include both indoor and outdoor swimming pools, a hot tub, barbecue area, gym, basketball court, and a playground for the children. There is also free on-site parking.
Accommodation: Wyndham Nashville
More on Tennessee