12 Best Resorts in Zanzibar
Visitors to the African spice island of Zanzibar have a few key choices to make when choosing the best resort to visit: Do you want privacy at your hotel or an active social scene? Do you want polished luxury or a more laid-back vibe? Do you want an all-inclusive resort or pay-as-you-go?
Many of the best resorts in Zanzibar are villa-only properties, where the accommodations are individual villas offering a lot of privacy. The destination is popular with honeymooners, and couples may like the privacy of a boutique resort like The Palms with only seven villas.
Guests seeking an eco-tourism experience may like the Chumbe Island Coral Park, an eco-resort with its own forest sanctuary and protected coral reef. If you're looking for a social scene with live music performances at your resort each night, the Hotel Riu Palace is the spot for you. If you're traveling to Zanzibar with kids, the Breezes Beach Club & Spa offers extensive activities and programs for kids.
Visitors to Zanzibar arrive via ferry or flight, and none of the island's best resorts are more than 90 minutes from the airport (ZNZ) or the ferry terminal in the Stone Town area.
Plan your Tanzanian island adventure with our list of the best resorts in Zanzibar.
1. Baraza Resort and Spa Zanzibar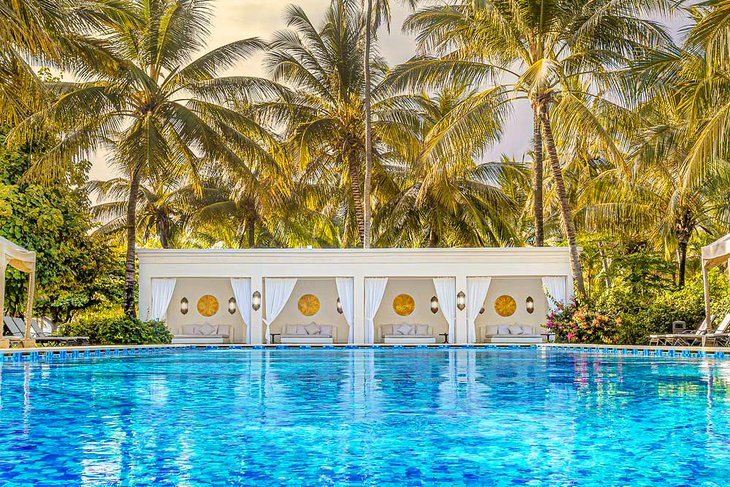 Accommodation: Baraza Resort & Spa Zanzibar
Highlights: All-villa luxe resort right on popular Bwejuu-Paje Beach, Frangipani Spa, gastronomy, privacy
An all-inclusive, all-villa luxury boutique resort, the Baraza Resort & Spa starts with a truly idyllic location right on Bwejuu-Paje Beach. The beach is frequently ranked as one of the world's best, and the Baraza is one of the best resorts in Zanzibar.
Like other accommodations on the island, Baraza combines the culture and design style of Zanzibar's colonial influences (Arabic and Indian), as well as native African Swahili. The 30 villas have a luxurious yet rustic feel, with handmade furniture, antiques, and art pieces from local artists.
There are one- and two-bedroom villas along with larger two-bedroom Royal Sultan and Royal Beach villas. Some face the ocean, some are oceanfront, and some are within the property's lush gardens. The smallest are 1,600 square feet (148 square meters), and the largest, the Royal Beach Villa, is nearly 3,000 square feet. All the villas have private terraces and plunge pools.
The Frangipani Spa is world-class, with a Middle Eastern hammam vibe. You have your choice of a wide range of holistic massage and beauty treatments, as well as a yoga program.
Three different dining environments exist, one for each meal of the day. Dinner alternates between buffet and table service. The menu encompasses dishes from Africa, India, Asia, and Persia, with a broad selection of continental (steak, chicken, pasta) items as well. Local spices and seasonal produce are woven into the cuisine.
2. The Palms, Zanzibar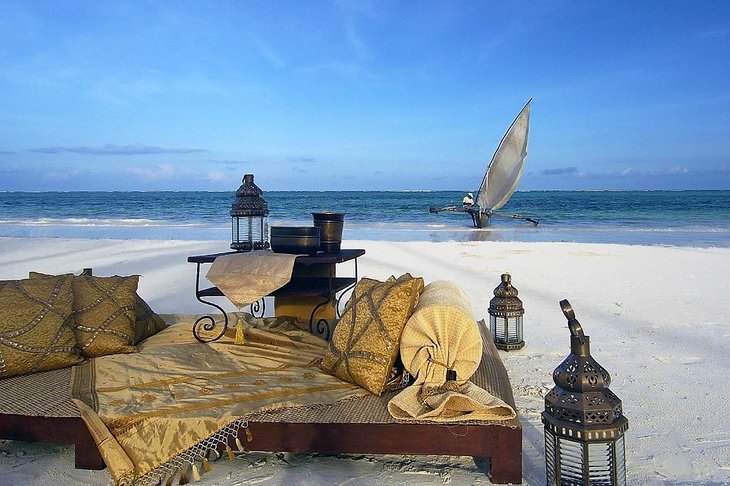 Accommodation: The Palms, Zanzibar
Highlights: Ultra-exclusive, access to other Zanzibar Collection resorts with more amenities, excellent programming to connect with local culture
With only seven villas, The Palms provides an extremely private, intimate experience and is probably the best resort in Zanzibar for couples. As the all-inclusive hotel is part of The Zanzibar Collection, guests have access to several other larger resorts that offer more dining options, amenities, and activities. You can then take the free shuttle back to your private villa paradise at The Palms.
These villas are seriously amazing. Each one is like a tiny house with its own veranda. Verandas overlook the Indian Ocean and have a Zanzibar bed (a four-poster sun bed) outside and a private plunge pool.
The resort gives guests a few unique opportunities to connect with the local African culture. You can take cooking classes, learn about local crafts and even take Swahili language or history lessons from the resort's resident mwalimu (Swahili for teacher).
The Palms has its own restaurant and maintains a bit of formality: gentlemen must wear long pants if dining in the dining room. Of course, you can also dine in your villa, or The Palms will create a special romantic dining experience like a beach picnic or private meal in the garden.
When you want to have some fun in that beautiful, blue Indian Ocean, The Water Club is a complete beachfront activity center, located just down the beach at The Palms' sister resort, the Baraza. You can have lots of fun on the water (wakeboarding or surfing); above it (kitesurfing or kiteboarding); or under it (snorkeling or scuba diving) in the clear, warm water.
3. Breezes Beach Club & Spa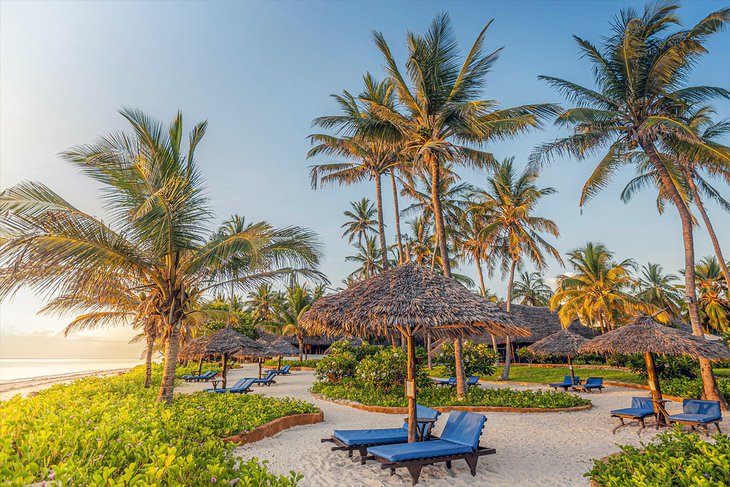 Accommodation: Breezes Beach Club & Spa
Highlights: Family-friendly beach resort, unique guest experiences like palm tree climbing, part of Zanzibar Collection with access to other properties
Another resort on Bwejuu Beach, the Breezes Beach Club & Spa is also a part of The Zanzibar Collection. That means you have access to the restaurants at their other resorts, as well as the Frangipani Spa and The Water Club beach activity center at the nearby Baraza Resort & Spa. There is a free shuttle that operates between the resorts.
The Breezes Beach Club & Spa is one of the best resorts in Zanzibar for families, as it's very kid-friendly (kids under 12 stay for free with adults staying in deluxe rooms) and has a lot of things for them to see, learn about, and do. The resort offers an array of local experiences and knowledge for kids and adults. Their Zanzibar Swahili Experience program includes visits to the local school and local mosque to meet members of the community. You can even learn to play bao, an ancient precursor to chess and backgammon, from a local master who gives lessons each morning on the beach.
Other unique experiences include a coral reef safari walk at low tide or a cruise on the resort's dhow (a traditional fishing boat). Back on land, guests can also learn how to shimmy up palm trees from the resort's gardeners.
Your dining is offered on a half-board basis, which means only breakfast and dinner are included. Breezes maintains a bit of formality for dinner: gentlemen are requested to wear long pants in both the Salama Dining Room and at The Sultan's Table gastronomic restaurant. Lunch is served at The Breakers Grill with a BBQ and seafood menu. You can also order in-room dining, eat at the poolside café, or grab a snack in the lobby coffee bar.
4. Tulia Zanzibar Unique Beach Resort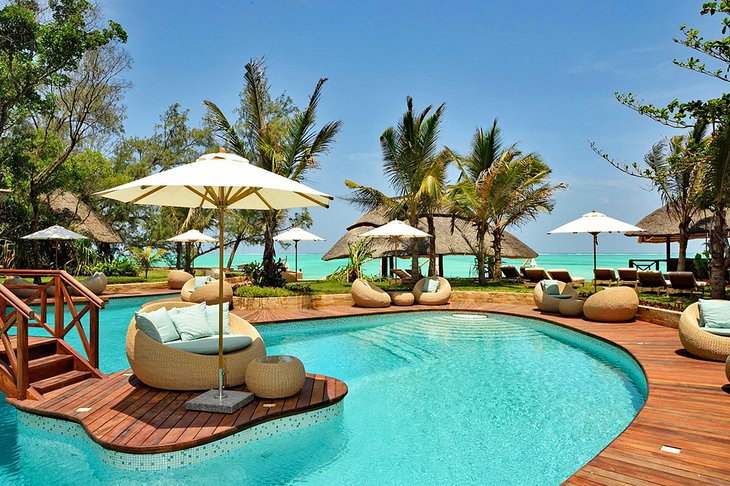 Accommodation: Tulia Zanzibar Unique Beach Resort
Highlights: Villa- and adults-only resort, great for couples, water sports, holistic spa, e-scooters provided for guests
One of the best resorts for romantic getaways, couples, and honeymooners, this villa-only property focuses on service and providing a very private experience for each guest.
Accommodations are available in four different configurations mainly based on their proximity to the beach. Oceanfront, partial sea view, garden view (you can't see the ocean from these), and with or without an outdoor Jacuzzi are the choices.
Although you can stay here on an all-inclusive basis, there are no buffets. The Tulia's Zanzibarian chef prepares a changing three-course lunch and a five-course dinner each day. They also offer a breakfast-only plan, which is great if you plan to spend most of your time off-property exploring the island. During dinner, different local musical artists perform for your dining (and sometimes dancing) pleasure.
Water sports gear, like kayaks and SUPs, are provided for guests as is an e-scooter, so you can explore the area outside the resort. Additional luxury touches include free airport transfers and a free massage at the Tulia's holistic spa.
5. Zanzi Resort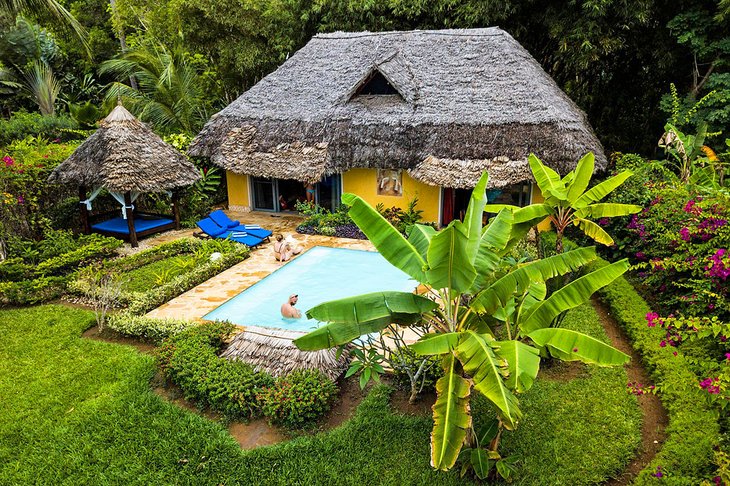 Accommodation: Zanzi Resort
Highlights: Intimate experience, villa or bungalow accommodations, Japanese spa, all-inclusive
Another smaller resort, with only six villas and seven bungalows, the Zanzi gives you a secluded, beachfront boutique hotel experience, yet it's only about 30 minutes from the airport.
Your accommodation choices are either a villa with a private garden and private pool or a bungalow with its own sun terrace. There are one- and two-bedroom bungalows, and some have their own private section of beach. For an even more luxurious experience, you can add butler service. The style and design is modern African, and some accommodations have thatched roofs and exposed beam ceilings.
For fun, there's a big pool, an outdoor gym, and a spa specializing in Japanese hot stone techniques. The resort has its own ngarawa or traditional fishing boat (like an outrigger canoe), and you can take it out to go fishing or snorkeling.
The Zanzi's restaurant is located in the center of the lush gardens. Breakfast is served all day, lunch at midday, and a three-course dinner with multiple choices each evening. You can also eat in your bungalow, or the resort can arrange a dinner on the beach or on their jetty (perfect for watching the sunset). Barbecues are also offered a few times a week.
6. Zanzibar White Sand Luxury Villas & Spa (Relais & Chateaux)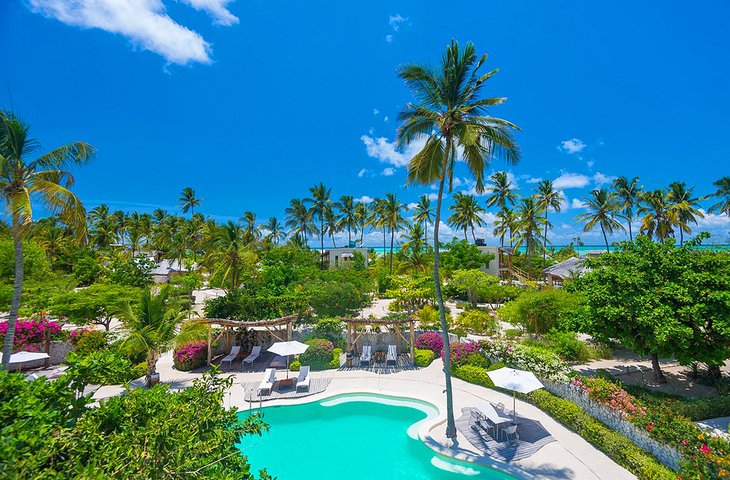 Accommodation: Zanzibar White Sand Luxury Villas & Spa (Relais & Chateaux)
Highlights: Luxe eco-resort, part of Relais & Chateaux collection, villa accommodations with private pools, great restaurants popular with non-guests
This luxury eco-resort on Paje Beach delivers a polished, international five-star luxury experience at a level not found at other properties in Zanzibar. The resort is family owned and managed yet is a part of the Relais & Chateaux collection of luxury hotels. This means it's held to very high standards for luxury and service.
Accommodations at the White Sand include rooms or villas. Villas face the ocean and have their own private pool. The villas have two units, so if you don't rent the whole villa, you may share common areas and amenities with other guests. Rooms are available in the villas or in another building in the garden area. The garden rooms have their own outdoor patio and hot tub; villas have very luxurious spa-like bathrooms with rain showers and outdoor bathtubs.
You have two restaurants: the more formal Doors to Zanzibar and the more casual Beach Restaurant. Both are delicious and open to the public (only with advance reservations). Basic reservations are half-board (breakfast and dinner included) and can be upgraded to all-inclusive. You can also do in-room dining or enjoy a dining experience like a private table on the beach.
7. The Residence Zanzibar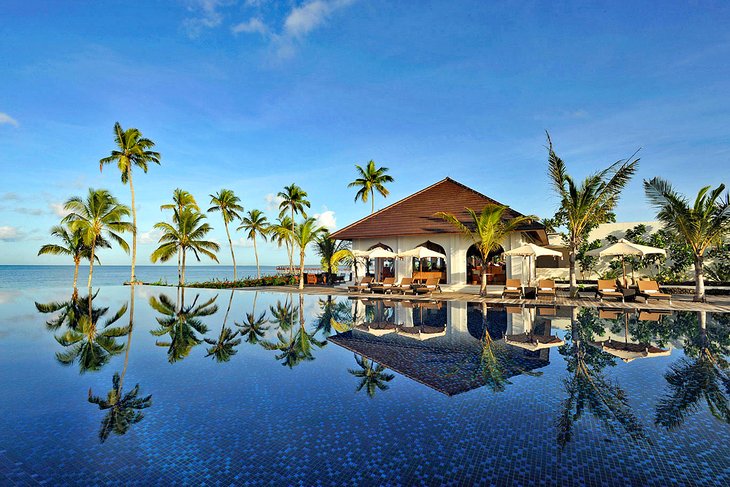 Accommodation: The Residence, Zanzibar
Highlights: An 80-acre private resort; all villas; a mile-long private beach; warm, personal service
Although your first impression may be the bumpy dirt road that leads to this top Zanzibar resort, all your subsequent impressions will be of the serene beachfront and luxurious surroundings. With its own mile-long private beach, The Residence Zanzibar is one of the best resorts in Zanzibar.
The all-villa resort is part of a lush, private 80-acre estate giving guests the ultimate private Zanzibar experience. There are 66 villas and each one comes with its own swimming pool and terrace. The one- and two-bedroom villas are small mansions, complete with huge spa-like bathrooms. Some are beachfront; others face the gardens.
The luxury experience is enhanced with in-villa check-in and the ability to just stay in your villa with 24-hour room service available. Should you wish to leave the sanctity of your space, the villas also come with bicycles, allowing you to explore the area, including neighboring spice plantations.
When you're hungry, there are multiple dining environments and experiences possible. You can be served on the beach, by the pool, or at the poolside Dining Room restaurant. The Dining Room has an international menu (featuring locally sourced spices of course), and The Pavilion offers a Middle Eastern meets Mediterranean menu.
8. Hotel Riu Palace Zanzibar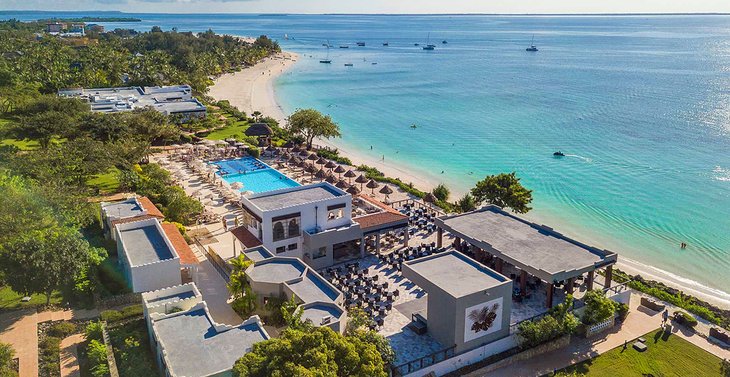 Accommodation: Hotel Riu Palace Zanzibar
Highlights: Well-run, all-inclusive, great for kids and families, lots of activities and entertainment
The Hotel Riu Palace Zanzibar is right on the white sands of Nungwi Beach, one of the best beaches in Africa. RIU is a large resort company with almost 100 (mostly all-inclusive) resorts located around the globe and they know how to deliver an all-inclusive vacation. Whether you're visiting Zanzibar with kids, with your romantic partner, or with friends, the resort has something for everyone, when it comes to accommodations, activities, and dining.
All the junior suites and full suites (there are no regular hotel rooms) at the Riu Palace come with their own private balcony or terrace, along with free high-speed Wi-Fi. Spa-like bathrooms come with intricate tilework and striking carved stone bowl sinks. Premium suites have ocean views; non-premium suites face the courtyard. Villas and beachfront villas, with their own private pool, are also available for those seeking the ultimate luxury experience.
There are daily entertainment and activity programs for kids 4 to 12 years old and for adults, too. At night, there is music and live entertainment for adults. All your beach fun is included, things like kayaks, SUPs, and snorkeling equipment. You even get a free scuba lesson in the pool (the resort has a dive program for certified divers). The Riu Palace has a large fitness center and a full schedule of fitness programs. It's all part of the all-inclusive package, with things like aerobics, yoga, and Pilates classes.
Dining is buffet-style with show-cooking stations. Twice a week they do themed dinners, like Italian night or BBQ night. There are three table-service restaurants, which are also part of the all-inclusive experience, but you must make reservations for them. One has an Asian fusion menu, one is a steakhouse, and the other specializes in fresh seafood. You can also dine in your suite, or the resort can set up a romantic dinner on the beach or by the pool.
9. Park Hyatt Zanzibar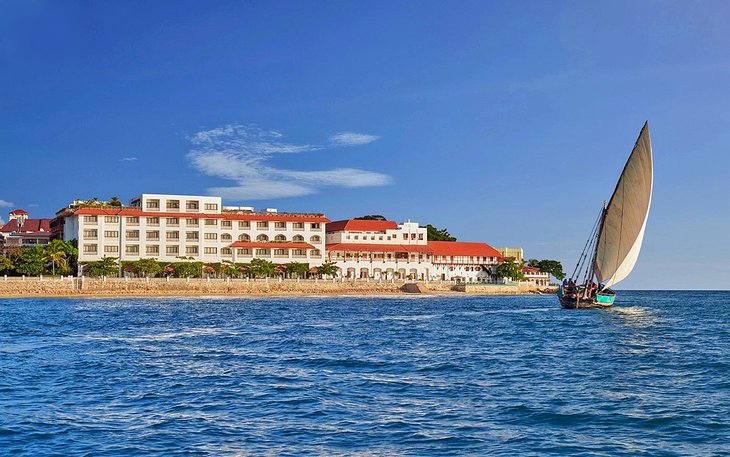 Accommodation: Park Hyatt Zanzibar
Highlights: Only big beach resort in Stone Town, easy to walk to landmarks, right on the sand, lots of beach activities and water sports, good Hyatt service and amenities
The Park Hyatt is unique, as it is the best resort in Zanzibar if you want to stay in Stone Town, the historic part of the capital city. It's located within walking distance of landmarks like the Old Fort and Mercury House, guests staying here can easily explore Stone Town, a UNESCO World Heritage Site, on foot. It's like an urban resort yet it's right on the beach and offers all the beach activities you want like snorkeling and kayaking.
The Park Hyatt delivers a polished, international level of basic luxury and service, which can be hard to find in Zanzibar and especially in Stone Town. There are 67 rooms at the resort, and some are oceanfront (some have a Stone Town city view). Rooms and suites are large, with a modern style, and all the latest electronic amenities, including digital climate controls, free high-speed Wi-Fi, and a big 46-inch HDTV with full connectivity.
Bathrooms come with a rain shower, separate bathtub, and luxury bath amenities. The hotel has 11 suites, some of which have multiple bedrooms and huge furnished oceanfront terraces. They also add a 55-inch HDTV to the living room.
The dizzying array of Zanzibarian street food and restaurants are only a short walk away in Stone Town, but the resort has its own dining options. The Dining Room is designed to replicate the hospitality of an Omani home, paying tribute to the island's Arabic influences. The Library and outdoor Veranda serve lighter fare for lunch and dinner (they serve food until midnight), and the Living Room also has an all-day dining menu. You can also dine adjacent to the ocean-view infinity pool at the Pool Lounge, or order from in-room dining, available 24 hours a day.
10. Zuri Zanzibar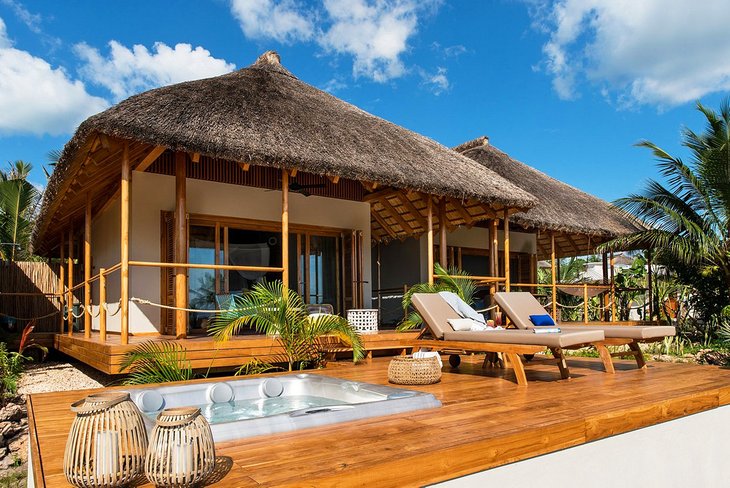 Accommodation: Zuri Zanzibar
Highlights: Wellness-focused luxe resort, private section of Unguja Beach, scuba and snorkeling on the resort's own reef, gastronomy experiences
Sustainably designed and built, this beautiful beachfront design hotel provides a secluded, mindful luxury resort experience with its bungalows, suites, and villas. The Zuri is on Unguja Beach, in the northwest part of the island, a 90-minute drive from the airport and ferry terminal.
The resort's private, west-facing beach, protected by a coral reef, is swimmable all day long and perfect for snorkeling or even scuba diving. Guests can also swim, float on a raft, body surf, use kayaks, or try a SUP. A few nights a week at sundown, guests gather on the beach for what's known as a Sunset Zuri party with a DJ or local live band.
Accommodations have modern furniture, traditional architectural details, and artwork from local artists. They feature tropical indoor-outdoor living with furnished terraces. Bungalows (one large room) and suites (living area and separate bedroom) are in the garden (a short walk from the beach), and most of the villas face the ocean. All have luxurious bathrooms with outdoor showers, suites have outdoor Jacuzzis, and some of the villas have their own private beach.
Room rates include half-board (breakfast and dinner), with all-inclusive and full-board packages available. The main restaurant, Upendo, has great views of the entire resort and ocean beyond. They serve breakfast and dinner. It's an international menu with a strong African influence.
Poolside dining is available at Maisha, with a unique fusion menu of European and Indian Ocean cuisine by day and Middle Eastern and Omani food by night. There's also the Beach restaurant and Dhow, a lounge on the beach for the exclusive use of suite and villa guests. "Dining by Design" experiences, private dinners on the beach, and at other locations around the resort, can be arranged.
The resort also looks to feed your soul and mind with its Wellbeing by Elements program. From special meals to meditation to art therapy to yoga and other fitness classes, Zuri wants to nourish the whole being. The MAUA spa provides more traditional body and beauty treatments.
11. Melia Zanzibar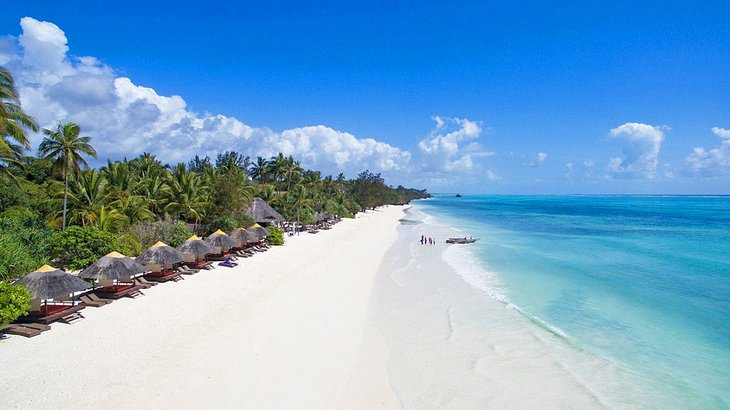 Accommodation: Melia Zanzibar
Highlights: All-inclusive resort with multiple levels of experience from budget to luxe VIP, all accommodations have outdoor showers, five different dining experiences
The Melia Zanzibar is a large all-inclusive beach resort, spread out over 40 acres, including over 300 meters of sandy beachfront. The beach is a great place to play and swim, as it's protected from currents and riptides by the coral reef just offshore.
The Melia gives guests a choice of many different types of hotel rooms and suites, from basic garden-view rooms for travelers who want reasonably-priced accommodations to expansive private villas for those who want an exclusive, luxury experience. All the rooms have private balconies or terraces, all with outdoor tropical showers.
Villas come with optional butler service (included with Level VIP plan), guests get local phones for instant SMS access to their butler. The more romantic oceanfront suites and villas are designated adults-only. Family rooms are available, with a separate bedroom and a large living and dining area.
The Melia Zanzibar has a complete VIP experience, called The Level. It includes VIP handling on check-in; a Level club lounge serving food all day long; special upgraded accommodations; priority reservations at the restaurants; all-inclusive everything; and access to special Level-exclusive areas in restaurants, the pool, and on the beach.
Dining is available in five different restaurant environments, the highlight being the Jetty Lounge. An international menu of tasting plates and small bites is served almost over the water at the end of a long jetty. One restaurant, Aqua, is reserved for Level and Premium (suite and villa) guests. Spices is the main restaurant, with a buffet service and three show-cooking stations. Seating is also available outside in the garden.
12. Chumbe Island Coral Park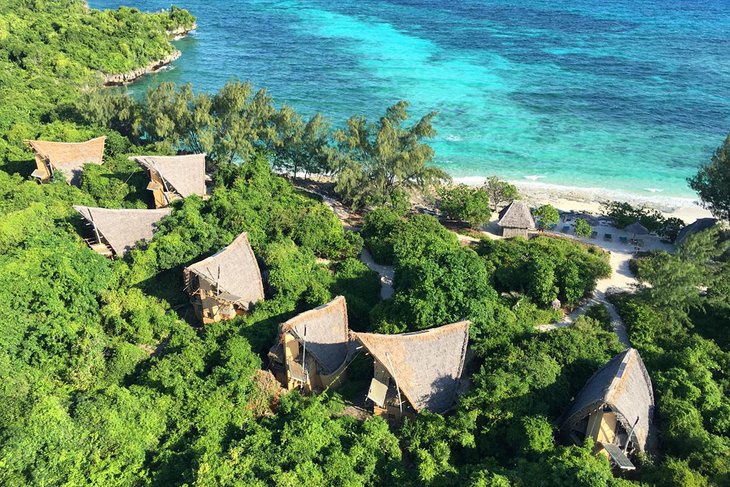 Accommodation: Chumbe Island Coral Park
Highlights: The resort itself is a protected nature sanctuary, a sustainable property, zero carbon footprint, solar power, off-grid
This is a truly unique accommodation and the best resort in Zanzibar if you want to experience the unspoiled natural beauty of the island with little to no impact upon it. The non-profit, all-inclusive eco-resort is a protected nature sanctuary built for the conservation and sustainable management of the formerly uninhabited Chumbe Island. The island has a forest reserve, with all kinds of protected flora and fauna, as well as a coral reef sanctuary just offshore.
Every part of the eco-tourism resort is designed with state-of-the-art sustainability technology that focuses on making sure the resort has zero impact and zero carbon footprint on the environment. Everything is designed and constructed with sustainable materials. Rainwater and gray water are captured and reused; solar power and solar water heating is used. Even composting toilets are used to minimize the impact on the natural environment.
The eco-lodge has seven striking eco--bungalows, each with a palm-thatched roof, a large living area with handmade furniture and locally-made artwork, and a hammock bed for sleeping. The self-sufficient units have a large bathroom and are totally off-grid. Power comes from solar panels; the water is stored rainwater, heated by the sun. The open-air design allows for air flow, natural air conditioning.
The food is also sustainable and locally sourced, yet delicious. A full range of locally sourced and sustainable seafood and meats are served, with different diets accommodated (vegan, gluten-free, halal, kosher). The menu represents the melting pot, which is Zanzibar, a mix of Arabic, Indian, and African flavors.
Map of Resorts in Zanzibar
Best Time to Visit Resorts in Zanzibar
The best time to visit Zanzibar is during what's considered the long dry season: June, July, August, September, and October. You tend to see hot days and slightly cooler nights with little, if any, rain. Daytime temperatures are typically in the 80s and 90s Fahrenheit with some cooling at night.
The island's "long rains" season is March, April, and May, and it also sees rain in November and December (the "short rains"). January and February are considered the island's "short dry season," and this is also a great time to visit Zanzibar.