Where to Stay in Zurich: Best Areas & Hotels
Zurich is a bustling international financial hub built around the Limmat River as it flows northwest from Lake Zurich surrounded by the Alps. Families, couples, and business travelers should stay in the Altstadt or Old Town, which occupies both sides of the river at the center of town and is visible from Lindenhof Hill. Many buildings here date to the Renaissance Period and were contained within the city's original walls. But don't let that fool you-hotels have updated interiors with contemporary trimmings to suit a demanding global clientele.
Old Town is within easy walking distance of all the major sightseeing treats in this dynamic city of 400,000, like the magnetic Bahnhofstrasse, the most fashionable shopping area in the city, and its Paradeplatz financial heart, as well as the Opera House and Schifflände, a popular area formerly called the "Riviera of Zurich," where boat tours are available and strolling is encouraged.
Even the main train station, called Bahnhof Enge, is only a few minutes from hotels in Old Town, connecting families, groups, couples, and solo travelers to all points in Europe and beyond.
Where to Stay in Zurich for Luxury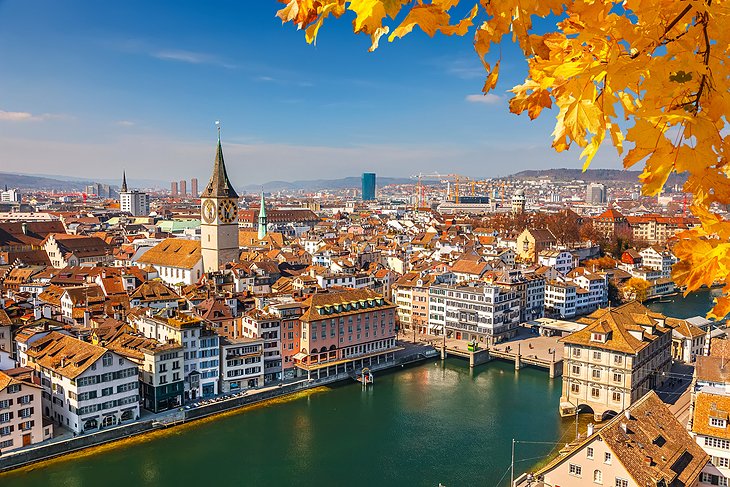 Baur au Lac creates magic for each fortunate guest with a pastiche of sumptuous features in a park-like setting overlooking Lake Zurich and the Alps from their perch in the Old Town. Outstanding 170-year tradition oozes from every corner of the plush rooms, suites, dining venues, and common areas. Art Deco, marble-dominated bathrooms are spacious, leading to Bluetooth-wired rooms capped by the highest quality bedding, and each room comes with its own iPad. Try the afternoon tea served by multilingual, white-gloved service staff.
Park Hyatt Zurich cherishes their perfect location near the Bahnhofstrasse, as do guests in their contemporary light-filled architecture. Attention to detail is the hallmark of this property, as evidenced by the finesse of the impressive service staff.
The hotel offers everything from top-tier dining to a complete spa menu, and the opulent décor includes fascinating wall art; memorable tilework in the bathrooms; and modern touches such as battery rechargers, plug-ins, and free Wi-Fi throughout all 138 large rooms and suites.
Hotel Schweizerhof Zurich gives families, groups, or couples the most idyllic locale in the city, immediately near the train station, Bahnhofstrasse shops, and prime sightseeing. Complemented by outstanding service, a menu of amenities usually found at much more expensive addresses, free broadband (always appreciated), and including a delicious buffet/a la carte breakfast, this hotel makes every guest feel part of something special.
Where to Stay in Zurich: Mid-Range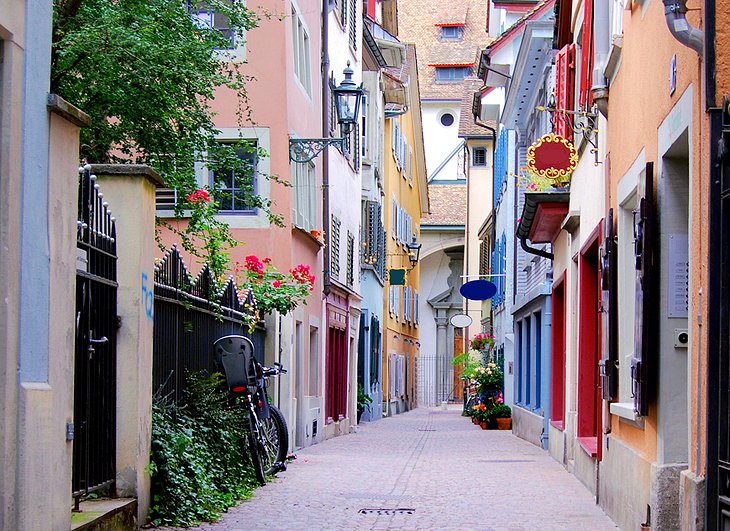 B2 Boutique Hotel + Spa offers 60 distinct rooms and suites and delivers an extra something special to individuals, groups, and families. From the restored downtown building attached to Thermalbad & Spa Zurich, to the notion of their service staff as "Guest Ambassadors," to their stunning library and lounge with more than 33,000 books, staying here gives travelers the luxury of a unique experience. Ask about their wellness specials.
Hotel Helmhaus captivates with 24 comfortable rooms but surpasses expectations being one block from the formerly called "Riviera of Zurich," now called Schifflande. No need for a car when you stay here, and forget about those expensive Zurich taxis; this location provides guests with a perfect sightseeing address. Breakfast is included, room temperature is individually controlled, and their recent upgrades included super soundproof windows.
Hotel Alexander offers a choice of staying in the three-star, owner-managed hotel or a two-star guesthouse in Altstadt or Old Town. Either way, this is good-value accommodation, featuring snug, upgraded rooms; decked-out bathrooms; soundproofed windows; and complimentary breakfast.
Walk to all the sights, catch the tram system for an inexpensive tour around town, or try a nearby boat excursion for a completely unique point-of-view.
The EMA House Hotel Suites is one of the top 4-star hotels in Zurich. Choose from a studio-style junior suite or a luxe one- or two-bedroom executive suite. All come with full kitchens and washer/dryers. If you want to work remotely in Zurich for a while, this is a great place to do it. The property even offers extended-stay packages. The location in a residential neighborhood but also near the lake and shops and restaurants is also prime.
Where to Stay in Zurich on a Budget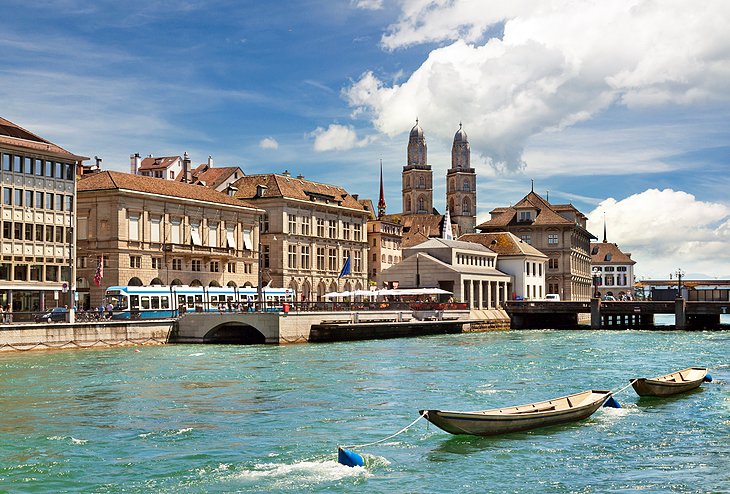 Hotel Adler in the Old Town, on the east side of Limmat River, is quite near the Bahnhofstrasse, and within a pleasant walking distance to most sights, venues, and shops. Recently updated rooms enhance a site boasting a long history of hospitality, and the exposed beams, warm colors, and 52 compelling murals accentuate their heritage. A charming interior courtyard provides a wonderful retreat after touring all day.
25 Hours Hotel Zurich West is the ultimate address for artists and entrepreneurs looking for savings and proximity to the Museum of Digital Arts and the University of the Arts. Slightly out of the downtown core, yet still close to the Limmat River, all aspects of this hotel shout fresh new design, and some refer to this property as the "most colorful hotel in Zurich."
The 126 Bluetooth decked-out rooms come with free high-speed Wi-Fi, and you will discover iMac workstations available throughout this striking building. Free Schindelhauer bikes are also available, as well as a jogging corner, and both the sauna & fitness centers come with a spectacular city view.
Zurich doesn't have a lot of budget hotels, but the Ibis Zurich Adliswil is a solid option just five kilometers outside the city center and just off the A3 highway towards Chur. It is also easy to access public transport into the city from here.
The family-friendly property has 117 rooms with mountain views. Many are small in size but eclectically decorated, with mural wall art behind the starched white linen-covered beds that makes them feel bigger than they are.
There is a restaurant on-site. Parking is free (a big perk if you are driving). If you are traveling with a pet, the hotel is dog friendly for an extra fee.
Where to Stay in Zurich for Romance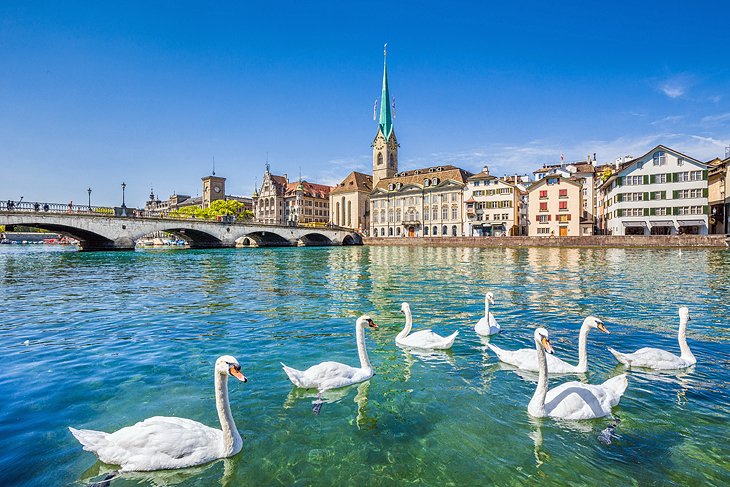 Widder Hotel holds court directly across the street from the observation deck of Lindenhof Hill, a historic vantage point over Lake Zurich, the Limmat River, and this historic capital city. A deeply rooted understanding of what hospitality means is delivered by an unmatched white-gloved staff throughout a breathtaking structure decorated with royal touches to make guests feel pampered. Here, romance is everywhere you cast your eyes.
Romantik Hotel Europe says it all in their name, perched elegantly overlooking Lake Zurich as it flows into the Limmat River in Altstadt and immediately next to the Opera House. Wander the common areas to feel like you have entered another epoch, or relax within the deep comfort of contemporary rooms and suites and order their famously delicious room service.
Waterfront Storchen Zurich sets the stage perfectly for guests with romance in their hearts to enjoy all the trimmings of their Old Town location, with 65 gorgeous rooms and suites. This stately historic structure is a work of art itself at any time of the day or night, lighting up the popular neighborhood elegantly during evenings and viewable from numerous vantage points across the lake. Featuring a recent refit throughout, this Grand Dame of hotels in Zurich handles dining, service, and comfort with the famous touch of experienced professionals.
Where to Stay in Zurich for Families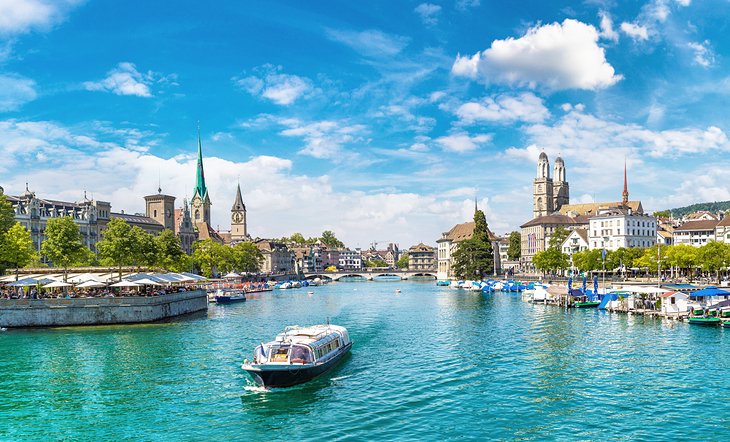 Families in search of outdoor adventures will love the Atlantis by Giardino at the base of Uetliberg Mountain. The hotel is about a 15-minute drive from the city center and during its heyday in the 1970s served as a popular getaway for rock stars and bands like Frank Zappa, Freddie Mercury, and The Who.
The hotel has closed and reopened since and today has 95 elegant and spacious rooms and suites done in neutral colors. Amenities include two restaurants, indoor and outdoor swimming pools, and a spa with Ayurvedic treatments. The free shuttle running between the city center and the hotel is a perk.
Hotel Glaernischhof is another good family hotel in a more central location, just two blocks from Bahnhofstrasse. This good-value property also prides itself on being eco-friendly. Rooms are bright and clean and feature Airlux mattresses that can be adjusted for firmness. Breakfast and Wi-Fi, as well as free snacks are included in the rate. Guests also have access to a health club next door.
Greulich Design & Lifestyle Hotel offers a range of rooms and suites, including some that families will appreciate, with kitchens and sleeper sofas. It is in a relatively central Zurich locale that is convenient to public transport. This deep-blue-hued, four-star property also features a unique design that includes an inner courtyard with a grove of birch trees where yoga classes are held. The hotel has a few on-site restaurants, and parking is available for a fee.
ACASA Suites also offers convenience for families with its all suites accommodation, which feature kitchenettes. They are a little farther out from the city center, however, with a location between it and the airport. That said, the hotel is just a few minutes' walk from a train station that will take you right into town. Amenities include a restaurant with a terrace, a spa, Finnish sauna, and steam room. For kids there is also a playground.